These soft and chewy Brown Butter Strawberry Blondies are the perfect treat when you are craving something fruity but yet decadent!! The strawberries are mixed in throughout the whole batter to give you that extra burst in your mouth refreshing fruit that helps balance the rich sweetness of the brown blondie itself!
Inspiration to write about these Brown Butter Strawberry Blondies
For some reason it is always so much easier to write about a recipe that is sweet, fruity, and has gorgeous pictures!
Since we're in the midst of summer, I wanted to share an awesome recipe that you could make for barbecues, picnics, pool parties or anything that involves a hungry crowd! So this recipe came about…
When I think of summer, I automatically think of fruits… I want anything and everything that will keep me hydrated, even when it comes to my baked goods or … hint hint… These Brown Butter Blondies!
The story behind these Brown Butter Strawberry Blondies is as such; my family came to town from Algeria (located in north Africa for those who did not pay too much attention in geography class in high school) and I've been wanting to treat them to all my delicious baked goods and desserts.
I asked my dad what he would like me to make and he said cake. I wanted a bit more detail, so I dug deeper. He eventually said he wanted something with fruits…
The blondies almost did not happen!
Being the over achiever that I am, I said I will make you a pastry cream and strawberry tart. Slowly I realized how much work that was going to be and decided I'd rather do something a little bit more simple, especially since I was going to get my blood drawn that morning… I hate getting my blood drawn so that should tell you the state that I was in.
Fortunately the phlembotomist that took care of me was an awesome human being so it wasn't that bad. But that's not the point, the point is that I wanted to make something fairly easy and quick and this Brown Butter Blondie was it for me!
It was going to have the fruittiness of the strawberries and the richness of the brown sugar and browned butter… Plus will be ready in less than an hour.
What is a Blondie?
The simple explanation here is that a blondie is pretty much a brownie with no cacao powder, so a blonde brownie!! They often have a butterscotch flavor, which is the flavor that comes from brown sugar mixed with butter; which in this case we made brown butter so ten times better than your regular butter flavor!
The batter for these Brown Butter Strawberry Blondies is nice and thick, make sure to spread it evenly in every corner before baking !
Let's talk Strawberries
First off I want to remind you about how obsessed with strawberries I am! If you don't believe me check out the other strawberry recipes I made and posted on here:
The strawberries that I used in this recipe were not the sweetest, I live in Las vegas and I purchased them from Sprouts so more often than not they end up not tasting the sweetest or like strawberries that you would grow yourself!
This is not an issue here though, because the sugar content of the blondie and the drizzled white chocolate balances it out at the end.
Another perk about using strawberries that are not the sweetest or most ripe in this recipe is the fact that baking them softens them and enhances the sweetness.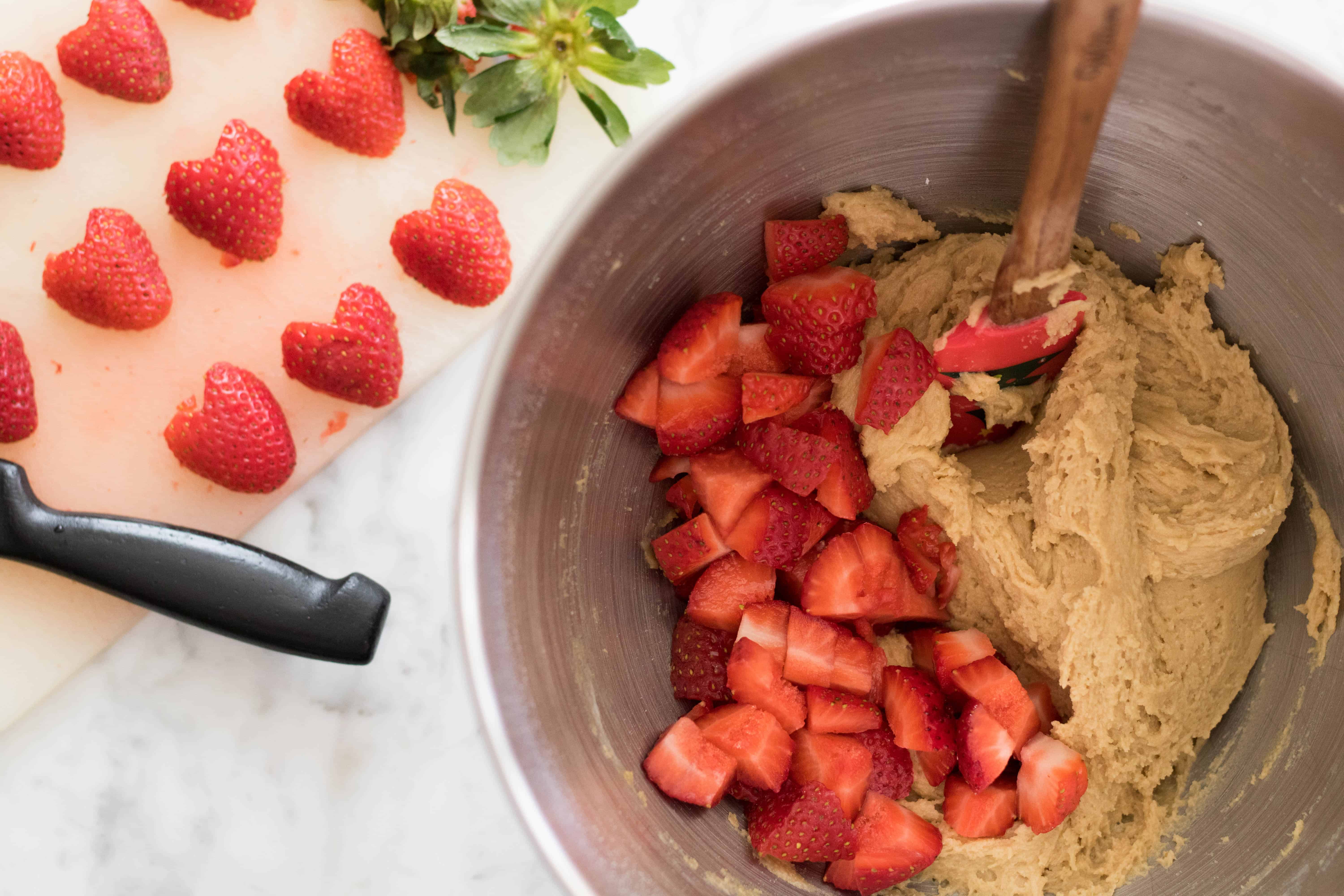 How about the texture?
These Brown Butter Strawberry Blondies are extremely soft and moist. They are melt in your mouth goodness just like a great blondie should be. They have a brownie texture with a couple of fruity bites.
Soft and fudgy Strawberry Brown Butter Blondies
Brown Butter Strawberry Blondies
Brown Butter Strawberry Blondies
These soft and chewy Brown Butter Strawberry Blondies are the perfect treats when you are craving something fruity but yet decadent!! The strawberries are mixed in throughout the whole batter to give you that extra burst in your mouth refreshing fruit that helps balance the rich sweetness of the brown blondie itself!
Ingredients
1

stick

butter

1 stick of butter = 8 tbsp

1/2

cup

brown sugar

1/4

cup

granualted white sugar

1

egg

1

egg yol

1

tsp

vanilla

1

cup

flour

1/2

tsp

baking powder

1/2

tsp

salt

3/4

cup

sliced strawberries

8

strawberries

must be about the same size to get a uniform finish
Optional, white chocolate drizzle
1

oz

good quality white chocolate

1/2

tsp

coconut oil
Instructions
Preheat the oven to 350F. Line an 8X8-inch baking pan with parchment paper. Lightly grease the pan and the parchment paper with cooking spray or butter.
To brown the butter
Melt 1/2 of the butter stick in a small saucepan over medium heat. As the butter melts it will start to bubble fast, continue stirring it until it starts to foam and its color changes from a lighter yellow to a nice golden brown color. Take the pan off the heat as soon as you smell the nutty aroma, and add in the rest of the butter. Stir everything together until all the butter is melted and transfer to a separate bowl. let it cool down for about 15 minutes.
For the batter
When the butter is cool, add it to your mixing bowl, add in the brown sugar and the granulated white sugar and cream until fluffy. Add in the egg, the egg yolk, and the vanilla and beat until fully incorporated.

In a separate bowl whisk together the flour, baking powder, and salt. Add the dry mixture to the wet mixture and fold until well incorporated. fold in the chopped up strawberries, and pour the batter into the parchment-lined baking pan.

Using a spatula, spread the batter evenly so that it is in every corner. Arrange the strawberries cut side down over the batter. (check out the notes to see how you can cut the perfect heart-shaped strawberries)

Bake for 30 to 35 minutes or until a toothpick inserted in the center comes out with just a few crumbs. The edges will look well baked and firm, the center will moist but not too gooey. Cool in the pan for 15 minutes then transfer it to a wire rack using the excess parchment paper as handles to get it out. When it is completely cool, drizzle with some white chocolate and cut it into 16 square pieces. Enjoy!
Notes
You can store these Brown Butter Strawberry Blondies in an airtight container at room temparature for up to 3 days or in the fridge for up to 7 days.
The extra white chocolate for drizzling is totally optional but I highly reccomend it because come one who doesn't like white chocolate! 

To make the white chocolate drizzle, place 1 Oz of white chocolate in a small bowl, add in 1/2 tsp of white chocolate andmelt in the microwave in 30 second increments. It will take betweek 1minute -1:30 minute.

To cut the strawberries in heart shapes, first wash your strawberries then with a pairing knife, cut a V shape out of the top of the strawberries to cut off the stem. Stand you rstrawberry up and cut it in half. Tadaa!! You're left with beautiful strawberry hearts! 
Make these Brown Butter Strawberry Blondies your own…
These Strawberry brown butter blondies are so versatile, if you don't have strawberries you could literally use any other berry and they would come out just as good!!
Try adding, raspberries, black berries, rhubard, or bluberries instead of strawberries in this recipe! You could even do a combination of these if you'd like. Perfect Fruity goodness…
You don't have to drizzle the white chocolate on these Brown Butter Strawberry Blondies, you could add in chocolate chunks to the batter and make it a blonde fruity brownie!
My favorite part about these blondies besides the amazing flavor and how easy they are to make would have to be the gorgeous heart on top!
These would be a wonderful gift for valentines day or an anniversaries for your significant other! I made them for my family this time but I will definitely make them for my boyfriend in January for our 4 year anniversary!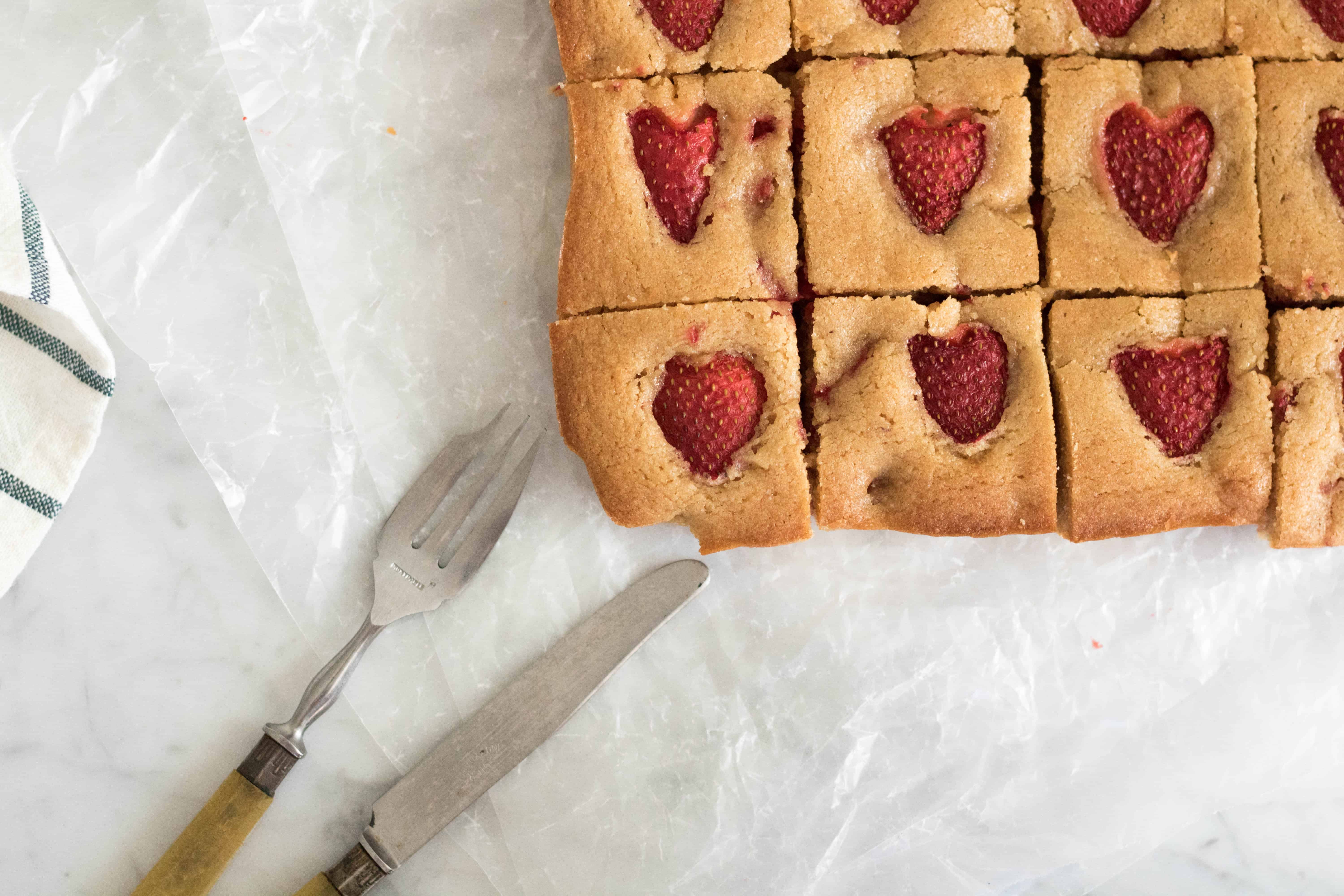 Products that I Love
This article may contain some affiliate links, meaning, at no additional cost to you, I will earn a commission if you click through and make a purchase
To save thiese Brown Butter Strawberry Blondies recipe PIN IT!