These are the best brown butter strawberry blondies ever!
Why are strawberry blondies not that popular!! I mean, they are buttery, super fudgy, and packed with one of my favorite fruit ever!
Plus they're the perfect way to celebrate spring and summer.
I technically understand why chocolate chip or chocolate chunk blondies always win but I promise you these strawberry brown butter blondies will take your tastebuds to the next level!
Why you have to try this recipe?
It's super easy to make and looks so impressive.
This recipe is the cutest especially if you cut your fresh strawberries in the shape of a heart.
They're the perfect way to use extra strawberries to make something delicious.
The brown butter makes them taste so sophisticated!
What is a Blondie?
The simple explanation here is that a blondie is pretty much a brownie with no cacao powder, so a blonde brownie!!  
They often have a butterscotch flavor, which is the flavor that comes from brown sugar mixed with butter; in this case, we made brown butter so ten times better than your regular butter flavor!
The batter for these Brown Butter Strawberry Blondies is nice and thick, make sure to spread it evenly in every corner before baking!
Ingredients needed for these brown butter strawberry blondies
To recreate this recipe at home you will need these ingredients. Make sure to scroll down to the recipe card for the full detailed recipe.
Butter– You can use salted or unsalted butter for this recipe.
Brown & granulated sugar- We use two types of sugar to get the right texture and sweetness for this treat
Egg & egg yolk– This is the binding agent for these blondies and will also give extra moisture to the blondies.
Vanilla– Vanilla is the perfect addition to add a little extra depth of flavor!
Flour– AP flour works great for this recipe.
Baking powder– This will give a little height to our blondies.
Salt– Always use a little salt to balance out the flavors of your sweets.
Strawberries – This recipe has strawberries mixed into the blondie batter as well as used to decorate the top.
White chocolate – Make sure to use good quality chocolate for the drizzle.
Oil– The oil is used to thin out the melted chocolate a little bit.
Let's talk Strawberries
First off I want to remind you about how obsessed with strawberries I am! If you don't believe me check out the other strawberry recipes I made and posted on here:
The strawberries that I used in this recipe were not the sweetest, I live in Las Vegas and I purchased them from Sprouts so more often than not they end up not tasting the sweetest or like strawberries that you would grow yourself!
This is not an issue here though, because the sugar content of the blondie and the drizzled white chocolate balances it out at the end.
Another perk about using strawberries that are not the sweetest or most ripe in this recipe is the fact that baking them softens them and enhances the sweetness.
How to make strawberry blondies from scratch?
Here is how you can make this sweet and easy treat from scratch. Make sure to scroll down to the recipe card to see the detailed step by step for this recipe.
Brown the butter then set aside to set and cool down.
Mix the cooled-down brown butter, and both sugars together.
Add in the egg, egg yolk, and vanilla and mix.
Fold in the dry ingredients just until combined.
Mix in the strawberries until recently distributed.
Pour in the prepared 8×8 baking pan and gently spread to all edges.
Top with the sliced strawberries and bake.
Let the blondies cool down before topping them with some drizzled white chocolate, slice into them and enjoy!
How about the texture?
These Brown Butter Strawberry Blondies are extremely soft and moist. They are melt in your mouth goodness just like a great blondie should be.  They have a brownie texture with a couple of fruity bites.
Make these Brown Butter Strawberry Blondies your own…
These Strawberry brown butter blondies are so versatile, if you don't have strawberries you could literally use any other berry and they would come out just as good!!
Try adding, raspberries, blackberries, rhubarb, or blueberries instead of strawberries in this recipe! You could even do a combination of these if you'd like. Perfect Fruity goodness…
You don't have to drizzle the white chocolate on these Brown Butter Strawberry Blondies, you could add chocolate chunks to the batter and make it a blonde fruity brownie!
Soft and fudgy Strawberry Brown Butter Blondies
Brown Butter Strawberry Blondies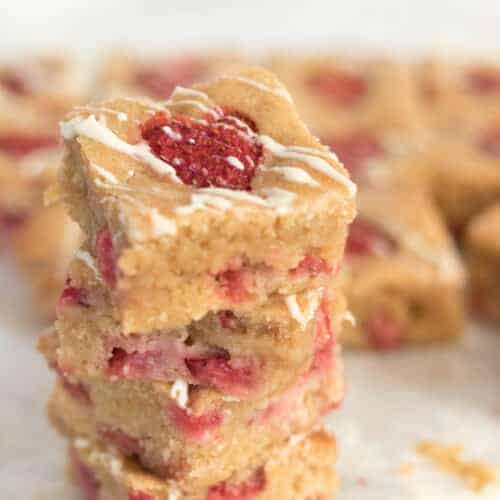 Brown Butter Strawberry Blondies
These soft and chewy Brown Butter Strawberry Blondies are the perfect treats when you are craving something fruity but yet decadent!! The strawberries are mixed in throughout the whole batter to give you that extra burst in your mouth refreshing fruit that helps balance the rich sweetness of the brown blondie itself!
Ingredients
½

cup

butter

½

cup

brown sugar

¼

cup

granualted white sugar

1

egg

1

egg yolk

1

tsp

vanilla

1

cup

flour

½

teaspoon

baking powder

½

teaspoon

salt

¾

cup

sliced strawberries

8

strawberries

must be about the same size to get a uniform finish
Optional, white chocolate drizzle
1

oz

good quality white chocolate

½

tsp

coconut oil
Instructions
Preheat the oven to 350F. Line an 8X8-inch baking pan with parchment paper. Lightly grease the pan and the parchment paper with cooking spray or butter.
To brown the butter
Melt ½ of the butter stick in a small saucepan over medium heat. As the butter melts it will start to bubble fast, continue stirring it until it starts to foam and its color changes from a lighter yellow to a nice golden brown color. Take the pan off the heat as soon as you smell the nutty aroma, and add in the rest of the butter. Stir everything together until all the butter is melted and transfer to a separate bowl. let it cool down for about 15 minutes.
For the batter
When the butter is cool, add it to your mixing bowl, add in the brown sugar and the granulated white sugar and cream until fluffy. Add in the egg, the egg yolk, and the vanilla and beat until fully incorporated.

In a separate bowl whisk together the flour, baking powder, and salt. Add the dry mixture to the wet mixture and fold until well incorporated. fold in the chopped up strawberries, and pour the batter into the parchment-lined baking pan.

Using a spatula, spread the batter evenly so that it is in every corner. Arrange the strawberries cut side down over the batter. (check out the notes to see how you can cut the perfect heart-shaped strawberries)

Bake for 30 to 35 minutes or until a toothpick inserted in the center comes out with just a few crumbs. The edges will look well baked and firm, the center will moist but not too gooey. Cool in the pan for 15 minutes then transfer it to a wire rack using the excess parchment paper as handles to get it out. When it is completely cool, drizzle with some white chocolate and cut it into 16 square pieces. Enjoy!
Notes
You can store these Brown Butter Strawberry Blondies in an airtight container at room temparature for up to 3 days or in the fridge for up to 7 days.
The extra white chocolate for drizzling is totally optional but I highly reccomend it because come one who doesn't like white chocolate! 

To make the white chocolate drizzle, place 1 Oz of white chocolate in a small bowl, add in ½ teaspoon of white chocolate andmelt in the microwave in 30 second increments. It will take betweek 1minute -1:30 minute.

To cut the strawberries in heart shapes, first wash your strawberries then with a pairing knife, cut a V shape out of the top of the strawberries to cut off the stem. Stand you rstrawberry up and cut it in half. Tadaa!! You're left with beautiful strawberry hearts! 
Products that I Love
This article may contain some affiliate links, meaning, at no additional cost to you, I will earn a commission if you click through and make a purchase
To save these Brown Butter Strawberry Blondies recipe PIN IT for later!