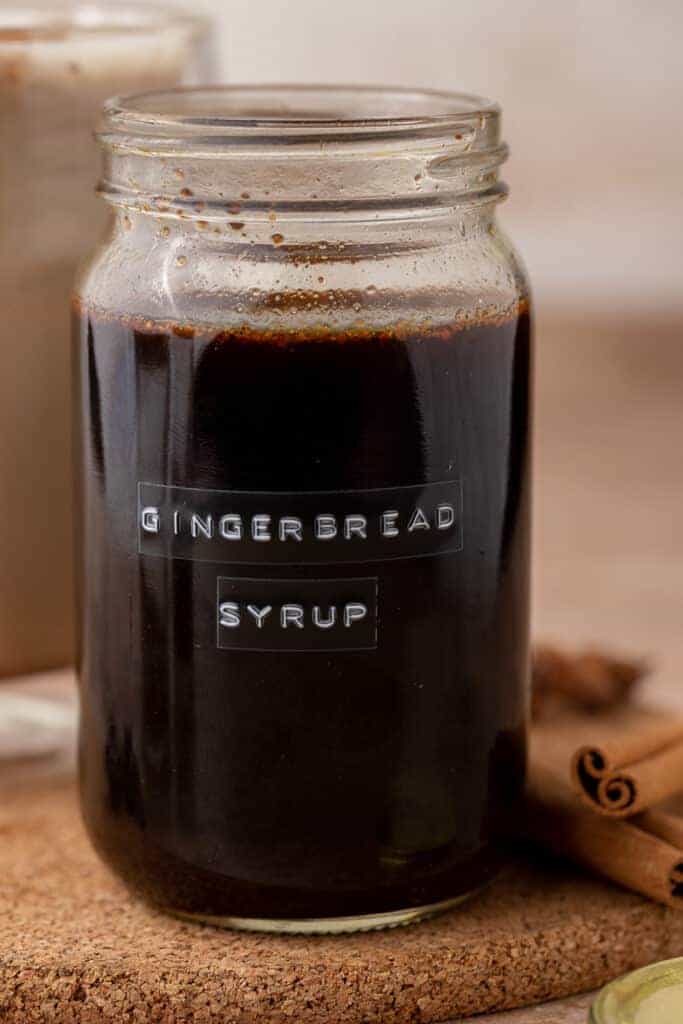 Today we are bringing your favorite holiday flavor right to your fridge! Well, actually you'll have to make it first then store it in your fridge. But I promise if you are a huge Christmas syrup or Winter spiced syrup kinda person, this recipe will become a repeat thing every week or two!
Ever since I tried the Starbucks gingerbread latte recipe from their holiday drinks menu a few years back I was hooked. Unfortunately, it was discontinued so I had to make it at home. Now it is time for me to share it with you!
This is the best gingerbread simple syrup ever!
This spiced homemade simple syrup is actually very simple to make despite the fact that it sounds super fancy. Plus it will make you enough for 7-10 drinks meaning you can prepare it ahead of time for the week and store it in mason jars to create your favorite coffee shop coffee drink at home!
So if you are like me and are a sucker for coffee syrups plus you really love gingerbread cookies and gingerbread flavor in general around the holidays this is the best way to get into that wintery holiday mood!
Why do you need to make this recipe?
It is so easy to make.
This recipe is perfectly spiced and tastes just like your favorite gingerbread cookies.
It is a great way to enjoy your coffee around the holidays and get into the festive spirit.
This recipe uses all the spices you already purchased and used in your thanksgiving desserts!
What does this gingerbread syrup for coffee taste like?
This syrup tastes exactly like those deliciously spiced gingerbread cookies. The only twist is that when you mix it with your favorite dairy or nondairy milk and coffee it will taste like that delicious cookie dipped in coffee and I don't know anyone who doesn't love coffee and cookie together!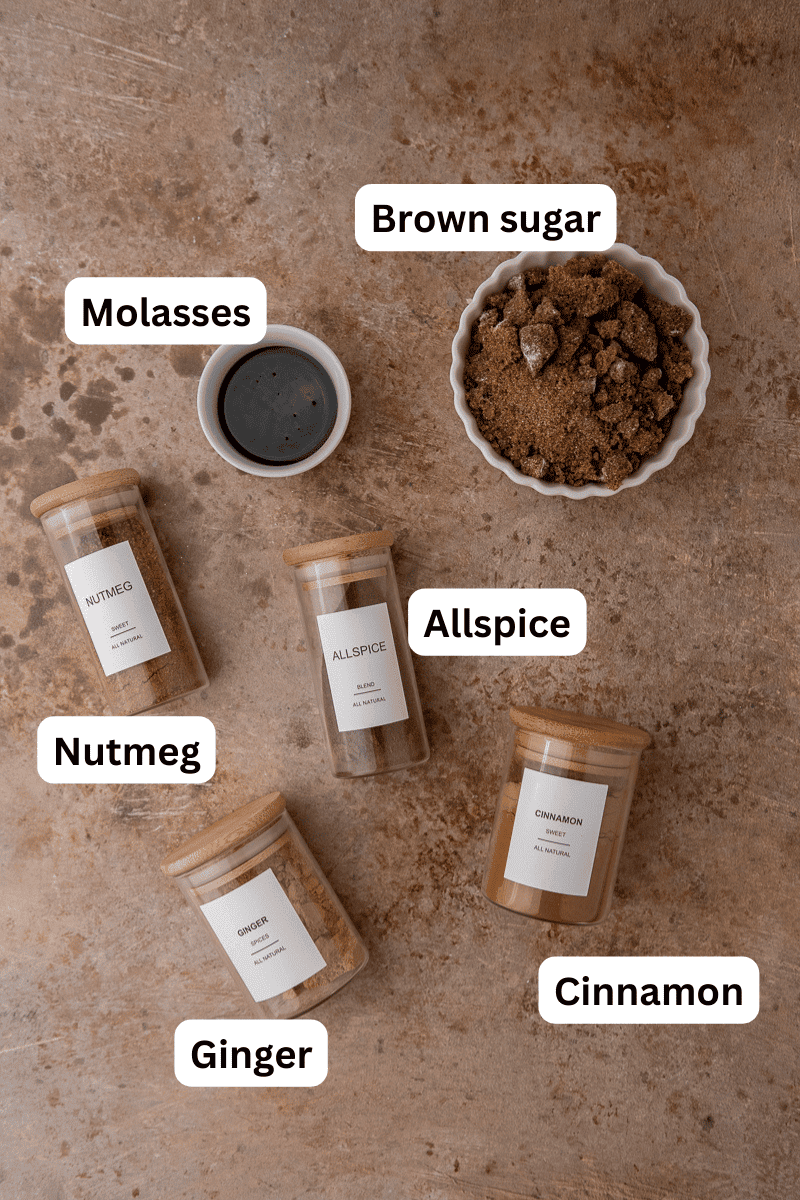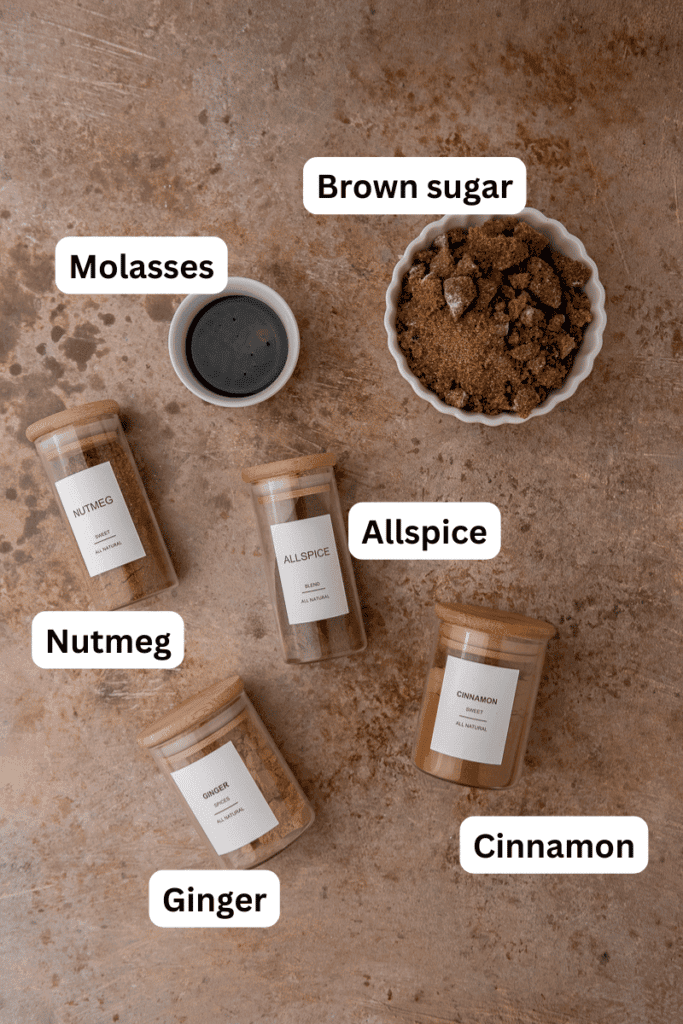 Ingredients for this gingerbread coffee syrup
Here are the ingredients you will need to make this at home. Make sure to scroll down to the recipe card for the full detailed ingredient measurements.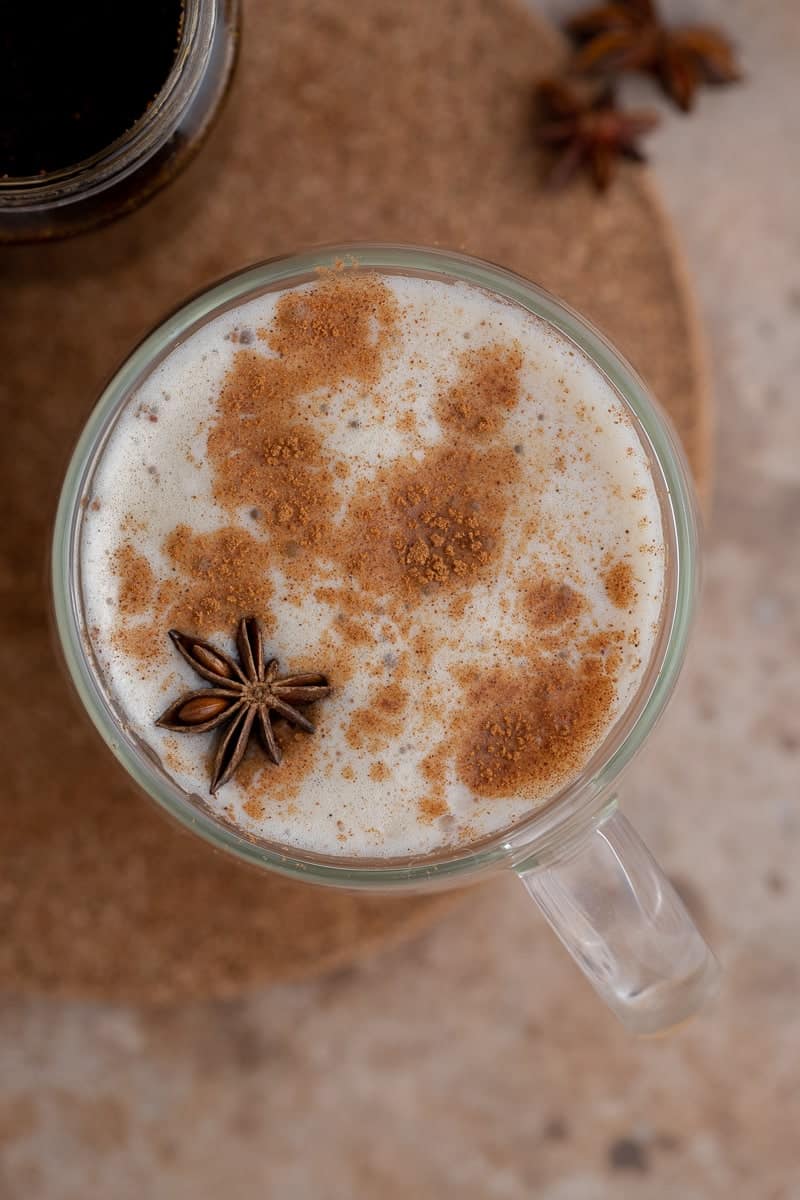 Substitutions
You can use coconut sugar instead of brown sugar for this recipe if you want to make it a little on the healthier side.
You can use a little fewer molasses or completely omit it if your dark brown sugar has a very molasses flavor, like the one I use.
How to make this Starbucks holiday syrup.
This is how you can make this. Make sure to scroll down to the recipe card for the full detailed instructions!
In a medium saucepan, mix the water, sugar, and spices together.
Bring to a boil.
Reduce to a simmer, and let it infuse.
Once done, let the syrup cool down to room temperature before transferring it to an air-tight container and storing it in the fridge.
Frequently asked questions – FAQ
How to store this simple syrup
You can store this syrup in an air-tight container in the fridge for up to 2 weeks.
Uses for gingerbread syrup
Add some of this syrup to sweeten your morning oatmeal and give it a little extra holiday cheer.
Drizzle some on top of ice cream to turn your favorite frozen dessert into gingerbread ice cream.
Add it to your hot or cold coffee of course.
Make a gingerbread cold foam cold brew.
Spice up your drinks by making a gingerbread martini
Help my gingerbread syrup is too thick?
Make sure to not over-boil the syrup because it can become too thick to use in coffee. a light simmer for 5 minutes will do to infuse all those delicious flavors in your Christmas coffee syrup.
To fix it add a little bit of water and mix. Start with 1 tablespoon and add more as needed. This will help thin out the syrup to get it to that syrupy consistency again.
How can I make a gingerbread latte with this syrup?
To make a gingerbread latte at home here are the ingredients you will need:
¾ cup steamed milk
1-2 shots of espresso
2-3 tablespoons of homemade gingerbread syrup. (you can add more or less depending on how sweet you want your drink to be)
Whipped cream (optional, but it would make your drink look extra pretty and taste so cozy!)
Ground cinnamon (optional but sprinkling this on top would make for a super cute drink)
To make the drink pour the syrup in your favorite mug. Top it with the freshly brewed espresso shot(s), add in the steamed milk, give it a good stir then top with a generous dollop of whipped cream and a sprinkle of cinnamon.
Can I use this syrup to make an iced drink?
Absolutley. This syrup works for both hot and iced drinks. I know that many of us are obsessed with cold coffee even during the winter so rest assured that this syrup can be mixed in with cold milk and ice for a deliciously refreshing holiday beverage.
Homemade gingerbread syrup for coffee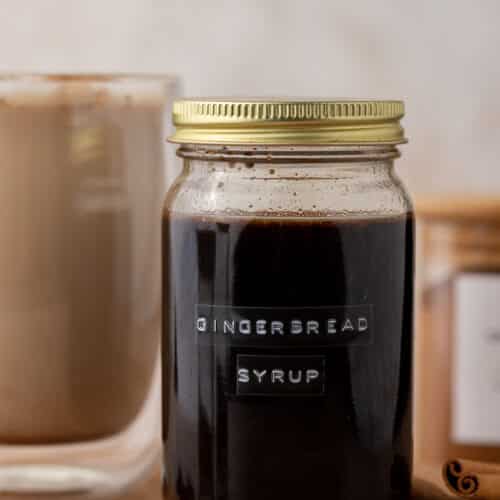 Gingerbread syrup for coffee
This easy gingerbread syrup for coffee is the perfect way to
Instructions
Combine all of the ingredients minus the vanilla in a small saucepan. Bring to a boil then reduce to simmer. Simmer for 5 minutes before removing it off the heat, mix in the vanilla extract, and let the syrup cool down.

Store in an airtight container in the fridge for 1-2 weeks.
Nutrition
Calories:
103
Calories
Carbohydrates:
26
g
Protein:
0.1
g
Fat:
0.04
g
Saturated Fat:
0.02
g
Polyunsaturated Fat:
0.01
g
Monounsaturated Fat:
0.01
g
Sodium:
10
mg
Potassium:
143
mg
Fiber:
0.2
g
Sugar:
26
g
Vitamin A:
1
IU
Vitamin C:
0.04
mg
Calcium:
37
mg
Iron:
1
mg

Shop this recipe
This post may contain affiliate links, meaning that at no cost to you I will get a small percentage of every purchase you make!
If you enjoyed this gingerbread syrup recipe make sure to pin it for later!