Here you will find all the not bake christmas treats to make with kids. This holiday get the little ones involved in the kitchen to help you make gift for family and friends while having a great time.
SIGN UP TO OUR MAILING LIST GET A FREE WEEKLY MEAL PLANNER AND RECIPE CARD!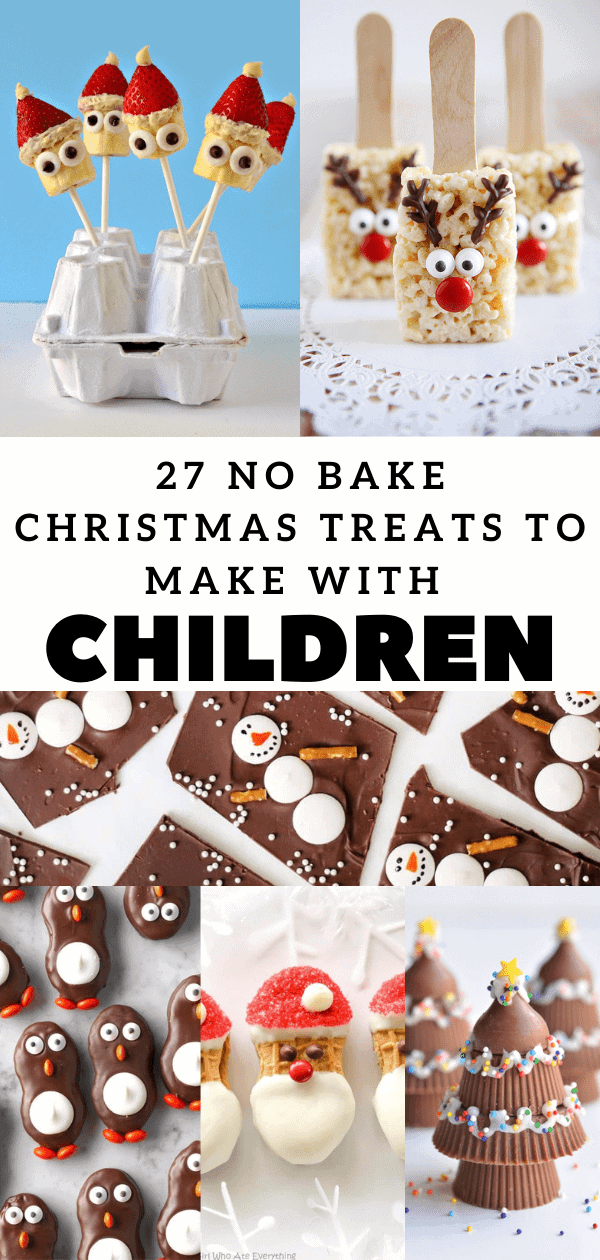 With less than one week before Christmas, I wanted to share with you 27 easy Christmas treats to make with kids. With kids being home most of this year, having them help in the kitchen will be a breath of fresh air for them.
These are our favorite no bake Christmas treats to make with kids!
Disclaimer:
All these recipes are no bake recipes but some of them might require the supervision of an adult. Melting chocolate or making rice krispies by melting marshmallows and butter can get pretty hot so you have to make sure that you are with or are watching your child during those steps.
The child's creations might not look exactly like the photos posted on here, but you should be proud and happy for them nonetheless because you are allowing them to develop their creative side.
After all, this is supposed to be a fun activity for them and for you. So make sure you enjoy every step of the way and take photos to keep those memories safe!
the 27 best no bake christmas treats to make with kids
These healthy Christmas time reindeer peanut butter balls are made using rice krispies, peanut butter, honey, chia and flax seeds, then dipped in the chocolate. They are adorable and fun to make with children!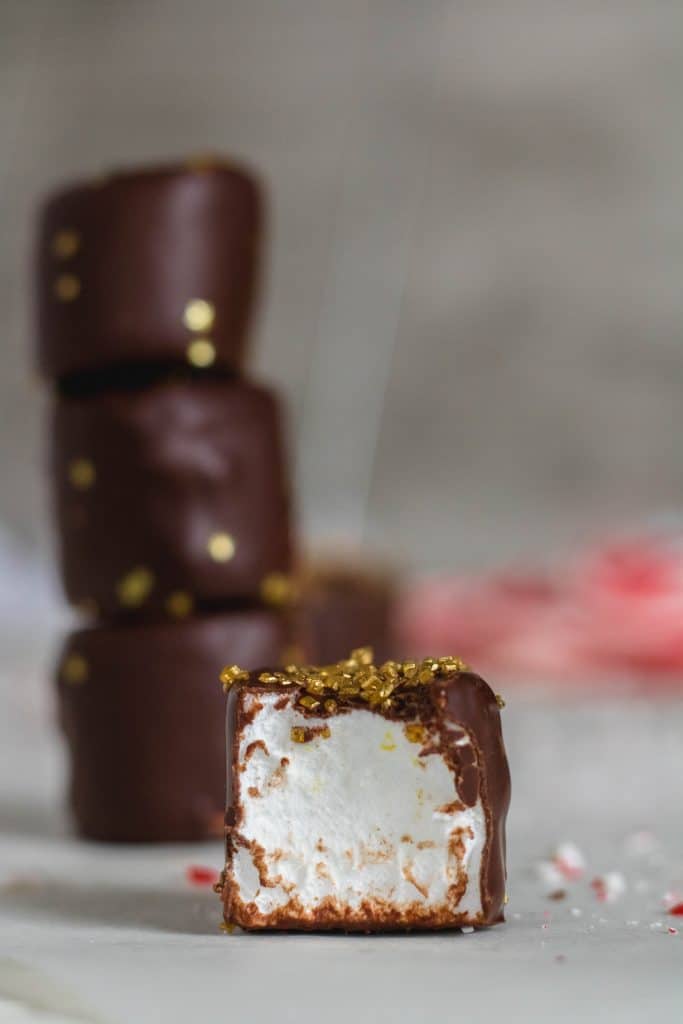 Marshmallows covered in chocolate are crowd favorite. Make these cute holiday chocolate covered marshmallows with your little ones for a delicious cookie box filler or snack.
These 2 ingredient coconut balls only need desiccated coconuts and sweetened condensed milk. You then roll them and roll them again in more coconut. If you want to get extra creative, decorate these delicious condensed milk coconut balls to look like little snowmen and enjoy!
This recipes has an option for making your own pretzel sticks but you don't have to. Grab some pretzel sticks from your local grocery store, dip them in white chocolate and decorate! They're adorable and so festive.
5. Nutter butter reindeer
These are simple and very quick to make if you are in a rush. You will need nutter butters, pretzels, m&m's candy and some eye ball for the perfect reindeer cookies!
If you're looking to get in more fruits this season, there are it! These cute banana and strawberry Santa popsicles are adorable and will make anyone want to eat their fruits! Better yet, have everyone participate in making these for a super special new holiday tradition.
We have another nutter butter holiday favorite. This one is dipped in white candy melts and then decorated with coconut flakes and candy to make your little snowmen cookies look as real as possible.
Ok, can we all agree that these little polar bears are pure art and that they even might be too pretty to eat?! Guess what! They're actually very easy to make. You will need stuffed cookies, candy melts, and candy coated chocolate to make these cuties!
When I saw these, I immediately knew I had to make them. They use 3 ingredients; marshmallows, green candy melts, and maraschino cherries with stems. I know not everyone loves maraschino cherrie so you can replace them with a little red heart to symbolize the grinch even more!
We have yet another fruity Christmas treat. This is another super cute way to get some fruit in this season. Plus strawberries and cream are a flavor match made in heaven if you ask me!
These are perfect to gift because you can wrap each one individually in a little baggy and make someone's holiday. They're cute and require minimal effort and a ton of fun of course!
In my house we love hot chocolate around Christmas time. We love it even more when it looks as cute as the one pictured above. Make these adorable snowmen with marshmallows that you can sit on top of you hot chocolate too for the perfect move night treat.
Yay for more no bake cookie recipes! We have a third nutter butter holiday treat that kids can make ( can you tell I love nutter butters yet?) This one uses white chocolate, chocolate chips, mini m&m's, sprinkles and of course nutter butter!
Do you love chocolate bark around the holiday season? We do for sure! Meaghan took your regular chocolate bark and make it extra sweet by adding white candy melt wafers and decorating them to look like little snowmen. The perfect winter treat.
Truffle balls to me scream holidays, especially if they're wearing cute little hats and look like snowmen. These are made using Oreos, candy melts, and cream cheese. I can let you imagine how good each bite tastes!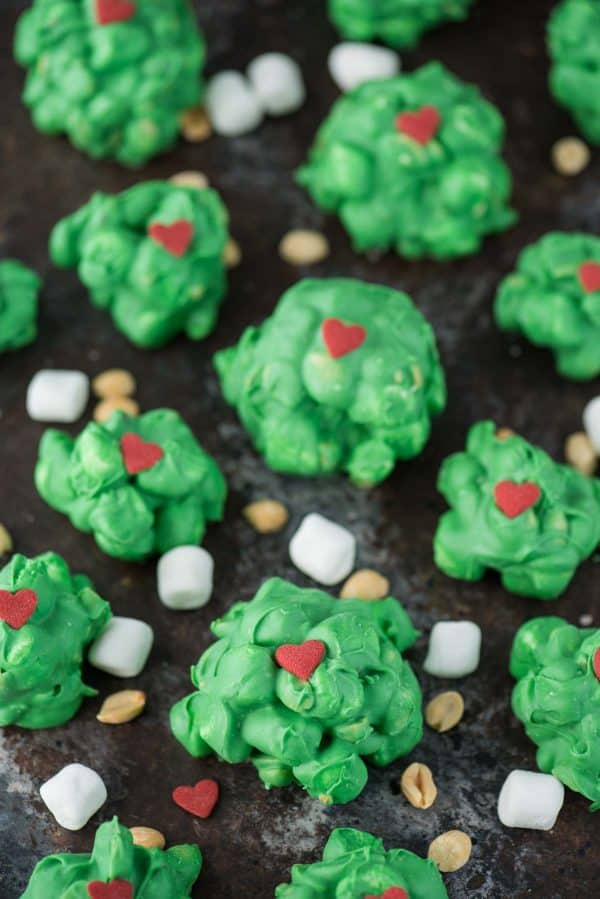 I am definitely a lover of sweet and salty, so these Grinch peanut marshmallow clusters are a favorite for me. To make them fit the season, Beth colored them green and added a tiny little heart as an homage to the Grinch movie!
I love penguins! Especially if they come in cookie form. These little no bake cookies are made with chocolate wafers, chocolate frosting, candy melts, candy eyes, and orange candy coated sunflower to make their adorable nose and feet!
This recipe is a little different because it actually contains some baking ingredients that don't actually have to be baked to give you this festive looking christmas tree treat.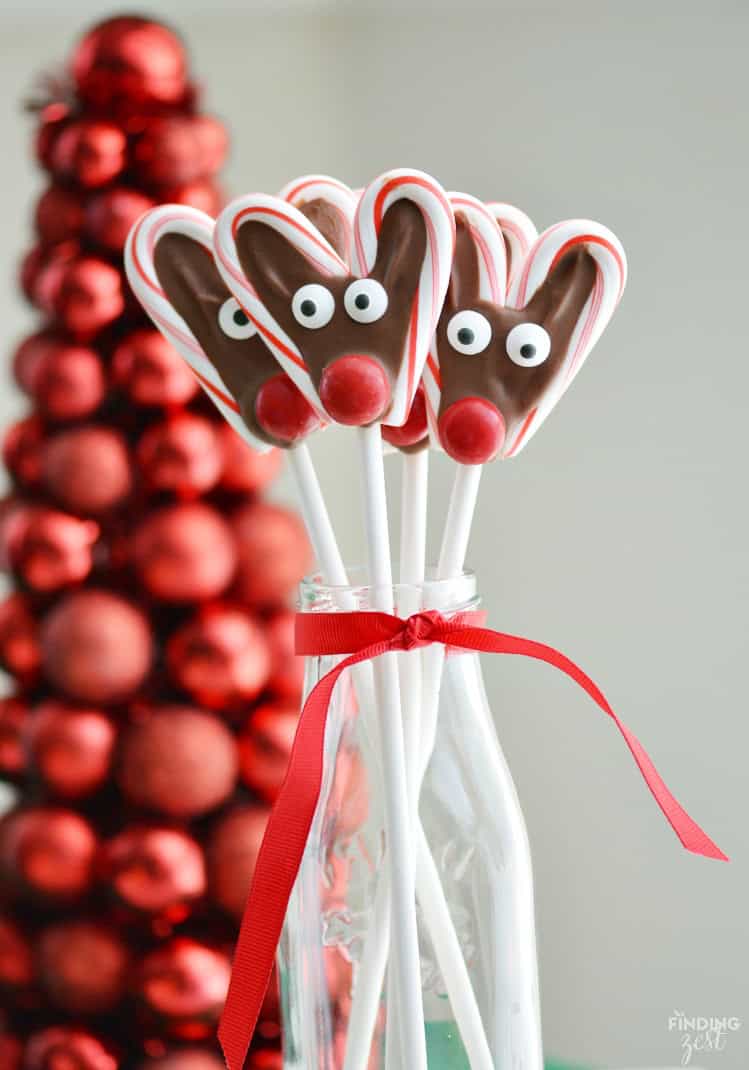 When I saw these online, I knew I had to share them with you!! Look at how ingenious this idea is. You use two mini candy canes and add melted chocolate in the center to hold everything together then decorate it to make it look like a reindeer! I would either eat them like this or dip them in my hot chocolate for a pepperminty drink.
Loving these no bake Christmas treats to make with children? Check out these articles you will love!
If you have a larger family this would be amazing on Christmas day or Christmas eve. Cute little dessert that features a glorious sweet cheese snowman center with a bunch of different dip options!
Can you guess what these are made out of?! Nutter butters, yet again! I mean you could literally buy one large family pack of nutter butters and make a few of the no bake treats I shared on this post. These ones are adorable because they're in penguin form and I can't resist that!
Honestly, these are called decoration but I will devour all of them if I'm left alone in a room where they're sitting. They are easy to make and look so festive hung up on your Christmas tree. They're are also very budget friendly as well!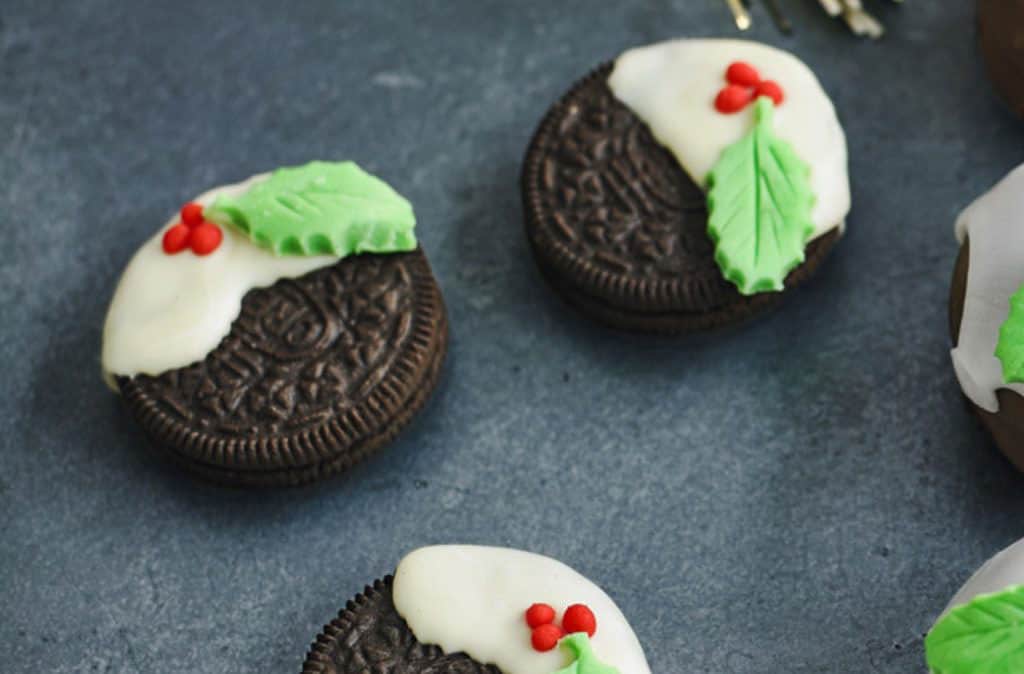 These Oreo Christmas pudding pops contain only a few ingredients and sure do have that wow factor. The thing that makes them holiday inspired if gonna be the decoration that the little ones can for sure help with!
Are these made out of gingerbread cookies that you spent hours making? Nope. They use graham crackers and vanilla frosting, plus an array of decorations for everyone to have fun on Christmas eve.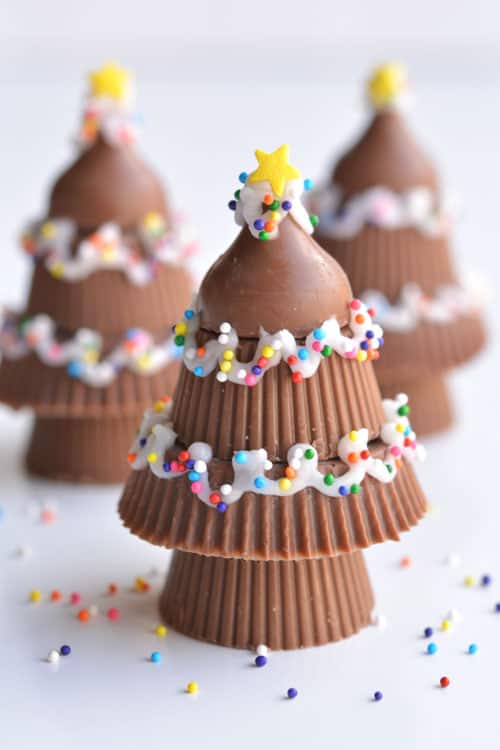 Can we all agree that everyone loved Reeses' peanut butter chocolates? I know I do, so to make and have a an adorable christmas tree made out of that is a dream come true. Of course, if your child has allergies get an allergy friendly chocolate cup so they can have fun too.
Another fabulous chocolate and melting chocolate wafer recipe that you can make this holiday season with your little ones! Pop those bad boys on a stick and you got yourself an Oreo reindeer pop.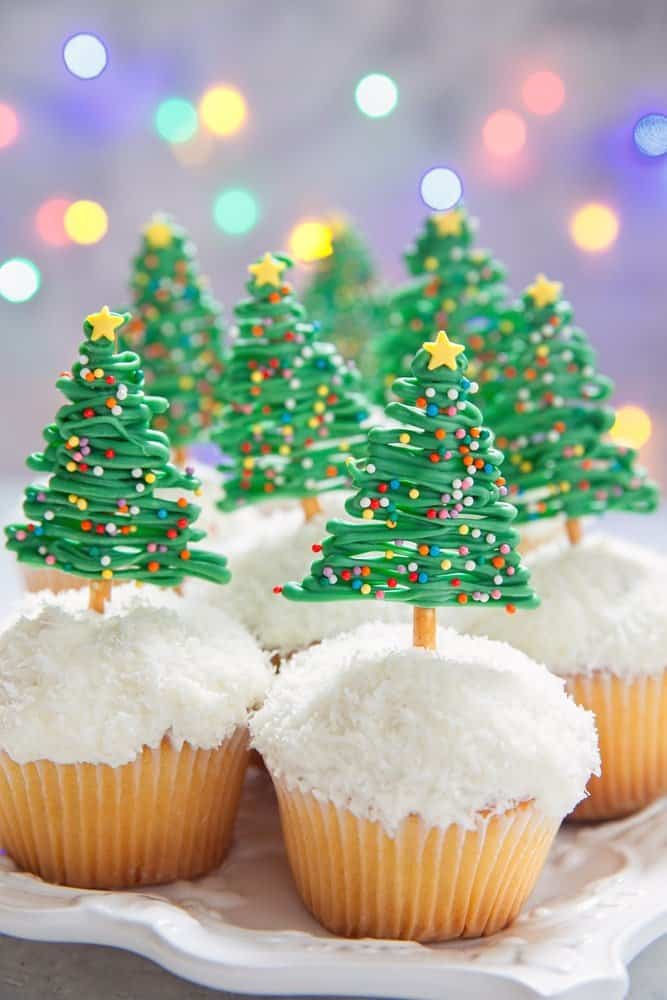 These look extremely fancy but they are so easy to make. All you need to do is lay your pretzels flat on your parchment lined baking sheet and gently drizzle the green candy melts then decorate. You cane have these as a snack or you can use them to decorate your gingerbread village.
Thank you so much for making it all the way down here!
If you loved these 27 no bake Christmas treats to make with kids, make sure to pin this article for later!