Ginger molasses cookies are the perfect holiday cookie recipe. These cookies are made with the perfect balance of ginger, cloves, and cinnamon to give you the kick you need. They are soft and chewy and perfect to leave under the chimney for Santa!
SIGN UP TO OUR MAILING LIST GET A FREE WEEKLY MEAL PLANNER AND RECIPE CARD!
Let me tell you about my first time having ginger molasses cookies. In my head, I had told myself that I wasn't gonna like them because the molasses tastes like licorice.
I do like licorice but the molasses was just intense. The second you would open the jar, you get that whiff of strong licorice smell. Add the spices to it and the smell would throw me off completely.
Law and behold, I had them and couldn't believe my tastebuds!! Ginger molasses cookies are now on the to of my favorite cookies list!!! Can you freaking believe this?!
My life has changed. I am now a believer in the ginger molasses cookies (if they have the right balance f spices, and texture, and flavor of course) Which these totally do.
This is a life changing molasses ginger cookie recipe! (you have to try it)
Seriously, I'm no exaggerating… I made them a few times to get the perfect spice level and consistency down for you and each time they got better and better.
So now, I can finally share this Christmas cookie recipe for you and hope everyone tries it at least once this year because it is seriously that good!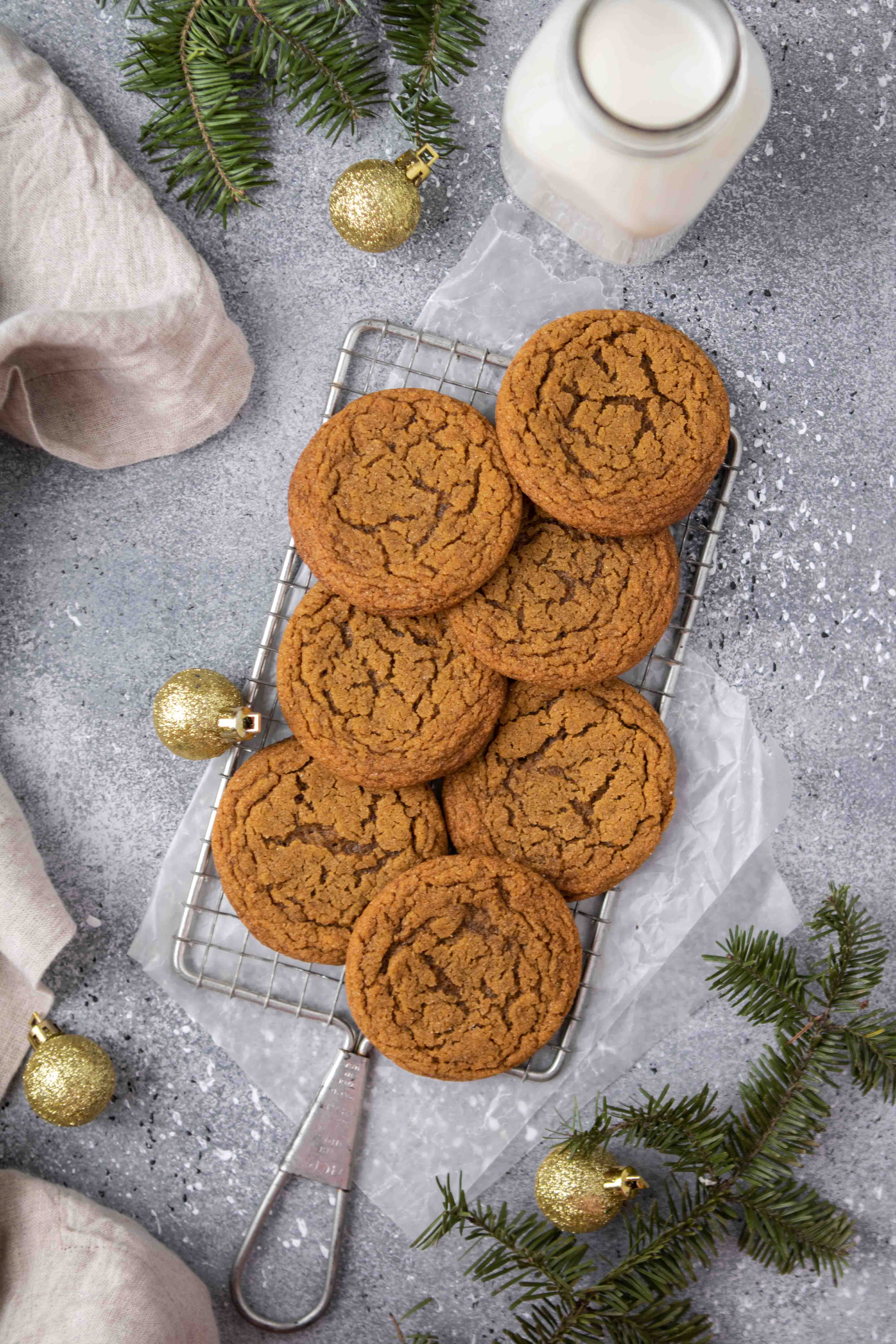 What makes these ginger molasses cookies so good?
Here are a few reasons why you gotta give these cookies a try ASAP!
They are soft and melt in your mouth
With each bite you will feel the balance of spices
These ginger molasses freeze well. Perfect make ahead cookie to give as a gift of Christmas day.
Grab a cup of tea and a molasses ginger cookie because they pair extremely well.
They are fun to make, so make a holiday activity out of making these easy and delicious cookies.
These molasses cookie require no chilling! #winning.
What's a ginger molasses cookie?
A ginger molasses cookies is a soft and chewy cookies that is made with molasses and spiced with lots of ginger. It resembles a snickerdoodle cookie in texture and is rolling in granulated sugar before baking as well.
Ginger snap vs molasses cookie?
This is a great answer with a pretty simple response. Ginger snap cookies have more of a crispy texture compared to the ginger molasses cookies that are a whole lot chewier. Ginger snap cookies also have a little bit more ginger in them as opposed to the molasses cookies.
Ingredients for chewy molasses ginger cookies
Here are the ingredients you will need to make these cookies:
Butter– This recipe starts with a generous amount of butter to get that fat content up and make it extra rich and chewy.
Brown sugar & granulated sugar– We will be using both brown and granulated sugar for these cookies to get that crispy edge and super chewy center.
Molasses– Molasses AKA our star ingredient for these cookies. Use unsuphured molasses for this recipe.
Egg– This recipe requires one room temperature egg.
Flour– All purpose flour will work great for this recipe.
Baking soda– You might think that this recipe uses too much baking soda but don't worry, it needs it to rise then collapse and give you those perfect crinkles.
Which molasses to use for molasses ginger cookies?
I usually use the darker colored molasses for these cookies. I like to use the Grandma's brand molasses because that's the one that's sold at the grocery store that I shop at.
Grandma's molasses is a high quality, unsulphured molasses. So look for unsulphured molasses for these cookies next time you want to make them.
How to make molasses ginger cookies?
This is a pretty simple cookie recipe. For the full detailed instructions, scroll down to the recipe box.
Preheat the oven.
Cream the butter and sugars.
Mix in the egg and the molasses.
Fold in the flour, baking soda and spices.
Scoop out molasses cookie dough balls and roll them in sugar.
Bake for 10 minutes then let them cool completely!
Molasses cookie variations
I love getting creative when I'm in the kitchen so here are a few thing you can add to make these cookies your own:
Roll the cookie dough in granulated sugar (just like we did in this recipe)
Dip half the cookie in white chocolate
Frost the cookies with cream cheese frosting
Drizzle white chocolate over the cookies
Add chopped crystalized ginger to the cookie batter for an extra gingery kick.
Can I freeze ginger molasses cookie dough?
Absolutely!
To freeze ginger molasses cookie dough, scoop out equally sized cookie balls using your small cookie scooper and place them on a parchment lined baking sheet. Freeze for 30 minutes then transfer to an airtight container and freeze for up to 3 months.
When you are ready to bake them, let them thaw on a parchment lined baking sheet in the fridge overnight then bake them as directed.
How to store ginger molasses cookies?
To store these ginger cookies, place them in an airtight container and store at room temperature for up to 4 days.
You can also store the baked cookies and cooled cookies in an airtight container in the freezer for up to 3 months.
Tips for the best molasses cookies
Here are a few tips that will make your batch of cookies as good as ours:
Once you add in your flour, don't over mix the cookies. Gently fold just until the flour disappears for the chewiest and softest cookies.
Make sure to leave enough room between each cookie because they will spread!
Let the cookies cool completely before transferring them to a cooling wrack or enjoying them.
The best ginger molasses cookies ever!
If you tried and enjoyed this recipe, make sure to give it a 5 star rating by clicking on the 5 stars under the description.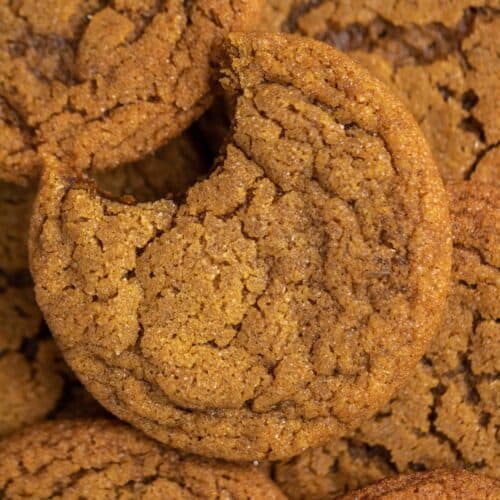 Soft and chewy molasses ginger cookies (No Chill)
These soft and chewy molasses ginger cookies have the perfect balance of spice. They are our favorite holiday cookies and will soon become your as well!
Ingredients
¾

cup

butter

softened

½

cup

brown sugar

¼

cup

granulated sugar

1

large

egg

at room temperature

2

teaspoon

vanilla extract

¼

cup

molasses

2 & ⅓

cup

all purpose flour

1 & ¾

teaspoon

baking soda

1

teaspoon

cinnamon

1 & ½

teaspoon

ground ginger

½

teaspoon

ground cloves

¼

teaspoon

salt

¼

cup

granulated sugar

for rolling.
Instructions
First, start by preheating the oven to 350F, then line a large baking sheet with parchment paper and set aside.

In a medium bowl, mix the flour, baking soda, cinnamon, ground ginger, ground cloves, and the salt and set aside.

In a large mixing bowl, cream the butter, brown sugar, and granulated sugar until light and cream. Add in the egg, vanilla extract, and molasses and mix again until well incorporated. Add in the flour mixture and gently fold until the flour disappears completely.

Using a small cookie scooper, scoop out ginger molasses cookie balls and roll them in the ¼ cup granulated sugar. Place the cookie dough balls on the prepared baking sheet making sure to leave at least 1-inch of space between each cookie (they will spread!) and bake in the preheated oven for 10 minutes.

Pull the cookies out of the oven and let them cool down on the baking sheet for 15-20 minutes before transferring them to a cooling rack. They will be a little bit on the softer side right out of the oven but will continue baking as they cool.
Notes
If you need to store you cookies, place them in an airtight container in at room temperature for up to 4 days or in the freezer for up to 3 months. 
Nutrition
Calories:
136
Calories
Carbohydrates:
20
g
Protein:
1
g
Fat:
6
g
Saturated Fat:
1
g
Cholesterol:
7
mg
Sodium:
194
mg
Potassium:
74
mg
Fiber:
1
g
Sugar:
11
g
Vitamin A:
254
IU
Calcium:
16
mg
Iron:
1
mg
Thank you so much for making it all the way down
Did you enjoy these peanut butter chocolate rice krispy treats? We would love it if you could leave a comment letting us know. In the meantime don't forget to follow us on Instagram.

Shop this recipe
This post may contain affiliate posts, meaning that at no cost to you I will get a small percentage of every purchase you make!
If you enjoyed these holiday ginger and molasses soft cookies make sure to pin them for later!