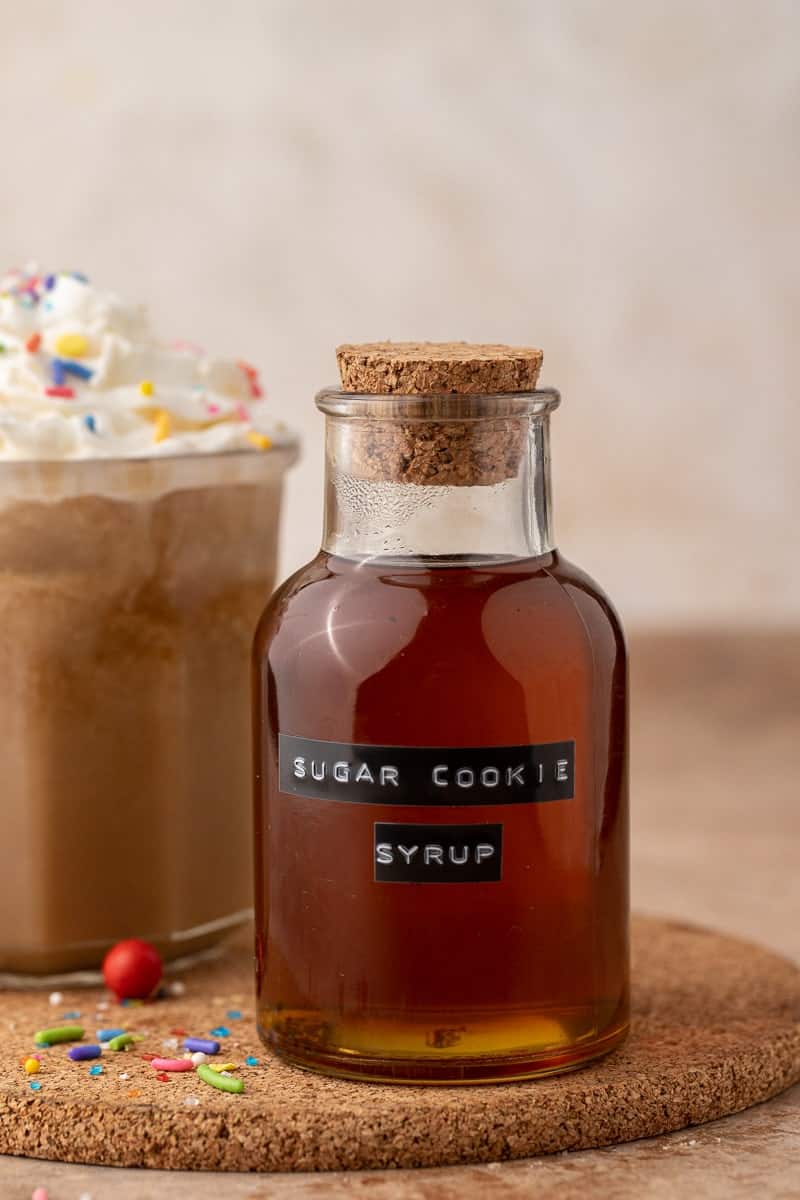 This is the second year that Starbucks released its sugar cookie latte during the holiday season. It seems like this year it got even more popular than it was last year so to make sure I save you a little extra money I wanted to make the recipe for the syrup itself instead of the recipe for a whole latte.
This way you can make it on Sunday and leave it in the fridge to enjoy throughout the week with your morning coffee.
This is the best sugar cookie syrup recipe ever!
With this syrup, you would be able to make upwards of 7-10 drinks depending on how sweet you like your coffee. Mine lasts me a little longer since I like just a hint of sweetness.
Plus the fact that it only uses brown and white sugar, water, butter flavoring, vanilla, and almond extracts makes it extra easy to whip up in less than 15 minutes.
Why you need to make this recipe!
It is a great copycat syrup recipe to the real deal that Starbucks has.
This recipe will save you a ton of money in the long run.
You will be able also to save time by skipping the drive-through when the craving hits.
This recipe allows you to prepare enough syrup for the week making your daily coffee that much easier.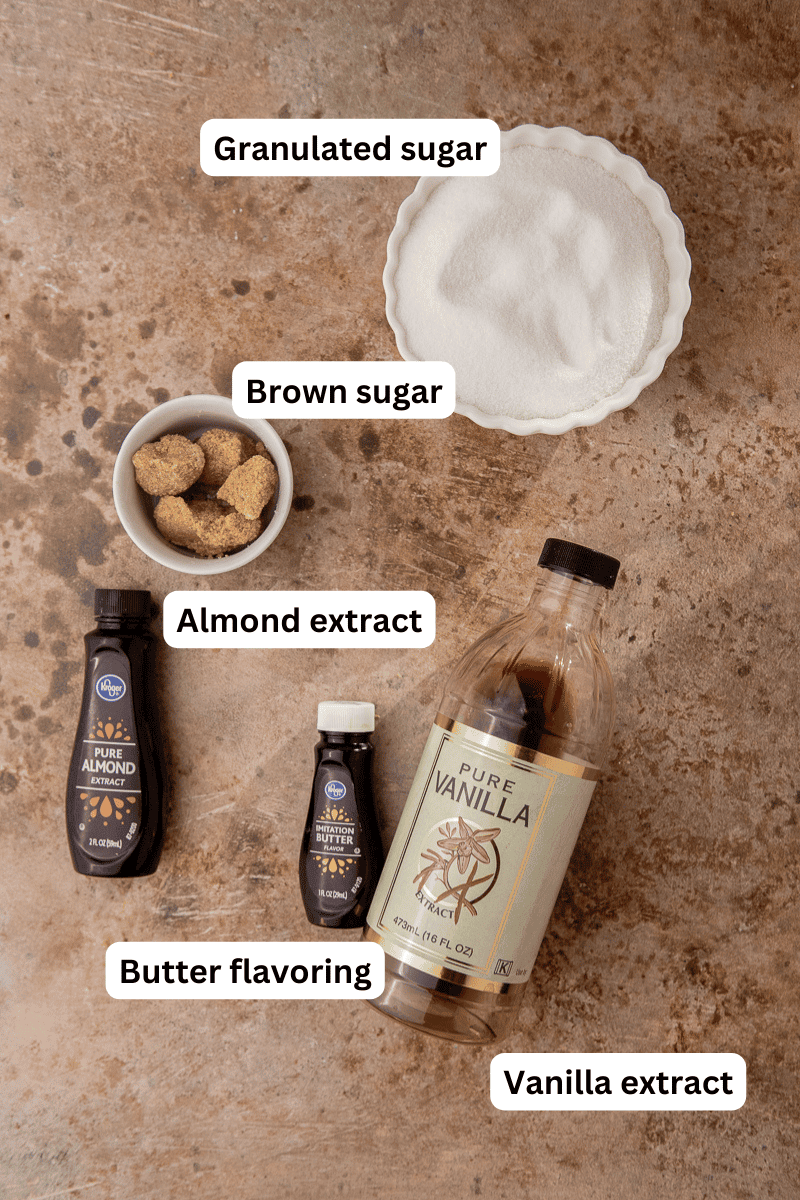 Ingredients for this Starbucks sugar cookie syrup recipe
Here are the ingredients you will need to make this simple syrup for coffee. Make sure to scroll down to the recipe card for the full detailed ingredient measurements.
Brown and granulated sugar0 The mixture of both sugars adds a little extra depth of flavor to our syrup.
Water
Vanilla extract– This will take our syrup to the next level/
Almond extract– A lot of sugar cookies have a hint of almond so Almond extract it is.
Butter extract- This will give the syrup that extra buttery flavor that will remind you of your favorite butter cookies.
If you can't have almond extract due to allergies, add a little extra vanilla extract instead.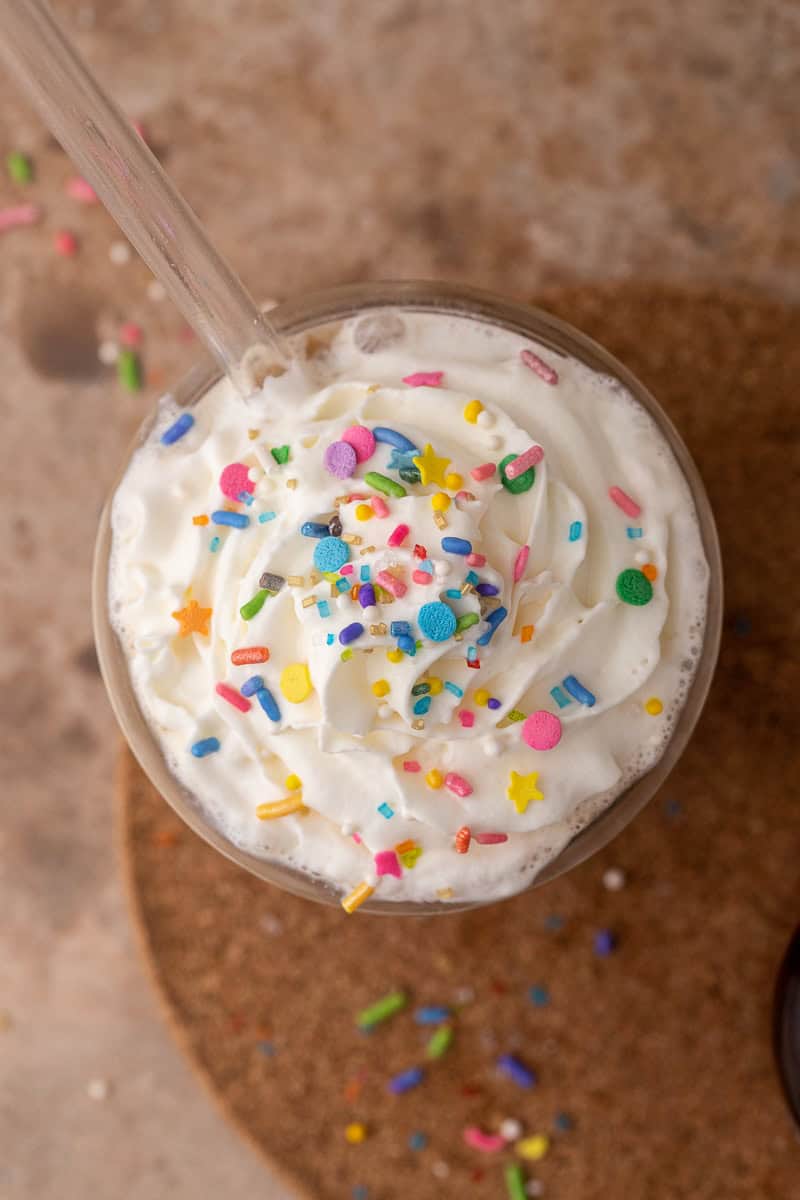 How to make this sugar cookie syrup for your coffee.
This is how you can make this easy recipe. Make sure to scroll down to the recipe card for the full detailed instructions!
In a medium saucepan add the sugars and water, and stir.
Bring to a boil then reduce to a simmer.
Let the mixture simmer for 10 or so minutes until the sugar is fully dissolved and the mixture slightly thickens.
Remove from heat and immediately add in the flavorings and extract, and stir.
Let the syrup cool down before placing it in an airtight container and storing in the fridge.
Frequently asked questions – FAQ
How to store sugar cookie syrup for coffee?
You can store this simple syrup in the fridge for up to 2 weeks.
Can I use this syrup in anything else?
Absolutely, while the Starbucks syrup is used in their iced latter, hot lattes, and cold brew drinks you can also use it in your holiday cocktails or mocktails for a delicious sugar cookie drink!
Can I use real butter instead of butte extract?
Since this syrup is going in drinks and many of them are cold drinks, I do not recommend using real butter in this drink because it will harden and will turn a pleasant coffee experience into a not-so-pleasant one.
Of course, if you are making this syrup of french toast, pancakes, or even waffles go for it. In that case, the warm buttery syrup will add to the flavor. But if you are using this for coffee, no real butter is allowed!
What if I don't have butter extract?
The butter extract is a must for this recipe. Sure you can leave it out but you will be missing out on that buttery flavor that you usually would get from a sugar cookie. I would add a little more vanilla to make up for not adding the butter extract.
How to adjust the flavors?
While this recipe is the closest recipe to the Starbucks syrup you might prefer it slightly altered which is super easy.
When adding the extracts and flavorings, add a little at a time, stir and taste to see if that's the flavor you are going for. You can also add a bit more than the recipe calls for if you are more into stronger flavors in your sugar cookie syrup.
Keep in mind though that the almond extract is really strong so add a tiny bit at a time if you want to use more than what is recommended.
Starbucks sugar cookie syrup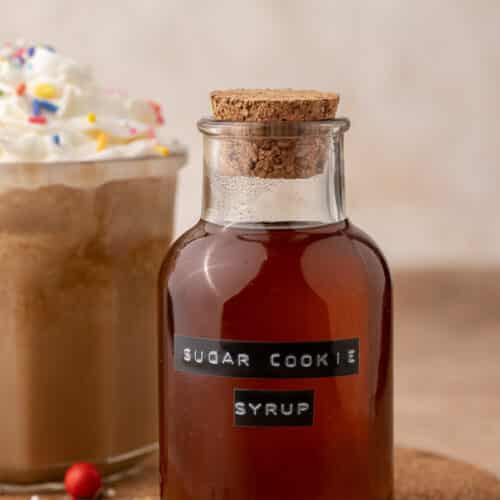 Starbucks sugar cookie syrup for coffee
This easy Starbucks sugar cookie syrup for coffee is the easiest flavored simple syrup you can make to turn your coffee into a coffee shop masterpiece.
Ingredients
1

cup

water

2

tablespoon

brown sugar

1

cup

granulated sugar

3

teaspoon

vanilla extract

1

teaspoon

butter extract

¼-1/2

teaspoon

almond extract

Add as little or as much as you'd like. ¼ is best if you don't want a strong almond flavor while ½ is perfect for strong almond flavor lovers.
Instructions
Pour the water and sugars in a saucepan and bring to a boil. Once it boils, reduce the heat down and let the simple syrup simmer for abour 10 minutes. We want the mixture to thicken slightly and the sugar to dissolve.

Add in the vanilla extract, butter flavoring, and almond extract, give it a good stir. Then remove from heat and let it cool down before transferring it to a mason jar or an airtight container and storing it in the fridge for up to 2 weeks.
Nutrition
Calories:
112
Calories
Carbohydrates:
28
g
Protein:
0.01
g
Fat:
0.1
g
Sodium:
3
mg
Potassium:
7
mg
Sugar:
28
g
Calcium:
4
mg
Iron:
0.04
mg

Shop this recipe
This post may contain affiliate links, meaning that at no cost to you I will get a small percentage of every purchase you make!
If you enjoyed this festive sugar cookie syrup recipe make sure to pin it for later!