This toasted hazelnut smoothie is the best! It is amongst my favorite smoothies ever because it is healthy, creamy, and nutritious. It contains a lot of vitamins and minerals while still satisfying all your sweet cravings. Prepare this drink in minutes and enjoy your healthy smoothie!
SIGN UP TO OUR MAILING LIST GET A FREE WEEKLY MEAL PLANNER AND RECIPE CARD!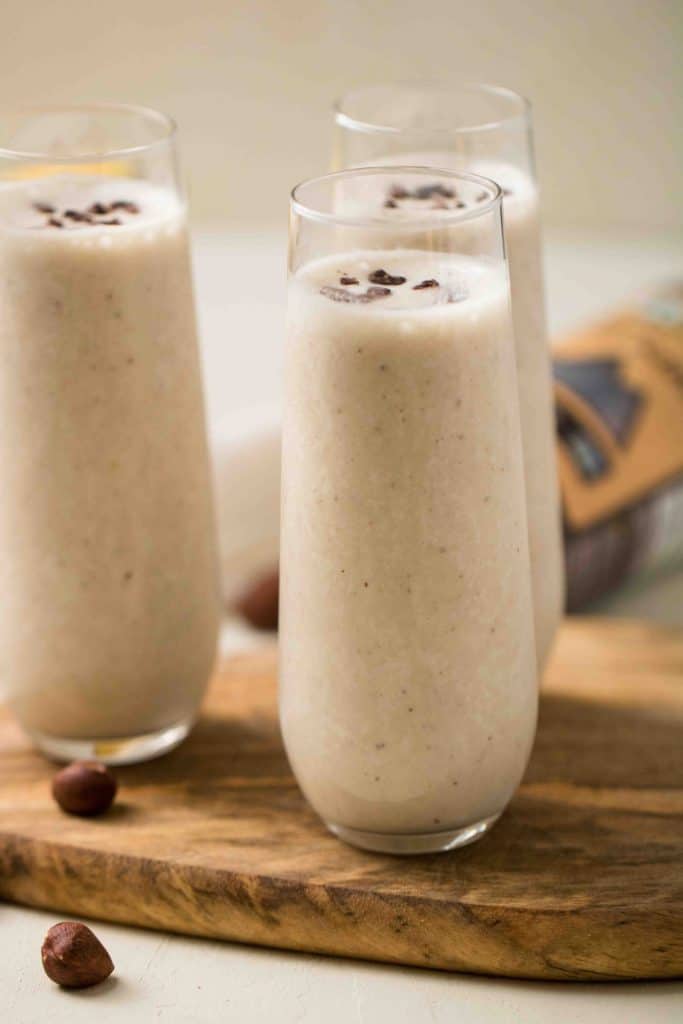 As many of you know already, I live in Nevada with my little sister while my parents and little brother moved back to Algeria.
A little while back, after speaking to my parents, I heard that my dad had come up with a super simple smoothie recipe that tasted out of this world and didn't need as many ingredients! Of course, I had to try it.
It was a simple, toasted hazelnuts, frozen bananas and milk. If you know me, you know I am a sucker for easy recipes.
This is a homemade 3-ingredient toasted hazelnut smoothie with bananas
This easy smoothie recipe is simple and only requires 3 ingredients but it is packed with flavor and health benefits so don't let that keep you from making it!
When I first tried this smoothie, I had big expectations. I knew that hazelnuts were one of the main ingredients in Nutella ( and I am obsessed with Nutella), so automatically my brain associated this smoothie with pure deliciousness…. Without even trying it first.
… And then I tried it! It seriously exceeded my expectations! The nutty flavor from the hazelnuts was very enjoyable. It was perfectly sweetened with the bananas ( no processed sugar added here!) and the milk gave it a cream-like flavor. Absolutely divine. This has since then become my favorite summer smoothie recipe.
Plus, this has been a staple for me this week. I just removed my top wisdom teeth and this hazelnut smoothie has been keeping me going for sure!
What's so special about this hazelnut smoothie?!
This toasted hazelnut smoothie is slowly become a staple smoothie recipe for me, it is:
Thick
Creamy
Filling
So so nutritious
naturally sweetened
Best of all, easy to make!
Ingredients for this banana toasted hazelnut smoothie
This smoothie recipe only requires three ingredients which makes it extra special in my book! You will need:
Toasted Hazelnuts– I get hazelnuts from the store and toast them myself. I then quickly peel most of them and leave some with their skin on to give the smoothie some depth.
Frozen bananas– I always freeze bananas that are starting to ripen too quickly, so I always have a good supply of bananas for smoothies in the freezer.
Milk– I used regular cow's milk but feel free to use anything from almond milk to soy milk. That's the beauty of smoothies. You can really make them your own.
Cacao nibs– These are optional but I like to decorate my smoothies with them!
How to make banana hazelnut smoothie?

This smoothie (just like many other ones I have on my site) is extremely easy to make!
You will need to toast and peel your hazelnuts first then let them cool down completely.
Now that the hazelnuts are ready add in the frozen bananas, hazelnuts, and milk to a blender and blend until smooth.
TIP OF THE DAY:
If you want your smoothie a little thicker, add it more frozen bananas. If you want it a little thinner add in some more milk.
When your smoothie is blended to perfection, pour it into two glasses and decorate it with some cacao nibs or whatever your heard desires!
Is this banana toasted hazelnut smoothie healthy?
Not all smoothies are created equal. Some are extremely good for you others not so much. This one though is a nutrient powerhouse!
Hazelnuts- Hazelnuts are packed with essential nutrients. It is high in fiber, protein phosphorus, and even vitamin E. Since it is a nut, it is rich in healthy fats as well!
Banana– Banana is great when you have PMS stomach cramps, it is packed with manganese, vitamin B6, vitamin C as well as fiber.
Milk– If you are using dairy milk you will be getting a good amount of protein, vitamin D, and calcium.
Cacao nibs- These are made from crushed cocoa beans. They are super-rich in antioxidants, magnesium, calcium, zinc, copper, and selenium.
More smoothie recipes
Take this banana hazelnut smoothie up a notch.
If you are like me and enjoy switching up your smoothie often. You can take this roasted hazelnut smoothie and make it even better.
You could add some coffee instead of just milk to make this the perfect morning drink.
Add some cocoa powder to make this healthy Nutella inspired smoothie.
Add green yogurt to your smoothie for extra protein and a thicker consistency.
Toasted hazelnut smoothie
If you tried this recipe and loved it, make sure to give it a 5 star review by clicking on the 5 stars under the title and the description! It would help me greatly 🙂
Toasted hazelnut smoothie with bananas
This toasted hazelnut smoothie has the perfect balance of sweetness and nuttiness to it. It is creamy, healthy, and oh so full of flavor!
Instructions
Place all the ingredients in a blender and blend until smooth. Top with toasted chopped hazelnuts or cacao nibs and enjoy!
Nutrition
Calories:
105
Calories
Carbohydrates:
27
g
Protein:
1
g
Fat:
1
g
Saturated Fat:
1
g
Sodium:
1
mg
Potassium:
422
mg
Fiber:
3
g
Sugar:
14
g
Vitamin A:
76
IU
Vitamin C:
10
mg
Calcium:
6
mg
Iron:
1
mg
Thank you so much for making it all the way down here! If you tried this recipe and loved it as much as we did, don't forget to leave us a comment below! It would mean the world to us.
In the mean time don't forget to follow me on Instagram!

Shop this recipe
This post may contain affiliate posts, meaning that at no cost to you I will get a small percentage of every purchase you make!
If you enjoyed this toasted hazelnut smoothie recipe make sure to pin it for later!