The best 18 Valentine's day cookie ideas. It's that time of the year… Time to make and eat everything pink while also spoiling your loved ones of course!
Signup to our newsletter to stay up to date on all the best recipes!
Dear friends, we are gathered here today to check out some of the best valentine's day cookie ideas ever in the history of the internet!
Throughout the years, we have made many failed batches of valentine's day cookies, but I'm finally here to put an end to it.
With these tested and true valentine's cookie recipes you will be able to wow your family and loved one with not only gorgeous creations but delicious desserts and treats as well!
So hold on to your seats because these next # cookie recipes will wow you and leave you drooling… Just make sure you don't drool all over your phones and computers because those can be pretty pricey now a-days!
Hello friends!
I have shared something similar to this article around Christmas (17 days of holiday cookie recipes) and received really good feedback. So since I know you guys enjoy going to one website and having all your needs met there. I am here to serve you!
I have anticipated your needs and wanted to share something that you will hopefully find super useful this time around! So without further ado, here are some of the best Valentine's day cookies ever made!
The 18 best Valentine's day cookie ideas EVER!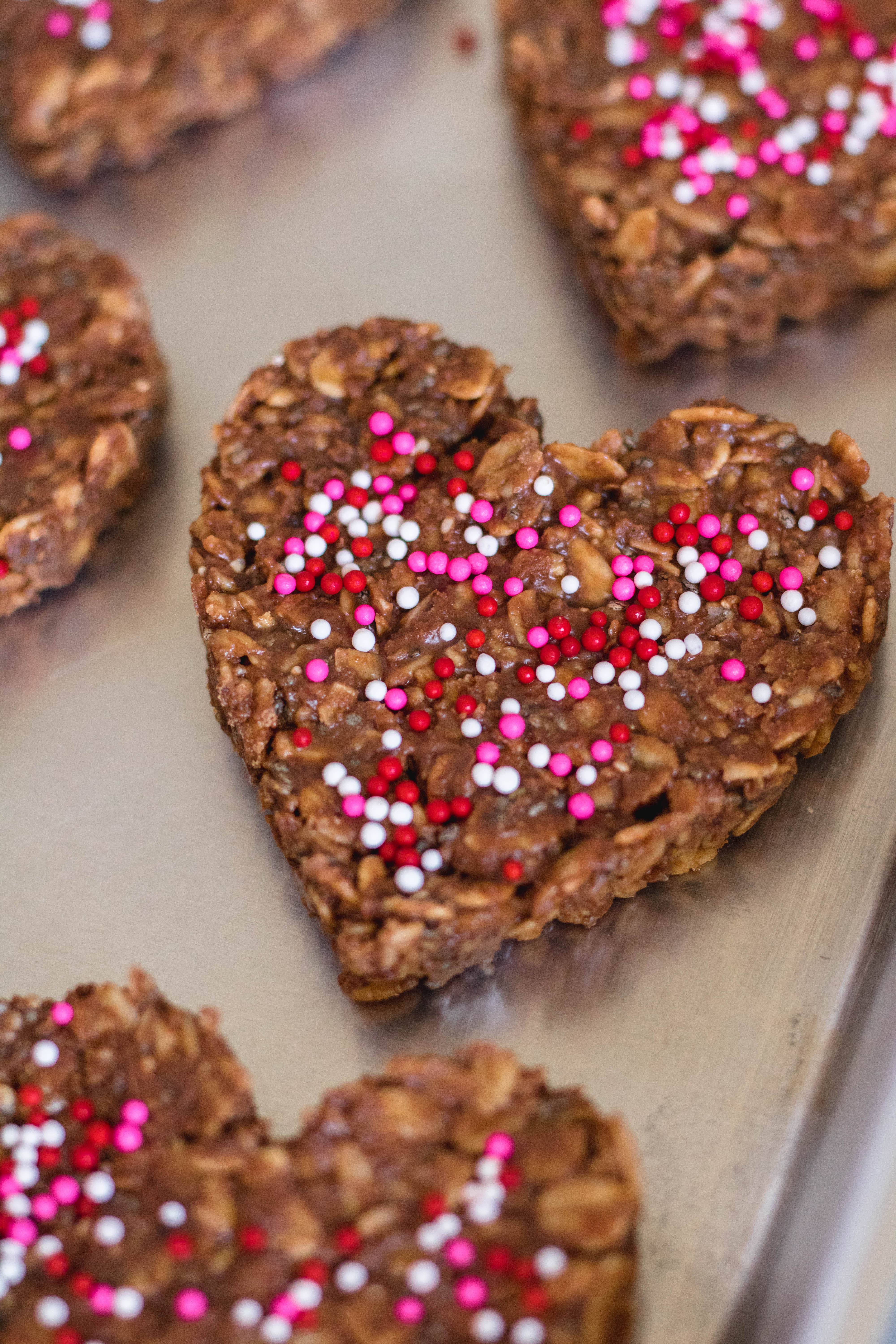 If you too are out here trying to be healthier, than these healthier no bake peanut butter cookies are gonna be one of your favorites this year. They are making using peanut butter, dark chocolate, and coconut sugar, all things good for you! Top them with pink nonpareils and you got yourself a valentine's day treat.
In the world of dessert and sweet treats, I don't think anything beats an ooey gooey chocolate cookie… Now supersize that and top it with whipped white chocolate ganache and you have my heart. This heart shaped cookie cake for two is one of my favorite treats to make my boyfriend around Valentine's day!
Sometimes, the simple things in life are the best things! That's why I am sharing these absolutely delicious valentine's day stamped shortbread cookies. They are perfectly buttery melt in your mouth with a nice crispiness around the edges. You can use any valentine's day message you'd like to make the perfect gift!
If you're enjoying this Valentine's day cookie ideas article check these out!
If these valentine's day cookie ideas are not enough for you, I have one more recipe from wonder and charm. The prettiest valentine's M&M's cookies!
If you are looking for an instant family favorite, Laurie and Nancy got you covered! These sugar cookie bars are easy to make and gorgeous to look at. Top these sugar cookie bars with a generous layer of pink or red buttercream frosting and you got yourself the perfect quick treat.
These light pink macarons are filled with a rich chocolate ganache and decorated with a darker pink heart on the top. They are both gorgeous and luxurious! So if you are really trying to impress, Jes Lahay, a Minneapolis based pastry chef got you covered.
First off, this photo is probably one of my absolute favorites from this article! Christina really did an incredible job shooting these… I'm actually drooling while I write this. But anyways, she shared this 20 minute red velvet cookie recipe for two and I haven't been able to stop making it. Plop a white chocolate heart on top and BAM! Turns into the perfect valentine's day dessert for your sweetie!
Want something quick and easy?! Jamielyn has some of the easiest Valentine's day sugar cookie recipes on her blog. They are super soft, tender on the inside and deliciously sweet. we can all agree that sometimes we do not have all that energy to roll the sugar cookies, cut them and then bake them. So she came out with the genius idea to roll them into balls and roll them in sprinkles. Tada! You got yourself one perfect sugar cookie.
Best V-Day sprinkles for the best valentine's day cookie ideas!
Do you see the ombre on these cookies?! That's not all… Elizabeth, took sugar cookies to the next level by using brown butter instead of regular butter! If you know me, you know my utter obsession with brown butter. SO if you don't try anything from this post at least start incorporating brown butter in your baking a little more. You can thank me later!
If you too are looking for something healthy, Aimee is really treating us with these adorable vegan heart shaped cookie pops. These cookies have no refined sugars and are glazed with a sugar-free royal icing! They could also be made gluten free!! How cool right!
I said this before, I'll say it again. Chocolate chips are the way to anyone's heart! Make those in the shape of a heart, dip them in chocolate and add some Valentine's Day inspired sprinkles for one of the most traditional and delicious little treat. Jennifer really nailed this one!
Now onto one of the cutest cookies of this whole bunch! Karen took soft sugar cookies and frosted them with a coconut frosting for a change. So if you're a fan of coconut flavors and strawberries you might just love this one 😉 !
If you're enjoying these valentine's day cookie ideas, here are more cookie recipes you will love!
If you are looking for some absolutely stunning but still cute and Valentine's day inspired cookies these are for you! Sam turned a simple sugar cookie into these chocolate dipped sprinkles topped heart cookies and we can't get enough of them!
If you are an adventurous baker this one is for you! These piñata cookies are totally different from anything else we've ever seen! Justine also offers a photo step by step on how to make these cookies so head there no to check that out 🙂
Sometimes you might not want all that pink and all those sprinkles for valentine's day. But these Cut-out almond cookies filled with raspberry jam and dusted in confectioner's sugar are elegant but still fitting for Valentine's day! The little jam hearts are definitely what makes these!
These Valentine's day swirl cookies are everything we've been looking for! They are pretty pink pinwheel cookies coated in valentine's day nonpareils! The best part of all is that Lois has step by step images of how to make these beauties so you will end up with the exact same result as her!
When we think Valentine's day, we automatically think pink, chocolate, or red And Sarah from Broma Bakery thinks the same! Her thick red velvet brookies scream buttery goodness plus chocolate heaven all at the same time. If you really want to treat your special person this year, these are it!
More often than not, we think plain squares of circles when it comes to shortbread cookies. Well, let me tell you!! It doesn't have to be that way anymore. Scott and Chris made these melt in your mouth shortbread bites into something totally fitting for Valentine's day. They coated them with pink nonpareil (sprinkles) and topped them with Hershey's hugs! How cute…
This has to be my favorite way to make sugar cookie in a hurry. Janice and Susan use powdered sugar instead of icing for their sugar cookies for a quick and easy homemade cookie batch. I mean who would've thought! They colored their heart shaped sugar cookies pink to fit the valentine's day and dusted them with powdered sugar for a clean yet stunning finish!
Shop Our favorite items from the best valentine's day cookie ideas!
This article may contain some affiliate links, meaning, at no additional cost to you, I will earn a commission if you click through and make a purchase.

And if you really enjoyed this "18 of the best Valentine's day Cookie ideas" make sure to pin it for later!