Fresh summer spring rolls, summer rolls, or Vietnamese rolls… Whatever you want to call them just know that these are probably the best and tastiest way to get in all those veggies in the most tasteful way! Add to that the famous 5-minute peanut dipping sauce and let me tell you… You're set!
After trying them for the first time back in 2013 I could not stop having them! Unfortunately, I did spend so much money on purchasing them instead of making them myself at home but that's behind us now! And honestly, this seemed to be a trend amongst many bloggers that posted about these!
I feel like the sequence goes like this:
You find out about spring rolls
You get obsessed with how tasty they are
You literally start buying them every day $$$
One day you figure out that they're not that hard to make and you give it a go, and boom… Never going back.
Now I feel like it is my time to share all this knowledge with you guys, I want to help you see for yourself how much more tasty these can be when made at home!
But hey… even if you don't care about them being super tasty when homemade at least listen to me so I can save you a little money!!
Anyways, let's talk a little about the spring roll! For those who are unsure about what these amazing rice paper rolls are, well they're the healthier version or
They mainly require a little planning but that's about it. The rest will come naturally, and with a little practice, you will start making better spring rolls than those you've been purchasing for so long. These are super easy to make and can be a great option for snacking or even as a meal if you add the right amount of protein in!
I also want to let you know that the ingredients I used ould be replaced with whatever your heart desires… Or if you're lazy like me you could use whatever you can find in the fridge. Bellow, I gave a good list of other ingredients that could be used to make these spring rolls.
Some more ingredients you could use in spring rolls
Lettuce
Cilantro
Bean sprouts
shredded chicken
grilled tofu
Shrimp
Sesame seeds
Quinoa
Kale
Mint
Carrots
In all honesty, the list is still super long. The beauty about these is that you can fill them up with anything you have on hand. Any veggie and protein you have you can put in and roll on over! (I don't know if you were able to tell but this was a little pun from BRUNO, a pretty lame but still funny show on NETFLIX)
How about the 5-minute peanut sauce I mentioned in the title, you say? Well, you are in the right place. I put all my favorite flavors together to create this delicious peanut dipping sauce. It is salty and creamy with a hint of sweetness, acidity, and heat! all the right components for when it comes to making the PERFECT peanut dipping sauce for your spring rolls or veggies. Literally, the best sauce to enjoy with your fresh summer veggie spring rolls.
Things you will need for the spring rolls
All sorts of veggies julienned/sliced
A Large bowl or a pan preferably for dipping the rice paper
Rice vinegar
How to make the Summer Fresh Veggie Spring Rolls?
The cool thing about this recipe is that you don't need to cook or bake anything! All you need to know is prep your veggies and you're well on your way to make one the easiest and tastiest veggie loaded snack/meal!
Start by rinsing your veggie, then cut them thinly into matchstick shapes. Shred or slice the purple cabbage, if that is still too large for your own taste, just chop them a little smaller with a knife!
Cut the avocado in half and remove the pit, cut one half into thin slices and scoop out with a large spoon, set aside.
Prep your rice vermicelli and drizzle with 1tbsp of rice vinegar, stir and set aside.
Once ready to start your spring rolls, get a damp cloth and place it onto your work area.  Soften the rice paper by submerging them in warm water for 15-20 seconds. Make sure to soften them one by one as you go!
If the paper sits in the water for way too long it will get too soft and very hard to work with. This will take some practice so don't give up 🙂
How to roll a spring roll?
Well, below I have taken photos to show you exactly how I did it and how you can do it too!
Start by placing your filling on one edge, ( the bottom third of the rice paper) I started with spinach, then vermicelli, bell pepper, then cabbage.  Then rolls the veggies over in a way to form a tight roll.
Now close the two sides over and add in the avocado in the middle, you could also add in the avocado slices before closing the two sides just to make sure that everything stays in. Finish rolling everything and TADAA!! You have yourself a fresh Vietnamese inspired spring roll.
Summer Fresh Veggie Spring Rolls
Summer Fresh Veggie Spring Rolls
Fresh summer veggie spring rolls are one of the most enjoyable ways to have your salad. They make for a delicious appetizer or a quick healthy snack.
Ingredients
8

Spring roll rice paper wrappers

1

small bell pepper, julienned

⅓

cup

chopped up purple cabbage

1 ½

cup

cooked rice noodles/rice vermicelli

(optional)

1

cup

chopped up spinach leaves

½

avocado sliced

1

tablespoon

seasoned rice vinegar
Instructions
First, start by cooking your rice sticks according to the package. Mine required me to place them in hot water for ten minutes. Set the noodles aside until they cool down then pour the seasoned rice vinegar over it to give it a nice taste. set it aside for later.

Fill a large bowl or a large pan with warm water and set aside. (large enough to fit the piece of rice paper.)

Set a damp dish towel over a cutting board or a clean work surface area. (for this I used a simple plate to take photos but I used a damp towel on my actual work area) Dip the rice paper sheet into the warm water for 15-20 seconds.

Remove the rice paper sheet, shake off ay excess water and lay it flat on the damp cloth. Don't worry if the rice paper sheet seems stiff still, it will become more pliable as you start building your rolls.

Start by putting a good amount of shredded spinach on the bottom third of the rice paper. On the spinach, place about 2 to 3 tablespoons of the noodles, a couple of red bell pepper sticks as well as a couple of shredded cabbage pieces.

Roll the paper halfway into a cylinder. Fold the sides over to make sure that everything stays in then add in the avocado slices in the middle and continue rolling away from you to seal.

Repeat with the remaining wrappers and filling. Store these spring rolls with the seam side down. Serve immediately with the peanut dipping sauce.
Notes
This recipe is so yummy and versatile so don't be scared to switch up the ingredient based on your taste or what you have available at your home.
Things you will need for the peanut butter dip sauce
A food processor or a blender, I used a blender and it worked perfectly!
Fokkennuts smooth and crunchy peanut butter
Soy sauce
Honey
Rice vinegar
Sesame oil
Chili garlic paste
Ground ginger
Garlic Cloves
How Can I make this 5-minute Peanut Dipping Sauce?
This sauce can be made by a 5-year-old if you ask me! Grab all your ingredients, place them in a blender or a food processor and blend until you get a smooth consistency!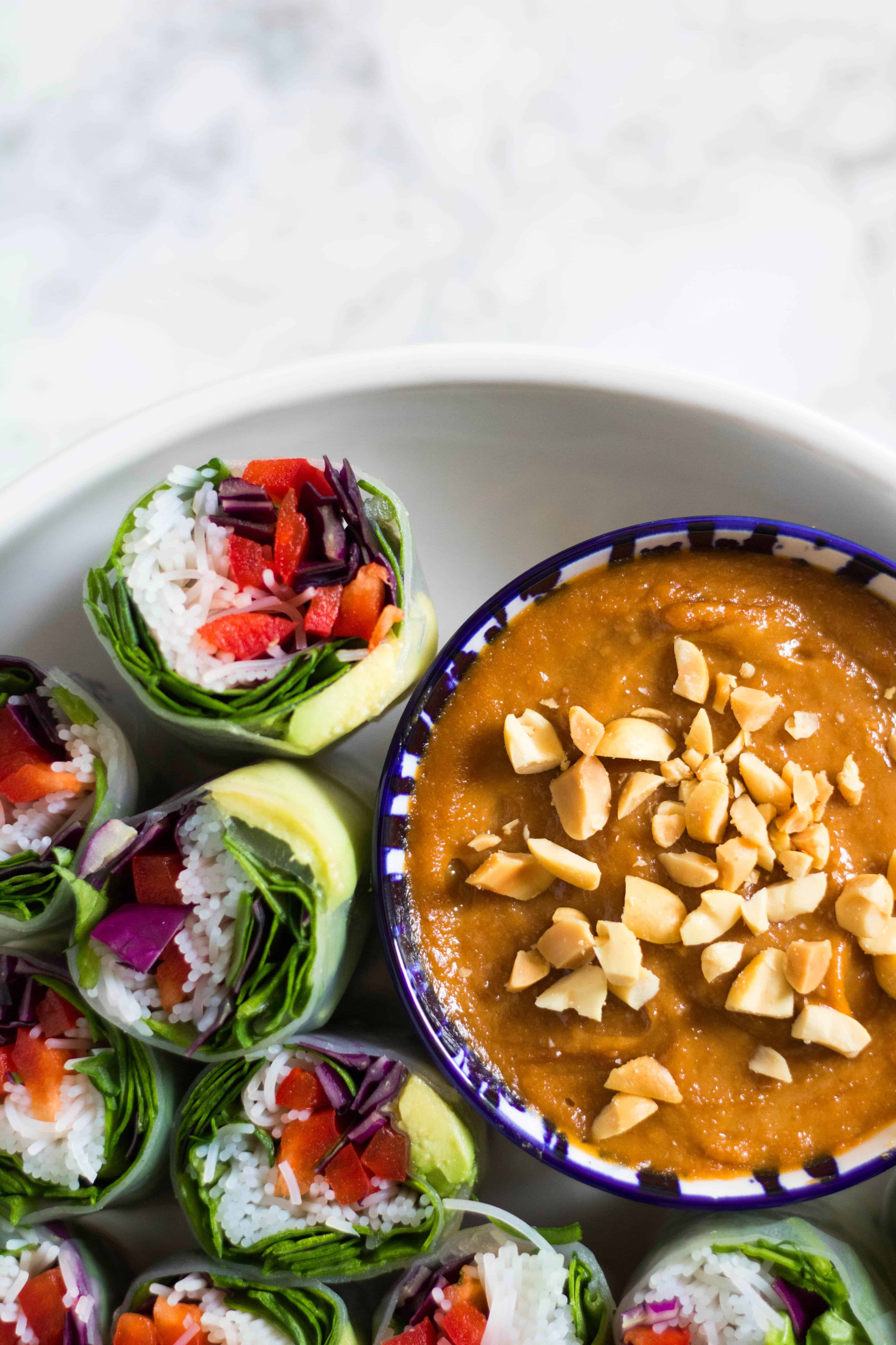 5-minute Peanut Dipping Sauce
The 5-minute peanut dipping sauce
The perfect five minute peanut dipping sauce, Simple ingredients and not too much time spent in the kitchen... Why yes please!! This Thai inspired peanut dipping sauce is great for veggie stick, fresh spring rolls and even to drizzle on top of stir frys.
Equipment
blender or food processor
Ingredients
¼

cup

Fokkennuts smooth nuts

¼

cup

Fokkennuts crunchy nuts

2

tablespoon

soy sauce

1

tablespoon

honey

1

tablespoon

seasoned rice vinegar

3

tablespoon

hot water

1

teaspoon

sesame oil

2

teaspoon

chili garlic paste

1

teaspoon

ground ginger

3

garlic cloves
Some chopped up peanut for decoration (optional)

Instructions
In a blender or a food processor, add in the peanut butters, soy sauce, honey, rice vinegar, hot water, sesame oil, chili garlic paste, ground ginger, garlic cloves and blend until you get a creamy mixture.

If you want this peanut dipping sauce to be thinner, add in some more water 1 teaspoon at a time.

Top with the chopped up peanuts for decoration.
Notes
Peanut sauce can be made ahead and stored in the fridge for up to a week. Make sure to bring it to room temperature before serving.
This peanut sauce can be enjoyed with:
Spring rolls
Veggies sticks
Chicken Satays
Lettuce cups
This 5-minute peanut dipping sauce is a staple at my house because it literally takes no time to throw everything together and it tastes amazing! You can use this 5- minute peanut sauce with spring rolls, veggies sticks, chicken satays, and even lettuce cups!
So make sure to give this a try to bless everyone's taste buds 🙂
Some recipes that might interest you:
Products that I love
This article may contain some affiliate links, meaning, at no additional cost to you, I will earn a commission if you click through and make a purchase   
I also wanted to tell you about the gorgeous bowl I received from FABFITFUN this season!
If you follow this link, You will get $15 off your first box! So check it out and let me know what you think. It is honestly my favorite subscription box!
As always, make sure to follow me on Instagram at @Chahinez_tbt  and Pinterest. And if you try this recipe out let me know how you like it :)! Have an awesome day and make sure to pin this for later
XO, Chahinez