This post is sponsored by Monin. All thoughts and opinions are 100% my own. Thank you for supporting the brands that make Lifestyle of a foodie possible.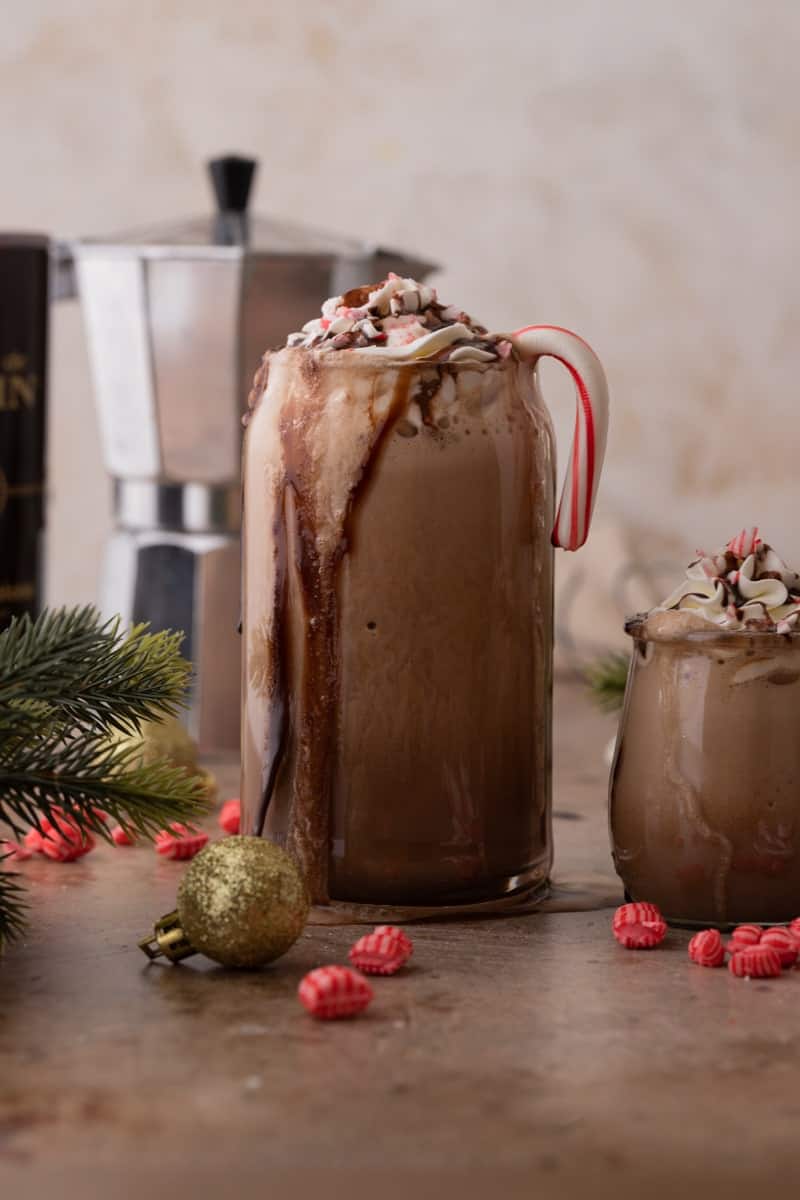 When it comes to coffee shops, I think the holiday season is probably the prime time for the best flavors out there. Well, I am here to let you know that you can make delicious Starbucks drinks in the comfort of your own home, and for a whole lot less money! Isn't that the most delicious way to walk into winter?!
What Is a Starbucks Peppermint Mocha Frappuccino?
The Starbucks peppermint mocha is a refreshing chocolate and peppermint frappuccino. It is made by combining coffee, chocolate sauce, and peppermint extract or peppermint syrup to create one of the most delicious Christmas drinks ever!
What Do I Need for This Starbucks Copycat Peppermint Mocha?
Espresso: This is where the coffee flavor as well as the caffeine comes from. Don't worry, if you don't have an espresso machine I will give you different ways to make this peppermint mocha recipe!
Xanthan Gum: This is used instead of the Starbucks base. It will help emulsify the ice and all of the ingredients together to create a creamy frappuccino.
2% Milk: ​Starbucks uses 2% milk so we are going to do the same for the sake of keeping this recipe as authentic as possible.
Peppermint Extract: Peppermint extract is an easy way to add peppermint flavoring without needing peppermint syrup.
Monin Chocolate Sauce: The Monin Chocolate sauce pairs so well with the peppermint giving it that very cheerful holiday flavoring. You can use discount code LOAF for 15% OFF!
Discount code required. Offer ends March 31st, 2024, at 11:59 pm EST. This discount cannot be applied retroactively or in conjunction with any other coupon codes. Other exclusions may apply. Free shipping on orders more than $35 excludes Hawaii and Alaska and any area outside of the contiguous US. The qualifying amount is based on subtotaled order. Offer valid in the U.S. only.
Sugar: Since we are using peppermint extract, this drink still needs a little sugar.
Ice: You will be blending this delicious drink with ice to give it that frozen Frappe feel.
(Optional) Chocolate Shavings or Crushed Candy Canes: Top your frappe with a delicious garnish to add more chocolate or peppermint flavor.
Substitutions
Chocolate Sauce: You can actually turn this into a white chocolate peppermint mocha frappuccino by using white chocolate instead of dark chocolate sauce. It will yield a new and delicious recipe that you will be able to enjoy all Christmas season. 
How Do I Make This Copycat Starbucks Peppermint Mocha?
Scroll down to the bottom of the page to find the recipe card with full detailed instructions and measurements!
In a blender, add the espresso, xanthan gum, milk, peppermint extract, Monin Chocolate Sauce, sugar, and ice. Blend until smooth.
Pour the frappuccino into a tall glass.
Top with whipped cream, decorate with either the chocolate shavings or the crushed-up candy canes, and enjoy!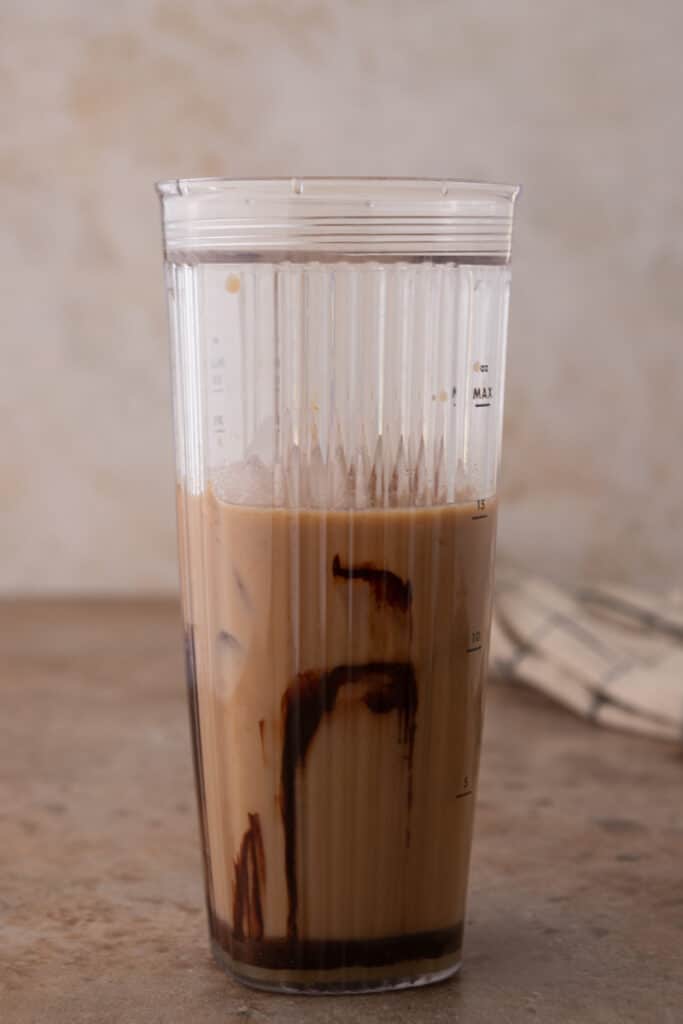 Why you will love this recipe!
It's a simple and delicious Starbucks peppermint mocha copycat recipe that will cost you a whole lot less.
This recipe is great to make in larger batches for everyone on Christmas morning or before going black Friday shopping.
It is a great option if you enjoy controlling exactly what goes into your drink.
This recipe will give you a little taste of Christmas anytime you're craving it during the year.
What Toppings Can I Add to this Frappuccino?
I know I spoke about adding whipped cream to your peppermint mocha frappuccino but you can also top it with dark chocolate curls to have it be closest to the Starbucks versions. I also love adding a dusting of cocoa powder, or even a drizzle of chocolate mocha sauce and a sprinkle of mini chocolate chips or crushed peppermint candies on top as well!
This is the beauty of making this drink at home, you can really tweak it to your liking all the way to the toppings of the beverage.
How to Make a Skinny Peppermint Mocha?
This recipe can easily be adjusted to turn it into a lower-calorie drink. Doing this will allow you to enjoy your delicious coffee drink while still staying on track with your fitness goals!
Use nonfat milk instead of the regular whole milk or 2% milk that is usually used at Starbucks.
Opt for sugar-free chocolate sauce instead of the regular one I am using here. I am happy to say that Monin has sugar-free dark chocolate sauce which I often use and it still is a delicious drink!
Sugar-free sweetener is your best friend. I love using monkfruit instead of regular granulated sugar to reduce the calories. This combined with the sugar-free chocolate sauce will make the best keto peppermint mocha frappuccino.
Go without whipped cream. I know I know, it's a pretty crucial part of this drink if you ask me, especially around the holidays but it does pack a punch of calories. So if you don't really care for it, skip it!
I Don't Have an Espresso Maker, What Should I Do?
​No espresso machine, no problem!
In this case, we are going to use about ¼ cup of warm water and 2-3 teaspoons of instant coffee to create that espresso flavor that is used in this popular drink.
Can I Store My Leftover Starbucks Peppermint Mocha Frappuccino?
Because it contains ice, I would highly recommend enjoying it as soon as you make it but I do understand that that isn't always possible.
What you can do is pour the leftovers of your drink into ice cube trays and freeze them for later. Whenever you are ready to enjoy it, add them to a high-speed blender with a splash of milk and blend until the desired consistency is achieved.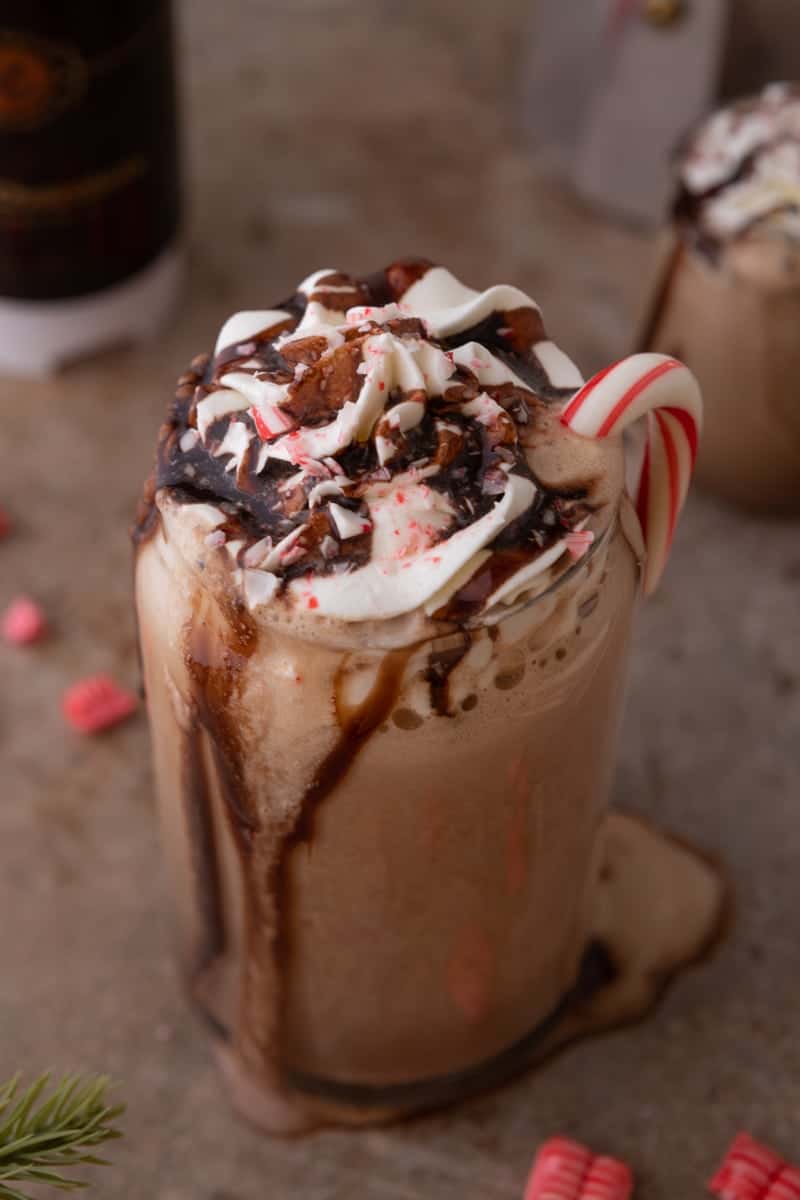 Starbucks Peppermint Mocha Frappe Recipe
Starbucks peppermint mocha frappuccino recipe
This delicious Stabrucks peppermint mocha frappuccino recipe is a delicious dupe to your favorite wintery drink!
Ingredients
2

shots

espresso

cooled

½

cup

milk

whole milk, 2%, or a dairy-free alternative

3

tablespoons

Monin chocolate sauce

5

drops

peppermint extract

adjust to taste

1-2

tablespoons

sugar

adjust to taste

¼

teaspoon

xanthan gum

1

cup

ice

Whipped cream

Optional for topping

Crushed candy canes or peppermint candies

Optional for topping

Chocolate shavings or chocolate sauce

Optional for topping
Instructions
In a blender, add the cooled espresso, milk, chocolate sauce, peppermint extract, xanthan gum, sugar, and ice. You can adjust the sweetness and peppermint flavor to your liking after blending., just start with the recommended amounts and add more after you give your drink a taste.

2 shots espresso,

½ cup milk,

3 tablespoons Monin chocolate sauce,

5 drops peppermint extract,

1-2 tablespoons sugar,

¼ teaspoon xanthan gum,

1 cup ice

Blend everything until the mixture is smooth and creamy. Taste the Frappuccino and adjust the sweetness and peppermint flavor if you would like.

Pour the drink into a tall cup, add whipped cream on top, chocolate sauce, candy canes, or whatever you decide to top your drink with, and enjoy!

Whipped cream,

Crushed candy canes or peppermint candies,

Chocolate shavings or chocolate sauce
Nutrition
Calories:
232
Calories
Carbohydrates:
47
g
Protein:
7
g
Fat:
4
g
Saturated Fat:
2
g
Polyunsaturated Fat:
0.2
g
Monounsaturated Fat:
2
g
Cholesterol:
4
mg
Sodium:
281
mg
Potassium:
370
mg
Fiber:
2
g
Sugar:
38
g
Vitamin A:
251
IU
Vitamin C:
0.1
mg
Calcium:
197
mg
Iron:
1
mg

hop this recipe
This post may contain affiliate links, meaning that at no cost to you I will get a small percentage of every purchase you make!
If you enjoyed this Starbucks Peppermint Mocha Frappuccino recipe make sure to pin it for later!