Peanut butter eggs, AKA the best candy around Easter time has become more accessible. Make this Reese's peanut butter egg at home and decide exactly what will go into it and how you want to decorate it to celebrate spring this year.
SIGN UP TO OUR MAILING LIST GET A FREE WEEKLY MEAL PLANNER AND RECIPE CARD!
Can we take a moment to talk about how addictive Reese's anything is?! After moving to America, it was my favorite candy/chocolate EVER! I mean how can you not be obsessed with a peanut butter and chocolate little bite of perfection?!
To me, that combo is at the top of the best ever flavor combinations! and that's why I have made so many peanut butter and chocolate recipes, Healthy Christmas Reindeer Peanut Butter Balls with Rice Krispies, Peanut butter cookie cups with a silky chocolate frosting, Peanut butter blondies with Reese's hearts, Peanut Butter Buckeye Pretzel Bites. There is actually a lot more where that came from but I'll spare you for now!
This is the best Reese's peanut butter eggs copycat recipe
So since Easter is right around the corner I had to bring back my love of peanut butter and chocolate and share this Reese's egg copycat recipe. It is made with smooth peanut butter, sugar, butter, and is coated with melted chocolate for that extra luxurious finish.
The beauty of this recipe is that if you know your family loved chunky peanut butter, then make it with that. If you know they love sprinkles, then decorate your finished product with some sprinkles. The world is your oyster and I am just here to help you find joy through cooking and baking.
So have fun and don't forget to let me know in the comments how your peanut butter Easter chocolate eggs came out!
What's so special about these Easter Reese's copycat eggs?
They're homemade, meaning you know exactly what goes in them.
Making these peanut butter eggs at home makes for such a great new Easter family tradition.
They are versatile and can be tweaked to your likings.
Perfect for all peanut butter and chocolate lover!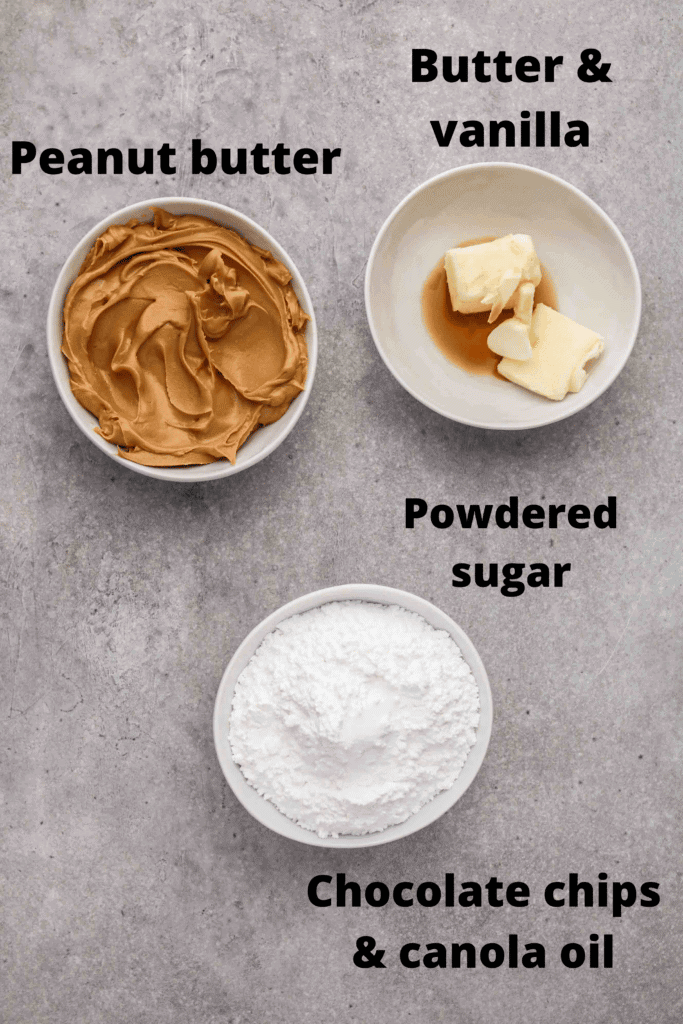 Ingredients for peanut butter eggs
Here are the ingredients you will need to make these peanut butter eggs at home. Make sure to scroll down to the recipe card to find the detailed ingredient list.
Peanut butter- you will need smooth peanut butter as the base of this recipe.
Butter- You will need a few tablespoons of very softened butter.
Powdered sugar- The powdered sugar is what will hold our Reese's eggs together and sweeten the peanut butter mixture.
Vanilla extract- The vanilla extract adds a nice little depth of flavor.
Salt- Always add a little salt to your baked goods or sweet treats to balance out the sweetness.
Semi-sweet chocolate chips- The chocolate chips are going to be melted to coat our Easter Reese eggs. I like to use Dark chocolate to coat my peanut butter eggs but I know not everyone likes that.
Canola oil or coconut oil– The canola oil or coconut oil are going to smooth out the melted chocolate making it easier to dip our eggs in there.
Can I use dark chocolate instead?
Absolutely! Using dark chocolate is actually something I prefer to do because the peanut butter part of this treat can be a little too sweet, so using dark chocolate will help balance out the overall flavors.
How about white chocolate?
Yes, yes, and yes! White chocolate Reese's are a huge weakness of mine so I have tried this recipe with white chocolate as well and it turned out delicious.
I usually like to make milk chocolate, dark chocolate, and white chocolate peanut butter eggs to gift to friends and family just so everyone has something that they will love.
How to make peanut butter eggs at home this Easter season
Here is how you can make your Easter peanut butter eggs at home. Make sure to scroll down to the recipe card for the full detailed recipe.
Mix all the ingredients together until a dough forms
Using a tablespoon scoop out 24 equally sized dough balls and place them on a parchment-lined baking sheet.
Shape each dough ball into an egg using your fingers.
Freeze the peanut butter eggs until hard then dip in the melted chocolate and freeze again until they solidify.
Make sure to scroll down to the recipe card to see the detailed instructions.
How to store peanut butter eggs?
The cool thing about these peanut butter eggs is that you can make them ahead of time and store them for whenever you're ready to enjoy them!
Storing these peanut butter treats in the fridge
To store them in the fridge, place them in an airtight container in the fridge for up to 7 days.
Storing them in the freezer
To store them in the freezer place them in an airtight container in the freezer for up to 2 months. I always do this and grab one whenever those intense chocolate peanut butter cravings hit. I have it right out of the freezer because I prefer when they're harder!
Reese's peanut butter eggs copycat recipe for Easter celebrations
If you made these peanut butter Reese's eggs and enjoyed them, don't forget to leave a 5-star review by clicking on the 5 stars under the title and description. It would help me a ton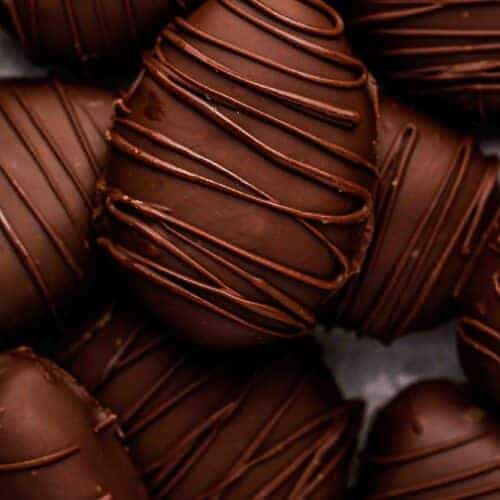 Reese's Peanut Butter Eggs for Easter
These peanut butter eggs are a Reese's copycat recipe that will make your easter celebrations even more joyus.
Ingredients
For the chocolate coating
Instructions
In a stand mixer, add in all the ingredients starting with the peanut butter, butter, powdered sugar, vanilla extract, and salt and gently mix with a paddle attachement.

Once the mixture holds together, stop the mixer and scoop out 24 equally sized peanut butter dough balls using a tablespoon and place them on a parchement lined baking sheet.

Using your fingers, shape each ball into an egg shape then palce it back on the parchement lined baking sheet, then freeze the eggs on the baking sheet until hard, about 30-60 minutes.

Once the peanut butter eggs are hard, melt the chocolate chips and the oil in a bowl or a measuring cup in the microwave in 30 second intervals, stirring in between.

Working wiht one egg at a time, dunk it in the emeltedchocolate mixture with a fork. Once the peanut butter eggs is fully coated in melted chocolate lift the fork and gently shake or tap the side of the cup or bowl to remove any excess chocolate.

Place the chocolate covered egg back on the baking sheet and repeat this process until all the peanut butter eggs are coated. Place back in the freezer to solidify and either enjoy right away or drizzle with the leftover melted chocolate to have a beautiful design on your chocoalte eggs. If you decide to drizzle the eggs with extra chocolate, place them back in the freezer after decorating until the chocolate hardens, about 5 minutes.
Nutrition
Calories:
100
Calories
Carbohydrates:
10
g
Protein:
3
g
Fat:
6
g
Saturated Fat:
1
g
Trans Fat:
1
g
Cholesterol:
1
mg
Sodium:
78
mg
Potassium:
70
mg
Fiber:
1
g
Sugar:
8
g
Vitamin A:
16
IU
Calcium:
5
mg
Iron:
1
mg
Thank you so much for making it all the way down here!
If you enjoyed this recipe don't forget to let us know in the comments below! In the mean time, don't forget to follow me on instagram!

Shop this recipe
This post may contain affiliate posts, meaning that at no cost to you I will get a small percentage of every purchase you make!
If you enjoyed these Easter peanut butter eggs make sure to pin this recipe for later!