These Easter chocolate chip cookies are made without candy! You heard that right, if you're not the type of person who likes overly sweet cookies, these are for you. They are soft, chewy, and packed with spring colored sprinkles. Make a batch of these Easter inspired chocolate chip cookies and watch them disappear in no time!
SIGN UP TO OUR MAILING LIST GET A FREE WEEKLY MEAL PLANNER AND RECIPE CARD!
Nothing says easter like these spring colored chocolate chip cookies! With easter being only a few weeks again, actually less!! OMG where has the time gone. I wanted to share this easy treat recipe that you can include on your celebration menu.
I personally never celebrated Easter, but wanted to be able to celebrate spring and share something valuable with you, so these came about. The only Easter celebration I feel like I got was stealing candy form my boyfriend's roommate's candy basket. What a rush it was, followed by a sugar rush of course.
These are the best Easter sprinkle chocolate chip cookies ever!
If you've been on the blog a few times, you know how much we love chocolate chip cookies; The best Almond Flour Chocolate Chip Cookies, Chocolate chip edible cookie dough for one + 3 variations, Easy 60-Second Chocolate Chip Mug Cookie. There is more where that came from, so don't be intimidated to hit the search button and look at all the chocolate chip cookies we have on here. They're addicting for sure!
But for now, I wanted to bring you something that would fit the season and make everyone around you as happy as can be!
What makes these chocolate chip cookies for Easter so special?
Not made with candy! YAY! If you've searched for any Easter chocolate chip cookies online, most of them are gonna be made with easter egg candies and sometimes I think that can be too much sugar for me.
Packed with sprinkles and chocolate chips. This is almost like a funfetti chocolate chip cookie but spring inspired.
Yields oey gooey cookies, AKA the perfect chocolate chip cookies
Easily doubled or tripled
More Easter recipes:
Ingredients for Easter chocolate chip cookies
Here are the ingredients you will need for this holiday chocolate chip cookie recipe, make sure to scroll down to the recipe card for the full detailed ingredient measurement list.
Butter– You will need some softened butter as the base of this chocolate chip cookie recipe.
Brown sugar & granulated sugar– This cookie recipe uses brown sugar and granulated sugar for the perfect balance of chewy and crunchy cookies.
Egg– You will need one egg at room temperature.
Vanilla– Can't have amazing chocolate chip cookies without vanilla extract.
Flour– All-purpose flour works amazingly for these cookies.
Baking soda– The baking soda adds a little extra height to our cookies
Salt– Always add a little salt to your baked goods to balance out the sweetness.
Chocolate chips– Make sure to use really good quality chocolate chips to have the best tasting chocolate chip cookies.
Sprinkles– The sprinkles are what will give these cookies their easter/spring look.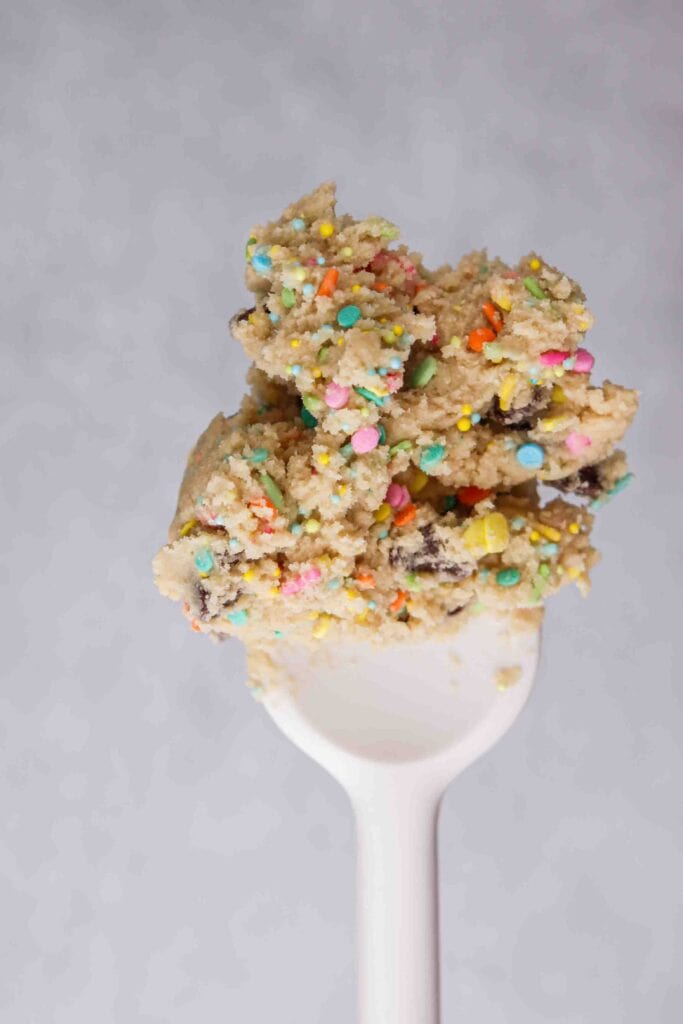 What sprinkles should I use?
When it comes to sprinkles, the world is your oyster. Since we are making easter inspired sprinkles you will need to go with something that is has easter colors so anything pastel and colorful.
When I went to buy mine, I couldn't find anything I liked so I picked these lama inspired sprinkles from Walmart and removed the lamas from the mix!
Step by step to make Easter cookies
Here is the step by step to make you own spring chocolate chip cookies. Make sure to scroll down to the recipe card for the full detailed recipe diretions!
Cream the butter and both sugar together until incorporated.
Add in the egg and vanilla and mix just until incorporated.
Time for the dry ingredients, add in the flour, baking soda, and salt. and mix just until combined. (don't over mix!)
Fold in the chocolate chips and the sprinkles and scoop out 22 equally sized cookie dough balls.
Bake in the preheated oven and enjoy!
More cookie recipes you'll love!
Can I make these cookies without chilling them?
Yes you sure can. I like to chill them for ten minutes in the fridge. But if you don't have time for all that, you can bake them directly for 8 minutes at 375F They will spread a bit more and be a little thinner though.
How to store these chocolate chip cookies?
You can store your chocolate chip cookies in an airtight container at room temperature for up to 5 days. I actually love placing mine in an airtight container in the fridge to last me a bit longer. I usually pop them in the microwave for a few seconds to bring them back to their original soft and chewy state before eating them.
You can also place them in an airtight container in the freezer for up to 2 months.
Tips for the best chocolate chip cookies for Easter
Here are a few tips that will make sure that your cookies turn out of this world!
Don't over mix- Once you add in your dry ingredients ( flour, baking soda, and salt) you want to mix the cookie dough just until that disappears. Over mixing cookie dough can lead to tough and harder cookies and we obviously don't want that!
Use a cookie scooper– I love using my cookie scoop because it yields evenly sized cookies and being someone who is a perfectionist I want them all to look the same and of course, bake evenly too.
Don't over bake- Over baking is like chocolate chip cookies' worst nightmare. So you want to bake them until the edges are turning slightly brown and the top is puffy. Don't worry is they look a bit under-baked because they will continue cooking as they cool
Top your cookies with extra chocolate chips right as they come out of the oven– This is probably a secret that not many bloggers tell you. To get those perfect-looking chocolate chip cookies, we pop a few extra chocolate chips on the top of the cookies as soon as they come out of the oven. It will allow them to melt on top and look like they 100% belong there.
Move your cookies from the cookie sheet to a cooling rack right away- Depending on the recipe, you might have to either let the cookies cool on the cookie sheet or remove them right away. This recipe requires you to remove them from the cookie sheet so they stay soft and chewy.
Easter chocolate chip cookies
If you made these easter chocolate chip cookies and enjoyed them, don't forget to leave a 5-star review by clicking on the 5 stars under the title and description. It would help me a ton
Easter Chocolate Chip Cookie without Candy
These easter chocolate chip cookies are soft in the center and crunchy on the outside the perfect cookie to celebrate spring.
Ingredients
1

stick

butter

softened

½

cup

brown sugar

½

cup

granulated sugar

1

egg

at room temperature

1

tso

vanilla extract

1 & ½

cup

flour

½

teaspoon

baking soda

½

cup

chocolate chips

½

cup

Spring/Easter sprinkles
Instructions
First, preheat the oven to 375F then line a baking sheet with parchement paper and set aside.

Now, cream the butter, the brown sugar, and the granulated sugar with a paddle attachment for 60 seconds. Add in the egg and vanilla and mix again just until incorporated.

Add in the flour, baking soda, and salt and mix just until the flour disappears. You don't want to over mix your cookie dough. Gently scrape the bowl then fold in the chocolate chips and the sprinkles.

Using a small cookie scoop, scoop out 22 equally sized cookie dough balls, place them on a plate or baking sheet and chill in the fridge for 10 minutes.

Transfer the cookie dough balls to the parchment lined baking sheet and bake in the preheated oven for 8-9 minutes. Remove the baking sheet from the oven and immediately transfer the cookies to a cooling rack using a spatula. Don't worry if they look underbaked, they will continue baking as they cool! After 10 minutes you can enjoy your freshly baked cookies with a tall glass of milk.
Notes
These chocolate chip cookies can be stored:
In an airtight container at room temperature for up to 5 days
In an airtight container in the fridge for up to 2 weeks
In an airtight container for up to 2 months
Make sure to read the helpful tips in the article for more info on how to make the best Easter chocolate chip cookies ever! 
Nutrition
Calories:
107
Calories
Carbohydrates:
16
g
Protein:
1
g
Fat:
4
g
Saturated Fat:
3
g
Trans Fat:
1
g
Cholesterol:
18
mg
Sodium:
91
mg
Potassium:
20
mg
Fiber:
1
g
Sugar:
9
g
Vitamin A:
139
IU
Calcium:
8
mg
Iron:
1
mg
Thank you so much for making it all the way down here!
If you enjoyed this recipe don't forget to let us know in the comments below! In the mean time, don't forget to follow me on instagram!

Shop this recipe
This post may contain affiliate posts, meaning that at no cost to you I will get a small percentage of every purchase you make!
If you loved these easter chocolate chip cookies make sure to save them for later!