This no knead pizza dough is the perfect 4 ingredient pizza dough recipe ever you will ever make. If you've avoided making pizza dough for the longest time because you feel like it takes forever to knead it and work the dough, this no knead pizza crust recipe is the one for you. Foolproof homemade pizza with minimal hands on work.
SIGN UP TO OUR MAILING LIST GET A FREE WEEKLY MEAL PLANNER AND RECIPE CARD!
I can't begin to tell you how many times I get asked to make pizza at the house. I think ever since my sister and I started living without our parents or the rest of the family, we always opted for making pizza because it's so comforting and delicious to eat!
So during the last 7 years, I have perfected pizza crust. Making it maybe once a week or so, it became a staple at the house and we started having high standards. The pizza crust had to be on point and if it wasn't we wen't satisfied!
This is the best no knead pizza dough recipe
After a while I realized I could also make a no knead pizza crust without anyone noticing a difference so I opted for that because it saved me a ton of time.
Making this no knead pizza crust at home also saved me some clean up time. This one bowl pizza dough recipe is stirred in the same bowl and then will need to rise in it until you're ready to enjoy it.
When I was still working outside of the house…
Yup.. Anyone remember how that's like!!??? Freaking COVID-19 man…
But yea, I used to throw this pizza dough together in the morning before I left for work, wrap it up with plastic wrap and let it sit inside the oven (turned off of course) until I came back. I would then shape it and bake it and eat it all with my sister because why not?!
What makes this no knead pizza dough recipe special?
5 minutes of less of hands on work to make it!
No need for any special equipment. All you need is a bowl, measuring cups, and a wooden spoon.
One bowl pizza dough recipe never sounded so good. (AKA less clean up!)
Fluffy, and crispy at the same time.
Chewy and flavorful.
Can be made ahead of time and stored in the fridge or frozen.
More pizza recipes you will love!
Ingredients for the best no knead pizza dough
Here are the ingredients you will need to make no knead pizza dough, make sure to scroll down to the recipe card for the full detailed ingredient list.
Flour– You can use all purpose flour for this easy pizza dough recipe.
Yeast– I used instant dry yeast but you could also use active dry yeast for this pizza dough recipe.
Water– You will need to use
Olive oil– The olive is used to coat the pizza dough so it doesn't dy it out while it's resting.
Salt– The salt will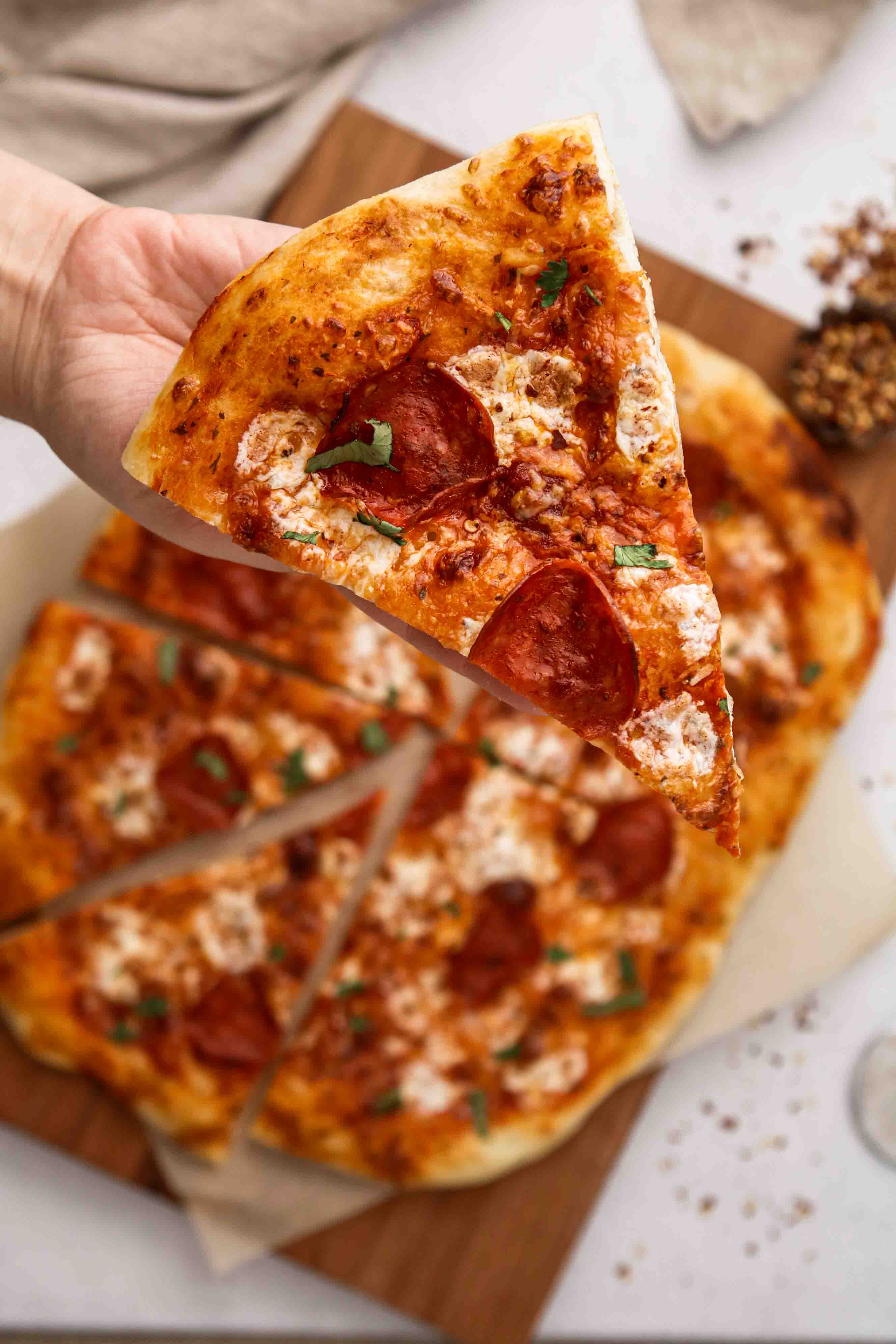 How to make no knead pizza dough at home
Here is how you can make homemade no knead pizza dough, make sure to scroll down to the recipe card for the full detailed recipe.
Place all the ingredients in a large bowl, starting with the flour, yeast, and salt. Then pour the water over it and stir with a wooden spoon.
Cover a large bowl with oil and transfer the pizza dough that bowl. Swirl it around to get it coated in oil, cover with plastic wrap and let it rest for 8 hours or until it doubles. This pizza crust recipe makes 2 medium sized pizzas or one large one. If you want to make 2 medium pizzas, divide the dough between two oiled bowls and then let them rest.
Spread the pizza dough on a well floured surface because the dough is quite wet, then spread with floured hands before transferring to a semolina prepared baking sheet, top with sauce and your desired toppings and bake in the preheated oven, and Enjoy!
Tips for the best no knead pizza dough recipe
Here are a few tips that will make your no knead pizza crust AMAZING!
Let the dough rest to develop the gluten we love so much in pizza- Since this is a no knead pizza dough you will want to let it rise as much as you can, preferably 8 hours or overnight so that it has the time to develop the gluten strands. If you don't have that much time, you can let it rise until it doubles but it is way better if you let it rest for a longer period of time!
Coat the pizza dough with olive oil– Before letting your pizza dough recipe, coat both the bowl and the dough with olive oil or any unflavored oil so that the top doesn't develop a crust.
Don't be afraid to use flour– Because the dough is quite wet, make sure to flour work work surface well and use floured hands to spread the pizza before transferring it to your baking sheet or pizza stone.
Bake the pizza curst at high temperature– Baking the pizza in a very hot oven will give you something that is more resemblant of pizzas that you would get from a really good pizza restaurant. It will make it crispy but also fluffy in the center. Absolutely perfection!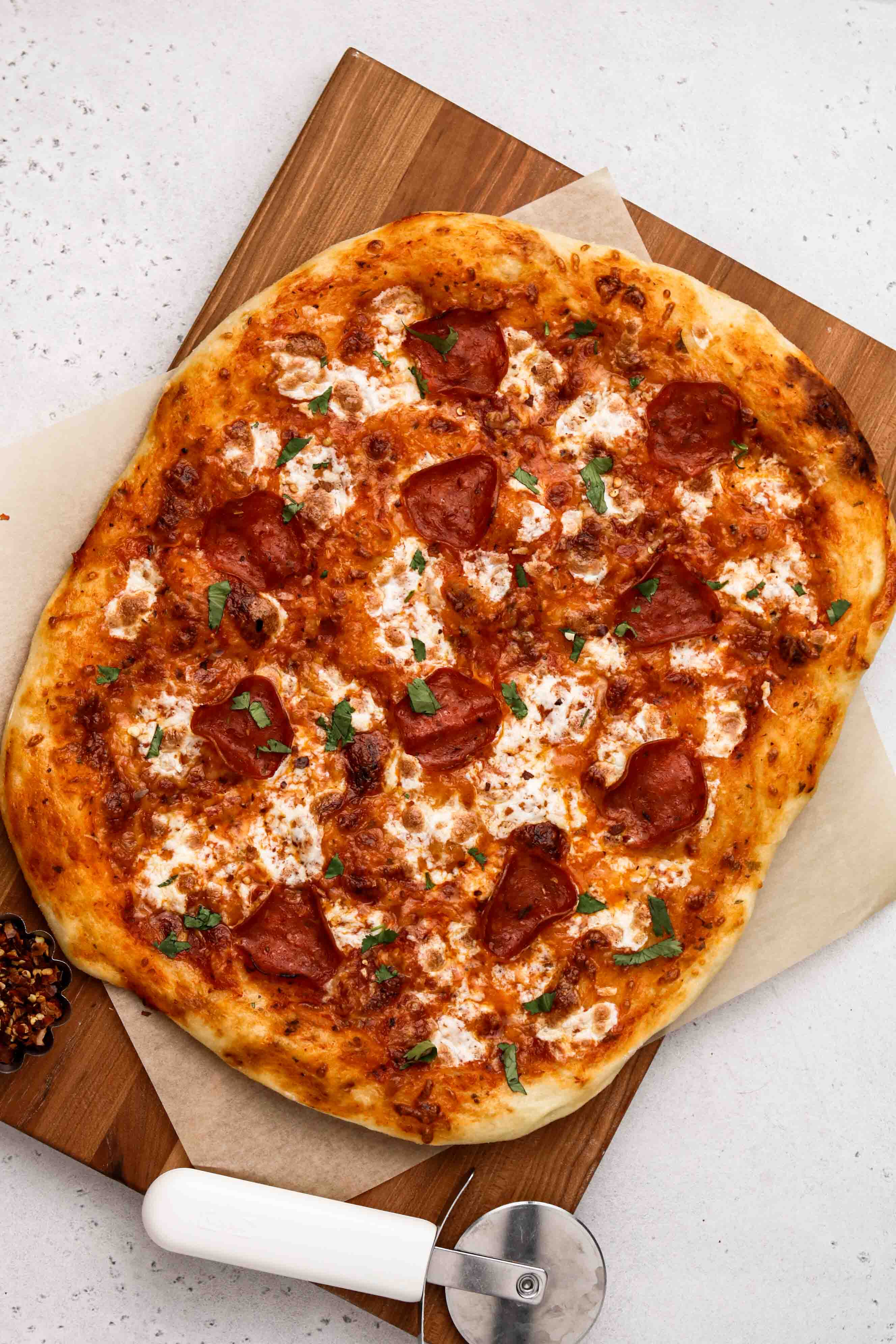 How to store pizza dough?
I love making this no knead pizza dough because it stores well. I sometimes make it ahead of time and pull it out whenever the pizza cravings hit.
Storing pizza dough in the fridge
You can store your pizza dough in the fridge for up to 3 days in an airtight container. Make sure that you allow the pizza dough to rise for the whole 8 hours before placing it in the fridge.
Can you freeze pizza dough?
Yes! I love freezing pizza dough because it is super convenient. Just like the fridge storage technique, allow the dough to finish rising then divide it in 2 and place it in an airtight container or a freezer bag and freeze for up to 2 months.
How to thaw pizza dough?
If you opted to freeze your pizza dough and now want to use it? Place it in the fridge and let it thaw overnight before using the next day. If you don't have the time for all that, pull it out of the freezer and let it thaw at room temperature for a few hours.
Pizza topping ideas
Here are a few of my favorite pizza topping ideas! Don't forget to let me know which ones are your favorites in the comments below.
I can keep going for sure but I think I should stop and let you get creative and have fun with it 🙂
Homemade no knead pizza dough recipe
If you made this no knead pizza dough recipe and enjoyed them, don't forget to leave a 5-star review by clicking on the 5 stars under the title and description. It would help me a ton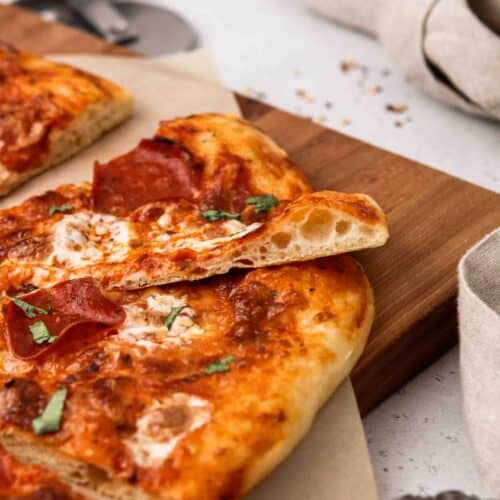 Homemade no Knead pizza dough
No knead pizza is the perfect recipe for when you don't want to put in that much effort to make dinner. It is fluffy, crispy and totally delicious!
Ingredients
4

cup

flour

(480g)

½

teaspoon

yeast

1 & ½

teaspoon

salt

1 & ½

cup

lukewarm water

1-2

tablespoon

olive oil

to coat the bowl
Instructions
Add the flour, yeast, and salt to a large bowl. Add in the lukewarm water and stir using a wooden spoon until a sticky dough forms.

This dough will make one large pizza or two medium ones, so depending on what you want to make, either divide the dough between two oiled bowls to make 2 pizzas or keep it in one oiled bowl to make a large pizza.

Brush 1 or 2 bowls with olive oil and place you dough back in there. Move the dough ball around gently to coat the top and bottom with the oil then wrap the bowl with plastic wrap and let the dough rest for about 8 hours. If you don't have 8 hours, let the dough rise until it doubles.

When the dough is ready, preheat the oven to 450F. Sprinkle some semolina on your baking sheet and set aside. On a well floured surface, spread the pizza dough with floured hands. Transfer to the baking sheet or pizza stone, add your toppings and bake for 15 minutes making sure to rotate the pizza halfway through to ensure even baking. Enjoy!
Notes
Make sure to flour your work surface before spreading the pizza dough with well floured hands so this wet dough doesn't stick everywhere. The wetness of the dough is what will make it extra chewy and delicious too! 
This pizza dough can be stored in an airtight container in the fridge for up to 3 days. 
Nutrition
Calories:
115
Calories
Carbohydrates:
24
g
Protein:
3
g
Fat:
1
g
Saturated Fat:
1
g
Sodium:
219
mg
Potassium:
37
mg
Fiber:
1
g
Sugar:
1
g
Vitamin C:
1
mg
Calcium:
5
mg
Iron:
1
mg
Thank you so much for making it all the way down.
If you enjoyed this recipe don't forget to let us know in the comments below! In the mean time, don't forget to follow me on instagram!

Shop this recipe
This post may contain affiliate posts, meaning that at no cost to you I will get a small percentage of every purchase you make!
If you enjoyed this no knead pizza dough recipe make sure to pin it for later!