A creamy garlic white pizza sauce to satisfy all your cheesy cravings. This white pizza sauce recipe is very resemblant to an Alfredo sauce and will be taking your pizza night to the next level. It takes simple ingredients and transforms them into a luxurious pizza sauce that you won't get enough of!
SIGN UP TO OUR MAILING LIST GET A FREE WEEKLY MEAL PLANNER AND RECIPE CARD!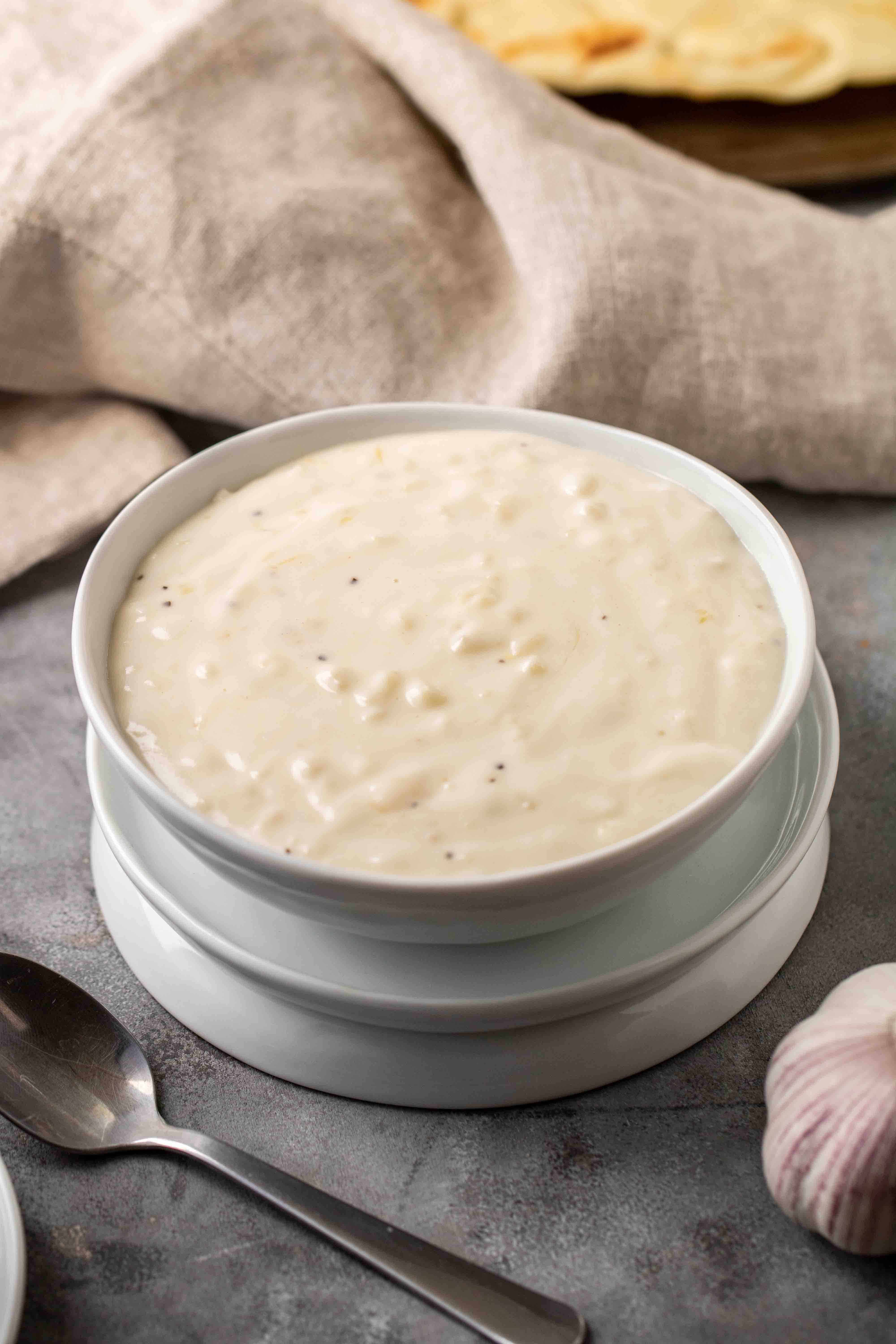 We love pizza, we love it so much that we hopped on the pizza night once a week bandwagon and I don't think I'm ever getting off. Pizza also has a very special place in my heart, before I moved here we used to go get pizza at our favorite restaurant in Algeria once a week, religiously.
I remember ordering a white four cheese pizza. It used to be my favorite, it was rich, creamy and so delicious. So recently, while missing home, I told myself that I was going to recreate that specific pizza and we did just that!
This is the best homemade white pizza sauce ever!
Don't get me wrong, I love marinara red pizza sauce but sometimes change is good, especially if we are talking about pizza sauces. But this creamy pizza sauce is something that you can do when you are trying to do something a little different. Something that will allow you to play around in the kitchen and be creative while still making something amazing!
When I make this garlic white sauce, we often use it for pizza but that's not the only way to use it. We also like using it as a dip for breadstick or pretzels, or as a sauce for cheesy garlic bread. So it's yummy and versatile.
What's so special about this white pizza sauce recipe?
This white cheesy garlicky pizza sauce is one for the books and here is why!
It is so creamy.
We packed it with cheese for an extra cheesy pizza sauce.
It was a delicious garlicky flavor.
Comes together in only a few minutes.
Doesn't contain all the preservatives that store bought white pizza sauce has.
What is white pizza sauce?
A white pizza sauce as any may or may not know is a pizza sauce with a cream base instead of a red tomato sauce. It resembles an Alfredo sauce quite a lot and creates some amazing pizza flavors especially if you play around with your pizza toppings.
Ever since I made this pizza sauce recipe, it has become a staple sauce for us. Now everyone asks for one white pizza and one red. So we make both in order to keep everyone happy and satisfied.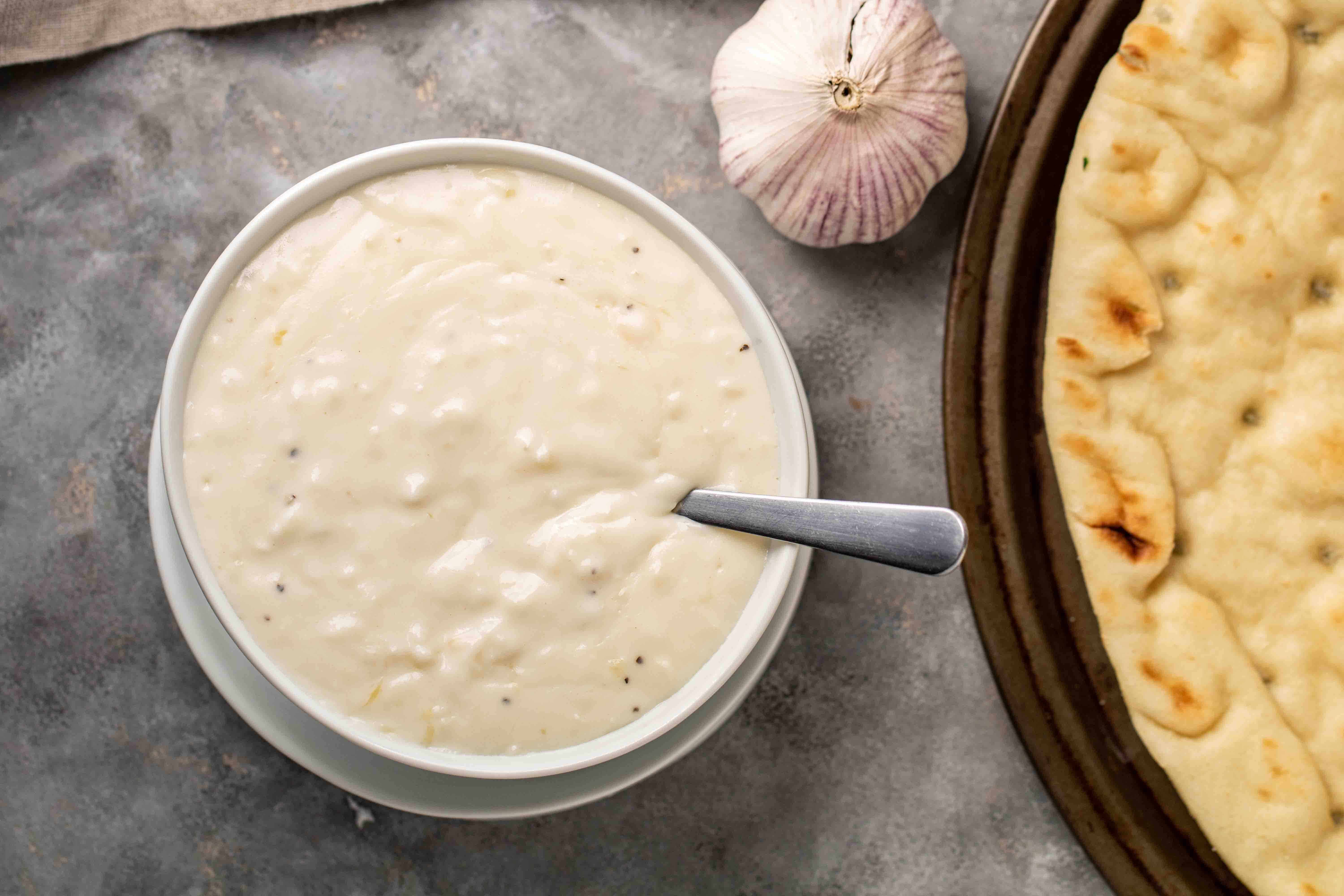 What is white pizza sauce made of?
Here are the ingredients you will need to make your own homemade white pizza sauce:
Butter– The butter will add richness to this sauce.
Garlic cloves– The garlic is gonna be one of our many flavor components.
Flour– The flour will thicken this Alfredo pizza sauce.
Milk– The milk is for the creaminess of this pizza sauce.
Grated parmesan– The grated parmesan will give a nice depth of cheesy flavor.
Cream cheese– The cream cheese adds more creaminess to our pizza sauce.
Salt and pepper- Use the salt and pepper to taste.
How to make garlic white pizza sauce recipe?
To make this white pizza sauce recipe you will need to:
Melt and cook the garlic over medium heat until the garlic is nicely toasted.
Add in the flour and cook for a little bit to form a thick paste.
Slowly add in the milk and continue stirring until the mixture thickens slightly.
Remove from the heat and add the cheeses and the salt and pepper, stir one last time to get it all combined, let it cool for a few minutes to thicken even more then spread over your pizza or store it in the fridge.
How to make pizza with white sauce?
Once your pizza sauce is ready, here are the next steps you will need to take:
Spread your sauce. Spread this cheesy white sauce over your favorite pizza dough, I like to use this pizza dough for two recipe because it's easy and delicious.
Add your toppings. Now is the time to add your favorite white pizza toppings then bake in the oven according to your pizza recipe instructions.
White pizza topping ideas
When you make your white pizza sauce, the topping possibilities are endless. Here are a few toppings I like:
Veggies :Mushroom, spinach, kale, artichoke, a balsamic arugula salad after baking your pizza.
Meats: Grilled chicken breast, bacon, pepperoni, cooked shrimp.
More Cheese: Fresh mozzarella, shredded mozzarella, parmesan.
How to store white pizza sauce?
This garlic pizza sauce can be stored in an airtight container in the fridge for up to 5 days.
I don't recommend freezing it because the sauce might separate in the freezer. So it is best to make it and use it within the five days of making it.
More pizza inspired recipes you need in your life ASAP!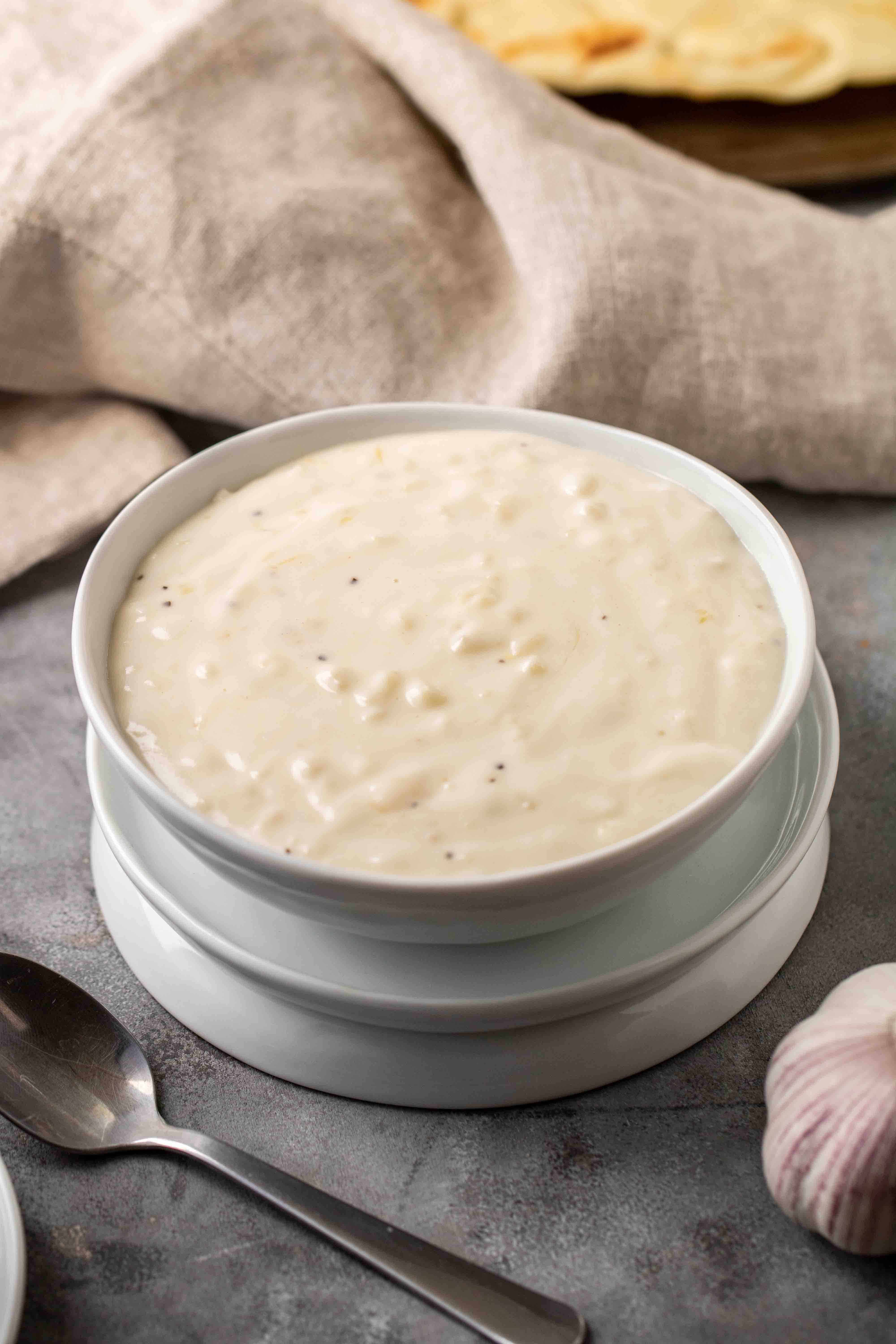 Creamy garlic white pizza sauce
If you tried this creamy garlic white pizza sauce recipe and loved it please leave us a rating by clicking on the 5 stars under the title and description.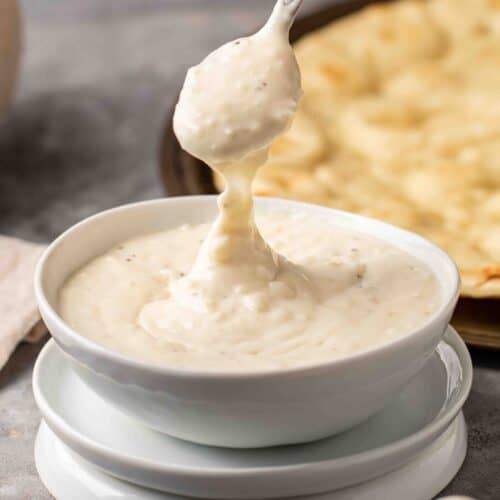 Creamy garlic white pizza sauce
This Alfredo inspired white pizza sauce is incredibly easy to make, tastes fantastic and is packed with garlic and cheese flavors.
Ingredients
1 & 1/2

tbsp

butter

4

large

garlic cloves

1 & 1/2

tbsp

flour

1

cup

milk

1/4

cup

grated parmesan

1/4

cup

cream cheese

Salt and pepper to taste
Instructions
In a medium sauce pan over medium heat melt the butter then add in the minced garlic and cook for 1. Add in the flour and whisk rapidly to form a thick paste. Continue cooking it for a few minutes will stirring it around with a spatula.

Slowly add in the milk, while continuously whisking. When you've added all the milk cook for a few more minutes until the mixture thickens slightly. Remove the sauce pan from the heat then add in the grated parmesan, cream cheese, and the salt and pepper to taste. Stir until combined and spread over your pizza or use it as a dip for your breadsticks.
Notes
This white pizza sauce is perfect for one large pizza recipe. 
You can store this white pizza sauce in the fridge for up to 7 days in an airtight container. 
Nutrition
Calories:
595
kcal
Carbohydrates:
28
g
Protein:
23
g
Fat:
44
g
Saturated Fat:
19
g
Cholesterol:
89
mg
Sodium:
868
mg
Potassium:
509
mg
Fiber:
1
g
Sugar:
15
g
Vitamin A:
2229
IU
Vitamin C:
4
mg
Calcium:
653
mg
Iron:
1
mg
Thank you so much for making it all the way down here
If you tried this awesome white pizza sauce recipe and loved it as much as we did, make sure to leave a comment down below to let us know how your keto mousse turned out. In the mean time don't forget to follow us on Instagram.

SHOP THIS RECIPE
This post may contain affiliate posts, meaning that at no cost to you I will get a small percentage of every purchase you make!
If you enjoyed this garlic white pizza sauce recipe make sure to pin it for later 🙂