This easy 30 minute marinara sauce uses only a handful of basic ingredients to bring you a versatile tomato sauce that can be used with a variety of dishes. This one pot marinara sauce will make your weeknight dinners that much better. We love it with pasta, lasagna, as a dip or even on Pizza.
SIGN UP TO OUR MAILING LIST GET A FREE WEEKLY MEAL PLANNER AND RECIPE CARD!
What's your ultimate comfort food? For me it's anything with tomato sauce and cheese on it, so pizza, lasagna, noodles, ANYTHING…! So today, I wanted to focus on the tomato part of this equation.
And when I say tomato sauce, I don't mean any old boring tomato sauce, I mean a deliciously rich marinara sauce that would be ready in less than 30 minutes because who has time for anything longer during the week!
This might not be the traditional authentic Italian marinara sauce recipe but it does the trick when you don't have hours to simmer and cook your marinara sauce. The slow cooked sauce always beats a quick one but this one still tastes incredible!
This quick and easy marinara sauce recipe is a family favorite!
Ok, hear me out… I have a lot hate relationship with jarred pasta because it is so convenient but unless you're paying big money for it it doesn't taste good. It has this generic bland flavor to it that I just can't stand. So I had to do something about it.
Bringing you both convenience, great flavor, and something affordable that you can prepare time and time again for your family. The best part is that this sauce can be made to taste. Start with the ingredients and measurements I provided, cook, taste it then play around with it to see what flavor works best for you.
Maybe you like a little extra basil in your marinara, finish off the sauce with some freshly chopped basil.
Want something extra creamy? Add in some heavy cream or cream cheese and stir. This is a personal favorite at my house. Can you tell we're dairy addicts. Of course if you decided to add the cream or cheese and still use butter this would not be vegan friendly.
What's so special about this 30 minute marinara sauce?
Rich & flavorful
Ready in 30 minutes
Perfect for weeknight dinners
Very versatile, can be used with so many things
Great way to use pantry staples
More quick dinner recipes you will love!
Ingredients for quick marinara sauce
Here are the ingredients you will need for this homemade marinara sauce. Make sure to scroll down to the recipe card for the full ingredient list.
Olive oil & butter- This is gonna be what you will start with. Make sure to use good quality butter and goos quality olive oil for the best flavor.
Yellow onion– Make sure to dice your onion very finely if you don't want to bend the marinara at the ends.
Garlic cloves– Can't have a good marinara sauce without garlic! I love garlic so the more the better.
Crushed tomatoes– Make sure to use crushed tomatoes and the good kind too. San Marzano tomatoes are the best for homemade marinara.
Salt & pepper– The salt and pepper is to taste. So taste your sauce and add whatever works for you!
Sugar– The sugar is here to balance out the acidity of the sauce.
Red pepper flakes– These are optional or use a little less if you don't want your sauce to be spicy. I love them because they add a little kick to the tomatoes.
Dried oregano– Oregano is a wonderful addition to marinara sauces so don't skip this.
Tomato paste– The tomato paste will intensify the tomato flavor of this sauce.
Basil paste– I love using the Gourmet Garden basil paste because it is available all year round. I often struggle with finding fresh basil at the store and struggle even more with growing it at home so this handy paste it is!
Fresh herbs to dry herbs substitutions?
If you want to use dried herbs instead of fresh herbs, use 1 teaspoon of the dry herbs for every 1 tablespoon of fresh herbs! The more you know 🙂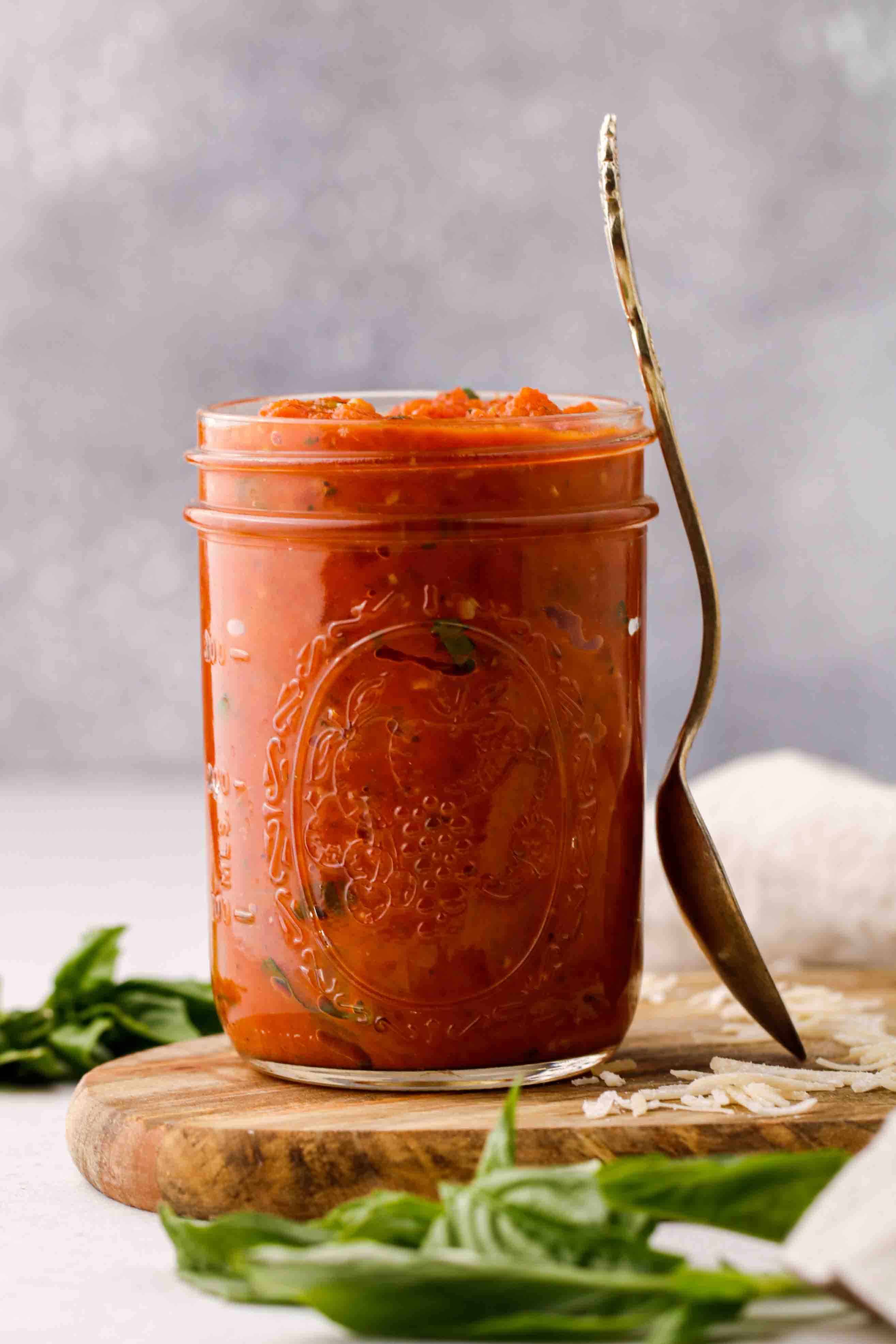 Step by step to make 30 minute marinara sauce
Here is the step by step to make your own marinara is less than 30 minutes. Make sure to scroll down to the recipe card for the full detailed recipe.
Heat the butter and olive oil, and cook the onion and garlic in there until soft.
Add the crushed tomatoes, water, salt, sugar, black pepper, red pepper flakes, dried oregano, tomato pasta, and basil paste.
Stir everything together and bring to a boil then simmer uncovered until it reached the desired consistency.
Blend some of the sauce with a hand blender if that's the consistency you usually like then serve immediately.
How to use marinara sauce?
Well besides just sneak some right out of the pan and dip all the warm bread in it? Here are all the ways you can use marinara sauce at home:
Use it with noodles.
Layered it in lasagna
Spread it over pizza
Make eggplant parmesan with it
Use it as a dip for breadsticks
Make tomato soup with it
Add some heavy cream to it and dress it up as a fancy restaurant tomato sauce!
How to store this 30 minute marinara sauce?
This marinara sauce can be stored in an airtight container in the fridge for up to 3 days.
Can you freeze marinara sauce?
You sure can! Sometimes, I double or triple this recipe and freeze some for rainy days.
Let your marinara cool down completely them place it in an airtight container and freeze for up to 3 months.
How much marinara sauce should I account for per person?
When I made this recipe last, I mixed it with about 8-10 oz (dry) of pasta.
As a rule of thumb I would say that each person will have about ½ cup of marinara sauce but since this time I mixed it with the noodles it was enough for 4 servings. So it really depends on what you are using it with.
Is marinara sauce vegan friendly?
It depends on which marinara we're talking about. This recipe uses some butter so it is not vegan friendly but you can omit the butter and use just olive oil and this marinara sauce would be perfect for those on a vegan diet as well!
30 minute easy marinara sauce
If you made this 30 minute marinara sauce and enjoyed it, don't forget to leave a 5-star review by clicking on the 5 stars under the title and description. It would help me a ton
30 easy minute marinara sauce
This 30 minute easy marinara sauce is the perfect weeknight sauce to make for pasta, lasagnas or jus to dip bread in!
Instructions
In a large pot, heat butter and olive oil over medium heat. Add in the finely diced onion and minced garlic and cook for 5 minutes or until soft.

Add in the crushed tomatoes, water, salt, sugar, black pepper, red pepper flakes, dried oregano, tomato paste, and basil paste. Give the ingredients a good stir, bring to a boil, then simmer uncovered for 20 minutes or until the sauce reaches your desired consistency.

I blend about 1 cup of the marinara sauce and mix it back with the rest of the marinara. you could do that using a hand blender before serving.

Serve this quick flavorful marinara with pasta or anything you use marinara with.
Notes
This marinara sauce can be stored in an airtight container in the fridge for up to 3 days.
Nutrition
Calories:
371
Calories
Carbohydrates:
36
g
Protein:
7
g
Fat:
26
g
Saturated Fat:
11
g
Trans Fat:
1
g
Cholesterol:
40
mg
Sodium:
2177
mg
Potassium:
1115
mg
Fiber:
7
g
Sugar:
21
g
Vitamin A:
1382
IU
Vitamin C:
36
mg
Calcium:
141
mg
Iron:
5
mg
Thank you so much for making it all the way down.
If you enjoyed this recipe don't forget to let us know in the comments below! In the mean time, don't forget to follow me on instagram!

Shop this recipe
This post may contain affiliate posts, meaning that at no cost to you I will get a small percentage of every purchase you make!
If you enjoyed this quick 30 minute marinara sauce recipe make sure to pin it for later!