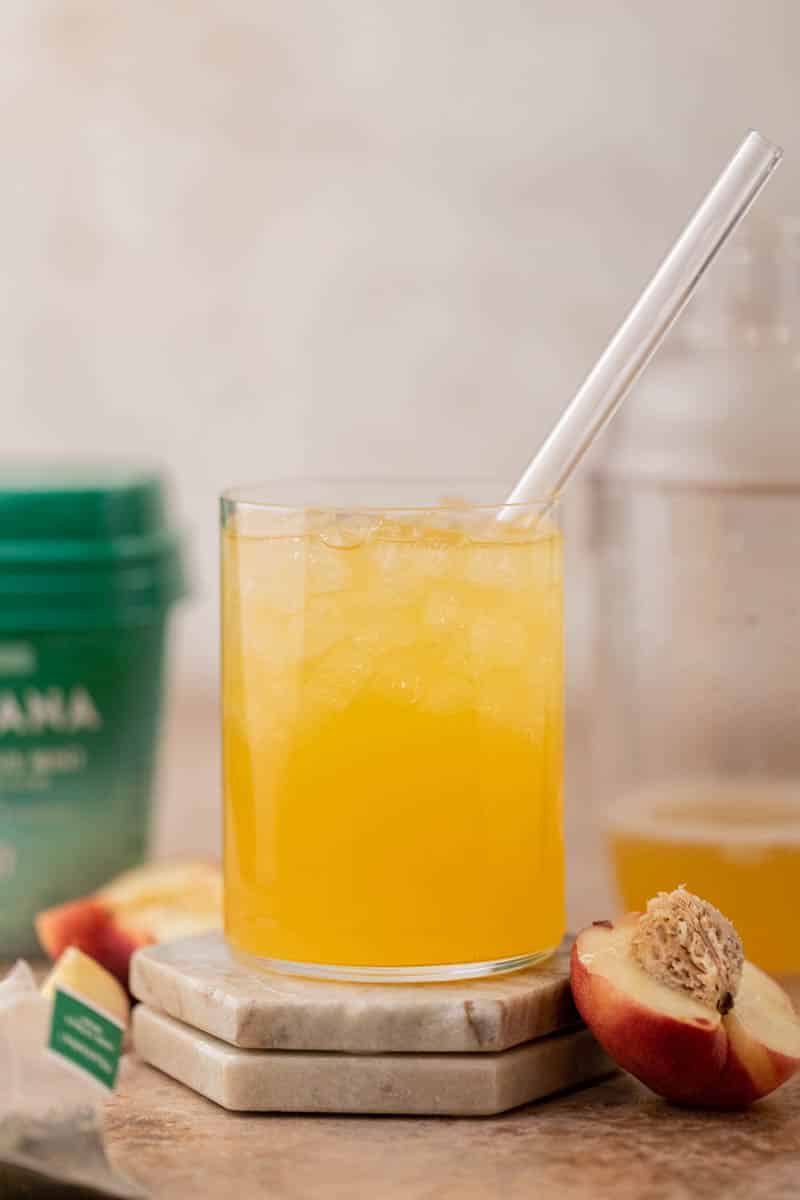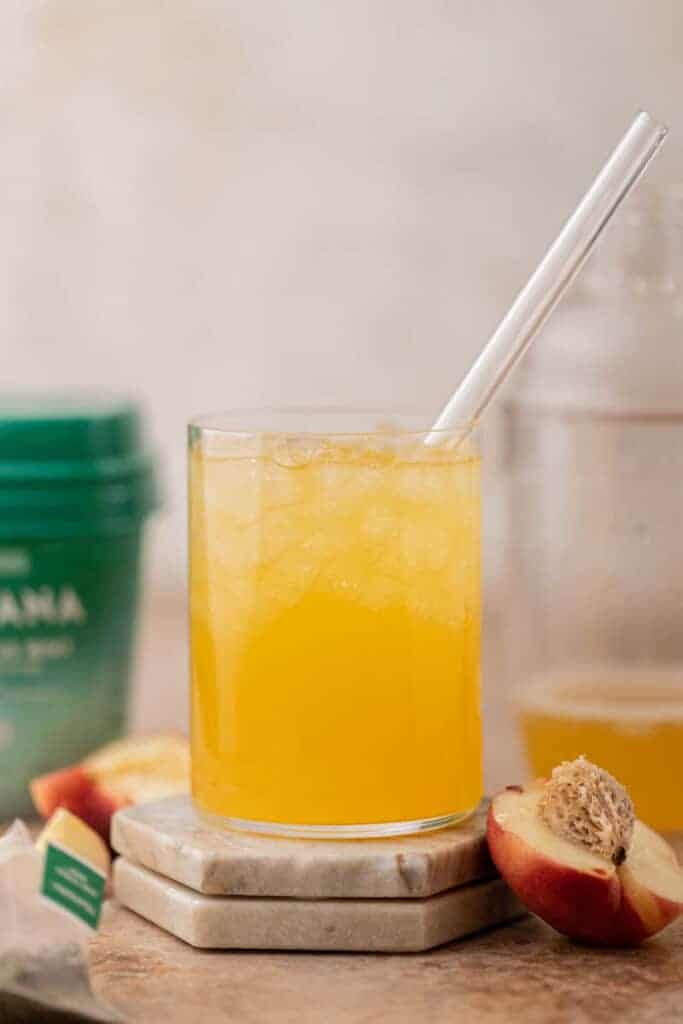 This is the best iced peach green tea lemonade ever!
hot green tea not only is great for you but also tastes delicious, but this time we are taking it up a notch by turning it into an iced peach tea which in my opinion is a great drink to sip on anytime but especially on a hot day because well ICE.
I've always loved an amazing summer tea that is both refreshing and also tastes really good and this recipe was able to satisfy all of my cravings
What does the Starbucks peach green tea lemonade taste like?
It tastes like a refreshing fruity iced tea. Similar to regular sweet peach iced tea but with a kick thanks to the sourness of the lemonade. It is extremely refreshing and will quickly become your go-to drink of the season.
Why you need to make this recipe!
This homemade recipe will yield a drink that might even be better than the Starbucks version.
It will cost you a fraction of the cost.
This is the perfect drink to make for tea lovers.
Ingredients for this Starbucks golden yellow-orange colored drink!
Here are the Starbucks ingredients you will need to make this easy Starbucks lemonade green tea recipe. Make sure to scroll down to the recipe card for the full detailed ingredient measurements.
Green tea bags– You can use whichever regular green tea you want but I decided to go with the Teavana Jade Citrus Mint Green Tea because it gave the closest drink the Starbucks one.
Lemonade– You can use homemade lemonade or store-bought.
Peach juice– To keep it simple we are not using real peaches but instead using real peach juice to ensure that the drink tastes really good!
Ice- It's an iced drink so we will need some good ice, make sure that it isn't that stale ice that has been sitting in the back of your fridge because that will easily ruin the flavor of your drink.
Substitutions
Lite lemonade- You can use a low-calorie lemonade to keep the calories in your drink low (ish)
Green tea- You fully transform this drink if you decide to use a different kind of tea, I know black tea would go so well with the flavor profiles of lemonade and peach juice. Just be aware that using black te would increase the caffeine content of this iced beverage.
How to make Starbucks peach green tea
This is how you can make this drink. Make sure to scroll down to the recipe card for the full detailed instructions!
To make the green tea concentrate, start by brewing the tea in hot water for 2-3 minutes (or longer to make it even stronger)
In a cocktail shaker, or a large mason jar add half of the ice, peach juice, lemonade, and the cooled-down green tea.
Shake vigorously until the iced tea drink has been chilled.
Pour the rest of the ice into a tall glass, and top it off with the iced tea lemonade mixture.
Feel free to garnish with peach slices if you have them and enjoy!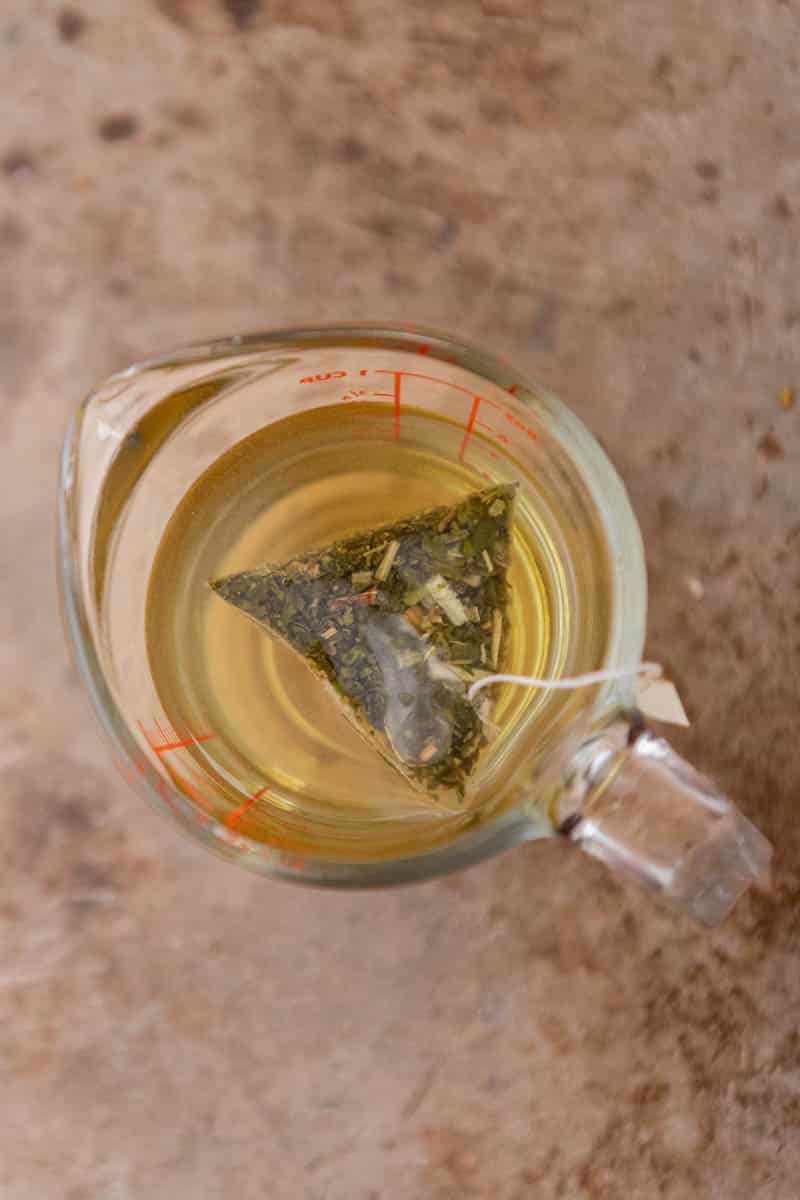 Frequently asked questions – FAQ
Can I make this Starbucks peach green tea in advance?
This is best enjoyed as soon as you make it but if you want to prepare it ahead of time and store it for later, don't add the ice until the last minute so your drink isn't watered down.
Can I double this recipe?
Absolutely, you can double or triple this recipe using the x2 or x3 on the recipe card. Feel free to make an even larger batch of this peach green tea for your BBQs, picnics or any family and friends gatherings you have coming up.
Is the Starbucks peach tea lemonade recipe sweetened?
Yes, since they use lemonade and a peach juice blend that are both sweetened you will be able to taste the sweetness in the drink.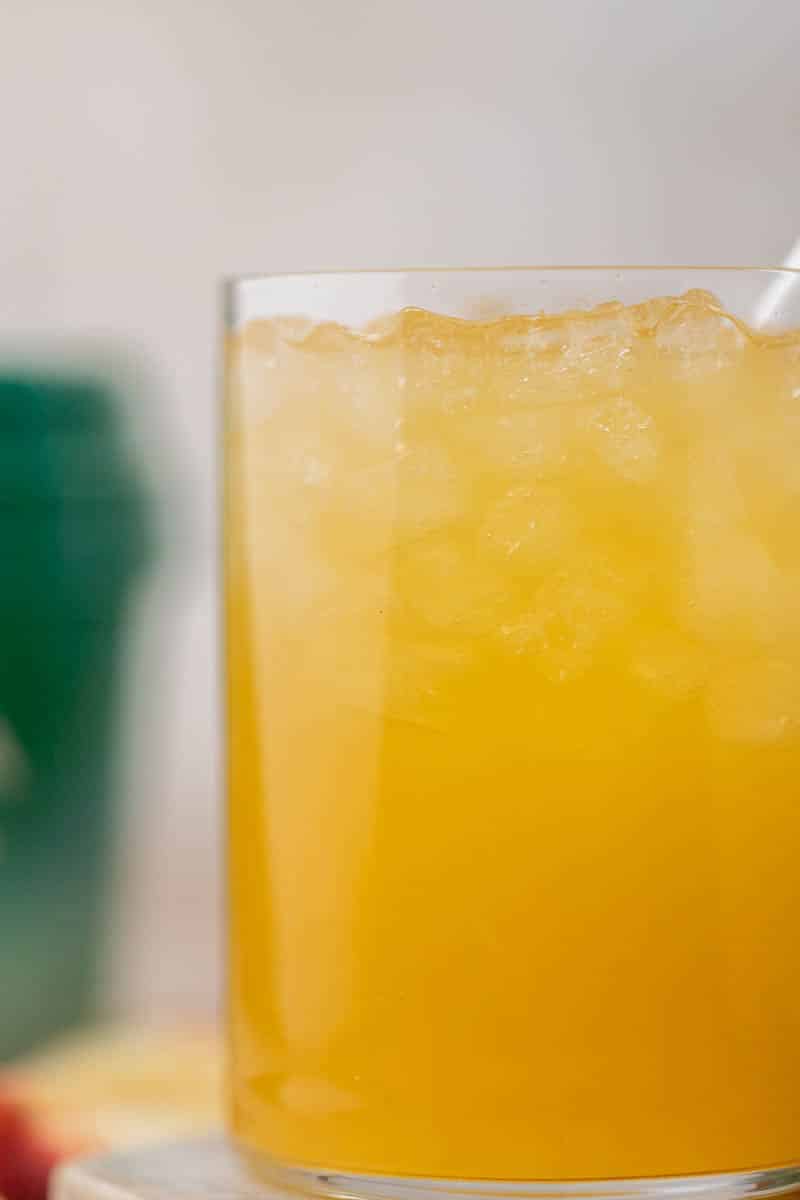 How much caffeine is in this Starbucks iced green tea peach lemonade drink?
This drink contains caffeine because of the use of the green tea bag but it doesn't have as much as black tea or a cup of coffee would. For one tea bag. One brewest bag of real green tea contains anywhere between 25-35 mg of caffeine.
What Lemonade does Starbucks use in their drinks?
Starbucks uses a mixture of lemon concentrate, lemon juice, lemon oil, water, and sugar in their lemonades. You can try and recreate this in the comfort of your own home or just use storebought like I did because sometimes you want something quickly!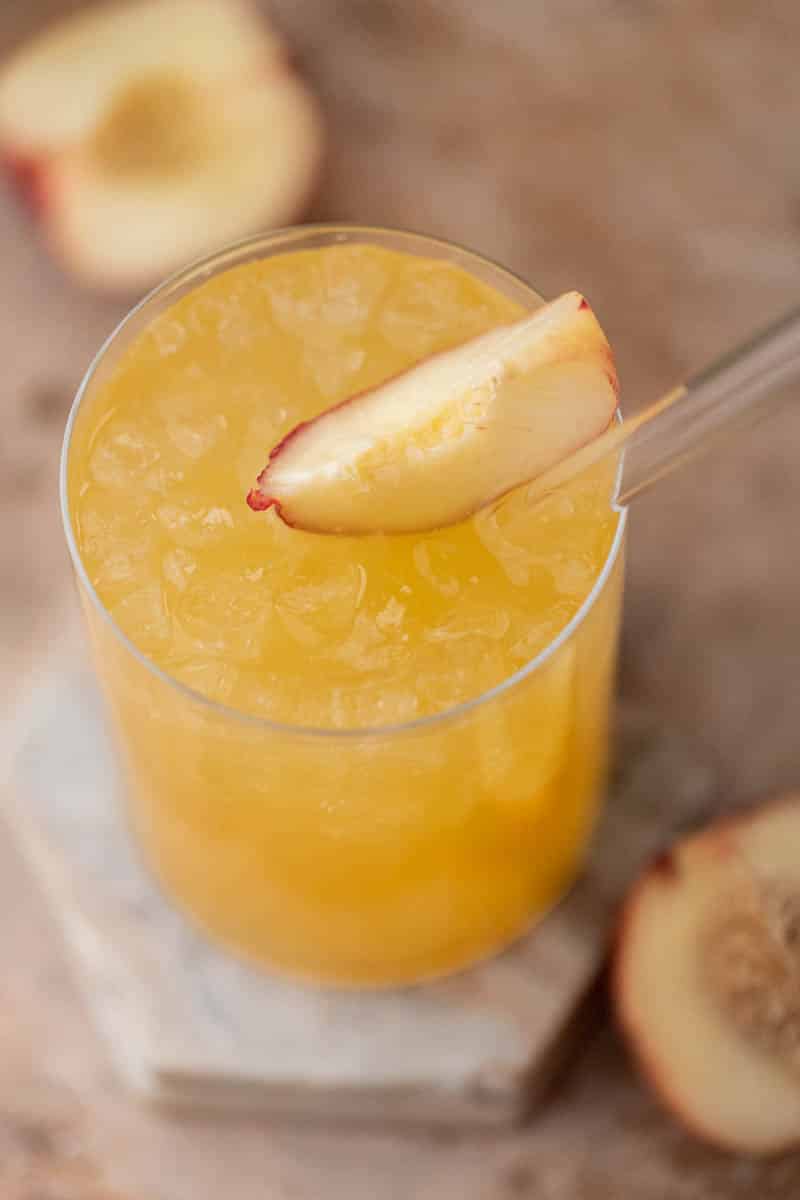 Can I make this drink without the lemonade?
Absolutely! If you don't want the lemonade in your drink, or just don't have it and don't want to go out to grab some use a half-and-half mixture of extra green tea and extra peach juice to make up for the lack of lemonade. This way you'll have a DIY Starbucks recipe for the peach green tea instead.
What should I do if I want my peach green tea lemonade sweeter?
If you don't think it is sweet enough and needs a little bit more of a kick, you can always add a touch of simple syrup. Make sure to start with just a little bit and increase if needed to adjust the sweetness to your liking.
How to make homemade simple syrup?
Mix ½ cup of granulated sugar and ½ cup of water in a saucepan over medium heat.
Bring to a boil then reduce to a simmer and stir until the sugar dissolves.
Allow the syrup to cool down, transfer it to a jar, and chill in the fridge for up to 1 month.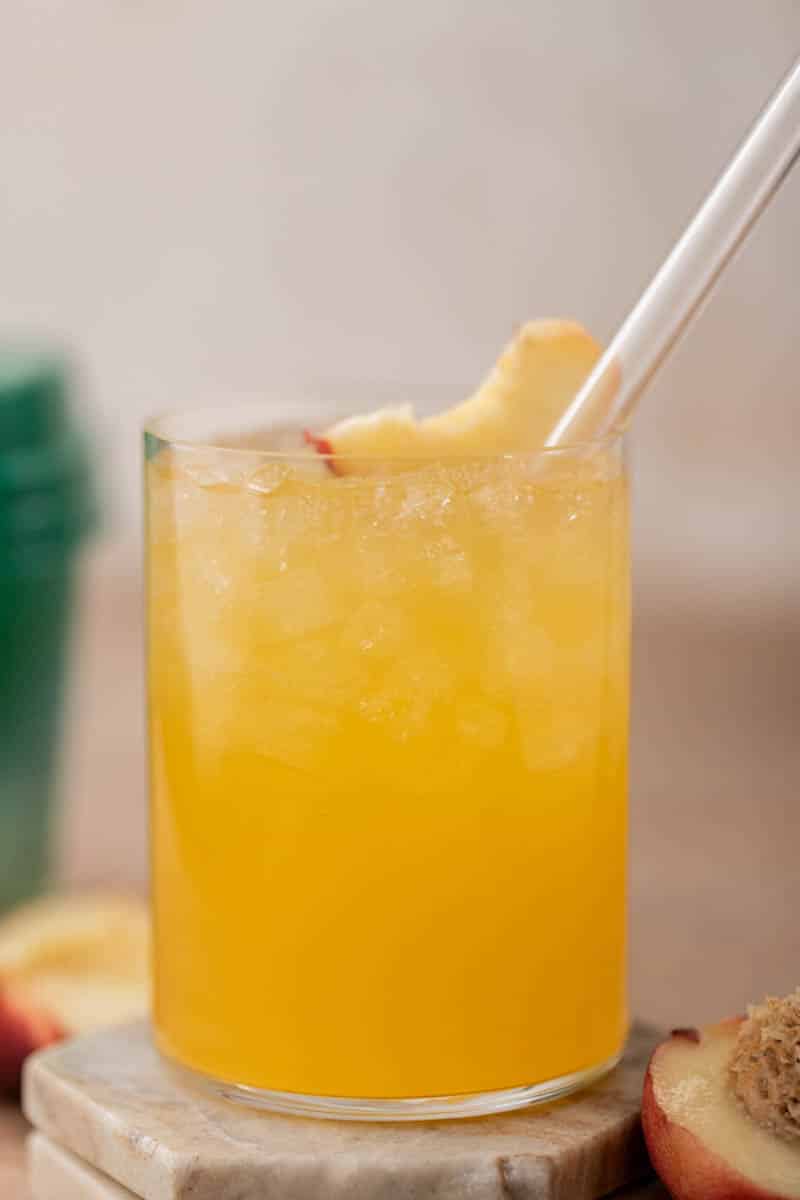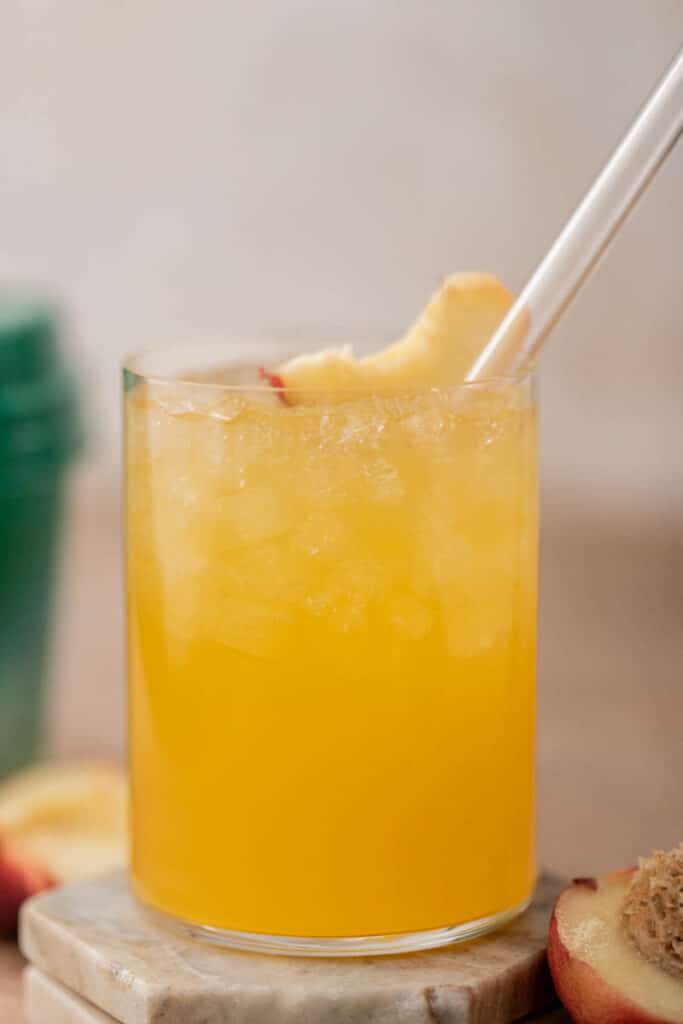 Starbucks peach green tea lemonade recipe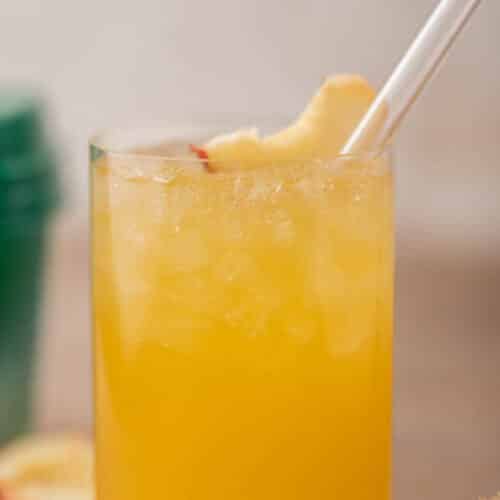 How to make Starbucks peach green tea
This easy Starbucks peach green tea recipe is an easy and delicious refreshing drink inspired by your favorite coffee shop.
Ingredients
⅔

cup

jade citrus mint tea

½

cup

peach juice

½

cup

lemonade

1

cup

ice
Instructions
Steep 1 Jade citrus mint tea in a ⅔ cup hot water. Allow it to sit for 5 minutes and steep fully. Allow the tea to cool down a bit before mixing with the rest of the ingredients

⅔ cup jade citrus mint tea

In a cocktail shaker or a mason jar add the green tea, peach juice, lemonade and half the ice and shake to cool.

½ cup peach juice,

½ cup lemonade,

1 cup ice

Add the rest of the ice to a serving glass and top it with the peach green tea and enjoy!
Nutrition
Calories:
119
Calories
Carbohydrates:
30
g
Sodium:
24
mg
Potassium:
123
mg
Fiber:
1
g
Sugar:
27
g
Vitamin C:
30
mg
Calcium:
7
mg

Shop this recipe
This post may contain affiliate links, meaning that at no cost to you I will get a small percentage of every purchase you make!
If you enjoyed this Starbucks peach green tea recipe make sure to pin it for later!
Reader Interactions