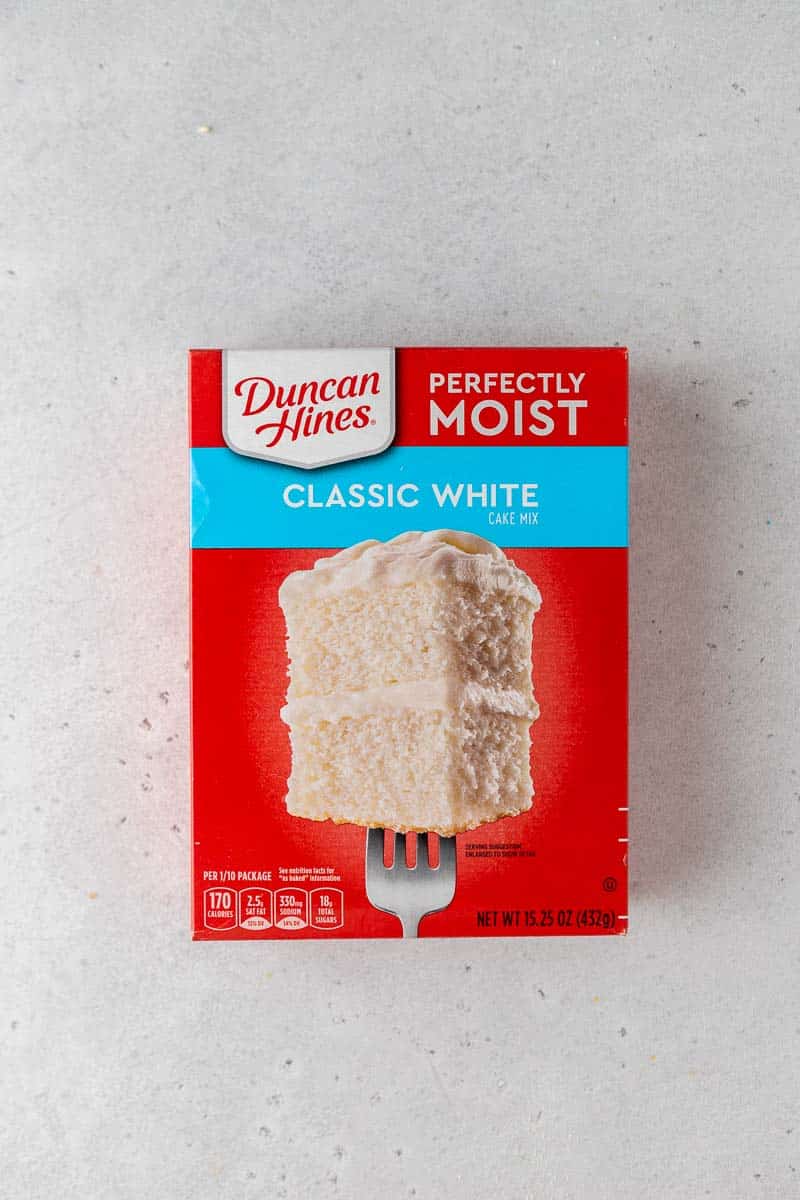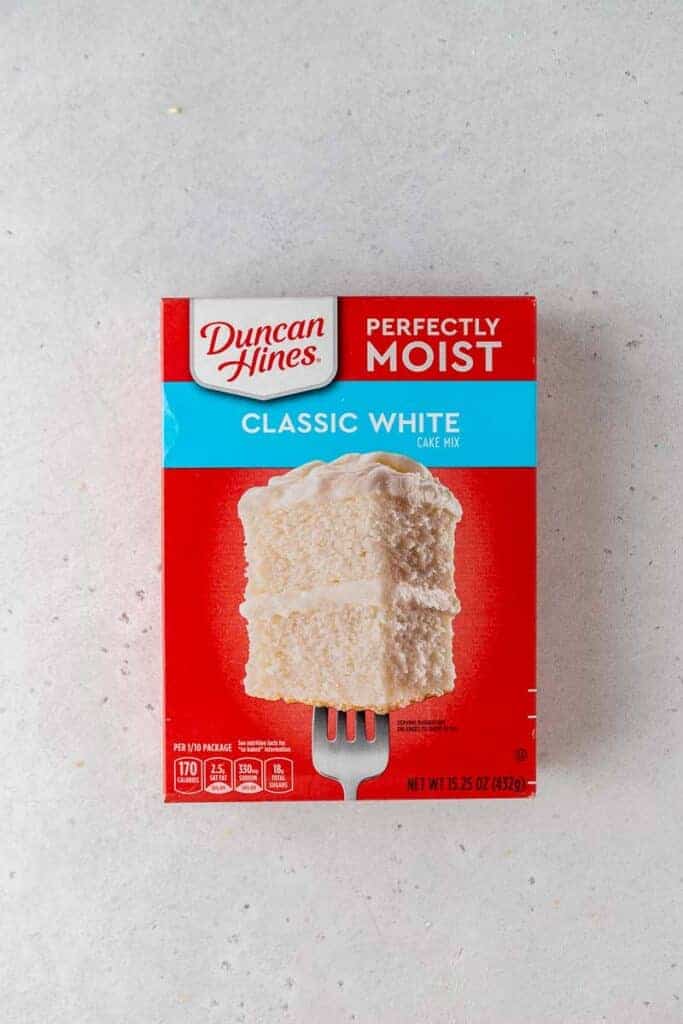 Today, I will be showing you how to make cake mix taste homemade with just a few simple tricks to doctor it up and bring out the best of it when you're in a rush and can't make anything from scratch.
I often feel like cake mix has this bad chemical flavor and that's something I just can't stand, so I did something about it.
These are the best tricks to make cake mix better
Truth be told, I was terrified of box mix but not anymore, with these easy tricks, you'll be able to save up on time, cost of ingredients, and gain a ton of peace of mind, to be honest.
Hear me out, I am all for baking from scratch but, you know as well as I do that sometimes It's just not possible and that's okay.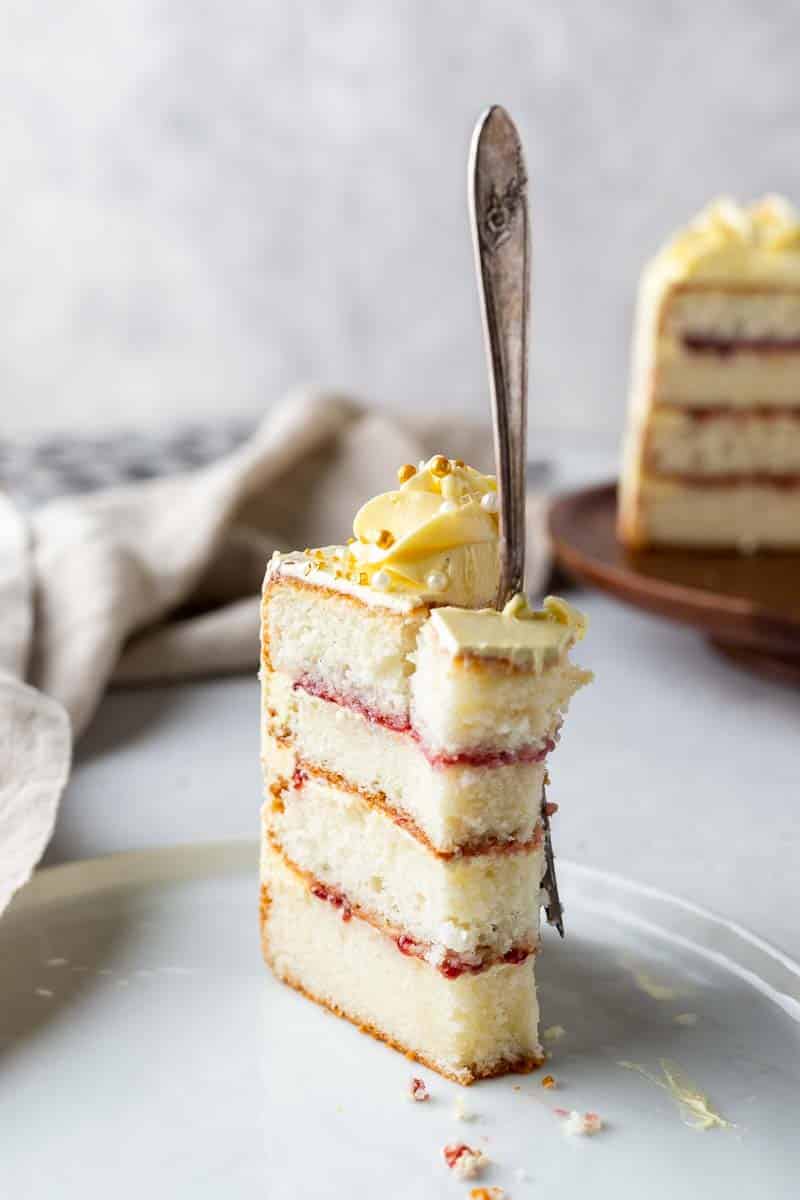 The cake shown above is made with the Duncan original white cake, a few tweaks here and there, baked to perfection, and then frosted with my French buttercream. The recipe for that will be coming out soon so keep a lookout for it!
10 secrets to make box cake taste homemade
Tip #1 on how to make box cake taste homemade – Use milk instead of water.
Most cake mixes ask for water to be mixed in, but instead of that, we want to do milk. Preferably whole fat milk to increase the fat content of the cake making it more soft and tender.
Tip #2 on how to make box cake taste homemade – Use Coffee instead of water in chocolate cakes.
Coffee brings out the flavor of chocolate very well so instead of mixing in water, try using freshly brewed coffee instead.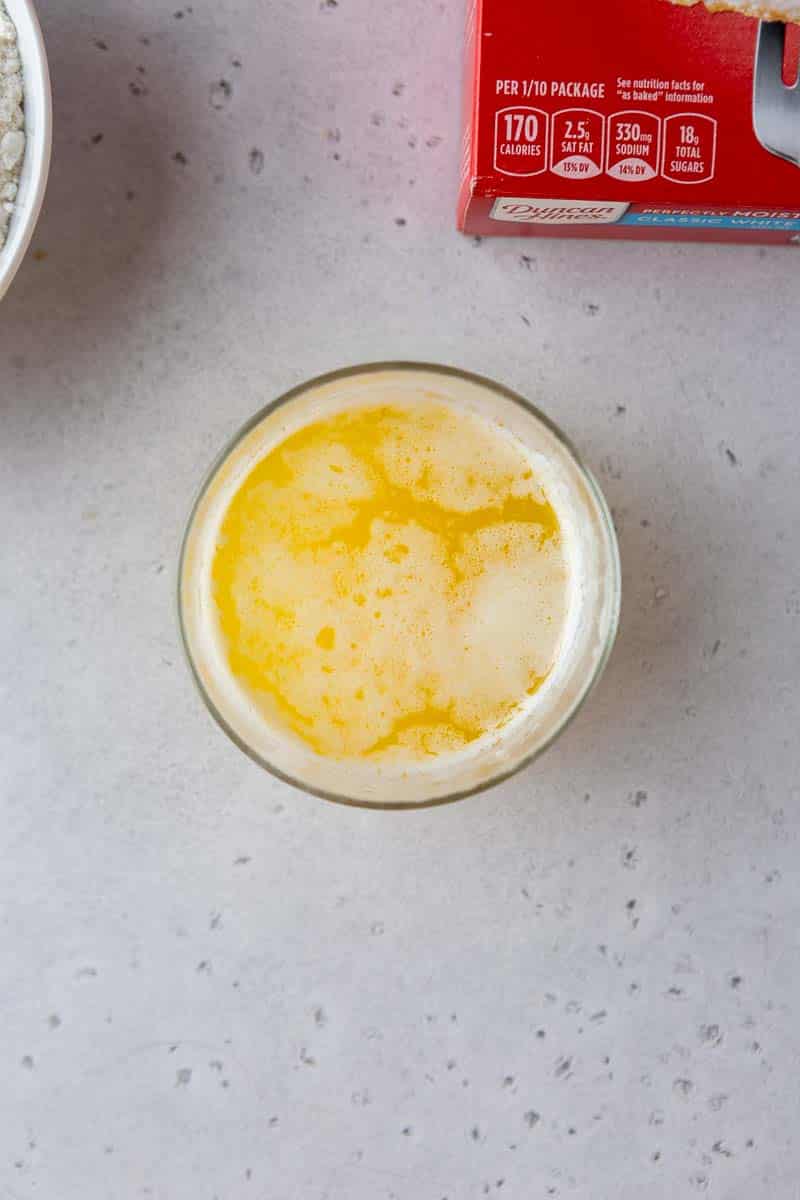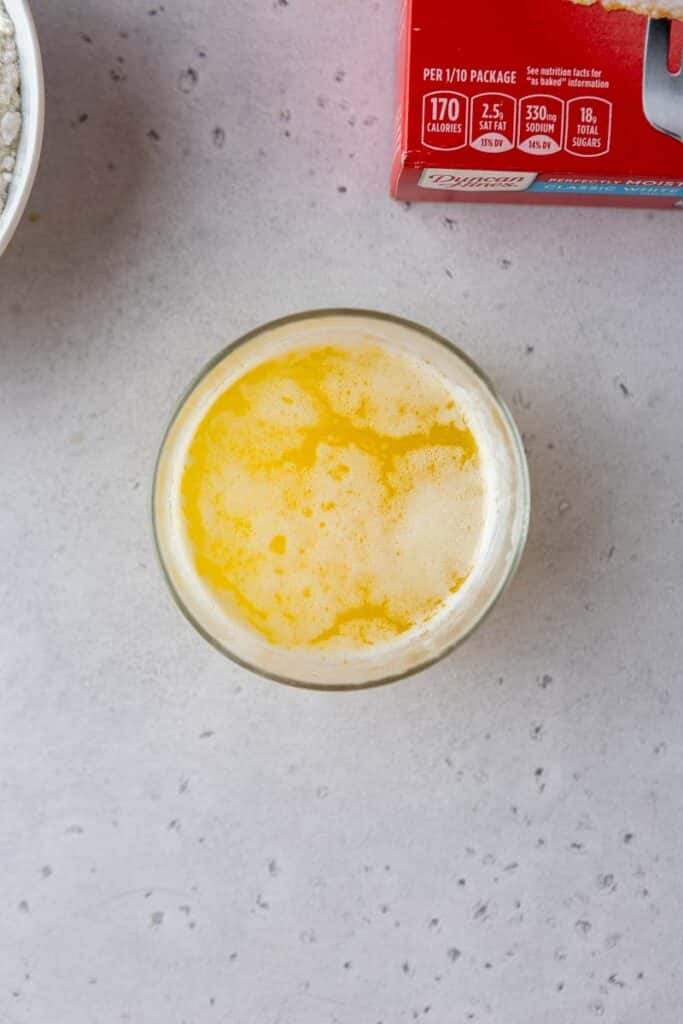 Tip # 3 on how to make box cake taste homemade- Use melted butter instead of oil
Using melted butter in your cakes will make them more tender, moister, and will give them that iconic homemade cake flavor.
Tips #4 on how to make box cake taste homemade – Add in an extra egg yolk (yellow cakes)/ extra egg white (white cakes)
Add in an extra egg yolk to the eggs the recipe calls for. The extra egg yolk will increase the fat content of the cake, making it more tender and lighter.
This tip is here to piggyback on the previous tip, if you are making a whiter cake, adding in the extra egg yolk might be a little counterproductive. So adding in that extra egg white will make the cake more tender while not changing the color of the cake itself.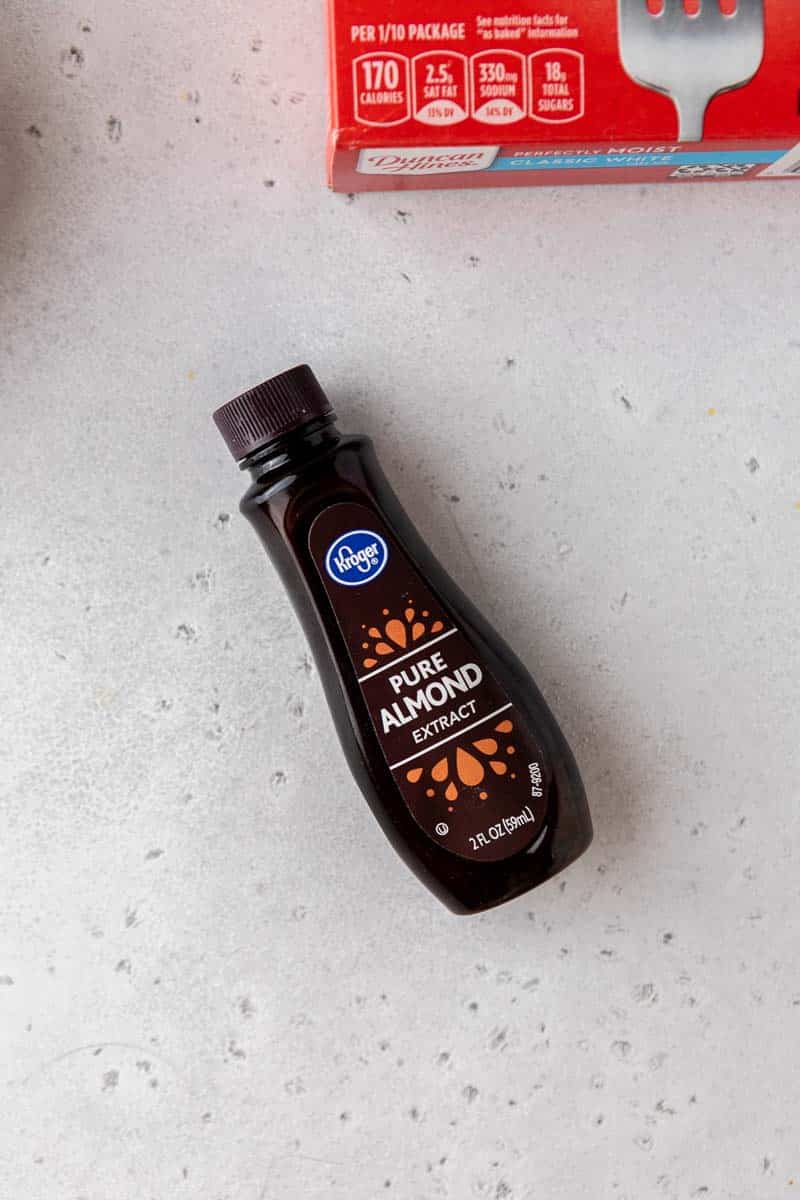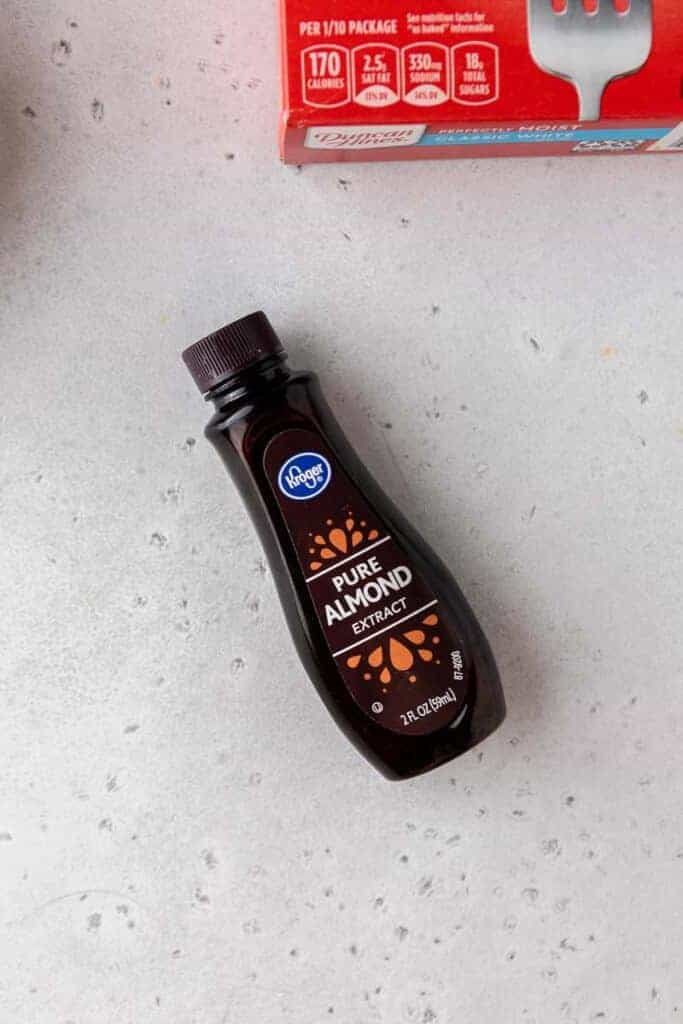 Tip #5 on how to make box cake taste homemade- Use extract and flavorings
Sometimes, boxed cake mixes can be so bland that's why adding extra vanilla or other types of flavors can take your boxed cake mix cake to the next level.
Tip #6 on how to make box cake taste homemade- Use really good quality box cake mix
The better the cake mix the better the cake, repeat after me. The better the cake mix the better the cake, and that's the main reason why using a good quality cake mix will do half the job of making this cake taste homemade. Some of my favorite cake mixes are:
Simple mills
Duncan hines
Betty crocker
Tip #7 on how to make box cake taste homemade – Add mix-ins
Mix-ins are one of the most fun things when it comes to cakes if you ask me. I love adding mini chocolate chips or sprinkles to my cakes for a fun surprise once you cut into them!
Tip #8 on how to make box cake taste homemade – Make your own frosting
Ok, I know this might sound annoying. But hear me out, you take a little and give little! With the time you're saving to make a cake from cake mix, you can definitely spare 10 minutes to make the buttercream frosting while the cake is in the oven baking. I promise you, it's so worth it. You can try my easy Small Batch Cream Cheese Frosting which will be ready in no time to frost your beautiful cakes at home!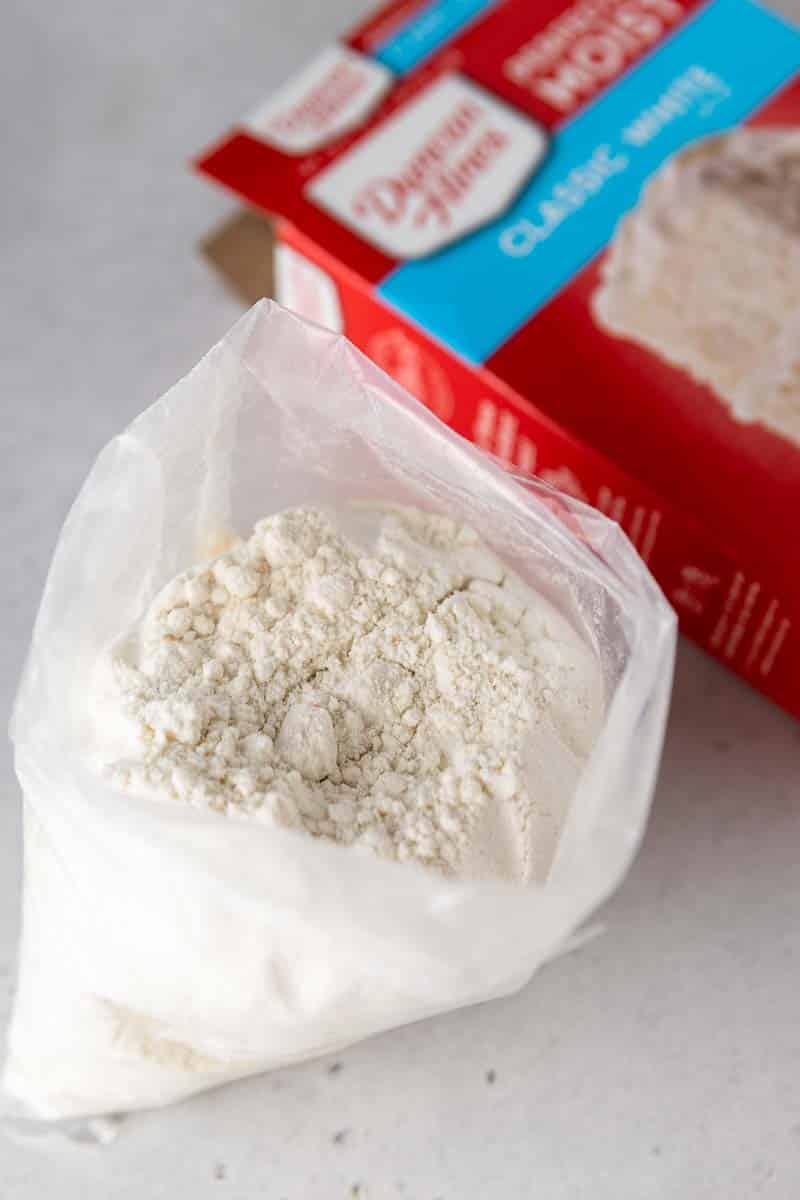 Tips #9 on how to make box cake taste homemade- Add in some pudding mix
Adding in a small box of pudding mix will take your cake from blah to WOW!! It will add extra flavor, moisture, as well as density. It will literally taste like homemade cake!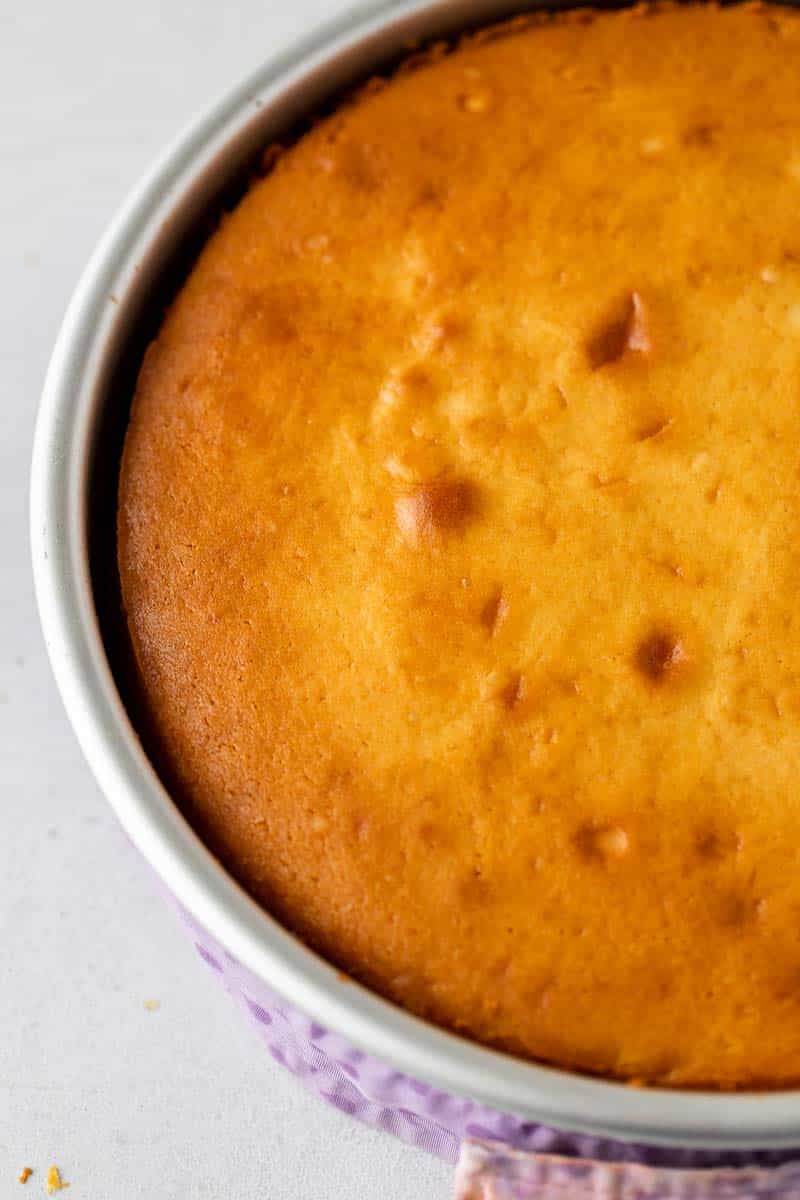 Tip #10 – Go with the WASC method
What is WASC or what does WASC stand for in baking you might think? Well, it's a white almond sour cream cake that is made using a box mix and lots of other ingredients to make it taste absolutely out of this world. This cake seriously tastes like it was purchased from a bakery! (scroll down for the Step by step WASC recipe.
Ingredients for the WASC cake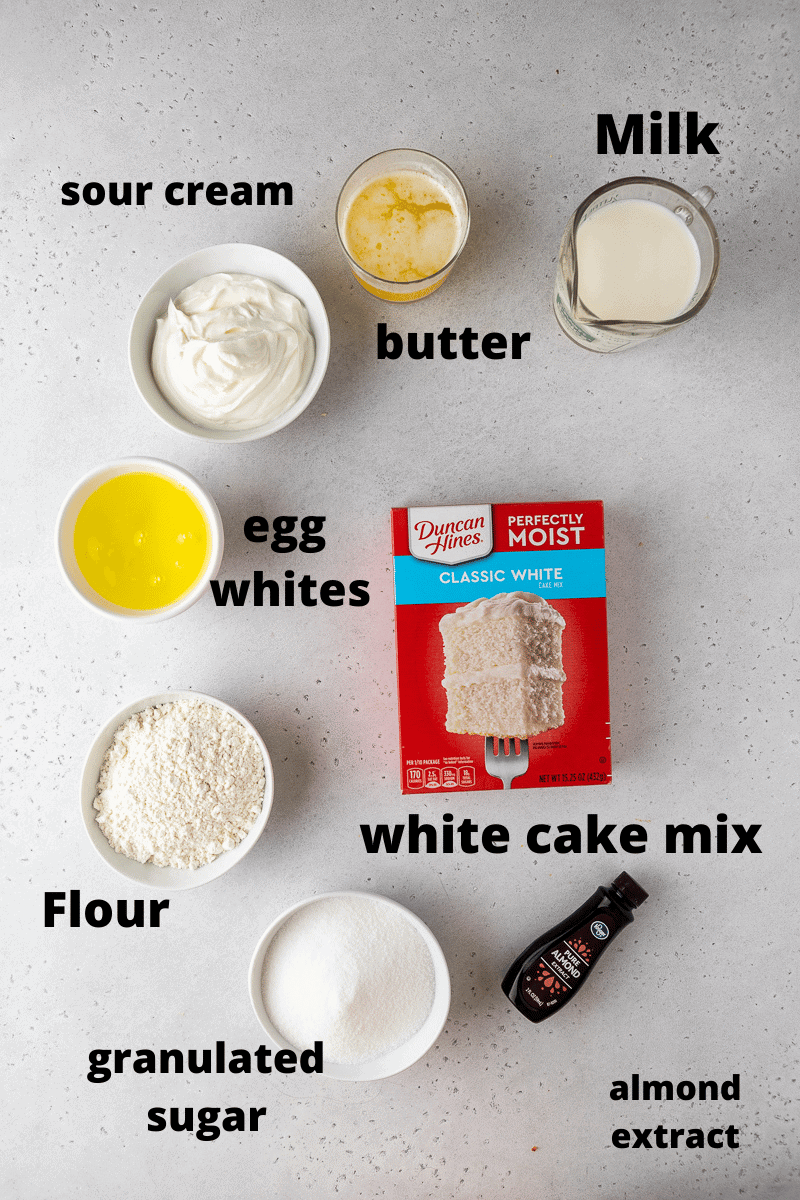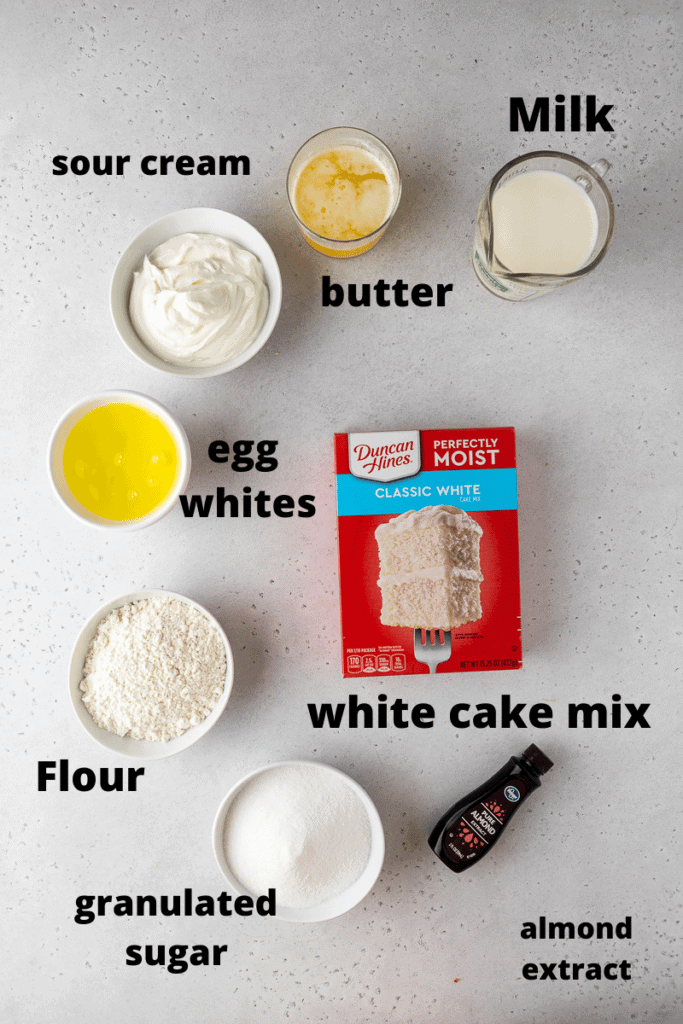 To make this super easy cake here is what you will need:
Classic white cake mix
All purpose flour
Egg yolks
Sour cream
Butter
Milk
Almond extract
This cake is a simple cake recipe that used pantry staples that you probably already have at home!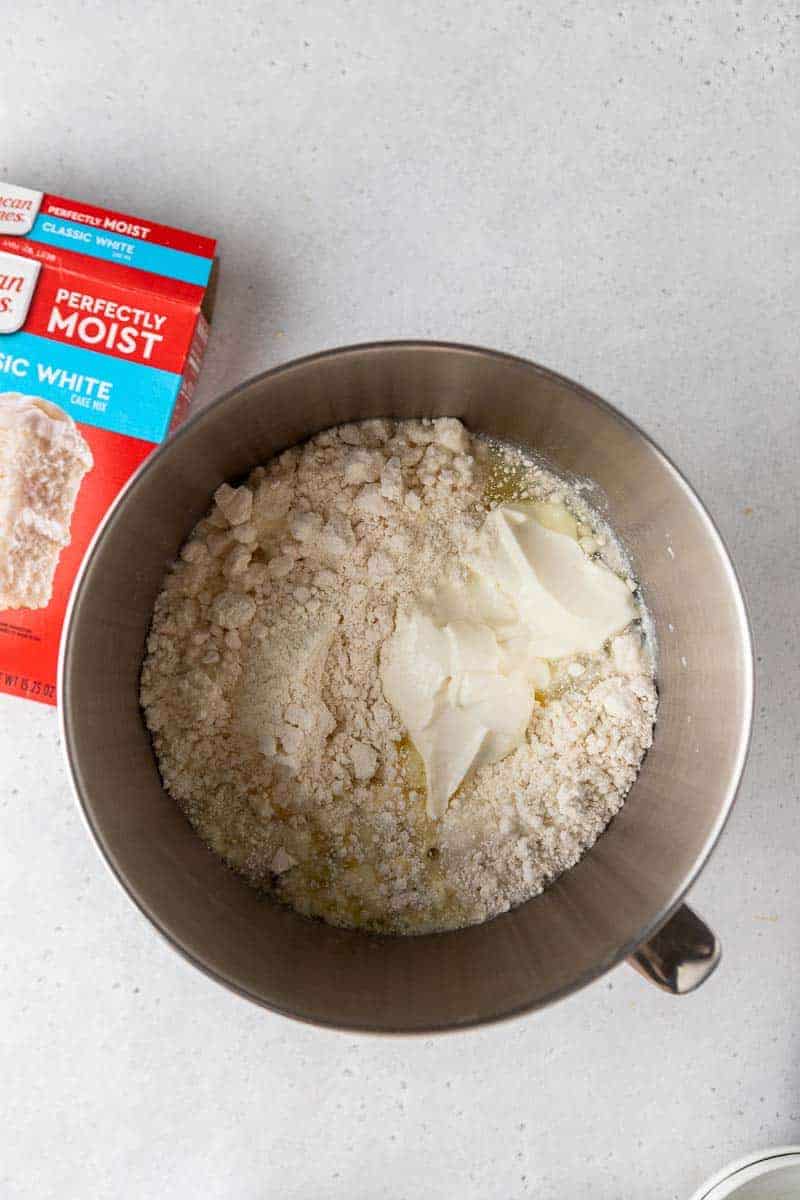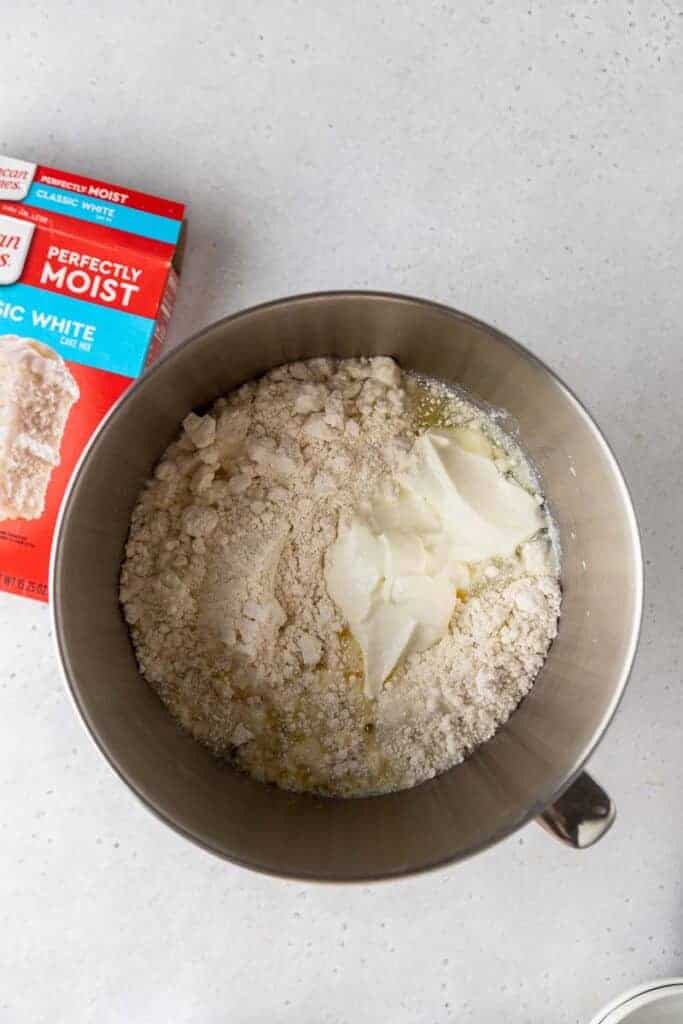 WASC- White almond sour cream cake
If you made these cake mix WASC and enjoyed it, don't forget to leave a 5-star review by clicking on the 5 stars under the title and description. It would help me a ton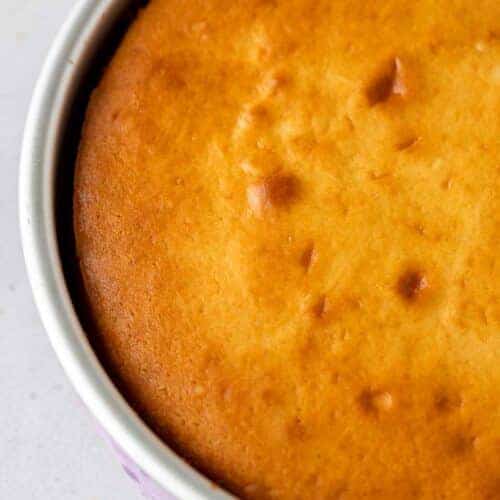 10 Secrets to make cake mix taste homemade + WASC recipe
This White Almond Sour Cream Cake with cake mix cake is the best doctored-up cake mix recipe ever! It is easy to make and yields a soft and moist cake every time.
Ingredients
1

box

White cake mix

1

cup

AP flour

1

cup

granulated sugar

½

teaspoon

salt

1

cup

sour cream

room temperature

1

cup

milk

½

cup

butter

melted

4

egg whites

or 3 whole eggs (the cake will be more yellow)

1

teaspoon

almond extract
Instructions
Preheat the oven to 350F and butter and line 2 8 inch baking pans with pachment paper and set aside.

Mix all the ingredients together on medium speed for 2 minutes. Divide the cake bater into the 2 pans, and bake in the oven for 35-40 minutes or until a wooden skewer inserted in the center comes out clean.

Let the cakes cool down in the pan for 10 minutes then transfer to a cooling rack to cool down fully before frosting the cakes!
Nutrition
Calories:
2349
Calories
Carbohydrates:
386
g
Protein:
35
g
Fat:
76
g
Saturated Fat:
44
g
Trans Fat:
3
g
Cholesterol:
165
mg
Sodium:
3823
mg
Potassium:
893
mg
Fiber:
6
g
Sugar:
221
g
Vitamin A:
2045
IU
Vitamin C:
1
mg
Calcium:
1023
mg
Iron:
9
mg
Thank you for making it all the way down here 🙂
If you enjoyed this recipe don't forget to let us know in the comments below! In the meantime, don't forget to follow me on Instagram!

Shop this recipe
This post may contain affiliate posts, meaning that at no cost to you I will get a small percentage of every purchase you make!
If you enjoyed these 10 secrets on how to doctor cake mix make sure to pin it for later!