How to make boxed brownies better was always the question I asked myself every-time I followed the exact instructions on the back of a brownie mix box. The brownie itself tasted good but it wasn't good enough… It wasn't as good as a homemade brownie or a bakery style brownie. But with these 10 secrets on how to make boxed brownies better, you will have boxed brownies that taste like they came from the best bakery ever!
SIGN UP TO OUR MAILING LIST GET A FREE WEEKLY MEAL PLANNER AND RECIPE CARD!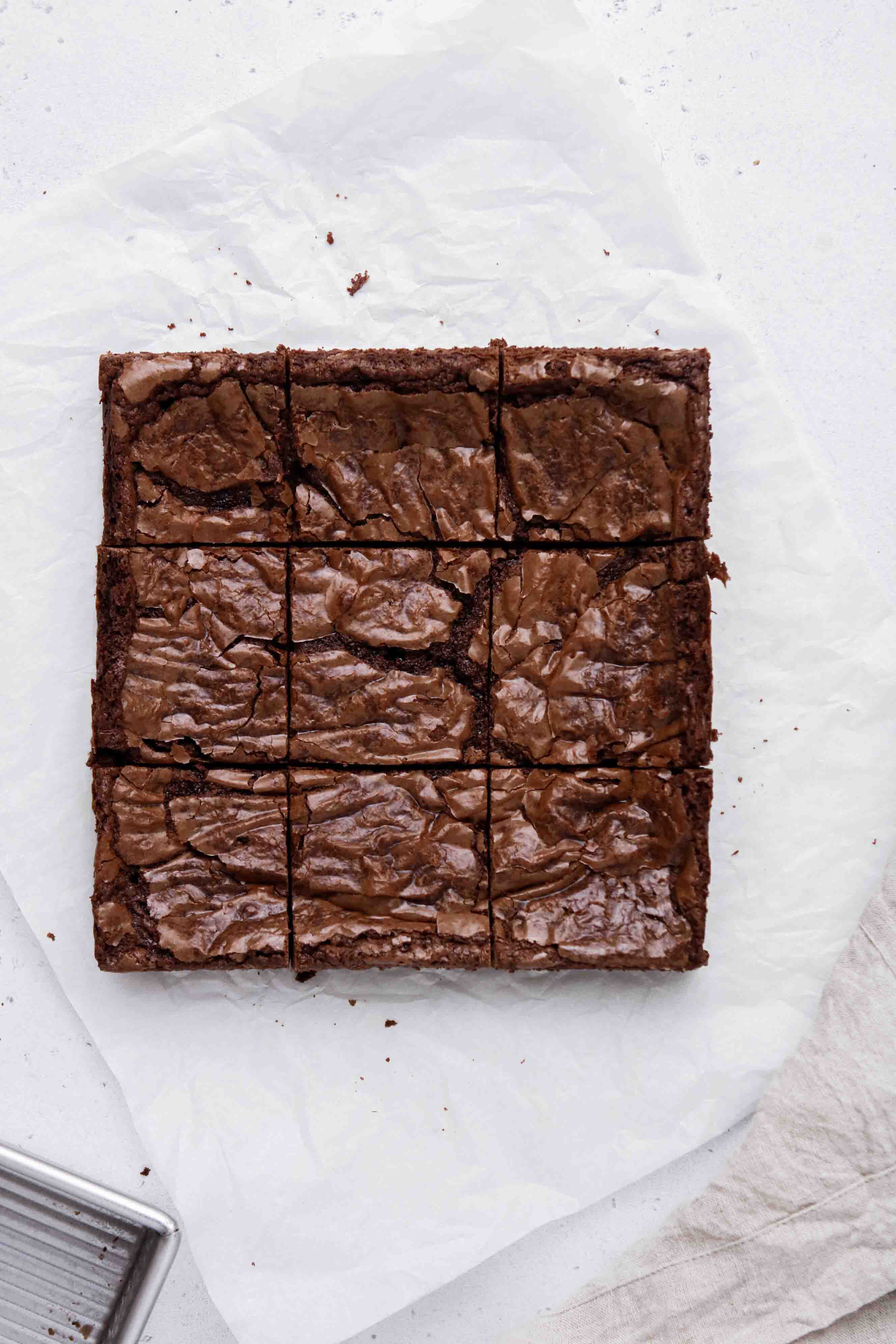 Can we all take a moment of silence because this article is the holy grail for all your doctored up brownie mix needs!! I actually was not able to believe that the brownies I made were from a box! They tasted as homemade as can be and that's exactly what I want you to get out of this article.
Brownies! The most American dessert ever. The dessert that I a pretty much can't get enough of year round… Because well it's chocolate and I am utterly obsessed with chocolate.
Unfortunately, being busy all the time, I don't always have the energy or the time to make brownies from scratch so that's when this one bowl brownie made from boxed mix comes into play.
These are the 10 best brownie mix hacks ever!
In this article I will be sharing the 10 best brownie mix hacks ever to help you turn any boring old boxed brownie into something that tastes homemade… Or even purchased from a high end bakery!
The first time I made this better tasting boxed brownie recipe, I was definitely skeptical. I couldn't help but think that the brownies will not turn out as good because well.. It's freaking box mix!
To my surprise the brownies turned out amazing and they didn't even taste like they were made out of boxed brownie mix so if you ever have some brownie mix laying around, I urge you to try this recipe!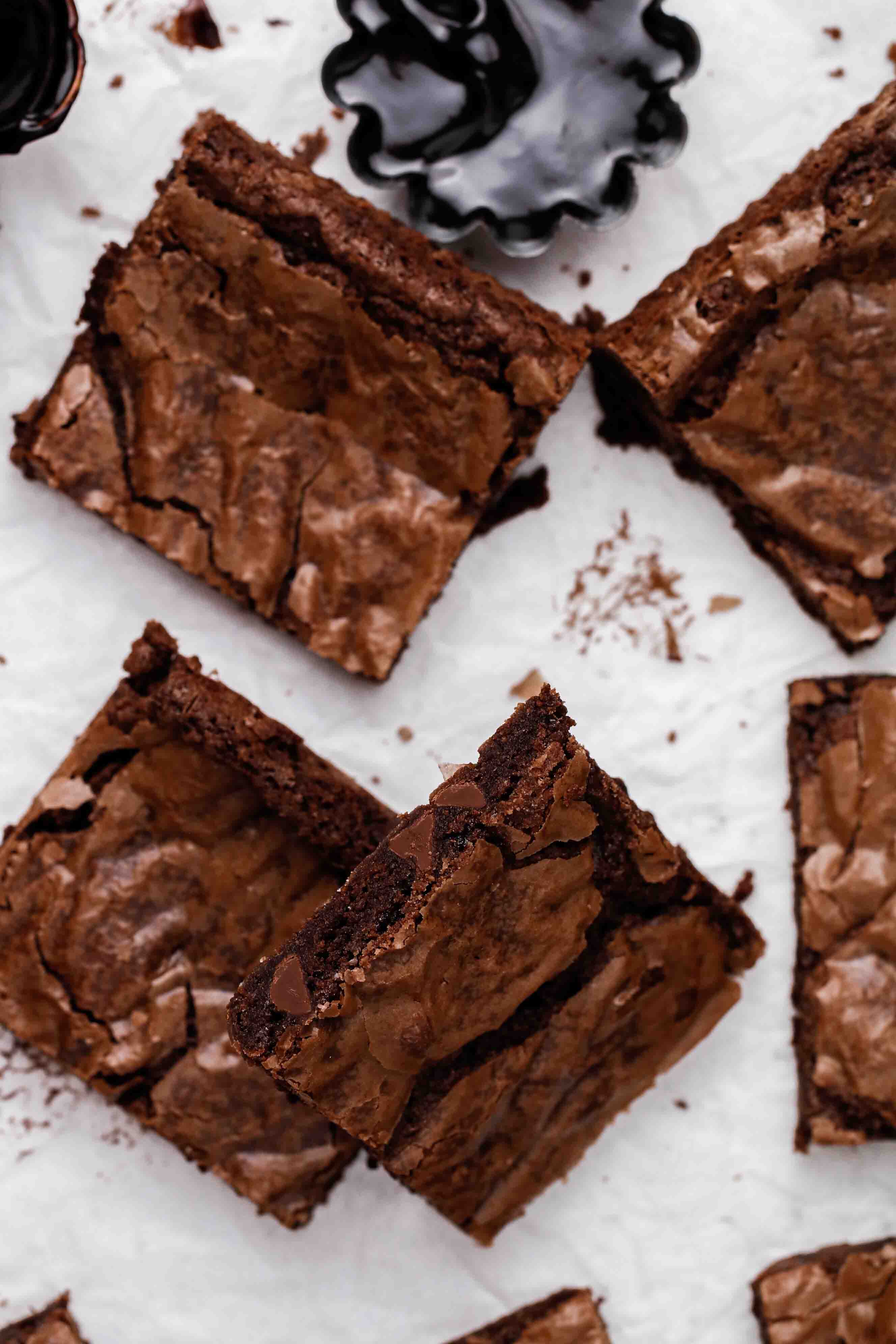 What makes this how to make boxed brownies better article so special?
You might have asked yourself this question before you clicked on here, and that's a totally fair thought to have. But here is what makes this article different from all the other ones you might've seen online.
It starts with boxed brownie mix but taste like a from scratch brownie recipe!
Each brownie slice is extremely fudgy
This boxed brownie recipe has a depth of flavor like no other!
Don't have time? This doctored up brownie mix brownie recipe takes less than 10 minutes of hands on work.
It's the perfect dessert to make for family gatherings or summer BBQs.
The 10 best kept secrets on how to make boxed brownies better!
Here are a few of my favorite boxed brownie hacks. They are ranked based on how helpful they are to making boxed brownies taste better. I would take a few of these brownie mix hacks and play around with them until you create your perfect box mix brownie recipe!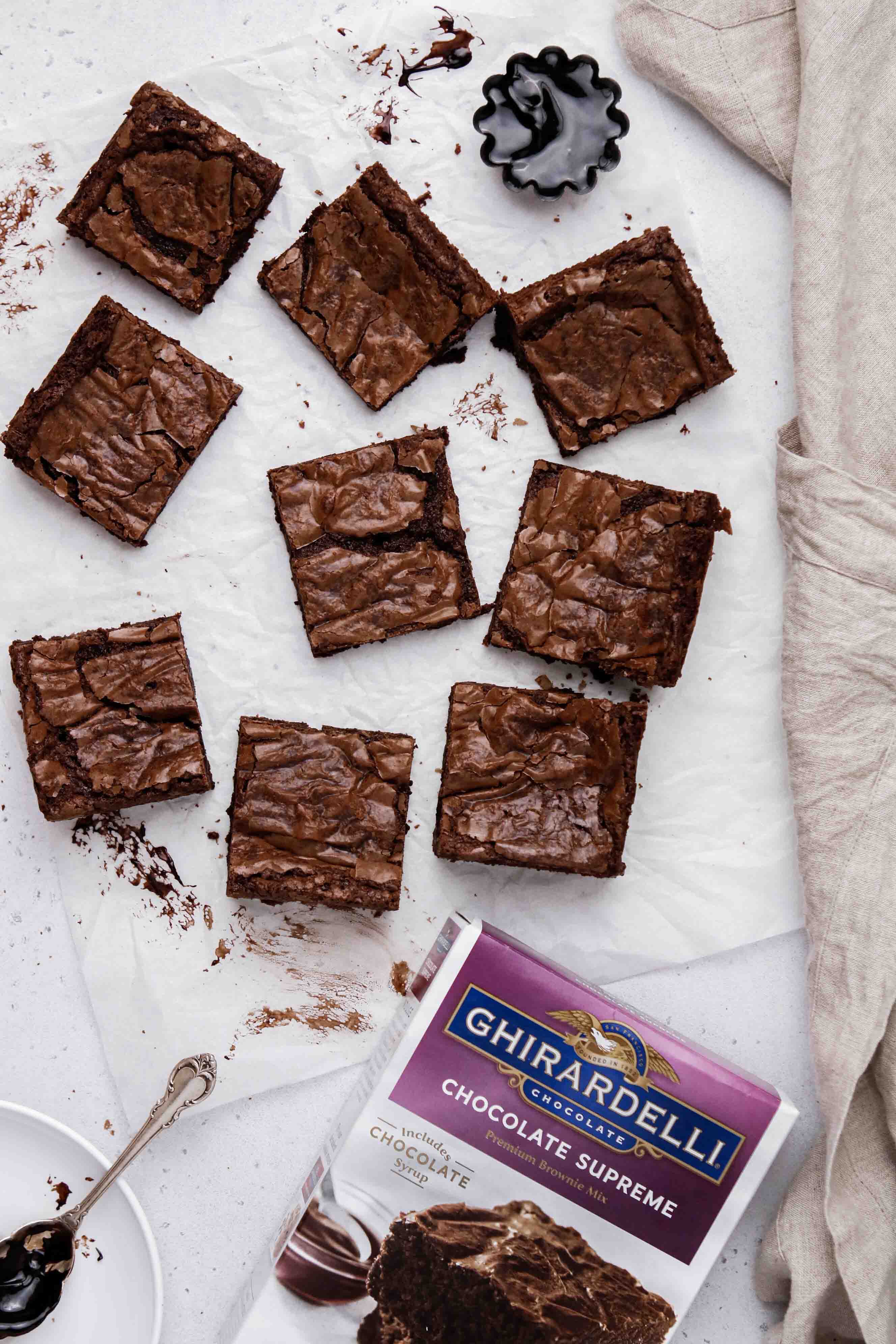 1- Start with good brownie mix!
This first tip sounds like a given, but I can't tell you how many times I have gotten the wrong brownie mix and ended up with something that tasted like chemicals and despair.
One of my favorite brownie mixes to start with will have to be the Ghirardelli double or triple chocolate brownie mix or the Ghirardelli chocolate supreme.
Using a good brownie mix to start will make your final doctored up brownies taste even better!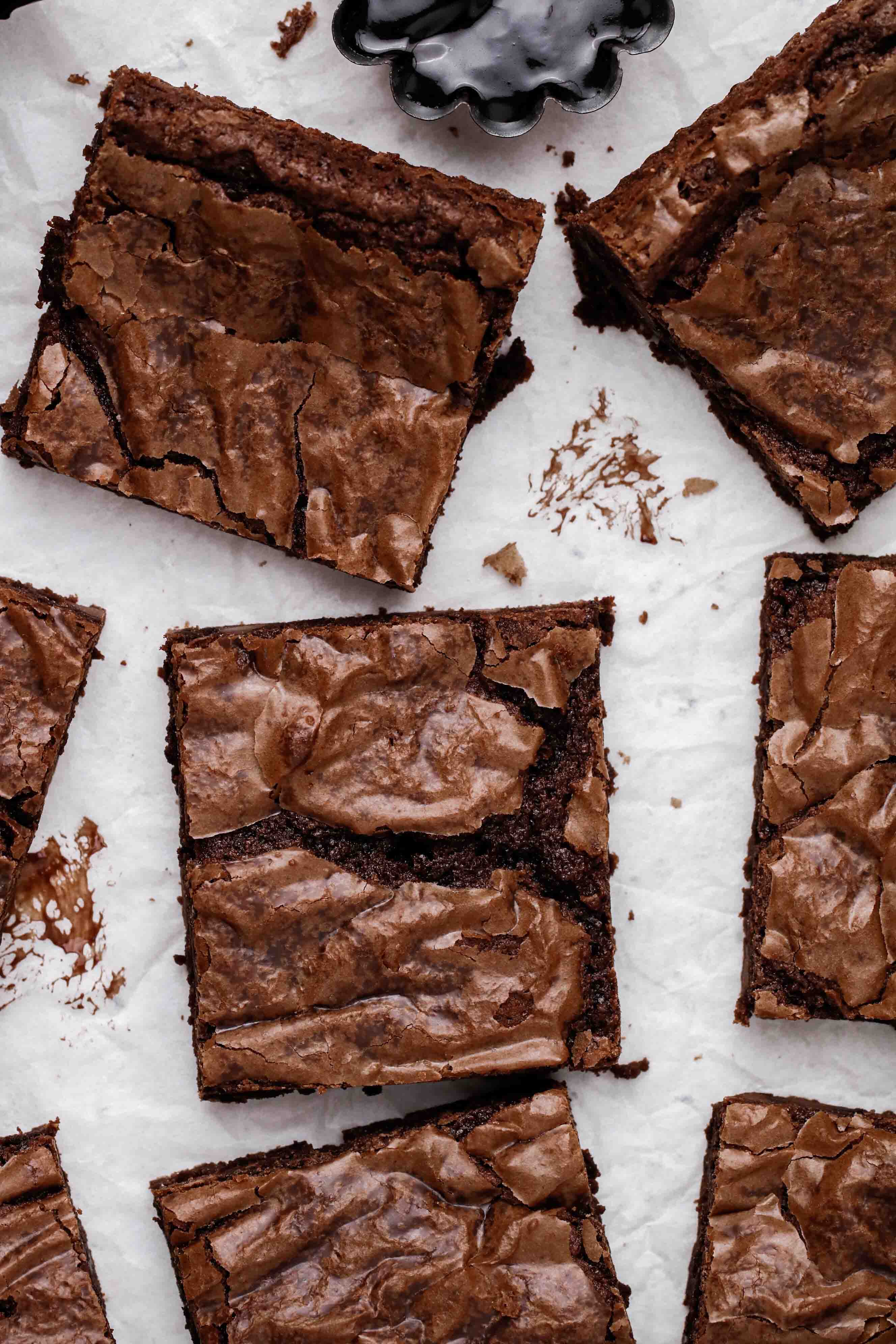 2- Use butter instead of oil
Butter, butter, butter. My number one love when it comes to baking. Most brownie mix boxes suggest that you use oil but to add more richness to your brownie mix brownies, opt for melted butter.
Bonus points if it's really good quality butter!
3- Use egg yolks instead of a whole egg
As a rule of thumb, you should know that 2 egg yolks make a whole egg. I love using 2 egg yolks instead of one whole egg in my boxed brownie recipe because it increases the fat content of the brownies and keeps them way more fudgy.
This is a simple swap that will yield amazing results! For those extra egg white you can make some meringue cookies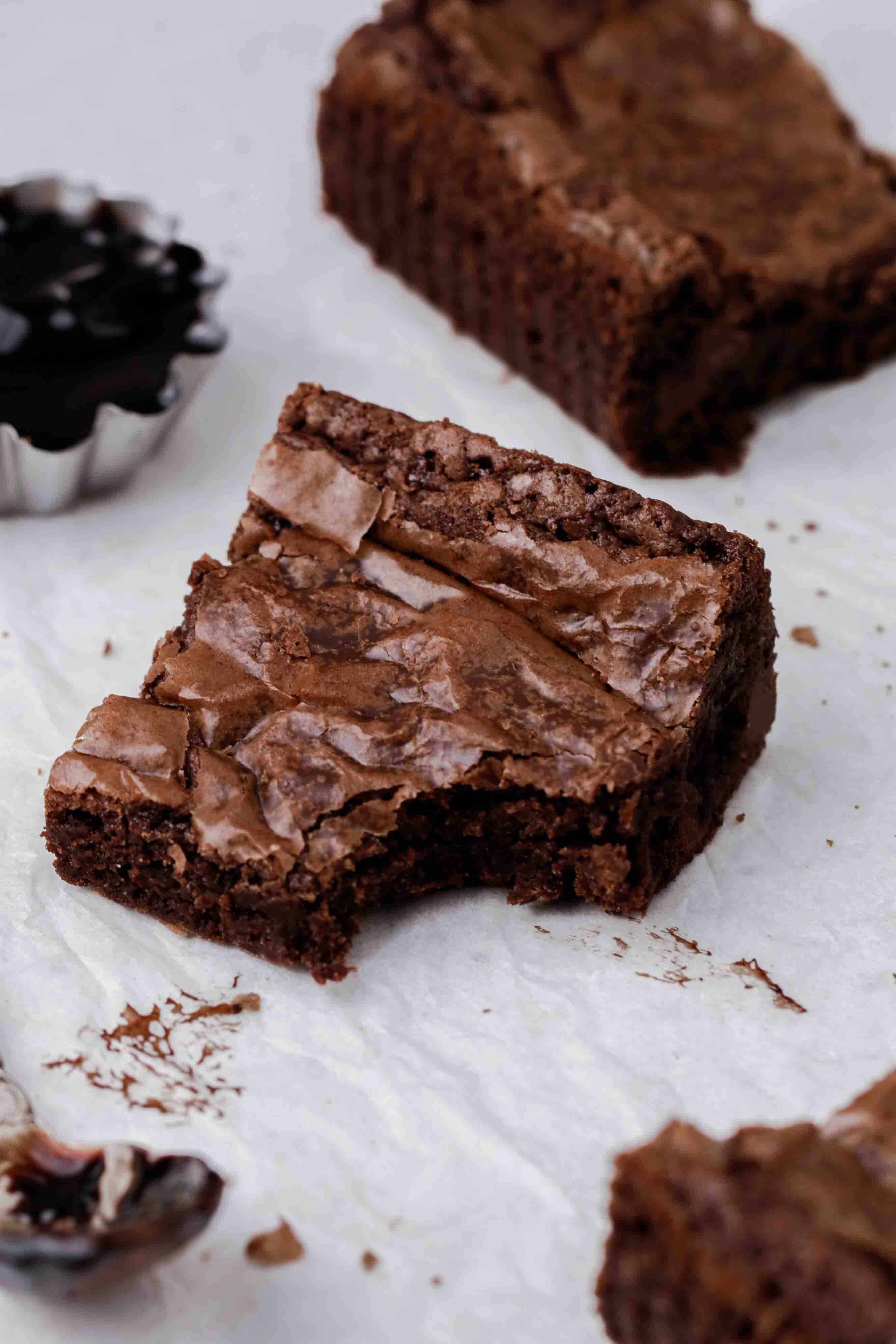 4- Use milk or heavy cream instead of water
When it comes to making brownies fudgy, you want to increase the fat of the brownie batter and that's where the milk or heavy cream comes in to play.
If you think about it, adding in water to your brownie mix is boring. It doesn't add anything special to the recipe while the milk or heavy cream both add some depth, some richness, and extra fat for the perfect ooey gooey brownie slice.
5- Use hot brewed coffee instead of water
You know what's a match made in heaven? Coffee and chocolate! Many chocolate cake recipes require you to add hot brewed coffee into the cake mix to give it that intense chocolate flavor.
Same for these brownie mix brownies, using coffee instead of plain old water will help intensify the chocolate flavor and make them even better.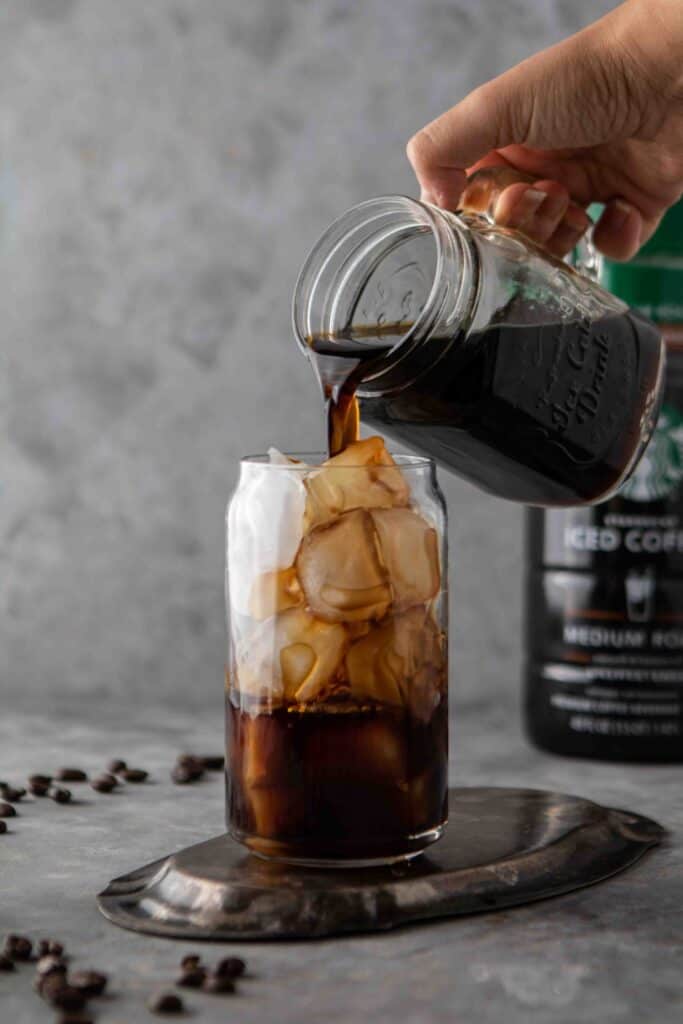 Keep reading for more tips on how to make boxed brownies better!
6- Add some vanilla extract
Adding vanilla might seem a bit odd especially since we are talking about chocolate brownies. But trust me, the vanilla extract will add an extra depth of flavor that will also enhance the other ingredients in the brownie, AKA the chocolate!!
7- Add s little salt to the boxed brownie batter, and sprinkle some more on top while you're at it!
If you have ready my recipes before, you will notice that I always add some salt to my baked goods to balance out the sweetness of whatever I am baking.
Same goes for these boxed brownies. Adding a little bit of salt to the batter will add an interesting deep chocolate flavor without being too sweet.
Bonus points if you sprinkle some sea salt on top because you were feeling fancy!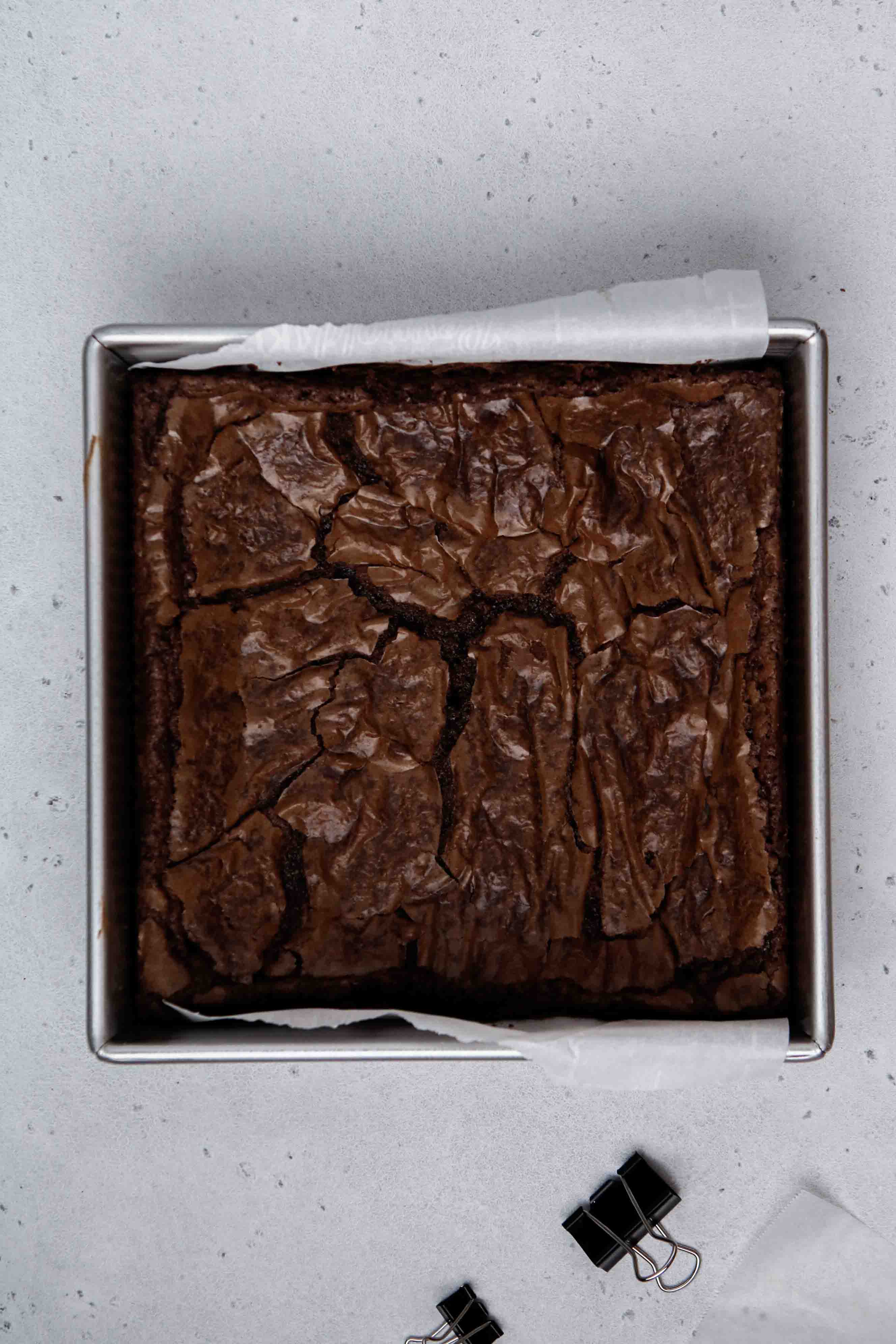 8- Add in Espresso powder or instant coffee
This brownie mix hack is very similar to the one where you can add hot coffee instead of water. But I especially like this one because it allows you to add coffee to get that depth of flavor while also adding milk as the liquid to add richness and extra fat to make your boxed brownies more fudgy.
To use this hack, add 1-2 teaspoon of espresso powder or instant coffee to your brownie mix batter and enjoy that intense chocolate flavor!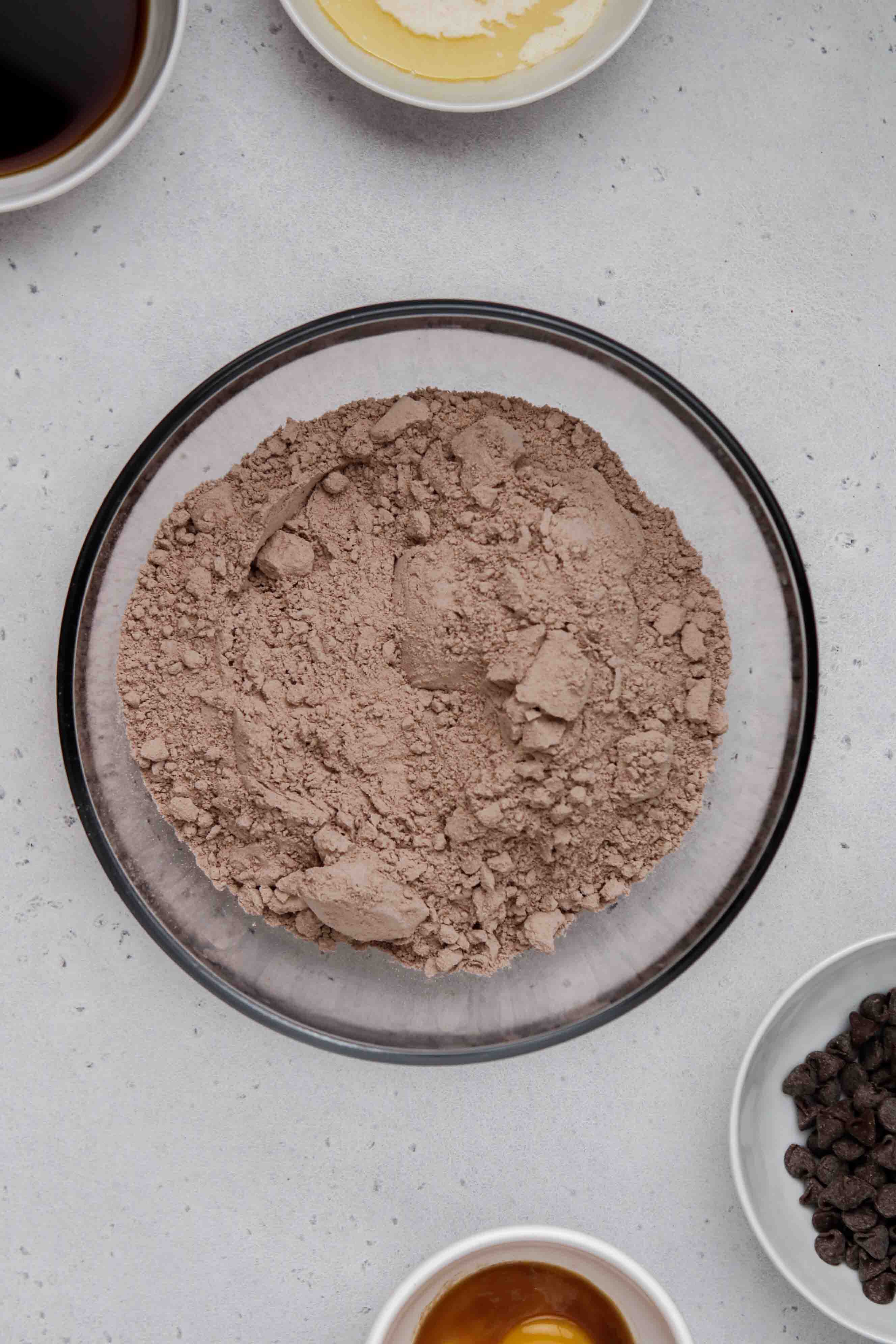 9- Avoid over-mixing your boxed brownie mix batter
This is a tip that I live by when it comes to cakes and cookies but surprisingly enough, it applies to brownies too!
Over mixing your brownie batter will result in a dense and not fudgy brownie so mix just until the dry mixture disappears, transfer to your baking pan and bake right away.
10- Change up the baking directions for low and slow bake. This yields an extremely fudgy brownie.
Not all boxed brownie mix are created equal, and many of them have different baking instructions. My favorite way to bake boxed brownie mix is to lower the heat to 325F and bake the brownies for 40 minutes or until a toothpick inserted about an inch from the edge comes out clean or with a few dry crumbs.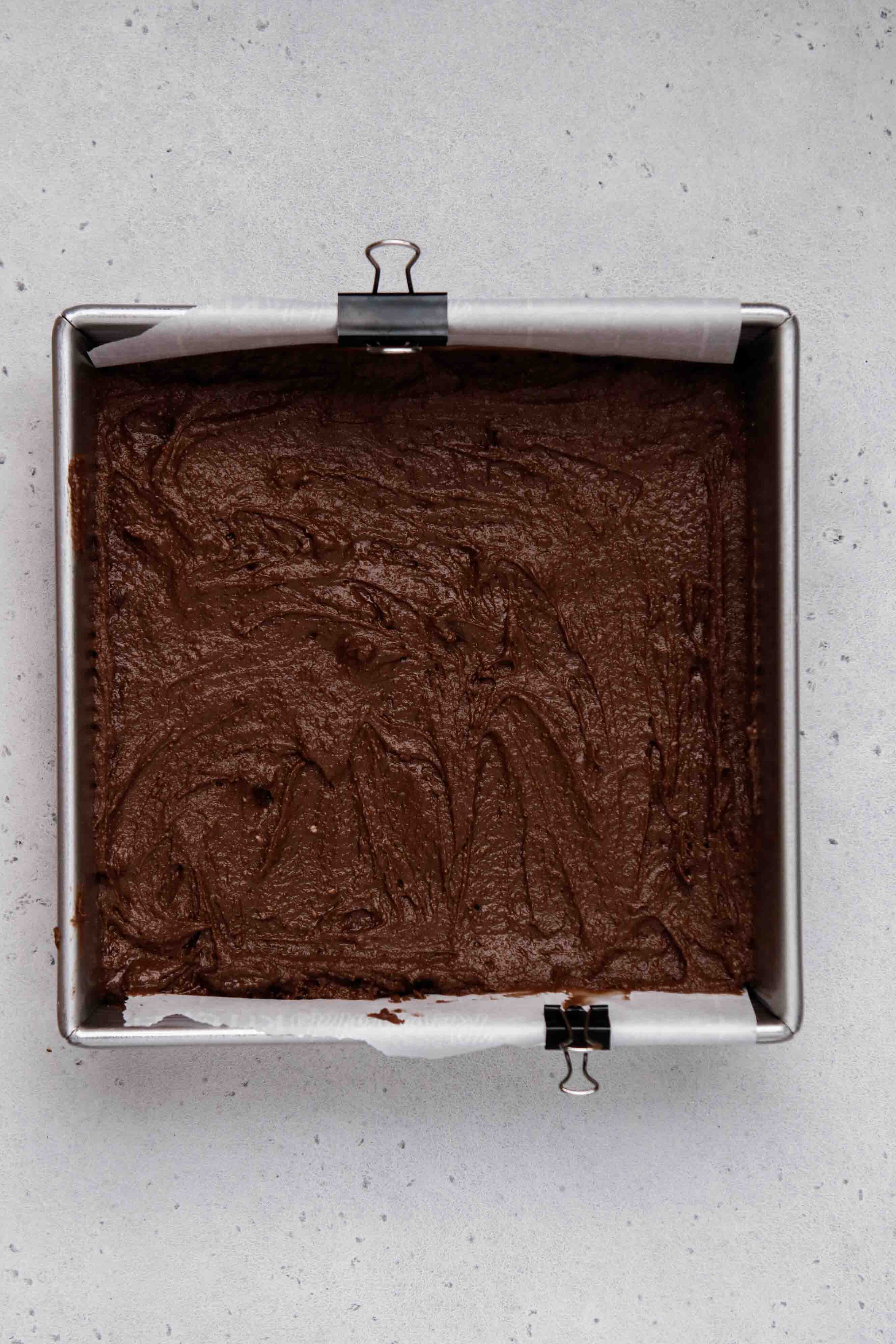 Want to take your brownie mix up a notch?!
Here are a few extra tips to take your brownie mix up a notch and make them even more special!
Top with chocolate ganache and berries
Swirl peanut butter caramel, or Nutella before baking.
Add some mix-ins (chocolate chips, nuts, coconut…)
Top with frosting for a festive brownie recipe
Serve warm with a scoop of vanilla ice cream
I would love to hear more ideas that you might use to make your brownies extra special in the comments below!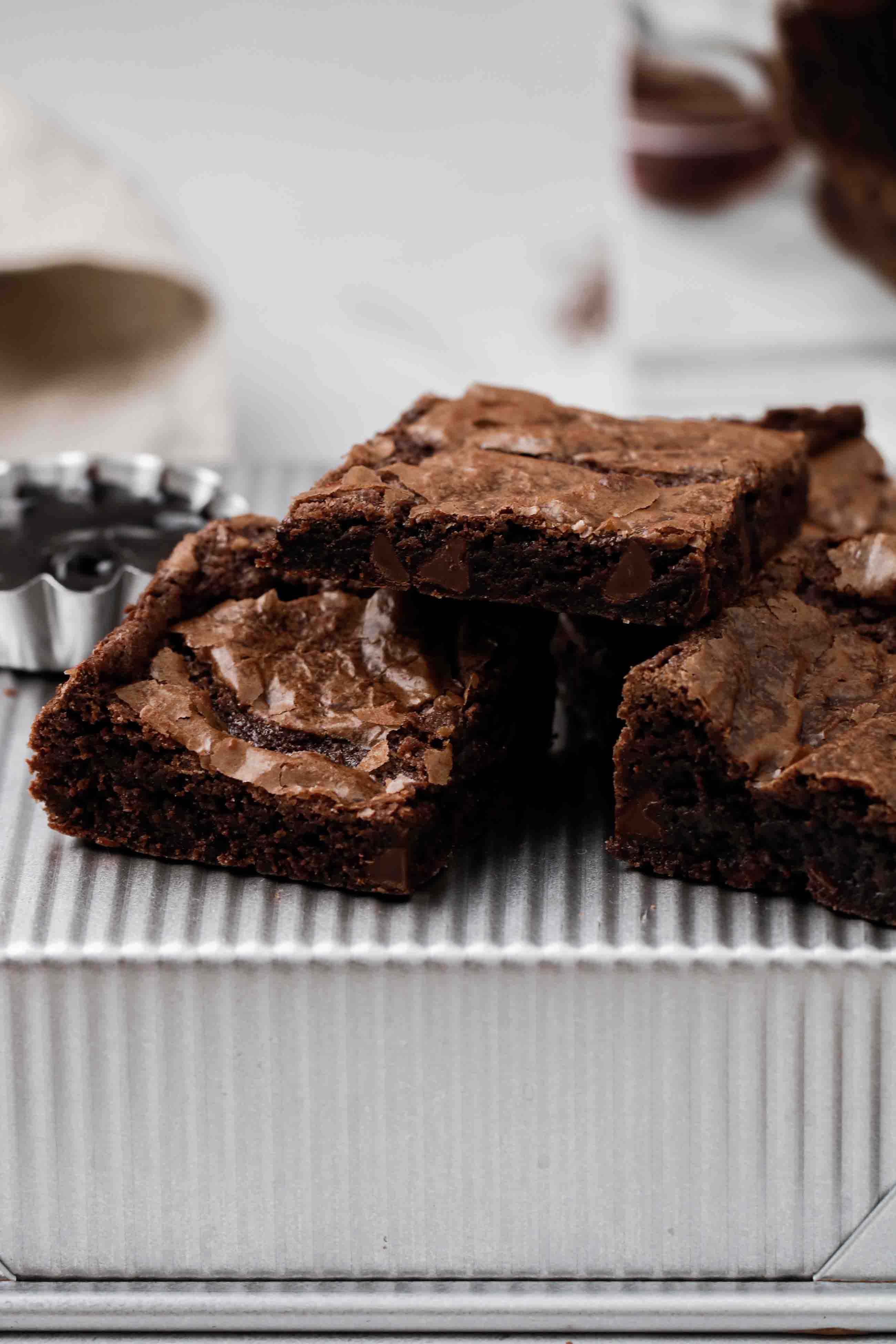 Here are a few more brownie recipes you will love!
Extra tips on how to make boxed brownies better!
How many eggs should I put in box brownies?
The back fo the brownie mix box usually asks for 2 eggs and that's what I like to stick with because I prefer a fudgy brownie. You can also use 2 eggs and an egg yolk to increase the fat amount in the brownie which will then result in a fudgy brownie.
Make sure to use room temperature eggs though to allow everything to get incorporated together better.
What pan should I bake my brownies in?
I have baked my brownies in a glass pan as well as a metal pan. I personally prefer my USA Pan because it is lighter in color and gives me the perfect sharp edges.
If you are baking in a glass pan, add about 4-5 minutes of bake time because it takes a little longer to heat up.
Also, try and bake in a lighter colored pan because it will distribute heat more evenly. If you don't have anything that's lighter, reduce your baking time by a few minutes.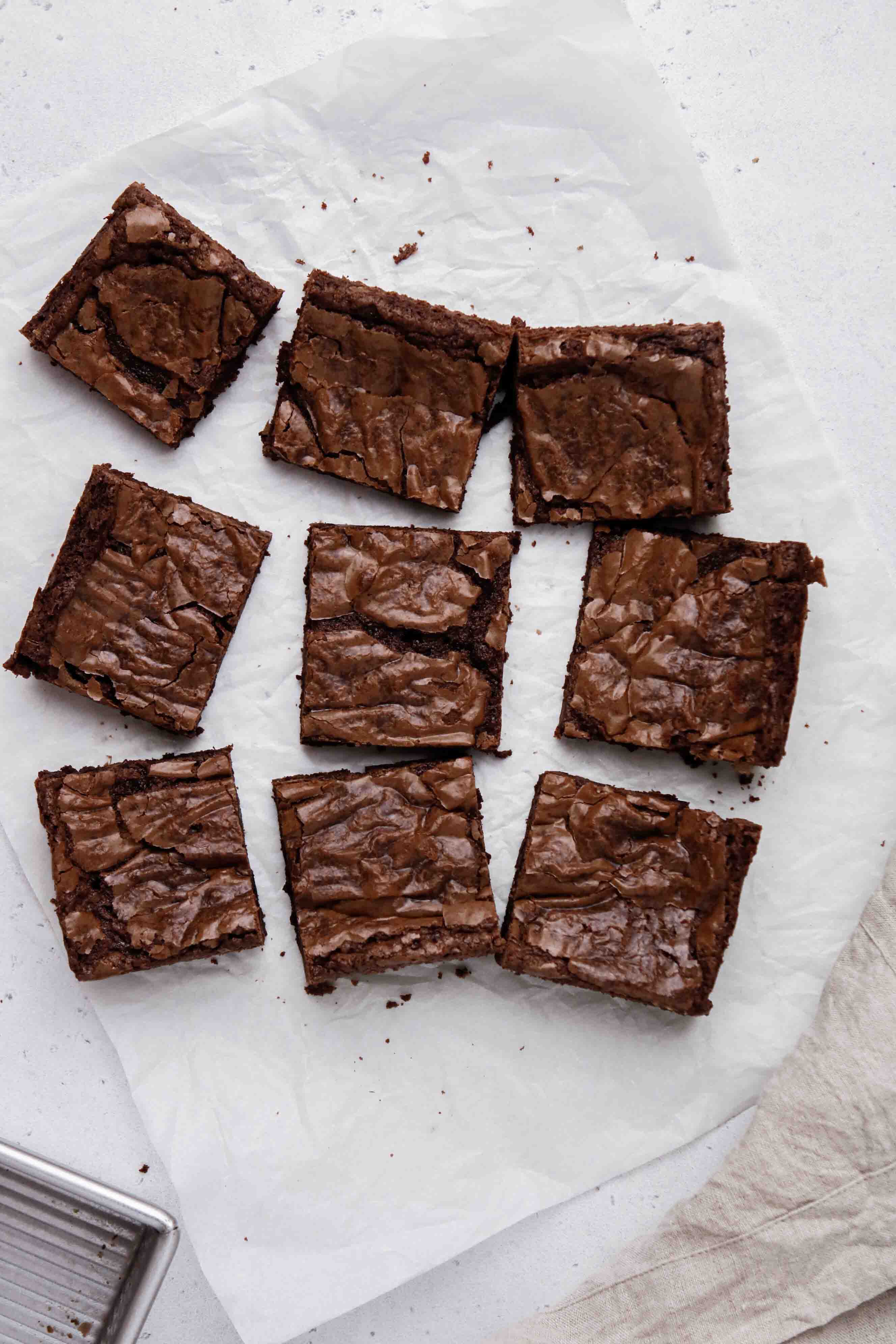 How to cut brownies cleanly?
This one is one of my favorite bets kept secrets ever! The biggest thing when it comes to cutting brownie slices just like food bloggers is to chill your brownies in the fridge for an hour or more before slicing into them.
Then use a long knife to cut into the brownies, making sure to wipe the knife down with a damp towel between each slice! This is super important especially if your brownie is more on the fudgy side.
How to freeze boxed brownies?
This all depends on if you want to freeze your brownies before or after slicing into them.
If you want to freeze the brownie whole, wrap it tightly in aluminum foil then place it in an airtight container and freeze for up to 3 months.
If you want to freeze the sliced brownies, wrap each one individually in aluminum foil then place them all in an airtight container and back in the freezer for up to 3 months.
Once you're ready to enjoy them, pull them out of the freezer and let them thaw in the fridge overnight! I always like to pop them in the microwave for a few seconds for that extra fudgy texture!
Ingredients you need to make boxed brownies better!
Here are the ingredients you will need to make the best brownie out of boxed mix. Make sure to scroll down to the recipe card for the detailed recipe.
brownie mix– Start with very good quality brownie mix to the ultimate lazy girl brownie recipe.
Egg yolks– You will need to use egg yolks instead of the egg to increase the fat content of this recipe and make it more fudgy.
Hot coffee– The hot brewed coffee is the perfect swap for the water that is required in the recipe. It intensifies the chocolate flavor.
Vanilla extract– The vanilla extract will add depth of flavor and make the chocolate flavor shine even more.
Butter– You will need to use melted butter instead of oil for added richness.
Sea salt– I always like to add some salt to my baked goods to balance out the sweetness in them .
Chocolate chips– I like my brownies fudgy and packed with chocolate so adding some chocolate chips is the way to go if you want that too!
These are seriously my favorite lazy girl brownies made out of brownie mix ( but better!) So if you get the chance try them and let me know what you think in the comments below!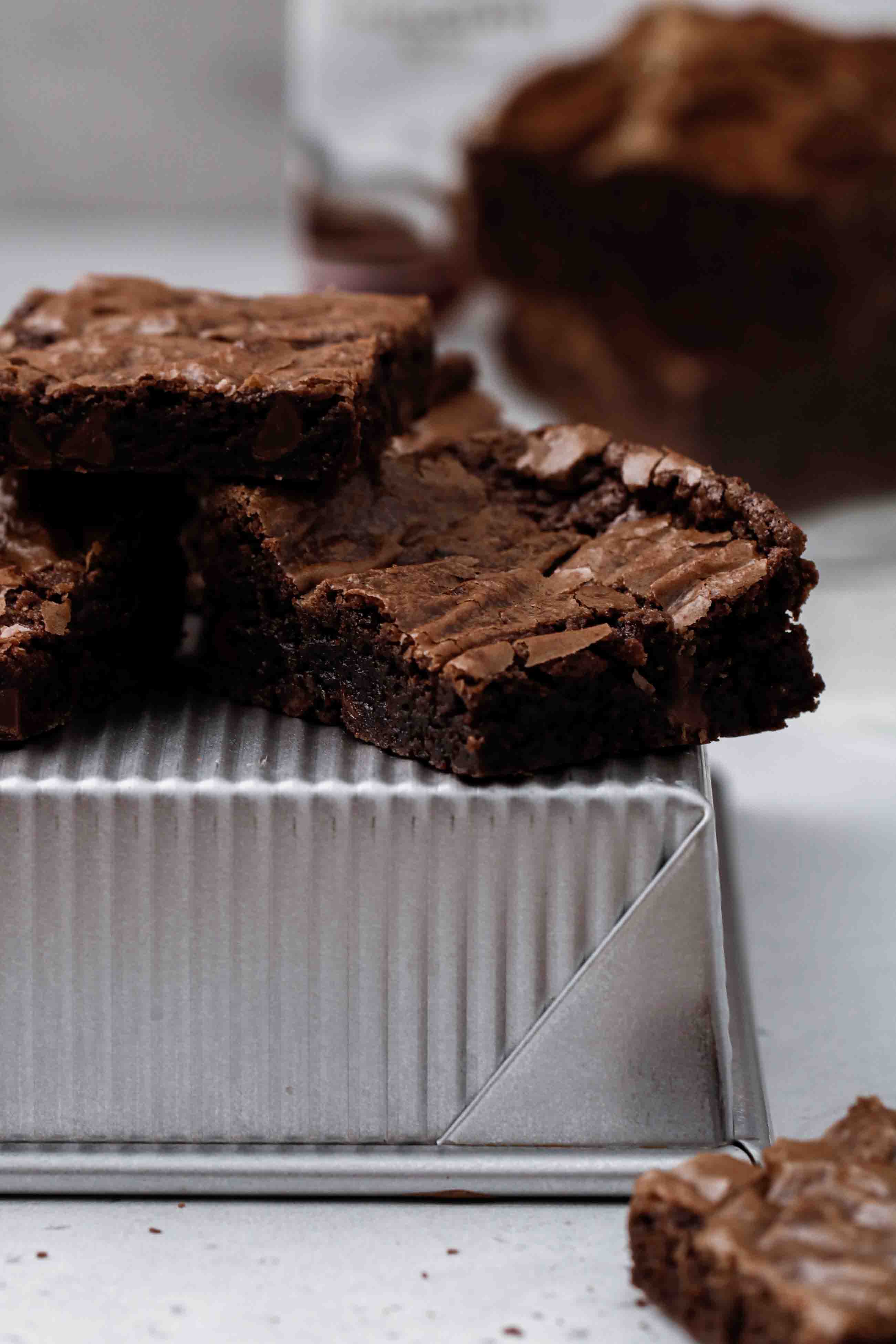 My secret recipe for how to make boxed brownies better
If you tried and enjoyed this better boxed mix brownie recipe, make sure to give it a 5-star rating by clicking on the 5 stars under the description.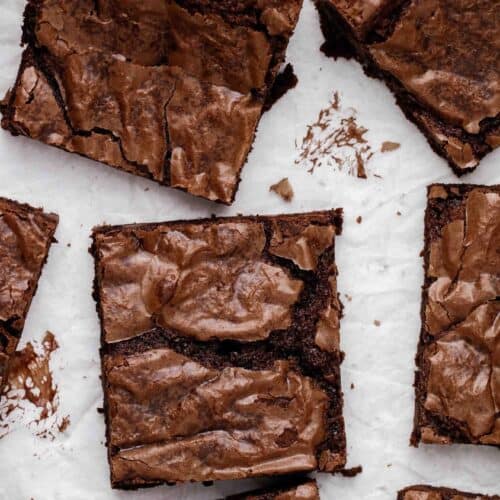 10 Secrets to make boxed brownies better + RECIPE
This is the only recipe you need to make doctored up boxed brownies. These brownie taste like they came straight out of bakery!
Ingredients
1

box

brownie mix

2

egg yolks

1

stick

butter

melted

⅓

cup

brewed hot coffee

1

teaspoon

vanilla

¼

teaspoon

salt

¼-1/2

cup

chocolate chips

depending on your preference
Instructions
Start by preheating the oven to 325F then line an 8×8 inch baking pan with parchment paper and set aside.

In a large bowl, mix the brownie mix, egg yolks, melted butter, brewed hot coffee, vanilla extract, salt, and chocolate chips together.

Pour the brownie batter into the prepared pan and bake in the preheated oven for 40 minutes. Let the brownies cool completely before cutting into it.
Notes
Make sure to read through the article more more helpful hacks and tips and tricks to make your boxed brownies even better! 
Nutrition
Calories:
199
Calories
Carbohydrates:
25
g
Protein:
2
g
Fat:
10
g
Saturated Fat:
5
g
Trans Fat:
1
g
Cholesterol:
40
mg
Sodium:
181
mg
Potassium:
5
mg
Sugar:
16
g
Vitamin A:
209
IU
Calcium:
5
mg
Iron:
1
mg
Thank you so much for making it all the way down.
If you enjoyed this recipe don't forget to let us know in the comments below! In the mean time, don't forget to follow me on instagram!
Shop this how to make boxed brownies better recipe!
This post may contain affiliate posts, meaning that at no cost to you I will get a small percentage of every purchase you make!
If you enjoy these 10 secrets on how to make boxed brownies better, make sure to pin it for later!