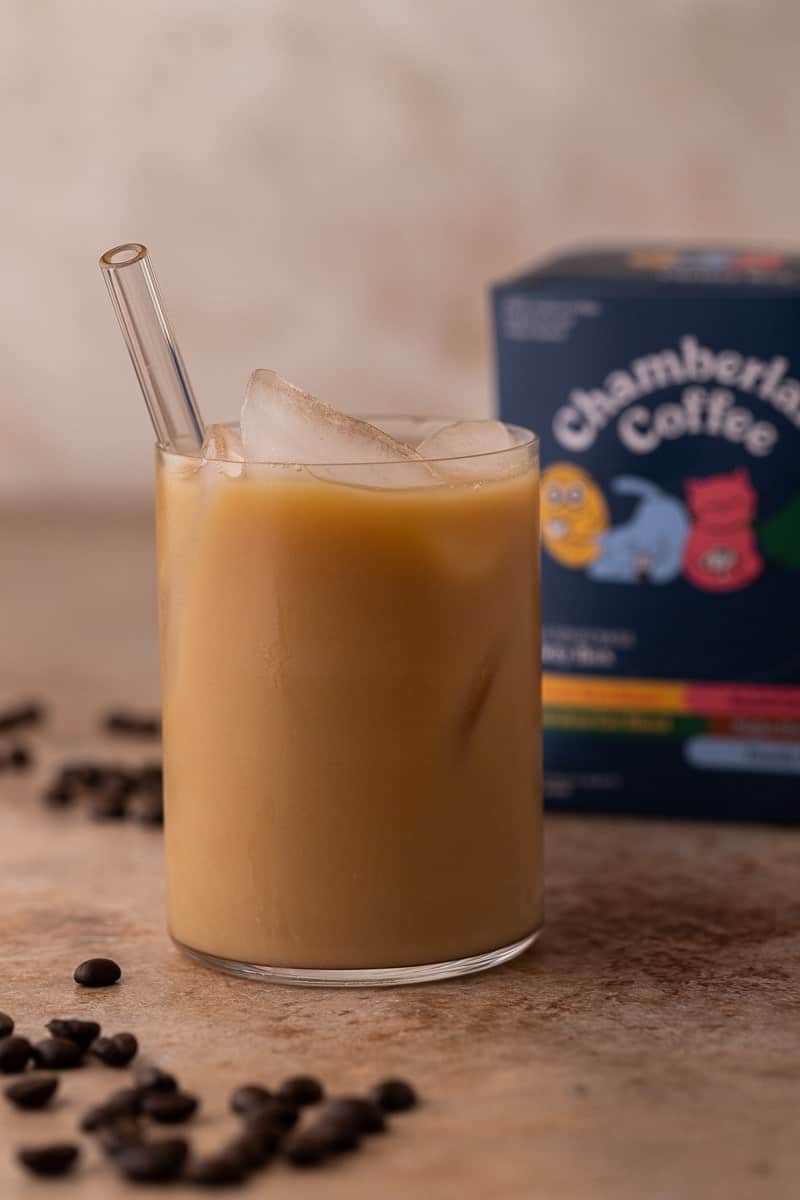 This is the best Emma Chamberlain coffee recipe ever!
This recipe is for all Emma Chamberlain and coffee lovers alike. It is a simple recipe that was derived from Emma's legendary coffee recipe from a few years back on one of her youtube videos. She used a French press, placed the coffee in mason jars, and had a lot more steps to that version but now we're making her new and improved 2.0 version.
It's a recipe made with cold brew, almond milk, and a dairy-free creamer. The social media star has been making this drink and raving about it so we had to try I toot!
Who is Emma Chamberlain?
Emma Chamberlain is a popular American YouTuber and social media personality known for her vlogs, lifestyle content, and commentary on popular culture. She was born on May 22, 2001, in California, and rose to fame in 2018 with her casual and relatable vlogs that showcase her daily life, fashion, and beauty routines, as well as her thoughts and opinions on various topics. Emma has since gained millions of followers across multiple platforms, including YouTube, Instagram, and TikTok, and has also launched her own podcast called "Anything Goes with Emma Chamberlain."
Why you need to make this recipe!
It's an easy and delicious coffee recipe that you can make at home without needing to go to the coffee shop.
This recipe will allow you to enjoy a cup of coffee just like your favorite celeb and youtube star.
It's a great coffee to enjoy on a hot summer day.
This recipe doesn't require you to have a coffee machine or an espresso machine.
It's a great recipe if you are over hot coffee and need a little something more on the cold drinks side.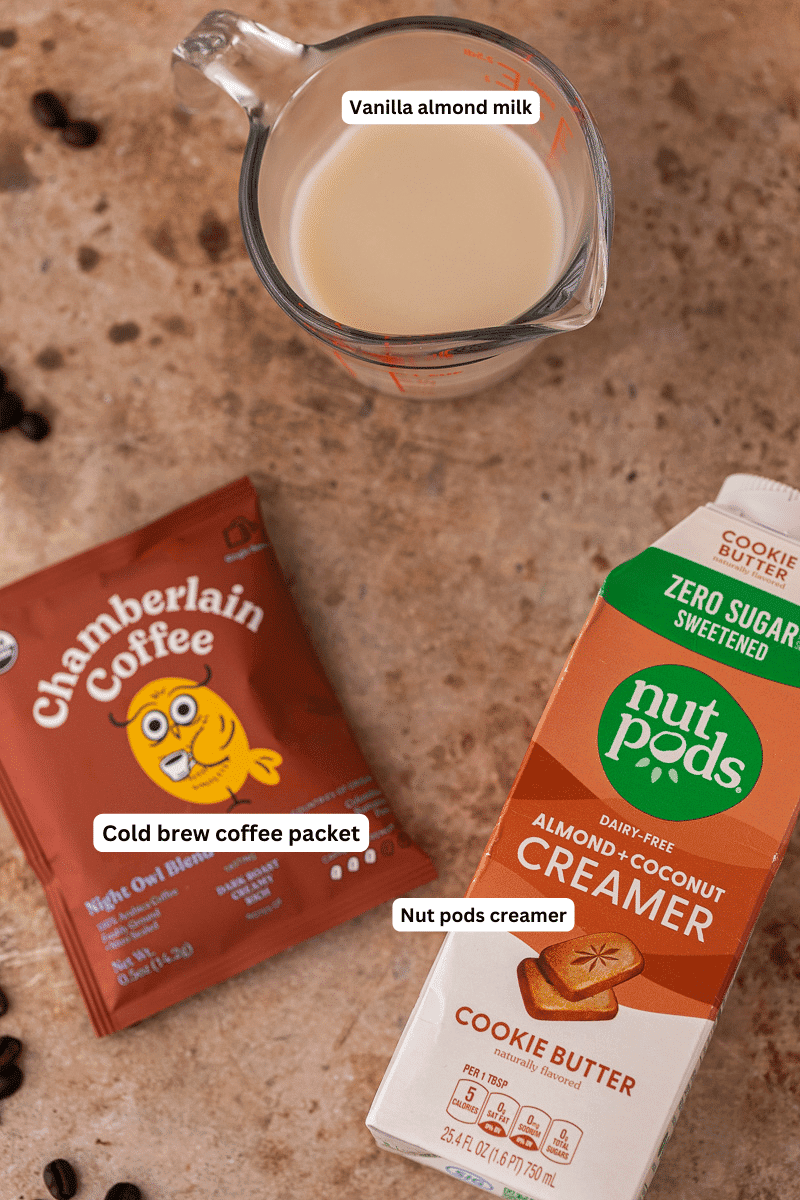 Ingredients for this Chamberlain cold brew recipe
Here are the ingredients you will need to make this delicious cold brew recipe. Make sure to scroll down to the recipe card for the full detailed ingredient measurements.
Cold brew – If you want to be extra and make it exactly like she does you'd have to use the Chamberlain cold brew coffee bean bags (they're like tea bags but with coffee inside!!) that you will steep in cold water overnight. The best part is that these chamberlain coffee bags have sustainable packaging so an extra way to feel better about your coffee.
Vanilla almond milk – Use your favorite brand of almond milk but on her videos Emma Chamberlain added the Califia farm vanilla almond milk to her own coffee brand drink!
Nutpods creamer– She said you can use whichever flavor you enjoy. They have a ton made with coconut cream keeping this beverage dairy free.
How to make this delicious cold brew drink.
This is how you can make Emma's coffee. Make sure to scroll down to the recipe card for the full detailed instructions!
Make your cold brew first.
Add cold brew to a tall glass full of ice.
Top with a splash of vanilla almond milk and some Nutpods coconut creamer.
Enjoy with a straw.
Frequently asked questions – FAQ
How to store extra brewed cold brew?
Store your cold brew in the fridge in an airtight container for 7-10 days. Keep in mind that the longer it sits the more the flavor will change. It would be a good idea to enjoy your coffee blend before that so that your daily cold brew recipe has the best flavor possible.
How does Emma Chamberlain make her cold brew?
To make the cold brew exactly like she would, you would need to get three of the cold brew bags (these are like tea packs but have coffee in them instead), add them to a large mason jar and top with about 600 ml of water or about 2 and ½ cup of cold water or room temperature water.
Cover and allow that iced coffee to steep in the fridge overnight.
Is there a good way to sweeten my Emma Chamberlain coffee?
Well because you are using the vanilla almond milk and the Nutpods creamer it will have a light sweetness to it but if you want it a little sweeter, you can add a little bit of:
Date syrup
Maple syrup
Honey
Vanilla syrup or any flavored syrup you enjoy.
What can I top my cold brew with?
Some of my favorite toppings on cold brew are:
Whipped cream- This is a fun and easy one because you can use homemade or canned whipped cream for a gorgeous and delicious coffee drink.
Cold foam – The beauty of cold foam is that you can really tweak it to your liking. You can browse the site for a ton of different flavored cold foams. Think chocolate cold foam, pumpkin cold foam made with real pumpkin puree, salted cold foam, and caramel cold foam.
Caramel sauce- Add a drizzle of caramel to level up your drink and sweeten it a little more.
Chocolate mocha sauce – If you love mocha, then adding a little chocolate sauce whether it be white or dark chocolate would help elevate your drink.
A few scoops of ice cream making it a cold brew float.
Where to buy Emma Chamberlain coffee products?
You can buy Emma Chamberlain's coffee products, which are sold under the brand name Chamberlain Coffee, on the Chamberlain Coffee website at chamberlaincoffee.com.
The website offers a variety of coffee products, including whole-bean coffee, ground coffee, and single-serve coffee bags. Chamberlain Coffee also offers a subscription service for those who want to receive regular shipments of their favorite coffee. The products can also be found on some online retail websites, such as Amazon and Urban Outfitters.
I also saw that Walmart carries the cinnamon bun latte as well as other flavors in a can.
Emma Chamberlain Coffee Recipe/ cold brew latte recipe
Emma Chamberlain's cold brew coffee recipe
This is a recreation of the Emma Chamberlain coffee recipe that went viral on youtube. It is easy and so delicious!
Ingredients
1

Emma Chamberlain coffee bag of choice

1

cup

water

Nutpods creamer or choice

I used the cookie butter one but anyone will work!

Vanilla almond milk

I used unsweetened but feel free to use whichever you prefer.
Instructions
Steep the cold brew coffee
Steep the cold brew packet in the 1 cup of water in the fridge for 12 to 24 hours.

1 Emma Chamberlain coffee bag of choice,

1 cup water
Make the cold brew
Pour the cold brew coffee into a tall glass full of ice.

Top it with a splash of creamer to taste and a little vanilla almond milk to taste as well.

Nutpods creamer or choice,

Vanilla almond milk
Nutrition
Calories:
38
Calories
Carbohydrates:
1
g
Protein:
1
g
Fat:
2
g
Polyunsaturated Fat:
1
g
Monounsaturated Fat:
1
g
Sodium:
174
mg
Fiber:
0.4
g
Sugar:
0.1
g
Calcium:
157
mg
Shop this recipe
This post may contain affiliate links, meaning that at no cost to you I will get a small percentage of every purchase you make!
If you enjoyed this delicious Emma Chamberlain coffee recipe make sure to pin it for later!