Gluten-free Chickpea Pizza Crust you say? Yesss…This gluten-free pizza crust is the perfect substitute for those with gluten allergies or are just trying to eat healthier. Very high in protein and low guilt… wink wink! Ready in less than an hour for your whole family to enjoy!
SIGN UP TO OUR MAILING LIST GET A FREE WEEKLY MEAL PLANNER AND RECIPE CARD!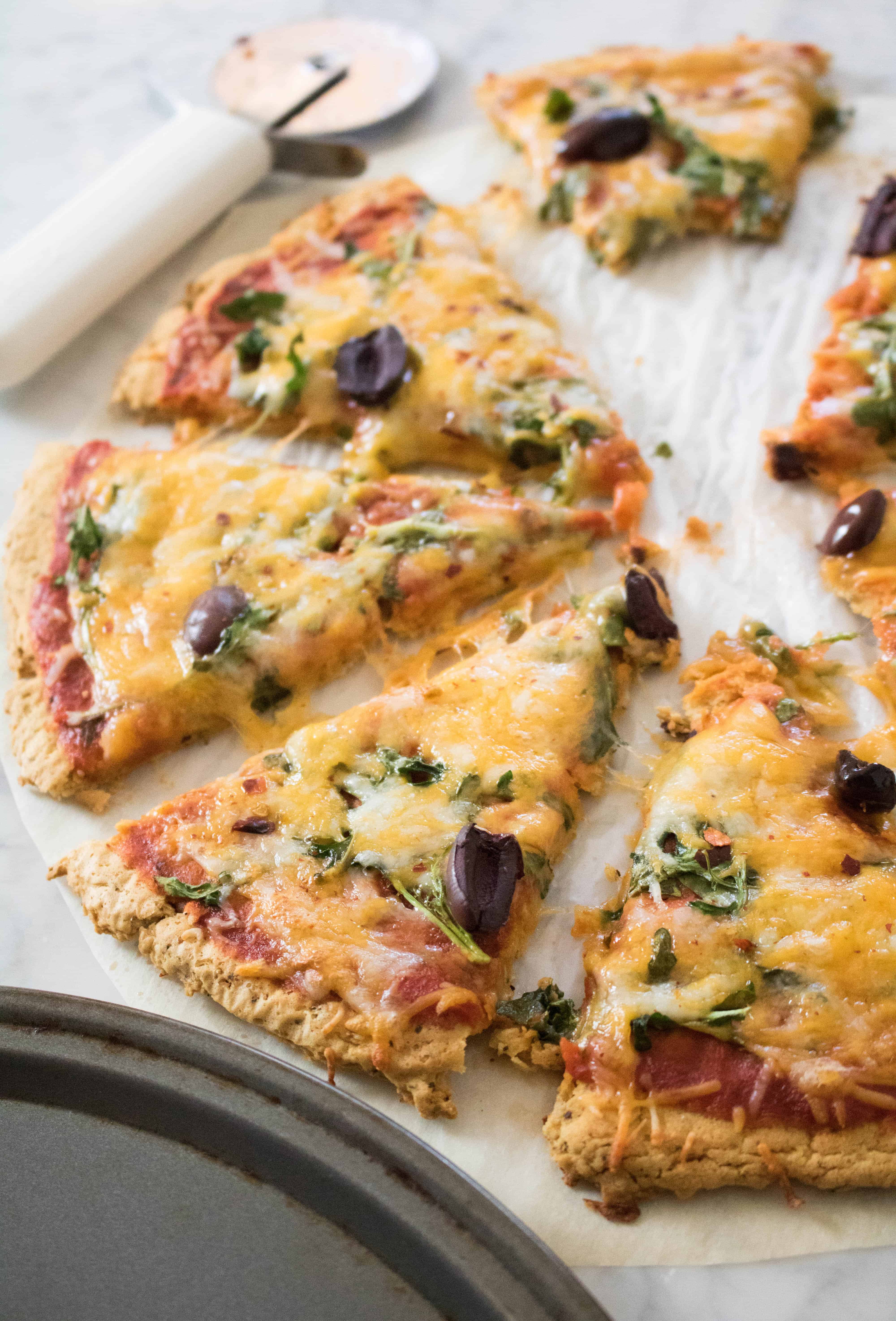 Well, I'm going to go a step ahead and bring you a super-fast canned chickpea pizza crust!
As many of you already know I've been on a quest to find and share with you guys the best pizza crusts that are a little bit out of the ordinary!
When I started this blog, I posted a cauliflower pizza crust but I'd be lying if I said I made it every time I crave pizza… I really really enjoy it but it tends to take so much time to prep and make everything for it so I haven't been making it as much as I would like to.
But on a brighter note, it is not the only healthy pizza crust out there! There are plenty more and today I'll share one of the quickest ones with you.
After being obsessed with chickpea flour for a while I decided to make a pizza crust out of it. It just seemed like the right thing to do, I have made chickpea cookies out of it before and they turned out pretty yummy so why not make a savory dish using the super versatile ingredient itself…
Chickpeas!
I tried it out and it was not bad at all but I wanted to do something a little more simple Since I know some people have a harder time finding chickpea flour where they live ( don't worry, I will definitely post the chickpea flour pizza crust too at some point)
I just felt like if I went with canned chickpeas first, it would be more accessible to everyone 🙂
Ingredients needed for this chickpea pizza crust:
To make this canned chickpea pizza crust, here are the ingredients you will need:
Canned chickpea- This recipe is awesome because it uses canned chickpeas. So if you have some of those laying around you have to try this healthy pizza recipe!
Egg– The egg is used as a binding agent in this recipe.
Chickpea flour– The chickpea flour will absorb some of the moisture from the canned chickpeas while still keeping this crust gluten-free.
Salt, pepper, garlic powder, & basil- Spices to add some flavor in the crust.
More pizza recipes you will love!
Some healthy pizza topping ideas would be:
Artichoke, cherry tomatoes, spinach
Grilled veggies and a greek yogurt garlic sauce
Eggplant, hummus, bell peppers
Zucchini, kale, yellow squash, eggs
Arugula, sun-dried tomatoes, kalamata olives, red onion, feta cheese, basil
Pesto, Roma tomatoes, basil
caramelized onions, chicken, green onion, sundried tomato
I can honestly go on forever but you get the gist of it! The beauty of pizza is the fact that you can ass anything to it and make it suit your own taste buds.
Personally, I am so into veggie pizzas at the moment. It is starting to get a tad bit too hot here in Las Vegas and some grilled veggies with melted cheese always sound good to me!
What you will need to purchase
How to make this chickpea crust
This crust is so so simple! All you'll need to do is throw the ingredients in a food processor and blend everything well!
First, rinse and drain the chickpeas then add those to a food processor with the chickpea flour ( you could also use gluten-free flour or oat flour), the garlic powder, the basil, the onion powder, some salt and pepper, and a large egg. Blend until the mixture reaches a smooth consistency, it will be creamy and will resemble hummus!
Now, on a lined baking sheet spread the mixture into a 10-inch circle with a spatula and bake at 400degrees for 15 minutes.
Remove the canned chickpea pizza crust from the oven, flip it, and bake it for another 10 minutes.
Add the desired toppings and return back to the oven for another 10 minutes or until the cheese is melted.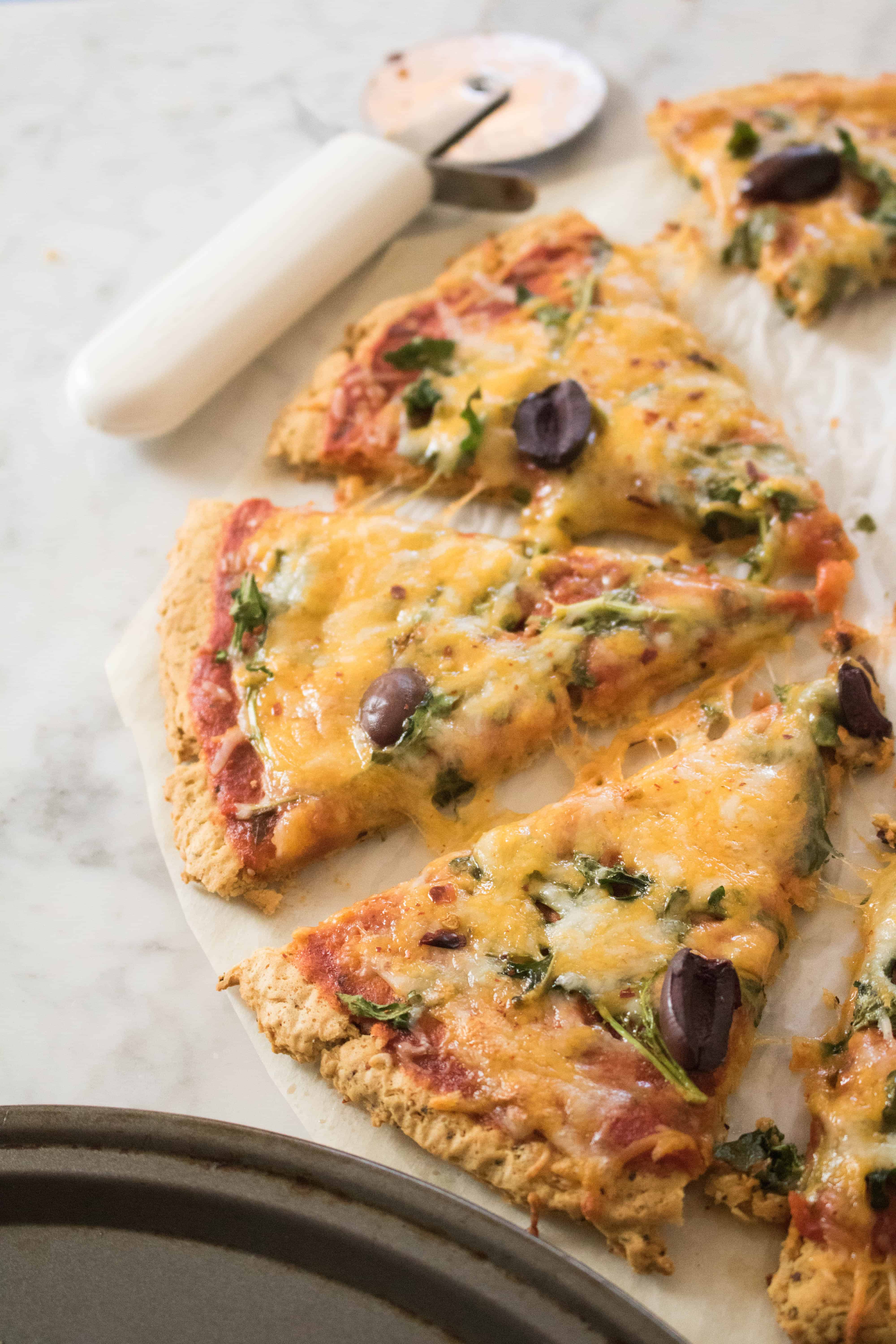 Easy Gluten-free Chickpea Pizza Crust
If you tried and enjoyed this recipe, make sure to give it a 5 star rating by clicking on the 5 stars under the description.
Easy Gluten-free Chickpea Pizza Crust
A gluten-free option for a super easy to make pizza crust. This pizza crust is made up of mainly canned chickpeas to make your life easier and have that dinner ready in less than an hour!
Ingredients
1

can

chickpeas

1

egg

2

tablespoon

chickpea flour

1

teaspoon

garlic powder

2

teaspoon

dried basil

2

teaspoon

salt

1

teaspoon

black pepper
Instructions
First, start by preheating the oven to 400 degreesF. Line your pizza baking sheet with parchment paper and spray with nonstick cooking spray

In a food processor, combine the rinsed and drained chickpeas, egg, chickpea flour, garlic, the basil, and a pinch of salt until smooth. The mixture will resemble hummus in texture.

transfer onto the parchment paper lined baking sheet and spread into a 10 to 12-inch circle with a rubber spatula.

Bake for 15 minutes then remove from the oven and flip, bake for another 10 minutes. After the second bake, top with the tomato sauce, veggies or whatever your heart desires and place back in the oven for another 10 minutes. Slice and serve!
Notes
Like I said before the topping possibilities are endless so make sure to get creative : ) 
Thank you so much for making it all the way down
Did you enjoy this chickpea pizza crust? We would love it if you could leave a comment letting us know. In the meantime don't forget to follow us on Instagram.
Some recipes that might interest you:
Products that we love
This article may contain some affiliate links, meaning, at no additional cost to you, I will earn a commission if you click through and make a purchase
As always, make sure to follow me on Instagram at @Chahinez_tbt and Pinterest. And if you try this recipe out let me know how you like it :)! Have an awesome day and make sure to pin this for later
XO, Chahinez