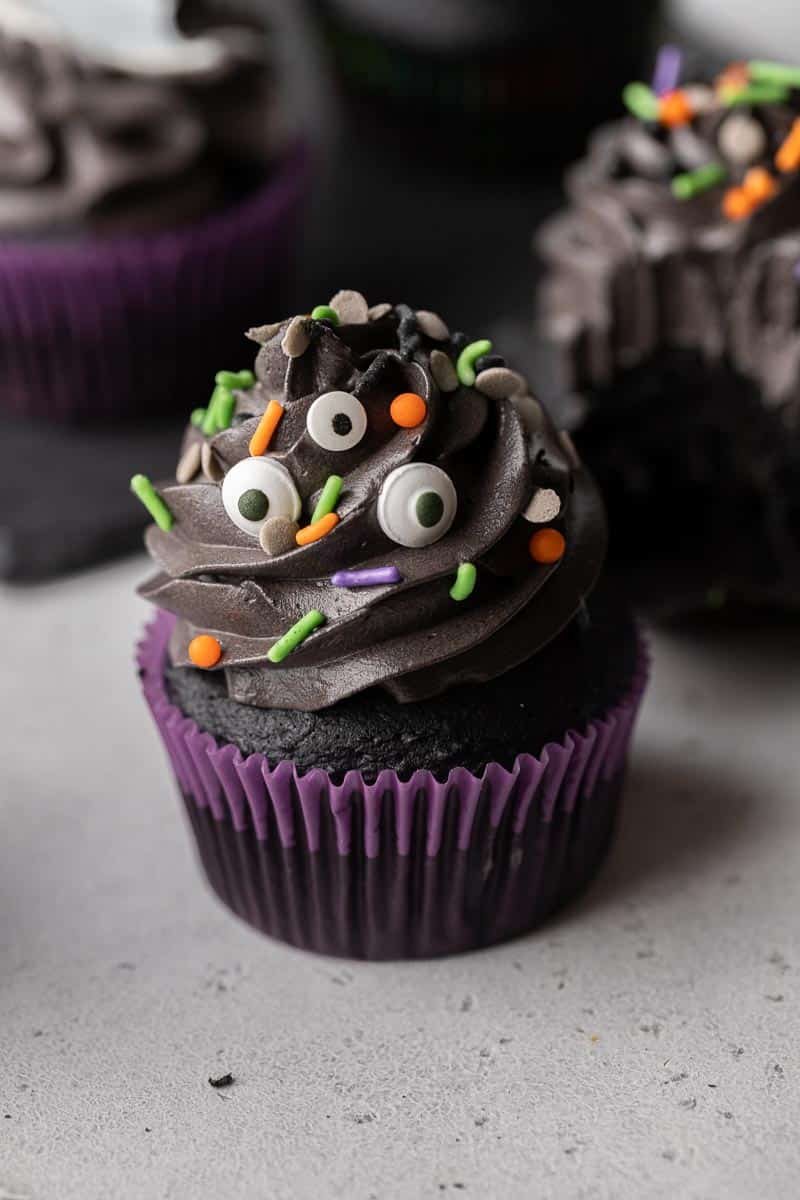 This is the best Halloween monster cupcakes recipe ever!
I love cupcakes, but don't make them enough. This year I decided that for Halloween I will be making these black velvet cupcakes with dark swiss meringue buttercream.
I also wanted to decorate them in a way that would embody the Halloween theme so monster eyes and sprinkles it is!
Of course, you can decorate these cupcakes however you want but that's just what I felt inspired to do.
I love these little cupcakes because they are so chocolatey, and they almost have a slight hint o Oreo flavor because of the black cocoa used in them.
Why you need to make this recipe!
These cupcakes are so spooky!
They are adorable!
This recipe is easy to make with the right ingredients.
They make for a great treat to deocrate on Halloween with the kids.
Perfect to take to Halloween parties if you want to skip the store bought cupcakes, which let's face don't ever taste as good as homemade ones do!
Ingredients for this black velvet cupcake recipe
Here are the ingredients you will need to make this black velvet monster cupcake recipe at home. Make sure to scroll down to the recipe card for the full detailed ingredient measurements.
Flour– All purpose flour works great for these cupcakes.
Salt– The salt will balance out the sweetness of these cupcakes.
baking soda & baking powder– These are leavening agents. They will give some height to your cookies.
Black cocoa– Black cocoa is a must to make these cookies extra black.
Hot coffee– The hot coffee will add some extra depth of flavors to our black velvet cupcakes.
Granulated sugar– The granulated sugar will sweeten the cupcakes just enough.
Oil– You can use vegetable oil or vanola oil for these cupcakes.
Milk– The milk will add extra moisture to our black cocoa cupcakes.
Egg– The eggs are the binding agents of these cupcakes.
Vanilla extract– The vanilla extract will work to accentuate the flavor of the chocolate even more.
Halloween monster sprinkles– I decided to decorate my cupcakes with little eyes and sprinkles to make them look like little monsters.
For the Swiss meringue buttercream
Granulated sugar– This buttercream recipe uses regular sugar.
Egg whites– Make sure that your egg whites are free from any egg yolks or fat to whip up to stiff peaks.
Vanilla extract– The vanilla extract will add extra depth of flavor.
Butter– You will need unsalted butter at room temperature.
Black cocoa powder– The black cocoa is used to color our buttercream and give it extra chocoalte flavor.
How to make spooky monster cupcakes?
This is how you can make monster Halloween cupcakes. Make sure to scroll down to the recipe card for the full detailed instructions!
Line a cupcake tin with muffin liner.
Mix the dry ingredients together.
Add in the wet ingredients and mix to combined.
Pour in the hot coffee and mix to combine.
Divide the batter between the muffin liners and bake.
Let the cupcakes cool down fully before frosting.
Make the Swiss meringue buttercream
If this is your first time making swiss meringue buttercream, check out this Swiss meringue buttercream article to get all the tips.
Wisk the egg whites and sugar together over a water bath until that mixture reaches 160F.
Transfer to the stand mixer and start whipping until the mixture is fully cooled down.
Add in the softened butter slowly and continue whipping.
Mix in the black cocoa powder paste, vanilla extract and a little salt.
Frost your cupcakes, decorate and enjoy.
Frequently asked questions – FAQ
Were can I find black cocoa powder?
It's more than likely that you won't be able to find the black cocoa powder in stores because it's such a specialty product so I recommend getting it online.
I purchased mine on amazon.
Can I use a different kind of cocoa powder?
I strongly suggest using black cocoa powder if you want your cupcakes to be black and perfectly fitting for the Halloween season. If not you can use dutch processed cocoa powder but the cupcakes will have. slightly different texture and color.
Can I deocrate these halloween cupcakes differently?
Absolutely! This is a great base cupcake recipe and the decoration should be up to you. Here are a few decoration ideas:
Keep the frosting white and using a #47 tip, frost strips on the surface of the cupcakes to give it a mummy look. Keep a little area open to add in the eyeballs.
Take off 2 tablespoons of frosting from the initial batch, dye it green and set aside. Dye the rest bright orange, or pumpkin color and pipe it ontop of the cupcake using a star tip. Top the cupcake with a little green frosting to make the pumpkin stem and leaves.
Dye the whole buttercream green, frost the cupcakes with whichever tip you'd like then decorate with a bunch of eyeballs to make a slime monster.
Keep the frosting white, minus 2 tablespoons that you will dye fully black. Frost the cupcakes with a roud tip, then add the eyes using the black frosting for spooky little ghost cupcakes.
Help, my black cocoa powder frosting is not black for my monster cupcakes!
The more the frosting sits the more it will darken but sometimes you might want it as black as possible. Here is what you'll need to do:
Pop your buttercream in the microwave for 20 seconds.
Whisk it to combine. This will allow the colors to come through even more.
Place it in the fridge for 10-15 minutes to solidify a little then whip again to make it fluffy.
Frost your cupcakes with the darkest buttercream without food coloring.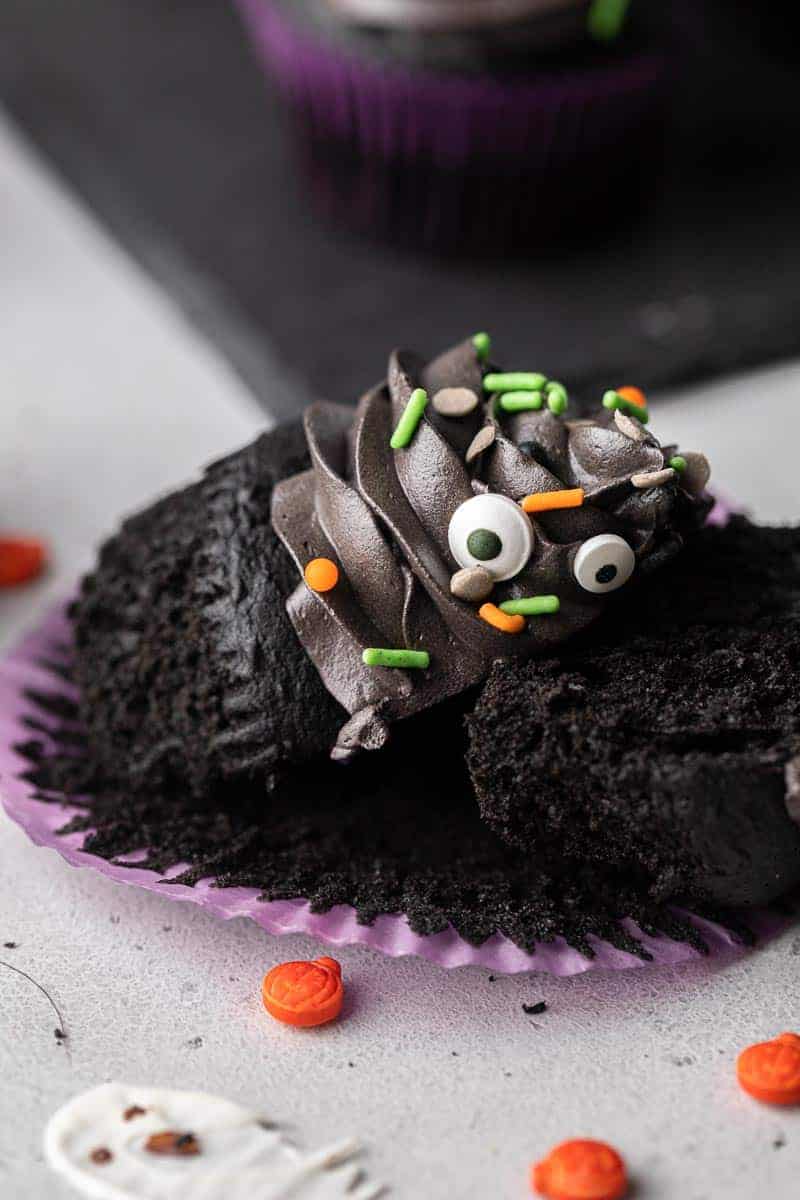 Halloween monster cupcakes
If you made these black velvet Halloween cupcakes and enjoyed them, don't forget to leave a 5-star review by clicking on the 5 stars under the title and description. It would help me a ton
Halloween monster cupcakes – black velvet cupcakes
These black velvet cupcakes make for the best Halloween monster cupcakes ever. They are moist, chocolatey, and taste out of this world.
Ingredients
1 & ¼

cup

AP flour

⅓

cup

black cocoa powder

¾

teaspoon

baking soda

½

teaspoon

baking powder

1

cup

granulated sugar

¼

cup

oil

⅓

cup

milk

at room temperature

1

large

egg

at room temperature

1

teaspoon

vanilla extract

½

cup

coffee

hot,freshly brewed

monster sprinkles
Black Swiss meringue buttercream
3

egg whites

¾

cup

butter

softened

¾

cup

granulated sugar

½

teaspoon

vanilla extract

¼

cup

black cocoa powder

1

tablespoon

hot water
Instructions
Preheat the oven to 350F and line a muffin tin with cupcake liners. If you don't have two cupcake liners to fit 13 cupcakes, you can bake these in batches.

In a large bowl, sift the flour, cocoa powder, baking powder, baking soda, then add in the salt, and granulated sugar, and whisk to combine.

Make a well in the center, and add in the oil, milk, egg, and vanilla, and whisk to combine. Add in the hot brewed coffee and mix one last time.

Fill each cupcake liner about ⅔ of the way full and bake in the preheated oven for 13-14 minutes or until a toothpick inserted in the center comes out clean.

Let the cupcakes cool down fully before frosting them.
Chocolate swiss meringue buttercream*
Start by whisking the egg whites and sugar together in a heatproof mixing bowl, then place that over a medium saucepan filled with simmering water. Make sure the bowl is not touching the water. Whisk the egg whites and sugar mixture constantly until the mixture is thin, the sugar has dissolved, and the temperature has reached 160F.

Transfer the bowl to the stand mixer and start whipping the egg white mixture on high speed right away, make sure not to let it cool before whipping. The meringue will need to reach stiff peaks and cool down to room temperature. This can take anywhere between 10-15 minutes. A little trick I learned in my pastry internship is to touch the outside of the mixing bowl to see if the meringue is still warm. If the bowl is still warm, keep mixing before adding the butter. This way the butter won't melt once added in.

While the meringue is cooling down, in a small bowl, mix the black cocoa powder with the hot water until you have a smooth paste. You might need a little more water, just add ½ teaspoon at a time. Set aside.

Switch to a paddle attachement and on medium-high speed start adding the butter 1 tablespoon at a time. Wait until the butter is fully incorporated before adding more. Once you're done with the butter, add in the vanilla, cocoa powder paste and the pinch of salt, then beat for 1 minute.

Frost the cupcakes, decorate with little eyes and sprinkles, and enjoy!
Nutrition
Calories:
326
Calories
Carbohydrates:
41
g
Protein:
4
g
Fat:
17
g
Saturated Fat:
8
g
Polyunsaturated Fat:
2
g
Monounsaturated Fat:
7
g
Trans Fat:
1
g
Cholesterol:
43
mg
Sodium:
350
mg
Potassium:
129
mg
Fiber:
2
g
Sugar:
28
g
Vitamin A:
361
IU
Calcium:
52
mg
Iron:
1
mg
Thank you for making it all the way down here 🙂
If you enjoyed this recipe don't forget to let us know in the comments below! In the meantime, don't forget to follow me on Instagram!

Shop this recipe
This post may contain affiliate posts, meaning that at no cost to you I will get a small percentage of every purchase you make!
If you enjoyed this black velvet moonster cupcake recipe make sure to pin it for later!