Ever wondered " What to do with leftover Halloween candy?" Well, you're not alone! All those treats just lying around could be transformed into the best leftover Halloween candy cookies using this recipe!
Hello friends!! We are finally done with halloween, which means Thanksgiving/Christmas/NYE are literally around the corner and Oh! Before I forget there's literally only 8 weeks left before 2020. Scary huh!
I hope you are all ready for the time to fly by like crazy but before you stress out too much about that, here is a little rant about what I had to go through…
Mini rant because well… I don't like needles…
Can you imagine that I had to go and get my blood drawn on halloween… Now thinking about it, it is pretty fitting and also somewhat humoring given the circumstances.
But… That's what I ended up having to do on Halloween.
For some reason I always seem to get the weirdest most unknown diseases, which then leads to me having to get my blood drawn so many times before figuring out anything!!
So far I am 6 month into a journey to find what the heck could be wrong with me, and my latest adventure was forgetting to drink water before going to see the phlebotomist. (take it from me, always drink as much as possible especially if you know your veins like to hide!)
Because of the issue I've had for a little over a year, I usually try to avoid drinking too much water before going to bed because it often causes me to wake up 2-3 times to pee… Hence the dehydration!
Unfortunately, I did just that, and in the morning I somewhat might've forgotten to drink more water… *guilty* I usually am as hydrated as humanly possible I promise! But this time I wasn't!
I'm not going to lie… It was a catastrophe, it took the lady a little over 10 minutes and quite a lot of needle wiggling to get 4 tubes of blood out of me… And yes you guessed it! It was pretty painful, I am actually so so grateful that I did this laying down because I would've fainted for sure if I didn't!
Well After finishing up with the doctor I had two mini KitKat bars in my purse and just like a child I ate them both to comfort myself!
Yes… I am still a child at heart, or when it involves needles..
So This whole rant was to get us to the leftover halloween candy part of this article and also because that's what friends do… They rant to each other!
Now, I am going to bless you with this amazing Leftover Halloween Candy Cookies recipe because it's that time of the year. We all have a little stash of leftover candy and it's time to put it to goo use!
What to do with leftover halloween candy?
Besides snack on it after getting your blood drawn in order to not pass out, there are plenty of other options haha!
When it comes to leftover Halloween candies the possibilities are endless my friends! I love chopping them up and adding them to ice cream, topping oatmeal with them or even baking with them!
Depending on what candies you have you could pick and chose what to do with them.
For softer candies/chocolates you could go with my amazing fudge brownies. Top that brownie recipe with some Reese's peanut butter cups and watch everyone eat every last piece!
You could also use a variety of chocolates/candies in this everything but the sink cookie. You can swap out some of the add-ins to make your perfect cookie recipe using leftover halloween candies.
What kind of candy should you use for these leftover halloween cookies?
Realistically whatever you have at home. This is a leftover Halloween candy recipe after all and we don't want you going and buying more candy than you really need! I had pumpkin KitKats, milk chocolate KitKats, Chocolate M&m's, peanut butter M&m's, mini Reece's cups.
I stored them in the fridge for an hour or so just so I could chop them into bite sized pieces easily!
On a side note, steer away from the gelatinous candies, like gummy worms, Swedish fish, or any other gummy like candy. Those will not retain their shape, plus they will not work with the flavor profile we are going for!
Are these halloween candy cookies too sweet?
Ahaa! This is probably the question I asked myself like 1000 times before I decided to make these halloween candy cookies.
"well… Aren't they going to be too sweet though?"
They sure were and that's why I had to tweak my recipe a little extra this time! If I did not fix the sugar ratios in the cookie itself the sugar content would have taken over everything. And if you know me, you know that I absolutely hate any treat that is not completely balanced!
By reducing the amount of sugar in the cookie dough and adding just the right amount of salt, I was able to make the tastiest Halloween candy cookies ever!
I am pretty proud 🙂
Tips for making a Killer Leftover Halloween Candy Cookies
These cookies are not rocket science but I still want to give you some pretty awesome tips to make sure that your baked goodies come out as good as mine! Because hey! Friends look out for each other am I right or am I right?!
Refrigerate the leftover halloween candy – Refrigerate the candies for 30 minutes to an hour before slicing them. This will allow you go get beautiful sharp slices! Trust me the final product will be so much more satisfying!
DO NOT OVER MIX THE COOKIE DOUGH – I pretty much say this overtime, you DO NOT want to over-mix your cookie dough. When mixing the dough, you are building up gluten and if you build too much gluten you will end up with a dry and tough cookie and I don't know anyone that likes that! Yikes!
Don't skip the rest period in the freezer- that 10-15 minutes in the freezer is what makes all the difference. It allows the cookies to cool down enough not spread once in the oven! This will give you a nice and thick cookie at the end.
Do not over bake – Again with the over doing haha! We want these cookies to be gooey still after baking so bake them for 12-14 minutes. Don't worry if they don't seem like they are baked enough. The heat will continue cooking them when you pull them out of the oven.
Let the cookies cool down before handling – If you decide to move the cookies right out of the oven they will break and fall apart because they did not have time to cool down and solidify. So give'em some time, you won't regret it!
last but not least use a variety of candies! These won't be leftover halloween candy cookies if you only use Reese's or only Hershey chocolates. These are supposed to be fun and different! So enjoy the messiness.
How to Store yout halloween Candy cookies
Place these cookies in an airtight container and store them at room temperature for up to 5 days.
I personally prefer these cookies a couple of hours after they have came out of the oven because the flavor of all the candies has had time to infuse.
What you will need for this cookie recipe?
This starts just like any cookie recipe, You will need the basics so pretty much butter, sugar, eggs, vanilla, flour, baking soda, and corn starch.
To that we will add (1.5) one and a half cup of whatever leftover candies you still have.
Our leftover candy list was as follows:
Milk chocolate KitKats
Pumpkin flavored KitKats – surprisingly these tasted amazing in the cookie! They added a little pumpkin pie spice to the whole thing.
Regular M&m's
Peanut butter filled M&m's – Again these were a fun little addition to the cookie because they were different enough from the regular ones!
Mini Reese's cups
We made sure to refrigerate the KitKats and the Reese's before cutting them so that it's easier to create that sharp and so satisfying edge!
IF YOU MADE SOMETHING FROM LIFESTYLEOFAFOODIE, I WOULD LOVE TO SEE ALL YOUR CREATIONS AND KNOW HOW EVERYTHING TURNED OUT! SO DON'T FORGET TO LEAVE A COMMENT BELOW AND FOLLOW ALONG WITH ME ON INSTAGRAM, PINTEREST, AND FACEBOOK.


Leftover Halloween Candy Cookies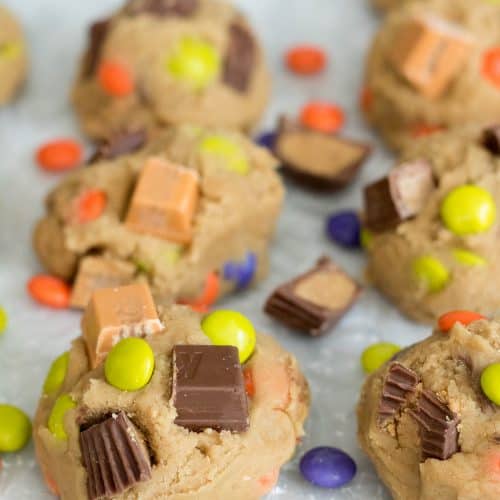 Leftover Halloween Candy Cookies
These are the best Leftover Halloween Candy Cookies ever! They use different types of chocolates and candies to make something rich and delicious. Kitkats, Reese's and M&M's every kid's favorite!
Equipment
stand mixer or hand held mixer
Ingredients
1

stick

butter

½

cup

brown sugar

3

tablespoon

white granulated sugar

1

egg

room temperature

2

teaspoon

vanilla extract

1

tablespoon

water

room temperature

1 ½

cup

flour

2

teaspoon

corn startch

1

teaspoon

baking soda

½

teaspoon

salt

1 ½

cup

leftover halloween candy

chopped
Instructions
First start by preheating the oven to 350F, then line your baking sheet with parchment paper and set aside.

In a medium bowl add in the flour, cornstarch, baking soda, and salt, and whisk until incorporated then set aside.

In a stand mixer bowl, using a paddle attachment cream together the butter and both the brown sugar and the granulated sugar on medium high speed or until the mixture becomes light and fluffy. You can also do this using a hand mixer!

Add in the egg, water and vanilla and mix just until combined, 30 seconds- 1 minute.

Add in the dry ingredients to the butter mixture and beat on medium low speed just until combined. Do not over mix the cookie dough! At this stage add in the cup and a half of leftover halloween candy and fold.

Using an ice cream scooper, shape the dough into 10 equally sized balls, and place them on the parchment covered baking sheet. Chill in the fridge for 10-15 minutes. ( this will keep the cookies from spreading too much and turning flat when you bake them! )

Bake the cookies for 12-14 minutes of until the edges are set. The center of the cookie might look a bit undercooked but don't worry The heat will continue baking it when you pull it out of the oven.

Let the cookie cool down on the baking sheet for 5-10 minutes before transferring them to a cooling rack to finish cooling. Enjoy!
Notes
I personally like these cookies a few hours after they've cooled down because It allows all the flavors to settle in even better! 
Need more leftover halloween candy recipes?
You can always double this recipe, but If you really need more halloween candy recipes check these out!
But wait… You don't just have to bake with it! Some people even go further and donate some of their leftover candy… Which personally I think is a great idea especially when it is or a good cause!
Where to donate leftover halloween candy
According to USATODAY another idea for what to do with leftover halloween candy is to donate it to a worthy cause! and who best to donate it to than the dentists offices in your area. These dentist offices often work with Operation Gratitude, the Halloween Candy Buy Back program, or other similar organizations.
Another place to donate your leftover halloween candy would be to organizations like Ronalds McDonald House. They often use these donations to offer sweet treats to families of children receiving medical care.
Next time you feel a bit lost and confused about what to do with leftover halloween candy, well come back and make this recipe again and again and again.
The cookie recipe itself was meticulously studied and tried multiple times to achieve the perfect level of sweetness! Because the leftover halloween candy is often so sweet, I made this cookie recipe a little less sweet to provide you with the perfect bite!
Shop this recipe!
THIS ARTICLE MAY CONTAIN SOME AFFILIATE LINKS, MEANING, AT NO ADDITIONAL COST TO YOU, I WILL EARN A COMMISSION IF YOU CLICK THROUGH AND MAKE A PURCHASE

If you enjoyed this recipe, save if for later by pinning it!