This is the best air fryer baked oats ever!
There is something about air fryer recipes! They are simple less messy, and tend to cut the cooking time down a whole lot.
Because of that this air fryer oatmeal recipe has been a staple in my house. Ever since it became a tiktok trend I had to recreate it.
It is great as a meal prep option and also allow you to use that ripe banana that's been sitting on the counter for a while now.
What is baked oatmeal?
Well, as per the title baked oatmeal, it is oatmeal that you cook in the oven.
I think the best way to describe baked oatmeal is that has a cake-like texture that you make using breakfast ingredients plus some baking powder for leavening.
It makes for an easy breakfast that the whole family will love!
Why you need to make this recipe!
This recipe is amazing because is it made in the air fryer instead of the oven.
You can prepare these in advance and enjoy them the next day for breakfast.
This is a clean and healthy breakfast recipe that still tastes like a treat.
It's a healthy cake that you can have for breakfast or as a snack!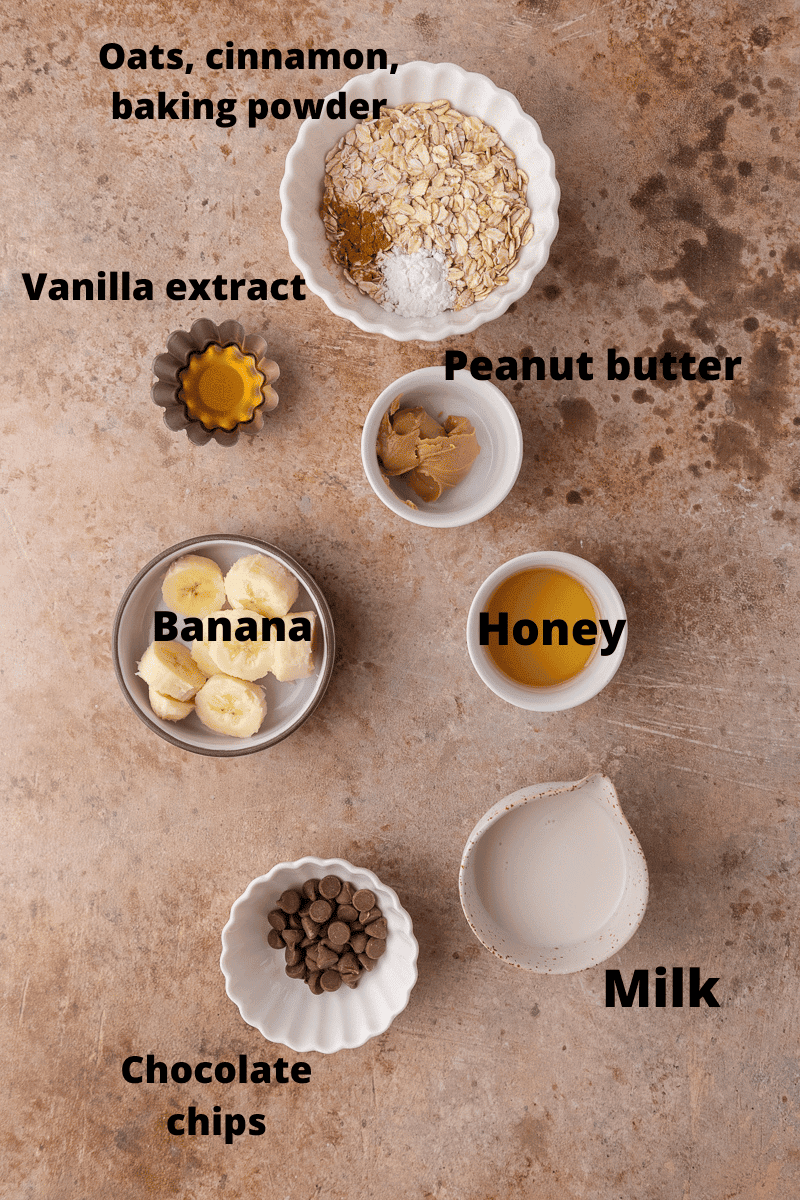 Ingredients for this air fryer baked oats
Here are the ingredients you will need to make these air fryer-baked oats. Make sure to scroll down to the recipe card for the full detailed ingredient measurements.
Oats– For this recipe I use old-fashioned oats, I haven't tried anything else instead of the old-fashioned ones so if you'd like to try instant oats instead let me know how the recipe turned out. Make sure not to go for steel-cut oats, those are too hard. If you are trying to make this baked oatmeal recipe gluten-free, make sure to grab gluten-free oats.
Baking powder– The baking powder will give a little height to these baked oatmeal cups.
Banana- The banana in this recipe is used instead of the egg to bind everything together. You can also use the chia seeds egg instead but you will have to make up for the lack of sweetness a little.
Peanut butter– That extra fat in the creamy peanut butter helps keep the baked oats super moist and adds a nice little hint of nutty flavor. If you have allergies you can opt for sunflower seed butter.
Honey– The honey will add a bit of sweetness to our baked oats. If you want to make this recipe vegan you can use a tablespoon maple syrup instead.
Vanilla extract– This will give our oats more depth of flavor.
Cinnamon– The cinnamon will also help elevate the flavor of our baked oats.
Salt– A pinch of salt will help bring out the sweetness of this recipe.
Milk– You can use any milk you'd like for this recipe.
Chocolate chips/blueberries- fresh fruit or chocolate chunks or chips really elevate this recipe.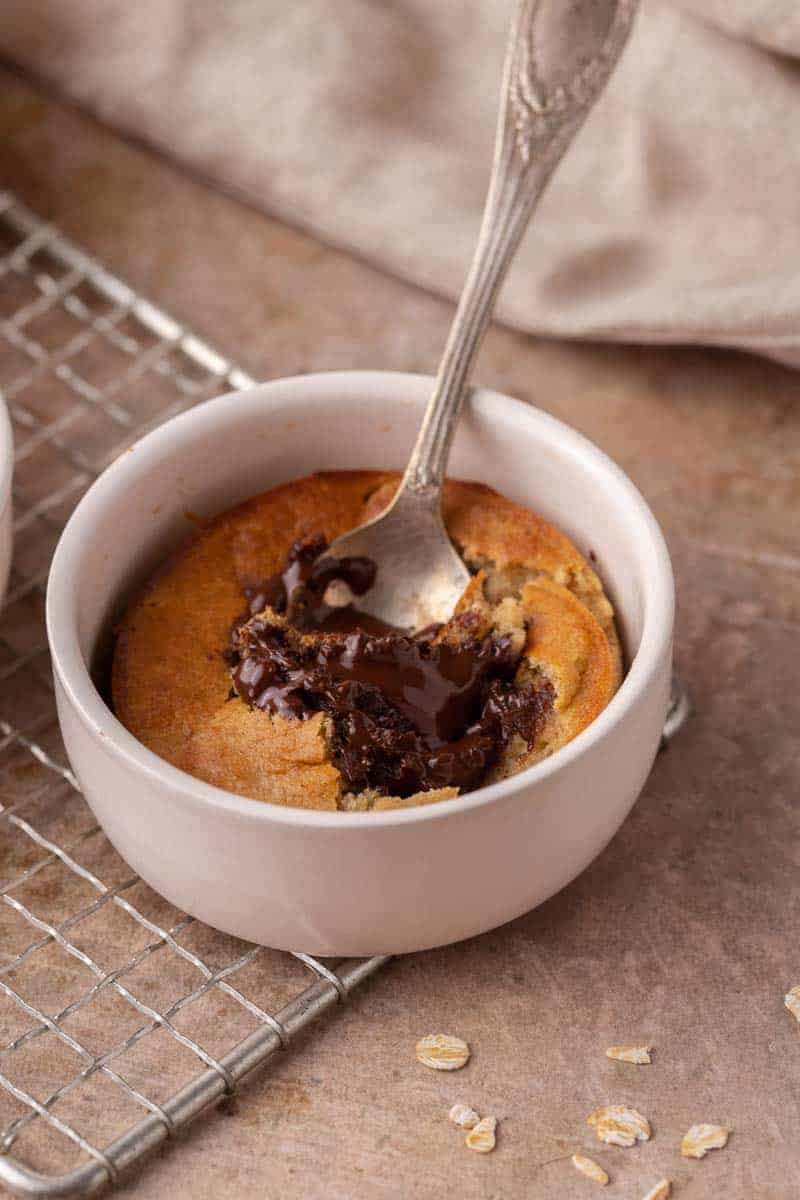 How to make baked oats in the air fryer
This is how you can make baked oats in the air fryer. Scroll down to the recipe card for the full detailed instructions!
Place all of the wet ingredients and the dry ingredients in a blender minus the mix-ins and blend until smooth.
Spray ramequins or a small baking dish with nonstick cooking spray.
Divide the oat mixture between two ramequins and bake in the air fryer. You can now add your favorite toppings to this smooth batter.
Let the baked oats cool down for 5-10 minutes before serving.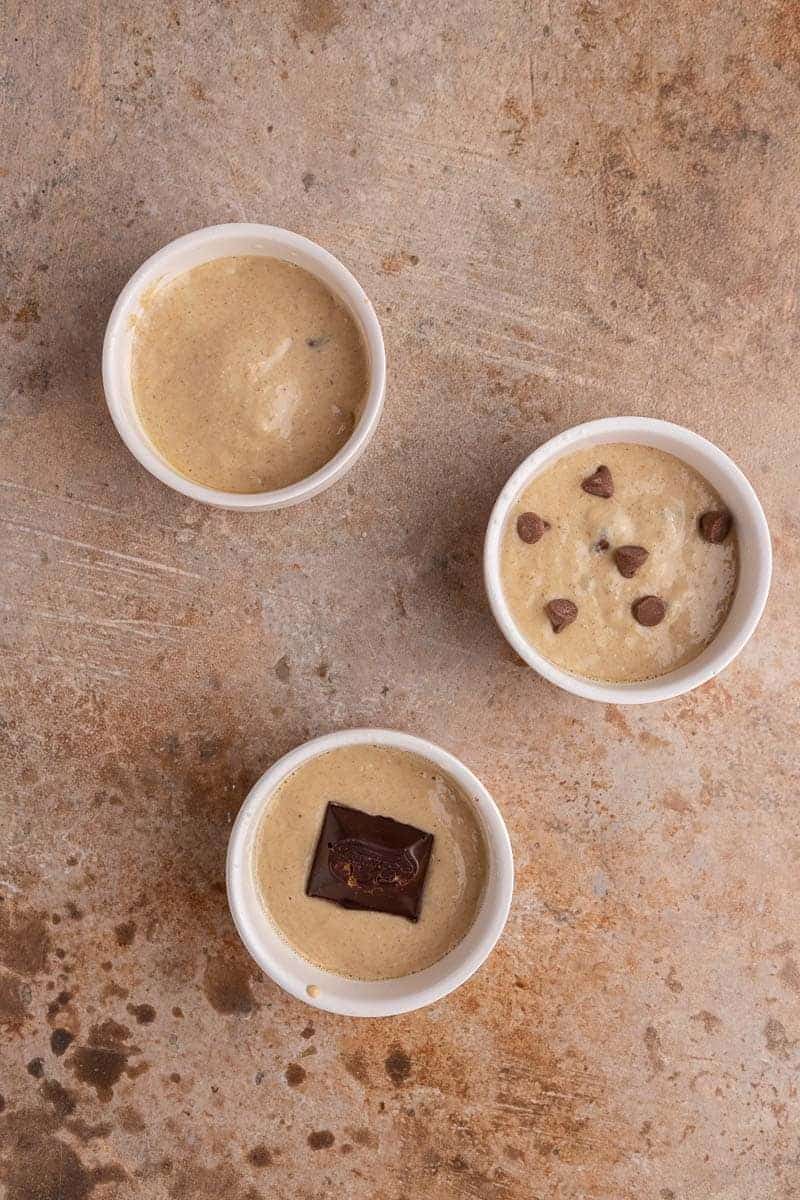 What to serve with baked oats?
I personally think that baked oats on their own are to die for but sometimes I like to switch it up a bit and serve them with:
Yogurt on top
Fresh fruits
a side of hashbrowns
Bacon
Frequently asked questions – FAQ
Is baked oatmeal healthy?
Honestly healthy depends on what your definition of healthy is.
I personally think that baked oatmeal is healthy because number one, you are making at home from scratch. Two, it uses simple ingredients that all have benefits to you and will keep you fuller for longer.
And last but not least, baked oatmeal is such a treat that'll make your soul feel so good, so yes, I think it's great for you!
What does baked oatmeal taste like?
Baked oatmeal has a similar texture to a cake but is a bit softer in the center. It is lightly sweetened with the banana and the honey and has this smooth nutty flavor from the peanut butter. It's an insanely delicious and healthy way to eat oats!
Air fryer baked oatmeal variations
Even though this recipe uses chocolate chips, sometimes I like to switch it up to keep this breakfast option fresh and exciting. Here are a few of my favorite variations of this recipe:
Mix-ins– When it comes to mix-ins these oats cake literally take anything. I love making this with chocolate chips, peanut butter chips, m&m's, freze dried fruits, raisins, toasted shredded coconut.
Fillings- I'm sure you've seen all those very instagrammy baked oats that explode in the center with sweet liquidy goodness. Well you too can fill your baked oatmeal with peanut butter, crunchy or smooth, almond butter, cookie butter…
Fruits– Fresh fruits has 100% taken my baked oatmeal to the next level time and time again and now is your time to play around with adding in your favorite fruits to the mix. Make sure to chop up your fruits into small cubes and mix in the batter before baking. Some of my favorite fruits to mix into this baked oatmeal are strawberries, apples, blueberries, raspberries….
Can I make it vegan?
Yes! Make sure you are using dairy-free chocolate as well as dairy-free milk instead of regular milk. Think oat coconut milk, coconut milk, oat milk, or even unsweetened almond milk!
How to store air fryer baked oats
Baked oats are best enjoyed fresh but if you have to store it you can. Wrap your ramequin with plastic wrap and keep it in the fridge for up to 2 days.
To reheat it, pop it in the microwave for 30-60 seconds and enjoy!
Air fryer baked oatmeal
If you made these air fryer baked oats and enjoyed them, don't forget to leave a 5-star review by clicking on the 5 stars under the title and description. It would help me a ton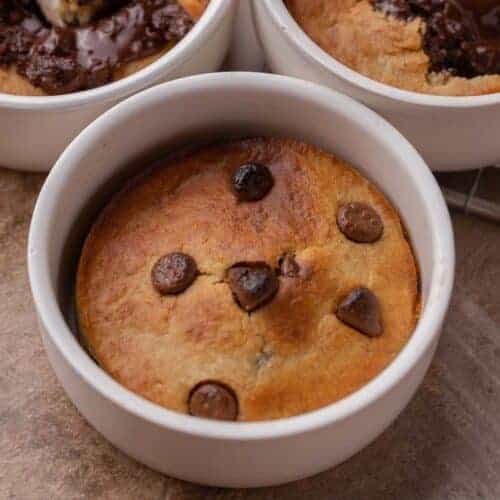 Air fryer baked oats
These air fryer baked oats are an easy and healthy breakfast option that will feel like you are eating dessert for breakfast!
Instructions
Start preheating the air fryer to 350F. Spray two ramekins with non stick cooking spray and set aside.

In a blender, blend the old fashioned oats, baking powder, banana, milk, peanut butter, honey, salt, cinnamon, vanilla extract until smooth. Stir in the chocolate chips.

Divide the batter into the two ramequins, Pour enough to fill ⅔ of the ramequins in each one, and bake in the air fryer for 8-10 minutes.

Let the baked oatmeal cool down for 10 minutes before enjoying! Be careful the ramekins will be hot so handle with care.
Notes
How to store air fryer baked oats
Baked oats are best enjoyed fresh but if you have to store it you can. Wrap your ramequin with plastic wrap and keep it in the fridge for up to 2 days.
To reheat it, pop it in the microwave for 30-60 seconds and enjoy!
Nutrition
Calories:
217
Calories
Carbohydrates:
36
g
Protein:
6
g
Fat:
7
g
Saturated Fat:
2
g
Polyunsaturated Fat:
2
g
Monounsaturated Fat:
2
g
Cholesterol:
2
mg
Sodium:
450
mg
Potassium:
302
mg
Fiber:
4
g
Sugar:
17
g
Vitamin A:
85
IU
Vitamin C:
3
mg
Calcium:
115
mg
Iron:
1
mg
Thank you for making it all the way down here 🙂
If you enjoyed this recipe don't forget to let us know in the comments below! In the meantime, don't forget to follow me on Instagram!

Shop this recipe
This post may contain affiliate posts, meaning that at no cost to you I will get a small percentage of every purchase you make!
If you enjoyed this air fryer baked oats recipe make sure to pin it for later!