If we are being completely honest I am not always a morning person. It takes me months to get myself to become a morning person. I have had a job where I needed to wake up at around 5-6 am for about three years and right as I got used to it I quit and moved on to better things in life. One thing that I do regardless of me being a morning person or not is have breakfast. I really don't know how others make through their day without having anything to eat first thing in the morning… I love food too much not to eat right when I wake up. I mean come on, I literally go to bed thinking about what I am going to have for breakfast the next day! I do not typically drink coffee in the morning or anytime during the day unless I really crave it so I really need those extra calories to jump start my metabolism before I have to go to school or work.
Yesterday I figured out that I was going to be way too tired today, especially after a full eight-hour shift serving and then an hour at the gym… So after finishing my workout, I went home and started preparing my breakfast. I actually prepared two of them since I am like a second mom to my sister. It has gotten a lot better within these past couple of years. I used to prepare double the food ever since our parents moved back to Algeria.
So let's get to this recipe, shall we?!
Overnight strawberries and cream overnight oats
Yield 1 serving
Prep Time 5 minutes
Total Time 5 minutes
Ingredients
½ cups of oats
1 tablespoon chia seeds
1tbs ground flax seeds
3-4 large strawberries
1 tablespoon maple syrup
¾ -1cup of milk, you can use the same measurements for non-dairy milk as well
Directions
First pour your oats into a bowl, then add all the dry ingredients ( flax seeds and chia seeds)

Then add your milk, the chopped up strawberries and a tablespoon of maple syrup.

Put this mixture in your mason jar or any container that you are planning to store this in and let it sit in the fridge overnight.

Wake up in the morning and enjoy!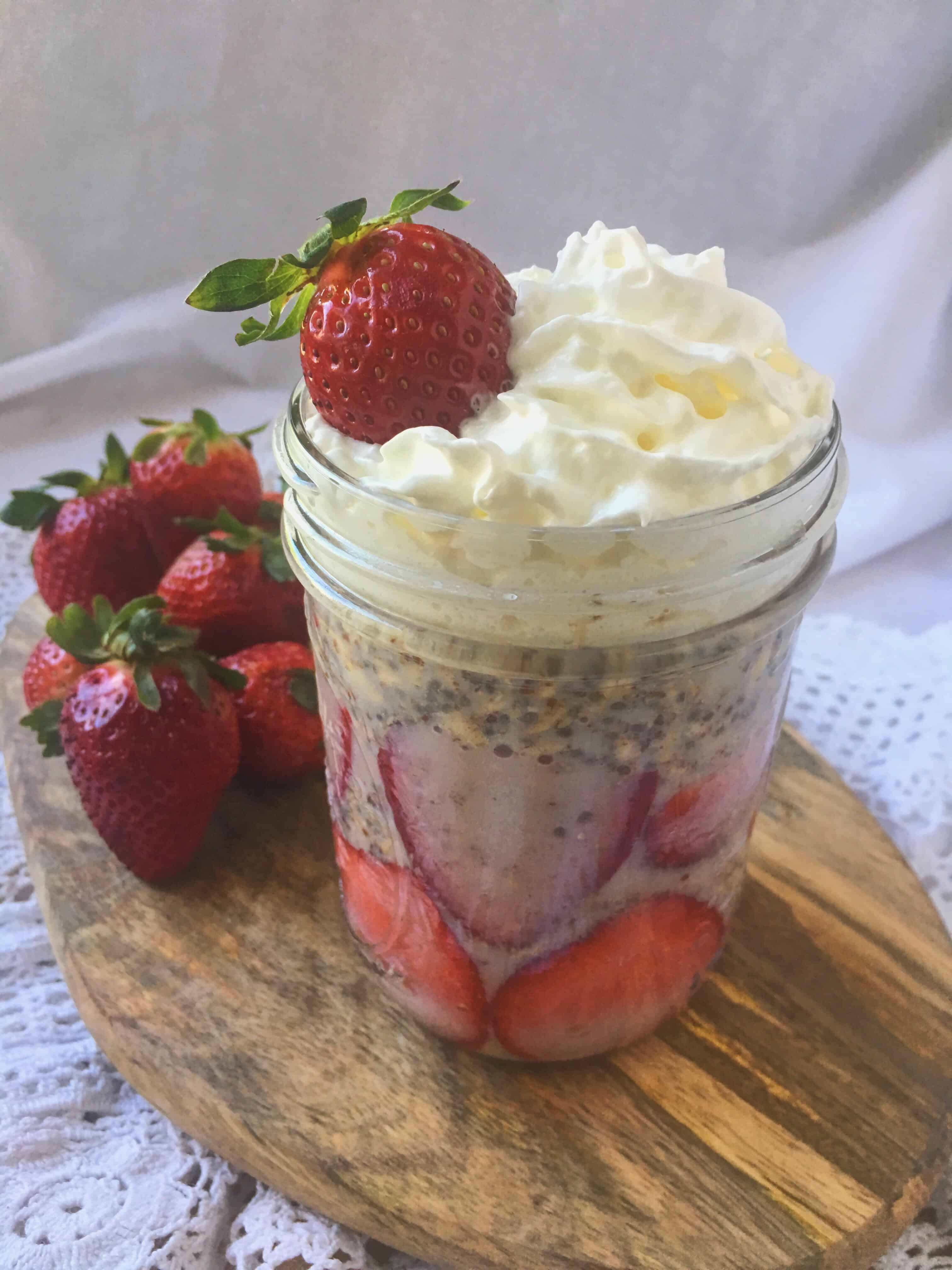 Notes
** You can easily double or triple this recipe.
**Can you heat these overnight oats?
Yes, absolutely. They will just be a little softer, but hey nothing wrong with that!
**How long do overnight oats last?
Well, realistically you will devour them within 10 minutes, but if you want to prep a couple ahead of time you can leave them in the fridge in an airtight container for up to five days.
**Why use flax seeds?
Flax seeds are very high in Omega-3 fatty acids, these are the good fats that our body needs. They usually are found in fish (salmon, tuna, and halibut), nuts, and seeds. Besides the Omega-3 benefits, flax seeds are also a very good source of Lignans, which is a plant compound that's high in antioxidants and can help reduce the risk of cancer. It is also very high in fiber and may help with appetite suppression.
** Why use chia seeds?
Chia seeds are very high in Omega-3 fatty acids, and for someone like me who doesn't eat fish, these overnight oats are a great way to get my omega 3s! They also are very high in fiber and antioxidants. Another very cool thing about chia seeds is that they expand when they're put in a liquid. So they will give your overnight oats a great texture and also make you feel a lot fuller than you would normally feel if you only had plain oats.
If you'd like to pin this post for future reference, click here!