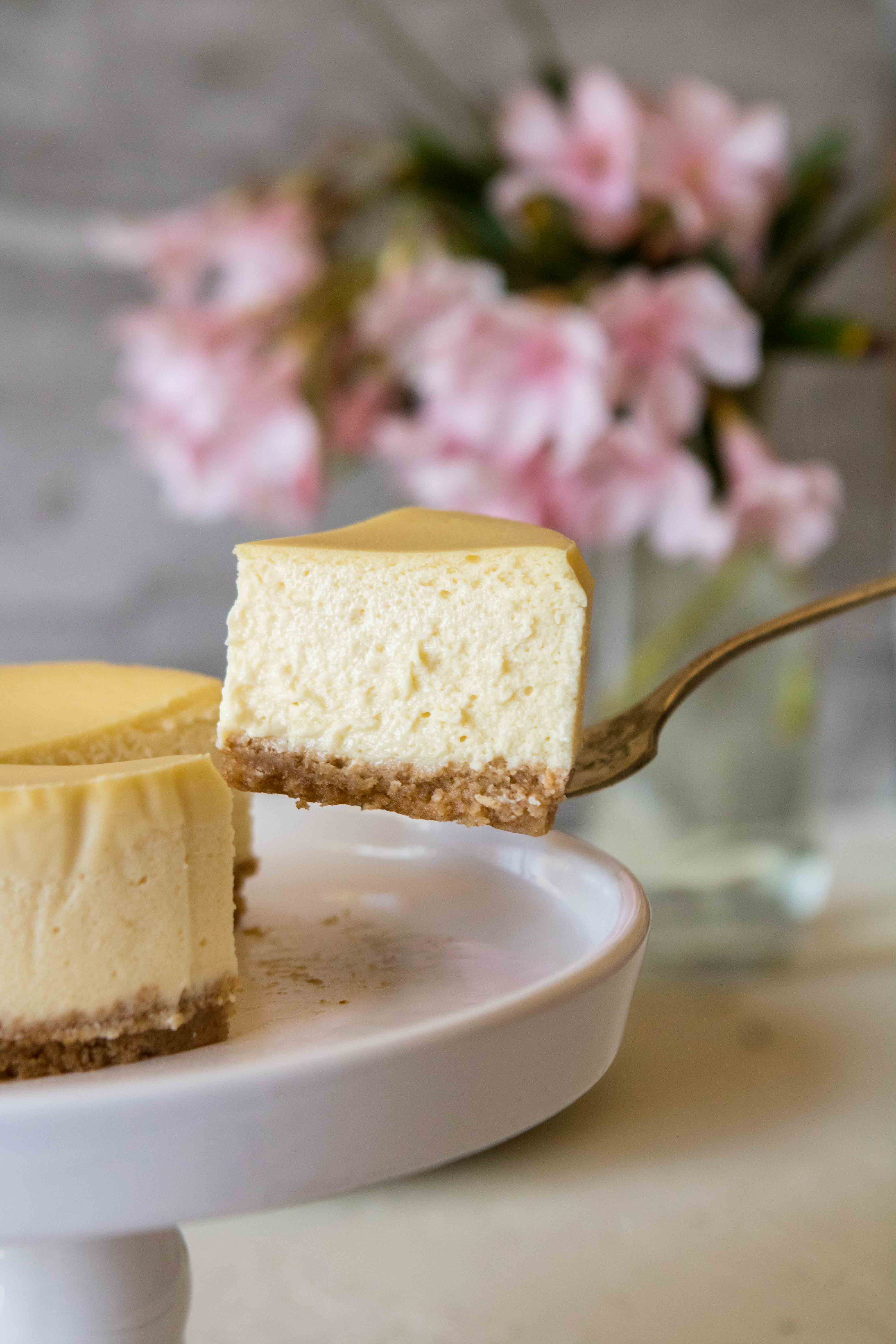 This is the best 4-inch mini cheesecake recipe
This small cheesecake recipe is the perfect sweet treat when you want something boogie but don't wanna make a whole cheesecake and end up with a ton of leftovers. Whether you need a dessert for Valentine's Day or just for a regular weeknight treat yourself dessert after dinner I got you covered!
This classic cheesecake recipe will remind you of the best New York style cheesecake but in small form. The best part is that you can add your favorite topping to really elevate it to the next level.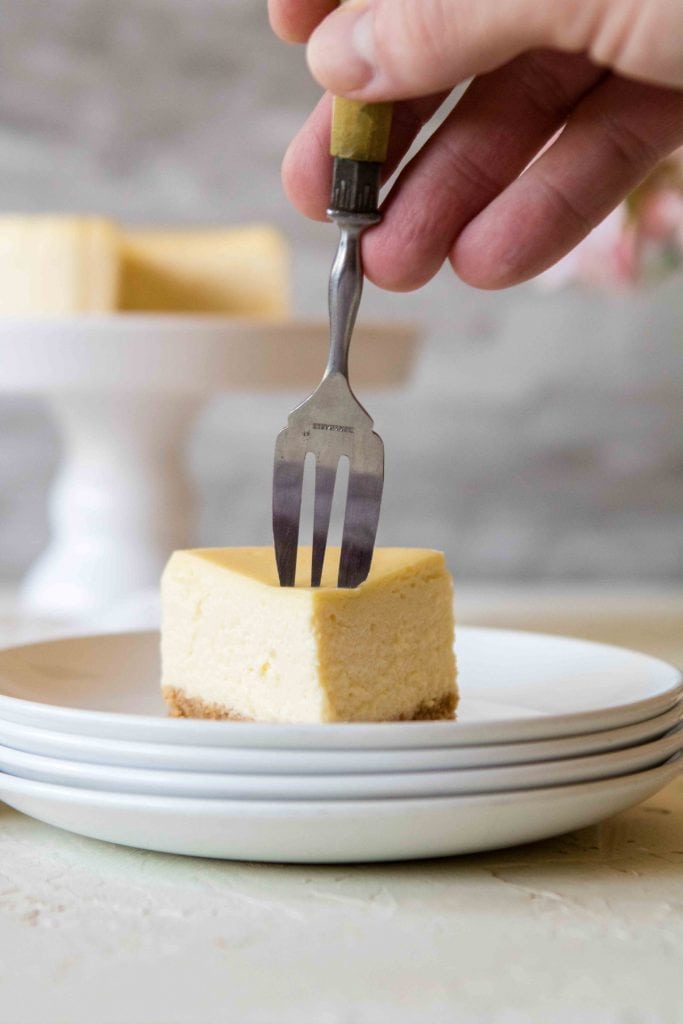 What's so special about this mini cheesecake recipe for one?!
This recipe can be made with an electric hand mixer or with a simple whisk.
It makes the perfect small-sized cheesecake for two instead of making a regular large cheesecake and being stuck with it.
This recipe is great for special occasions, date night, or
It has a creamy cheesecake filling alongside a super buttery graham cracker crust at the bottom.
This is the mini version of your favorite NYC-style cheesecake!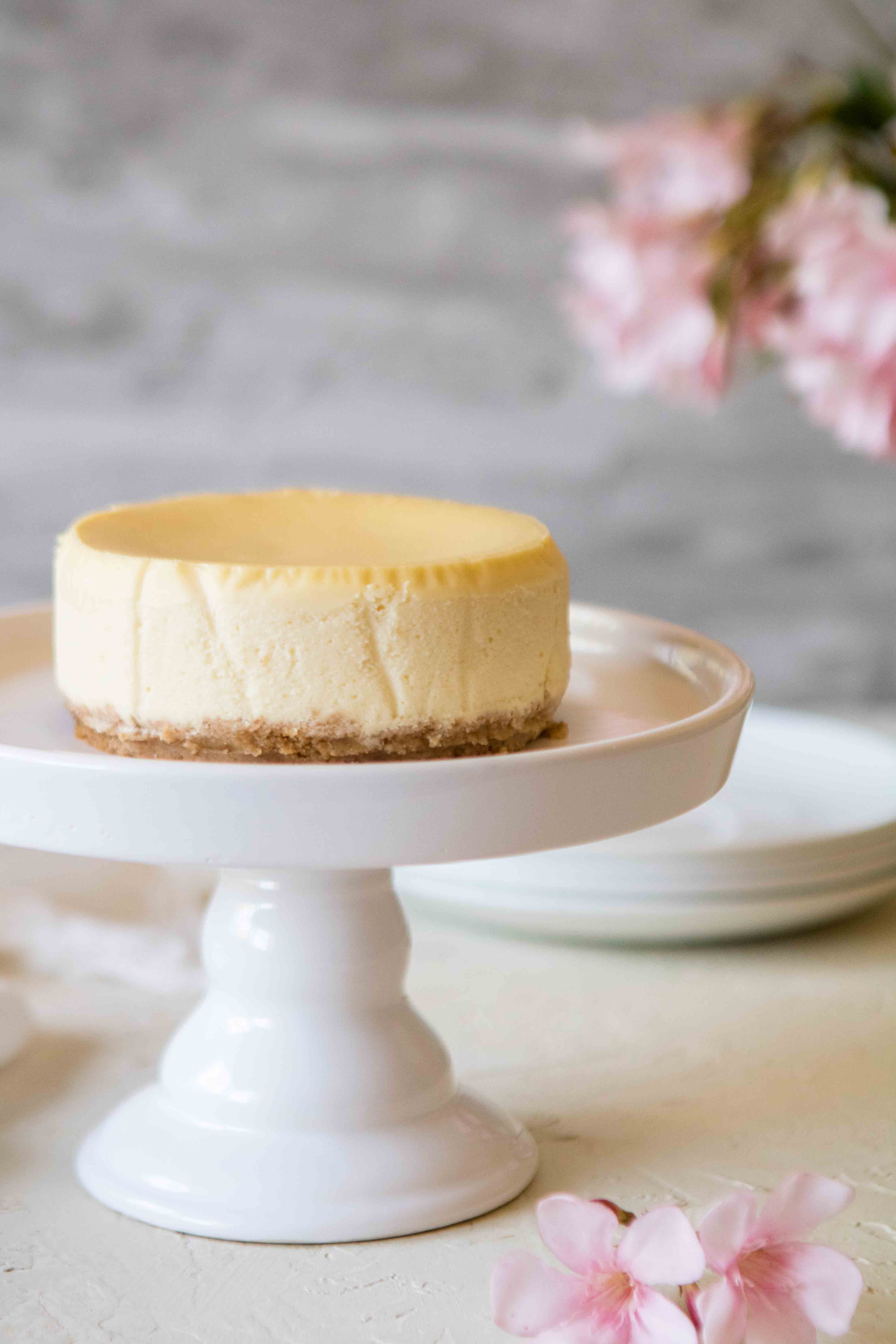 What you will need to bake this mini cheesecake recipe for one
To make this mini cheesecake recipe you will need the following ingredients:
Crushed graham crackers- For the graham crackers you can either crush your own or buy them pre-crushed. Whatever works for you.
Sugar– You will need a small amount of sugar for the crust a little more for the cheesecake batter.
Butter– We will need some butter to melt and add in to the graham crackers to make the New York cheesecake crust
Cream cheese– You need cream cheese for any cheesecake recipe but the perk of this small batch cheesecake recipe is that you can make it with just one package of cream cheese. Actually, half a package of cream cheese if what you really need.
Sour cream or creme fraiche – Adding sour creme or creme fraiche helps add a nice tangy flavor to the cheesecake as well as adding some moistness.
Heavy cream- Heavy cream helps the cheesecake be softer and creamier.
Vanilla – You can also use vanilla bean paste!
Flour– Adding a tiny bit of flour will help the cheesecake hold together a lot better.
Egg- You will only need one room-temperature egg to help the cheesecake bind together.
Tools to make the best 4-inch cheesecake
To make this perfect cheesecake for one you will need these tools: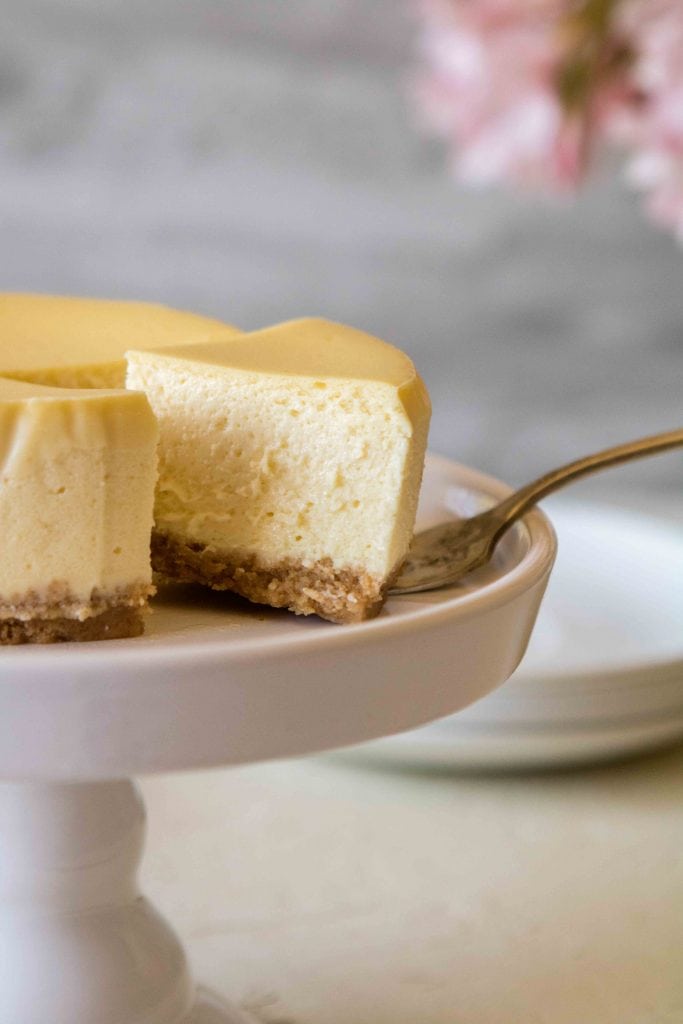 How to make homemade cheesecake for one?
This is how you can make the best vanilla cheesecake for two. Make sure to scroll down to the recipe card for the full detailed instructions!
Preheat the oven then grease your mini springform pan and line with parchment paper inside and foil on the outside. Set aside.
To a small bowl, add the graham crackers and sugar and mix.
Add in the melted and mix again to fully coat.
Pour that onto the prepared springform pan and press it down evenly.
Bake in the preheated oven for 15 minutes.
In a larger bowl, cream the softened cream cheese, sugar, sour cream, and heavy whipping cream, vanilla extract, and flour. Once light and fluffy add in the egg and mix again to combine. Make sure to not overmix the batter.
Pour into the prepared pan on top of the warm crust.
Lightly tap the springform cheesecake pan on the counter to get rid of any air bubbles.
Place the cheesecake in a larger pan with hot water going about halfway through the height of the cheesecake tin and bake.
Allow the cheesecake to cool down in the oven with the door slightly cracked to make sure that the top of the cheesecake doesn't crack.
Chill the cheesecake in the fridge for a few hours before enjoying it.
Enjoy this cheesecake as is or with your favorite cheesecake toppings!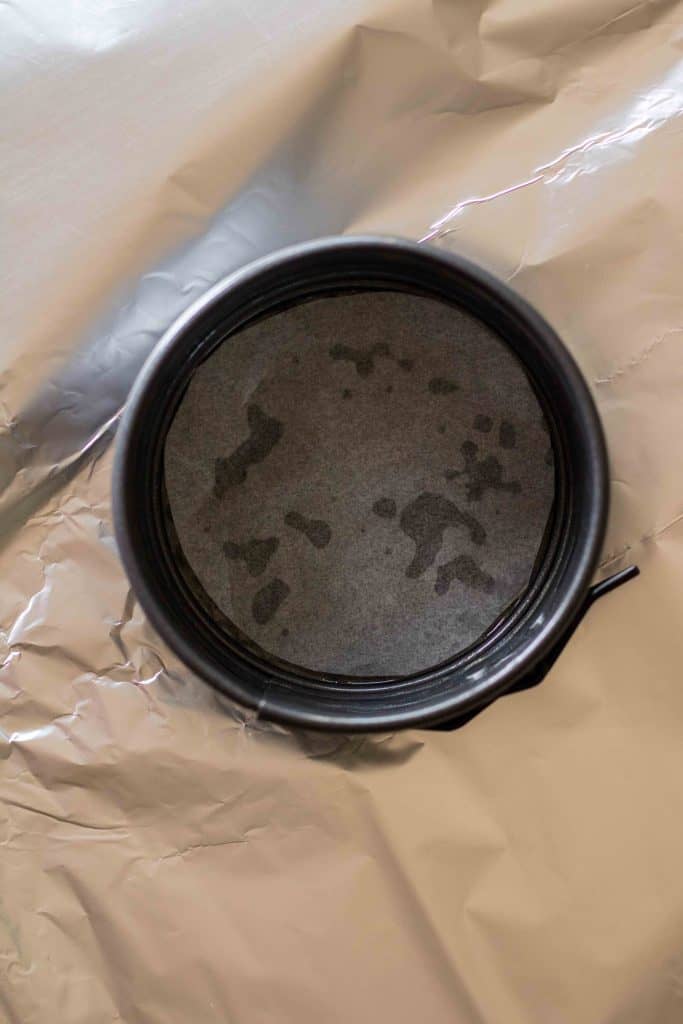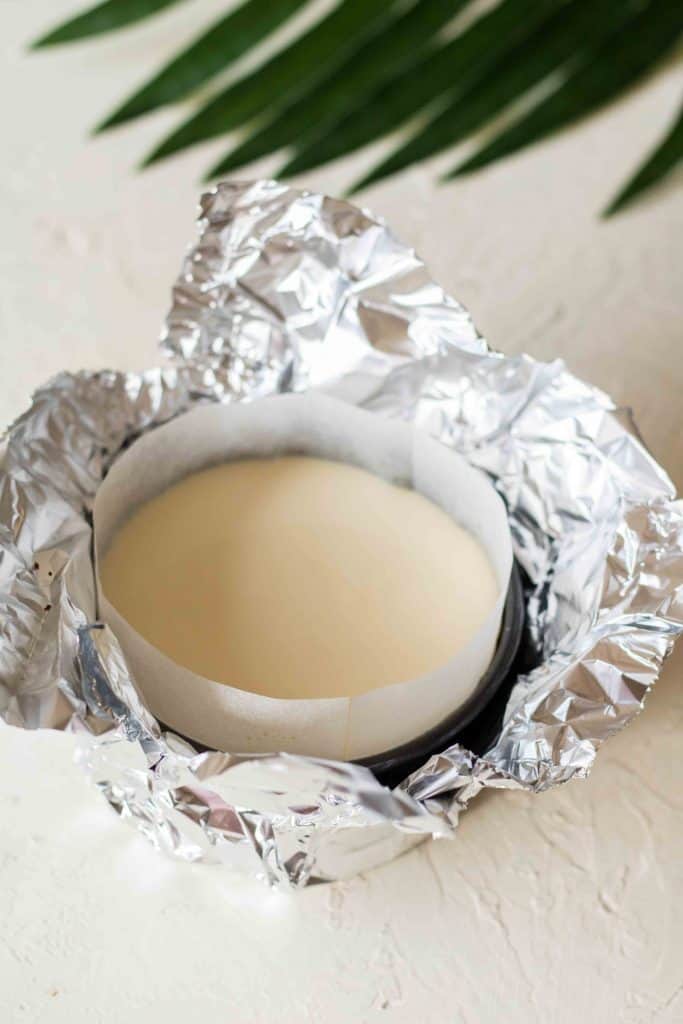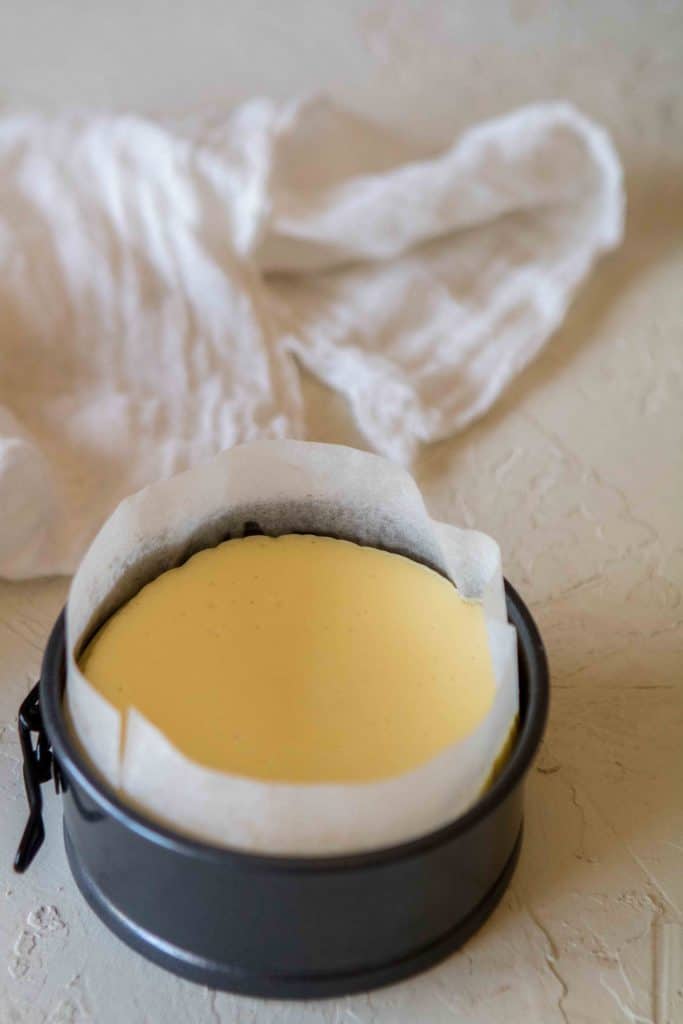 FAQ- Frequently Asked Questions
Tips for making the perfect New York cheesecake
If you are ready to make this foolproof mini New York cheesecake for one, make sure to follow these handy dandy tips:
Use full-fat ingredients- This is a dessert that isn't super forgiving. To get that perfectly creamy cheesecake texture higher fat content ingredients are a must. Make sure to use full-fat cream cheese and sour creme or creme fraiche!
Bring your ingredients to room temperature before starting- Make sure to bring all your ingredients to room temperature before starting. This will ensure that all the ingredients get incorporated well to make a homogenous cheesecake batter. If your ingredients are too cold you might be left with clumps in your cheesecake batter which will hinder the quality of your dessert.
Avoid over-mixing the batter- Don't over-mix the cheesecake batter in order to not add too much air to the cheesecake. Too much air in the cheesecake batter with make the cheesecake swell up when it bakes and then deflate when you cool it down completely. This can also cause cracks!
Use a water bath- Don't skip the water bath. It will create the much-needed humidity in the oven to prevent the top of the cheesecake from cracking.
Cool down your cheesecake slowly– After turning the oven off, let the cheesecake sit there and crack the oven door open. This will make sure that the cheesecake you worked so hard for doesn't have any cracks. An easy way to do this is to place a wooden spoon in between the oven door and the oven to keep it slightly open and allow it to realease the heat slowly.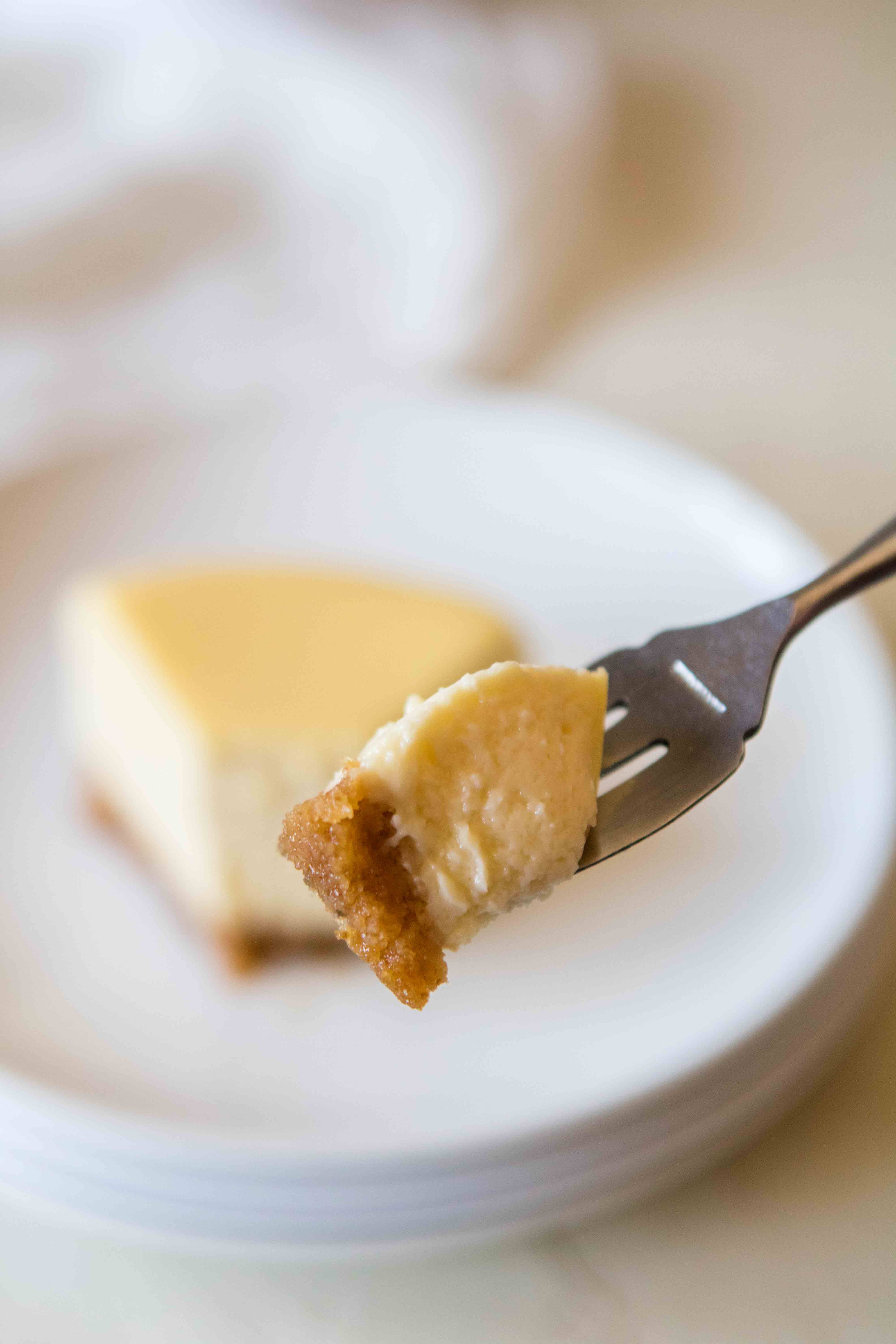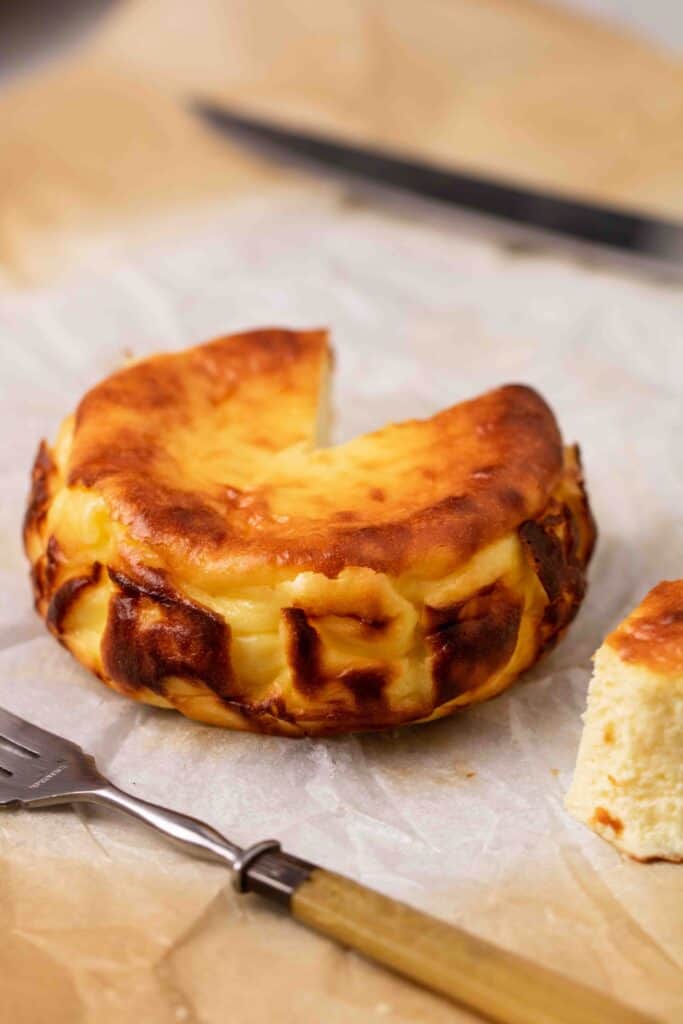 What to top cheesecake with?
You can enjoy your luxuriously creamy 4-inch cheesecake as is, which is something I love to usually. But sometimes a little change makes this dessert even better. Some fun toppings you can add to your cheesecakes are :
Fresh fruit – I love using a mixture of berries to make it feel super fancy and luxurious.
Fruit jams or sauces- A layer of jam on top of this mini cheese will bring out even more fruity and sweet flavors to your lovely dessert.
Chocolate sauce- There is nothing better than a chocolate and vanilla combo and that's what you can make happen in this sweet treat!
Dulce de leche or caramel sauce
Whipped cream piped on top
Melted peanut butter
Chocolate shavings
Chocolate shavings
Pecan pie filling
These are only a few ideas that I usually go for but the sky is the limit so if you have any other ideas, make sure to share them with us in the comments below. 🙂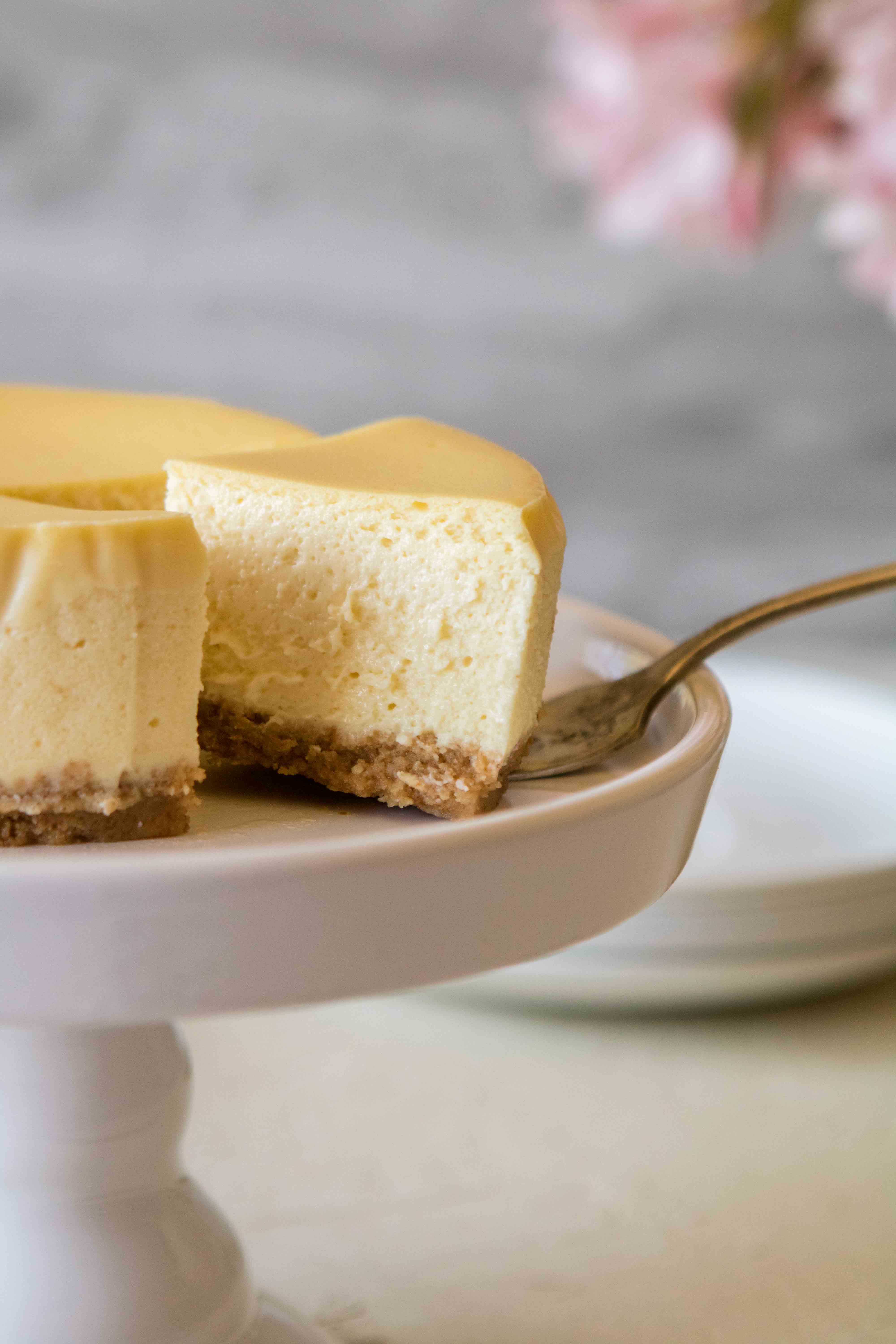 What are some other crust variations?
We love a traditional graham cracker crust but changing things up from time to time can also be so fun! Here are a few other ideas that you need to try:
Oreo Crumbs or Nilla wafer crumbs- Just like in this chocolate cheesecake recipe, the Oreo crust will add such a fun flavor to your cheesecake.
Gingersnap cookies- This would make for a delicious fall-inspired cheesecake. I would highly recommend topping your cheesecake with caramel because it goes so well with gingersnaps!
How long is cheesecake good for?
It is best to enjoy this within 3 days of making it. The cheesecake itself will still be delicious but the graham cracker crust will start to soak up some of the moisture which will make it less crunchy and more soggy.
Is it okay to leave cheesecake out overnight?
No! It is made out of dairy so it has to be chilled if it's just gonna sit for longer periods of time.
If it is sitting on your serving table for a few hours it's okay but any longer than 5 hours should definitely be going into the fridge,
How should I store cheesecake?
You can store your cheesecake in the fridge for up to 3 days in an airtight container.
Can you freeze this 4-inch cheesecake recipe?
Absolutely! You can freeze this to enjoy later. Make sure to chill your cheesecake first (overnight preferably) then flash freeze on a parchment-lined baking sheet or plate.
Once fully frozen wrap it with plastic wrap a few times then wrap with aluminum foil. Freeze for up to 3 months.
Once you are ready to enjoy it remove the foil and plastic wrap, set it on a plate, and thaw it in the fridge overnight. Enjoy chilled or allow it to get back to room temperature for 15-30 minutes!
4 inch cheesecake recipe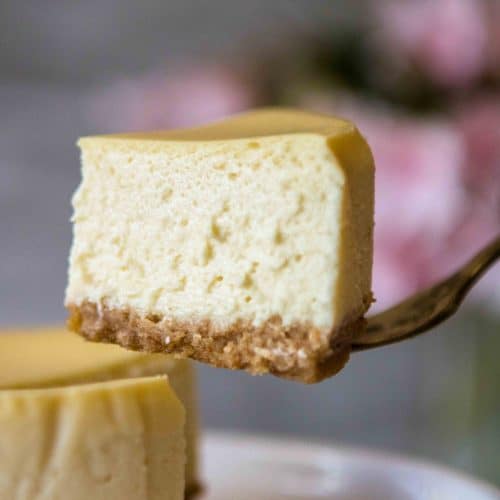 The creamiest mini cheesecake recipe ever!
This 4-inch cheesecake recipe is dense, rich and so creamy! Make this cheese cake for one or share it with your significant other for the perfect at home date night dessert!
Equipment
stand mixer or hand mixer

4-inch cheesecake pan
Ingredients
for the crust
¼

cup

crushed graham crackers

1

tablespoon

sugar

1

tablespoon

butter

melted
for the cheesecake
4

oz

cream cheese

at room temperature

2

tablespoon

sugar

1 ½

tablespoon

sour cream or creme fraiche

1 ½

tablespoon

heavy cream

¼

teaspoon

vanilla

½

teaspoon

flour

1

egg

at room temperature
Instructions
Make the graham crust
Start by preheating the oven to 350F then proceed to greasing a 4-inch cheesecake springform pan. Cut out a circle of parchment paper and line the bottom of the pan then cut out a long strip of parchment paper to line the sides of the pan as well. Cover the outside of the 4-inch springform pan with aluminum foil to make sure that no water can get into your cheesecake.

Now, add the graham crackers, sugar and the melted butter to a small bowl and mix until everything is incorporated.

Pour the graham cracker mixture into the cheesecake pan and flatten it using the back of a spoon or your fingers.

Bake the graham cracker crust in the preheated oven for 15 minutes. Remove it from the oven lower the heat to 300F and let the cheesecake cool down.
Make the cheesecake batter
Now onto the cheesecake batter. To make the cheesecake batter add in the softened cream cheese, sugar, sour cream, heavy whipping cream, vanilla, flour and sugar into a stand mixer bowl or a medium bowl and mix everything together with the paddle attachement of a stand mixer or a hand mixer. Don't over mix!

Once you have a smooth cheesecake batter, add in the egg and mix gently until it is mixed it. This should take about 10-15 seconds. Don't over mix again!

Pour the cheesecake mixture on top of the baked graham cracker crust and tap it on the counter a few times to make sure that the cheesecake has no bubbles.

Place the cheesecake pan in a 8X8 inch pan or whatever pan you have and place that in the oven. Fill up the 8×8 inch pan with boiling water and cook for 35 minutes. Once the cheesecake is done baking, turn off the oven, crack the oven door open and leave the cheesecake in there to cool for an hour.

After the hour is up, remove the cheesecake from the oven and let it cool in the fridge for 2 hours or overnight.

Remove the springform pan, peel the parchment paper off and enjoy your delicious homemade 4-inch cheesecake!
Nutrition
Calories:
447
Calories
Carbohydrates:
30
g
Protein:
8
g
Fat:
33
g
Saturated Fat:
19
g
Trans Fat:
1
g
Cholesterol:
178
mg
Sodium:
348
mg
Potassium:
159
mg
Fiber:
1
g
Sugar:
23
g
Vitamin A:
1250
IU
Vitamin C:
1
mg
Calcium:
99
mg
Iron:
1
mg

Shop this recipe
This post may contain affiliate posts, meaning that at no cost to you I will get a small percentage of every purchase you make!
If you enjoyed this mini 4-inch cheesecake for one make sure to pin it for later!