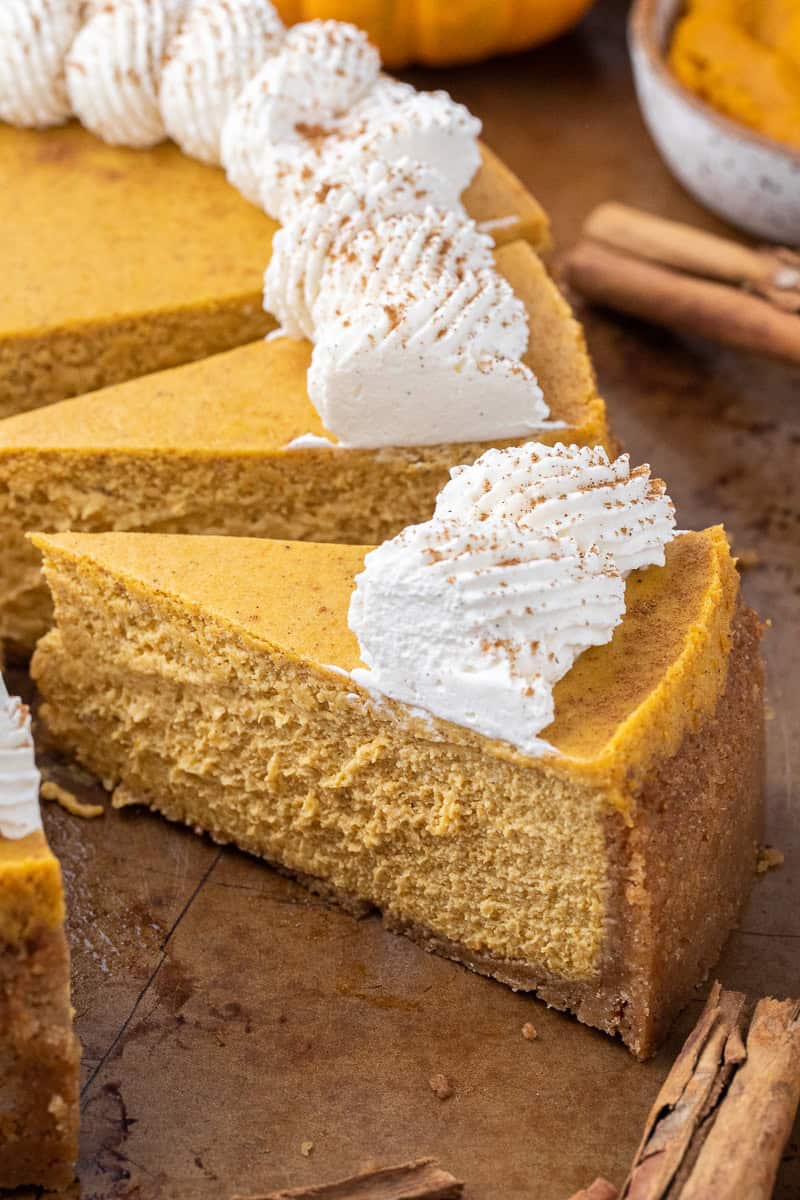 With Thanksgiving being right around the corner, I know some of you might already be making plans and lists for your yearly thanksgiving dinner. Now I am here to convince you that this is the cheesecake recipe to try this time around!
It is perfect for any fall special occasion, but it is even better for Thanksgiving because everyone will literally praise you after trying just one bite of this! Honestly, my husband's uncle literally couldn't talk when he was eating it. If you want a dessert that will put your guests in a trance this is it!
It is light, it is creamy, and has the perfect graham cracker crust that goes up the sides of the pan making it look extra luxurious! Plus the pumpkin flavor in this is unreal! Truly, if you are a pumpkin fanatic or if anyone in your life is a pumpkin fanatic, you gotta try this!
This is the best pumpkin spice cheesecake ever!
Even though cheesecake can seem quite intimidating to a lot, this recipe has a ton of tips and tricks to allow you to maneuver making this dessert and succeeding at it! I will be guiding you with every step to ensure that you have a fall classic cheesecake ready to be served for the event that you are making it for!
Alright, well now that you know I'll be showing you exactly how to make cheesecake from scratch for Thanksgiving, let's get baking!
Why you need to make this recipe!
It is a super impressive dessert.
This cheesecake is packed with Pumpkin flavors.
The balance between creamy cheesecake filling and crunchy graham cracker crust is just what you want!
Even though it takes a few steps to make this fall dessert, you can rest assured that it will taste out of this world.
Ingredients for this creamy pumpkin cheesecake recipe
Here are the ingredients you will need to make this recipe. Make sure to scroll down to the recipe card for the full detailed ingredient measurements.
Graham crackers- This is what our crust will be made out of.
Butter- You can use salted or unsalted butter for this recipe.
Granulated sugar & brown sugar- This recipe uses a mix of sugar to add extra depth of flavor to the pumpkin cheesecake.
Cream cheese – We want to use brick-style cream cheese and the full-fat one too! That will make this cheesecake extra creamy.
Pumpkin puree– Make sure to use canned pumpkin puree and not canned pumpkin pie filling for this recipe.
Eggs- Use large eggs at room temperature.
Sour cream- The sour cream will add a layer of creaminess to our cheesecake.
Vanilla extract- The vanilla extract will add a little extra depth of flavor.
Pumpkin pie spice– You can use storebought pumpkin pie spice or homemade pumpkin spice. Whatever you have on hand works,
corn starch- The corn starch will help give our cheesecake a little extra stability.
Optional topping
¾ cup heavy cream
2 tablespoon granulated sugar
2 teaspoon vanilla extract or vanilla bean paste
These are the ingredients to make your own homemade whipped cream which is heavenly with this sweet pumpkin cheesecake. You can of course use other toppings depending on preference. My second favorite thing to add on top of my cheesecakes has to be my homemade caramel sauce.
How to make this creamy cheesecake
This is how you can make this cheesecake at home. Make sure to scroll down to the recipe card for the full recipe!
Start with the graham cracker crust
Wrap the bottom of the springform pan with layers of foil to keep the water from entering your pan once you are using a hot water bath to bake the cheesecake.
Combine graham cracker crumbs with the sugar and salt and mix.
Mix in the melted butter until fully combined.
Spread on the prepared spring form pan and gently press down using the back of a cup or measuring cup.
Bake the crust in the oven then set it aside.
Make the pumpkin cheesecake filling.
In a bowl of a stand mixer, combine cream cheese and sugars together and cream on medium-low speed until smooth. Make sure you use a paddle attachment to avoid incorporating much air into the cheesecake batter.
Add one egg at a time and mix.
Mix in the pumpkin puree, sour cream, and vanilla extract until combined.
Add in the corn starch, pumpkin spice, and salt and mix again just until combined.
Pour the cheesecake batter over the baked graham cracker crust in your springform pan and place that into a larger pan or a roasting pan.
pour hot boiling water in the pan, we want the water to get to about ½ of the springform pan.
Bake in the preheated oven.
Once the cheesecake is baked, open up the oven door just a little. You can prop it open with a wooden spoon or spatula and allow your cheesecake to cool down slowly. This is the hardest part.
And just like that, you make the perfect thanksgiving dessert! Enjoy it 🙂
Optional topping
Whip the heavy cream, granulated sugar, and vanilla together until stiff peaks.
Decorate your cheesecake with homemade whipped cream, slice it, and enjoy!
Frequently asked questions – FAQ
Do I have to use a water bath?
A water bath is a preferred method of making this cheesecake to keep the edges and the top from browning too quickly and to make sure that our cheesecake is crack-free.
How to store this Thanksgiving dessert?
You can store any leftover cheesecake in an air-tight container in the fridge for up to 3 days. Be aware that the longer it sits in the fridge the soggier the crust will get because of all the moisture.
Can pumpkin cheesecake be frozen?
Yes.
To freeze this cheesecake whole without the whipped cream, place it on a cardboard round (the one that is used at bakeries, you can also buy it at Walmart, hobby lobby, or online) and wrap it tightly with plastic wrap, then with foil.
To freeze individual slices, wrap each slice in plastic wrap then foil and freeze.
The cheesecake will keep in the freezer for up to 1 month. Once you are ready to enjoy it, thaw it on the countertop for a few hours or in the fridge overnight.
How to serve pumpkin cheesecake?
Truthfully, you can serve it as is. It's really that good!
But around the holidays, I know that most of us are trying to have a showstopper of a dessert on our thanksgiving table so here are a few ways to spruce it up!
Top it with homemade whipped cream.
Add a general drizzle of caramel sauce.
Top with a mixture of pecans and caramel sauce to turn it into a pecan caramel pumpkin cheesecake.
You can also top it with a mixture of apple pie filling or cooked apples with cinnamon for an apple pumpkin cheesecake.
Sprinkle some cinnamon on top.
As if it weren't rich enough if you're feeling extra adventurous, top it with a scoop of vanilla bean ice cream.
If you have other topping ideas, don't forget to share them with us in the comments below.
Tips to make the best pumpkin cheesecake recipe every time!
Use room temperature ingredients –It is so important to use room temperature ingredients to ensure that your cheesecake bakes evenly.
Mix at low speed- Mixing at low speed is imperative not to incorporate too much air into your cheesecake batter and risk it cracking while it is baking in the oven.
Make sure your water bath uses hot water- Boil the water ahead of time so that it is ready whenever you are about to bake your cheesecake. You have to make sure that the water is at the right temperature so it doesn't affect the temperature of the oven too much once you start your baking process.
Foil, foil, foil- Make sure to wrap your pan well to keep the water from getting into the cheesecake and ruining it. Another great solution for this is to get a high-quality springform pan. I use the USA springform pan and it has a silicone band that also works at preventing water from getting into the cheesecake and graham cracker crust.
Creamy pumpkin cheesecake
Pumpkin cheesecake recipe
This is one of the best pumpkin cheesecakes you'll ever have. It is creamy and perfectly spiced. A great dessert addition to your holiday table.
Ingredients
2 & ½

cup

crushed graham crackers

½

cup

butter

melted

¼

cup

granulated sugar

½

tsp

salt
Instructions
Preheat the oven to 350F then line a 9-inch springform pan with parchment paper at the bottom and grease the sides. Cover the outside of the pan with aluminum foil tightly to keep the water from the water bath from ruining your cheesecake.

In a large bowl, mix the crushed graham crackers, granulated sugar, and salt then add in the melted butter and mix until combined. add

2 & ½ cup crushed graham crackers,

½ cup butter,

½ teaspoon salt,

¼ cup granulated sugar

Press the mixture into the prepared springform pan making sure to press some of that mixture on the sides of the springform pan as well.

Bake in the preheated oven for 10 minutes then set aside to cool. Reduce the oven temperature to 325F.
Make the cheesecake filling
Cream the cream cheese and granulated sugar and the brown sugar on medium speed using a paddle attachment until combined. Lower the speed to low and add an egg at a time while mixing still until combined.

24 oz cream cheese,

1 cup granulated sugar,

⅓ cup brown sugar,

3 large eggs

Mix in the pumpkin puree, the sour cream, and the vanilla extract until combined. Add in the corn starch, pumpkin pie spice, and salt and mix again to combine.

15 oz pumpkin puree,

⅓ cup sour cream,

1 tablespoon vanilla extract,

3 tablespoon cornstarch,

1 tablespoon pumpkin pie spice

While the cheesecake batter is mixing, bring a pot of water to a boil on the stove.

Pour the pumpkin cheesecake batter into the prepared springform pan and place in a large roasting pan. Pour the boiling water in the roasting pan making sure not to get any in the cheesecake batter itself. You want the water to reach about halfway through the springofrm pan.

Place in the oven and bake for about 75-85 minutes. You want the edges to be set and the center to have a slight jiggle. Once the cheesecake is baked, turn off the oven and let it sit in the oven for an hour. Prop the oven door slightly open (you can do this by sticking a wooden spoon between the door and the actual oven)

Once the hour is up, pull out the cheesecake, let it cool down to room temperature before placing n the fridge to chill overnight or for at least 8 hours.

Once chilled, top with whipped cream and caramel, or whatever topping you prefer, and serve!
Notes
*If you prefer a soft crust, omit baking the crust.
This cheesecake will last up to 5-6 days in the refrigerator, covered tightly.
You can also freeze whole or in slices, in an airtight container, or wrapped in plastic wrap. Freeze up to 3 months and let thaw at room temperature or overnight in the refrigerator before serving.
Nutrition
Calories:
497
Calories
Carbohydrates:
50
g
Protein:
7
g
Fat:
31
g
Saturated Fat:
18
g
Polyunsaturated Fat:
1
g
Monounsaturated Fat:
8
g
Trans Fat:
0.3
g
Cholesterol:
126
mg
Sodium:
486
mg
Potassium:
226
mg
Fiber:
2
g
Sugar:
34
g
Vitamin A:
6603
IU
Vitamin C:
2
mg
Calcium:
106
mg
Iron:
2
mg

Shop this recipe
This post may contain affiliate links, meaning that at no cost to you I will get a small percentage of every purchase you make!
If you enjoyed this holiday season extra creamy pumpkin cheesecake recipe make sure to pin it for later!