Homemade pumpkin pie doesn't have to be so hard. This easy pumpkin pie recipe is the perfect one for you to make for your family this holiday season. Serve it as the main Thanksgiving dessert or just make it anytime because it's seriously good.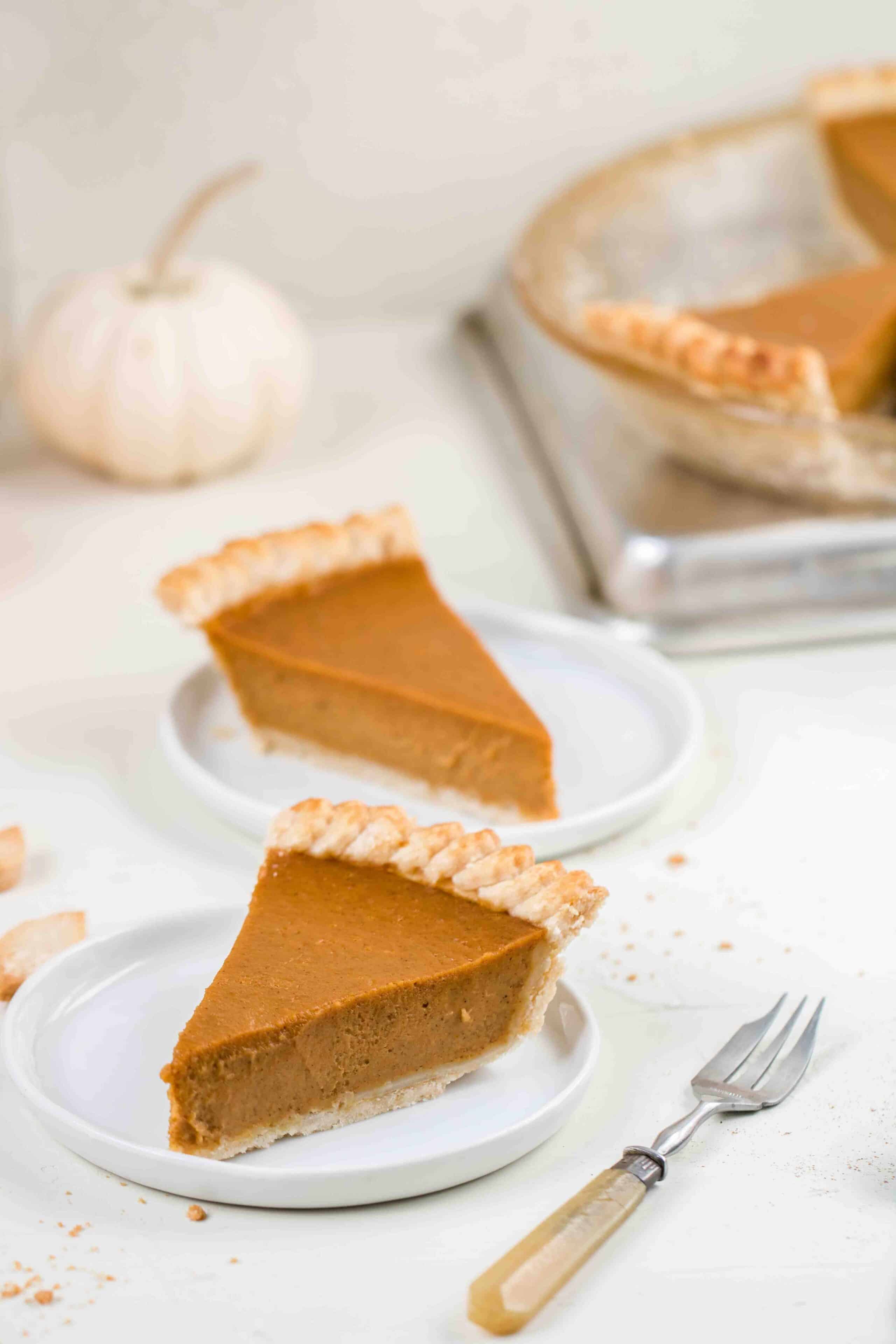 It's pie time! With Thanksgiving being exactly 1 month + 1 day away, I had to share this easy homemade pumpkin pie. One of my favorite fall dessert in the whole wide world! Actually, my second favorite dessert because the Bouchon pecan pie comes first. I'm actually working hard to try and bring you something similar before Thanksgiving so stay tuned!
Let's get back to the topic at hand though, this homemade pumpkin pie. It is one of my favorite pumpkin pies ever, I would even go to say this pumpkin pie is better than the Costco pumpkin pie. Maybe it is because it is fresher and made at home, but hey try it and let me know what you think.
This is your new favorite homemade pumpkin pie recipe and best fall dessert!
I love making pumpkin pie from scratch because it is easy and super rewarding. I feel like a southern grandma wiping up some goodness in the kitchen around the holiday time (or all year round if you're obsessed with everything pumpkin like me)
So if you too want to impress your family or just want to treat yourself this season, keep reading because I'm gonna teach you how to make some magic happen in the kitchen.
What is so special about this canned pumpkin pie?
This homemade pumpkin pie is amazing and here are all the reasons why you need to make it:
It is rich but light
The filling of this pumpkin pie comes together in less than 5 minutes
Each slice has the perfect amount of pumpkin pie spice
It uses a whole can of pumpkin puree so no leftovers to worry about
The balance of sweetness in this pie is perfect
More pumpkin recipes you will love!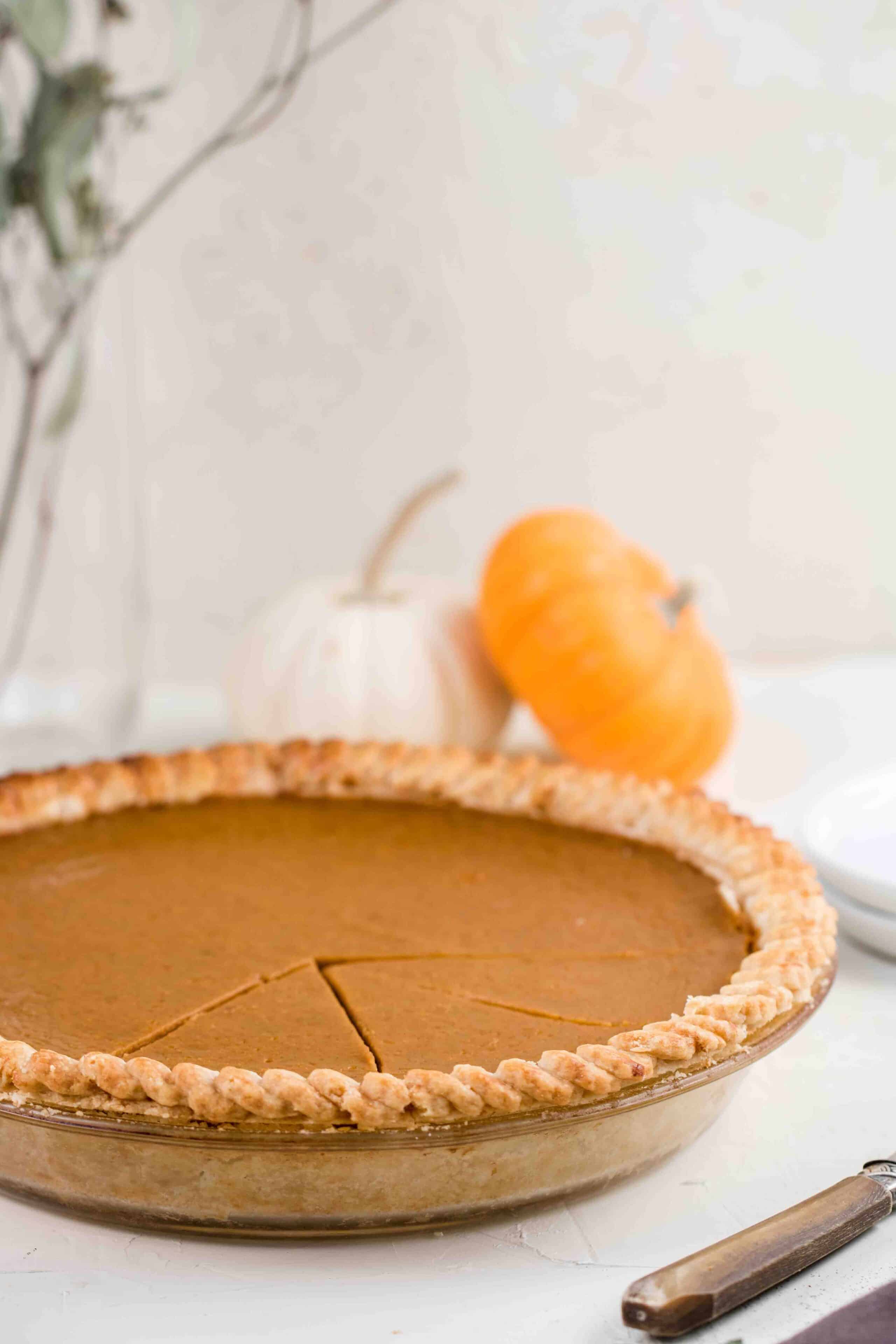 Ingredients to make pumpkin pie from scratch
Pumpkin puree- This is the main ingredient for this recipe. Make sure that you are using pumpkin puree and not pumpkin pie filling.
Eggs and egg yolk– The egg and the egg yolk are what are gonna keep hold this pumpkin custard hold together.
Heavy cream and evaporated milk– The heavy cream and evaporated milk are what will make this pumpkin custard pie extra rich and creamy.
Brown sugar and white sugar– We use both brown sugar and white granulated sugar to give this pie extra depth.
Pumpkin pie spice– Pumpkin pie spice is another staple for this recipe. You can make your own at home by following the direction in this Homemade Pumpkin Pie Spice.
Corn starch– The corn starch will help thicken the inside of the pie a little more.
Blind baked pie shell– To make this pumpkin pie you will need to press your pie crust in a 9-inch pie plate and pre-bake it before filling it.
Sign up for our mailing list to not miss anything!
Pumpkin puree vs pumpkin pie filling, what is the difference?
There is a pretty big difference between pumpkin puree and pumpkin pie filling. The main difference is that one has added ingredients to it and the other is just pumpkin.
The pumpkin puree is simply pumpkin so 100% pumpkin with nothing else added to it.
The pumpkin pie filling is just as its name states. It's pumpkin with spices and sugar so that the only thing you need to add to it before baking it
Can I use a store-bought pie crust for this pumpkin pie?
You sure can. It won't have the super buttery flavor compared to a homemade butter crust but it will allow you to save a whole bunch of time. You can either use the pie crust rolls and press them yourself into the pie pan or you can pie the already pressed and frozen pie crusts. Both work just fine!
How to blind bake your pie crust?
To blind bake your pie shell you will need to first press your pie dough into the 9 inch baking pan, making sure that the dough stays as cold as possible.
If you feel like your pie dough has warmed up, pop it back in the freezer for 5-10 minutes before baking it.
The next step to blind baking is to place parchment paper on the pie shell and fill that with either pie weights or dried beans and baking it for 15 minutes on the lower oven rack then remove the pie weights and bake for another 10-15 minutes or until the pie crust looks light golden brown.
How to make homemade pumpkin pie
First, make the crust.
You can follow the direction in this Easy Recipe for Homemade Pie Crust article or The 4 secrets to making the best pie & tart shells if you are using store-bought pie dough.
Now let's make the filling.
To make the filling, all you need to do is whisk all the ingredients together in a large bowl. You can do this step while your crust is blind baking so that you save up on time.
Fill the pre baked pie shell with the pumpkin pie mixture and place in the oven to bake for 45-55 minutes or until the center is almost set ( it will be a little jiggly in the center but will continue baking as it cools)If the edges start to brown too quickly, cover them with aluminum foil or your pie crust shield.
Remove from the oven and let the pie cool down completely at room temperature before either serving or covering it tightly with foil and placing it in the fridge overnight.
How do you know when your pumpkin pie is ready?
Knowing when your pie is done baking is a skill, so don't worry if you didn't get it the first time.
I usually know my pie is done baking is the center is slightly jiggly but the edges are set. Don't worry too much about the center being jiggly because it will continue baking as it cool down. Hence why you shouldn't cut into your pumpkin pie as soon as you pull it out of the oven.
how to store a homemade pumpkin pie?
Once the pie has completely cooled, wrap it with aluminum foil and refrigerate it until you are ready to serve it. A pumpkin pie will last for 4-5 days if store in an airtight container in the fridge.
Can I freeze pumpkin pie?
Yes, you can! Make sure that it is in an airtight container before placing it in the freezer though. It will last for up to a month this way.
To defrost your pumpkin pie, place it in the fridge and let it defrost slowly overnight.
Pumpkin pie is one of those pies that can be made ahead of time so that it leaves the oven free to bake other things on Thanksgiving day. So feel free to make your pumpkin pie a day or two before your Thanksgiving celebration.
What to top pumpkin pie with?
If you want to take your homemade pumpkin pie up a notch, you can top it with one or a few of these pie topping options:
Dollop of whipped cream
Drizzle of salted caramel
Candied nuts (think pecans, walnuts, cashews or even peanuts)
Ice cream
If you and your family like to top your pumpkin pie slices with something other than what I mentioned up here, we would love to hear from you down in the comments below! What do you like on your pumpkin pie?
Tips for making pumpkin pie from scratch
This recipe calls for blind baking so don't skip that- Many recipes don't call for blind baking the pie crust but many do. Depending on which recipe you are using make sure to follow the exact direction for the best result possible.
Use a pie crust shield to prevent the edges from getting too dark when baking the pie– Because our pie crust has been blind baked, the edges will darken quite fast when you are baking your pumpkin pie. That's the reason why you will have to use a pie crust shield or even a pice or tin foil to cover the edges of the pie without covering the center.
Don't over bake the pie or the top will crack– Pumpkin pies crack at the top if they are over baked. This pie needs 45-55 minutes in the oven. The center will be a little wobbly if you shake the pan and the edges will look a little more firm. Don't worry because your pumpkin pie will continue baking as it cools down.
Let your pie cool before cutting into it- This tip is very important because your pie needs to cool down completely so that the center gets a chance to bake fully.
Want more Thanksgiving recipes?
The best homemade pumpkin pie EVER!
If you enjoyed this homemade pumpkin pie make sure to give it a 5-star rating by clicking on the 5 stars under the title and description.
Rich and creamy homemade pumpkin pie
This easy pumpkin pie is easy to make and tastes absolutely incredible. You're seriously in for a treat this holiday season.
Ingredients
Pie dough
1

prebaked pie shell

See notes
Instructions
Prepare the crust
First start by making your pie crust. Press your pie crust in a 9 inch pie pan, making sure the pie dough is very cold cover it with parchment paper and place your pie weights or dry beans on top then bake in a 425F preheated oven for 15 minutes. Remove the pie weights and the parchment paper and bake for another 10 minutes or until the crust is lightly golden. Let your pie crust cool down.
Prepare the filling
Preheat the oven to 375F then in a large bowl add all the ingredients of the pumpkin pie filling and whisk until smooth. Fill the pre-baked pie shell with the pumpkin pie mixture and place in the oven to bake for 45-55 minutes or until the center is almost set ( it will be a little jiggly in the center but will continue baking as it cools)

If the edges start to brown too quickly, cover them with aluminum foil or your pie crust shield.

Remove from the oven and let the pie cool down completely at room temperature before either serving or covering it tightly with foil and placing it in the fridge overnight.
Notes
This pumpkin pie recipe can be made ahead of time to free up some fridge space for Thanksgiving day so feel free to make it a day or two in advance. 
To get the perfect slices of pie, let your pie chill in the fridge overnight. Once you'r ready to slice into it, wipe your knife with a wet towel, slice then wipe again before you cut into the pie again. 
Nutrition
Calories:
321
Calories
Carbohydrates:
45
g
Protein:
5
g
Fat:
14
g
Saturated Fat:
7
g
Cholesterol:
96
mg
Sodium:
137
mg
Potassium:
234
mg
Fiber:
2
g
Sugar:
30
g
Vitamin A:
8629
IU
Vitamin C:
3
mg
Calcium:
99
mg
Iron:
2
mg
Thank you so much for making it all the way down here
If you tried this awesome game day air fryer recipe and loved it as much as we did, make sure to leave a comment down below to let us know how your keto mousse turned out. In the meantime don't forget to follow us on Instagram.

SHOP THIS RECIPE
This post may contain affiliate posts, meaning that at no cost to you I will get a small percentage of every purchase you make!
If you loved this homemade pumpkin pie recipe make sure to pin it for later!