This chocolate cheesecake mini recipe is made in a 4-inch springform pan and yields a perfectly creamy and smooth chocolate cheesecake for two people. This is the perfect make ahead dessert for Valentine's day or even date night.
SIGN UP TO OUR MAILING LIST GET A FREE WEEKLY MEAL PLANNER AND RECIPE CARD!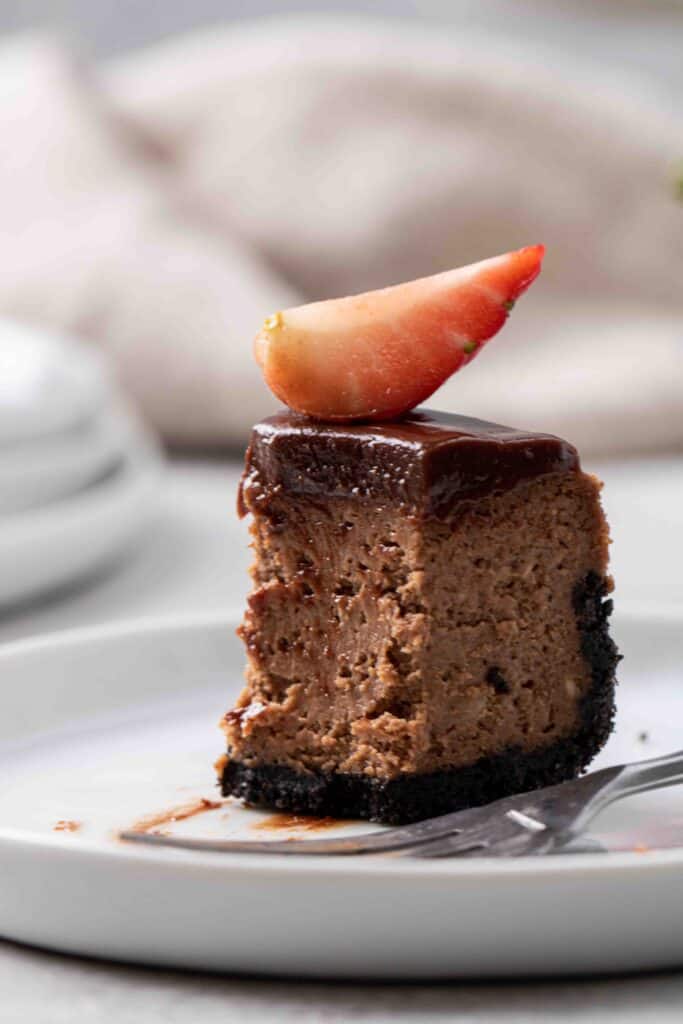 Alright guys!
This Valentine's day we are stepping it up a notch by making this incredible 4 inch chocolate cheesecake, perfectly creamy, and chocolatey for all your Valentine's day need (and year round chocolate cravings of course!)
I feel like chocolate desserts are a universally loved thing and that's why to celebrate the holiday of love, we are going with… You guessed it, a chocolate dessert.
This is the best mini chocolate cheesecake recipe you'll ever try!
The thing with cheesecakes is that they often can be a little bit of pain to make. But fear no more! This one is super easy to make, yields a smooth, creamy, and crack free dessert. The best part is that if it does crack on you, you will be topping it with chocolate ganache so no worries at all. But we will not let that happen!
Make sure to read through the post as I included many helpful tips to make sure that your mini chocolate cheesecake turns out absolutely amazing!
This mini 4 inch chocolate cheesecake is a great make ahead dessert recipe for Valentine's day!
Since my 4-inch Small Burnt Basque Cheesecake for Two/One is one of the most popular recipes on the blog, I knew I had to share something for all my chocolate lovers out there! This recipe is also extra special because it is made with an Oreo crust which in my opinion pairs incredibly with chocolate!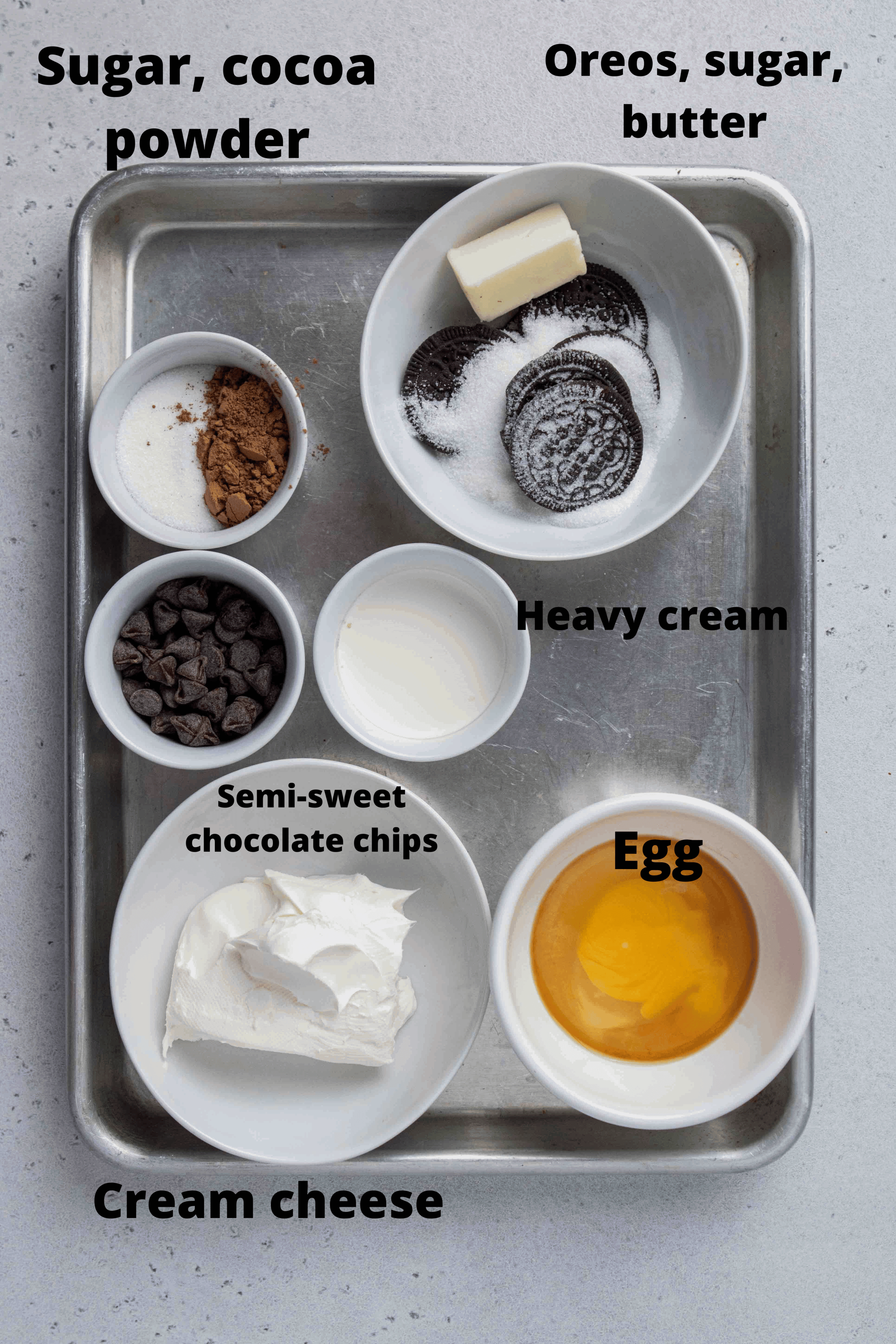 Ingredients to make this chocolate cheesecake mini recipe
To make this 4-inch chocolate cheesecake recipe, here are the ingredients you will need. Make sure to scroll down to the recipe card for the detailed ingredients.
Cream cheese- This recipe requires full fat cream cheese for best results. The cream cheese will also need to be at room temperature.
Heavy cream– The heavy cream add smoothness and richness to this mini chocolate cheesecake.
Semi sweet chocolate– You can use baking chocolate or you can use chocolate chips. This is a fairly easy recipe that doesn't require any crazy ingredients!
Vanilla extract– Vanilla extract is always a plus when making chocolate desserts. It brings out the chocolate flavor so much more.
Egg– You will need a medium sized egg at room temperature.
Cocoa powder– The cocoa powder will help intensify the already mixed in melted chocolate in this recipe.
Sugar– The sugar is gonna be used in both the cheesecake mixture as well as in the Oreo crust.
Oreo cookies– You will need to remove the filling of your Oreo cookies before grinding them to make your Oreo cheesecake crust.
Butter– The butter will be melted and mixed with the Oreos to make the base of this cheesecake.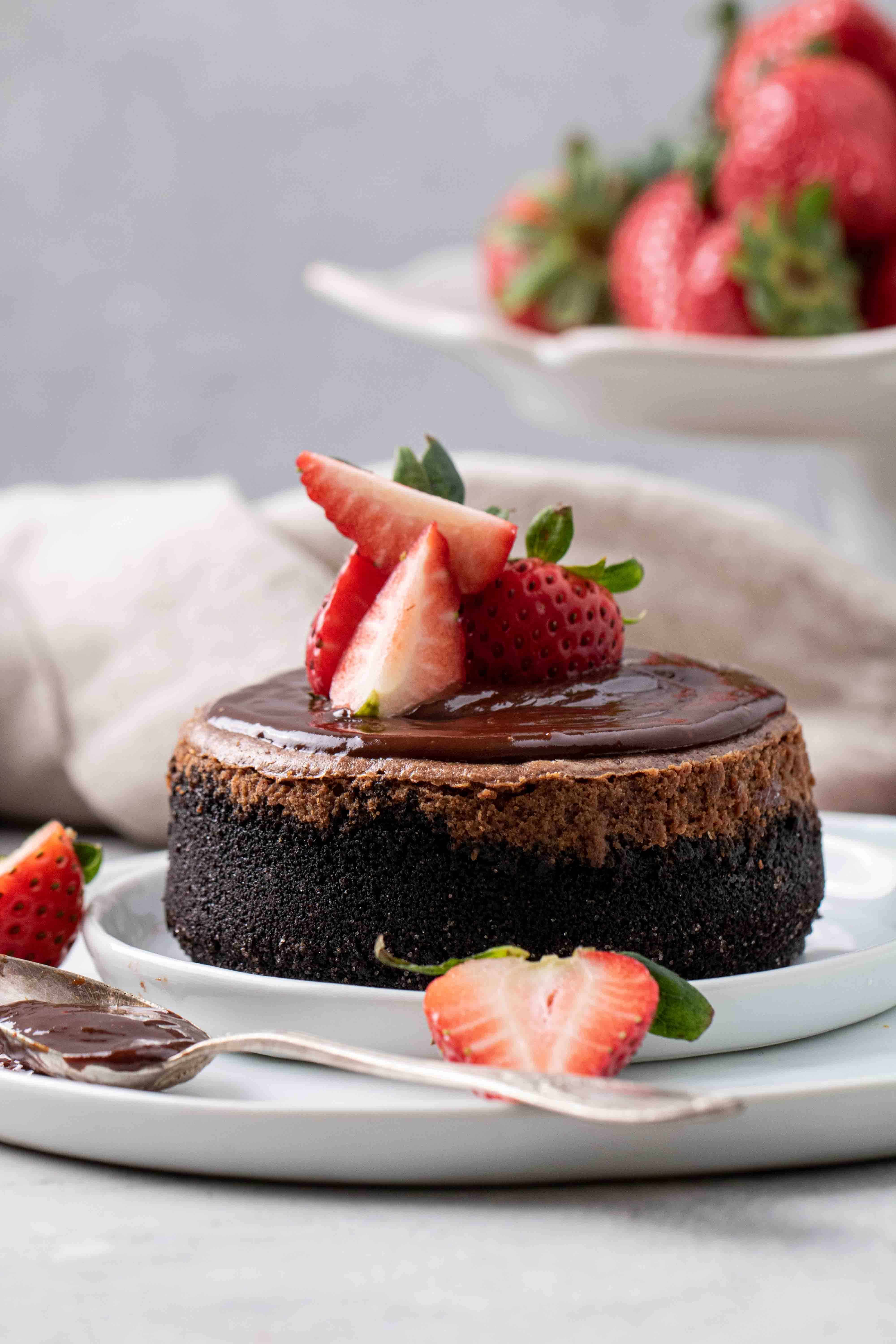 Room temperature ingredients are key for cheesecake!
I learned this the hard way! When making your cheesecake, you have to make sure that all your ingredients are at room temperature because otherwise you will end up with a clumpy cheesecake batter and that's not good at all.
We want a homogenous mixture where everything is perfectly incorporated before baking this cheesecake.
How to make oreo crust for cheesecake
Make sure to scroll down to the recipe card for the detailed steps to make the Oreo crust.
Blend the cookie part of the Oreo in a blender until you have fine crumbs then add in the sugar and the melted butter. The butter will bind everything together.
Transfer the Oreo crust to the parchment lines 4-inch springform pan and gently spread using the bottom of a shot glass. Make sure that it is well packed then bake in a 325F preheated oven for 10 minutes.
How to make chocolate cheesecake
Here is how you will make the chocolate cheese cake, make sure to scroll down to the recipe card for the full recipe instructions.
Mix the cream cheese, heavy cream, sugar, cocoa powder, and vanilla extract in a medium bowl.
Add in the egg and beat just until combined.
Pour the cheesecake batter in the crust and bake in the preheated oven for 30 minutes.
Let the cheesecake cool in the turned off oven with the door propped open with a wooden spoon.
Pull out the cheesecake from the oven and run a sharp knife around the edges then let it get to room temperature for 30-60 minutes.
Chill the cheesecake in the fridge for at least 4 hours.
Top with the chocolate ganache, let it sit for at least 15 minutes, then top with the strawberries and enjoy!
Chocolate ganache is one of the most fun, most satisfying things to make if you asked me. After baking and chilling your cheese cake for a few hours in the fridge, combine the chocolate chips and the heavy cream and microwave in 30 second intervals until the mixture is melted. Make sure to stir between each interval to know how melted everything is.
Once the ganache is ready, pour it over your mini chocolate cheesecake and let it sit for 15-20 minutes then serve!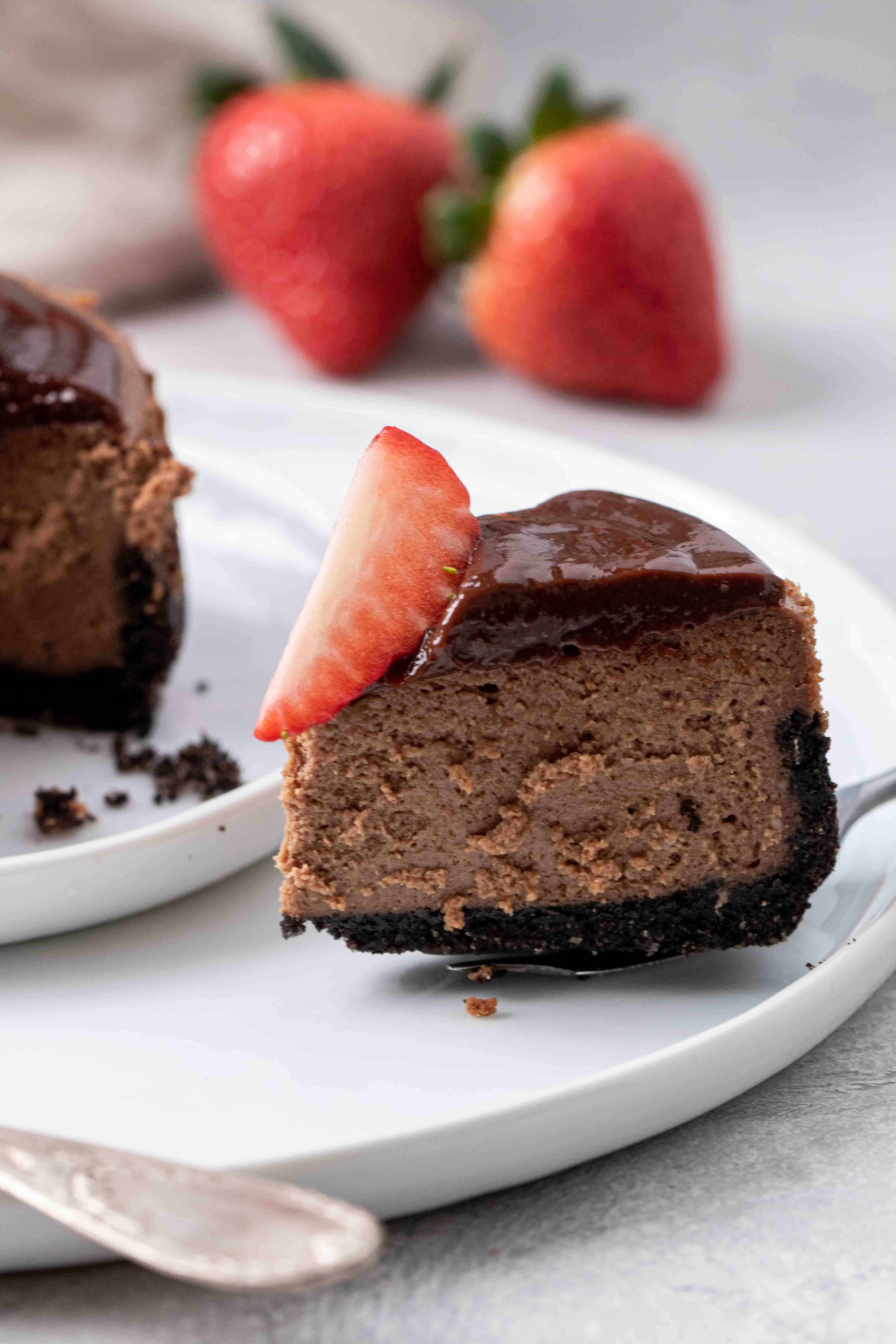 How long do I have to chill this chocolate cheesecake?
When it comes to chilling your cheesecake, you need to first let it cool at room temperature for an hour or two. Then place it in the fridge for at least 4 hours. I like to leave in the fridge overnight so I don't have to constantly go and check on it and risk eating it before it's fully cooled. ( I have no self control when face with this beauty!)
Tips for a crack-free mini chocolate cheesecake!
Here are a few tips to keep your cheesecake looking glorious and crack free:
Don't over beat the egg– Beat your egg just enough to get it combined with the rest of the ingredients. Over beating your eggs can cause the mini chocolate cheesecake to crack and have a not so creamy texture.
Keep the oven door closed while the cheesecake is baking- This is a hard one, I know! But opening your oven door halfway through the baking time will drop the oven temperature too quickly which will throw off the baking of your cheesecake and causing it to sink and crack.
Slowly cool your cheesecake- This cheesecake cools in 3 different steps, first in the turned off oven with the oven door cracked, then at room temperature, then in the fridge. Don't cool it too fast as that might cause for it to crack!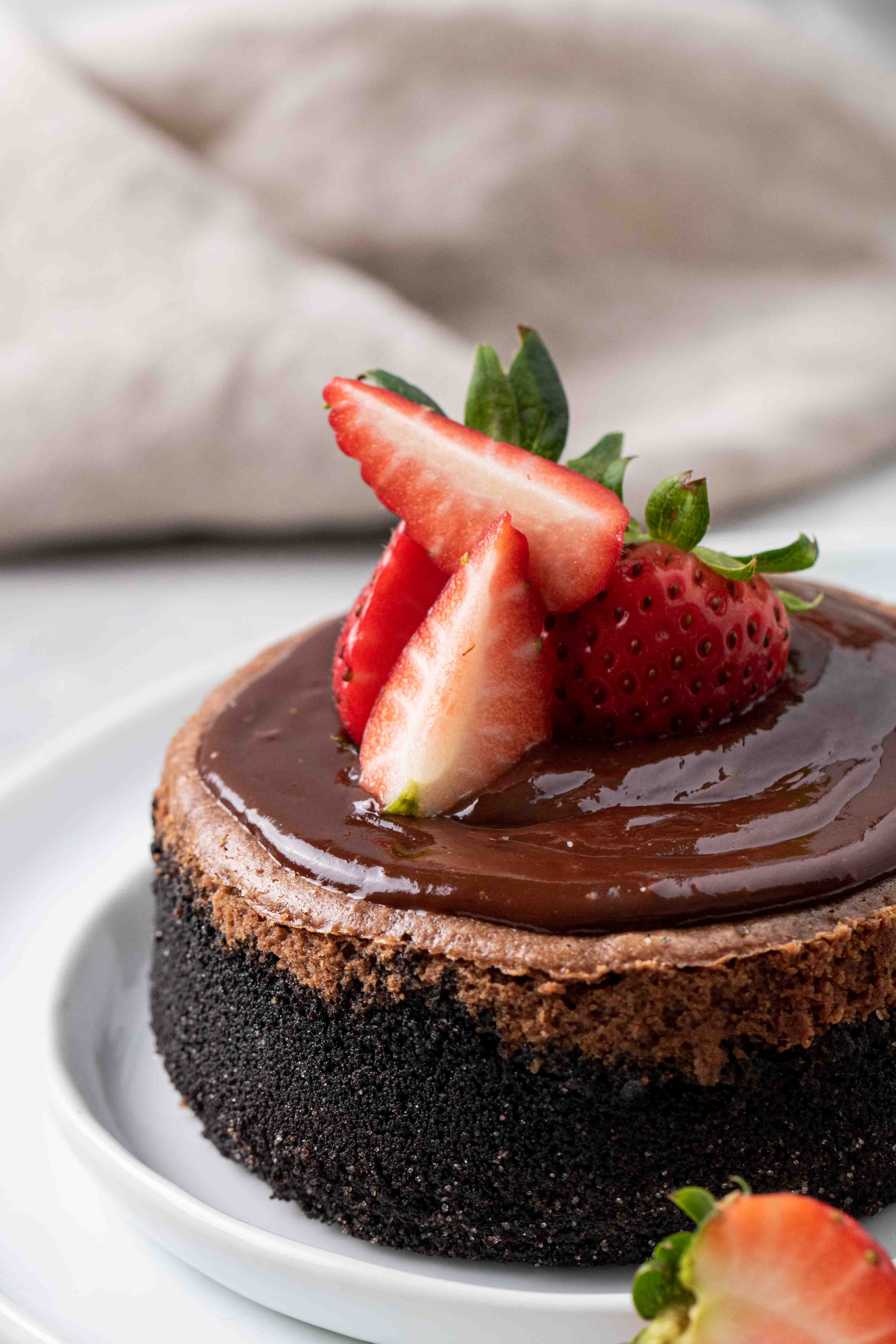 More cheesecake recipes!
How to I know if my cheesecake is done baking?
You will know your cheesecake is done baking when the center is jiggly but the edges are starting to set. This cheesecake will puff up a bit, but if you touch the center you can feel a slight bounce back with a little bit of a jiggle to it.
Don't worry about it being raw because it will continue baking as it cools.
How does this mini chocolate cheesecake taste like?
This mini chocolate cheesecake tastes like heaven pretty much. It is creamy, rich, and super chocolatey. The addition of the chocolate ganache is the perfect play on different textures as well.
How to store your chocolate cheesecake mini dessert for two
Since this is a mini 4-inch chocolate cheesecake, it is a lot simpler to store compared to your regular cheesecakes. I usually place my cheesecake in a glass air tight container and place it in the fridge.
This will protect it from absorbing any of the odors that might be in the fridge and will keep it fresh for longer.
You can store your cheesecake for two in the fridge for up to a week but know that after 2 days the crust will not be as fresh!
How to freeze this chocolate cheesecake for two
To freeze you mini chocolate cheesecake you will need to chill it in the fridge for at least 4 hours to make sure that it is properly set then wrap in plastic then foil to reduce the chance of freezer burn and freeze for up to 2 months.
You can also freeze your cheesecake in an airtight container if you're planning on enjoying it sooner than 2 months..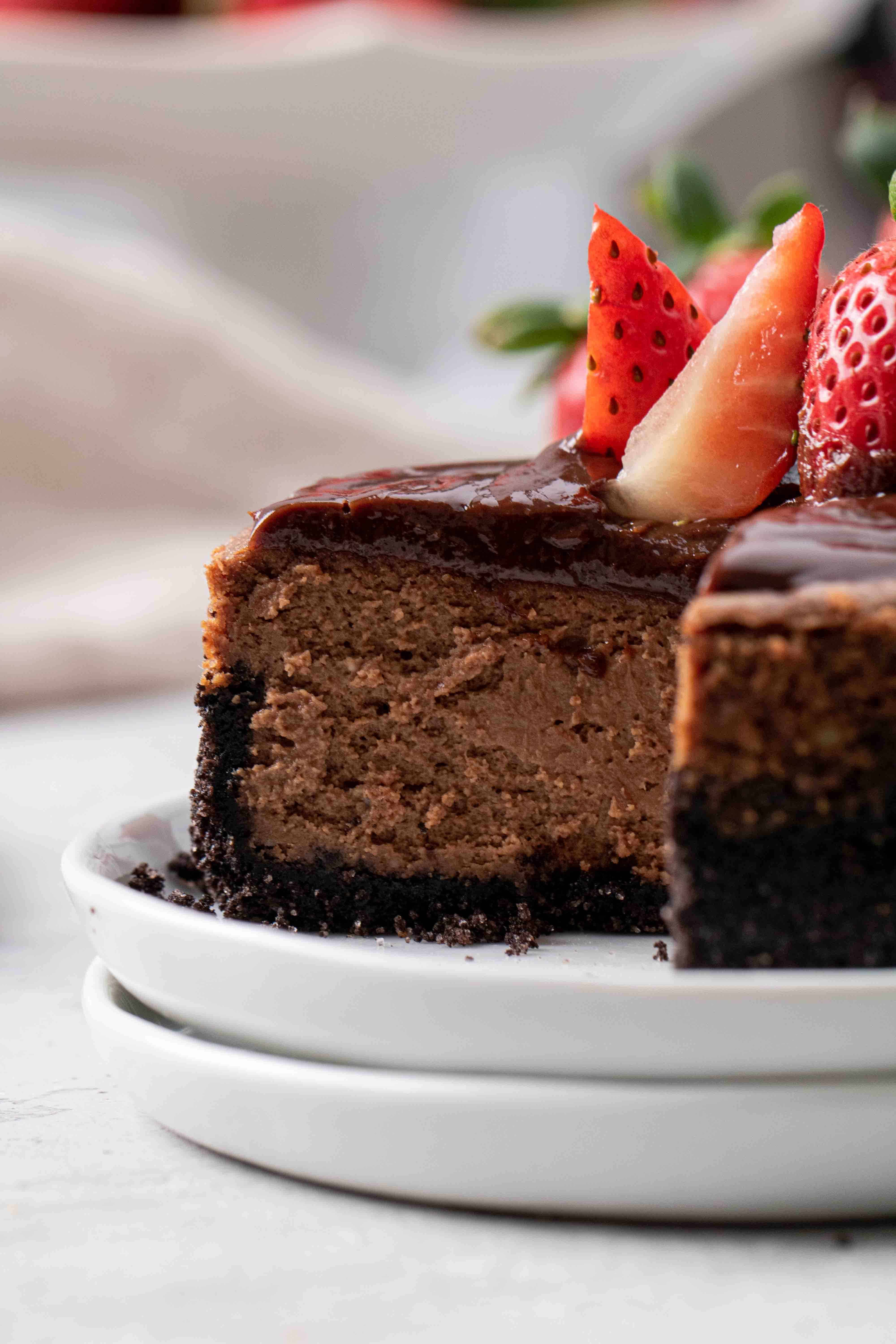 What to top your mini chocolate cheesecake with?
This is one of my favorite parts of making cheesecake! The toppings! Here are a few topping ideas that you can use when making your next chocolate cheesecake:
Chocolate ganache
Chocolate shavings
Piped chocolate whipped cream
Piped peanut butter whipped cream
Peanut butter drizzles
Cherry pie filling
candied nuts
Strawberries or any berries
Caramel
These are only a few of my favorite toppings for chocolate cheesecakes but just experiment and see what you really like! Let us know in the comments below what your favorite cheesecake toppings are 🙂
Can you make chocoalte cheesecake ahead of time?
Absolutely!
Sometimes life gets busy and you might want to get as much preparation done before your big event. Since cheesecakes need quite a lot of chilling before serving they are the best make ahead dessert.
You can make your cheesecake up to 2 days before you want to serve it. I usually like to make it during the late afternoon so that I have enough time to cool it outside of the fridge then I leave it in the fridge overnight for a perfect dessert the next day!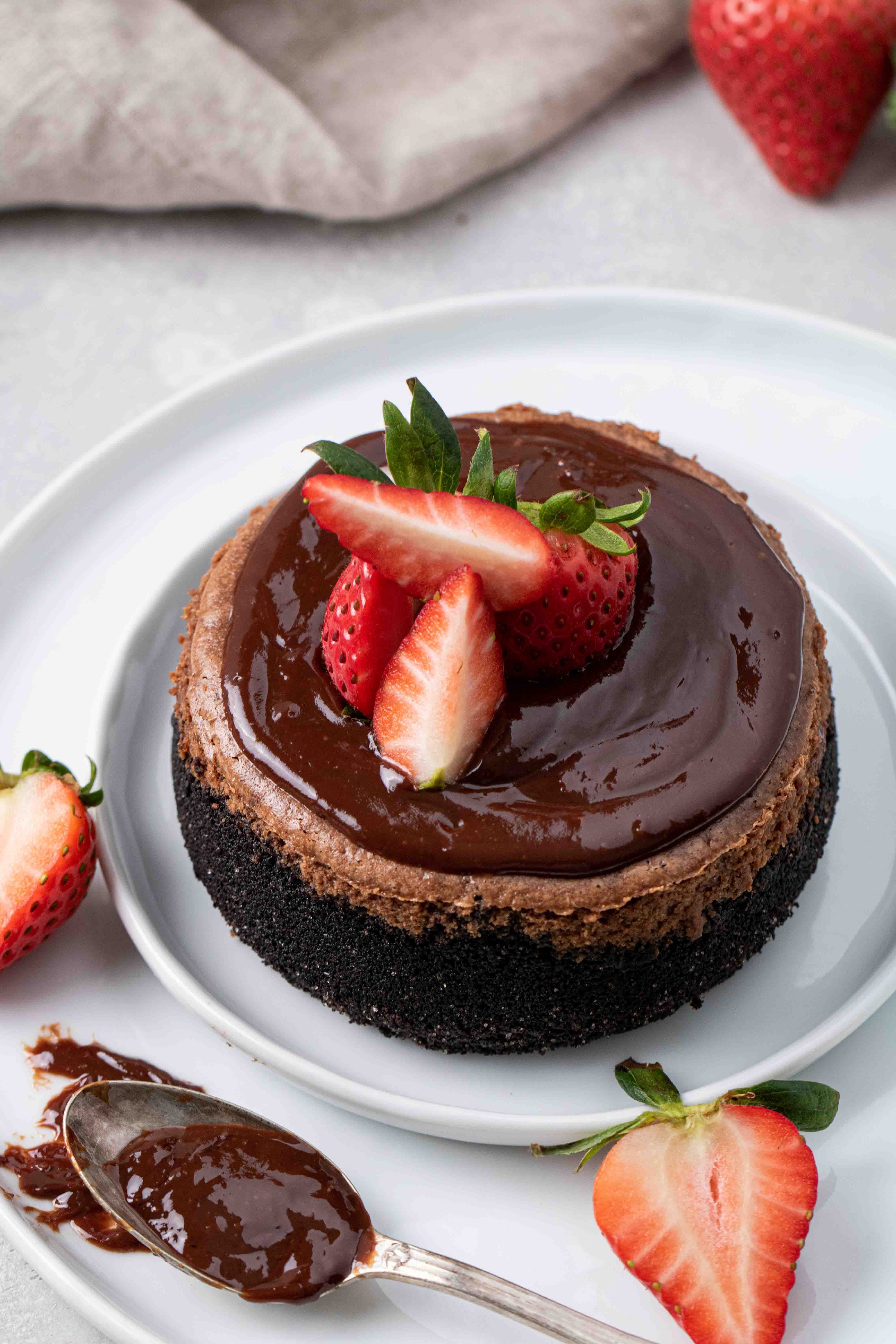 Mini chocolate cheesecake for two
If you tried and enjoyed this mini chocolate cheesecake for two, make sure to give it a 5-star rating by clicking on the 5 stars under the description.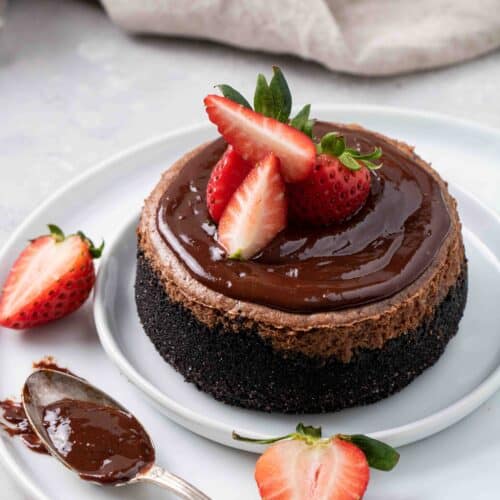 4-inch chocolate cheesecake mini recipe
This rich and creamy mini chocolate cheesecake is made in a 4-inch springform pan to make the perfect little dessert for two. This is also one of the best Valentine's day dessert!
Equipment
4-inch mini springform pan
Ingredients
4

oz

Cream cheese

At room temperature

2

tablespoon

Heavy cream

At room temperature

2

tablespoon

Sugar

2

teaspoon

Cocoa powder

1

medium

Egg

at room temperature

¼

teaspoon

vanilla
For the Oreo crust
4

oreos

with the creamy center removed

1

tablespoon

butter

melted

½

tablespoon

granulated sugar
Chocolate ganache
1

oz

semi sweet chocolate chips

1

oz

heavy cream

Strawberries for topping

Optional
Instructions
First, start by preheating the oven to 325F then line the bottom of your 4-inch mini cheesecake pan with parchment paper and set aside.

In a food processor add in the 4 Oreo cookies (minus the creamy filling) and the sugar then pulse until crumbly, add in the melted butter and pulse until the mixture looks wet. Add the Oreo cookie mixture to the prepared springform pan and pack using a shot glass.

Bake the crust in the preheated oven for 10 minutes, then lower the oven temperature to 300F. Pull the crust out and let it cool completely.
Make the cheesecake filling
In a large bowl mix the cream cheese, heavy cream, sugar, cocoa powder, and vanilla until combined. Add in the egg and beat just until combined. Don't over mix!

Pour the cheesecake mixture into the crust and bake for 30 minutes. The cheesecake will be slightly jiggly in the center but set around the edges.

Once the cheesecake is done baking, turn off the oven, and prop open the oven door with a wooden skewer. Let the cheesecake cool in the oven for 30 minutes.

Pull the cheesecake out of the oven and gently run a sharp knife around the edges then let it cool at room temperature for 30 minutes to an hour then transfer to the fridge for at least 4 hours.
Make the chocolate ganache
In a microwave safe bowl add in the chocolate chips and heavy cream then microwave in 30 second increments, making sure to stir after each 30 second increment. Once the chocolate heavy cream mixture is fully melted, pour over your chilled cheesecake and let it set for 15-20 minutes, decorate with strawberries and enjoy!
Notes
Make sure to read through the articles to get the best tips and tricks for the perfect crack free chocolate cheesecake. 
Nutrition
Calories:
633
Calories
Carbohydrates:
43
g
Protein:
9
g
Fat:
48
g
Saturated Fat:
27
g
Trans Fat:
1
g
Cholesterol:
200
mg
Sodium:
387
mg
Potassium:
280
mg
Fiber:
2
g
Sugar:
32
g
Vitamin A:
1492
IU
Vitamin C:
1
mg
Calcium:
104
mg
Iron:
4
mg
Thank you so much for making it down here!
Did you enjoy these football brownie bites? We would love it if you could leave a comment letting us know. In the meantime don't forget to follow us on Instagram.

Shop this recipe
This post may contain affiliate posts, meaning that at no cost to you I will get a small percentage of every purchase you make!
If you enjoyed this Valentine's day chocolate cheesecake for two make sure to pin it for later!