Starbucks grilled cheese sandwich is one of the tastiest Starbucks savory things they offer. Made with a thick sourdough bread, three types of cheese, white cheddar and mozzarella, and a parmesan butter spread to bring it all together. With this recipe, you'll be able to recreate your favorite Starbucks bakery item and save money too!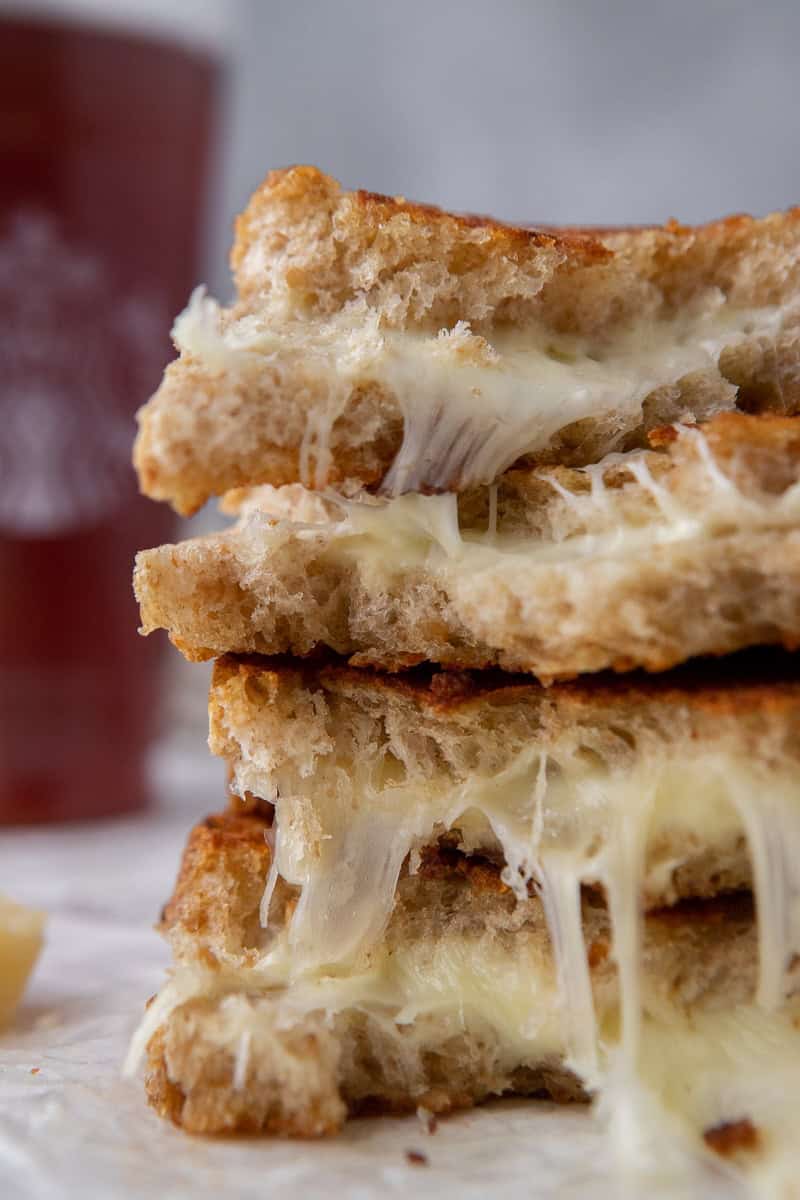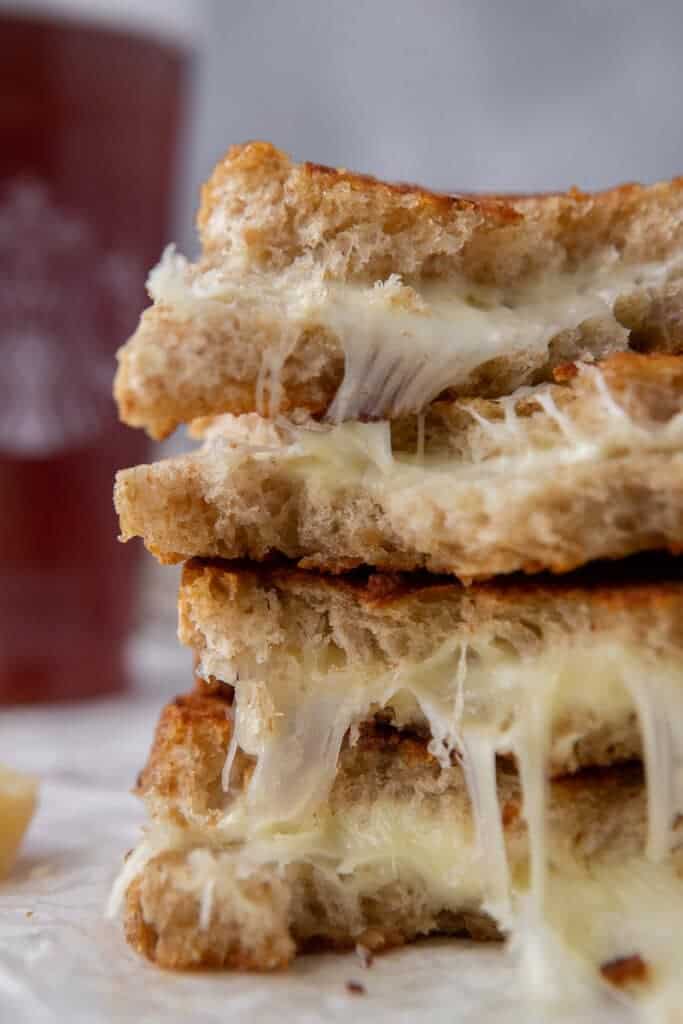 This is the best Starbucks grilled cheese recipe ever!
There is something extra special about the Starbucks frilled cheese sandwich. They took a super simple sandwich and elevated it thanks to the parmesan butter on the outside which will give the sandwich extra depth of flavor, crunch, and saltiness.
Pretty much all the things an grilled cheese should have. Plus it has two types of cheeses inside, white cheddar, and mozzarella for that crazy ooey gooey, cheezy pull after it's been toasted. Trust me you want to make this ASAP!
Why do you need to make this recipe?
It is a super easy yet fancy grilled cheese sandwich.
You'll save a ton of money with this recipe.
No need to waste that extra time at the drive through. Now you can make and enjoy the Starbucks grilled cheese sandwich at home!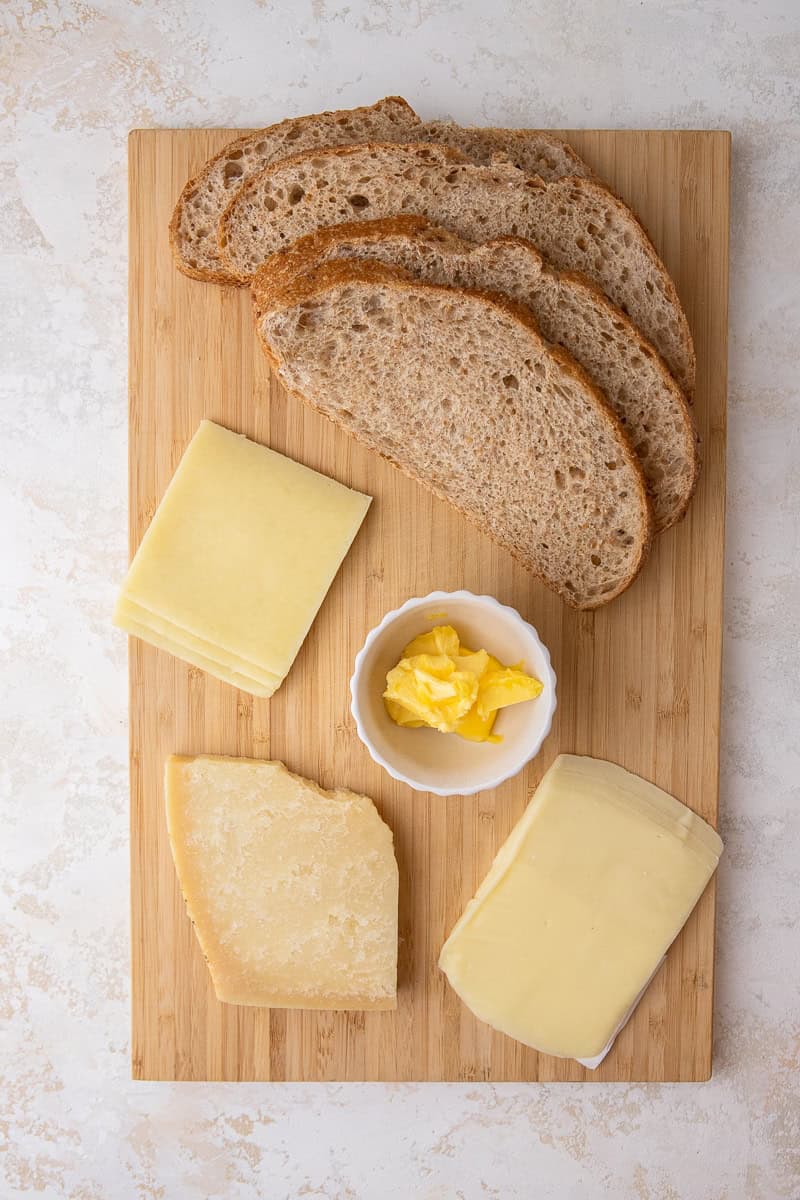 Ingredients for this Starbucks grilled cheese sandwich.
Here are the ingredients you will need to make this recipe. Make sure to scroll down to the recipe card for the full detailed ingredient measurements.
Parmesan- This will be mixed with the butter.
Butter– Use good quality butter for this recipe.
White cheddar– White cheddar slices is what Starbucks uses.
Mozzarella– Get high quality mozzarella for that perfect oeey gooey oozing center.
Sourdough – Grab your favorite sour dough thick cut sliced bread for this.
How to make this grilled cheese sandwich.
This is how you can make this sandwich. Make sure to scroll down to the recipe card for the full detailed instructions!
Grate the parmesan into the softened butter.
Mix together then spread onto the outside of the sourdough bread.
Layer the white cheddar and mozzarella on there and top with the sourdough bread butter side out.
Grill on a non stick cooking pan until toasted, about 1-2 minutes per side.
Enjoy your delicious creation.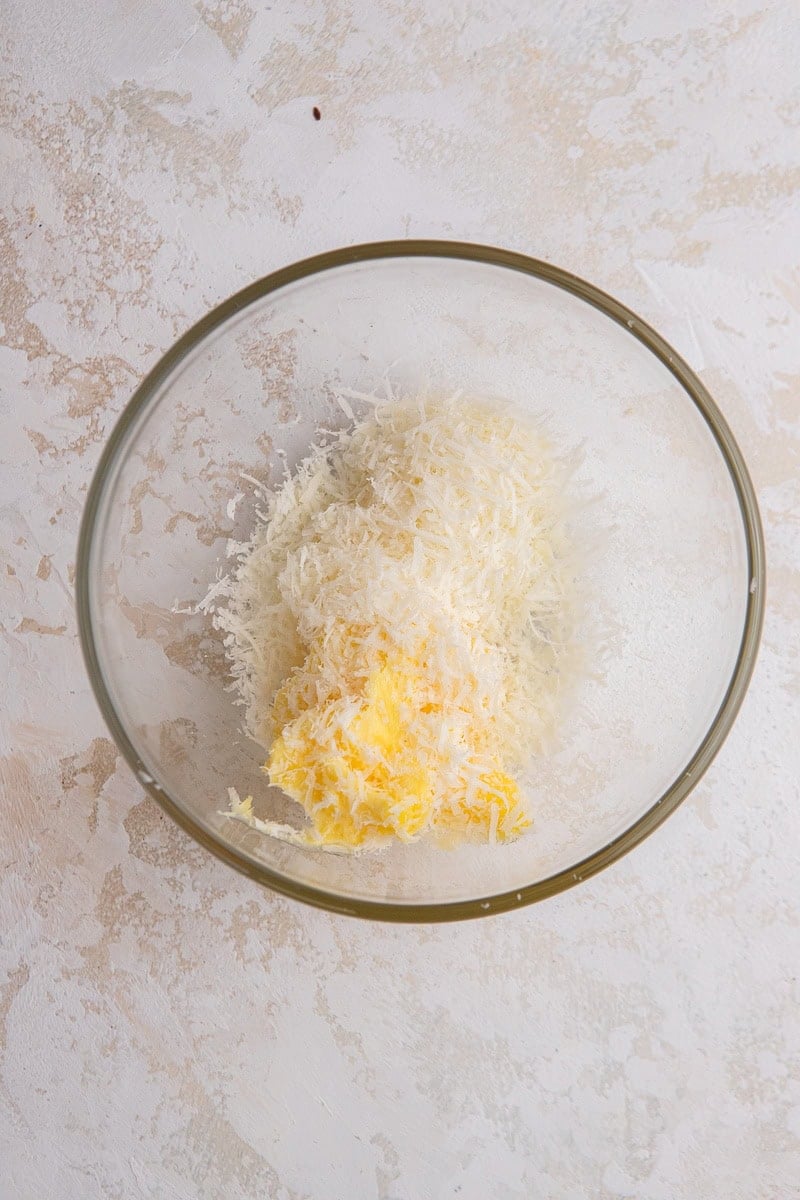 Frequently asked questions – FAQ
what equipment do you need to make the Starbucks grilled cheese?
You would need a good pan, a spatula, small mixing bowl and a knife to spread the cheesy butter on your sourdough.
A parmesan grater is optional if you want to grate your own cheese which I think adds extra pizaz to this recipe!
How to store grilled cheese?
Grilled cheese is best enjoyed as soon as you make it. If you have any leftovers you can keep them in an air tight container for up to 3 days in the fridge.
Reheat the sandwich either in the microwave or on the stovetop on medium low heat for a few minutes on each side and enjoy.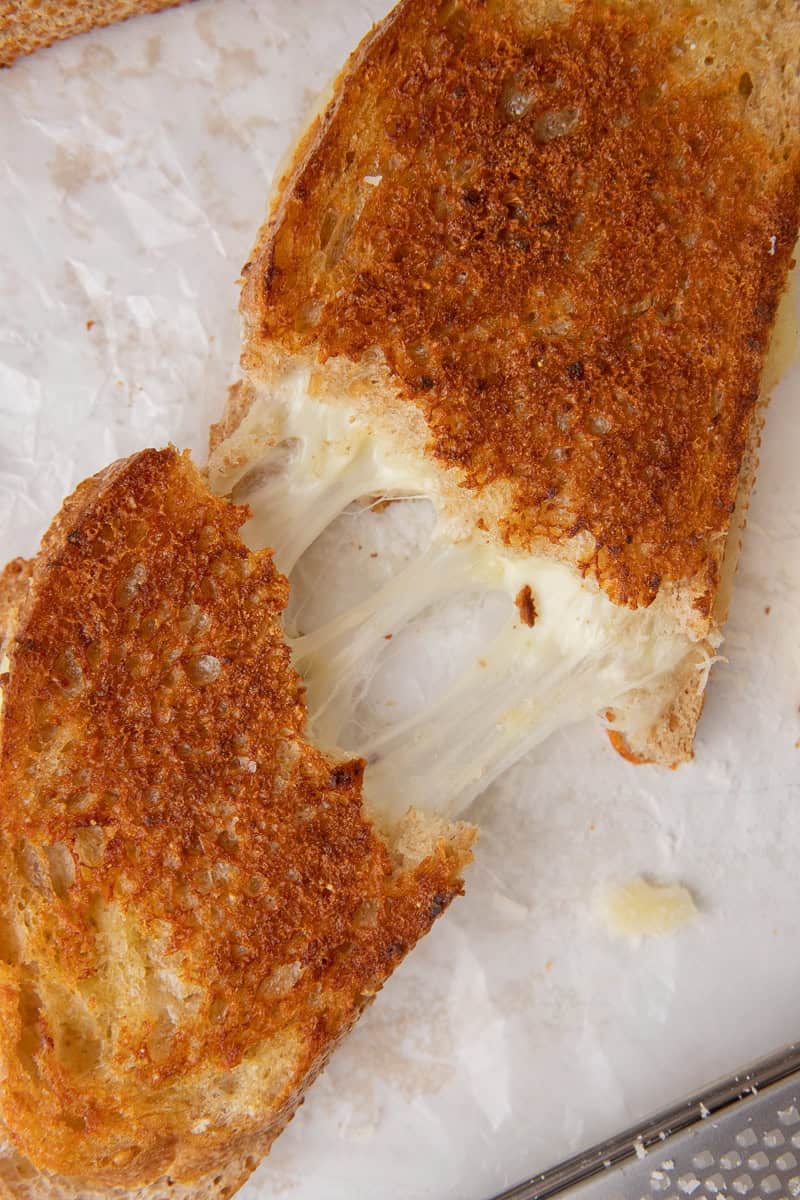 Can I use other cheeses?
Absolutely. The cheese selection here was to get this recipe as close to the Starbucks version but here are other cheeses that would make this sandwich AMAZING!
Swiss
Munster
Gruyere
Fontina
Havarti
Orange cheddar
Pepper Jack
Colby Jack
Can I use other breads?
Of course!
I definitely think some breads are better than others but use whatever bread you usually love to use for grilled cheeses. Brioche is delicious, thick multigrain bread slices, or even ciabatta work wonders.
What to serve with this grilled cheese sandwich?
If you're trying to get the full Starbucks experience, I would go with my Starbucks iced caramel macchiato recipe.
Or you can go on a more traditional route and serve it with tomato soud or even a ceasar salad.
What is the best Starbucks Sandwich?
That is a question for you to answer but personally I think this grilled cheese is definitely up there!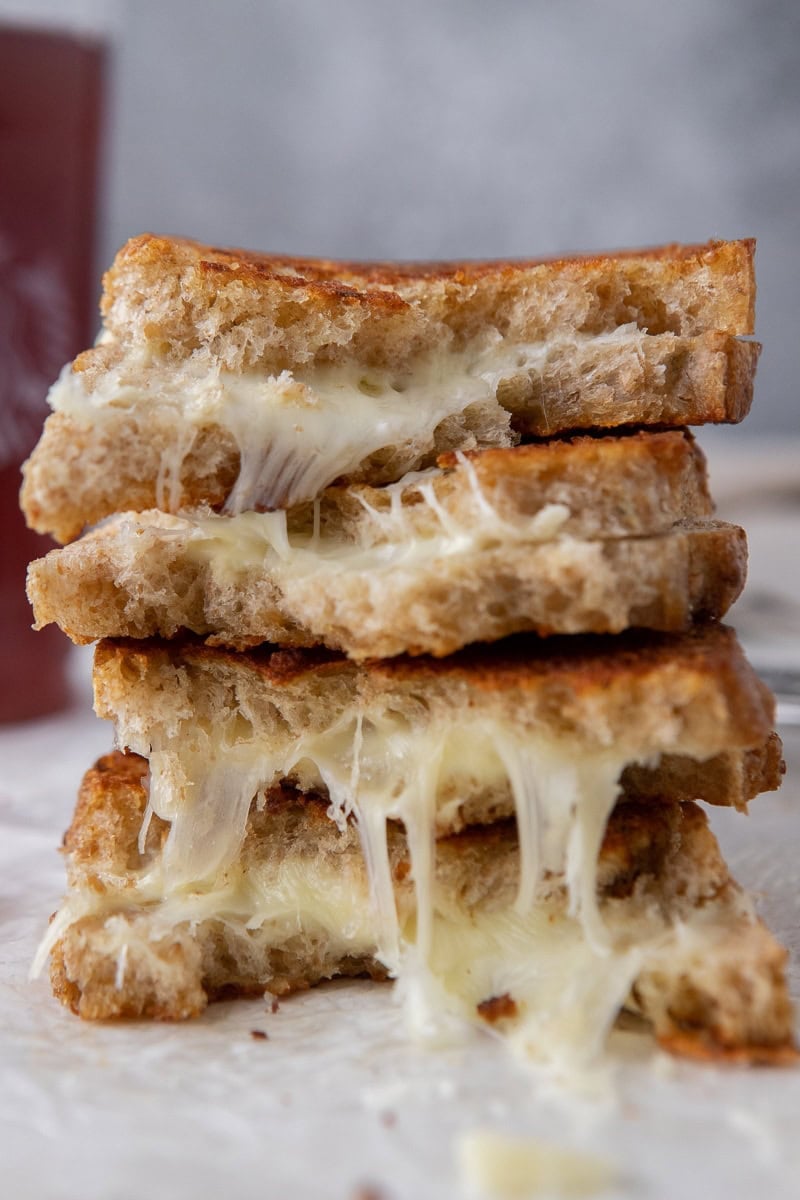 Starbucks Grilled Cheese recipe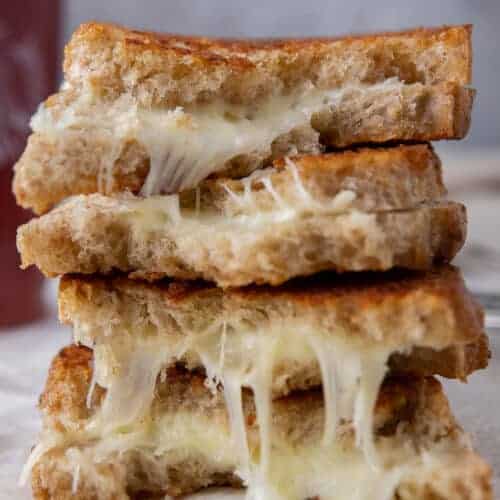 Starbucks Grilled Cheese recipe
This starbucks grilled cheese sandwich is the ultimate copycat from your favorite coffee shop chain!
Ingredients
3

tablespoon

butter

softened

3

tablespoon

parmesan cheese

4

sliced

sourdough bread

3

slice

white cheddar cheese

divided

3

slices

mozzarella cheese

divided
Instructions
In a small bowl, mix the softened butter and parmesan cheese together.

Spread the butter mixture on the outside of the sourdough bread slices.

Place 1 & ½ slices of mozzarella and 1 & ½ slices of white cheddar on the non buttered side. Top the sandwich with the remaining piece of toast, keeping the buttered side outside.

Heat a large pan or skillet on medium-low heat, place the sandwiches on there and toast each side for 1-2 minutes or until the outside is toasty and the cheese is melted. Want the cheese to melt faster? Cover with a lid.

Remove the grilled cheeses from the pan, slice in half, and enjoy!
Nutrition
Calories:
484
Calories
Carbohydrates:
3
g
Protein:
22
g
Fat:
43
g
Saturated Fat:
26
g
Polyunsaturated Fat:
2
g
Monounsaturated Fat:
11
g
Trans Fat:
1
g
Cholesterol:
126
mg
Sodium:
806
mg
Potassium:
77
mg
Fiber:
0.04
g
Sugar:
1
g
Vitamin A:
1292
IU
Calcium:
605
mg
Iron:
0.4
mg