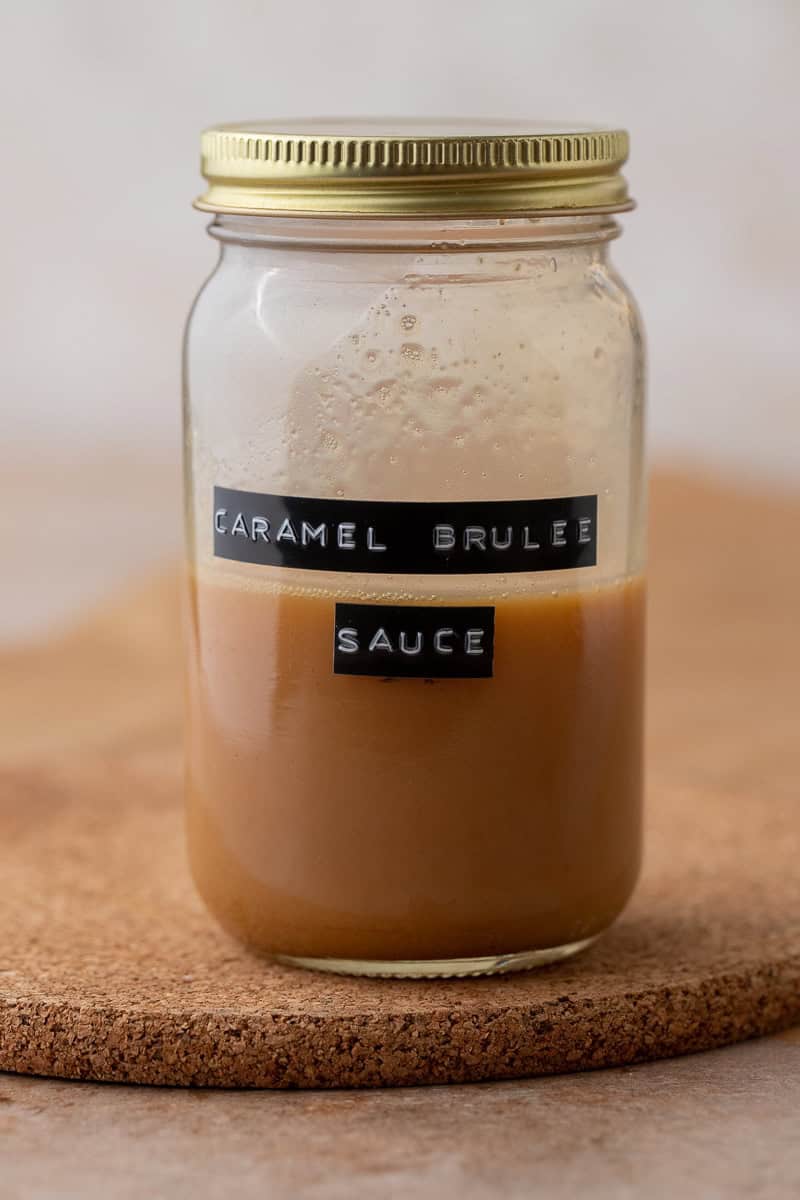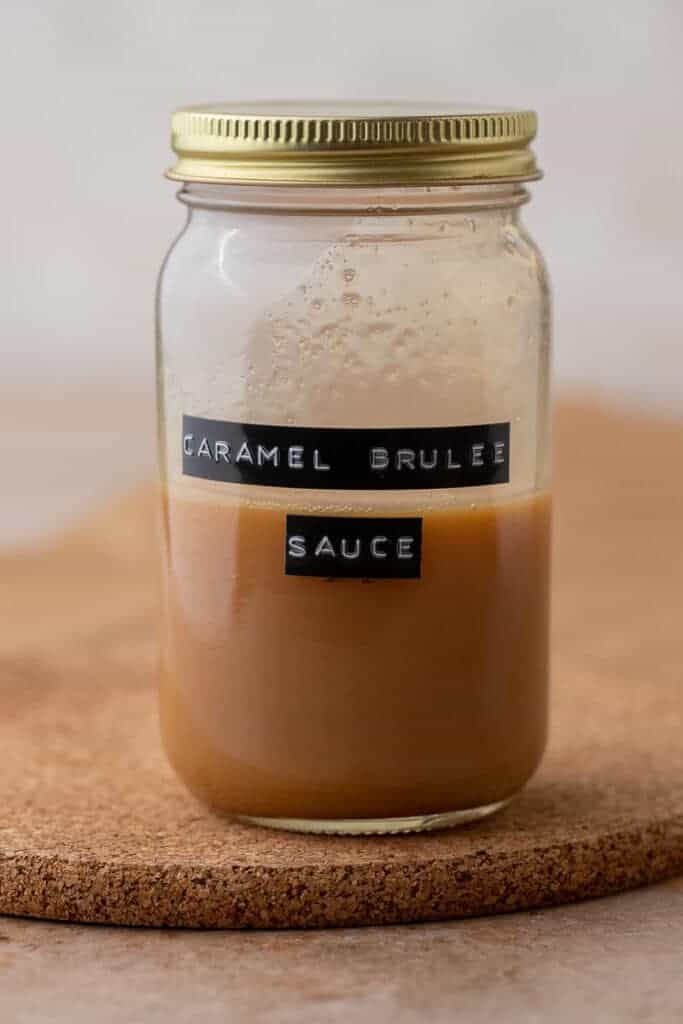 If the Starbucks caramel brulée latte is your coffee drink of choice whenever Starbucks releases its yearly holiday drinks menu then you have come to the right place. After trying it in stores yesterday, I immediately researched the syrup online and tried to figure out how to make it at home because a large coffee was upwards of $7, and with the price of everything at the moment I figured it might be better to just make it at home.
This is the best Starbucks caramel brulee sauce recipe
After the drink launched this year I saw a ton of people getting it too, plus the requests rolled in which was a tale tale sign that this is truly a fan favorite so now here we are.
mixing sugar and skim milk powder to create something magical that would taste somewhat close to the real deal!
Why you need to make this recipe!
It will save you a ton of money in the long run. By making this drink at home it will cost you a fraction of the price that you would pay in stores!
This recipe only uses a handful of ingredients and tastes out of this world.
It will take your regular caramel latte to the next level!
No need to wait so long in the drive-through of your local Starbucks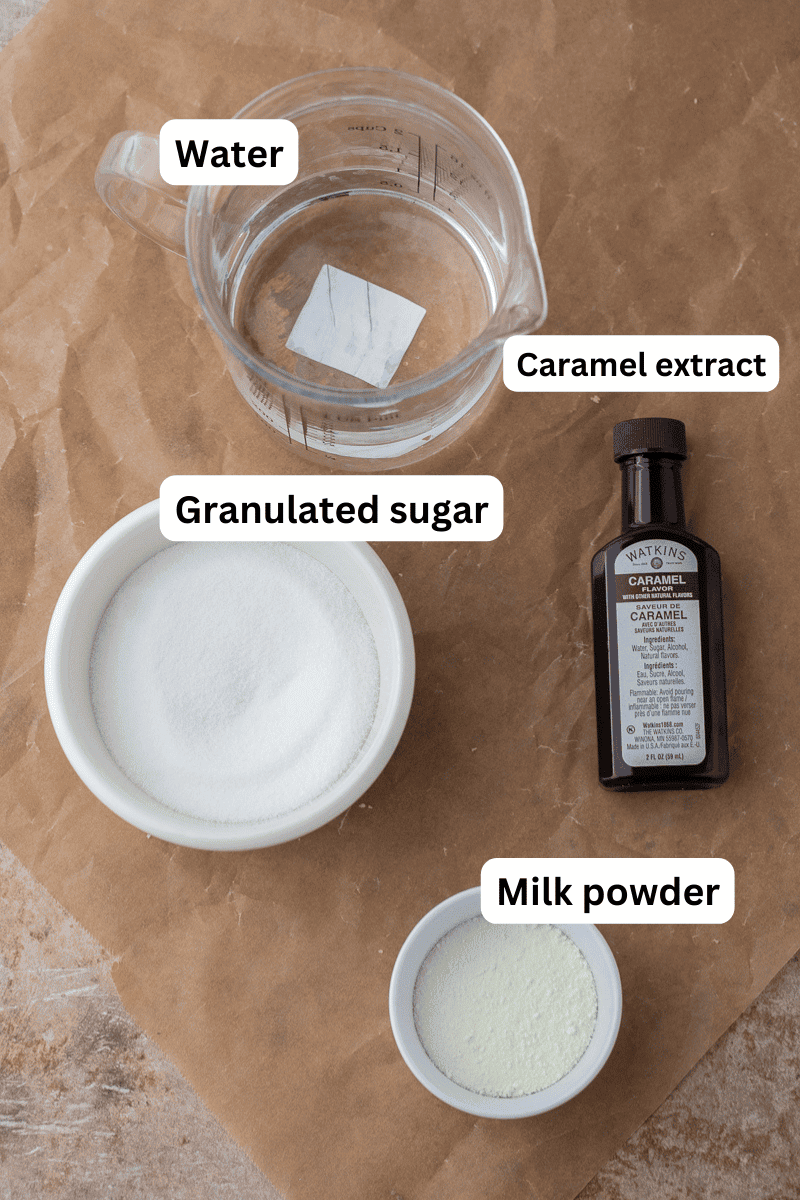 Ingredients for this rich caramel brulée sauce
Here are the ingredients you will need to make this coffee syrup. Make sure to scroll down to the recipe card for the full detailed ingredient measurements.
Sugar– We use white sugar that we caramelize in a pot to create a deeper caramel flavor just like your favorite coffee shop drink!
Water
Milk powder– In the ingredients on this sauce, it mentioned skim milk powder so I added it to the sauce to help deepen the flavor and thicken it a bit more while keeping it creamy
Caramel extract– Starbucks says they use natural flavors in this syrup but I really think they use some sort of a mixture to get the caramel flavoring to shine even more.
How to make this caramel Brulee syrup at home?
This is how you can make one of your favorite Starbucks syrups at home! Make sure to scroll down to the recipe card for the full detailed instructions!
Caramelize the granulated sugar in a pot.
Add in the water and stir over medium heat until the mixture is melted. Don't worry if the sugar seizes, the heat will dissolve it again.
Add in the milk powder and simmer for 8-10 minutes.
Let the mixture cool down so it thickens.
Using your new favorite syrup make the caramel brûlée latte and enjoy it this holiday season!
Frequently asked questions – FAQ
How to store caramel brulee sauce?
You can store this sauce in an airtight container in the fridge for up to 2 weeks.
How to make the caramel brulee latte at home?
To make this drink at home, all you have to do is steam the milk, pour it in a cup with the caramel brulee sauce then top it off with an espresso shot. Use your favorite espresso shot but if you want to use Starbucks' signature espresso go for it. It will make the drink taste even closer to the real deal.
Top the drink with whipped cream and the caramel brulée bits
.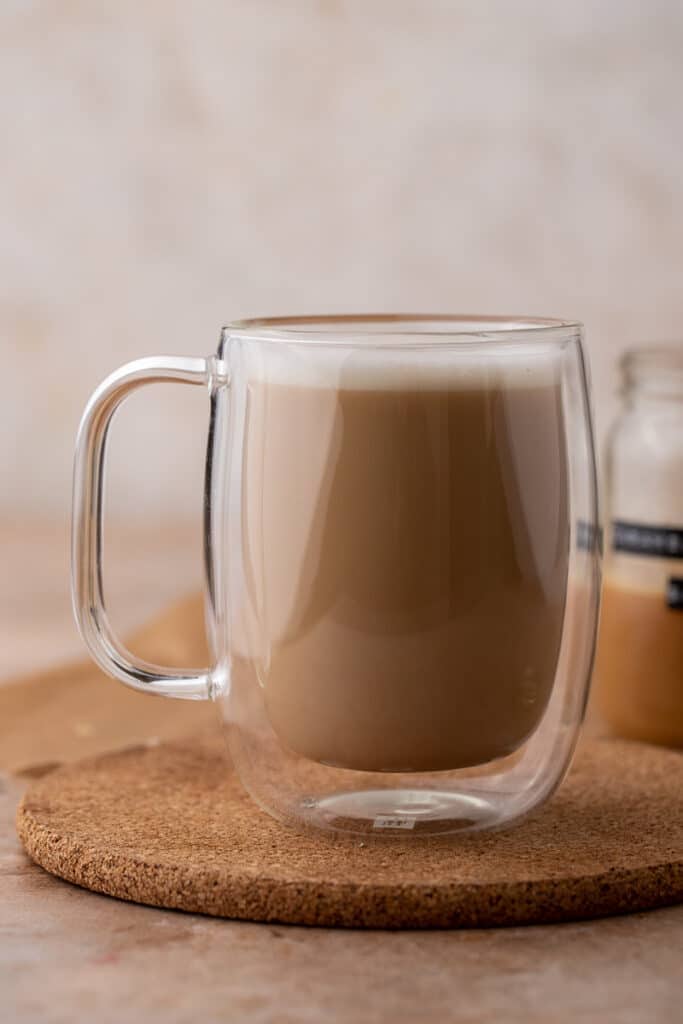 Can I make an iced caramel brulee latte with this?
Of course! Follow the same directions as the steps I shared above if you want to use this sauce in an iced latte , just don't use steamed milk and instead go for cold milk. This way you will have a simple recipe that you can switch around depending on what you are feeling that day!
What else can I use this syrup for?
This sauce is so tasty that you can pretty much use it with anything! Some of my favorite ways to use it would be
drizzled on top of ice cream
With pancakes, French toast, or even Waffles
To flavor your whipped cream
In milkshakes
Can I use this syrup in my hot coffee?
Absolutely! This syrup can be used in regular hot coffee as well. Starbucks uses it in their latte recipe but feel free to get creative with it as well. As a rule of thumb, this syrup will work in any coffee or espresso-based beverage.
How is this different from regular caramel syrup?
This is more of a sauce than syrup. Usually, At Starbucks, they use the liquid clear brownish syrup that you can find in stores but this one is a thicker almost like a thinner caramel sauce kind of syrup and I'm showing you exactly how to make it at home!
Caramel brulee syrup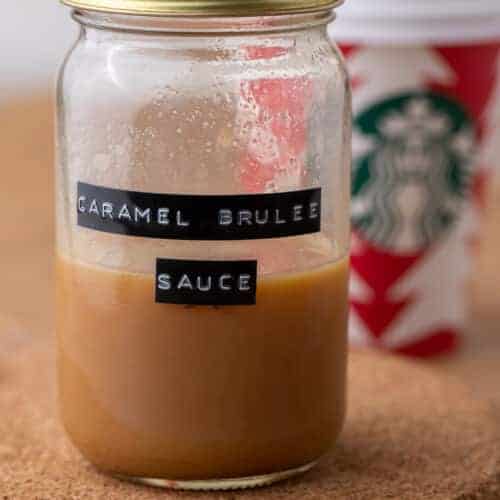 Starbucks caramel brulee sauce
This Starbucks caramel brulee sauce is the copycat recipe of your favorite holiday drink from Starbucks. It is sweet creamy, and full of caramel flavors.
Ingredients
½

cup

granulated sugar

1

cup

water

warm if possible, this will only speed up the process. If you don't want to wait for you water to warm up you can use room temperature or cold water.

3

tablespoon

milk powder

1

teaspoon

caramel extract
Instructions
Start by melting the granulated sugar over medium heat to make the caramel. Once you notice the bottom layer start to melt, give it a good stir and let the rest melt as well. Make sure to keep an eye on your caramel because we don't want it to darken too much.

Once the sugar is mainly melted and has turned into ambercolored caramel, add in the water. The sugar will seize but keep the pot over medium heat and stir to dissolve.

Once the sugar is almost fully dissolved add in the milk powder and continue to stir. Once combined, bring the mixture to a boil then reduce to a brisk simmer. Let the sauce simmer for 8-10 minutes keeping an eye on it so it doesn't boil over.

When the timer is almost up (30 seconds), add in the caramel extract and stir. Let the mixture cool down before transferring it to a jar and storing it in the fridge or using it in your favorite coffee or latte.

1 teaspoon caramel extract
Notes
To use this in your drinks, add as little as 1 tablespoon or as much as 3-4 tablespoons to match the size of your drinks and the sweetness level desired. 
Store it in the fridge for up to 7 days. 
Nutrition
Calories:
124
Calories
Carbohydrates:
27
g
Protein:
1
g
Fat:
2
g
Saturated Fat:
1
g
Polyunsaturated Fat:
0.04
g
Monounsaturated Fat:
0.4
g
Cholesterol:
5
mg
Sodium:
24
mg
Potassium:
75
mg
Sugar:
27
g
Vitamin A:
53
IU
Vitamin C:
0.5
mg
Calcium:
53
mg
Iron:
0.04
mg
This syrup will make the best caramel drink at home, It will definitely remind you of the real thing!

Shop this recipe
This post may contain affiliate links, meaning that at no cost to you I will get a small percentage of every purchase you make!
If you enjoyed this Starbucks caramel brulee sauce recipe make sure to pin it for later!