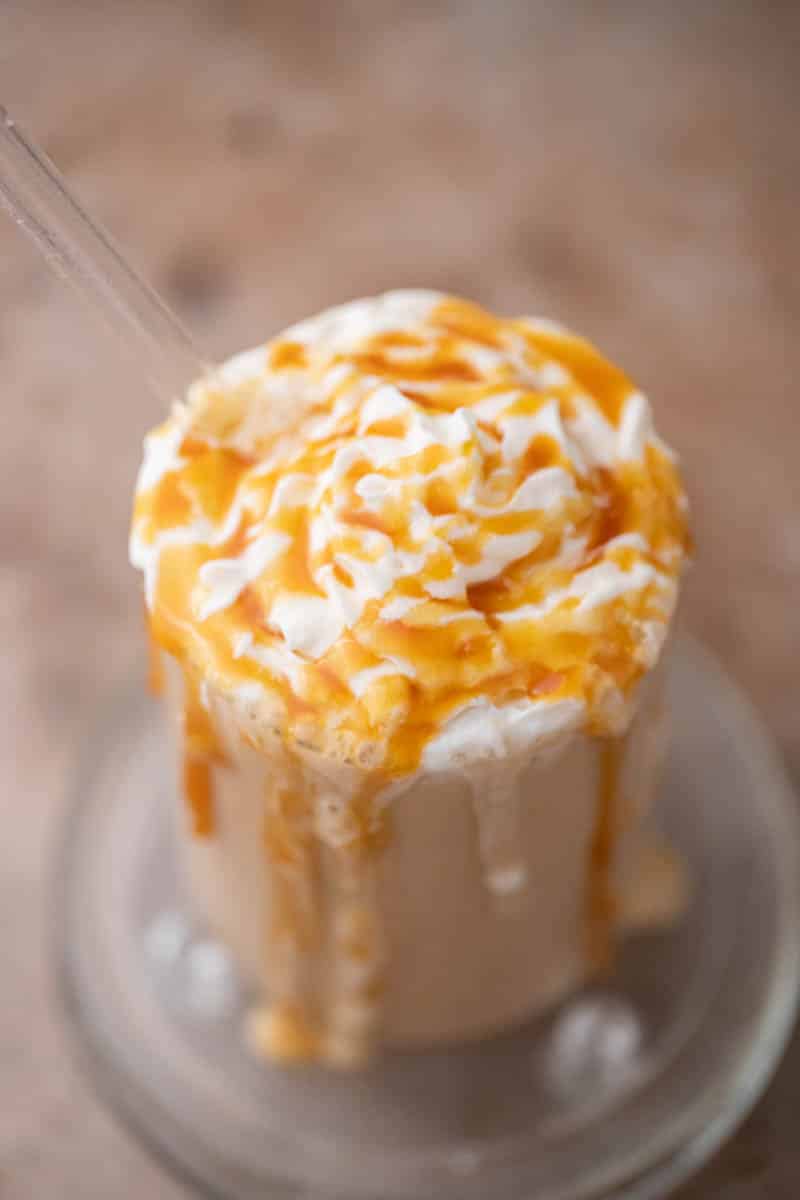 There is something extra special about the McDonald's frappés. They come in a variety of flavors but the two that seem to be the most popular are the caramel and the mocha frappe.
They are refreshing, perfectly sweetened, and pack a punch thanks to the caffeine allowing you to keep going and end the day on a strong note. Plus who doesn't like a beverage that is topped with whipped cream and a generous drizzle of caramel sauce? Thas is literally the cherry on top!
This is the best caramel frappe beverage recipe!
If you are a fan of mcdonad, and this caramel Mcdonald's frappe then you have arrived at the right place.
In this article, I will show you exactly how to make your favorite frappe drink in the comfort of your own home. The craziest thing is that it will taste just like the one at Mcdonald's and will have you wanting more in no time.
What does the Mcdonald's caramel frappe taste like?
This frappe has a rich caramel flavor mixed into a coffee slushie. It is both creamy with a hint of coffee, sweet, and so delicious. It is definitely an indulgent coffee treat that you can enjoy anytime during the day when you need a little something sweet of need a little kick and jolt of energy.
Why you need to make this recipe!
It's a simple recipe that can be made at home with just a few basic ingredients.
This recipe is easy to customize, like it sweeter, and add more sugar. Want it a bit less sweet add less. Make it decaf or caffeinated all depending on what you want or need that specific day.
It's a great refreshing and indulgent treat to make for friends and family when they come over in the summertime. Trust me you'll become their favorite in no time.
This recipe allows you to use higher quality ingredients compared to what McDonald's uses in their chain restaurants.
It comes together in no time, Aka no waiting in the drive-through line or spending extra money at McDonald's for this one.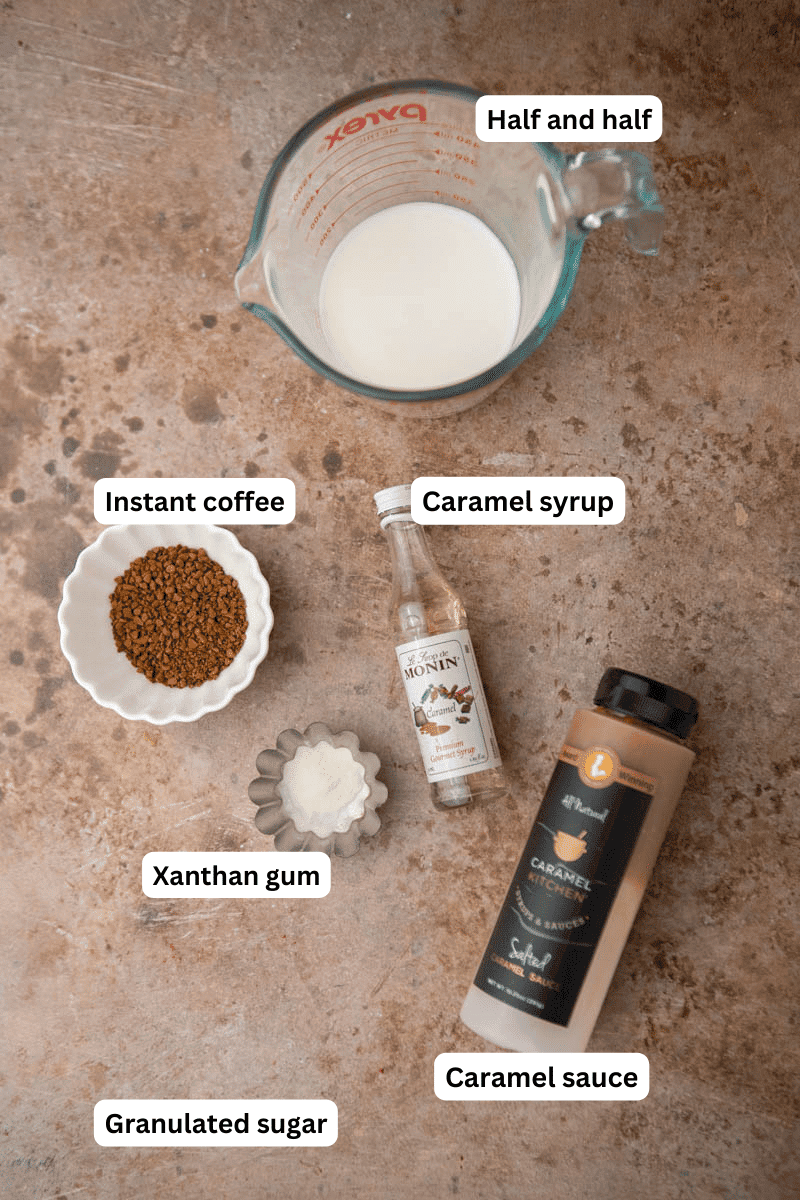 Ingredients for this McDonald's caramel frappé
Here are the ingredients you will need to make this homemade frappe. Make sure to scroll down to the recipe card for the full detailed ingredient measurements.
Ice- Use crushed ice for this. If you don't have an ice machine, it is best to get ice from your local grocery store to make sure that doesn't have any funky freezer flavor.
Half and half- Because this is a creamy drink, we want to use something a little higher in milk. Skim milk would work still but wouldn't make this drink as creamy. I would recommend using whole milk or even a mixture of all of these with a little heavy cream as well.
Instant coffee- I opted for instant coffee so that we can keep the texture of this frappe cold and icy. We don't want to add too much liquid and end up with a watery iced drink.
water- You'll need a tiny bit of water to dissolve the instant coffee.
Sugar- The granulated sugar is used to sweeten your frappe, try it and assess if you like it as is or if it needs a little more sweetness.
Caramel syrup- I used the Monin caramel syrup for this, it gives it a delicious caramel flavor.
Whipped cream- You can use either homemade whipped cream or storebought. Both work just fine.
Caramel sauce– I personally think caramel sauce is a must. It makes your drink look gorgeous and it also helps add extra flavor when you are sipping on this frappe copycat recipe.
Xanthan gum– This is optional but it will help give your frappe the perfect texture.
How to make this small caramel frappé
This is how you can make mcdonalds caramel frappe. Make sure to scroll down to the recipe card for the full detailed instructions!
In a small cup mix the instant coffee with the hot water until dissolved.
To a blender add the ice, half and half, caramel syrup, sugar, and the instant coffee mixture. Add the xanthan gum now if using it.
Blend until smooth.
Pour in a tall glass and top your chilled drink with whipped cream and a generous caramel drizzle.
Enjoy with a straw.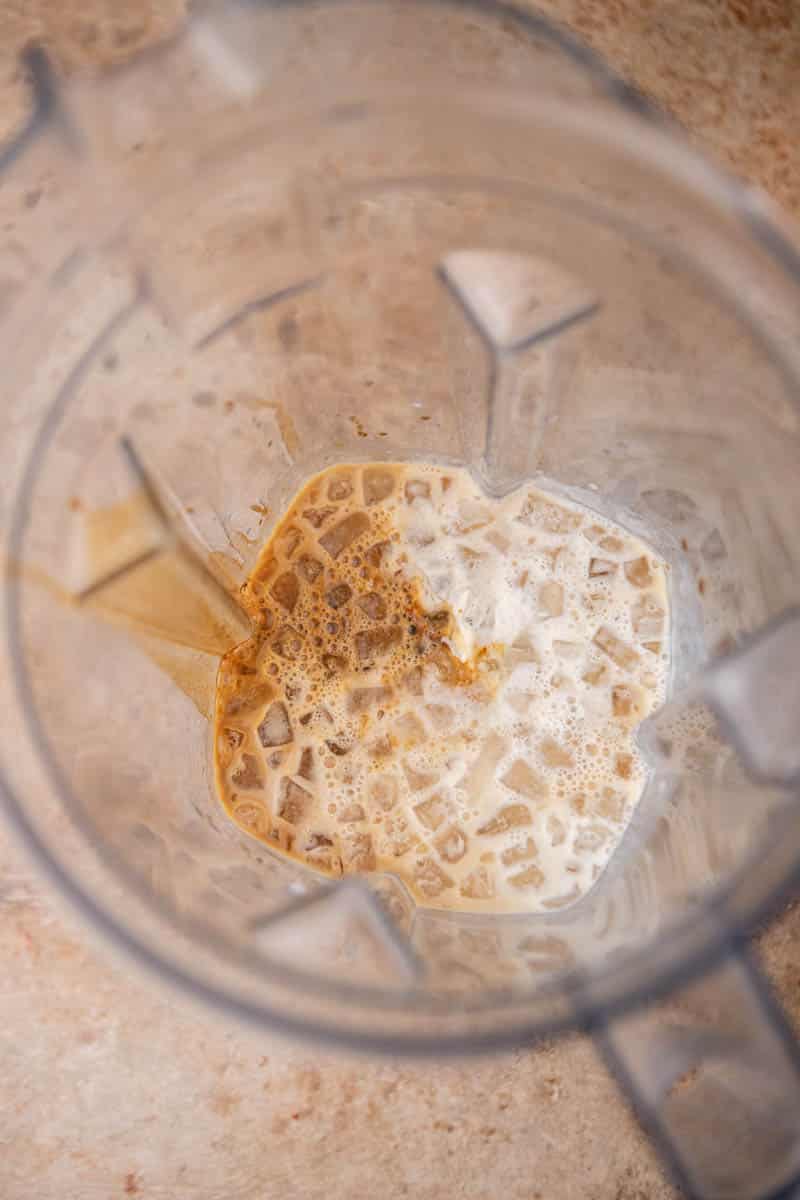 Frequently asked questions – FAQ
Can I make mcdonald's frappes ahead of time?
It is best to make and enjoy any type of frappe as soon as you make it. Since it is a coffee drink that is made with ice, we don't want to make it ahead to time and let it melt because you will end up with a watery mess.
How do I make a frappe that has the right consistency and texture?
The secret to making the right textured frappes is to use really cold ingredients combined with Xanthan gum. I know it seems like a hassle to have to get it but it is the one thing that will really emulsify all of the ingredients together and give you a frappe that has a very similar texture to the one at Mcdonald's
Can I make this Mcdonald's caramel frappe vegan or dairy free?
Yes you can definitely use a substitute to the half and half some of my favs are
Soy milk
Almond milk
Creamy oat milk
For the whipped cream. make sure to use a dairy-free version and a dairy-free caramel sauce for the drizzle would also be a good option.
How do I serve the frappe to make it look like a McDonald's caramel frappe?
One of my favorite ways to enjoy this cold coffee drink is to have it in a Mcdonald's cup that I used before. I usually wash it well then reuse it to serve my drink. I promise you it'll look exactly the same as the one you would usually get from there.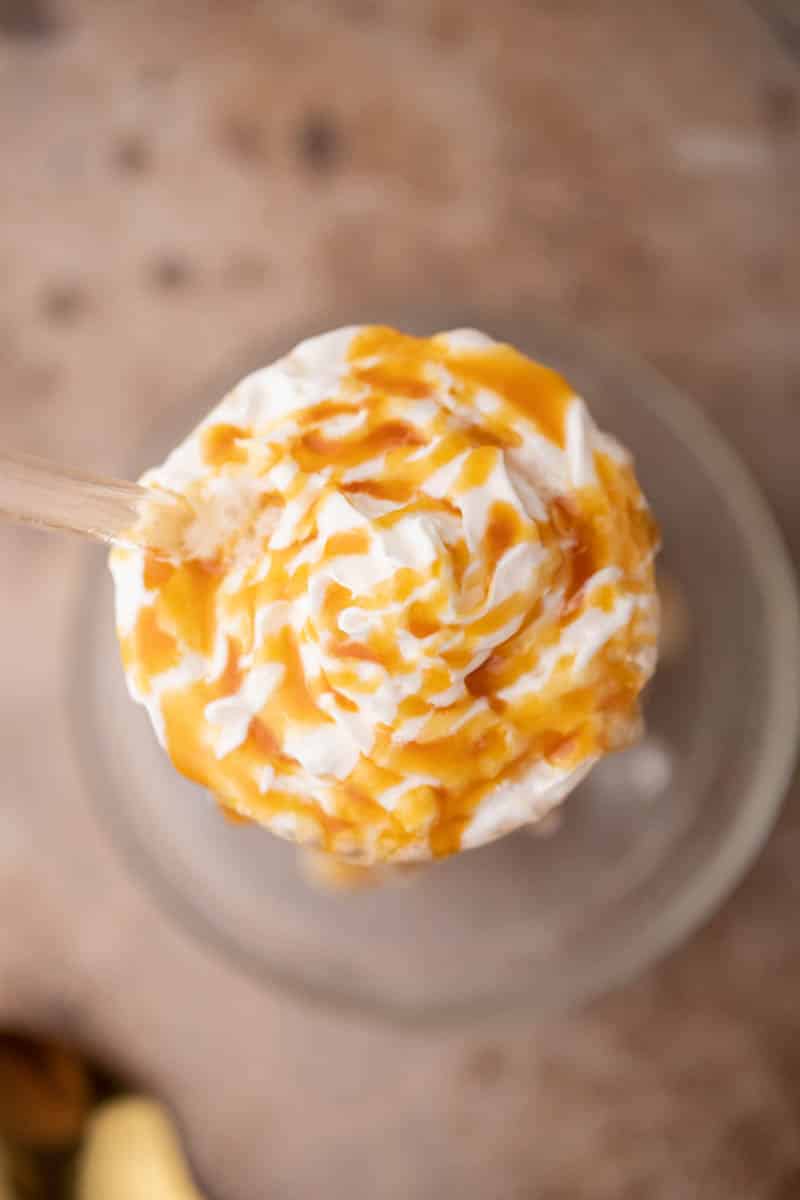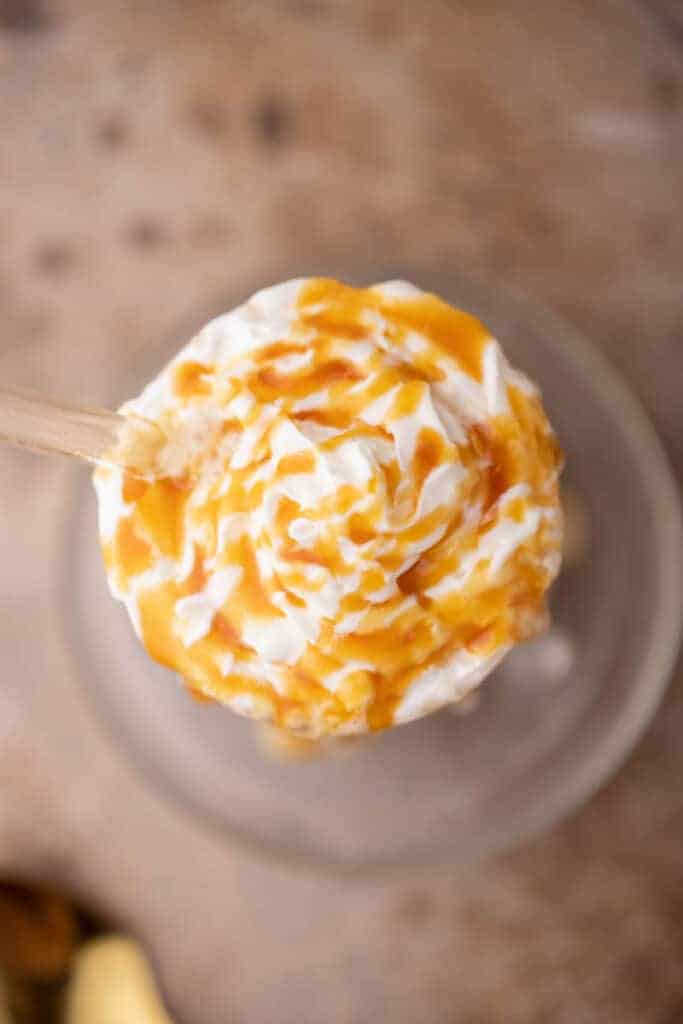 How much coffee should I use to make the frappe?
To make this mcdonalds frappe I experimented with a few different amounts of instant coffee. My favorite was when it was at ½ a tablespoon or just a tiny bit over. Of course, if you love the coffee flavor and want more of it then feel free to experiment and add more or add less for less coffee flavor.
Can I add toppings like chocolate chips or caramel drizzle to the frappe?
Absolutely! The base of the drink can stay the same but you can always add some chocolate drizzle or chocolate syrup on top of this caramel frappuccino. I also love adding buttery caramel as well as chocolate on top because the flavor is out of this work. Some sprinkles would make the drink extra festive or even some toffee crunch pieces or mini chocolate chips on top of the whipped cream would take this delicious frappe to a whole new level.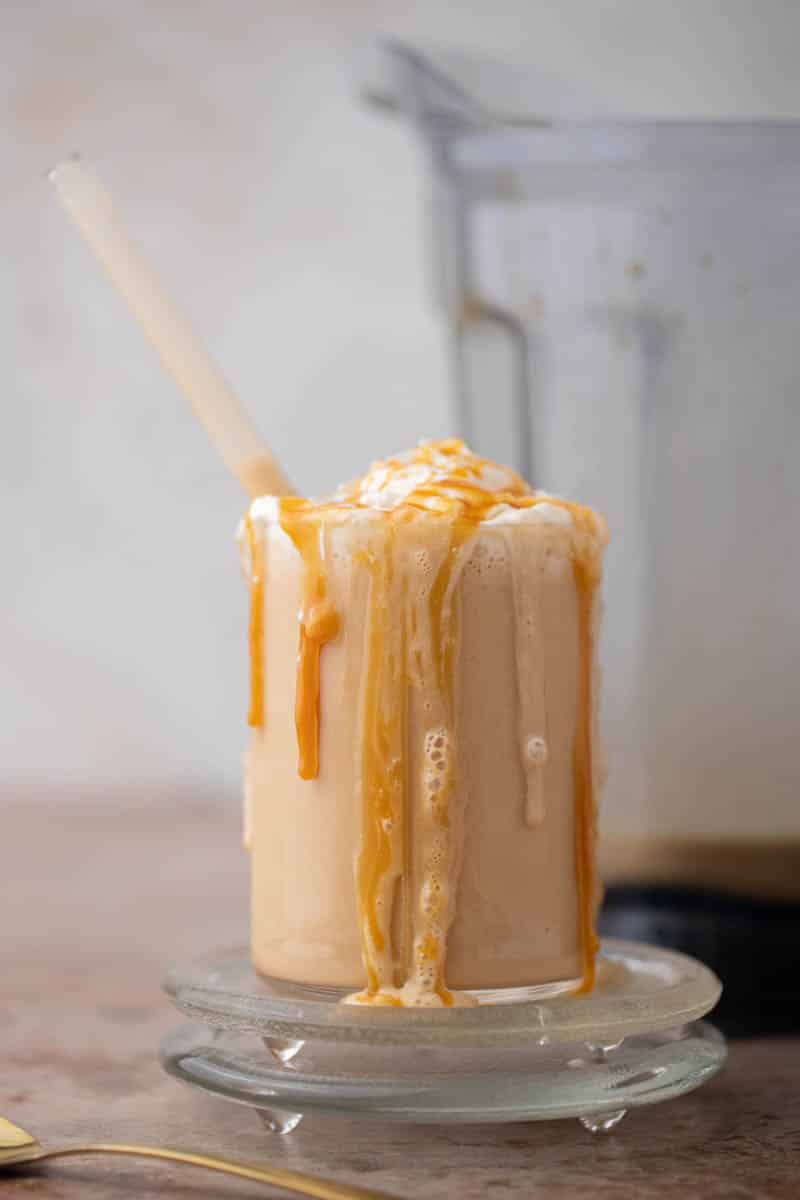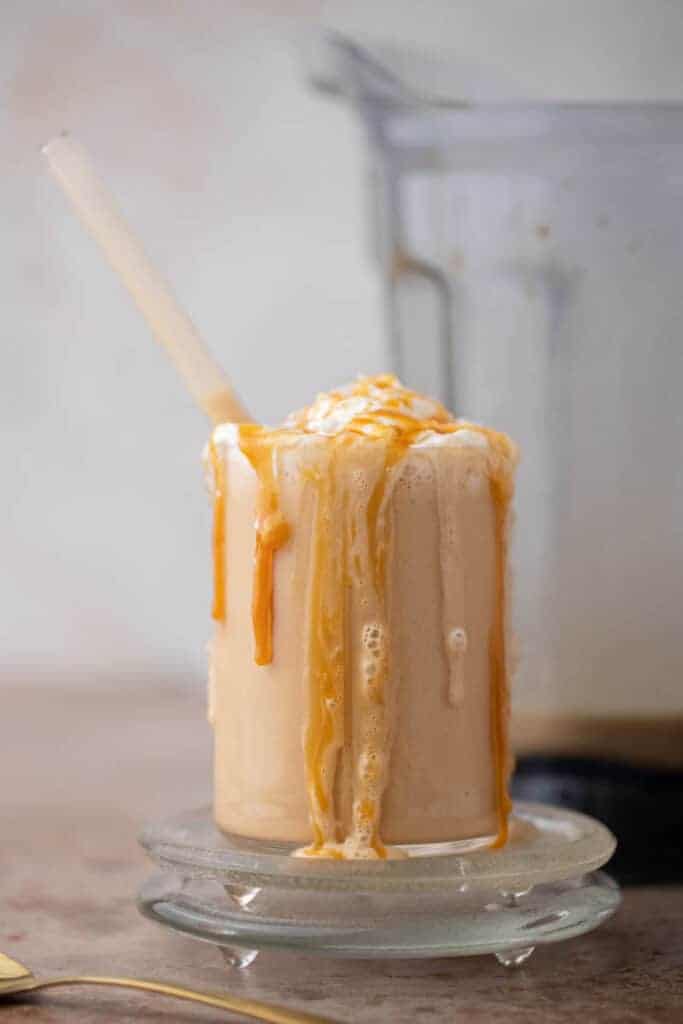 Caramel mcdonald's frappe recipe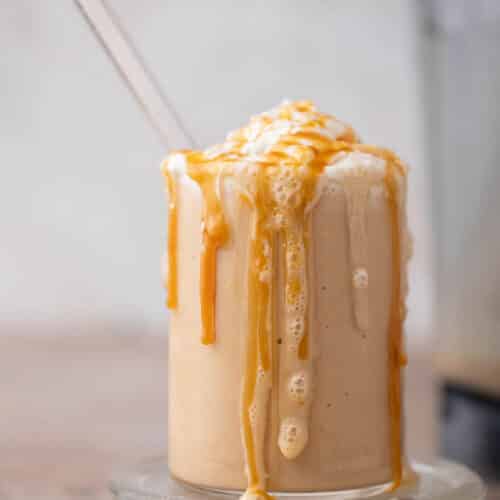 The best McDonald's caramel frappe
This easy McDonald's caramel frappe recipe is a simple copycat that tastes just like the real but will cost you a fraction of the price.
Ingredients
½

cup

half and half

or whole milk or a combination of both.

1

cup

crushed ice

½

tablespoon

instant coffee

rounded (or more for a stronger coffee flavor)

2

tablespoon

caramel syrup

¼

teaspoon

xanthan gum

½-1

tablespoon

granulated sugar

for a sweeter drink.

whipped cream

caramel sauce

for drizzling
Instructions
In a small bowl or cup mix the instant coffee with 1 tablespoon hot water. Stir to dissolve and set aside.

½ tablespoon instant coffee

To a high-speed blender add the ice, milk or half and half, instant coffee mixture, caramel syrup, xanthan gum, and granulated sugar. I would start with ½ tablespoon then add more if needed.

½ cup half and half,

1 cup crushed ice,

2 tablespoon caramel syrup,

¼ teaspoon xanthan gum,

½-1 tablespoon granulated sugar

Blend until smooth and creamy. Pour in a tall glass and top with whipped cream and a generous drizzle of caramel sauce and enjoy.

caramel sauce,

whipped cream
Nutrition
Calories:
283
Calories
Carbohydrates:
39
g
Protein:
4
g
Fat:
14
g
Saturated Fat:
9
g
Polyunsaturated Fat:
1
g
Monounsaturated Fat:
4
g
Cholesterol:
42
mg
Sodium:
173
mg
Potassium:
251
mg
Fiber:
1
g
Sugar:
11
g
Vitamin A:
428
IU
Vitamin C:
1
mg
Calcium:
140
mg
Iron:
0.2
mg

Shop this recipe
This post may contain affiliate links, meaning that at no cost to you I will get a small percentage of every purchase you make!
If you enjoyed this Mcdonald's caramel frappe recipe make sure to pin it for later!