This healing turmeric ginger anti-inflammatory tonic is an easy drink that you make to help with inflammation, immune support, and digestion. It is made with fresh ginger root, fresh ginger root, as well as lemon juice, honey, and a sprinkle of black pepper to help with the absorption 
Since you are here, make sure to check out my apple cider vinegar salad dressing as well as this apple cider vinegar lemon honey morning drink.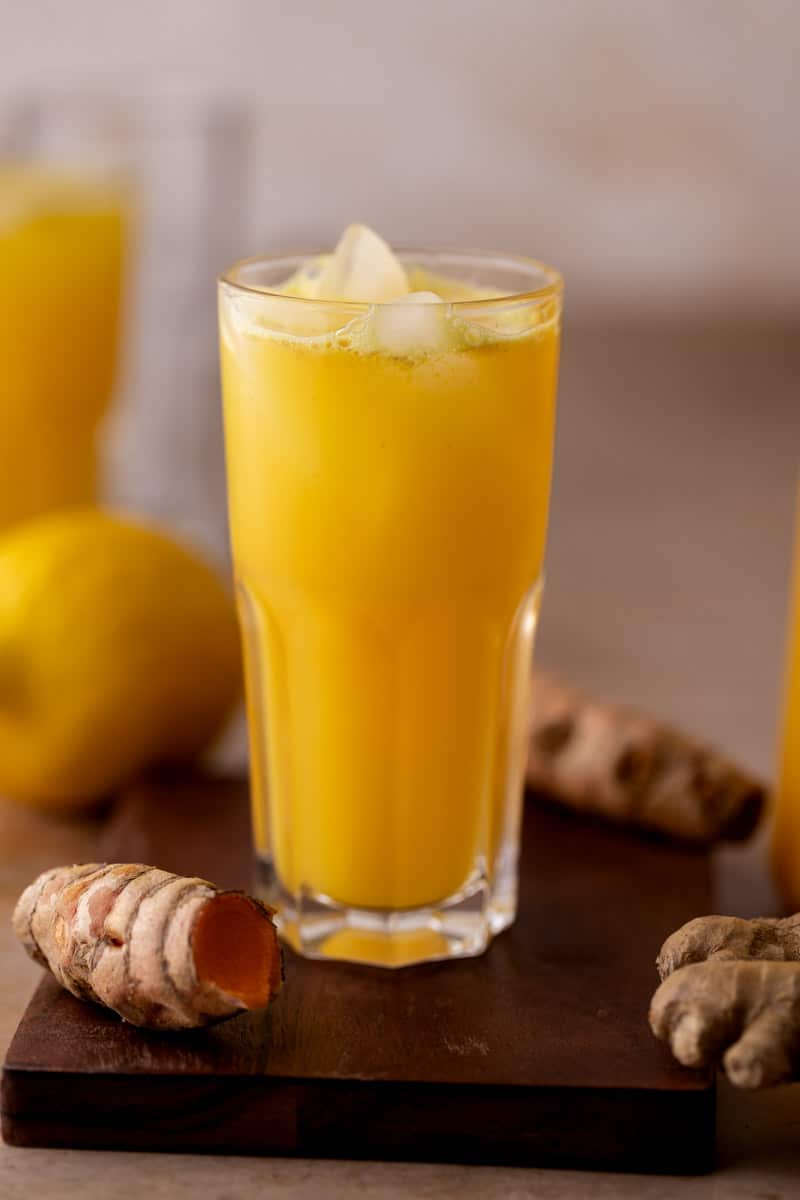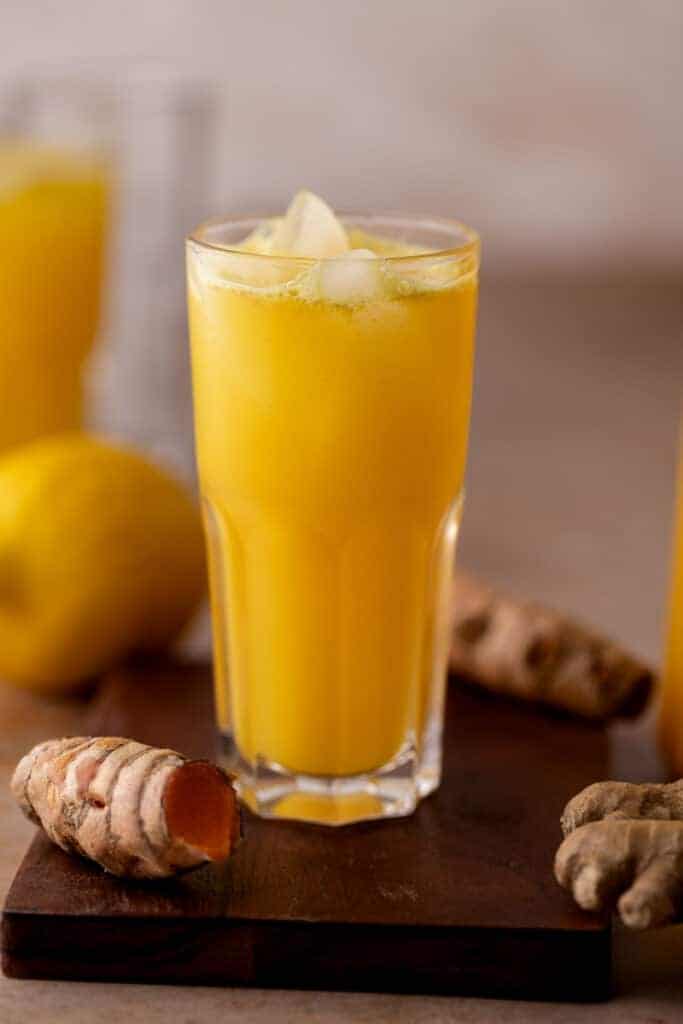 Inflammation is something that a lot of us have been dealing with lately. It becomes even more prominent as we age leaving us feeling pains and aches in all sorts of different places
That's why I decided to try having my homemade anti-inflammatory drink every day for a month or so to see how it affects me, my body, and the chronic pain that I have been feeling for years now. Because I have been sharing my journey on social media, I received a ton of requests for the recipe so I decided to write it up for you and share my own version of this magical elixir!
This is the best turmeric ginger anti-inflammatory tonic recipe!
This recipe's main ingredient is fresh ginger, then is followed by fresh turmeric root. Both of them have amazing anti-inflammatory and will hopefully leave you feeling amazing if you stick with this drink for a while.
In traditional Chinese medicine, it is said that the combination of ingredients used in this recipe also works to help the immune system as well as the liver and your digestive system happy in addition to its powerful anti-inflammatory properties.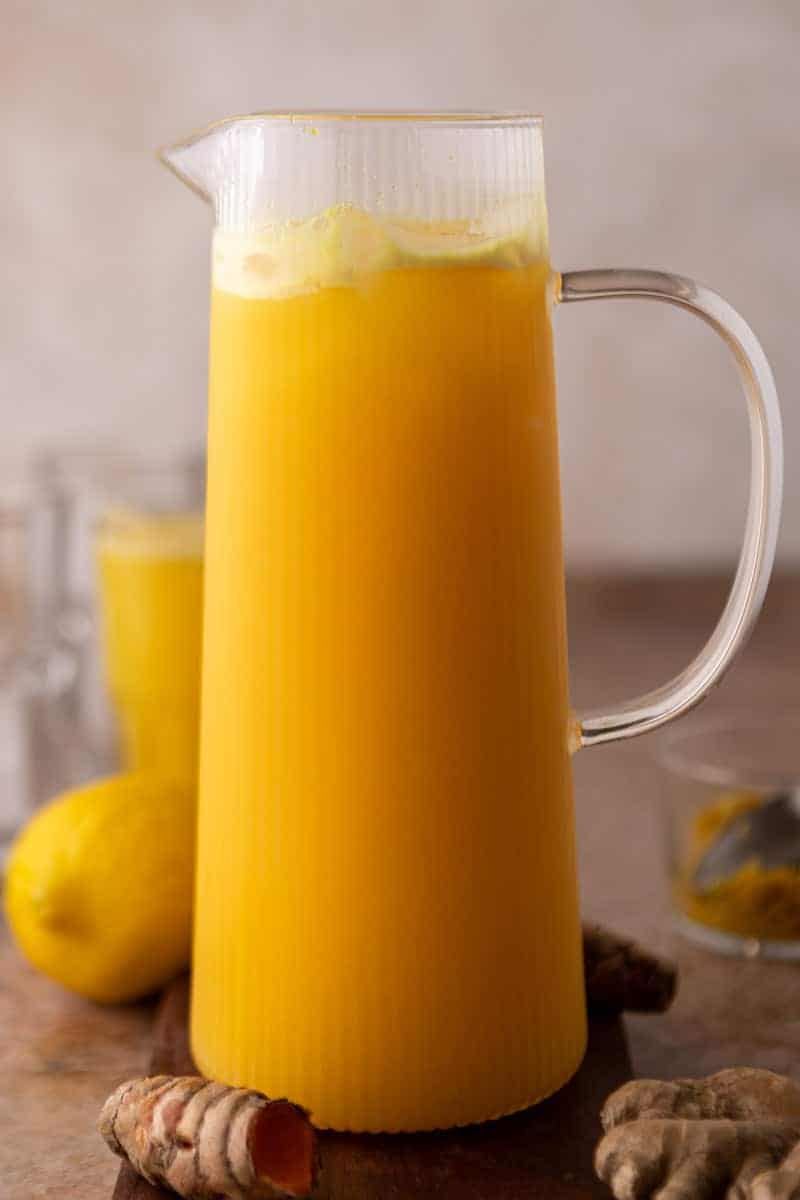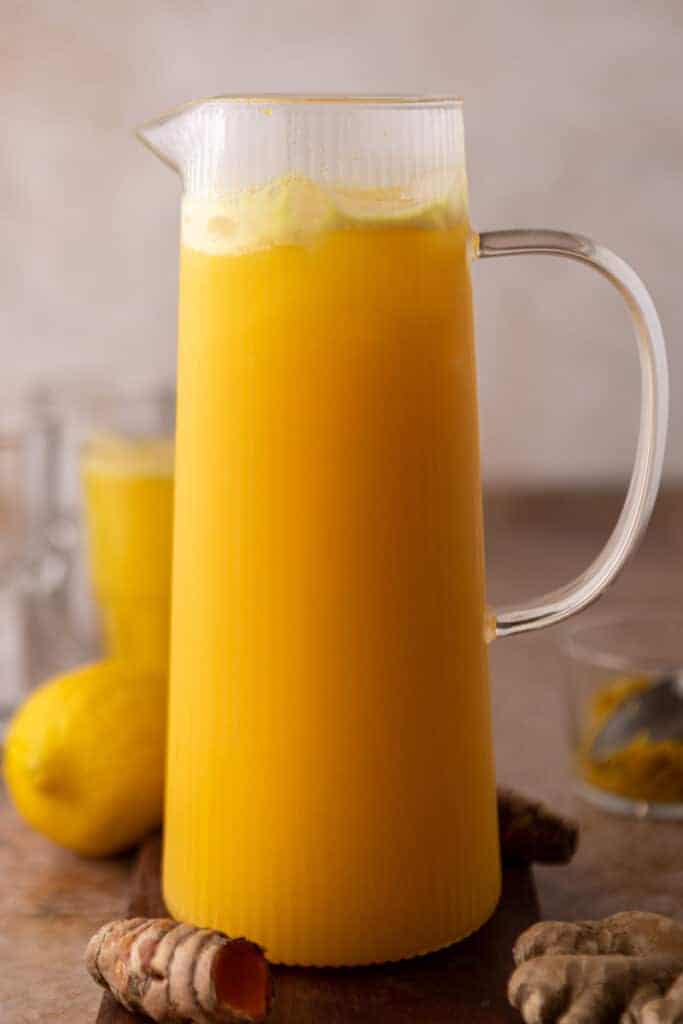 Why you need to make this recipe?
Immune support- With the colder months coming up, the antioxidants in these ingredients will help boost your immune system. 
Natural inflammation relief- Both ginger and turmeric contain compounds that help with reducing inflammation. This can possibly ease pain and discomfort in areas where inflammation is prevalent.
Digestive aid- With this drink being made out of primarily ginger, the active ingredient in this beverage, you will also notice some soothing in your digestion system. It can also reduce nausea, and help with digesting foods.
Customizable- By making this drink at home you can really customize it to your liking.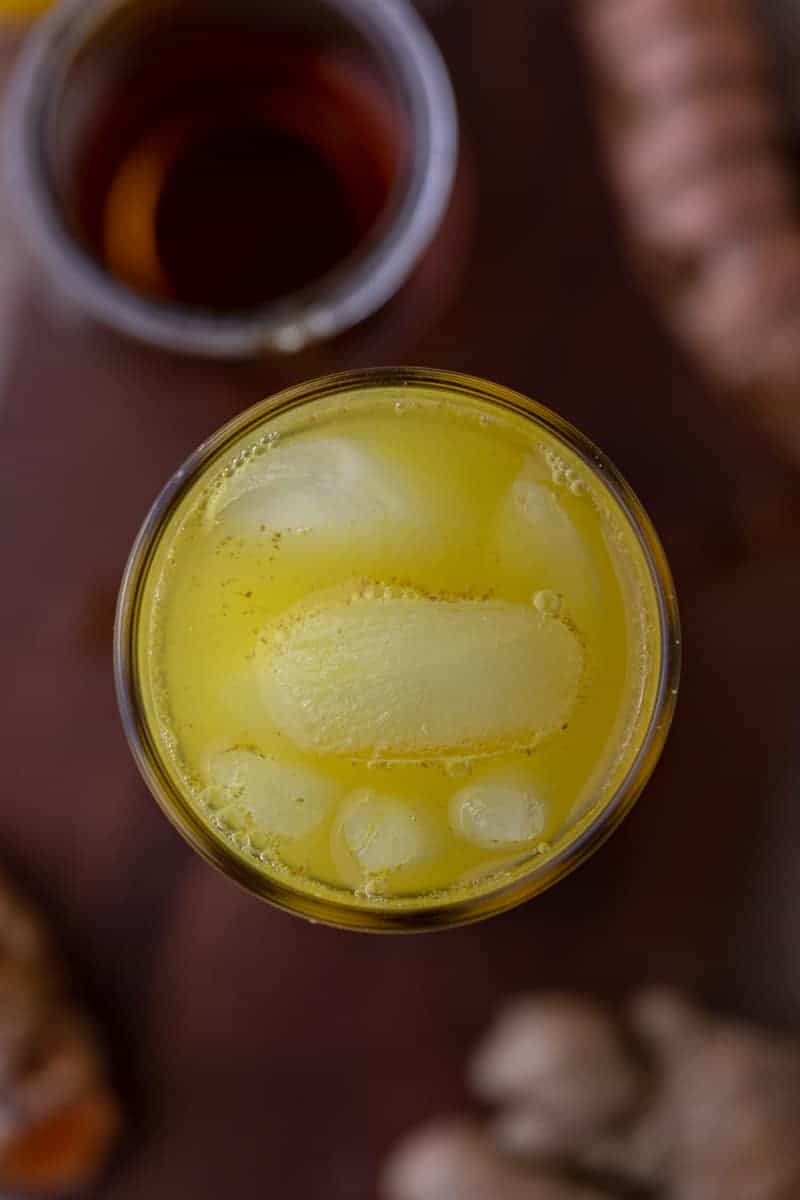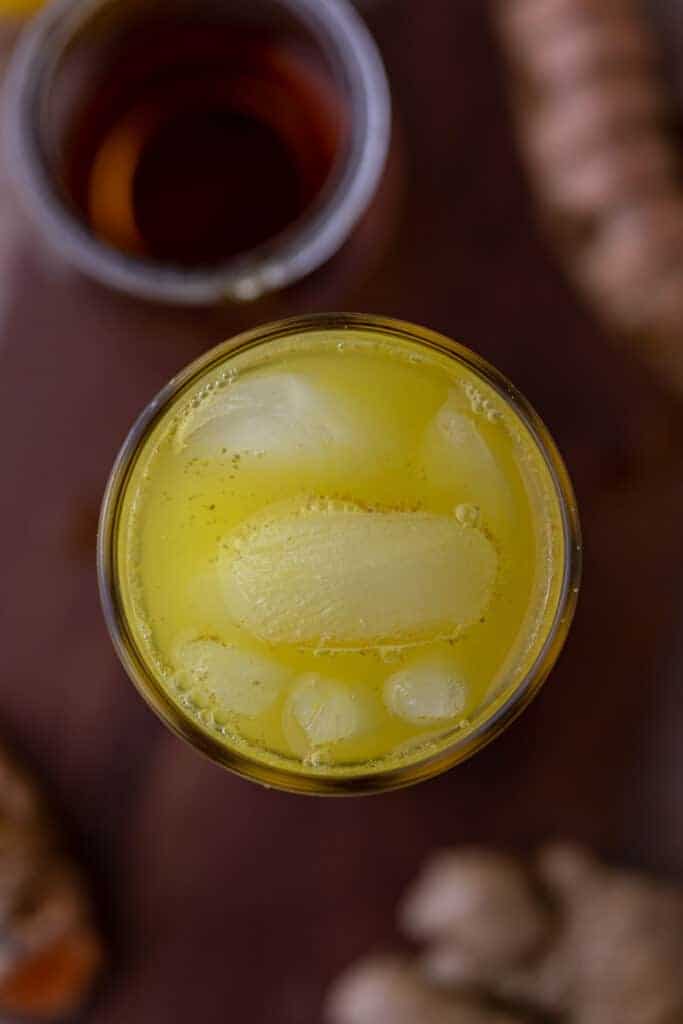 What is a tonic?
A tonic is pretty much a beverage that is considered to have some positive effect or impact on your health and well-being. Tonics are usually made with ingredients that have various health benefits.
​They can be made from herbal teas and infusions, mixtures of herbs, spices, or any other natural ingredients.
What are antioxidants?
Antioxidants are molecules that counteract the harmful effects of free radicals, which are unstable molecules that can damage cells.
These can be found in different foods like vitamin C in citrus fruits, and vitamin E in nuts… 
These also help protect cells from oxidative stress, which is linked to aging and different diseases.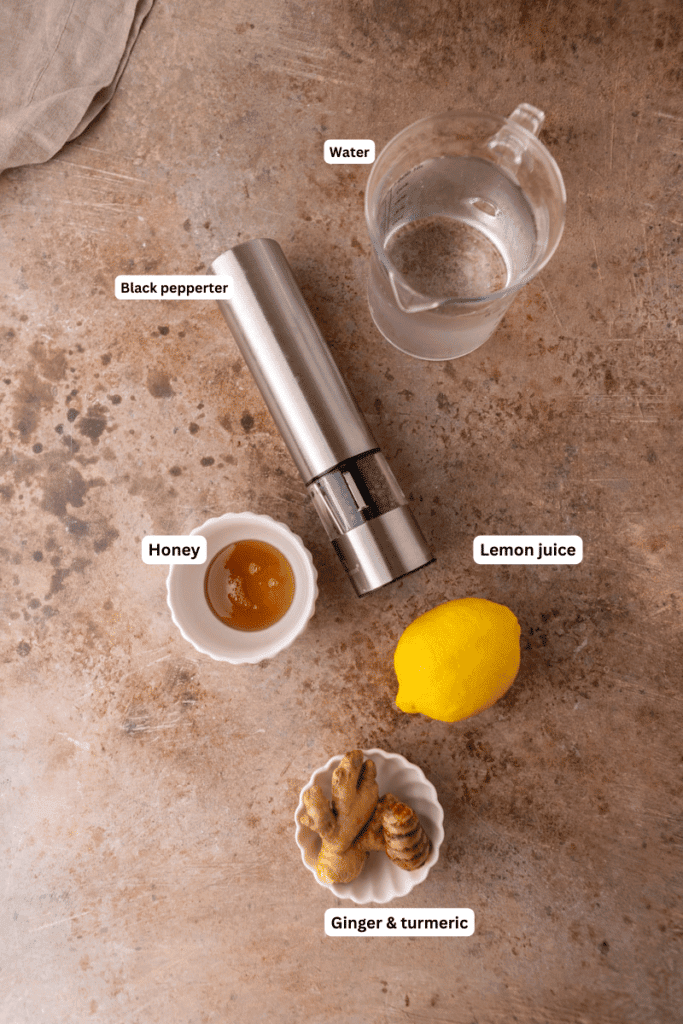 Ingredients for this anti-inflammatory turmeric tonic
Here are the ingredients you will need to make this turmeric drink. Make sure to scroll down to the recipe card for the full detailed ingredient measurements.
Ginger root & turmeric root- We are using fresh root in this perfect drink recipe to really get all the anti-inflammatory and antioxidant properties from those ingredients.
Raw honey– This will help make this drink even more smooth and enjoyable. You can also use maple syrup, 
Lemon juice- I used a little lemon juice for flavor, anti-oxidant, and the extra vitamin C boost but you can use other citrus fruits like orange juice
Black pepper- A little pinch of black pepper will help with the absorption of turmeric.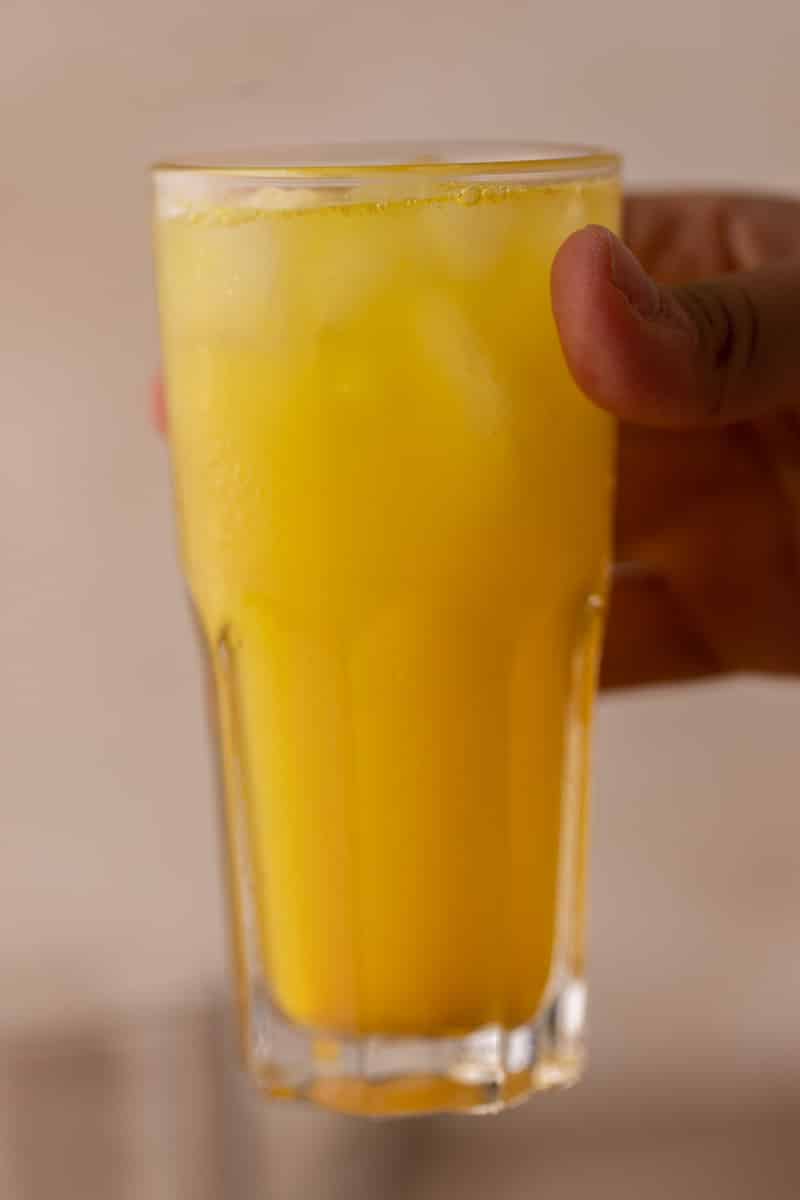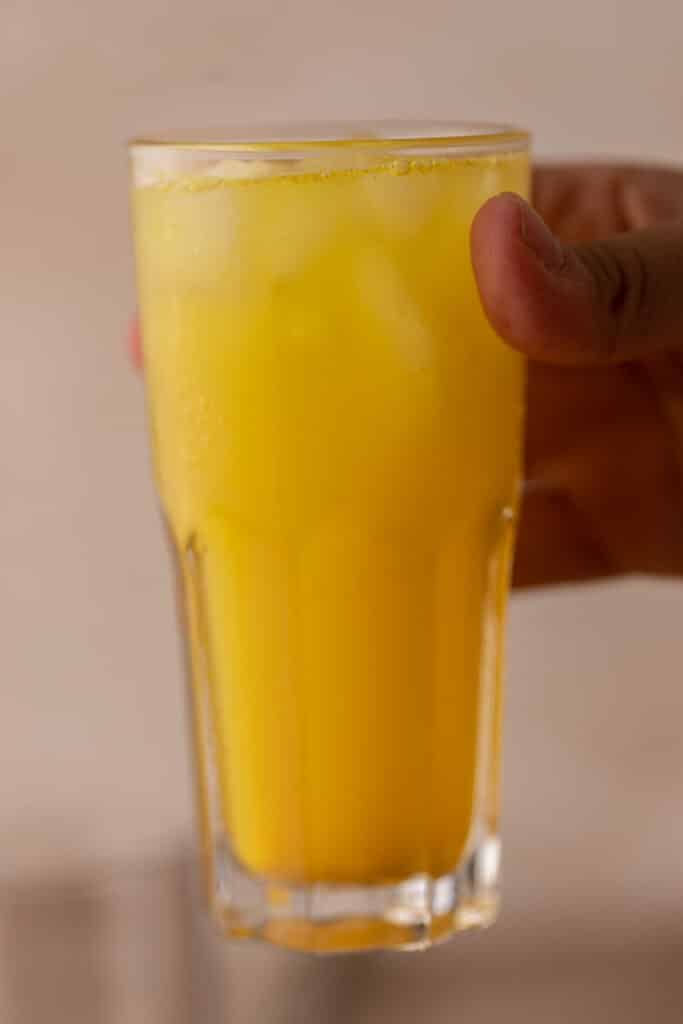 How to make this lemon ginger turmeric drink
This is how you can make this anti-inflammatory ginger turmeric tonic. Make sure to scroll down to the recipe card for the full detailed instructions! 
Add the ginger, turmeric, honey, lemon juice, and water to your blender and blend well.
Strain using a fine sieve into your glasses or a pitcher. If you don't have a fine sieve, you can use a regular strainer and place a paper towel on it to strain the drink even better.
Serve with ice and enjoy every day!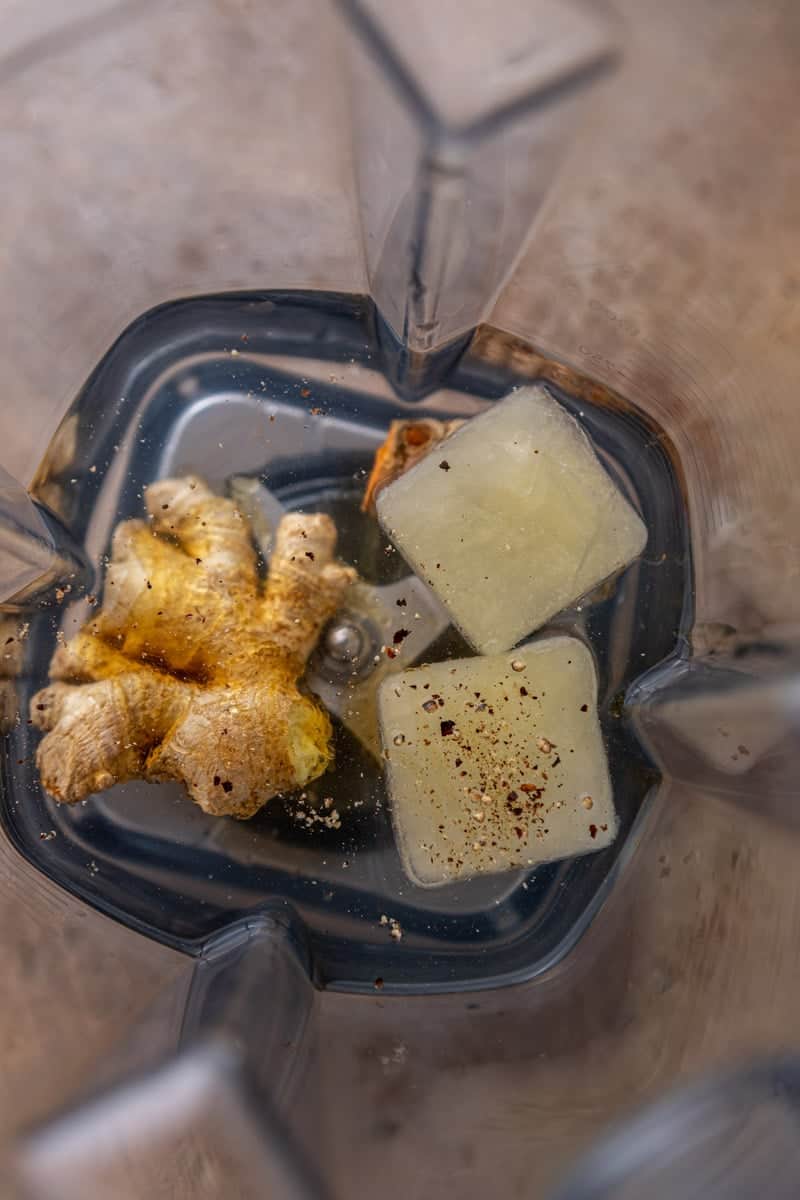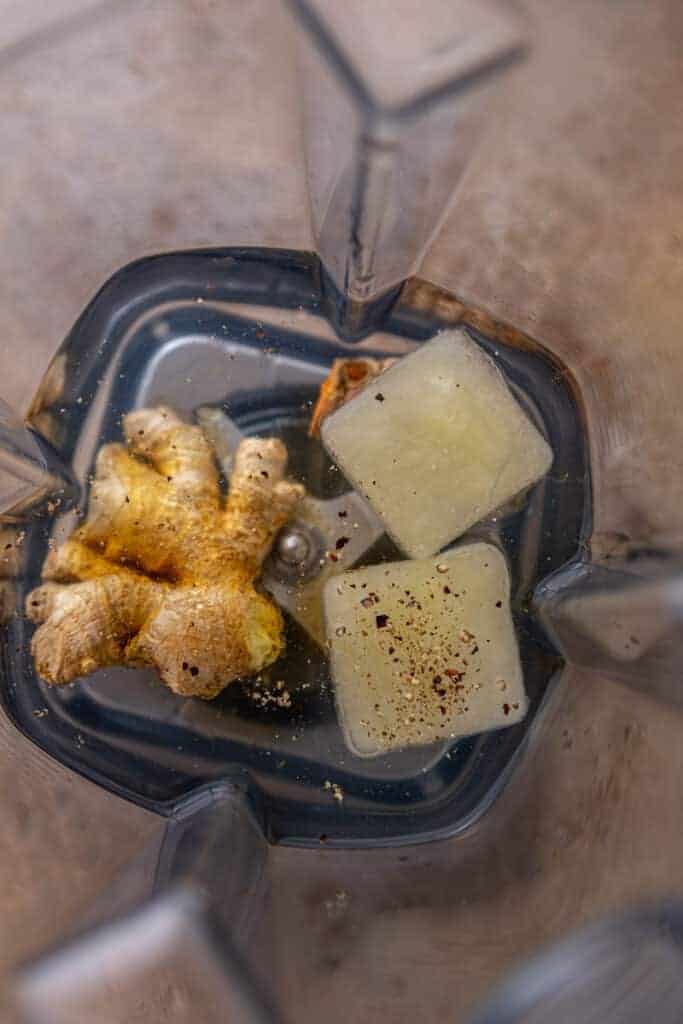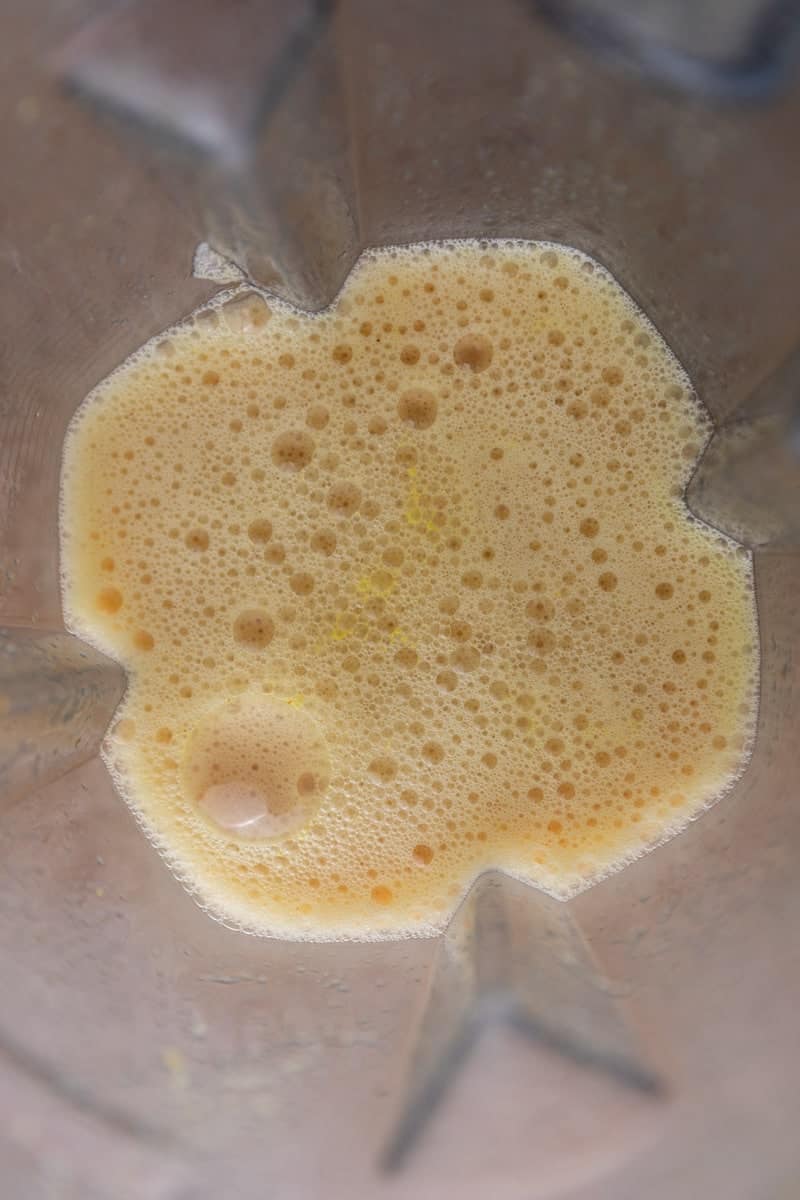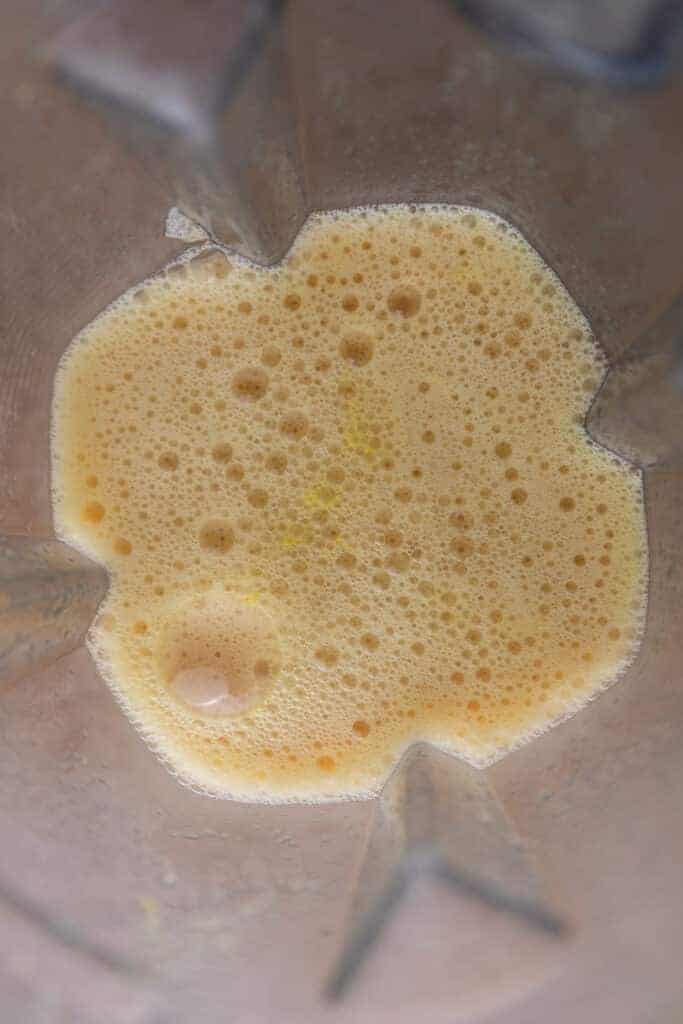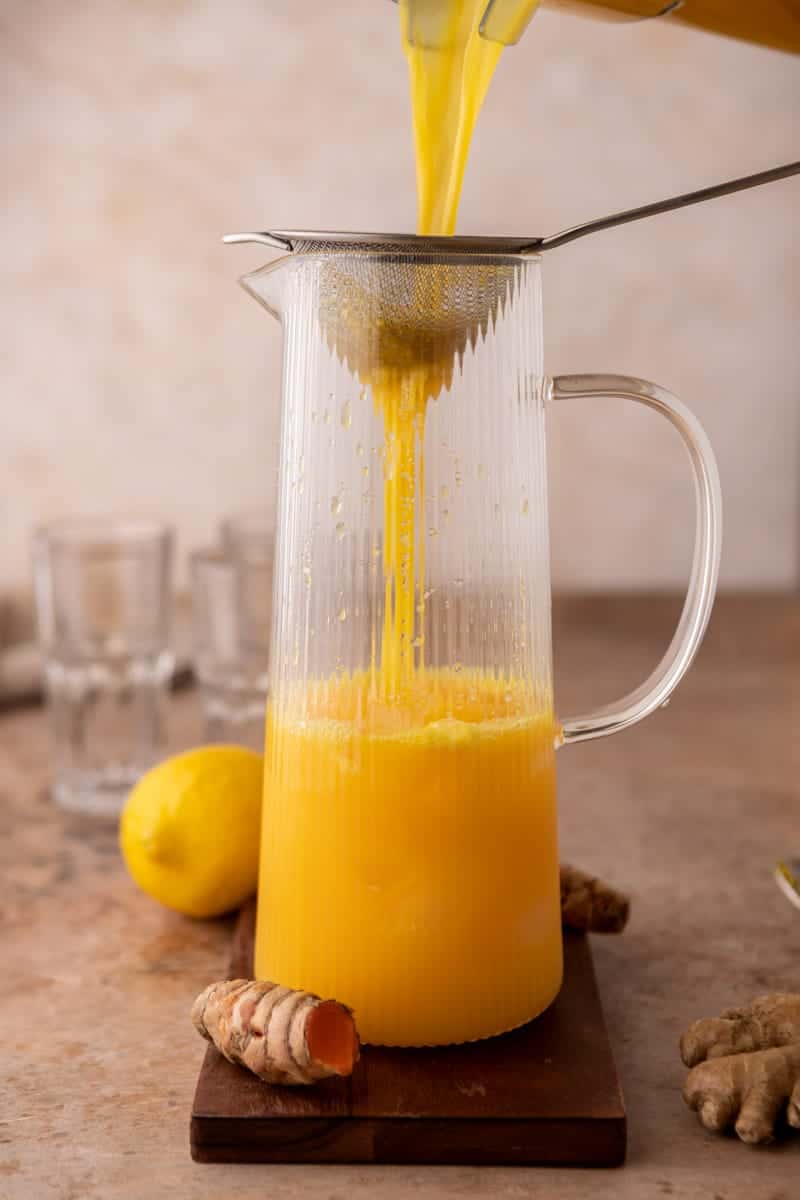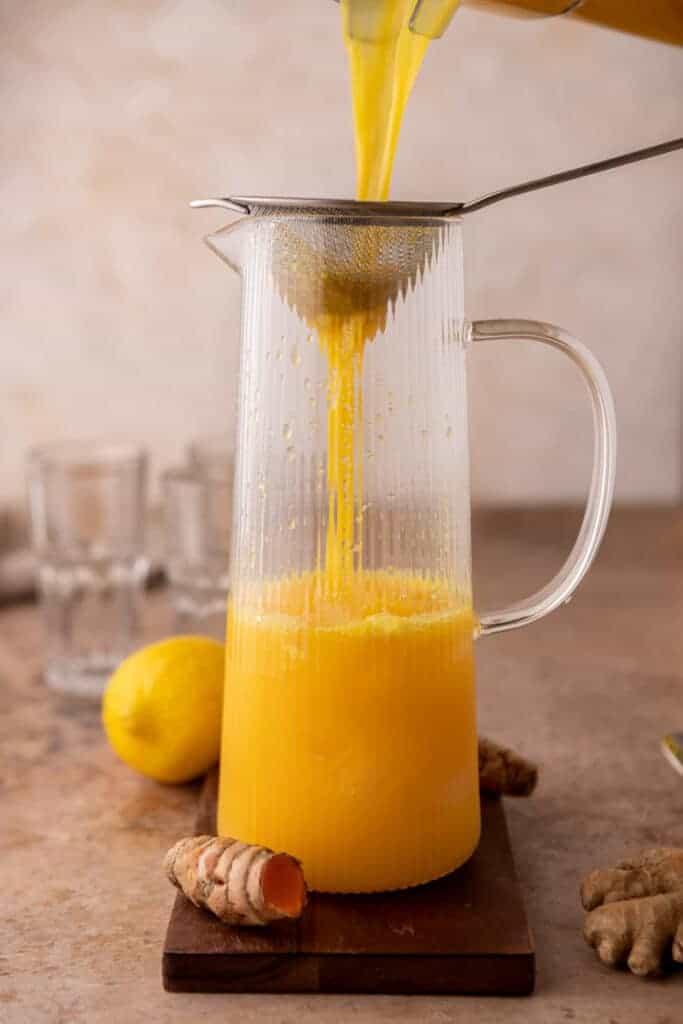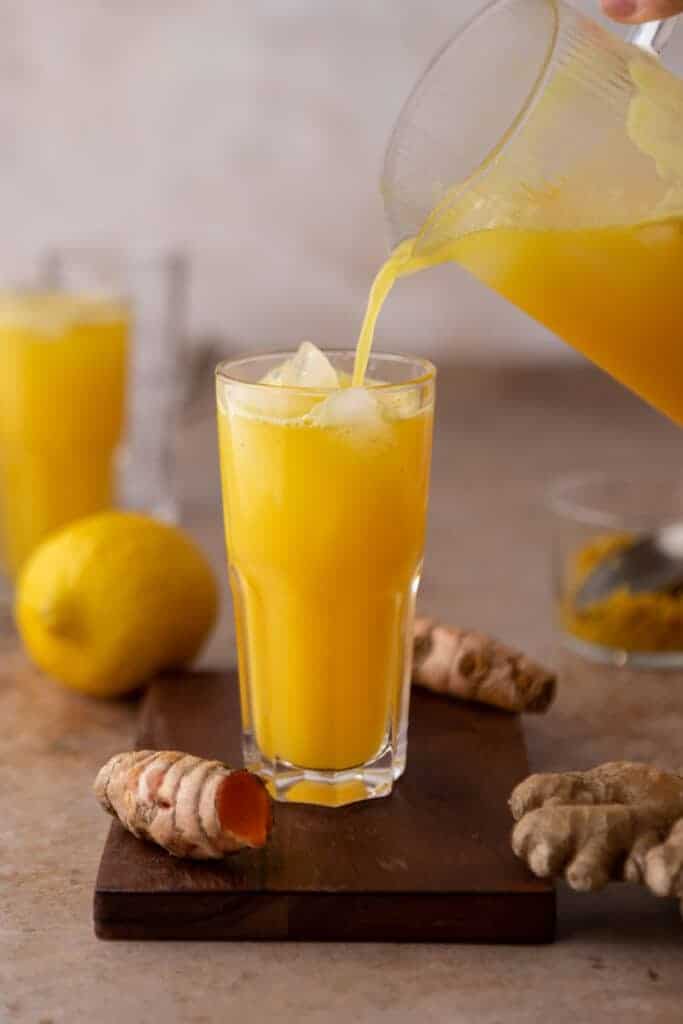 Frequently Asked Questions – FAQ
How to store leftover ginger turmeric tonic?
If you have any leftovers, store it in an airtight container for up to 3 days.
How long do Turmeric and ginger take to give you those anti-inflammatory effects?
According to Turmeric.co, it varies from person to person but in general, it takes about 4-8 weeks with the roots being taken daily to notice a difference. This is definitely not a magic drink that will make your inflammation pain go away the next day but if you stick with it the results are promising.
Is this ginger turmeric tonic the same as Jamu juice?
Jamu juice and ginger turmeric anti-inflammatory tonic share some similarities, but they are not exactly the same. Both are traditional herbal beverages known for their potential health benefits, particularly in reducing inflammation.
Jamu juice is a diverse category of Indonesian herbal drinks, while a ginger turmeric anti-inflammatory tonic is a specific remedy focusing on inflammation reduction. Jamu is usually boiled to really extract more and more of the health benefits of turmeric and raw ginger out of the roots while this tonic is just a blend of ingredients.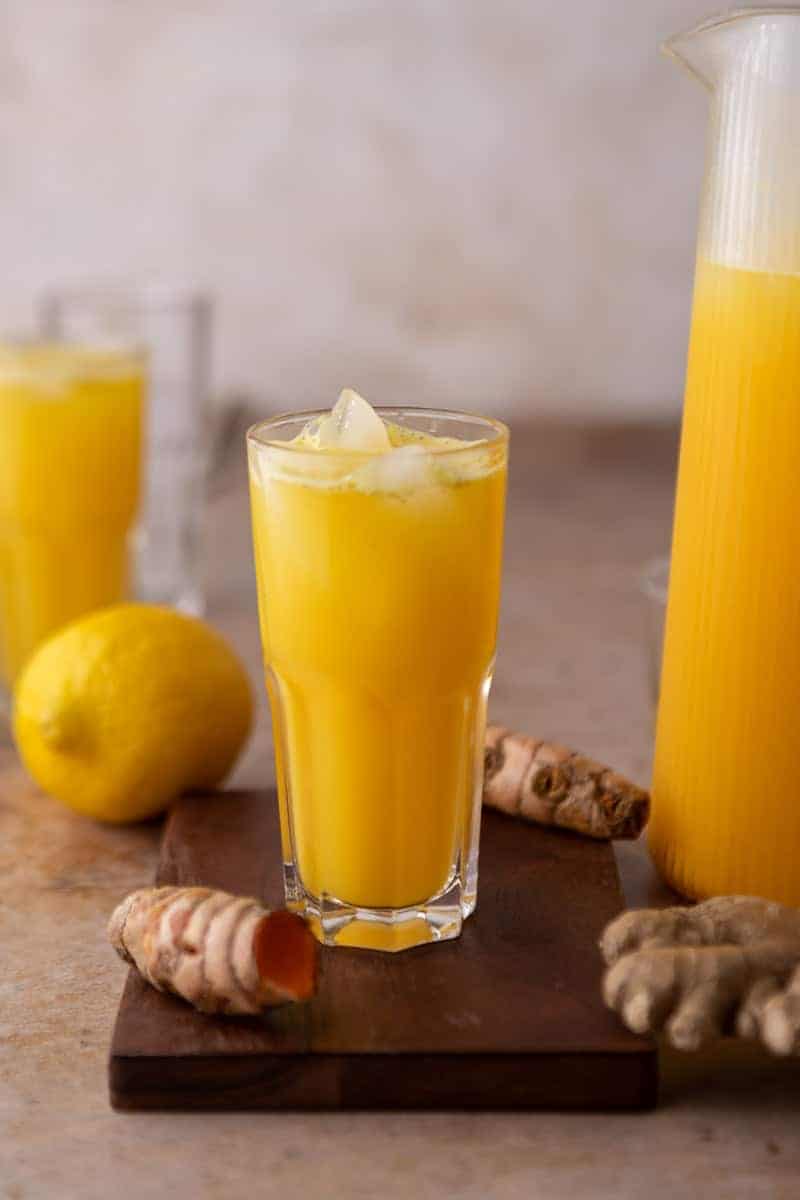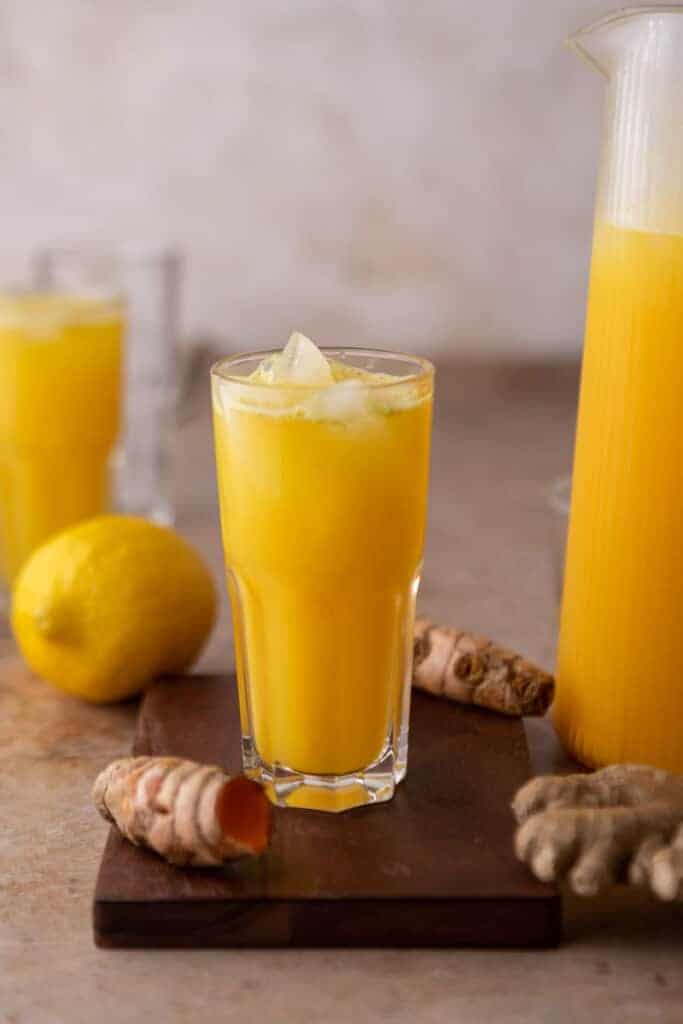 Ginger Turmeric Tonic recipe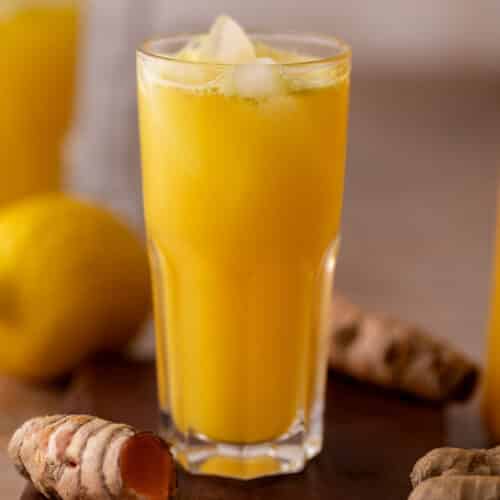 5 minute anti inflammatory ginger turmeric tonic
This 5-minute anti-inflammatory ginger turmeric tonic is a delicious drink that you can start your day with to help boost your immune system and reduce inflammation.
Ingredients
1 & ½

inch

Ginger root

Organic, washed

½

inch

Turmeric root

Organic, washed

1 & ½

tablespoon

Honey

pinch of black pepper

2 & ½

cup

water

juice of one lemon
Instructions
Add all of the ingredients into a blender and blend until smooth.

1 & ½ inch Ginger root,

½ inch Turmeric root,

1 & ½ tablespoon Honey,

pinch of black pepper,

2 & ½ cup water,

juice of one lemon

Strain the juice using a sieve into a pitcher or your serving glass.

Top with ice and enjoy everyday.
Nutrition
Calories:
35
Calories
Carbohydrates:
9
g
Protein:
0.1
g
Fat:
0.1
g
Saturated Fat:
0.1
g
Polyunsaturated Fat:
0.01
g
Monounsaturated Fat:
0.01
g
Sodium:
11
mg
Potassium:
20
mg
Fiber:
0.1
g
Sugar:
9
g
Vitamin C:
0.2
mg
Calcium:
7
mg
Iron:
0.1
mg
Shop this recipe
This post may contain affiliate links, meaning that at no cost to you I will get a small percentage of every purchase you make!
If you enjoyed this 5 minute anti-inflammatory ginger turmeric tonic recipe make sure to pin it for later!