Say hello to the best raw apple cider vinegar dressing! This dressing takes less than 5 minutes to make and taste a thousand times better than a store bought salad dressing. The Apple Cider Vinegar with the mother contains a huge amount of health benefits as well so next time you need something new try this apple cider vinegar dressing from scratch.
SIGN UP TO OUR MAILING LIST GET A FREE WEEKLY MEAL PLANNER AND RECIPE CARD!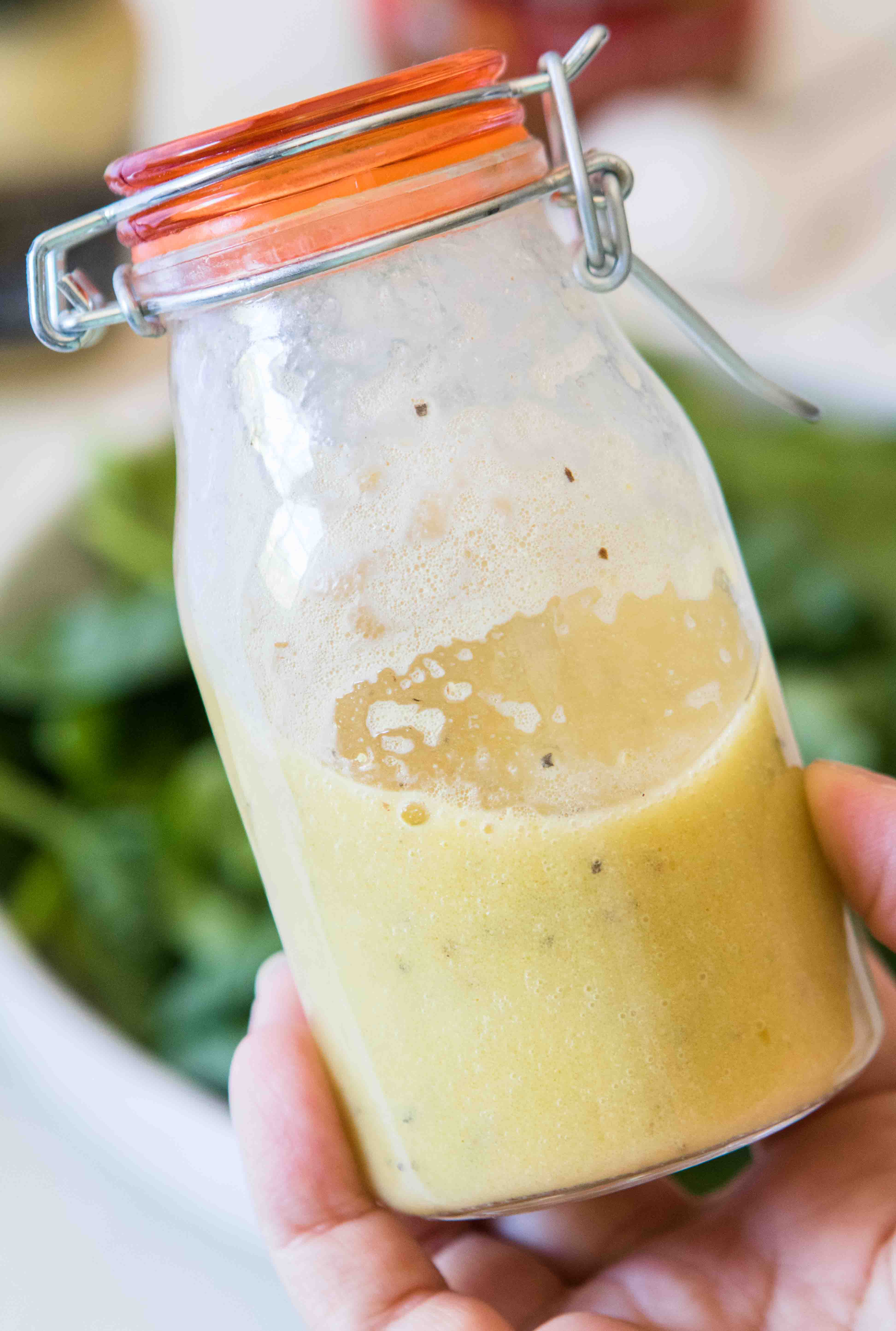 DON'T FORGET TO JOIN US ON OUR FACEBOOK PAGE TO SHARE HOW YOUR RECIPES TURNED OUT AND POSSIBLY GET FEATURED ON THERE AS WELL AS ON INSTAGRAM!
Hello everyone!
It seems like it has been forever since I shared a recipe with you guys… Believe it or not a week of absence here made me miss it and you guys so so much!
This week I was very busy doing some client work but I was also dealing with some health issues that forced me to eat a little differently. So to make my life easier I started making this homemade apple cider vinegar dressing from scratch, that way whenever it's time to eat I don't need to do too much. I grab my greens, my dried cranberries and my nuts, throw them in a bowl and top it with this homemade raw dressing.
Tadaaa!! I got lunch in less than 5 minutes. This is also perfect for when my EDS has the best of me and I can't get out of bed or do much that day because of how fatigued I feel.
Anyone know about EDS?
It is a genetic mutation that leads to your body producing faulty collagen… The connective tissue takes a hit because of this and well … Our body is mainly made out of collagen so It has been a tough disease. I think I will start sharing a little more about it with you guys, about my journey as well as how I cope.
Hopefully I can bring awareness to this rare disease and maybe even find a community of people with the same issue so we can help each other 🙂
What's so special about this healthy salad dressing?
This dressing is absolutely delicious and has quite a lot of perks to it!
It can be made with simple ingredients in less than 5 minutes!
It is healthy and full of probiotics (make sure to get the raw ACV with the mother)
This dressing beats store bought dressing any day!
It's an easy clean up recipe.
Ingredients to make this easy and healthy apple cider vinegar dressing
Apple cider vinegar – When shopping for apple cider vinegar, make sure to get the one that says with the mother. That's the one that still has all the health benefits.
Olive oil– Get the best tasting olive oil! I use my Algerian olive oil because It is probably the best olive oil in the world. Hopefully one day I can import it to American and everyone else can try it!
Dijon mustard- The mustard will give the perfect tang and creaminess to this homemade healthy dressing.
salt
pepper- If at all possible, crack your black peppercorns freshly. Those would have a lot more flavor compared to the pepper that is already cracked.
garlic- Use fresh garlic clove. Grating it will give you so much flavor as well as health benefits.
ACV dressing modifications
This dressing is pretty sour because that's how my sister likes it. But if you don't want it to be too sour you can use ⅓ cup of olive oil instead of just ¼ cup. That will help balance out the acidity of this homemade salad dressing!
How to make this ACV salad dressing?
To make this ACV dressing from scratch you have two options:
You can either add all the ingredients to a bowl and whisk until everything is well mixed together.
Add all the ingredients to a mason jar, close tightly with a lid, and shake until well emulsified.
Salad ideas to make with this apple cider vinaigrette recipe
Throughout the years I have made so many salad dressing. I also sometime tend to just add some lemon juice and olive oil to the salad and call it a day. All this to day that I know my way around a salad. Some Salad ideas that you can have with this apple cider vinegar dressing would be:
Spinach + dried cranberry + toasted walnuts
Arugula + boiled beets + avocado + slivered Almonds
Spinach + any berry you'd like + toasted almonds
Mixed salad greens + red onion + apple bits + feta cheese
The possibilities are actually endless… I am even thinking of sharing some specific recipes with you guys in the future. Would you like to see more healthy salad recipes and dressing on Lifestyle of a Foodie? If so please let me know in the comments below 🙂
Apple Cider Vinegar vinaigrette
This is my favorite ACV salad dressing, I have it with all kinds of greens ( kale, spinach, arugula, mixed greens) It is very easy and convenient to use!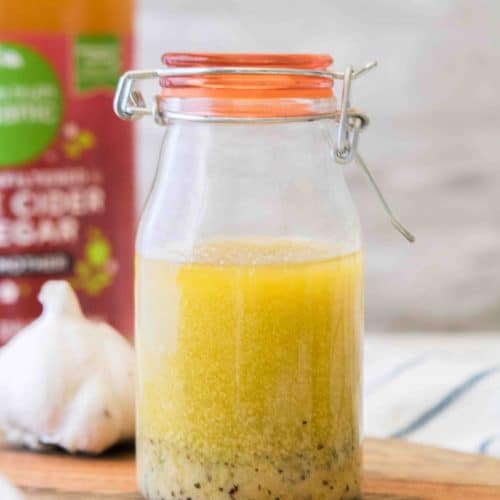 Raw Apple Cider Vinegar Dressing
This raw apple cider vinegar dressing is the perfect homemade salad dressing when trying to stay healthy. It is perfect for the candida diet and is way better for you than any store bought salad dressing.
Ingredients
¼

cup

Raw apple cider vinegar

with the mother

¼

cup

olive oil

1

garlic clove

grated or minced

1

teaspoon

dijon mustard

1

teaspoon

salt

¼

teaspoon

black pepper
Instructions
Add all the ingredients to a small bowl and whisk until mixed together. You can also add all the ingredients to a mason jar. Tighten the lid and shake for 30-60 seconds or until the dressing is well emulsified.
Thank you so much for making it all the way down here! If you enjoyed this healthy salad dressing recipe make sure to let us know in the comments down below.
Also don't forget to join us on Instagram!
[instagram-feed]

Shop this recipe
This post may contain affiliate posts, meaning that at no cost to you I will get a small percentage of every purchase you make!
If you enjoyed this apple cider vinegar dressing recipe make sure to pin it for later!