These thin, chewy and fudgy cake mix chocolate crinkle cookies are made using devil's food cake mix. They are the perfect cookie when you are short on time or just want to make something quick and hassle free.
SIGN UP TO OUR MAILING LIST GET A FREE WEEKLY MEAL PLANNER AND RECIPE CARD!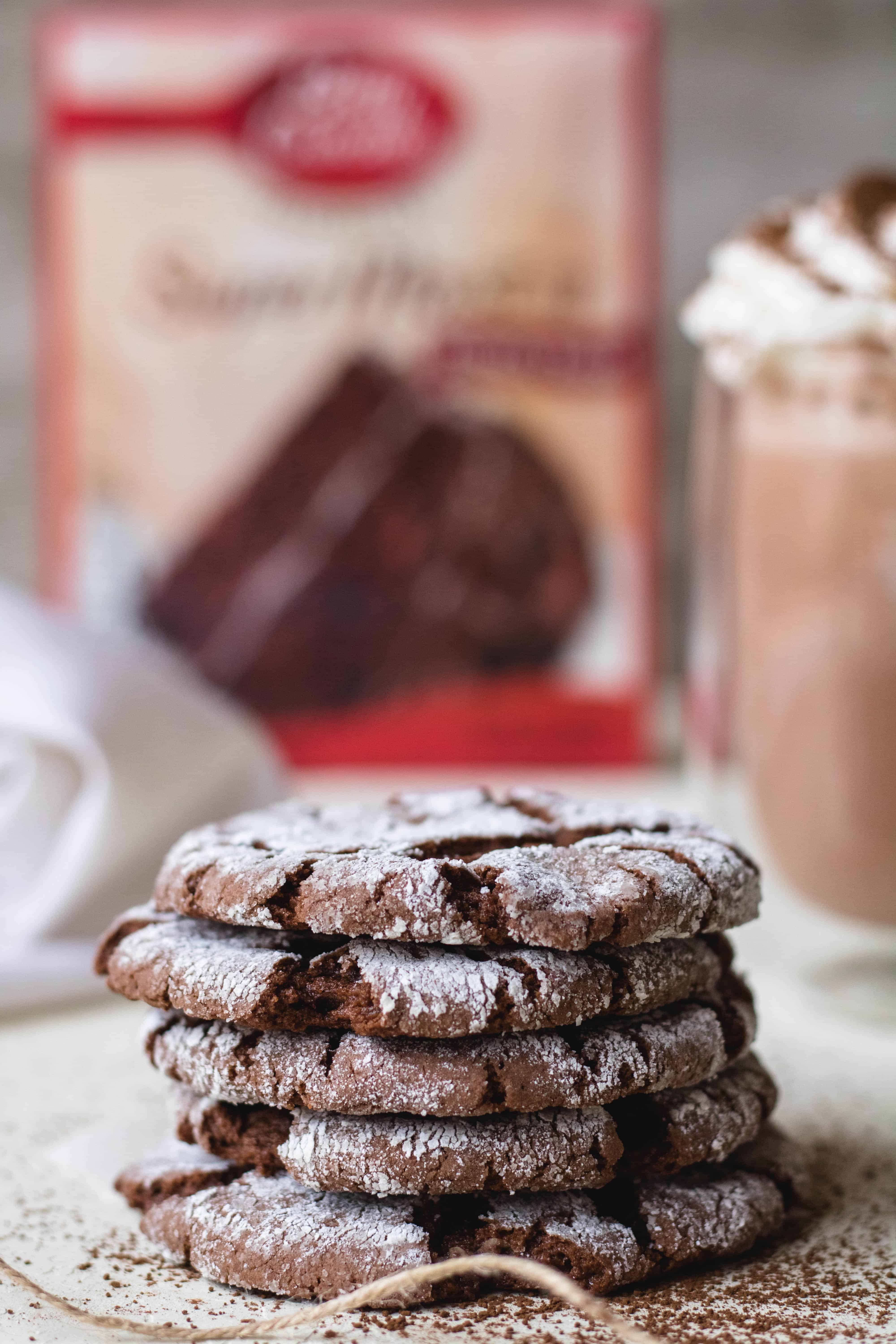 Alright you guys! We are literally almost there…
Have you guys made you Christmas/holiday cookies yet or are we procrastinating to the fullest? I am not gonna lie, I did procrastinate a little but only because I had so much to do.
This delicious fudgy delicious cake mix crinkle cookies are exactly what you need if you are looking for a last minute party dessert or gift, or cookies to put out for Santa *wink wink*
I made these no chill chocolate crinkle cookies because I needed something fast to fill up all my last minute cookie boxes. I will share those whenever I get a photo!
Of course, we snuck out a couple to eat them right as they came out of the oven (we obviously waited for them to cool before we did this!) and OMG… They don't even taste like they're made with cake mix.
If that's not amazing I don't know what is!
More recipe you will absolutely love!
What the heck is a crinkle cookie?
Crinkle cookies are one of the coolest cookies ever… That's all you need to know!
Just kidding, but these cookies are soft cookies that were rolled in powdered sugar and then develop little cracks when they're baked. They make for the most fun cookie ever!
Ingredients to make the best cake mix chocolate crinkle cookies
This recipe doesn't need much ingredient because it used chocolate cake mix as the base! All you need to do is add a couple of wet ingredients, roll them in sugar, bake and wait for the magic to happen!
Eggs
Vegetable oil
Granulated sugar
How to make THE BEST think cake mix chocolate crinkle cookies?
Mix the wet ingredient together then add in the dry ingredient. Mix until well incorporated.
Make cookie balls using a small cookie scooper. Roll into balls and coat in the granulated sugar first then coat them in powdered sugar second.
Bake the cookies at 350 for 10-12 minutes.
Let the cookies cool for 10 minutes before trying to pick them up. Enjoy!
These cookies are so easy that they can become your favorite holiday tradition to make with the kiddos!
IF YOU MADE SOMETHING FROM LIFESTYLEOFAFOODIE, I WOULD LOVE TO SEE ALL YOUR CREATIONS AND KNOW HOW EVERYTHING TURNED OUT! SO DON'T FORGET TO LEAVE A COMMENT BELOW AND FOLLOW ALONG WITH ME ON INSTAGRAM, PINTEREST, AND FACEBOOK.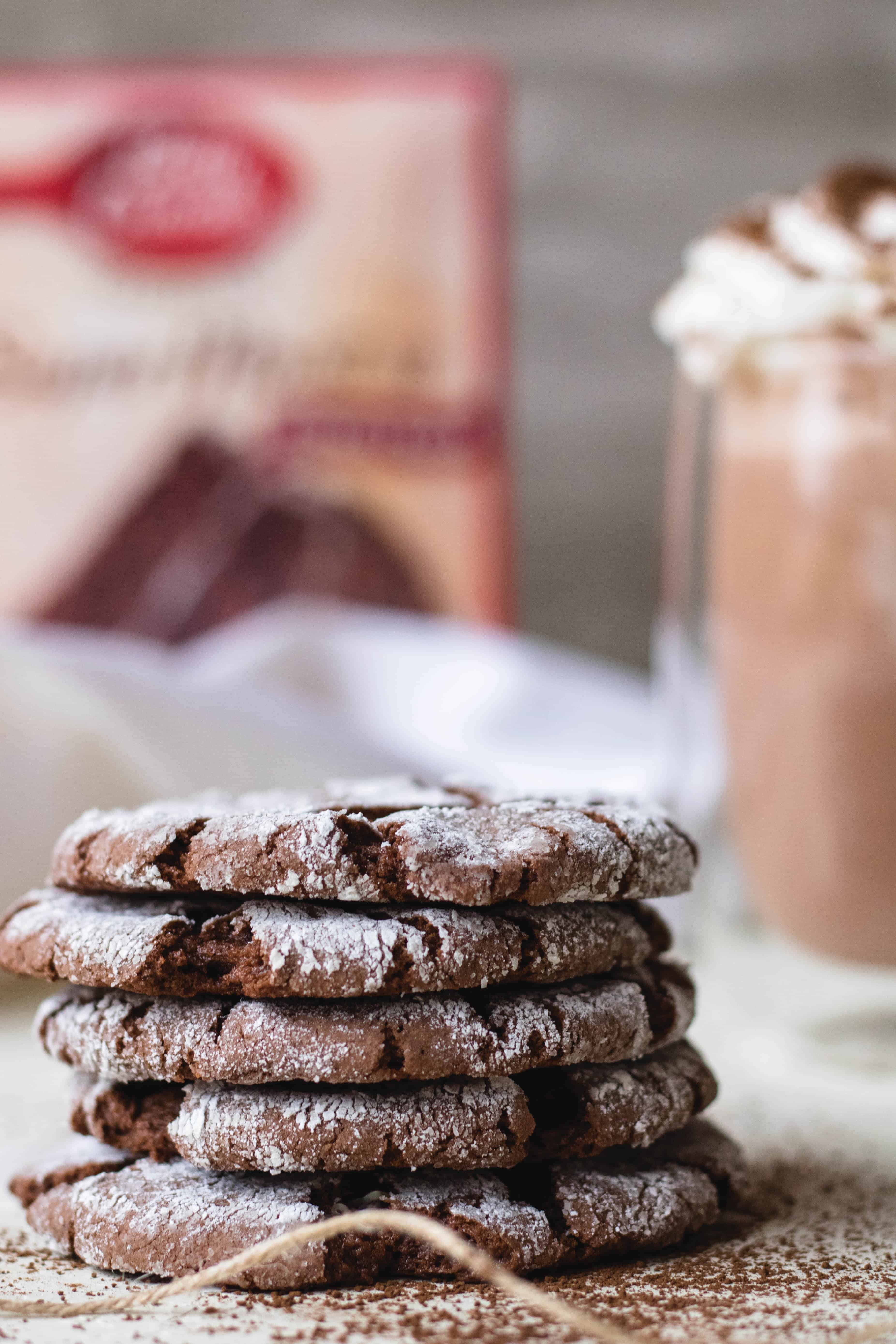 Thin and Fudgy Cake Mix Chocolate Crinkle Cookies
If you enjoyed this recipe make sure to give it a 5 star rating by clicking on the 5 stars under the title and description! Also don't forget to follow us on Instagram!
Fudgy Cake Mix Chocolate crinkle cookies
This is the easiest chocolate crinkle cookie recipe when you are short on time. It only needs 3-ingredients and extra sugar for coating!
Ingredients
1

box

Devil's food cake chocolate cake mix

½

cup

Vegetable oil

2

eggs

at room temperature

1

cup

granulated sugar

1

cup

powdered sugar
Instructions
Preheat the oven to 350F Then line two baking sheets with parchment paper.

In a medium bowl mix the eggs and oil with a hand mixer until they are fully incorporated.

Add in the chocolate cake mix and mix again until the batter is a little lighter in color. This will take around 3-4 minutes.

Using a small cookie scooper, scoop out 18-19 balls. Roll the cookie dough balls to coat them with the granulated sugar first.

After having dipped the cookies in granulated sugar now is time to coat them with the powdered sugar. Place the coated cookies on a baking sheet and bake for 10-12 minutes.

Let the cookies cool for 10 minutes before transferring them to a cooling rack.
Notes
These cookies an be stored in an airtight container at room temp for up to 3 days. They can also be stored in an airtight container and frozen for up to a month. 
Tips for making the best chocolate cake mix crinkle cookies
Do not skip the granulated sugar! a lot of the recipe don't use granulated sugar, but make sure to use it because it will keep the cookie dough from absorbing the powdered sugar .
Make sure that all your ingredients are at room temp! When everything is at room temperature you will have an easier time mixing them together.
Don't over-bake the cookies! These cookies are going to look like they're not baked enough, especially where the cookie cracks but just trust me! They will continue baking as you pull these chocolate crinkle cookies out of the oven 🙂
Let the cookies cool on the baking sheet for 10 minutes before trying to pick them up! If you don't they'll just break on you and that's no fun. They are thin and can be flimsy at first so let them cool enough before touching them.
Can you freeze these crinkle cookies from cake mix?
Yes!
To freeze them before baking, roll them into cookie balls and freeze them on a parchment lined baking sheet. When they are completely frozen, transfer them to an airtight container. They will last up to 3 months this way, just make sure to thaw them out overnight in the fridge then coating them in both sugars before baking again.
I would not recommend freezing them baked because the sugar will somewhat dissolve and they won't look as yummy anymore!
Crinkle cookies variation
The best thing about these crinkle cookies from cake mix is that they can be easily customizable to your own taste! For this recipe specifically, you could add chocolate chips for extra chocolate. You could also go with peppermint flavor or coffee flavor for the perfect holiday cookie recipe!
This recipe can also be made using any cake mix you have on hand! I have seen many strawberry cake mix crinkle cookies as well as red velvet cake mix cookies. These look absolutely gorgeous.
Shop this recipe
This article may contain some affiliate links, meaning, at no additional cost to you, I will earn a commission if you click through and make a purchase.

If you enjoyed this Fudgy Cake Mix Chocolate Crinkle Cookies made sure to pin this article for later!
As always if you tried these crinkle cookies from cake mix and loved them make sure to let me know in the comments below! I work really hard on creating these recipes for you and love seeing your feedback 🙂