These dulce de leche stuffed snickerdoodle cookies taste just like your childhood! The original twist on the classic snickerdoodle cookies is absolutely to die for. With an intense cinnamon toast flavor, this is definitely a crowd-pleaser. The cookies are soft and chewy with an indulgent silky smooth little surprise on the inside!
SIGN UP TO OUR MAILING LIST GET A FREE WEEKLY MEAL PLANNER AND RECIPE CARD!
Reader Rave ~
"Ok. Saw the post and went instantly to the kitchen xD I'm Uruguayan so dulce de leche is not only super common but also sooooo loved, that I definitely had to try this. Prepared these glorious cookies. Me and my boyfiend tried one each straight from the oven, we didn't even let em cool and honestly… WE LOVED EM! I really thank u for sharing the recipe, we'll gonna prepare this a million more times!!"
Have I expressed how obsessed I am with cookies? I feel like I already did, but I am going to do it again!
I love cookies guys…
To be more specific, I love making cookies. They are so quick, fun, and easy to add your own twist on them. So for all my non-baker friends, don't be scared! As long as you follow the recipe you'll be able to make any cookies that your heart desires.
Speaking of any cookies, have you checked out my other cookie recipes? If not, there you go:
No chill brown butter white chocolate macadamia nut cookies, these no chill brown butter white chocolate macadamia cookies might have a super long title but they are so so tasty! The brown butter elevated the whole cookie, add the luxurious macadamia nuts to the equation and you got yourself a winner!
Sarah Kieffer's Internet-famous cookies, you had me at internet famous! Sarah Kieffer is an awesome blogger that shared a super fun way to make cookies. By banging these cookies you get beautiful wrinkles on some pretty huge chocolate chip cookies!
The Best "Gluten-Free | Vegan" Tahini Sesame seed cookie you've ever had. I definitely stand behind the fact that these are probably the best healthy tahini cookies you've ever had. If you are only here for the beautiful pictures but don't want to make something too sugary, then head over to this awesome recipe and try it out for yourself to ee what all the hype is all about.
I do have more cookie recipes on the blog but I don't want to have them take over this post completely so if you are interested in more cookie recipe, type cookies in the search bar on the left side of the page.
Promise you will not be disappointed!
Back to the beginning of this!
Now… let's get back to the most important topic here today! These gorgeous Dulce de leche stuffed snickerdoodle cookies.
Anyhow, there has been a crazy amount of hype around snickerdoodle cookies lately for some reason… If anyone can explain why I'd be so grateful for that!
Since everyone has been into this explosion of flavor type of cookies, I wanted to share my own. I've always liked snickerdoodles, but I also enjoy being over the top as well. So I decided that they had to be stuffed with something…
For this reason, I started trying to figure out what to stuff them with. Nutella? That sounded pretty awesome but I wanted to be different, I felt like everyone stuffs their cookies with Nutella. The search continued until I realized probably what might be the most crucial information to this recipe… These cookies were supposed to be a peace offering to my sister.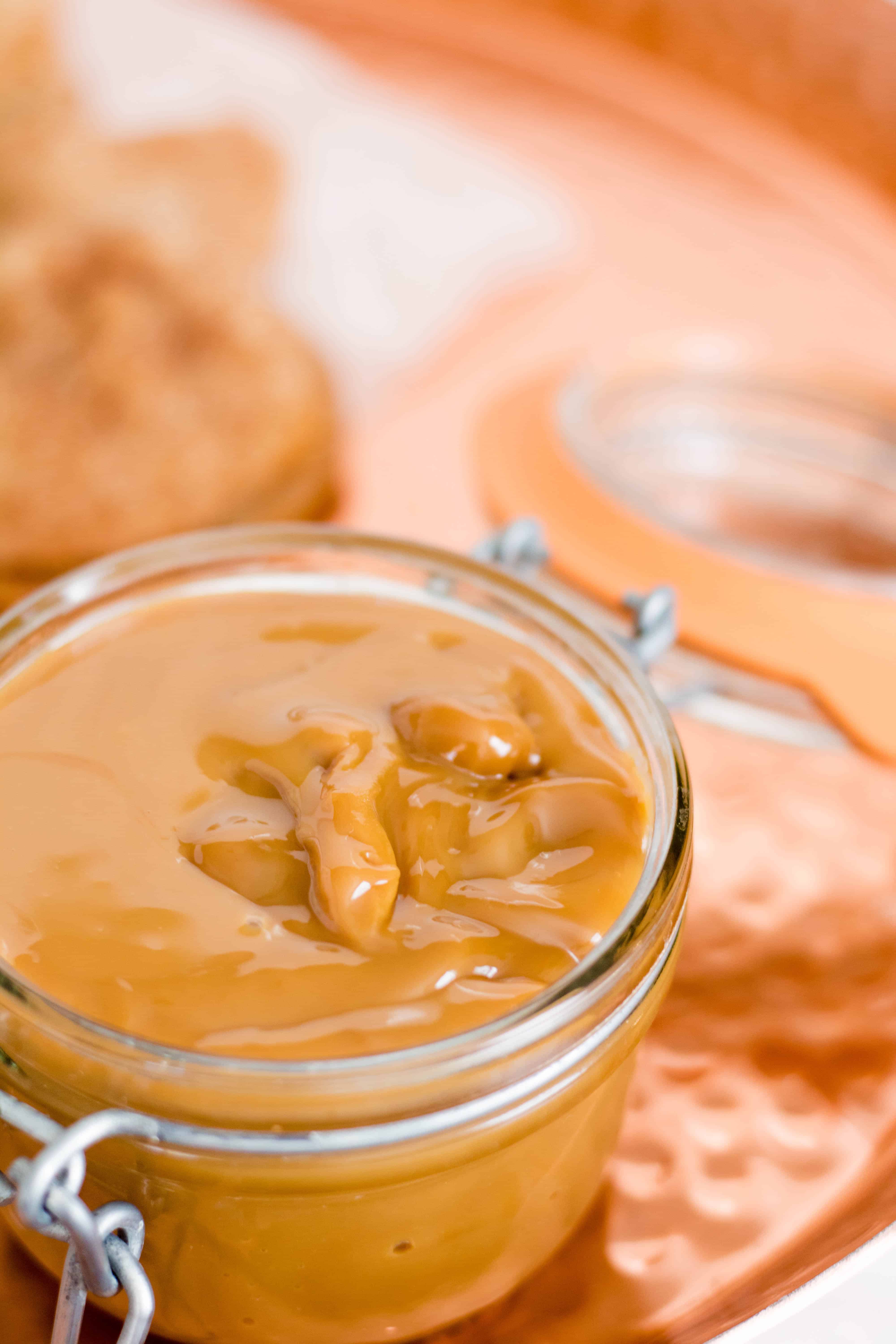 Considering these cookies were meant to be a peace offering to my little sister, I knew right away what to stuff them with… Dulce de leche! I have never met anyone more obsessed with sweetened condensed milk or Dulce de Leche as much as she is. So that was that! Dulce de leche stuffed snickerdoodle cookies it is :)!
How do I make these Dulce de Leche Stuffed Snickerdoodle Cookie!?
This recipe is fairly simple.
Just like any other snickerdoodle recipe, You mix the dough, roll it into balls, and roll it in cinnamon-sugar before baking. The only difference is that we are going to split each cookie dough ball into 2, this way we can stuff it with our luscious dulce de leche filling then seal it back.
Place the cookies on a non-stick cookie sheet and bake for 8 to 10 minutes depending on your oven. You want these cookies to stay soft! Disclaimer: Because these cookies are so soft, some of the dulce de leche sometimes oozes out from them either from the top or sides in the oven. This is not a huge issue since they will still have plenty of dulce de leche inside as well!
Dulce de leche is a Latin American creation. It is made by slowly heating sweetened condensed milk, allowing it to caramelize, darken, and thicken. The coolest part about Dulce de leche is that there are a ton of ways to make it!
You can make it from scratch by simmering milk and sugar. This method will allow the water from the milk to evaporate and the sugar particles to caramelize. Creating a thick, sweet, and creamy mixture.
You can also make it using a can of sweetened condensed milk for convenience. Some people simmer the can of sweetened condensed milk for a couple hours until it is ready. Others prefer to pressure cook it to prepare it a bit quicker.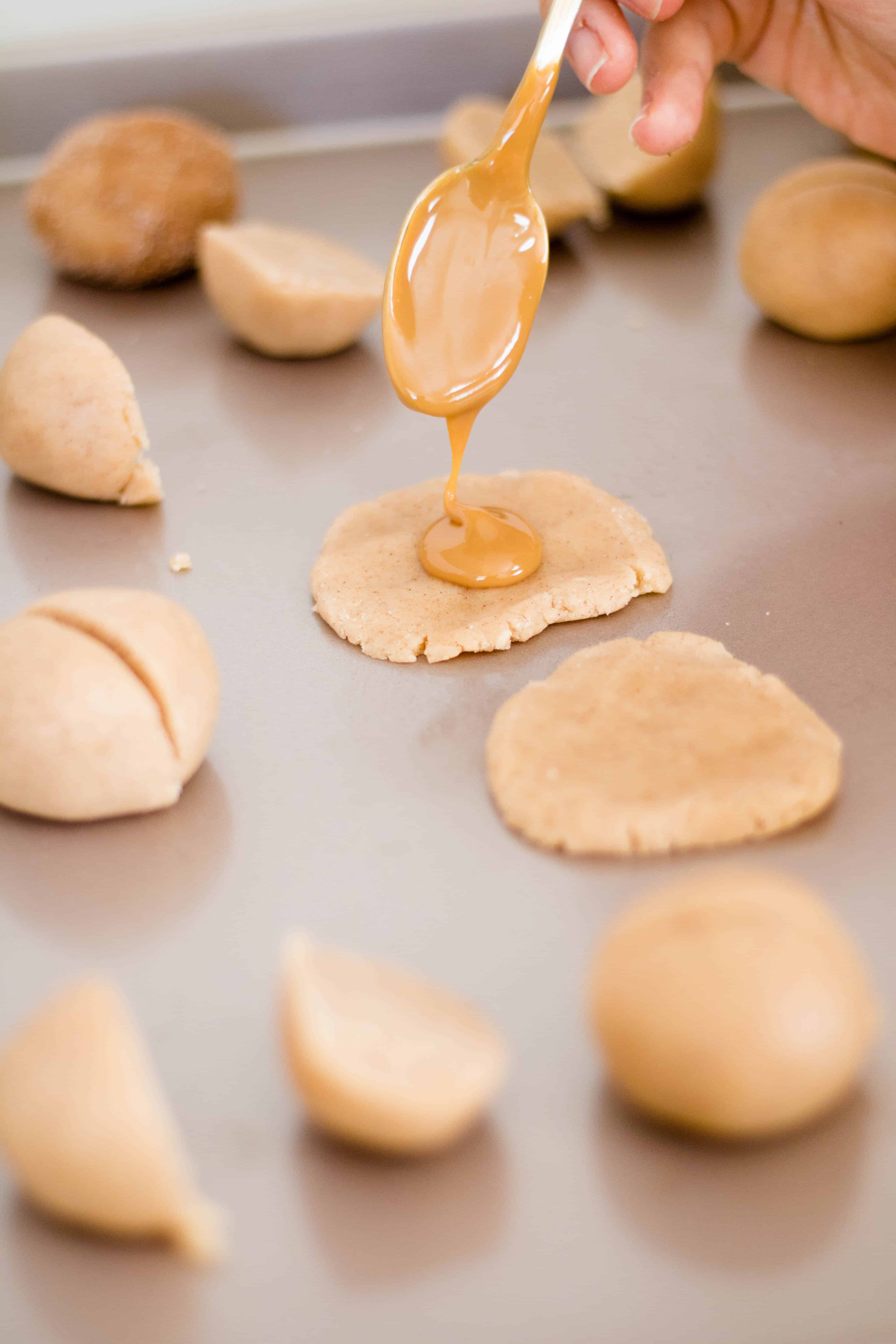 The Dulce de leche recipe that I posted will be ready in less than an hour, and won't have you stirring constantly and worrying about where the level of water is at.
This recipe will, on the other hand, require a bit of patience from you, given the fact that you cannot open the can until it is completely cool to avoid having it explode and burn you. For these dulce de leche stuffed snickerdoodle cookies, I recommend that you make the dulce de leche the night before to allow it to cool down completely before using it.
Check out the Dulce de Leche recipe here.
Dulce de Leche Stuffed Snickerdoodle Cookie
Dulce de Leche Stuffed Snickerdoodle cookies
These dulce de leche stuffed snickerdoodle cookies taste just like your childhood! With an intense cinnamon toast flavor, this is definitely a crowd-pleaser. The cookies are soft and chewy with a nice little surprise in the middle!
½ cup butter (This equals 1 stick)
1 cup granulated sugar
1 egg (at room temperature)
1 teaspoon vanilla extract
1 tablespoon water
1 & ¾ cup flour
¼ teaspoon salt
½ teaspoon baking powder
1 & ½ teaspoon cinnamon
¼ cup dulce de leche
For the sugar coating
2 tablespoon white granulated sugar
2 teaspoon cinnamon
Start by preheating the oven to 375F
In a large bowl, cream the softened butter and the sugar, about 2 to 3 minutes. Add the egg, vanilla, and the water and beat until well incorporated. Do this in 30-second increments, 2 to 3 times.
In a separate bowl, sift the flour, salt, baking powder, and the cinnamon. Add the dry ingredients to the wet mixture and fold everything until the cookie dough forms.
In a shallow bowl or plate, mix the 2 tablespoon of sugar with the 2 teaspoon of cinnamon and set aside.
Divide the dough into 18 equal balls, these would be about 2 tablespoons worth.

Split each ball in half.

Flatten the first half add about 1-2 teaspoons of dulce de leche in the center and cover with the flattened second half.

Seal the edges.

And roll into a perfect cookie ball.

Roll each cookie dough ball in the cinnamon-sugar mixture and place on your non-stick cookie sheet. Leave about 2 inches between each cookie.

Bake for 8-10 minutes. Let the cookies cool on the cookie sheet for a few minutes then transfer them to a cooling rack to cool completely.
Store these cookies in an airtight container for 2 days outside of the fridge or for up to 1 week in the refrigerator.
Why these Dulce de Leche stuffed Snickerdoodle Cookies are my favorite…
For the longest time, I've been obsessed with the combination of cinnamon sugar. Add dulce de leche to that and I am literally in heaven.
Trust me you will be too…
Another thing is that when I was younger my go-to cereal was cinnamon toast crunch, as I grew up I started having a more refined palate, I started going for Mexican cinnamon-sugar churros with delicious dulce de leche sauce, just to remind me of that delicious flavor combination that I liked so much!
So having something a bit different that I can add to my repertoire of flavors kinda makes me pretty excited!
Products that I Love for these Dulce de Leche Stuffed Snickerdoodle Cookie
This article may contain some affiliate links, meaning, at no additional cost to you, I will earn a commission if you click through and make a purchase
.
To save these Dulce de Leche Stuffed Snickerdoodle Cookie recipe PIN IT!