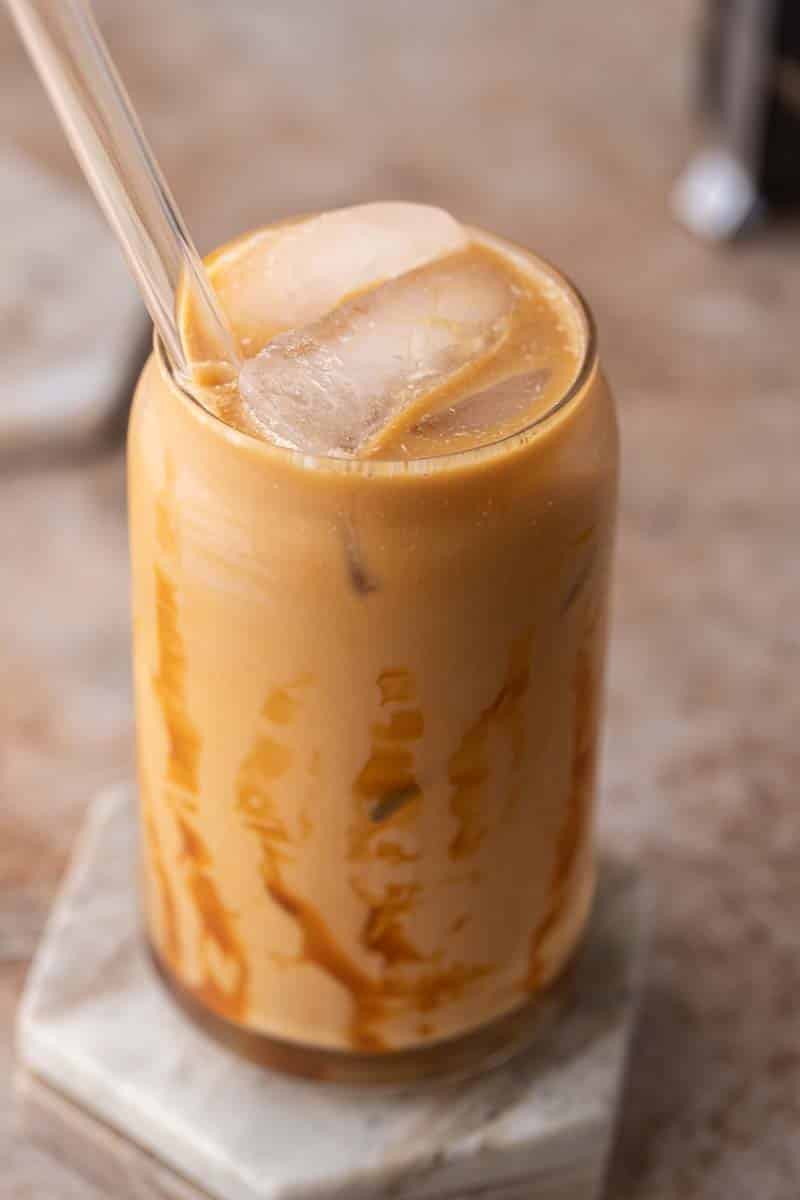 This is the best homemade iced caramel coffee recipe
Making your own homemade iced coffee at home is one of the most therapeutic things ever! It allows you to spend a little quality time with yourself making something that you enjoy. It requires no special skills just a little time a handful of ingredients and you'll have yourself the iced coffee drink of your dreams! Plus there are days when the last thing you want to do is leave the house, and no amount of coffee will make you budge so that's when this recipe is absolutely perfect.
​So next time you are craving a delicious breakfast drink I can't recommend this enough!
Why you need to make this recipe!
It's budget-friendly! Trust me you will pay a lot more for this drink at your local coffee shop than the cost of all the ingredients.
This is so versatile! You can really tweak it depending on how you like your iced coffees.
It's quick to make and so convenient. No need to wait in the drive-through or even have to leave your house!
This recipe uses basic ingredients that you probably already got at home!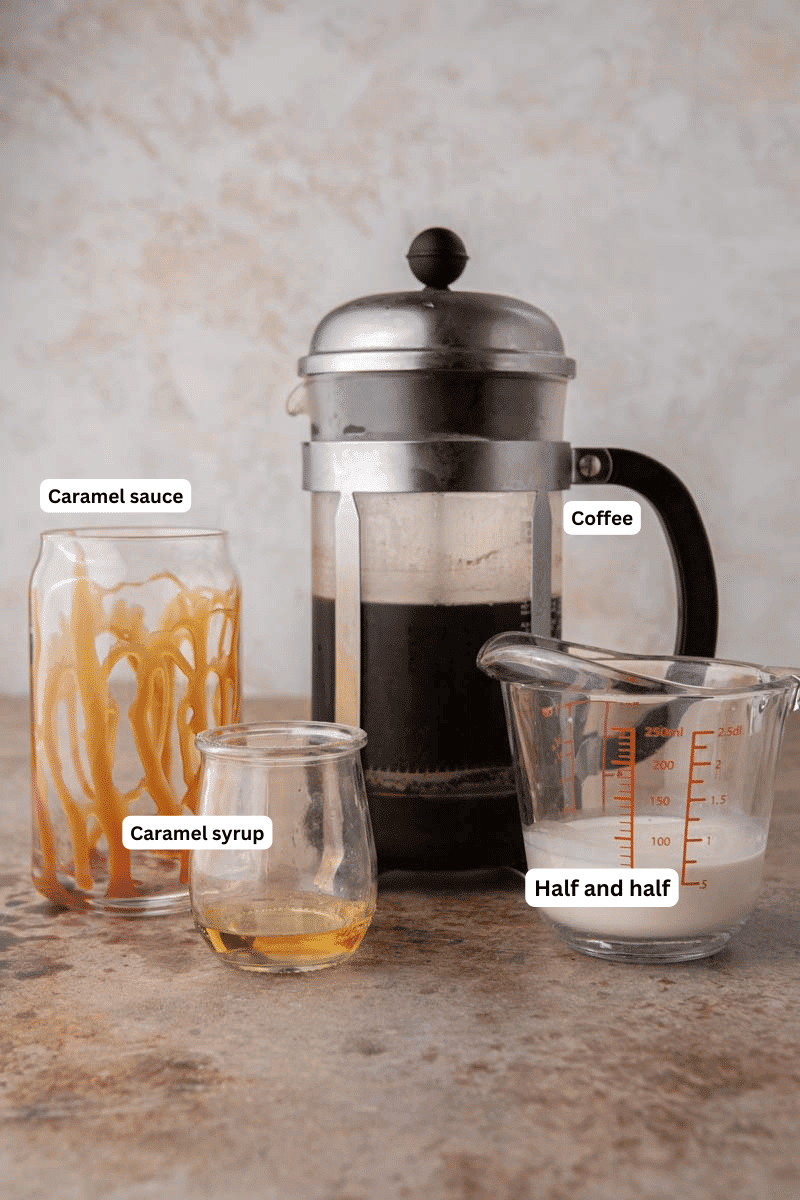 Ingredients for this iced caramel coffee drink.
Here are the ingredients you will need to make this caramel iced coffee recipe, Make sure to scroll down to the recipe card for the full detailed ingredient measurements.
strongly brewed coffee or cold brew coffee- I used my French press to make my hot brewed coffee the night before and chilled it in the fridge. You can also use instant coffee which I explained in detail in the FAQ.
Caramel sauce– You can use your own caramel sauce or get store-bought bottles. This is optional and will be used to coat the cup. 
Caramel syrup- This is pretty much the simple syrup that will sweeten our coffee and give it that delicious
Half and half- You could also use your milk of choice, like soy milk, cashew milk, almond milk, coconut milk, a splash of heavy cream, whole milk, or even oat milk.
Ice- I use regular ice cubes but you can also use coffee ice cubes to keep the coffee flowing!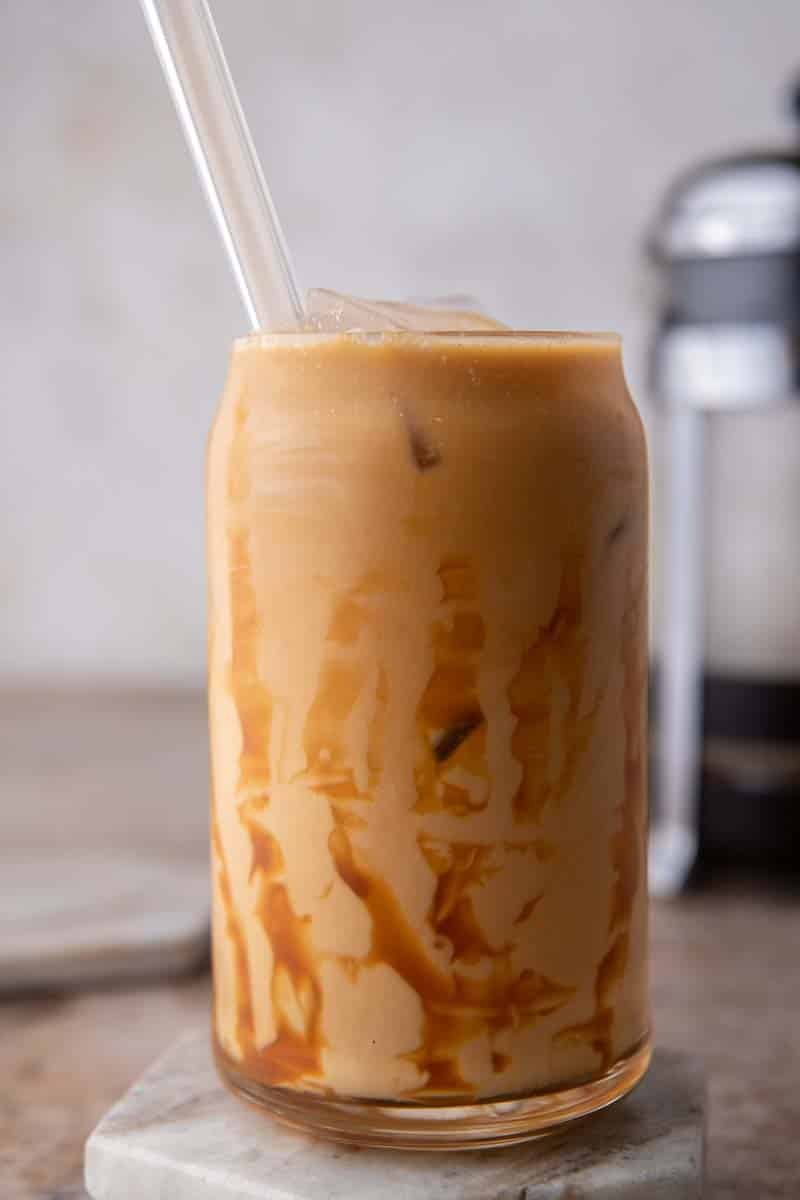 How to make the best iced caramel coffee?
This is how you can make this iced coffee recipe. Make sure to scroll down to the recipe card for the full detailed instructions!
Drizzle the caramel sauce in the tall glass, then add the ice cubes.
Add the caramel syrup and the cooled-down coffee.
Top with a splash of half and half or milk of your choice and enjoy!
If you enjoy whipped cream, you can also add a little whipped cream on top of your drink and caramel swirls on top to make it look super Instagram-worthy.
Frequently asked questions – FAQ
Is this considered an iced caramel latte?
technically it is not a latter because a latte is usually made with a shot of espresso (or more), whatever syrup you like, and milk. To make that into an iced latte you'll just have to pour the mixture over ice.
In this case, we are using strongly brewed coffee or cold brew to make an "iced coffee' drink.
What if I don't have cooled-down coffee or cold brew?
If you do not have those two on hand and want a quick iced caramel coffee recipe my best tip would be to use instant coffee! All you have to do is mix 1 tablespoon instant coffee is ¼ cup hot water then fill up the rest with cold water.
Make the rest of the recipe as per the instructions on the recipe card and you'll have yourself a delicious iced drink.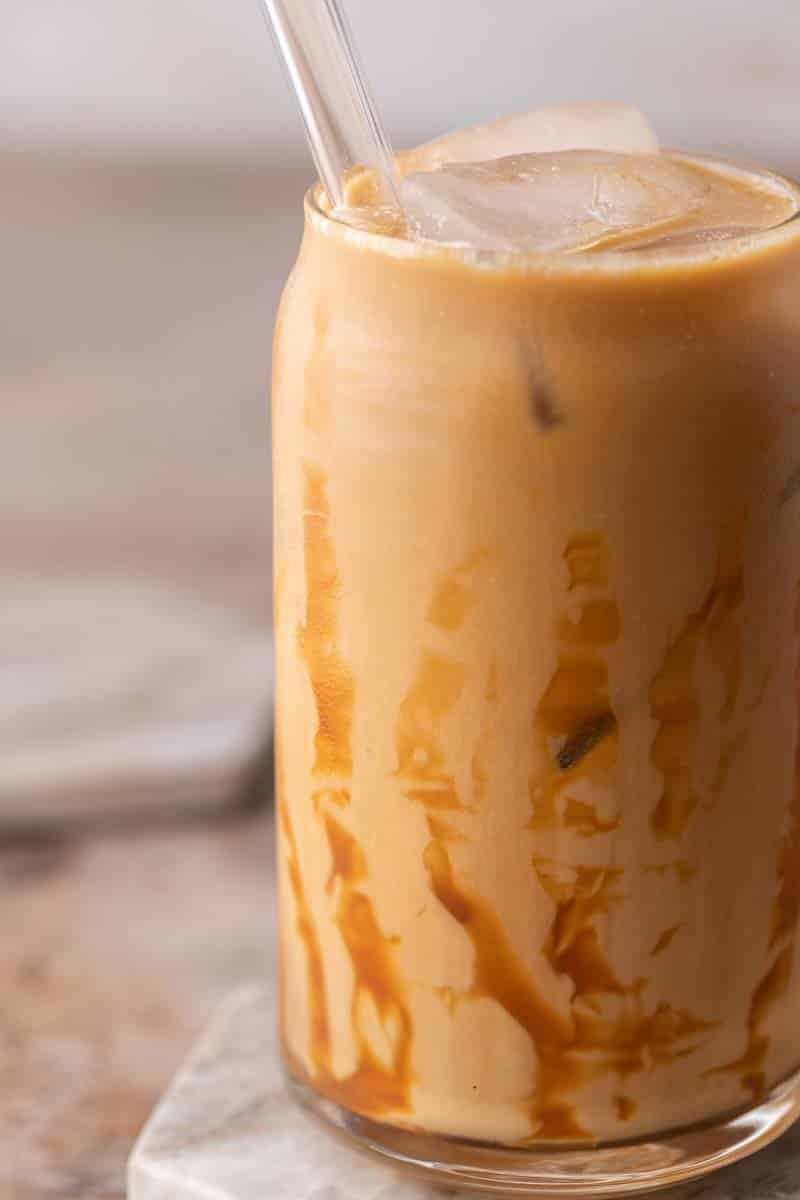 How to store this iced coffee drink?
You should preferably enjoy it as soon as you make it because it does contain ice cubes but you can also sieve the cold coffee drink into a mason jar or an airtight container and save it in the fridge for later.
Once ready to enjoy it add in some more ice cubes and enjoy!
What type of coffee is best for homemade iced coffee?
This will totally depend on your preference but cold brew has the best taste because it was brewed slowly without any heat resulting in a less acidic coffee. Trust me try it and your taste buds will thank you!
The next best thing would be strongly brewed coffee that you chilled prior to making this drink. I love using it because it is convenient and allows you to use any leftover coffee that you might have on hand.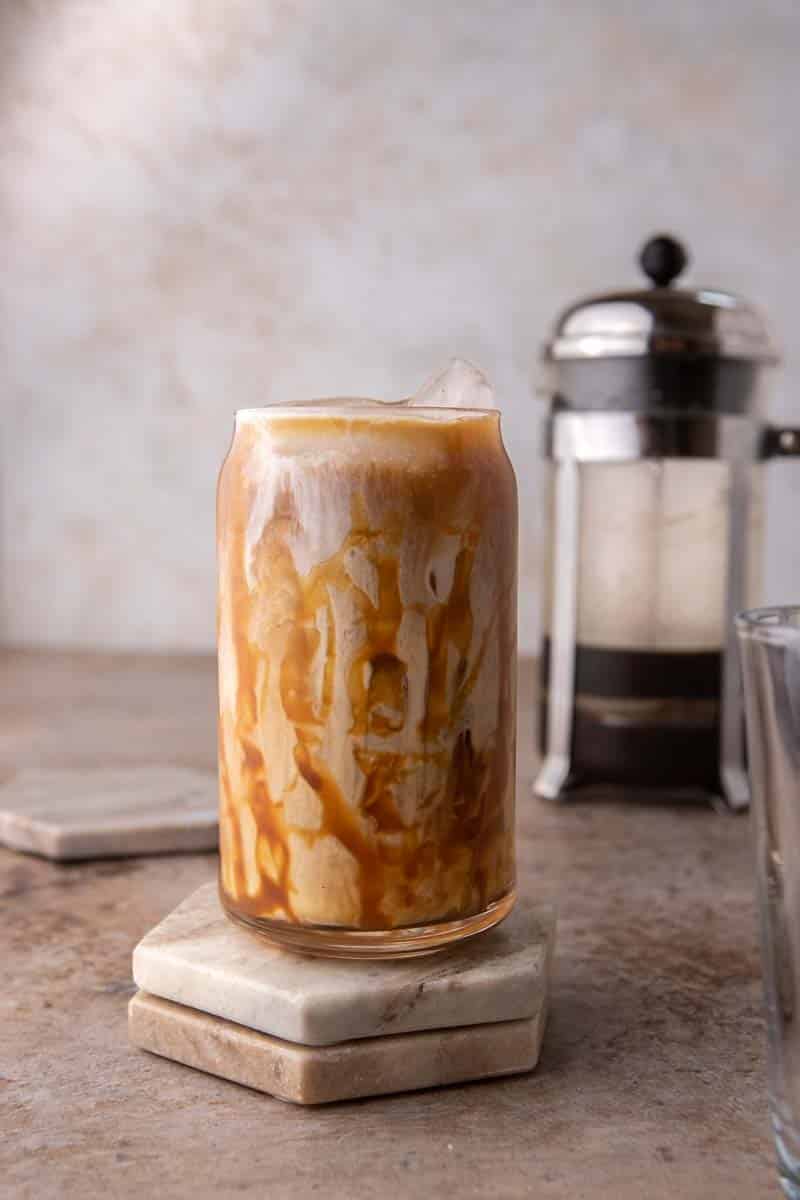 The best iced caramel coffee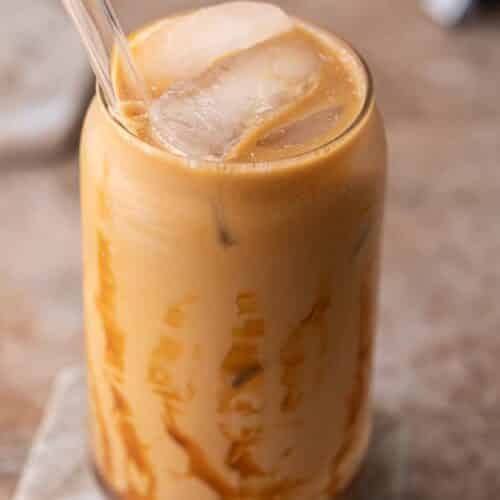 How to make easy homemade iced caramel coffee recipe
This easy iced caramel coffee is a delicious coffee recipe that will help you elevate your coffee drink game!
Ingredients
caramel sauce

To drizzle around the glass, optional

1

oz

caramel syrup

to taste, about 1 & ½ – 2 tablespoons

8

oz

cooled down coffee

or cold brew

½

cup

ice

¼

cup

half and half

can alternatively use heavy cream or even whole milk
Instructions
Drizzle some caramel sauce in your tall glass.

Add in the ice then the caramel syrup, and the cooled-down coffee or cold brew.

1 oz caramel syrup,

½ cup ice,

8 oz cooled down coffee

Pour in the half and half, stir and enjoy!
Nutrition
Calories:
146
Calories
Carbohydrates:
21
g
Protein:
2
g
Fat:
7
g
Saturated Fat:
4
g
Polyunsaturated Fat:
0.3
g
Monounsaturated Fat:
2
g
Cholesterol:
21
mg
Sodium:
91
mg
Potassium:
80
mg
Sugar:
3
g
Vitamin A:
214
IU
Vitamin C:
1
mg
Calcium:
68
mg
Iron:
0.03
mg
Shop this recipe
This post may contain affiliate links, meaning that at no cost to you I will get a small percentage of every purchase you make!
If you enjoyed this iced caramel coffee recipe make sure to pin it for later!