This mocha iced coffee recipe is the perfect, most refreshing beverage you'll make today! Not only is it made with simple ingredients but it also comes together so fast. All you need to do is throw your ingredients together in a shaker, cocktail shaker, or even a mason jar, stir well, top with ice, and your favorite creamer. 
Since you are here make sure to take a look at these other coffee drinks recipes, like this iced caramel iced coffee, this iced caramel macchiato, Chick-Fil-A iced mocha cream cold brew, and this iced mocha latte recipe!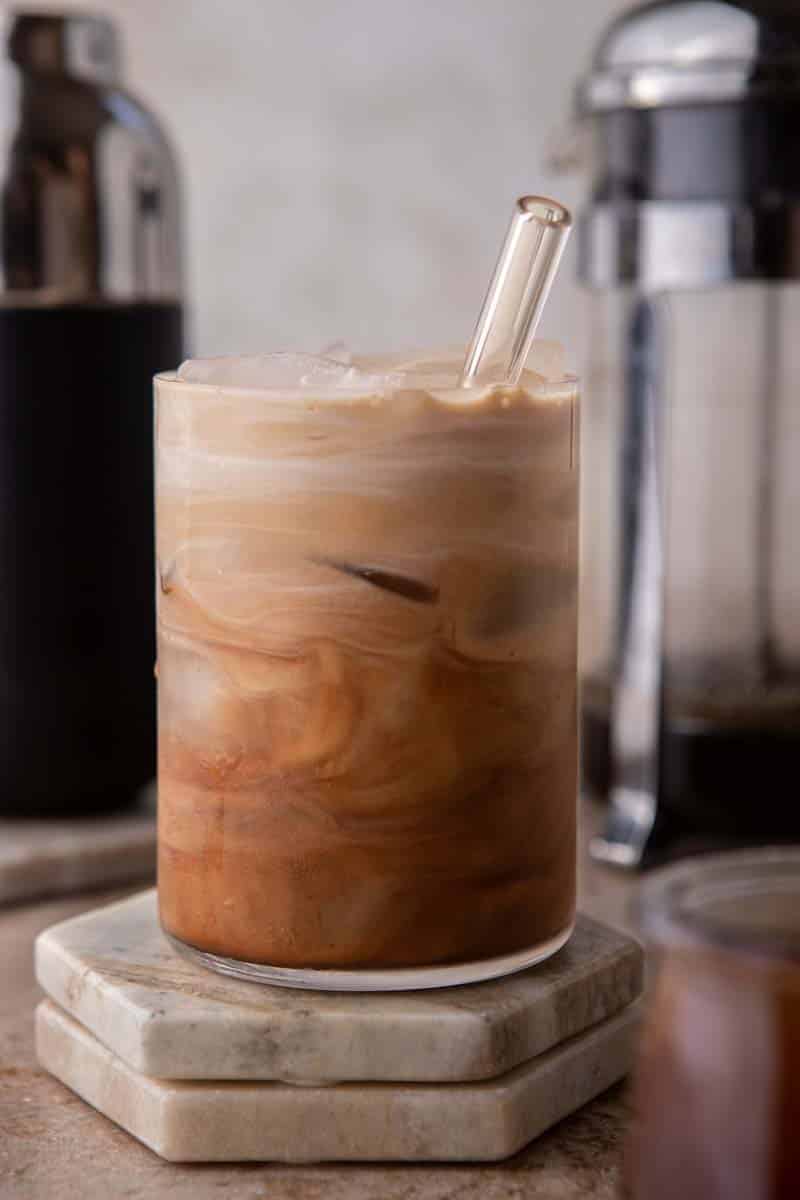 This is the best iced mocha coffee recipe!
Chocolate and coffee are a match made in heaven! Truly, adding both complex flavors together to make this iced drink will brighten your day and make your taste buds so happy.
​This recipe is the best way to start your day especially if you're a mocha lover. It is quick, convenient to make, and will save you a lot of money as well. Plus by making it at home you know exactly what is inside of it and will be able to craft the ultimate coffee drink for yourself after a few tries.
I strongly recommend using this recipe as a baseline and adding or removing the amount of syrup, creamer, or even milk to fit your liking.
Why you need to make this recipe!
This is such a budget-friendly recipe that will save you a ton of money in the long run!
It's a drink that you can make in the comfort of your own home. No need to get dressed up or wait at the drive-through to enjoy this delicious coffee!
No need for an espresso machine, just some good old regular coffee or cold brew coffee will do.
What is mocha iced coffee made of?
Mocha iced coffee is simply made out of coffee, chocolate sauce, and some sort of creamer. It is light, flavorful, and so refreshing especially when it's a little warm outside.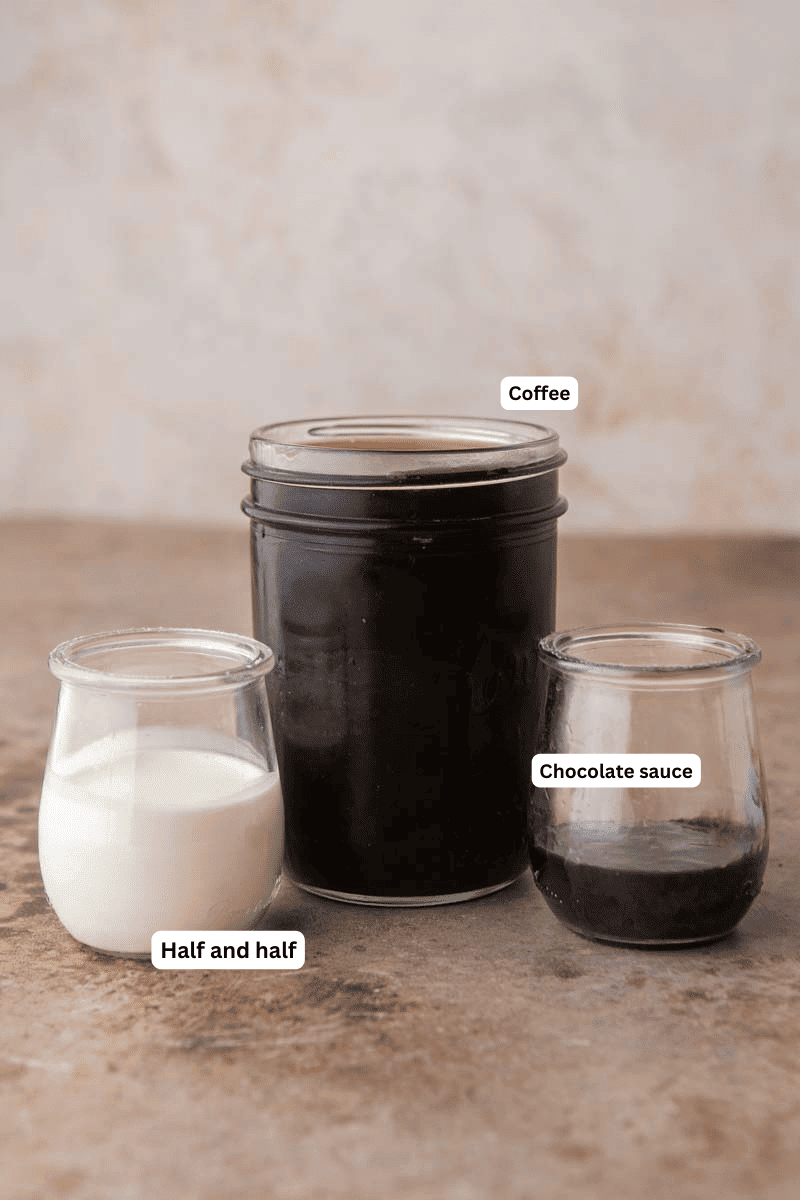 Ingredients for this delicious iced mocha coffee recipe
Here are the ingredients you will need to make this easy chocolate coffee recipe. Make sure to scroll down to the recipe card for the full detailed ingredient measurements.
Coffee- I used strongly brewed coffee that I chilled but you can also use cold brew or cold brew concentrate.
Creamer – I like to use half and half but feel free to use anything else you might like. I like whole milk!
Ice cubes- Of course, if you don't want watered-down coffee, feel free to use iced coffee cubes.
Variations
To take your iced coffee drink to the next level you can top it with whipped cream a little extra chocolate drizzle on top as well as mini chocolate chips or chocolate shavings. Trust me this will make it look and taste even better than the Starbucks iced mocha!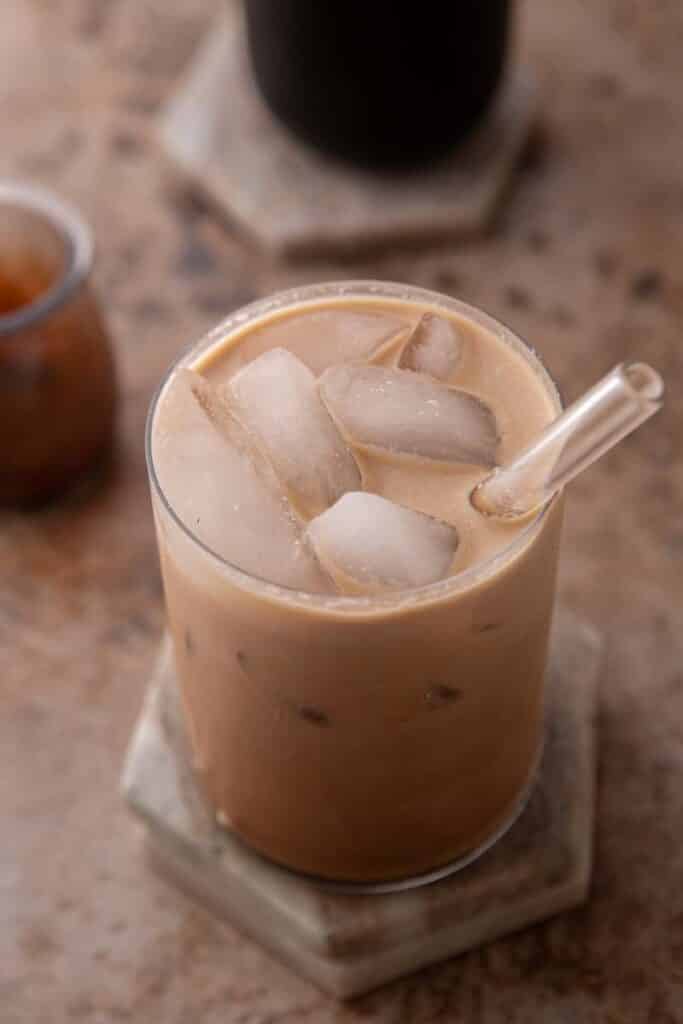 How to make this simple mocha iced coffee
This is how you can make this simple recipe Make sure to scroll down to the recipe card for the full detailed instructions!
Pour the chocolate sauce and the cold strong coffee into a tall glass. I used my homemade chocolate syrup. 
Froth using a handheld milk frother to get the chocolate sauce combined into the coffee. You can alternatively use a cocktail shaker or a mason jar for this step.
Top it off with ice cubes or pour the chocolate sauce coffee mixture in a tall glass full of ice.
Drizzle half and half on top and watch the stunning marbling happen. It is a good idea to taste it now and assess if the drink is to your liking. Make sure to adjust the ingredients properly now to make your ultimate "best coffee"
Once you tweak it to your liking, enjoy it as is, or top it with whipped cream and enjoy!
Of course, you can also add the coffee and the chocolate syrup into a cocktail shaker or a mason jar with a tight lid and shake it well to get everything incorporated together to make the best chocolate coffee drink.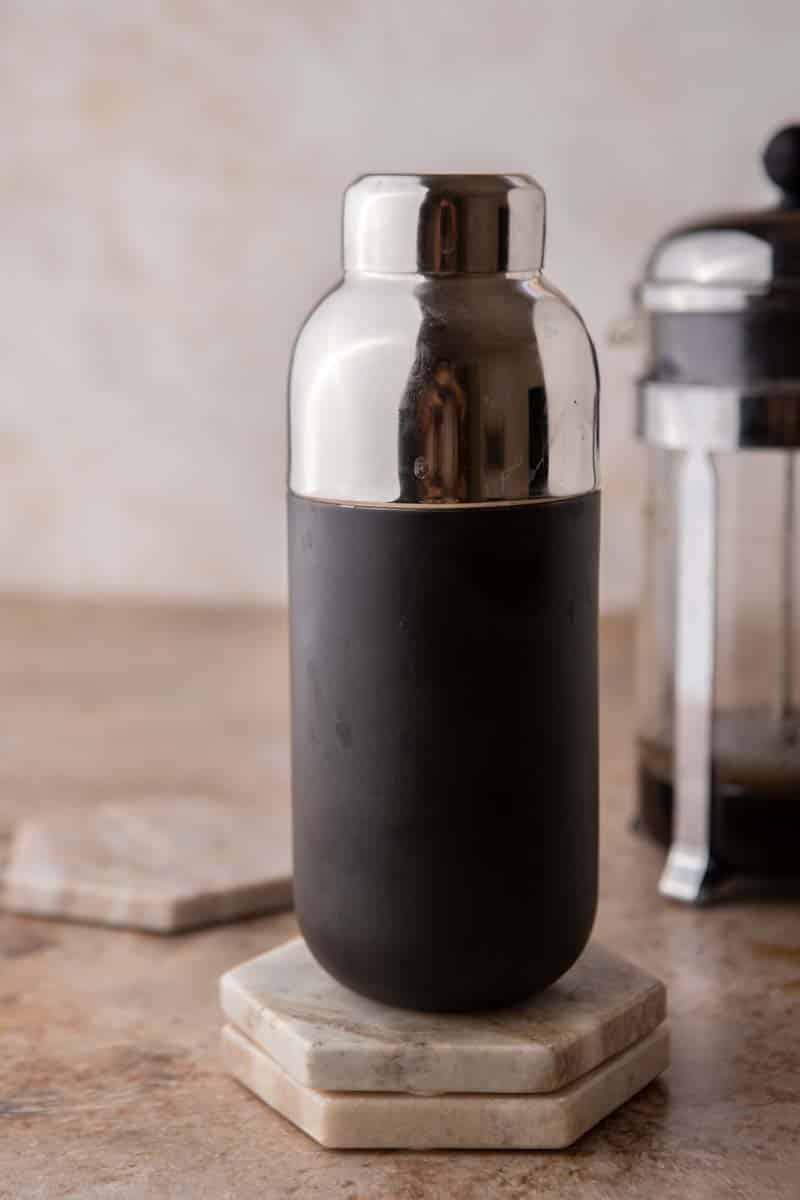 Frequently asked questions – FAQ
How can I make iced coffee cubes?
All you have to do is pour your cooled-down regular coffee into an ice tray and freeze until solid. You can use them in your iced coffees to keep them from being too watered down.
Can I make this iced coffee dairy free?
First off make sure your chocolate sauce is dairy-free or use my homemade chocolate sauce recipe which contains no dairy products. Then instead of using dairy creamer use a non dairy creamer like the NutPods ones or just use a different milk alternative like :
oat milk
Almond milk
Cashew milk
Soy milk
Coconut milk, or any other plant-based milk option.
What is the difference between an iced mocha coffee, and an iced mocha latte?
The difference is simple, the iced mocha coffee is made with mainly coffee or cold brew and is then topped off with a splash of milk or creamer. While the iced latte is made with expresso shots and milk. They both contain chocolate sauce to bring out that chocolate flavor in the most perfect way but the difference is mainly in the coffee used and the ratios of coffee to milk or creamer.
Can I turn this into a mocha frappuccino?
Definitely!
Instead of adding the coffee, chocolate sauce, and creamer onto a cup full of ice, pour it all in a blender with 1 cup or 1& ½ cups of ice, ¼ teaspoon xanthan gum, as well as a few tablespoons of granulated sugar and blend. 
Pour into your serving glass, add whipped cream, and whatever toppings you like, and enjoy.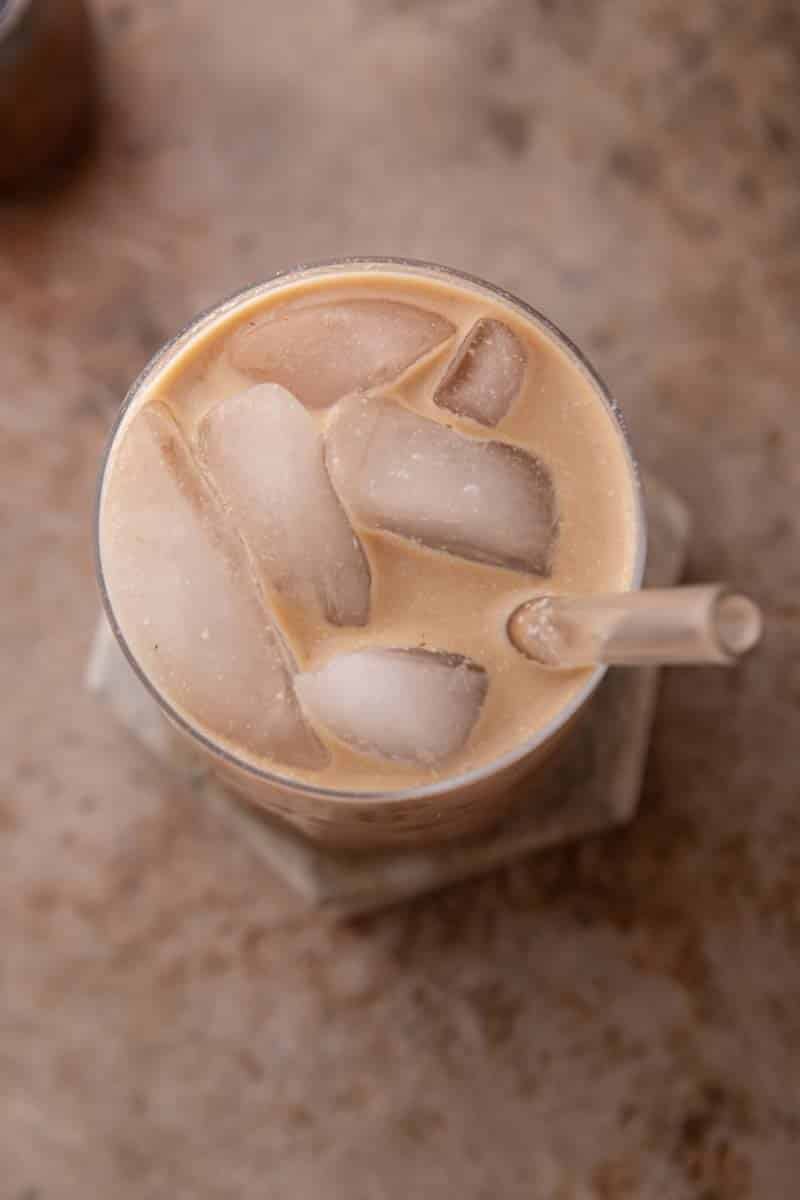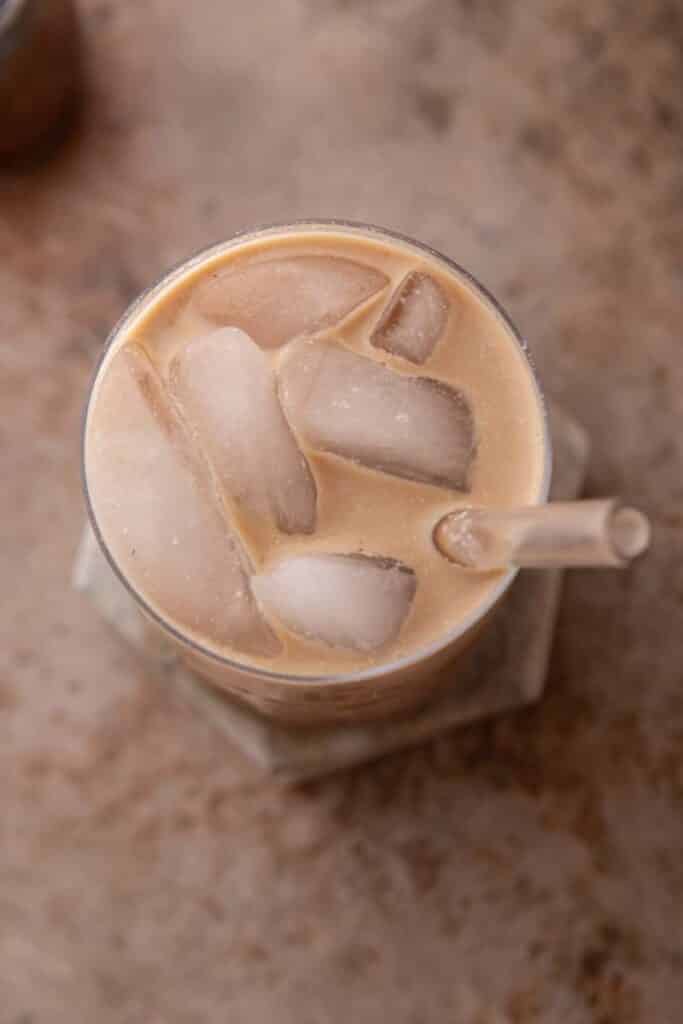 Can I double or triple this recipe?
Yes! The full ingredients are on the recipe card alongside an x2 or x3 button which will double or triple the ingredient measurements for you. The recipe would be made exactly the same except for the fact that you'll have to divide it into multiple glasses instead of having the whole thing in one glass. 
How much caffeine is in a homemade iced mocha coffee?
The amount of caffeine depends on the amount of coffee you use. Since this recipe only has about ¾ cup of coffee the caffeine content will be about 70 grams of caffeine. This is the perfect amount for an afternoon pick-me-up or a morning coffee!
Can I use instant coffee instead of cold brew or regular brewed coffee?
Absolutely! I would recommend adding 1 tablespoon of instant coffee to about ¼ cup of hot water. Mix to combine then add in ½ cup of cold water. Use as you would regular coffee in this recipe.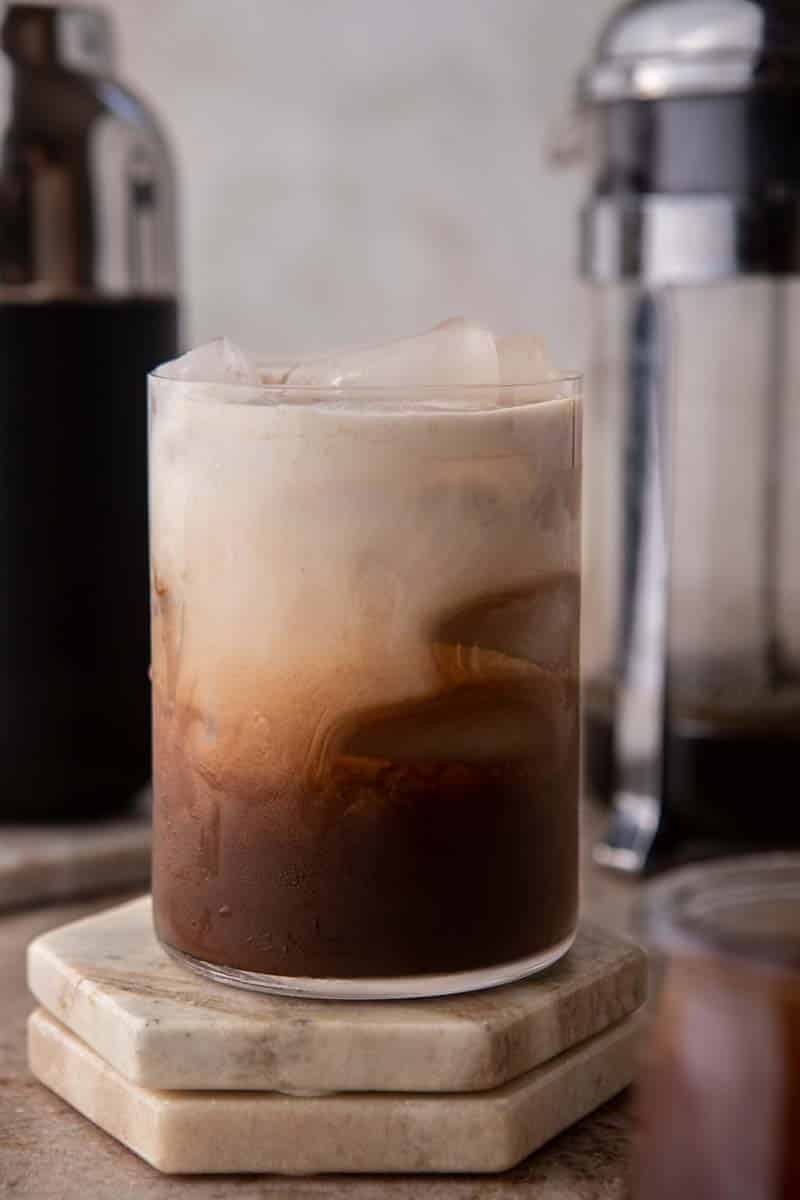 The best mocha iced coffee recipe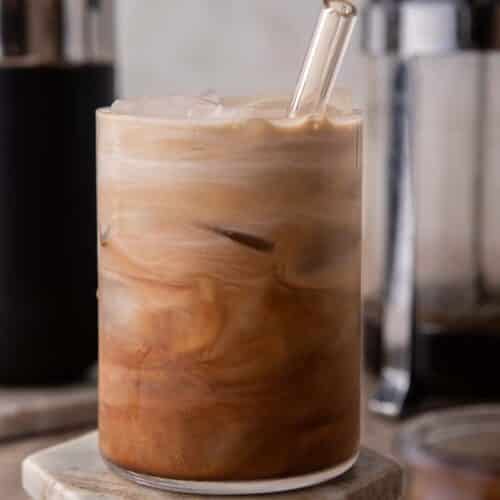 How to make homemade easy iced mocha coffee recipe
If you ever wondered how to make a homemade iced mocha coffee then I got you covered with this super easy and delicious recipe!
Ingredients
6

oz

strongly brewed coffee cooled down

or cold brew

2

tablespoon

chocolate sauce

to taste

¾

cup

ice

¼

cup

half and half

whipped cream optional

1

tablespoon

simple syrup

to sweeten it more, optional
Instructions
Combine the coffee and the chocolate sauce in a cocktail shaker or a mason jar. Close the lid and shake vigorously.

6 oz strongly brewed coffee cooled down,

2 tablespoon chocolate sauce

Alternatively, you can combine the coffee and the chocolate sauce into your serving glass and use a handheld frother to mix it together then top it with ice.

Pour in a tall glass full of ice and top it off with half and half. Enjoy as is or top it with whipped cream and an extra drizzle of chocolate sauce.

¾ cup ice,

¼ cup half and half,

whipped cream optional
Taste and add the simple syrup if you'd like it sweeter.
Nutrition
Calories:
212
Calories
Carbohydrates:
27
g
Protein:
4
g
Fat:
10
g
Saturated Fat:
6
g
Polyunsaturated Fat:
0.5
g
Monounsaturated Fat:
3
g
Cholesterol:
22
mg
Sodium:
177
mg
Potassium:
188
mg
Fiber:
1
g
Sugar:
16
g
Vitamin A:
215
IU
Vitamin C:
1
mg
Calcium:
89
mg
Iron:
1
mg
Shop this recipe
This post may contain affiliate links, meaning that at no cost to you I will get a small percentage of every purchase you make!
If you enjoyed this iced mocha coffee recipe make sure to pin it for later!