This Starbucks pumpkin spice sauce recipe is the holy grail of the fall season especially if you love making your own Starbucks pumpkin spice latte. It is made with simple ingredients and will be ready in no time. Use this to make pumpkin spice cold brew, pumpkin spice sweet cream, pumpkin spice cold foam, or the ultimate pumpkin spice latte that we all love so much! This simple recipe is easy and is made with only 6 ingredients that you might already have in your pantry. 
Since you are here, make sure to check out this Starbucks homemade pumpkin spice syrup recipe, this pumpkin cream cold brew, the easiest pumpkin pancakes recipe, as well as this Starbucks pumpkin cream cheese muffins,.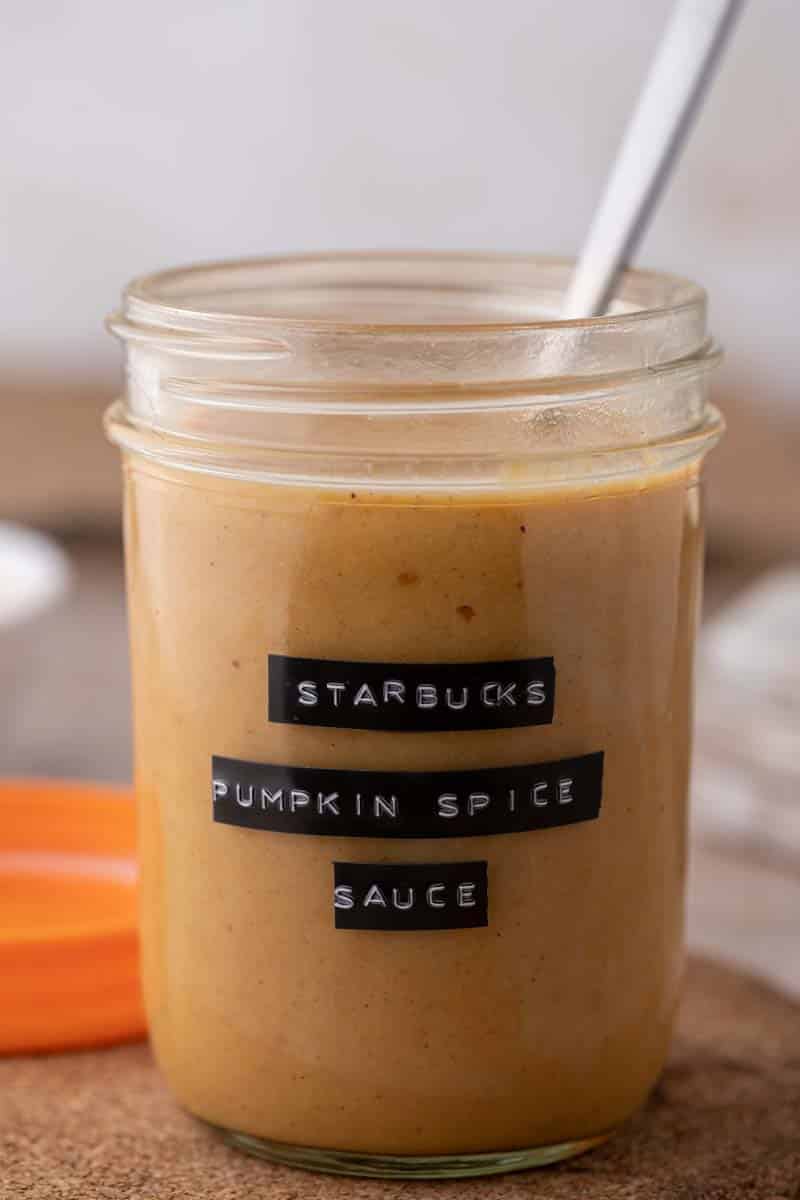 This is the best Starbucks pumpkin sauce recipe!
It's time! Starbucks announced its newest fall menu. This means it is the unofficial official pumpkin spice season start and we are so excited about it!!!
And there is nothing more exciting than all the pumpkin drinks going around because it almost acts as an unspoken rule that things will get a little slower, more chills and cozy, with the holidays right around the corner. So rejoice and enjoy some fall flavor beverages at home to really get into the fall mood. Or make this recipe anytime you have those pumpkin cravings even if it's the middle of April!
What is the difference between homemade pumpkin syrup and Starbucks pumpkin sauce?
The homemade pumpkin syrup is more of a simple syrup, made with water, spices like cinnamon sticks and ginger, sugar, and a little pumpkin puree while the pumpkin sauce is a little thicker and is made with sweetened condensed milk as well as pumpkin puree, spices and a little sugar.
The texture is the most noticeable thing when it comes to these two syrups and sauces. The taste is also different because the sweetened condensed milk also adds a little extra creamy flavor. 
Why you need to make this recipe!
Making this at home will allow you to know exactly what you are using in your sauce. Higher quality ingredients with no additives or preservatives.
You can really tailor the flavor to your liking when making this homemade pumpkin sauce from scratch.
This recipe will allow you to make your own at-home pumpkin spice lattes for way less. Or any other drink that you love during the fall season!
It's a great way to save a ton of money because we all know that Starbucks drinks are not cheap at all!
This is the perfect recipe for all things pumpkin lovers! Make it and gift it to friends and family in cute little jars.
Ingredients for this Starbucks Starbucks sauce
Here are the ingredients you will need to make this easy recipe. Make sure to scroll down to the recipe card for the full detailed ingredient measurements.
Brown sugar & granulated sugar
Pumpkin puree– Make sure you are using real pumpkin puree and not pumpkin pie filling. Homemade pumpkin puree would also work well.  
Pumpkin pie spice
Vanilla extract
How to make the best pumpkin sauce for your drinks
This is how you can make Starbucks pumpkin spice sauce. Make sure to scroll down to the recipe card for the full detailed instructions!
Combine water and sugar in a small saucepan over medium heat.
Stir until the sugar dissolves then add in the pumpkin puree, sweetened condensed milk, pumpkin spice, and salt.
Cook on low heat for 2 minutes then remove from the heat and allow the pumpkin sauce to cool down.
Store the pumpkin spice sauce in an airtight container in the fridge or use in your drinks immediately.
Frequently asked questions – FAQ
How to store leftover pumpkin sauce?
You can store your sauce in an airtight container in the fridge for up to 2 weeks.
Can I make this into a dairy-free pumpkin spice sauce?
This recipe as is doesn't fit a vegan or dairy-free diet, but you can easily change it up a bit to make it work for your own needs. 
Instead of using regular. milk sweetened condensed milk, use coconut sweetened coconut milk. You can also use coconut sugar instead of brown sugar if you'd like.
When making your own pumpkin spice latte make sure you are using dairy-free milk!
Homemade pumpkin spice latte recipes
To make the Starbucks famous pumpkin spice lattes with this pumpkin spice sauce, you will need to mix 2 tablespoons of the pumpkin spice sauce with 1 or 2 hot espresso shots and top it all off with 6-8oz of steamed hot milk. Choose your preferred milk like skim milk, coconut milk, or even oat milk, but Starbucks uses 2% milk. Top your drink with whipped cream for an extra cozy drink that you can enjoy around this time of year.
What is pumpkin sauce at Starbucks?
The Starbucks pumpkin spice flavored sauce is a sauce that they use in their lattes that is made with primarily sugar, sweetened condensed milk, and pumpkin purée.
Starbucks homemade pumpkin spice sauce
Starbucks pumpkin sauce recipe
This easy Starbucks pumpkin spice sauce is the perfect copycat to the sauce that your favorite coffee shop uses to make their fall drinks.
Instructions
Combine water and sugar in a small saucepan over medium heat. Stir until the sugar dissolves and the mixture comes to a simmer.

¼ cup brown sugar,

¼ cup granulated sugar,

½ cup water

Reduce the heat to medium-low then add in the sweetened condensed milk, pumpkin puree, pumpkin pie spice, and salt. Stir to combine.

⅔ cup pumpkin puree,

14 oz sweetened condensed milk,

¾ teaspoon pumpkin pie spice,

¼ teaspoon salt

Bring the mixture to a boil, then reduce to simmer and allow it to simmer for 3 minutes.

Remove from the heat, add in the vanilla extract, and mix again. Allow the sauce to cool down a little before adding it to a jar. Cool down fully before chilling in the fridge.

1 teaspoon vanilla extract
Nutrition
Calories:
87
Calories
Carbohydrates:
17
g
Protein:
2
g
Fat:
2
g
Saturated Fat:
1
g
Polyunsaturated Fat:
0.1
g
Monounsaturated Fat:
0.5
g
Cholesterol:
7
mg
Sodium:
56
mg
Potassium:
95
mg
Fiber:
0.2
g
Sugar:
16
g
Vitamin A:
1324
IU
Vitamin C:
1
mg
Calcium:
62
mg
Iron:
0.2
mg
Shop this recipe
This post may contain affiliate links, meaning that at no cost to you I will get a small percentage of every purchase you make!
If you enjoyed this homemade pumpkin sauce recipe make sure to pin it for later!