This delicious brownie frosting recipe is the perfect topping for your homemade brownies. Made with just a handful of simple ingredients like powdered sugar, butter, high-quality cocoa powder, and heavy cream. This recipe is something you'll want to keep on hand to pull out the next time you have a party or event in the future!
If you're looking for your next favorite homemade brownie recipe, take a look at some of these: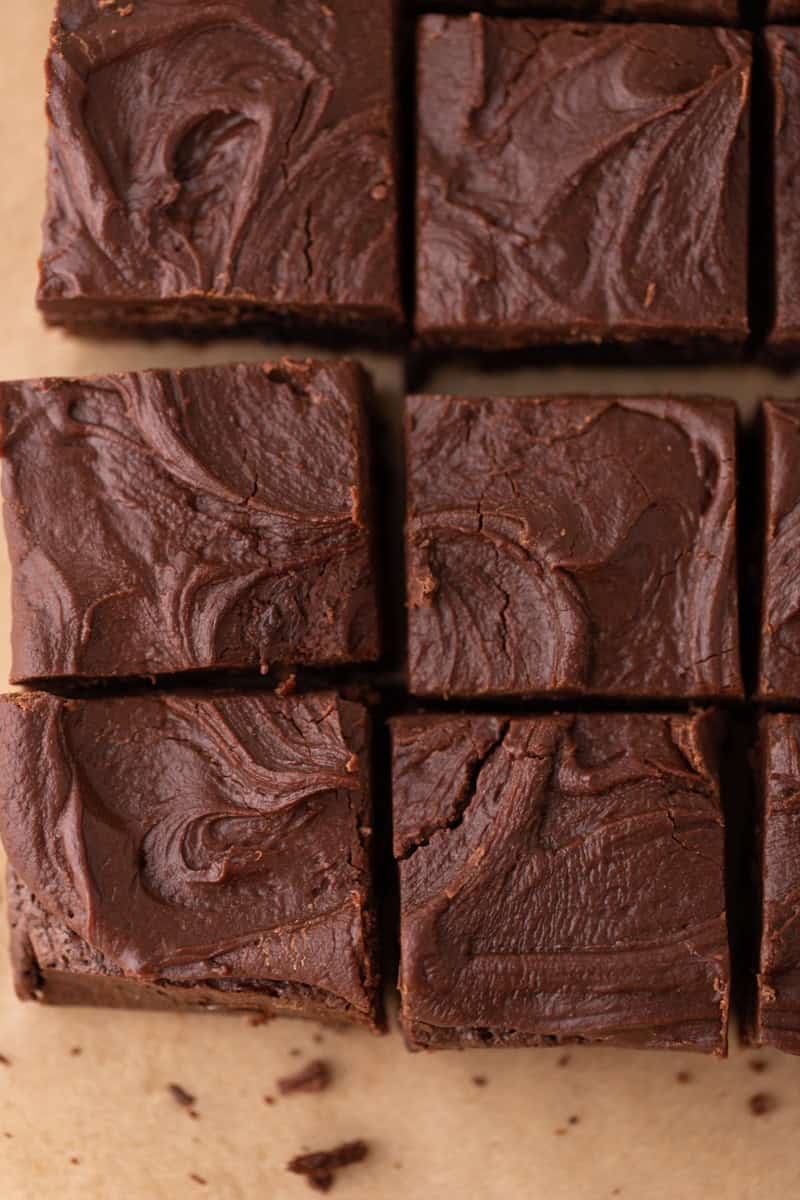 This is the Best chocolate brownie frosting recipe ever!
I don't know about you but for some reason, brownies that have that beautifully thick chocolate frosting on top always hit differently! They seem more luxurious for some reason.
I would say it is probably the extra richness of it that takes the whole brownie to the next level. Plus it makes them look like they came straight from a bakery. But the best part is that this frosting can be made in less than 5 minutes!!!
Table of Contents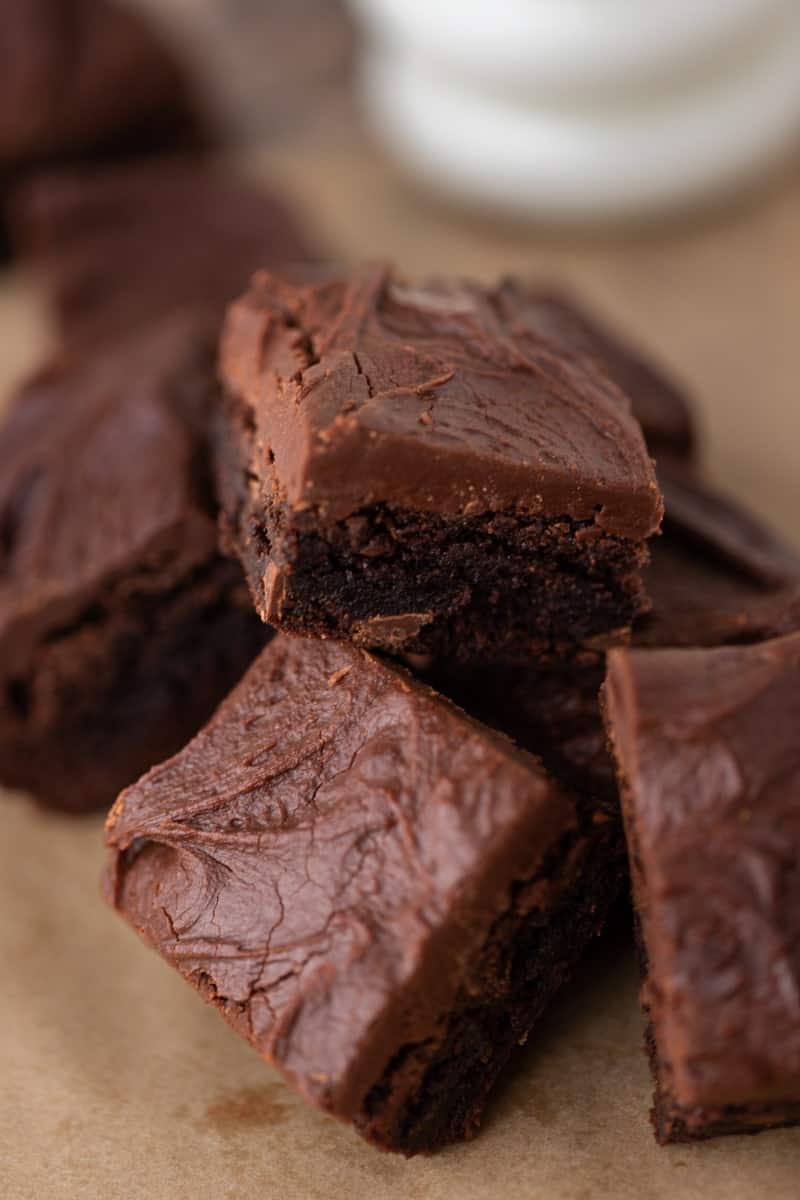 Why You Need To Make This Recipe
This delicious frosting adds the perfect finishing touch to your fudgy brownies that you already make for sports watch parties and holiday events.
Take your brownies to the next level with this perfect chocolate frosting and impress your friends, family, and even yourself with how well your decadent brownies turned out.
Make this great recipe with friends or loved ones to create happy memories and moments together.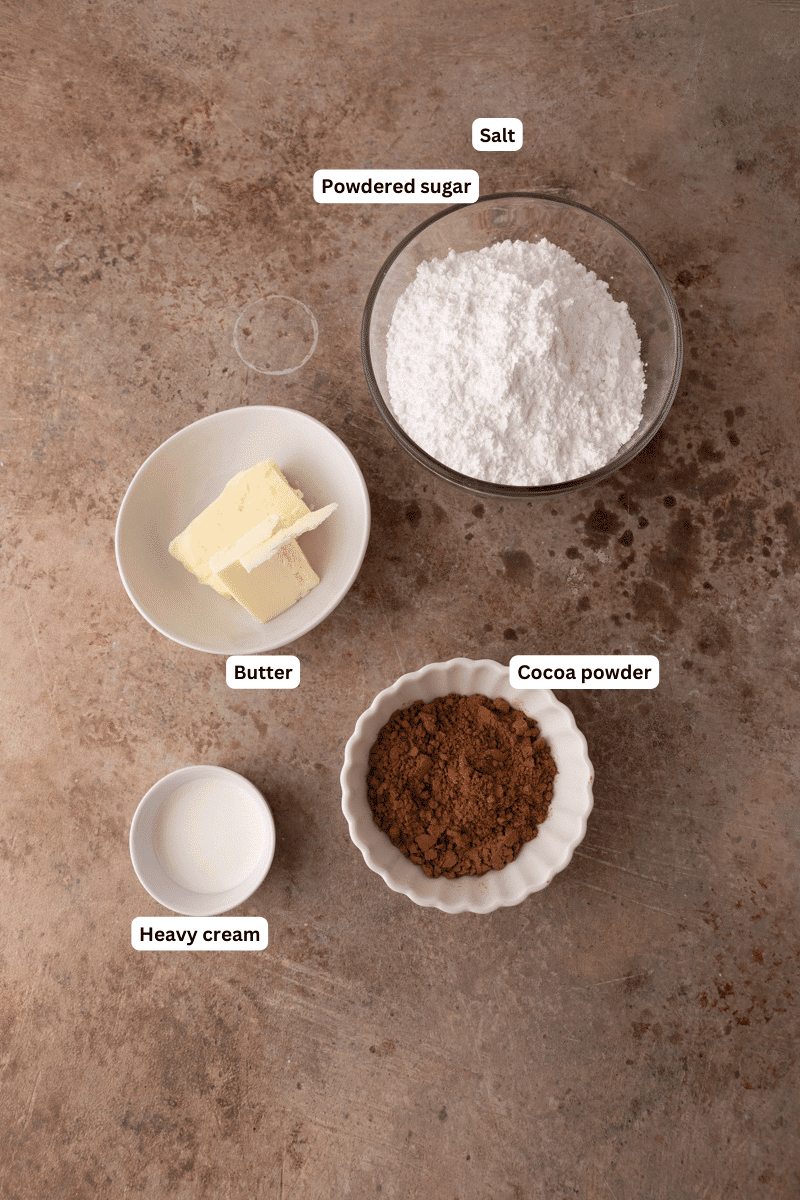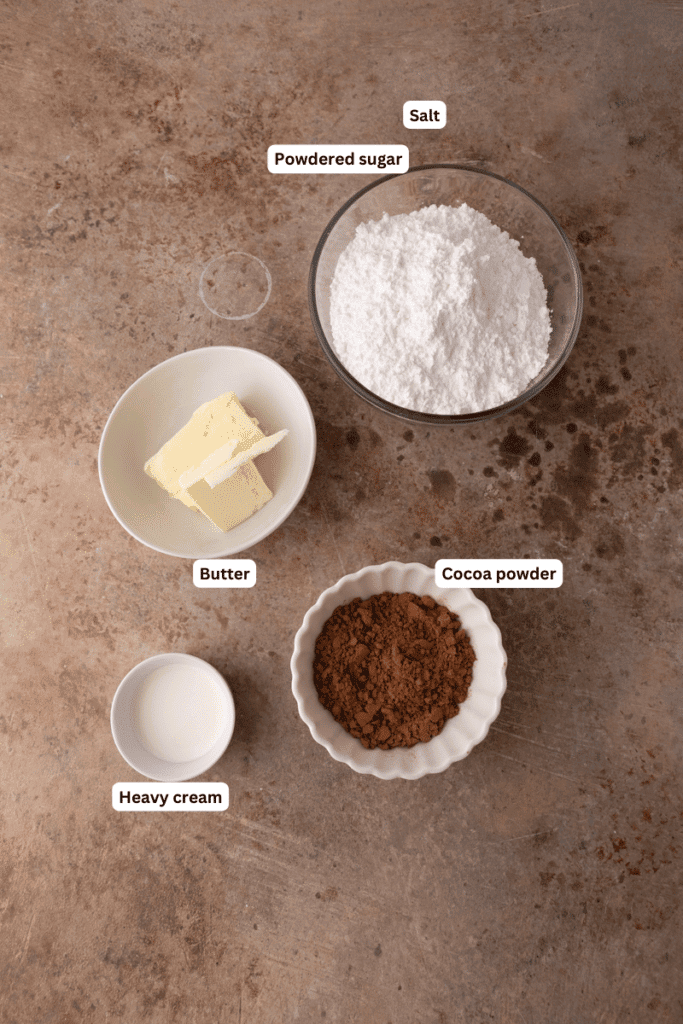 Ingredients For The Best Brownie Frosting Recipe
Make sure to scroll down to the recipe card at the bottom of the page for the detailed ingredient measurements.
Powdered Sugar: Powdered sugar gives the best results and is the ideal form of sugar to use for brownie icing because of its fast-dissolving abilities. It combines the easiest with the wet ingredients to form the perfect consistency.
Butter: Butter provides the essential fat content that gives the chocolate icing its delightful mouthfeel. Using real butter is advised. If you use a butter substitute such as margarine, it will change the texture as well as the flavor of the frosting.
Cocoa Powder: To instantly elevate this chocolate frosting to really match your brownies make sure to use high-quality cocoa powder. Use dark chocolate or extra black cocoa powder to change up the flavor profile of your frosting as well!
Heavy Cream: The purpose of the heavy cream is to loosen up the dry ingredients in the rich chocolate frosting to a spreadable consistency. Heavy cream works the best, but if you're on a low-calorie diet and still want creamy chocolate frosting, use whole milk instead. You'll have to reduce the amount as well or else it will be too runny.
Vanilla Extract: ​The taste of vanilla always goes well with chocolate flavor because it balances out the natural bitterness of the chocolate.
Salt- Adding a pinch of salt to this frosting will help balance out the sweetness that comes from the powdered sugar.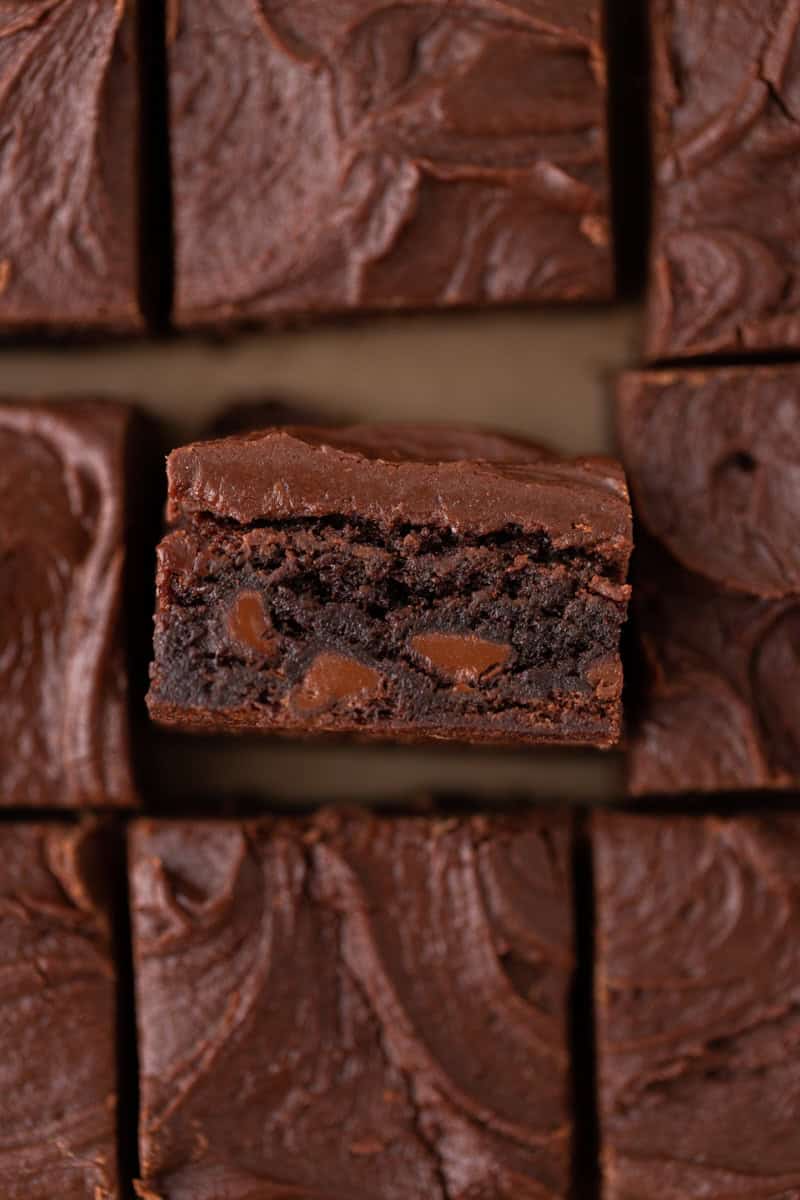 Tools And Equipment For This chocolate brownie frosting Recipe
Large Microwave-Safe Bowl: You will need a bowl that's big enough to hold all of your ingredients together.
Rubber or Silicone Spatula: Useful in making sure you scrape the surface of the bowl clean to get every last drop of that good fudgy frosting.
Whisk: We'll be using a whisk to mix the brownie frosting. You could use an electric hand mixer, just be careful not to over-mix the frosting.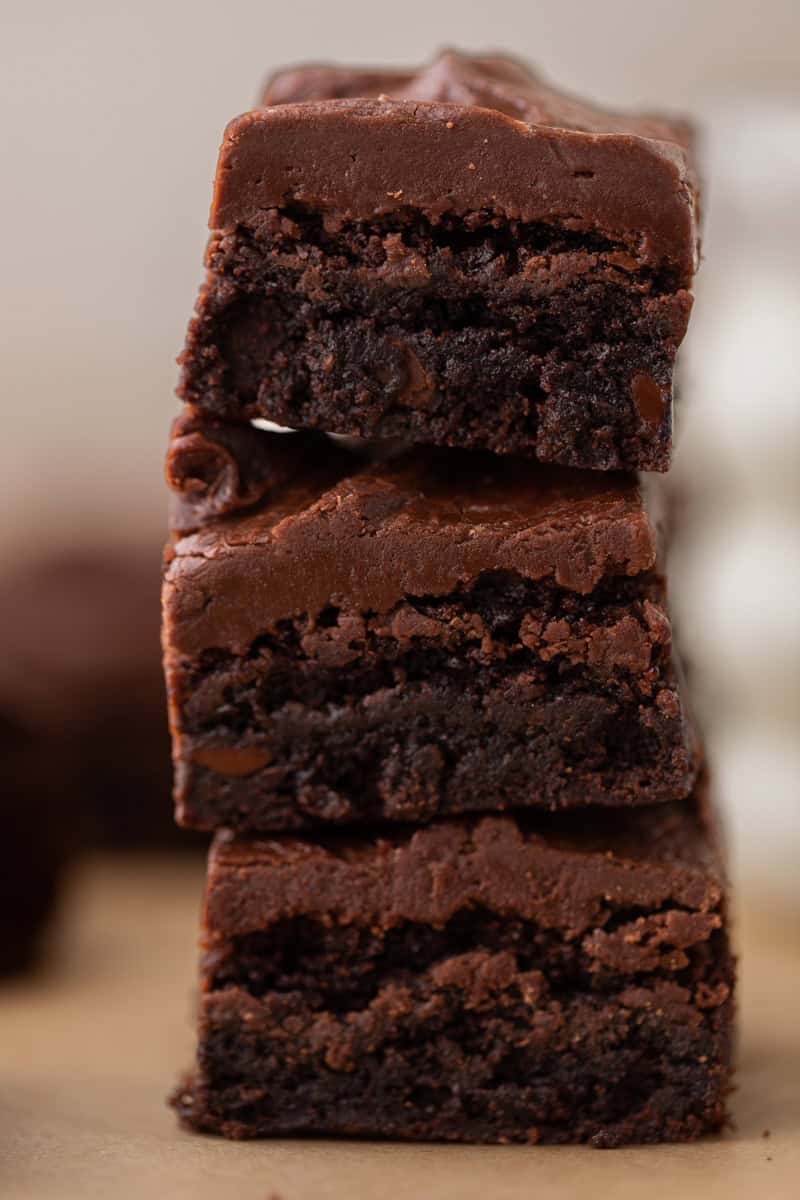 How To Make The Brownie Frosting Recipe
Make sure to scroll down to the recipe card at the bottom of the page for the full step-by-step instructions!
Grab your large microwave-safe bowl and drop in the butter and cocoa powder. Put the bowl in the microwave for 30-second intervals until the butter is melted.
Carefully remove the bowl from the microwave, and add in the powdered sugar, vanilla extract, and heavy cream. Whisk the mixture until it is smooth.
Spread the icing on top of the pan of brownies immediately before it cools. Use your rubber spatula the get the sides of the bowl and to smooth the frosting out evenly.
Allow the icing to get to room temperature and set. Then slice the brownies into squares and enjoy!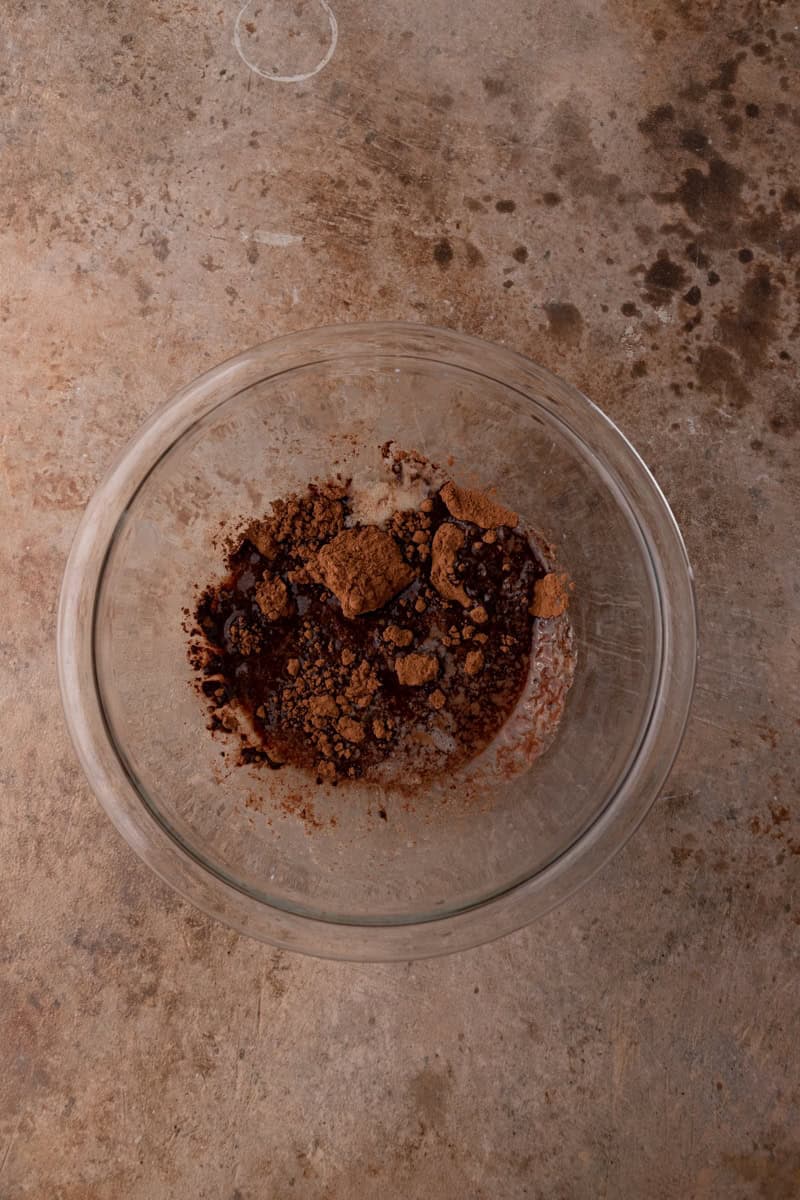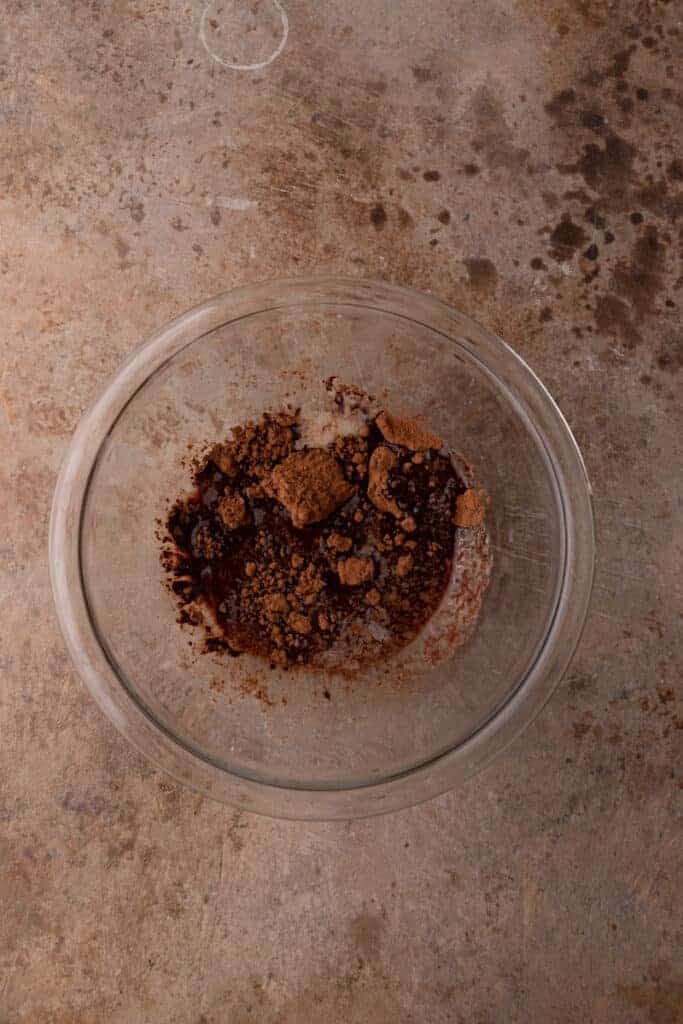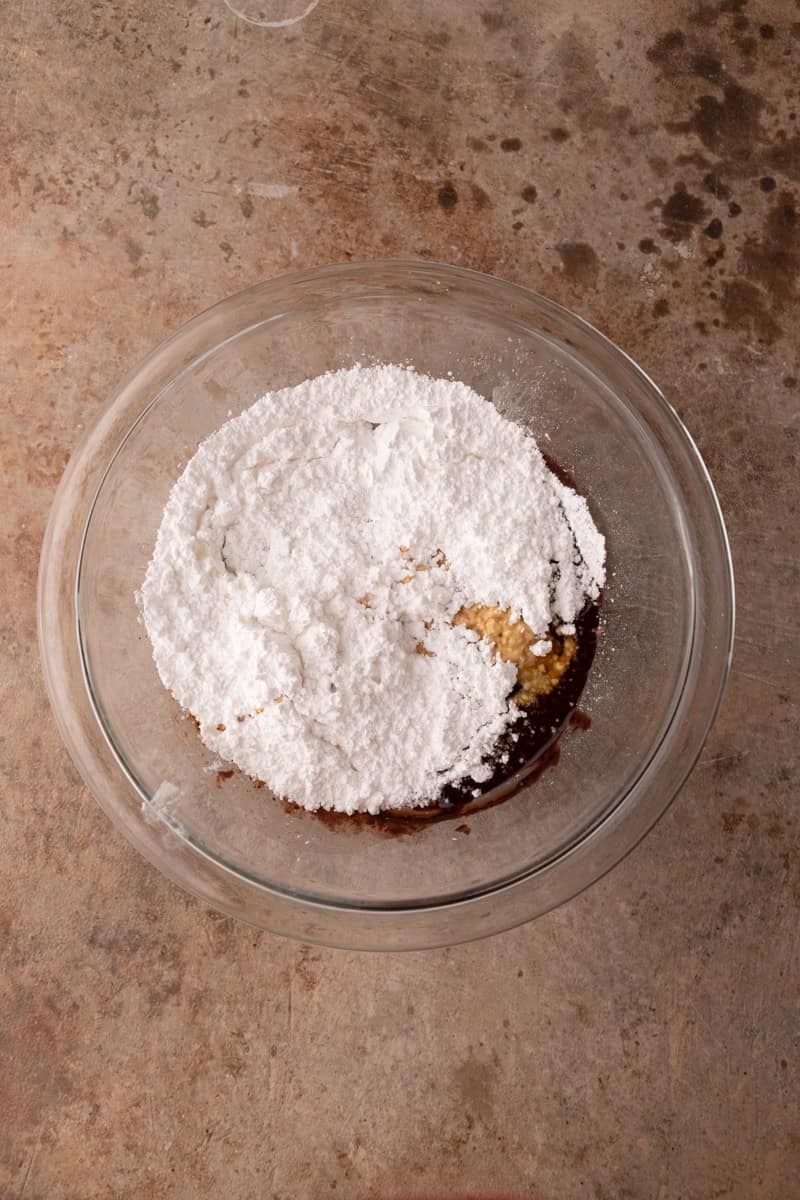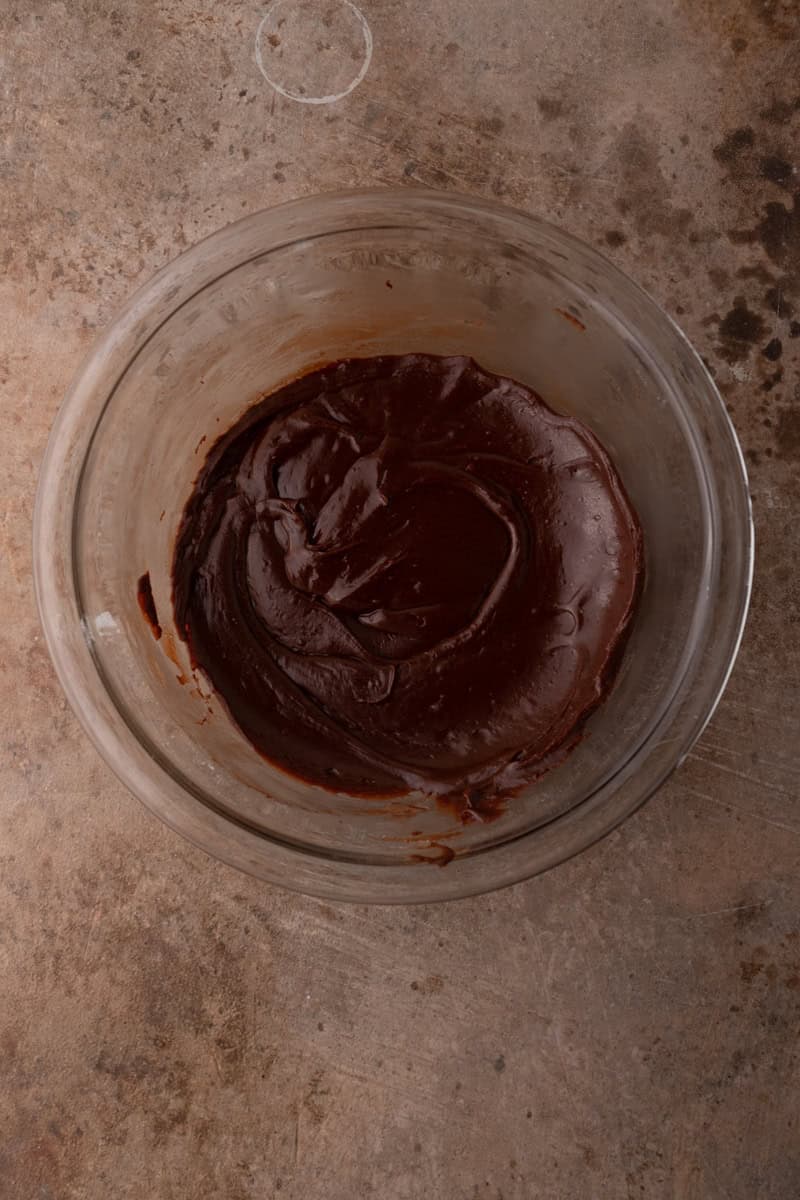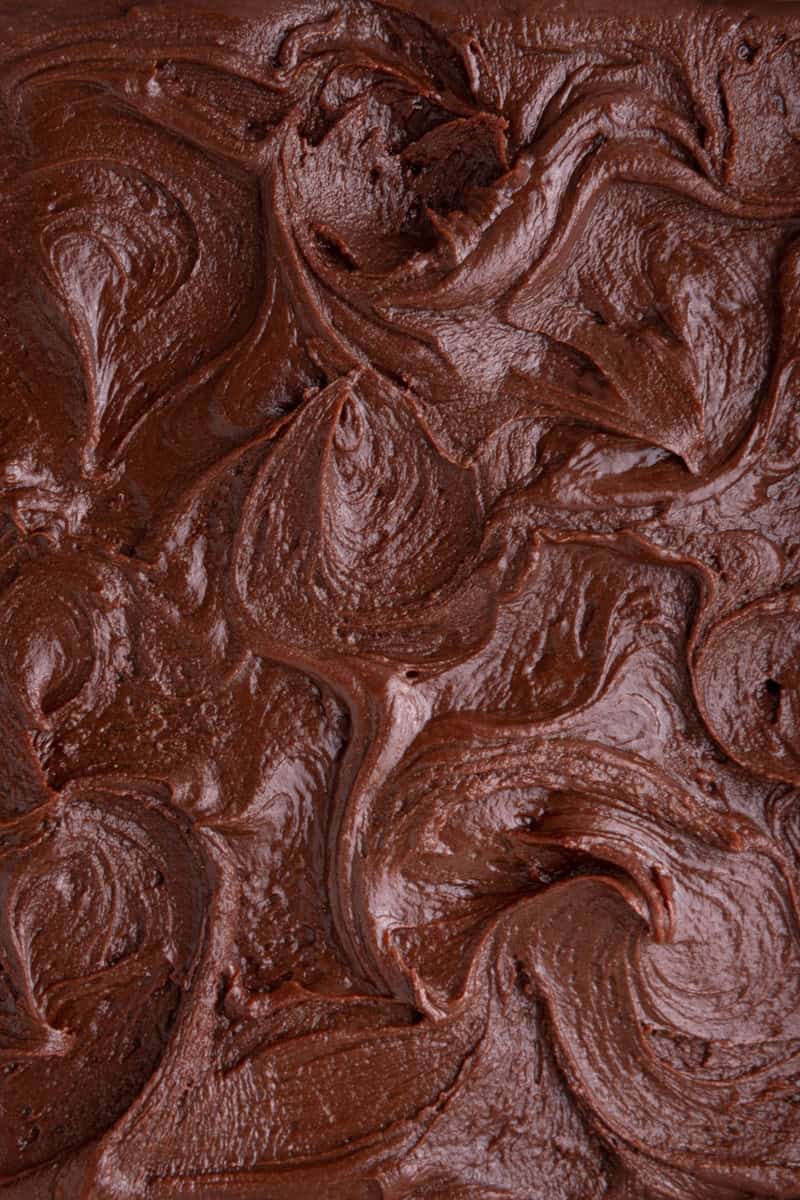 What Toppings You Can Add To Make It Even Better
Dark or milk chocolate chips, you can even melt your chocolate and drizzle it on top of the frosting.
Chopped peanuts
Rainbow sprinkles give it the vibe of cosmic brownies.
Make sure that you are adding your toppings quickly because this chocolate frosting sets pretty fast.
How should I store my chocolate brownie frosting?
If you have any leftover frosting, scoop it into the base of an airtight container. Then take a square piece of plastic wrap, and gently lay it flat on top of the frosting, with the edges pressed and sealed along the side walls of the container. Then close the lid and store in the fridge for up to a week, or the freezer for up to a month.
This same method works great for leftover brownies as well. Just individually wrap each square piece of brownie in plastic wrap first and then place it in the airtight container.
How to use leftover brownie frosting?
You will notice that the chocolate frosting hardens after storing but you can microwave it in 15-second increments until it softens enough to spread on your dessert again.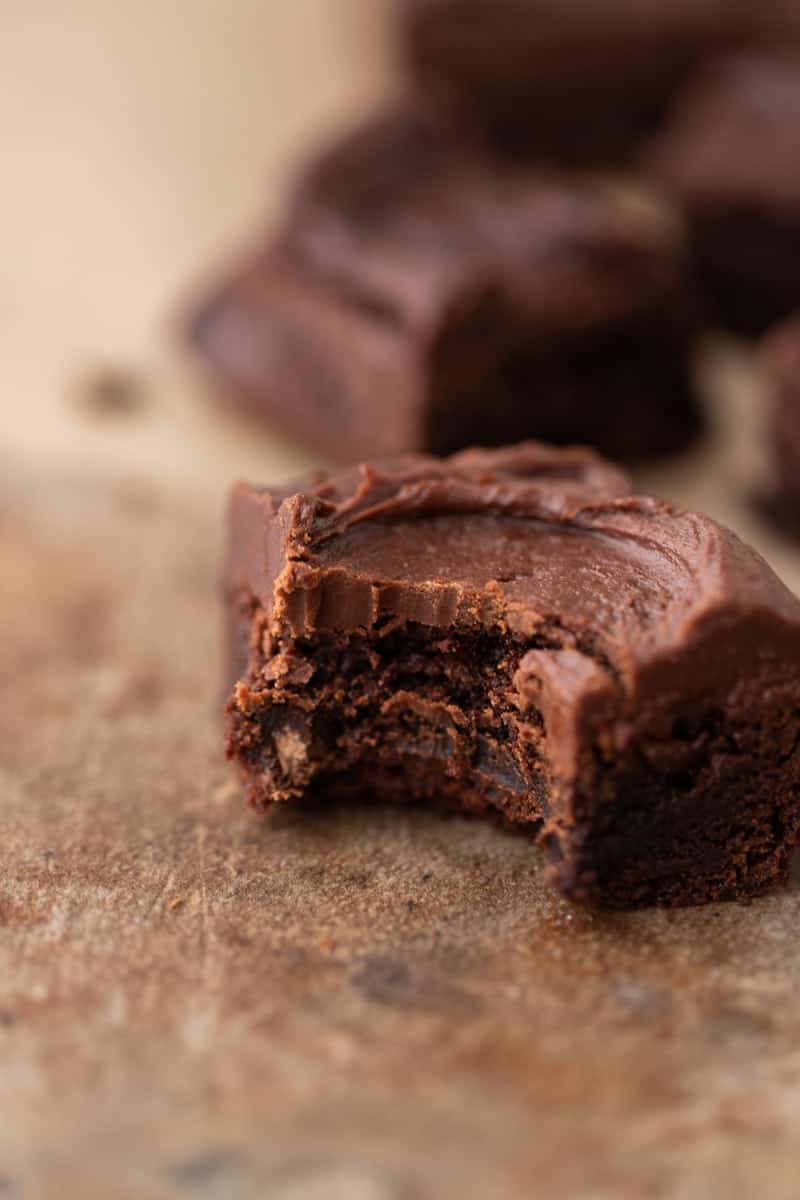 The Best Brownie Frosting Recipe Ready In 4 Minutes – chocolate brownie frosting
Magic 4 minute brownie frosting recipe
This chocolate brownie frosting is one of the easiest and most delicious frostings you can top your brownies with!
Ingredients
⅓

cup

unsalted butter

⅓

cup

unsweetened cocoa powder

2

tablespoon

heavy cream

or whole milk

1 & ⅔

cups

powdered sugar

½

teaspoon

salt

1

teaspoon

vanilla extract
Instructions
In a large microwave-safe bowl, microwave the butter and cocoa powder until melted. Do this in 30-second increments.

⅓ cup unsalted butter,

⅓ cup unsweetened cocoa powder

Add in the powdered sugar, salt, vanilla extract, and heavy cream and whisk until smooth.

2 tablespoon heavy cream,

1 & ⅔ cups powdered sugar,

1 teaspoon vanilla extract,

½ teaspoon salt

Spread on top of the brownies immediately. Allow it to set, slice, and enjoy.
Nutrition
Calories:
34
Calories
Carbohydrates:
0.003
g
Protein:
0.04
g
Fat:
4
g
Saturated Fat:
2
g
Polyunsaturated Fat:
0.1
g
Monounsaturated Fat:
1
g
Trans Fat:
0.2
g
Cholesterol:
10
mg
Sodium:
1
mg
Potassium:
1
mg
Sugar:
0.003
g
Vitamin A:
118
IU
Calcium:
1
mg
Iron:
0.001
mg
Shop this recipe
This post may contain affiliate links, meaning that at no cost to you I will get a small percentage of every purchase you make!
If you enjoyed this brownie frosting recipe make sure to pin it for later!