Who doesn't love dessert? Now how about something packed with delicious, nutty, crunchy pecans? Well, I got you covered with 15 of the best pecan recipes that you can make this Thanksgiving in particular or throughout the year because why not? These range from pecan pie cheesecake bars, mini pecan pies, pecan pumpkin crunch bars, and even the most delicious caramel apple dip with pecans on top!
This collection of pecan dessert recipes has everything from quick breads, mini pecan pies, pecan pie bars, dips, and so much more for all of your lovers.
Delicious nutty pecan recipes to make year-round!
I know, I know! Pecans usually get their moment of glory around the holidays and then they're forgotten about. I don't think it is because they're not good, I'd say it's because they're more popular around the holidays for good reason (ahem, pecan pie!!)
But I think we should definitely try and make it a thing where we make a little something packed with pecans throughout the year because why not?!
We all deserve a little more of that Fall/Holiday time joy that comes with a well-done pecan dessert!
Top Pecan Recipes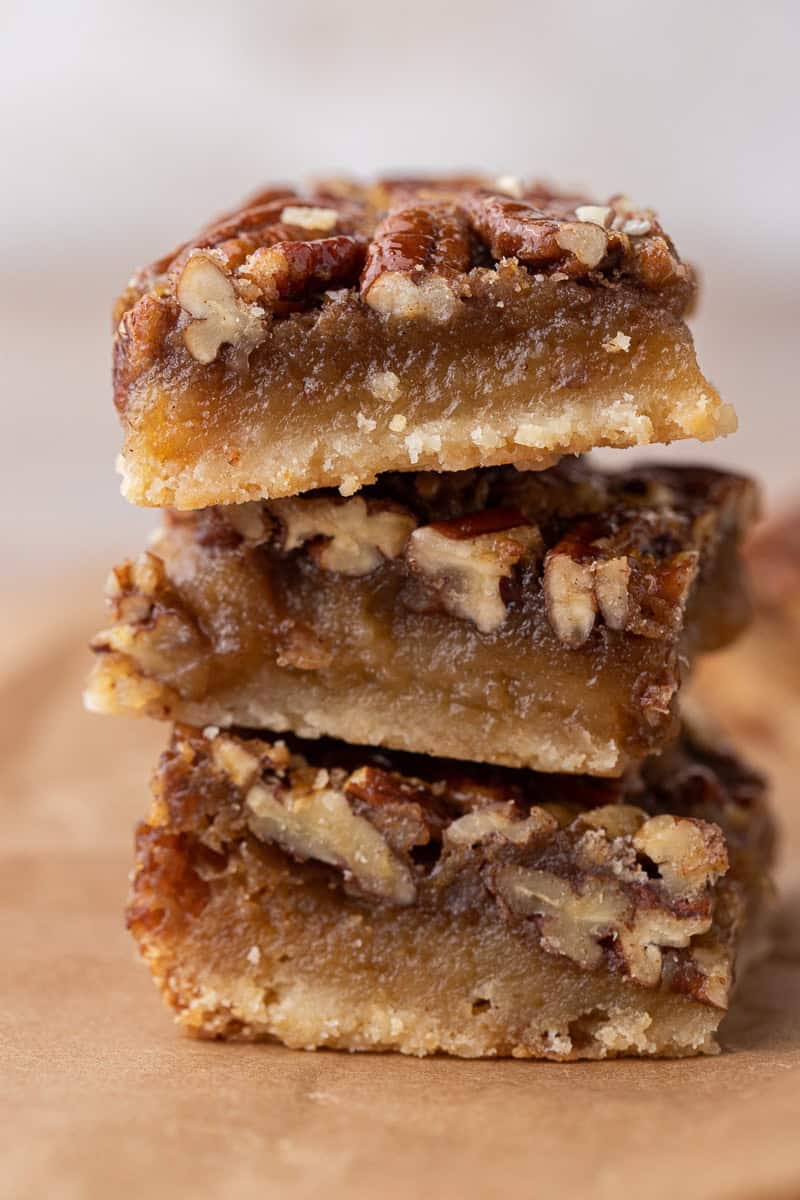 Pecan Pie Bars – Click the title for the recipe!
These pecan pie bars are the easiest way to enjoy your favorite Thanksgiving dessert. They are made with a thick melt-in-your-mouth shortbread crust and are topped with a custardy filling that is packed with pecan pieces. Move aside pecan pie, time for some bite-sized fun dessert to hit your Thanksgiving and Christmas dinner table!
These brown butter-candied pecan blondies are soft and chewy and will remind you of the holiday season without all the fuss. They are easy to throw together, require no stand or hand mixer, and will be ready in around 50 minutes! Doesn't get better than that, does it?!
These pecan pie twice-baked sweet potatoes are a different take on two of our favorite holiday dishes, baked sweet potatoes, and pecan pie. This recipe makes for a classic dessert or side dish with a twist to serve all holiday season or during Thanksgiving especially.
Crumbl pecan pie cookies are made with a soft and buttery sugar cookie base then topped with a brown sugar pecan pie filling to mimic your favorite Thanksgiving pie. It is easy and will be the perfect dessert on your holiday table this year!
This chocolate pecan pie bars recipe is a simple and delicious way to get yourself ready for the holiday season. With the flavors of traditional pecan pie combined with the pure joy of decadent and sweet chocolate in every bit! You will be making this variation during Thanksgiving dinner and Christmas for years to come! Follow along with this new dessert recipe to find out how to make these amazingly easy chocolate pecan pie bars!
This one-bowl delicious pecan chocolate chip blondie recipe yields a super chewy cookie bar that you will become obsessed with in no time. It is easy to make and has a secret ingredient to keep it extra chewy. Trust me you'll never go back to regular blondies after this recipe!
This is the best pecan pie cheesecake bars recipe made with a buttery graham cracker crust, a creamy cheesecake filling, and a gooey caramel pecan pie topping to bring it all together. this amazing recipe is simple enough to make yet elevated enough to impress all of your guests this holiday season.
Brown butter pecan chocolate chip cookies are one of those cookies that you will not be able to get enough of. Made with a nutty brown butter that elevates the flavor of the pecans, packed with chocolate chips resulting in a chewy cookie with crispy edges!
Mini Pecan Pies – Click the title for the recipe!
These mini pecan pies are the cutest little treat you can serve at your next Thanksgiving get-together. They are made just like the classic pecan pie but are made into a muffin tin for cute single-serve little pecan pies!
These Rolo pretzel turtles are some of my favorite easy treats to make during the holiday season. Made with your favorite pretzels, topped with a Rolo candy, and a toasted pecan AKA the perfect complication of salty and sweet taste. Try them during the holiday season or just as a quick weeknight yummy treat!
These snowball cookies also called Russian tea cakes, and Mexican wedding cookies, for Italian wedding cookies, are tender, buttery, and melt-in-your-mouth little snowballs. They are usually made around the holiday season to
This delicious caramel apple cheesecake dip is an easy and delicious fall dessert that combines a caramel cheesecake dip with fresh fruit or your crackers of choice. It is made with simple ingredients and doesn't require you to turn on the oven! Perfect for your fall parties, take with you to a Halloween party, or just a fun snack to enjoy for movie night marathons, it is definitely a must-make.
Pumpkin crunch cake, AKA a fall staple that only uses a handful of ingredients that you might already have in your pantry. This is one of those fall recipes that you can make from beginning to end. Try these this Thanksgiving, you won't believe how good it is!
This pecan banana bread with streusel topping is completely out of this world. It is slightly different from your regular loaves, topped with pecan streusel for an extra rich and luxurious slice. It is soft, and jam-packed with banana, and fall flavors. Best of all you can have it any time of the year!
Healthy pecan pie bars that are gluten-free, vegan, and taste absolutely incredible… Yes, please! They get their traditional flavors from an almond flour shortbread base topped with toasted and sweetened pecans, then baked to perfection. This recipe is the perfect no-refined-sugar holiday treat!
What are some good pecan brands to use for these recipes?
I actually use the Kirkland brand more often than not because I shop at Costco quite a lot but you can also use these brands as well:
15 Of The Best Pecan Recipes
Here are some of my favorite pecan recipes that you can recreate in the comfort of your own home during the holidays and throughout the year!
Ingredients
15 Of The Best Pecan Recipes
Instructions
Chose your favorite recipe.

Click on it and recreate it!
Since you are here don't forget to pin this recipe for later!