Buttery upside down banana cake, best you'll ever have! Perfect to make for tea time for whenever you need something a little extra comforting. The base of this upside down cake is butter cake so you will get an intense buttery flavor with a delicious caramel banana layer.
SIGN UP TO OUR MAILING LIST GET A FREE WEEKLY MEAL PLANNER AND RECIPE CARD!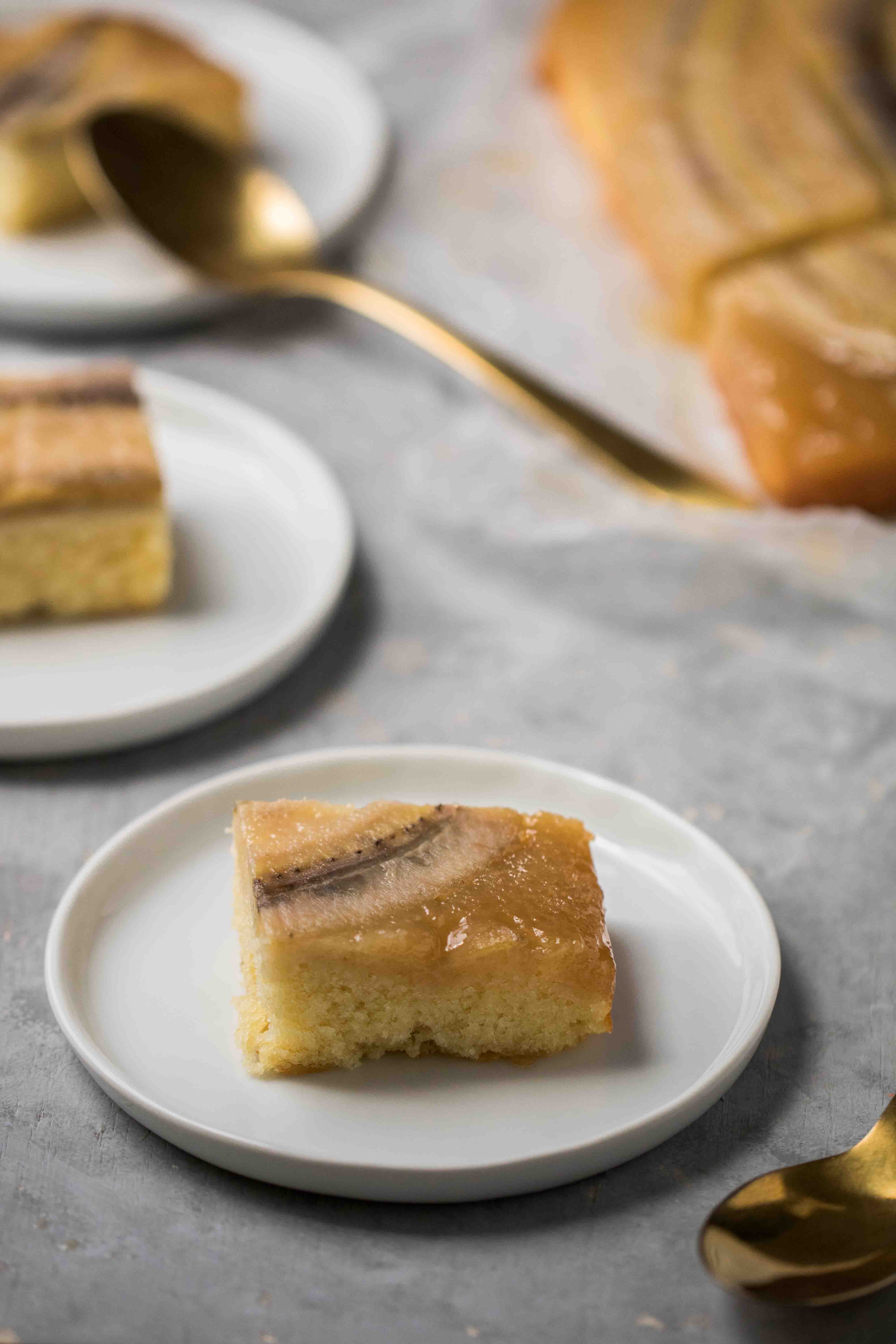 I like cake don't get me wrong, but sometimes cake can be too much. Especially store bough cake. That's why I am on a mission to teach you how to make simple cakes at home that don't seem too unattainable.
This banana upside down cake is one of them. With the most luscious butter cake base and a thick caramel banana layer, you might never purchase store bought cake ever again… Just a friendly disclaimer!
This is the most addictive buttery upside down banana cake recipe I have ever made!
When I was brainstorming and trying out recipes, I had something excellent in mind. Little did I know that I was gonna come up with something more than excellent, it was going to be legendary! YEs, I said it. This cake is legendary, the butter cake layer makes it ooey gooey and oh so flavorful.
The best part is that it is fairly simple to make, the hardest part would have to be waiting for this cake to come out of the oven.
What makes this upside down banana cake so special?
It has almost become tradition to eat a specific baked goods that I am writing about to be as inspired as possible. I did just that today for this banana upside down cake and it almost brought tears to my eyes . Here is why this is probably the best upside down cake ever:
The cake base is made out of purely butter! This butter cake is moist, pillowy and has a delicious buttery flavor.
It has a light caramel banana layer that makes the cake even more moist.
It comes in an 8 by 8 inch pan so no over eating here! (or maybe just a little!)
That banana layer looks super fancy but it is extremely easy to make! This would be the perfect cake to bring to a family fathering or to make if you are hosting 🙂
Tips for the best banana upside down cake recipe ever
Use light brown sugar- I prefer a golden brown upside down cake and that is why I used some granulated sugar as well as brown sugar. When it comes to brown sugar I decided to use light brown sugar to be extra cautious and keep that lightness in color.
Beat your butter and sugar well– When you're mixing the butter and sugar together make sure that you cream it until it is light and fluffy. This will give the cake that intense butter flavor.
Scrape the sides of the bowl– When you are making the cake batter, scrape down the sides of the mixing bowl to make sure that everything is getting well incorporated.
If you're a lover of upside down cakes, don't forget to check out this blood orange upside down cake. It was delicious!
Ingredients for upside down banana cake
To make this banana upside down cake, you will need the following ingredients:
Bananas- The bananas will be cup in half and used to decorate the top part of the cake! ( or the bottom, should I say?!) When picking your bananas, don't pick overripe ones. The caramel is already sweet enough as it is.
Butter– This recipe requires butter for the caramel sauce as well as for the cake. It must be at room temperature.
Light brown sugar– I use light brown sugar to keep my upside down caramel light in color.
Granulated sugar– you will need some granulated sugar for the caramel as well as for the cake.
Vanilla– Vanilla takes this butter cake to the next level.
Eggs– Eggs at room temperature to help bind everything.
Flour– All purpose flour works great here.
Baking powder– This is the leavening agent for the cake.
Buttermilk– Buttermilk will keep this cake moist and tender.
How to make the best upside down banana cake recipe
To make this cake, there are two steps. First the caramel and then the cake batter.
How to make the caramel layer?
To make the caramel layer, you will need to add the sugars and butter to a small sauce pan then melt that butter over medium heat. When the mixture starts to bubble let it do so for 30 seconds then remove it from the heat!
When the caramel is ready, pour it over the parchment lined baking sheet that's topped with the cup out bananas (cut side down)
How to make the butter cake layer?
To make the cake layer, start by creaming the butter and sugar until they are light and fluffy and super light in color. This might take 5-10 minutes depending on the mixer you have.
Add in the vanilla then the eggs, one at a time. Mixing between each addition to combine.
Now add in the buttermilk and the sifter dry ingredients and mix just until the flour disappears. You will get a thick cake batter. Pour the cake batter over the bananas and the caramel mixture and bake in a 350F preheated oven for 25-30 minutes or until a wooden skewer inserted in the center comes out clean.
Let it cool for 20 minutes then remove from the baking pan and enjoy.
How to store this upside down banana cake?
To store you upside down banana cake, place it in an airtight container and place it in the fridge. It will last for up to 5 days.
Whenever you are ready to enjoy it, pull it out of the fridge and microwave it for 10-15 seconds to get that butter softened again!
Can I freeze this cake?
No, I would not recommend freezing this cake because of the banana on top. It will turn black when frozen and once thawed will throw off the texture of the cake.
Buttery Upside Down Banana Cake Recipe
If you tried this delicious butter cake with bananas and caramel make sure to give it a 5 star review by clicking on the 5 stars under the title and the description!
The most buttery upside down banana cake
Banana bread is outdates, time for this fancy looking upside down banana bread! It is made using caramel, bananas, and a delicious butter cake batter. An impressive looking cake that isn't hard to make at all!
Ingredients
Caramel
4

tablespoon

butter

softened

2

tablespoon

light brown sugar

packed

2 & ½

tablespoon

granulated sugar

2

medium

bananas

peeled and sliced in half longways
Butter cake
7

tablespoon

butter

softened (or 3.5oz)

½

cup

granulated sugar

2

medium

eggs

room temperature

1

teaspoon

vanilla

⅓

cup

buttermilk

room temperature

1

cup

all purpose flour

1

teaspoon

baking powder

⅓

teaspoon

salt
Instructions
Caramel sauce
First start by preheating the oven to 350F then line your 8×8 baking pan with parchment paper. Place the sliced bananas cut side down on the lined baking sheet, this will be the side that you will see when you flip the cake. Decorate it as you like.

In a small sauce pan melt the butter with the brown sugar and the 1 & ½ tablespoons of granulated sugar. Bring to a light simmer and let it bubble for 30 seconds while stirring. When that's ready, pour it over the bananas making sure to have caramel in every corner of the pan.
Butter cake
In a medium bowl, sift the flour and the baking powder together and set aside.

In a stand mixer, cream the butter and the granulated sugar on medium high speed until they have doubled in volume and are as light as snow. This might take anywhere from 5-10 minutes of vigorous mixing. Add in the vanilla and eggs one at a time, mixing between each addition to get them fully incorporated.

Add in the buttermilk and the sifted flour mixture as well as the salt. mix on low speed just until the flour mixture disappears.

Pour the cake batter over the bananas and caramel and bake for 25-30 minutes or until a wooden skewer inserted in the thickest part of the cake comes out clean. Let the cake cool down for 20 minutes then flip it and enjoy!
Nutrition
Calories:
204
Calories
Carbohydrates:
24
g
Protein:
2
g
Fat:
11
g
Saturated Fat:
3
g
Cholesterol:
28
mg
Sodium:
245
mg
Potassium:
101
mg
Fiber:
1
g
Sugar:
16
g
Vitamin A:
522
IU
Vitamin C:
2
mg
Calcium:
42
mg
Iron:
1
mg
Thank you so much for making it all the way down here! If you tried this recipe and loved it I would love to hear from you guys in the comments down below!
In the mean time don't forget to follow me on instagram
[instagram-feed]

Shop this recipe
This post may contain affiliate posts, meaning that at no cost to you I will get a small percentage of every purchase you make!
If you enjoyed this easy buttery upside down banana cake recipe make sure to pin it for later!