Raspberry sorbet for dessert, anyone? This divine homemade sorbet is our favorite summertime dessert. It is smooth, fruity, and lightly sweetened. You will only need 5 minutes and a couple of ingredients to make it… So what are you waiting for!
SIGN UP TO OUR MAILING LIST GET A FREE WEEKLY MEAL PLANNER AND RECIPE CARD!
Tart, sweet, and fruity! That's everything nice about today's recipe.
For the longest time, I have been intimidated when it comes to ice creams and sorbets but I recently found the answer to all my questions… Just make something no churn. It literally eliminates half of the work loaf and comes out just as good.
So if you are a beginner baker and want to make your own homemade ice cream or sorbet, that's the way to go. Also if you don't have room or the money for an ice cream maker it's the way to go as well!
This is the best and easiest 2-ingredient raspberry sorbet recipe
When I say that I really mean it! We have made this easy raspberry sorbet about 4 times already… If that doesn't tell you how good this is I don't know what will!
I'm actually obsessed with raspberries, they are one of my favorite berries… Probably because we didn't have them as much growing up. Raspberries were things we saw in cook books and tv shows but didn't have them in Algeria so whenever I travelled and had the chance to have raspberries, I had just that.
Hence, my obsession with this tiny fruit.
So when I found them on sale at the store this week, I bought probably 10 packs… I actually froze whatever I had leftover for some pink raspberry smoothie in the future! So, now I am ready to make all the raspberry summer desserts (both healthy and unhealthy so watch out!)
What's so special about this 2 ingredient raspberry sorbet?
I love easy recipes and this is one of them. Here you'll see why you need to make this raspberry ice cream/ sherbet/ sorbet sorta thing!
It is insanely easy to make.
You can use fresh raspberries when they are in season but you could also use frozen raspberries from the store too!
You don't have to strain the seeds. A little crunch ain't never hurt nobody 😉
You can have this as a soft serve right away or freeze it for an extra scoop-able sorbet.
What is the difference between sherbet and sorbet?
This is probably the thing I was the most confused about for the longest time. I always saw sherbet at the store but wasn't sure what the difference between that and a sorbet.
But the simple answer is this, sherbet has some sort of dairy in it usually cream and will result in an ice cream textured treat. While sorbet is lighter and doesn't contain any dairy.
Well, this recipe would fall under raspberry sherbet recipe more than it would a sorbet, because we are actually using milk in the recipe. We are not using heavy cream so it doesn't have that super sherbet/ice cream texture, so we've decided to just call it a 2 ingredient sorbet recipe!
We are actually using sweetened condensed milk to sweetened the sorbet as well as keep it from becoming rock solid. The sugar in the sweetened condensed milk helps give this sorbet it's perfectly smooth texture.
You can also made this dairy free and vegan by using dairy free condensed milk!
How to serve this easy fruity sorbet?
Well, you can serve this raspberry sorbet in a few different ways. You can either go with the couple scoops in a little cup and call it a day or do what I did in the image above!
Whip up some meringue, scoop your raspberry sorbet in a cone then top it with the meringue you made. Gently brûlée the meringue using a torch to get the perfectly toasted outside and most delicious inside ever. No need to buy store bought cone ice cream when you have this beauty!
This meringue technique works because the raspberries have a natural tanginess to them and the sweetness of the meringue helps balance that berry flavor so well. To make meringue check out my How to make meringue cookies, you can follow the exact same steps but instead of baking the meringue use it to top your ice cream!
Ingredients for the best raspberry sorbet
To make this raspberry sorbet recipe at home you will need a few very simple ingredients:
Raspberries
Sweetened condensed milk
Vanilla (optional so this recipe can stay an easy 2-ingredient recipe)
Since we are not using the whole can of sweetened condensed milk, make yourself some more ice cream using that leftover sweetened condensed milk. Try out our favorite Chocolate No Churn Ice Cream with Brownies or Vanilla Bean Dulce de Leche Ice Cream | NO CHUR!
How to make raspberry sorbet?
This raspberry sorbet recipe is so simple a five year old could make it! (of course with their parents' supervision 🙂
To make this raspberry sorbet, start by rinsing the raspberries if you are using fresh ones then freezing them.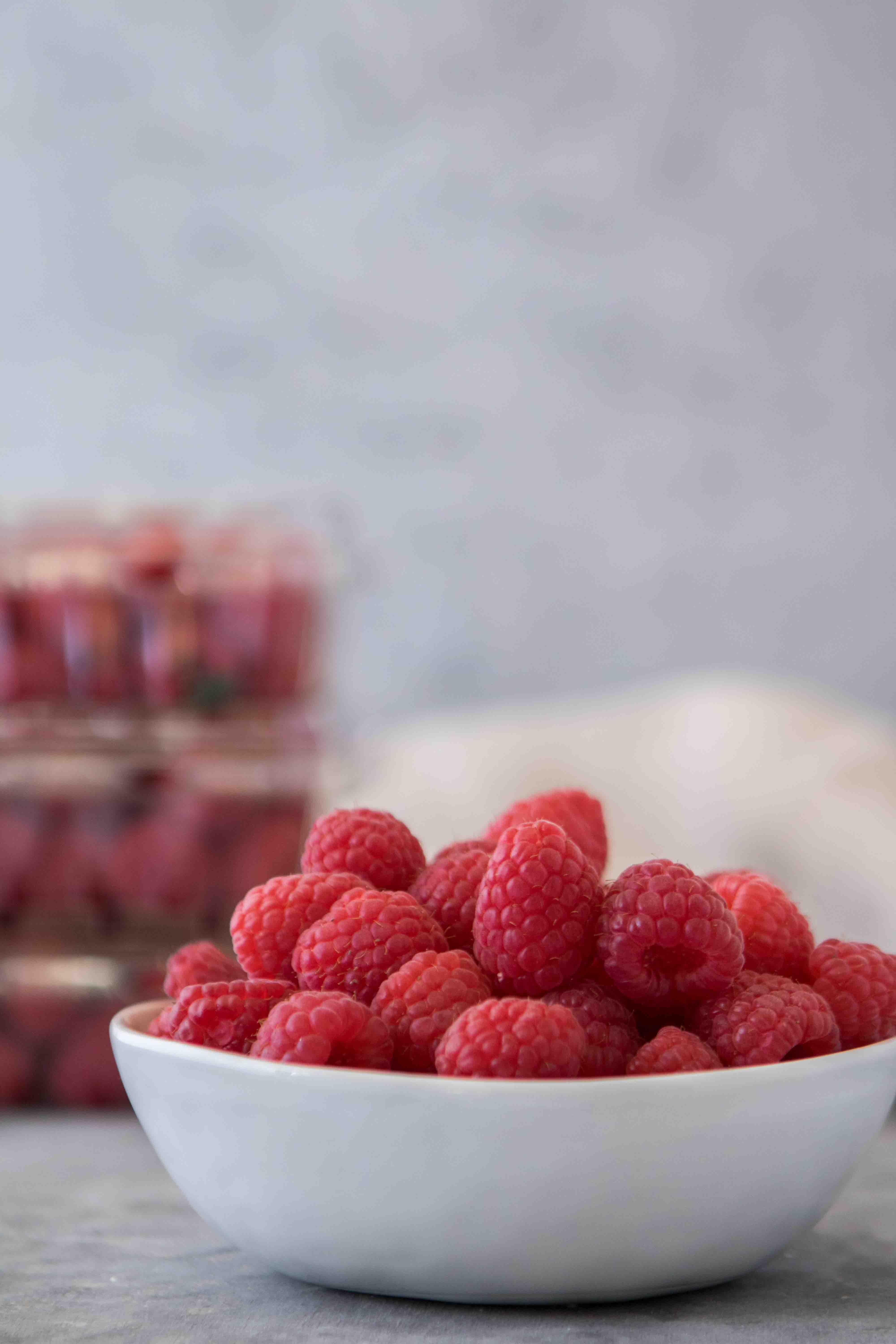 Add all of your ingredients to a food processor and mix until fully smooth.
You can enjoy your ice cream right away or freeze it for another 3-4 hours until it is fully scoop-able.
This makes anywhere from 3-4 servings so it can be considered a small batch sorbet recipe too!
The easiest raspberry sorbet recipe
If you tried this recipe and enjoyed it make sure to give it a 5 star review by clicking on the stars under the recipe description in the recipe box 🙂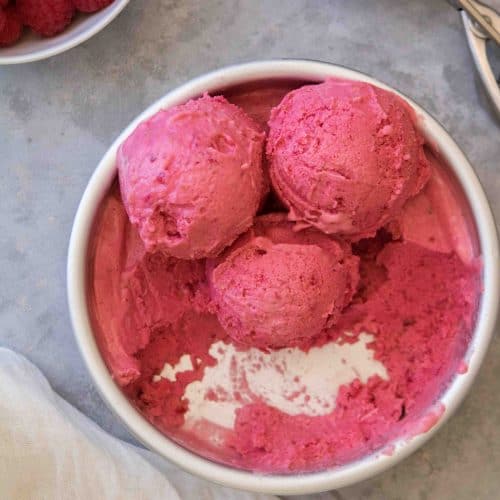 3 ingredient delicious raspberry sorbet
Raspberry sorbet is my favorite refreshing summer dessert. It is easy to make, doesn't require straining and tastes out of this world.
Ingredients
3

cup

frozen raspberries

½

cup

cold sweetened condensed milk

½

teaspoon

vanilla extract

optional
Instructions
In a food processor, add the raspberries, sweetened condensed milk, and vanilla.

Process or blend until smooth then transfer to a freezer-safe container and freeze for 3-4 hours so that it is perfectly scoopable.

Enjoy your homemade raspberry sorbet!
Nutrition
Calories:
116
Calories
Carbohydrates:
22
g
Protein:
3
g
Fat:
1
g
Saturated Fat:
1
g
Cholesterol:
5
mg
Sodium:
38
mg
Sugar:
22
g
Vitamin A:
96
IU
Calcium:
96
mg
If you made it all the way down here, thank you so much! I work hard on creating all these delicious recipe for you and it makes me so happy to hear back from you when your creations turn out well. So feel free to leave us a comment below telling me all about your homemade raspberry sorbet!
Also, don't forget to follow me on instagram 🙂
[instagram-feed]

Shop this recipe
This post may contain affiliate posts, meaning that at no cost to you I will get a small percentage of every purchase you make!
If you enjoyed this raspberry sorbet recipe make sure to pin it for later 🙂