This Starbucks Barbie frappuccino recipe has made a grand entrance at the perfectly right time. It has been trending on Tiktok and the beloved Starbucks secret menu and we are here for it. It is made with a handful of ingredients and yields a sweet and creamy very pink drink that you can enjoy whenever those sweet cravings hit.
Since you are here, make sure to check out these other coffee shop favorites like the Starbucks coconut milk pink drink, the passion tea strawberry acai refresher, and this mango dragon fruit refresher.
A few days ago I noticed a Tiktok video of a Starbucks barista making this Barbie drink and immediately went to grab this drink at my local Starbucks because number one how can you say no to this gorgeous violet drink, and number two everyone was hyping it up so much so I had to get on that trend and try it for myself.
As soon as I took the first sip I was in love.
It was creamy, sweet, and fruity. Plus being the boogie iced drink that it is, this sweet drink is also super refreshing for the upcoming hot summer days.
This is the best Starbucks barbie drink ever!
This recipe is also a tribute to the Barbie movie that will be released in July of 2023. I think most of us are so excited about it and this is the perfect drink to pair with a Barbie watch party, while also listening to barbie girl – Aqua. Okay okay maybe that's overkill but I really think this is one of those drinks that you will absolutely adore if you enjoy fruity sweet drinks.
Try this drink and let me know what you think.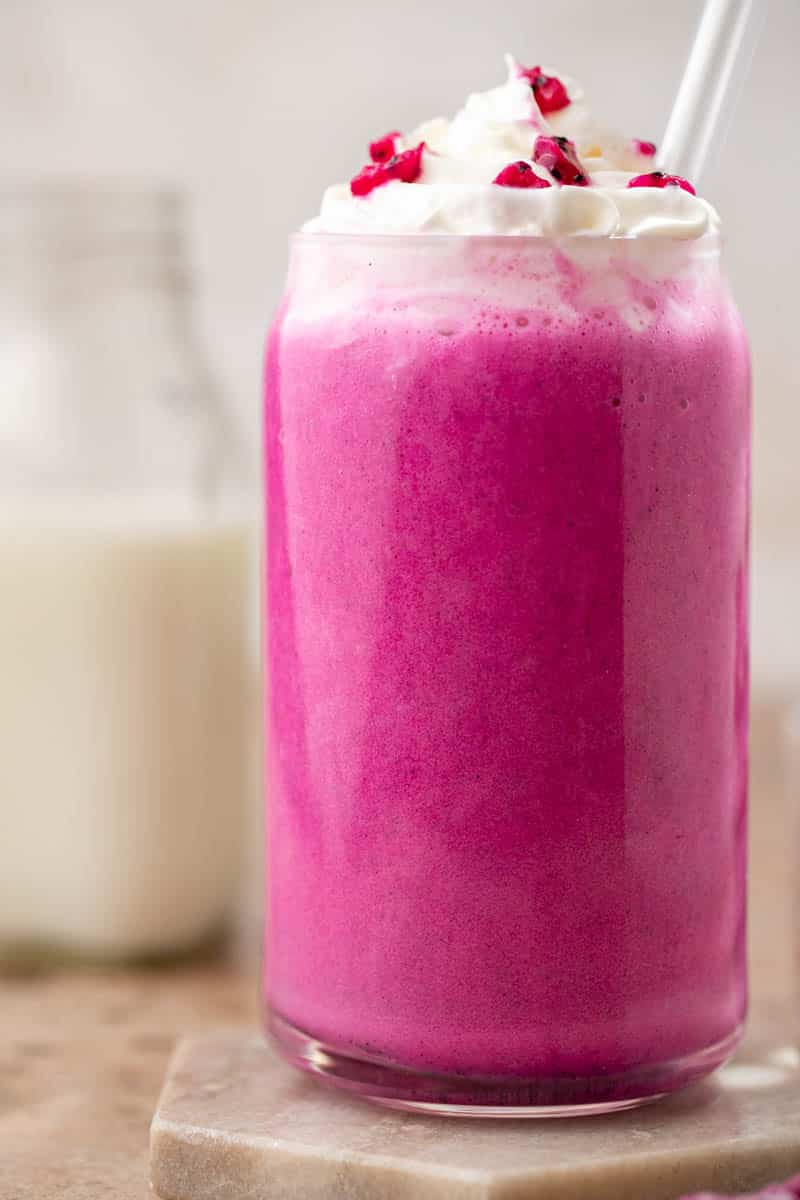 What is the Starbucks Barbie frappuccino?
The OG Barbie frappuccino was released in March of 2021 to celebrate Barbie's 50th anniversary. But this specific drink is a little different because it has become trendy thanks to TikTok again.
It is a sweet frappuccino that combined flavors of vanilla, raspberry, and dragon fruit all together to yield the most stunning thick pink drink.
I saw somewhere that Starbucks is discontinuing its raspberry syrups so I made sure to recreate it for you so that you can enjoy it at home whenever the cravings hit.
Why you need to make this recipe!
Making it at home allows you to know exactly what is in your drink.
This recipe will allow you to make smaller sizes for the whole family for a fraction of the cost.
You can control how much or how little sweetener to add to your delicious drink.
This recipe can be tweaked to your liking, add a little strawberry puree to the mix for something a little more fruity. Mix in a few scoops of vanilla bean powder to add an extra sweet hint of vanilla, or even top it with a thick layer of cold foam instead of whipped cream if that is what you want.
Ingredients for this Tiktok Starbucks drink recipe
Here are the ingredients you will need to make this copycat Starbucks secret menu Barbie drink recipe. Make sure to scroll down to the recipe card for the full detailed ingredient measurements.
Half and half – You can use whole milk but the half and half makes it a lot creamier.
Dragon fruit- Starbucks uses freeze-dried dragon fruit but I am using frozen because freeze-dried is nowhere to be found.
Ice
Xanthan gum– This is a must-have to really allow the drink to fully emulsify. Starbucks uses the crème base instead of just straight-up xanthan gum but who has the room to have a whole jug of creme base in their kitchen?
Raspberry syrup and vanilla syrup– These will add extra flavor and sweeten our drink a little more.
Whipped cream- You can make your own using heavy cream and sugar or use store-bought, both will do just fine.
How to make this Barbie purple drink?
This is how you can make this viral Barbie drink. Make sure to scroll down to the recipe card for the full detailed instructions!
Add all of the ingredients to a blender minus the whipped cream and blend until smooth.
Pour in a tall glass, add a generous amount of whipped cream on top, and a few extra pieces of dragon fruit.
Frequently asked questions – FAQ
How can I order the Starbucks Barbie frappuccino in-store?
Order a Venti white mocha with half and half.
Add 3 pumps of vanilla syrup and 2-3 pump of raspberry syrup, and dragon fruit inclusion blended inside.
Add whipped cream and extra dragon fruit pieces on top.
What are some other fun ways to enjoy this drink?
Here are a few more ideas to really take this beverage to the next level.
Make the vanilla bean frappuccino and layer it with this Barbie pink drink for a beautiful pink and white drink that I think you would love.
Make a green tea frappuccino and layer it with this Barbie frappuccino for a beautiful green and pink drink.
Add whipped cream and thick raspberry syrup, jam or sauce to the bottom of the cup before topping it with this pink barbie drink for an ombre look.
Can I use a different milk in this recipe?
The best-tasting combo in this recipe has to be the half and half with the rest of the ingredients because it makes this so creamy but if you can't have dairy, here are a few dairy-free options you can have instead:
Soy milk
Oat milk
Cashew milk
You can use any other dairy-free substitutes, but be aware that the flavor will change a little bit. Add a little extra vanilla bean powder to your frappuccinos if making them dairy free to make up for the flavors you miss out on by not using dairy milks.
Is the Starbucks Barbie frappuccino suitable for children?
Since this drink doesn't contain any caffeine, it can definitely be enjoyed by both kids and adults. The only thing I would try and keep in mind is the fact that it is a pretty sweet drink so try ordering a smaller size or enjoy a little bit of it at a time to not get a sugar overload.
Starbucks Barbie drink recipe
Viral Starbucks Barbie frappuccino
This Viral Starbucks Barbie frappuccino is an adorable and delicious drink that you can recreate at home.
Ingredients
2

tablespoon

Vanilla syrup

Taste and add 1 more tablespoon for sweeter drink

2

tablespoon

Raspberry syrup

Taste and add 1 more tablespoon for sweeter drink

⅓

cup

dragon fruit pieces

frozen, fresh, or freeze dried, extra for topping

½

cup

half and half

½

cup

ice

¼

teaspoon

xanthan gum

whipped cream
Instructions
To a high-speed blender add all of your ingredients except the whipped cream.

2 tablespoon Vanilla syrup,

2 tablespoon Raspberry syrup,

⅓ cup dragon fruit pieces,

½ cup half and half,

½ cup ice,

¼ teaspoon xanthan gum

Blend on high speed until combined then. pour in a tall glass.

Top with whipped cream, extra dragon fruit and enjoyl
Nutrition
Calories:
424
Calories
Carbohydrates:
71
g
Protein:
4
g
Fat:
15
g
Saturated Fat:
9
g
Polyunsaturated Fat:
1
g
Monounsaturated Fat:
4
g
Cholesterol:
42
mg
Sodium:
195
mg
Potassium:
213
mg
Fiber:
1
g
Sugar:
70
g
Vitamin A:
428
IU
Vitamin C:
1
mg
Calcium:
143
mg
Iron:
4
mg

Shop this recipe
This post may contain affiliate links, meaning that at no cost to you I will get a small percentage of every purchase you make!
If you enjoyed this Viral Starbucks Barbie Frappuccino recipe make sure to pin it for later!