This Starbucks mango dragonfruit refresher recipe is a delicious drink that is both refreshing and beautiful to look at. It is made with mango juice, and freeze-dried dragon fruit but we will be using frozen or fresh dragon fruit, green coffee bean powder to up the caffeine level if desired, and some white grape juice instead of the Starbucks white grape juice concentrate. It is easy and delicious and will save you a ton of money in the long run.
Since you are here, you have to check out more of my Stabrucks copycat recipes like this Stabrucks peach green tea lemonade recipe, this salted caramel cold brew, as well as this Blueberry scone recipe.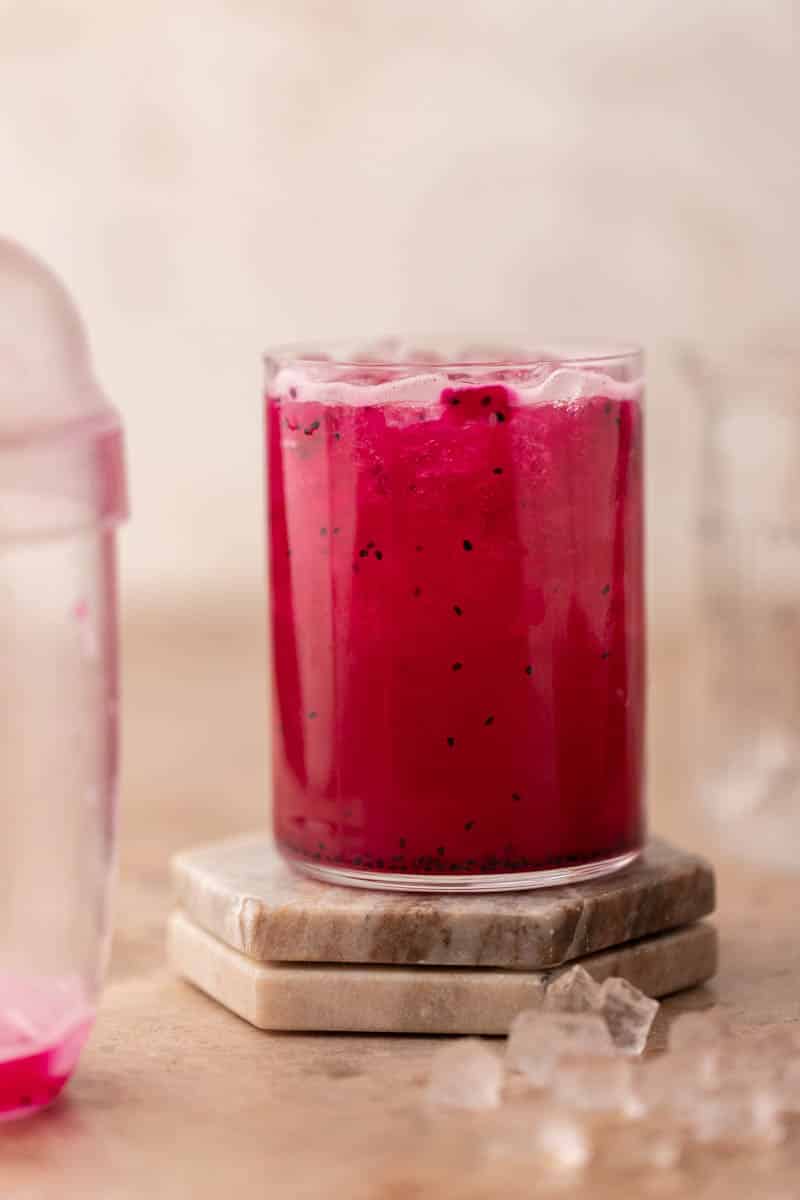 Starbucks has a way to make tropical flavors so addictive when it comes to their refreshers. This mango dragonfruit lemonade one is right up that alley, It is an original drink that you can find at your local Starbucks. I usually order this in the summertime but I see so many people ordering this in the winter as well (it's that good!)
Think of a pitaya bowl but in drink form, ice cold, sweet, and super fruity! It is the perfect tropical pick-me-up with a bit of caffeine thanks to the green coffee extract.
This is the best Starbucks version of the dragonfruit refresher
This refreshing combination of sweet mango, grape, green coffee bean extract, and dragon fruit makes for an energizing and tasty drink that you can have on any occasion or whenever your craving the taste of this tropical fruit. Plus it is a great way to save money and time!
What are Starbucks refreshers?
Starbucks refreshers are similar to juice drinks with a little kick from the green coffee extract. They are the perfect alternative drink when visiting Starbucks if you don't love coffee as much.
Starbucks has a ton of refresher drinks and you can even create your own by visiting the Starbucks secret menu page for inspo.
Why do you need to make this recipe!
It tastes just like the mango dragonfruit refresher base at Starbucks!
This recipe will yield more servings for less money!
It is an easy way to make a beautifully refreshing drink right in the comfort of your own home.
This refresher is packed with dragonfruit flavors from the frozen dragonfruit.
It is made with simple ingredients that you can find at your local grocery store.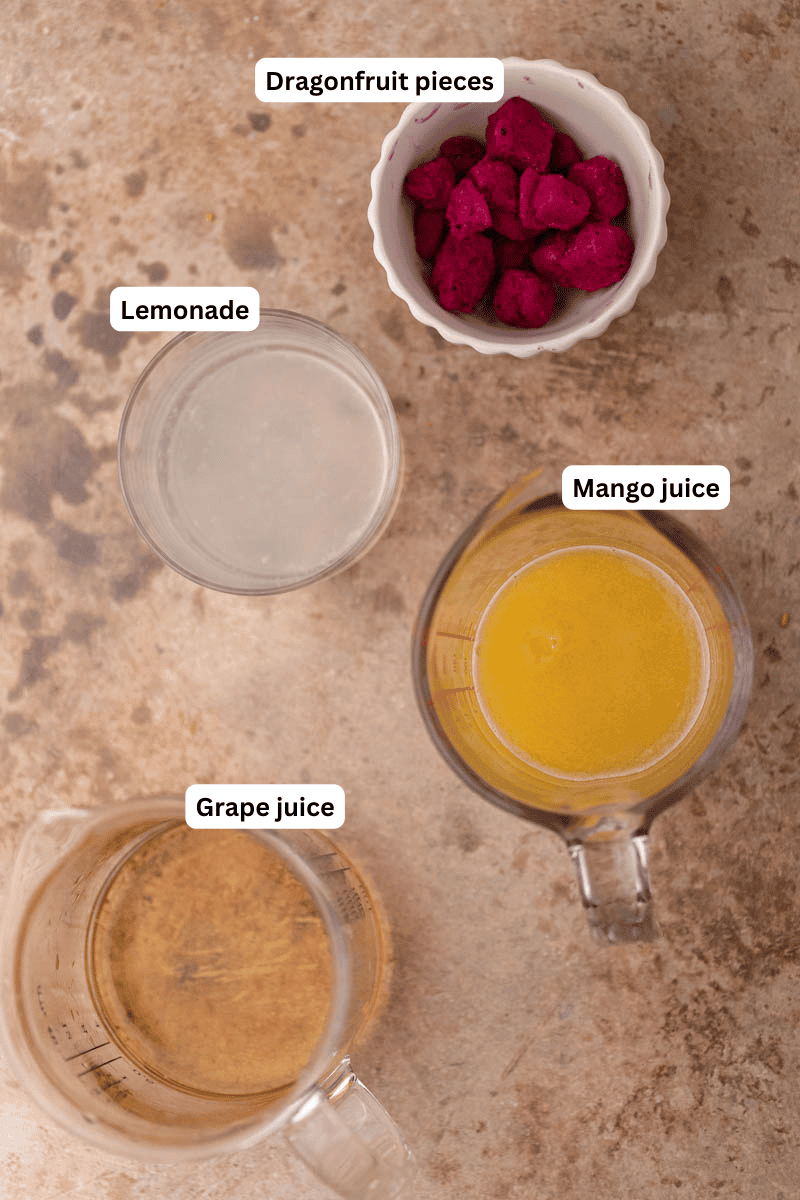 Ingredients for this Starbucks dragon drink recipe
Here are the ingredients you will need to make this easy dragonfruit drink. Make sure to scroll down to the recipe card for the full detailed ingredient measurements as well as the nutritional values.
Starbucks mango dragonfruit refresher
Dragonfruit pieces- You can use freeze-dried dragonfruit pieces of use frozen or fresh dragonfruit pieces. I wasn't able to find the freeze-dried ones for some reason but the frozen ones made the drink absolutely gorgeous too!
lemonade- You can use regular or sugar-free lemonade.
Mango juice
freeze-dried dragon fruit powder (this is optional but will make your drink look stunning)
This Starbucks copycat recipe can be turned into a cocktail easily by adding a splash of tequila or your favorite alcohol and shaking it well. Serve as you would a regular refresher or use fancier glass for cocktails. This would be perfect for BBQ or summer family and friend gatherings. Everyone will love this trust me!
How to make the copycat Starbucks mango dragonfruit refresher recipe?
This is how you can make this copycat mango dragon fruit lemonade. Make sure to scroll down to the recipe card for the full detailed instructions!
To a shaker bottle or a mason jar, add the white grape juice, lemonade, mango juice, green coffee powder, freeze-dried dragon fruit pieces of the frozen piece, and a few ice cubes.
Close the lid tightly and shake vigorously to chill and incorporate the drink well.
Add ice to a large glass, and add some more pieces of dragon fruit then
Now enjoy your ice-cold drink.
Frequently asked questions – FAQ
How to store this Starbucks dragon drink?
If you made more than needed, you can store any leftovers in a mason jar or a container with a lid that you can close tightly in the fridge for up to 2 days. Make sure that whatever you are storing doesn't have any extra ice in it so you don't end up diluting the fruit juice.
Once ready to enjoy again, add ice and enjoy!
How much caffeine does green coffee powder add to this drink?
the amount mixed in this drink will have about 70-80 mg of caffeine. Of course, you can add less green tea powder or more if you want it to have more of a kick but usually, if you order this from the Starbucks coffee shop, a venti refresher will contain about 70-85mn of caffeine per drink.
If you are sensitive to caffeine or if you are making this for children you can omit that completely for a caffeine-free beverage.
Is mango dragonfruit drink healthy?
It might be a somewhat lighter drink compared to a lot of the other drinks that are sold at Starbucks but the sugar content is still high because of all the juices we used in it. I sometimes like to use sugar-free juices in this beverage to lighten it up even more. I think that is the beauty of being able to make it at home as well. You can really control what you add to it and see what really fits your needs.
How can I make this drink extra creamy?
You might've noticed that sometimes people have a creamier-looking pink or purple drink. Well, the secret is to add a little bit of coconut milk in there. Add a splash of coconut milk when adding all of your ingredients to a shaker for a smoother and creamier Starbucks copycat recipe for this dragon refresher.
Is this drink vegan?
Absolutley! It has no dairy added to it making it a vegan-friendly Starbucks drink.
Mango dragonfruit Starbucks refresher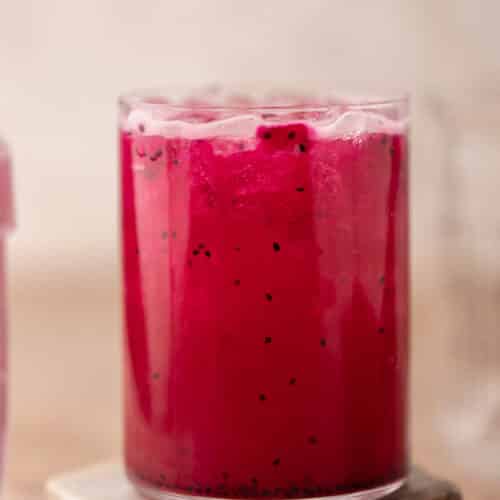 Starbucks mango dragonfruit refresher
This Starbucks mango dragonfruit refresher is an easy and refreshing to make in the comfort of your own home.
Ingredients
¼

cup

White grape juice

⅓

cup

Mango juice

¼

cup

lemonade

4

tablespoon

Freeze-dried dragon fruit

or frozen, chopped, divided

½

teaspoon

green coffee bean powder

optional for caffeine

ice
Instructions
Add everything to a shaked with ¼ cup ice and shake vigorously.

¼ cup White grape juice,

⅓ cup Mango juice,

¼ cup lemonade,

4 tablespoon Freeze-dried dragon fruit,

½ teaspoon green coffee bean powder

Pour ice into a glass, add some more freeze dried or fresh or frozen dragon fruit pieces, pour the drink over that and enjoy!
Nutrition
Calories:
141
Calories
Carbohydrates:
31
g
Protein:
0.3
g
Fat:
1
g
Saturated Fat:
0.04
g
Polyunsaturated Fat:
0.04
g
Sodium:
46
mg
Potassium:
149
mg
Fiber:
1
g
Sugar:
29
g
Vitamin A:
6
IU
Vitamin C:
1
mg
Calcium:
14
mg
Iron:
1
mg

Shop this recipe
This post may contain affiliate links, meaning that at no cost to you I will get a small percentage of every purchase you make!
If you enjoyed this Starbucks mango dragonfruit refresher recipe make sure to pin it for later!