These ninja creami recipes are some of the best homemade ice cream recipes out there. It makes your favorite sweet treat in no time, all you have to do is freeze your ice cream base for 24 hours then with a touch of a button let the Ninja Creami Machine do the job.
This machine is far more different than a traditional ice cream maker in the sense that it doesn't churn the ice cream the same way. It freezes the ingredients in the extra pint containers and blends them using the strong blade attached to the lid. so these are technically no-churn ice cream recipes!
Since you are here, make sure to take a look at these other recipes Chilled Crumbl Cookie butter Ice cream Cookies, The Best 3-Ingredient Creme Brulee with Ice Cream, and Crumbl Cookie Dough Cookies with Ice Cream Frosting!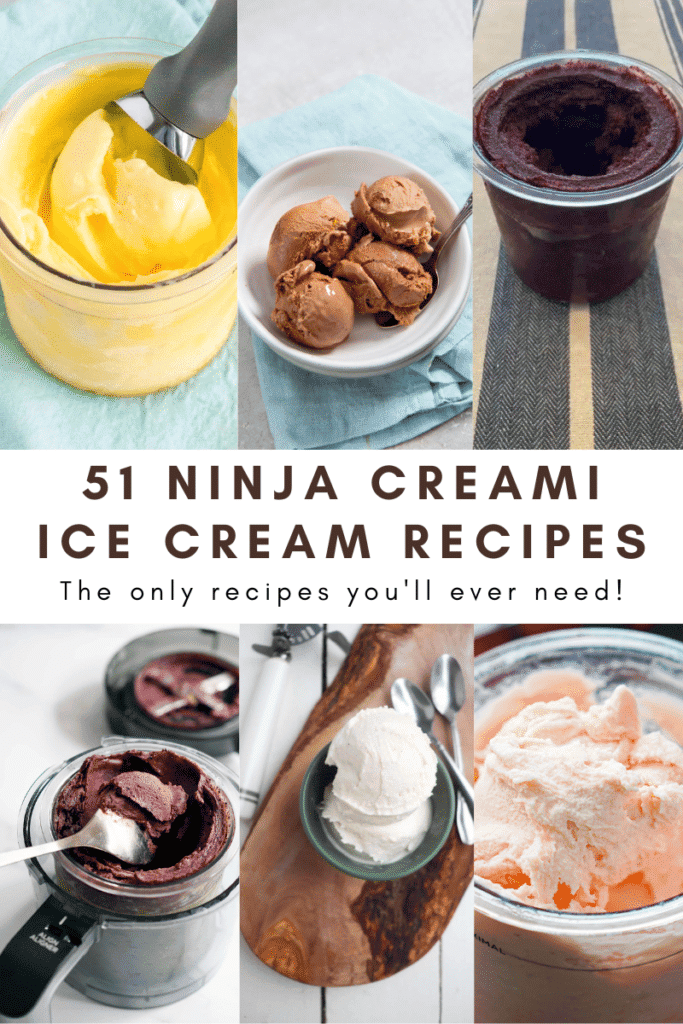 The Ninja Creami is a high-speed ice cream maker that allows you to make homemade ice cream, sorbet, and frozen yogurt in just minutes. It uses a powerful motor and a unique freezing process to create smooth and creamy frozen treats that rival those from your favorite ice cream shop.
One of the key features of the Ninja Creami is its ability to quickly freeze ingredients using a special blend-and-freeze technology. This allows you to create frozen treats without pre-freezing a bowl or adding ice and salt like traditional ice cream makers. Instead, you simply add your ingredients to the Creami's blender pitcher, blend until smooth, and then pour the mixture into the Creami's freezer cup. The Creami then freezes and whips the mixture to create a creamy and smooth texture.
The Ninja Creami also comes with a range of accessories, including a tamper tool for pushing ingredients down while blending and a set of reusable silicone molds for creating popsicles and other frozen treats. It also includes a recipe book with a variety of recipes for ice cream, sorbet, and other frozen treats.
Overall, the Ninja Creami is a great tool for anyone who loves making homemade frozen treats and wants to do it quickly and easily. It's also a good option for those who don't have a lot of space in their kitchen, as it's compact and easy to store.
How was it using this ice cream machine for the first time?
I have had my Ninja Creami ice cream maker for a few months now and have been using it a few times a week. The first time I used it it was shockingly loud. I mean it makes sense, these blades are literally blending through rock-solid bases so the motor needs to be strong enough. The second thing I noticed is that oftentimes you will have to reblend the ice cream mixture a few times because it will be a little powdery and icy ad first.
One of the coolest things about this machine though is the fact that you can use the mix-in button and select either the top or the whole pint so it knows how to mix in whatever you decided to add it. I think this option makes for a fun way to add everyone's favorite things to each layer. All you have to do is add the mix-ins, mix the otp part, serve then repeat the process with some other different flavors you might want to add in.
How much is the Ninja Creami?
The Delux Ninja Creami will cost you about $250 and the regular ninja creami 7-1 ice cream maker is about $180
What are things that you can make with the Ninja creami ice cream maker
The Ninja Creami ice cream maker can be used to make a variety of frozen treats, including ice cream, sorbet, frozen yogurt, and more. Here are some examples:
Classic ice cream flavors, such as vanilla, chocolate, and strawberry.
Unique ice cream flavors, such as lavender honey, roasted peach, and toasted marshmallow.
Sorbet flavors, such as raspberry, lemon, and mango.
Frozen yogurt flavors, such as blueberry, honey, and peach.
Dairy-free and vegan ice creams and sorbets using coconut milk, almond milk, or other plant-based milks.
Frozen cocktails, such as margaritas, piña coladas, and frozen daiquiris.
Ice cream cakes and pies using the Ninja Creami's silicone molds.
Soft-serve style ice cream, which can be dispensed directly from the machine.
The Ninja Creami is also versatile enough to allow you to experiment with different flavors and ingredients to create your own unique frozen treats. The possibilities are endless!
50 easy Ninja Creami recipes
In this collection of recipes, you will find easy small-batch ice cream recipes that use simple ingredients like heavy whipping cream, cream cheese, sugar, and mix-ins to create delicious and decadent ice cream the simple way!
Healthy ninja creami recipes
In this list you will find healthier and lighter ice cream, some have higher protein and only use protein shakes as the base ( I tried that option before and it tastes so good! Just make sure to add some mix-ins to really elevate your iced treat), you will also see that these recipes use sugar substitutes to lower the overall calories of the dessert.
Vegan ninja creami recipes
In this list, you will find easy vegan ice cream recipes using ingredient substitutions like vegan cream cheese, coconut cream, almond milk, oat milk, and other vegan-friendly ingredients to make this tasty treat fit your dietary needs.
Frequently asked questions – FAQ
What is the base recipe for the Ninja creami ice cream machine?
The Ninja Creami machine can make very elaborate ice creams but the simple ones that only require a few basic ingredients are elite because you can then customize them to your liking by adding flavorings and mix-ins to elevate it. Here are the ingredients that you need. :
1 cup heavy cream
1 cup whole milk
¾ cup granulated sugar
1 teaspoon vanilla extract
Instructions:
Add all ingredients to the Ninja Creami's blender pitcher and blend until smooth.
Pour the mixture into the Creami's freezer cup and freeze according to the manufacturer's instructions.
Once the ice cream is ready, serve it immediately or transfer it to an airtight container and store it in the freezer.
This basic recipe can be customized to create different flavors by adding ingredients like cocoa powder, fruit purees, or extracts. You can also adjust the amount of sugar to taste or use alternative sweeteners like honey or maple syrup.
It's important to note that the freezing time may vary depending on the temperature of your ingredients and the temperature of your Creami's freezer cup. Be sure to follow the manufacturer's instructions and check on the ice cream periodically to ensure that it doesn't become over-frozen or too soft.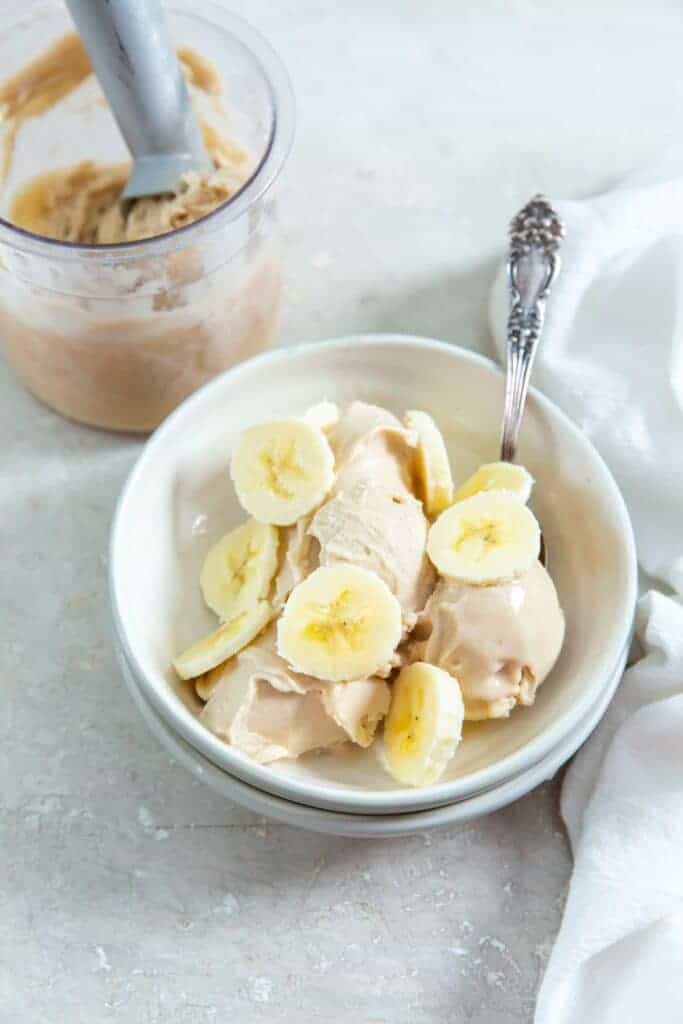 What are some fun mix-ins to add to your ice cream?
One of the best things about making your own ice cream with the Ninja Creami is that you can customize it with a variety of mix-ins to create unique and delicious flavors. Here are some fun mix-in ideas to try:
Chocolate chips or chunks
Crushed cookies or cookie dough pieces
Chopped nuts or nut butter swirls
Fruit purees or chopped fruit pieces
Caramel sauce or dulce de leche
Marshmallow fluff or toasted marshmallow pieces
Candy pieces, such as M&Ms or Reese's Pieces
Brownie chunks or fudgy swirls
Spices, such as cinnamon or ginger
Liquor or liqueur, such as Kahlua or Bailey's
To add mix-ins, simply stir them into the ice cream mixture before pouring it into the Creami's freezer cup. You can also layer mix-ins into the ice cream as you dispense it from the machine for a visually appealing treat. Experiment with different combinations to create your own unique flavors and have fun!
How to serve this ice cream
It's ice cream, so the best part is that you can serve it however you want! But here are a few ideas for you:
In a cone: Scoop the ice cream into a cone for a classic treat.
In a bowl: Serve the ice cream in a bowl with a spoon for a more traditional dessert. I especially love having it as a smoothie bowl as well.
With toppings: Add your favorite toppings, such as sprinkles, nuts, chocolate chips, or whipped cream, to make the ice cream even more delicious.
In a sundae: Layer the ice cream with toppings and sauces in a tall glass for a decadent sundae.
With fruit: Top the ice cream with roasted or fresh fruit, such as berries or peaches, for a refreshing and healthy dessert.
In a shake: Blend the ice cream with milk and additional flavorings to create a thick and creamy shake.
With a warm dessert: Serve the ice cream with a warm dessert, such as a brownie or pie, for a delicious contrast of temperatures and textures.
The best 54 Ninja creami ice cream recipes you will ever need!
51 Ninja creami ice cream recipes
These 51 ninja creami recipes are some of the most delicious and fun ways to use your new appliance this summer!
Instructions
Select your favorite recipe.

Grab all of your ingredients and make the recipe according to the directions.

If you enjoyed this 53 Ninja creami ice cream recipe collection article make sure to pin it for later!