This easy and delicious patriotic ice cream cookie sandwich is a simple and delicious way to enjoy the perfect treat for memorial day, the Fourth of July / independence day, or anytime during the summer. You can make them using any cookies you prefer and fill them up with your ice cream of choice. These will elevate your holiday celebration in the most perfect way!
Since you are here, make sure to take a look at these patriotic m&m's blondies, these patriotic chocolate-dipped Oreos, as well as these red white, and blue fruit skewers.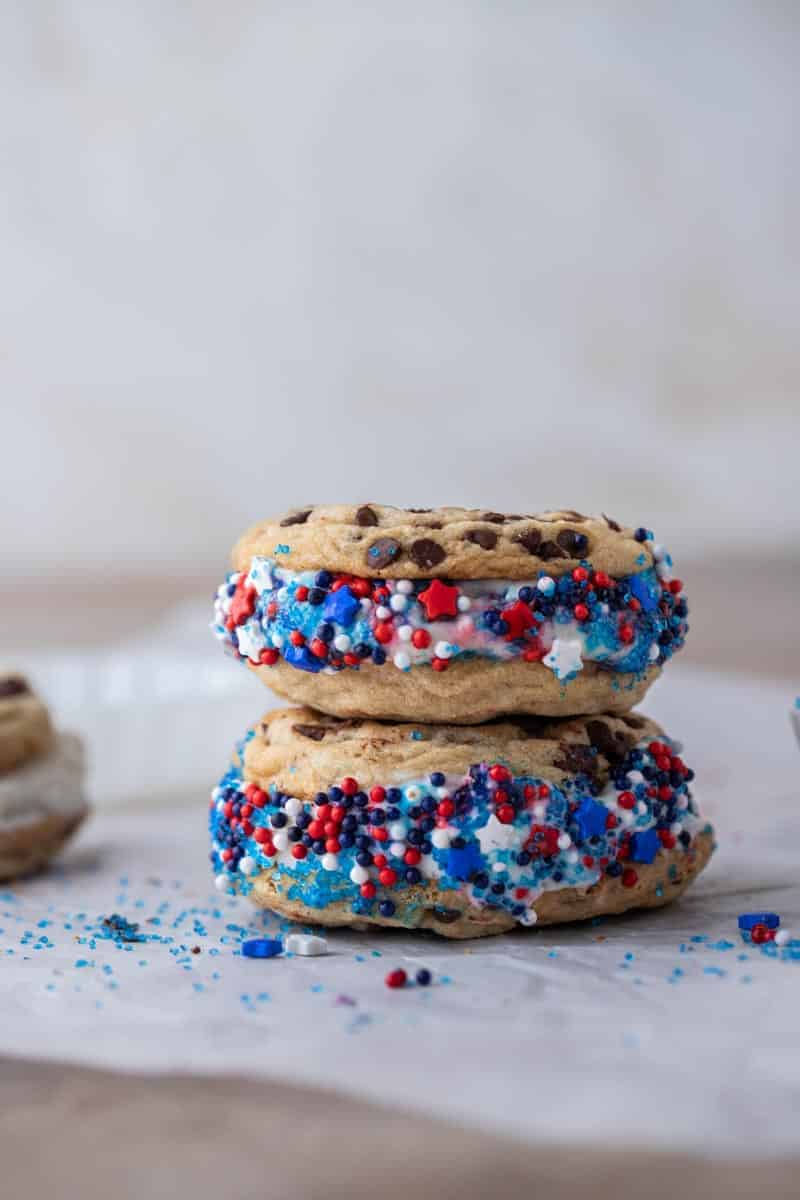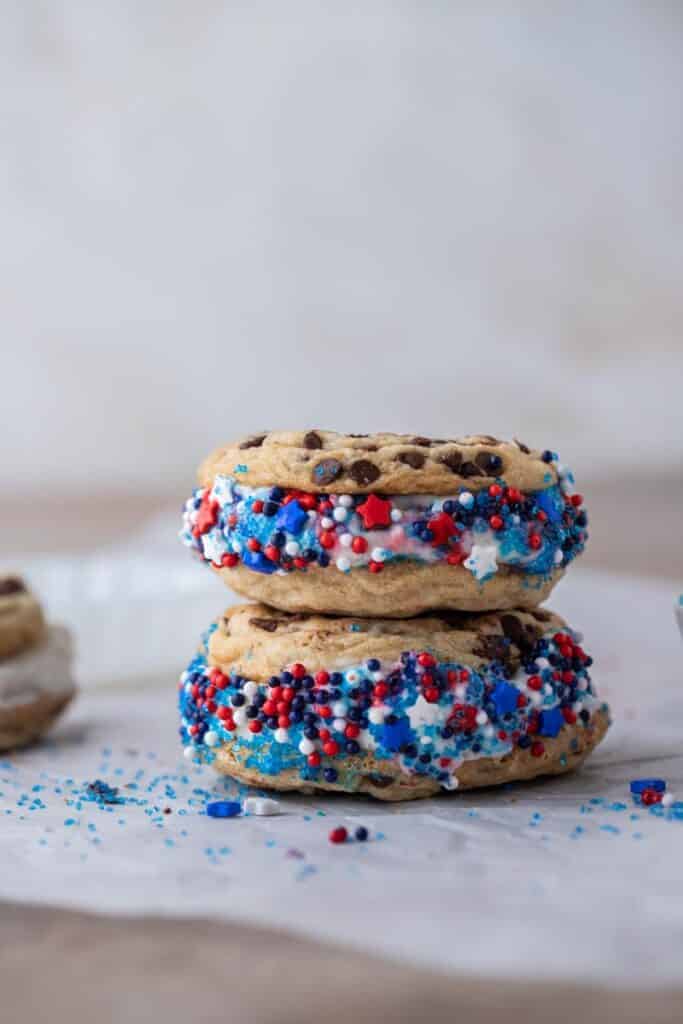 This is the best patriotic ice cream cookie sandwich recipe for your 4th of July celebration!
I was looking for something easy to make during the hot summer days that would be both delicious and suitable for all the celebrations happening around this time of year.
It seemed only right to combine some of my most popular treats, aka cookies with ice cream and red and white and blue sprinkles for a fun twist that is both gorgeous and so delicious!
Why you need to make this recipe!
They are the most delicious and perfect summer treat for the whole family.
This recipe is very versatile and allows you to really tweak this fun treat to your liking.
With this step-by-step, you'll learn how to make this festive treat for your next party and they'll for sure be a huge hit.
It is great on a hot summer day when you're craving a little snacky snack!
Ingredients for these tasty ice cream sandwiches
Here are the ingredients you will need to make this super simple dessert. Make sure to scroll down to the recipe card for the full detailed ingredient measurements.
Cookies – Pick your favorites. I used my chocolate chip sugar cookies but feel free to use regular chocolate chip cookies, sugar cookies, or even Snickerdoodle cookies.
Ice cream- Pick your favorite. I used vanilla bean ice cream but you can use any flavors you like and have on hand.
Patriotic festive sprinkles – I used red white and blue star shapes, patriotic pearls, and even blue decorative sugar would be a fun way to elevate how these look
How to make the best homemade ice cream sandwiches
This is how you can make Make sure to scroll down to the recipe card for the full detailed instructions!
Place your chewy chocolate chip cookie top side down, bottom side up, add a scoop of ice cream on top then top it with the second cookie to make a cookie sandwich.
Place sprinkles in a shallow bowl then roll the sides or the ice cream treat in the festive sprinkles, mini chocolate chips, or nuts.
Serve and enjoy!
Frequently asked questions – FAQ
What type of cookies should I use for the ice cream sandwiches?
You can use any cookie of your choice, such as chocolate chip, sugar, or even oatmeal. Choose cookies that are soft and chewy for the best texture.
Can I use store-bought cookies instead of making them from scratch?
Absolutely! Store-bought cookies work perfectly fine and save you time in the kitchen. Look for cookies that have a sturdy structure and complement the ice cream flavors you plan to use.
What ice cream flavors work well for patriotic ice cream cookie sandwiches?
Red, white, and blue-themed ice cream flavors like strawberry, vanilla, and blueberry work beautifully. Get creative and enjoy any flavors you like! Consider incorporating raspberry, coconut, or even mint chocolate chip for a twist.
How do I prevent the ice cream from melting too quickly?
One tip is to freeze the cookies before assembling the sandwiches. The cooled cookies helps to keep the ice cream from melting too fast when pressed between the cookies. You can also work in small batches, keeping the ice cream in the freezer until you're ready to assemble each sandwich.
How should I store the completed ice cream cookie sandwiches?
Once you've assembled the sandwiches, wrap each one individually in plastic wrap or place them in an airtight container or resealable plastic bag. Store them in the freezer until you're ready to serve. This will help maintain their shape and keep them fresh.
Can I make these ice cream cookie sandwiches ahead of time?
Yes! These treats are perfect for preparing ahead of time. You can assemble them a day or two before your event or gathering. Just make sure to store them properly in the freezer to maintain their taste and texture.
Can I make these sandwiches without dairy?
Absolutely! You can use non-dairy ice creams alternatives like cashew, almond, or even coconut milk-based ice creams. You can also explore vegan cookie options or make your own dairy-free cookies.
How can I make the sandwiches look more festive and decorative?
Consider rolling the sides of the ice cream sandwiches in patriotic sprinkles or crushed freeze-dried berries before serving. You can also garnish them with fresh berries or a drizzle of colored icing for an extra festive touch.
patriotic ice cream sandwiches
Patriotic ice cream cookie sandwich
These easy patriotic ice cream cookie sandwiches are the perfect sweet treat for your summer holiday parties!
Ingredients
Chocolate chip cookies

or your cookies of choice(check notes), chilled slightly

Vanilla ice cream

or your favorite ice cream

Patriotic sprinkles
Instructions
Pour the sprinkles in a shallow bowl and set aside.

To the bottom side of your cookie add a big scoop of your ice cream of choice and close the top with the second cookie. If the ice cream is too soft and oozes out, scrape the sides. Wrap the ice cream cookie sandwiches in plastic wrap and freeze again for a few hours to allow the ice cream to set.

Chocolate chip cookies,

Vanilla ice cream

Once ready to serve, dip the ice cream side in the sprinkles and enjoy!
Notes
I used my chocolate chip sugar cookie for this recipe but feel free to use any other recipe you'd like or even use a storebought log of cookie dough to make your life that much easier. 
Shop this recipe
This post may contain affiliate links, meaning that at no cost to you I will get a small percentage of every purchase you make!
If you enjoyed this patriotic easy ice cream sandwiches recipe make sure to pin it for later!