This Mcdonald's mango pineapple smoothie recipe is a simple and delicious smoothie made with real fruit. Perfect for a hot summer day or summer months in general. It is smooth, creamy, and has the perfect texture just like Mcdonald's smoothies which tend to be on the thicker side.
Since you are here, make sure to take a look at this Strawberry banana smoothie McDonald's copycat, this Mcdonald's caramel frappe, as well as this iced caramel coffee from McDonald's as well.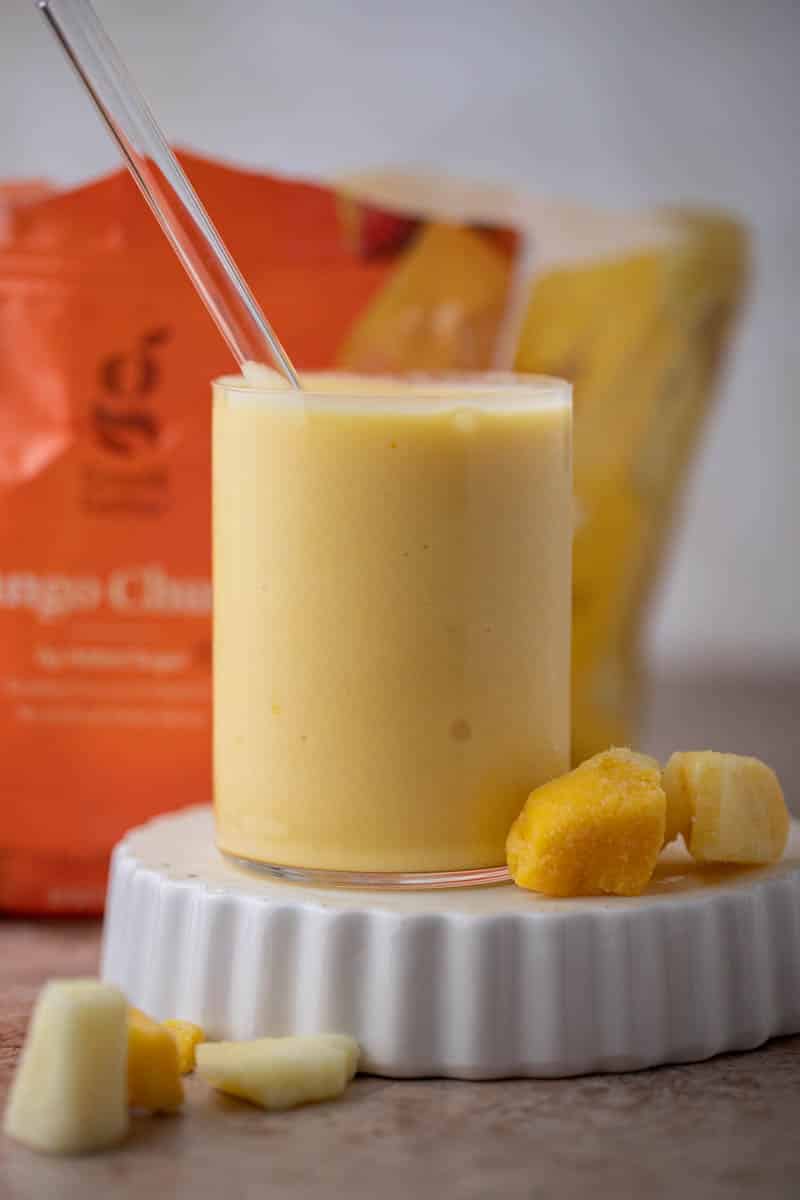 Ever since I can remember, I would get the Mcdonald's mango pineapple smoothie because it was a tropical smoothie that tasted absolutely out of this world. With every sip, you get transported to a happy vacation place for some reason. That's why at some point I decided it was time for me to try and recreate it with simple ingredients at home because It started adding up.
This is the best McDonald's pineapple mango smoothie recipe ever!
The smoothie itself is not too expensive but it is the act of always getting the Mcdonald's smoothie that added up. It was too good to pass up so now that I know how to make it at home, I save myself drive through time and money too. so without further ado let me show you how to make this tropical fruits smoothie.
Why you need to make this recipe!
This is one of the most refreshing drinks you can get from McDonald's.
It is such a quick recipe that you can recreate it at home.
This smoothie recipe will give you the perfect texture, a thick and creamy smoothie.
With this recipe, you will be able to save a ton of money in the long run. By making this thick smoothie at home you will be spending drastically less at your local Mcdonald's.
It's a great way to use up any leftover mango or pineapple you have.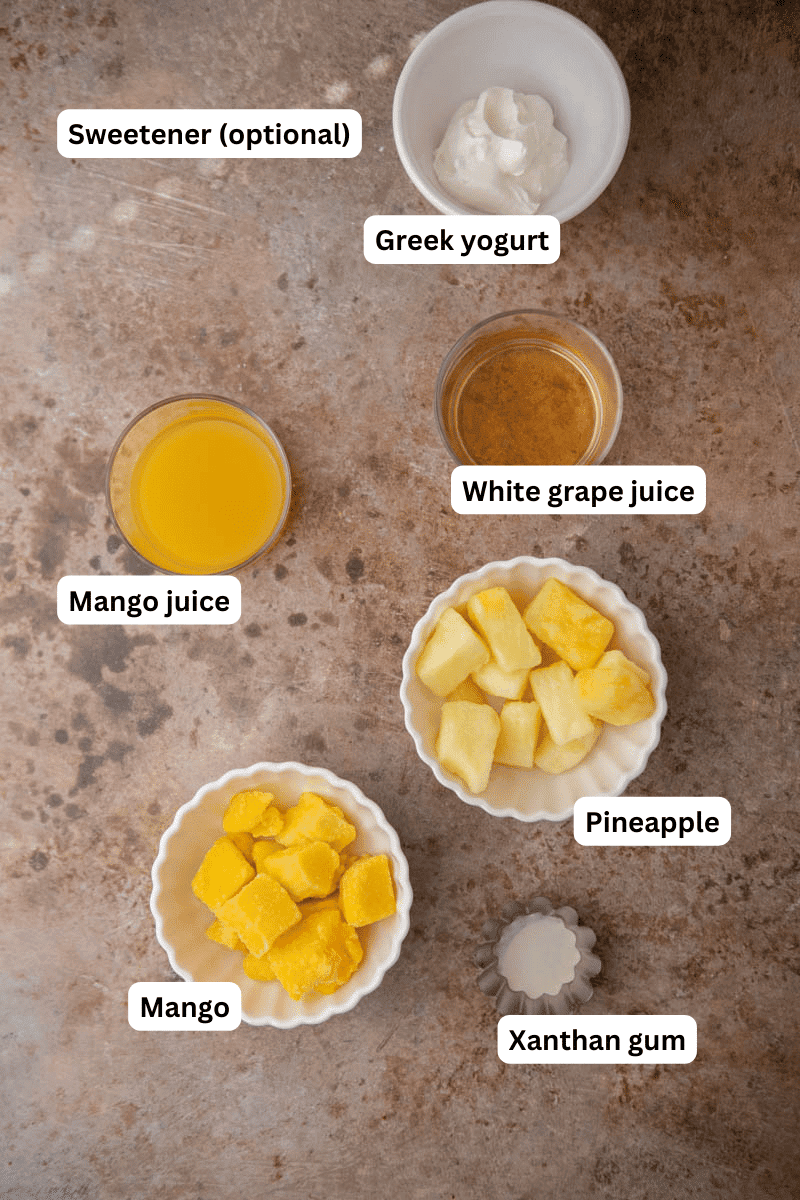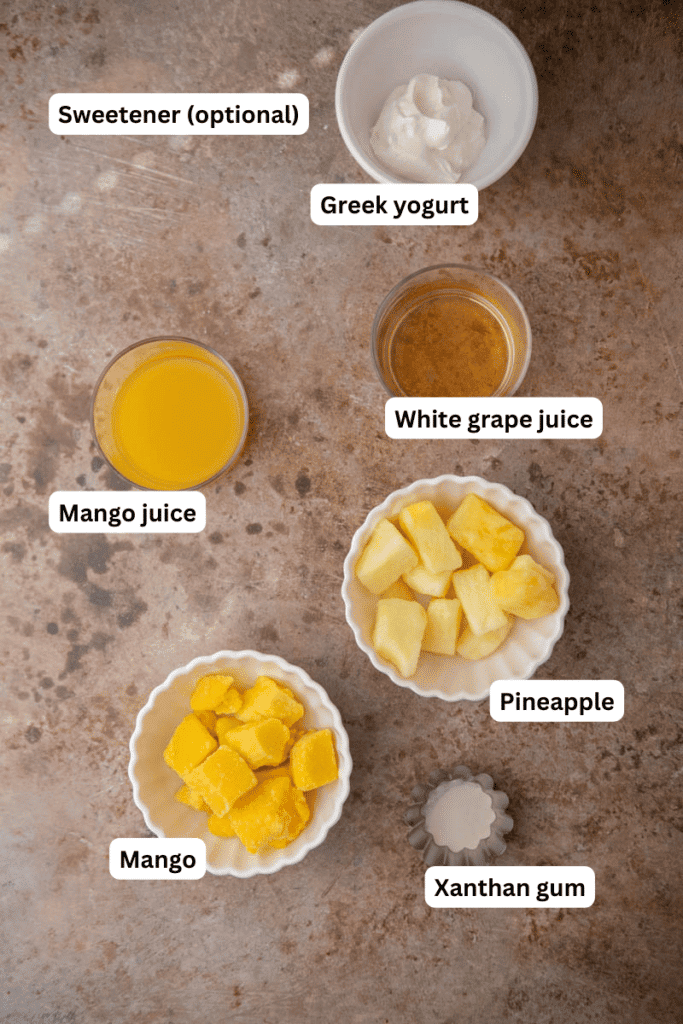 Ingredients for this easy mango pineapple smoothie
Here are the ingredients you will need to make this smothie recipe at home. Make sure to scroll down to the recipe card for the full detailed ingredient measurements.
Mango chunks and pineapple chunks- These have to be frozen but you can either buy the ones already frozen in stores or slice and freeze your own. It is a really simple way to use up any leftover fruit you have a home that is quickly going bad.
Greek yogurt- The greek yogurt is used to add extra creaminess and thickness to the smoothie base. If you don't have greek yogurt feel free to use regular yogurt instead. The greek yogurt also adds a little extra protein to our smoothie to keep us satisfied.
Mango juice- You can also use mango fruit juice concentrate.
White grape juice- If you look in the Mcdonald's version you'll see that they use some sort of white grape juice so we did that too to make our base similar to the one that they have at McDonald's.
Xanthan gum– This will help give the right texture to our smoothie. You can omit it if you don't have it but I highly recommend grabbing some at your local grocery store, you can even find it at Walmart or Amazon. It helps emulsify the fresh ingredients together naming the drink a lot sweeter and the best part is that this helps your drink stay colder for longer.
Sweetener of choice- I didn't add any extra sweetened because my fruit was pretty sweet but if you think you need extra sweetener after tasting the smoothie you can add granulated sugar, maple syrup, or even honey and blend again.
How to make a creamy mango pineapple smoothie
This is how you can make this smoothie at home. Make sure to scroll down to the recipe card for the full detailed instructions!
Add the frozen mango chunks, frozen pineapple chunks, grape juice, mango juice, greek yogurt, and the xanthan gum and blend to your blender.
Blend until smooth.
Once smooth, pour into a tall glass and enjoy your delicious homemade mango pineapple smoothie right in the comfort of your own home.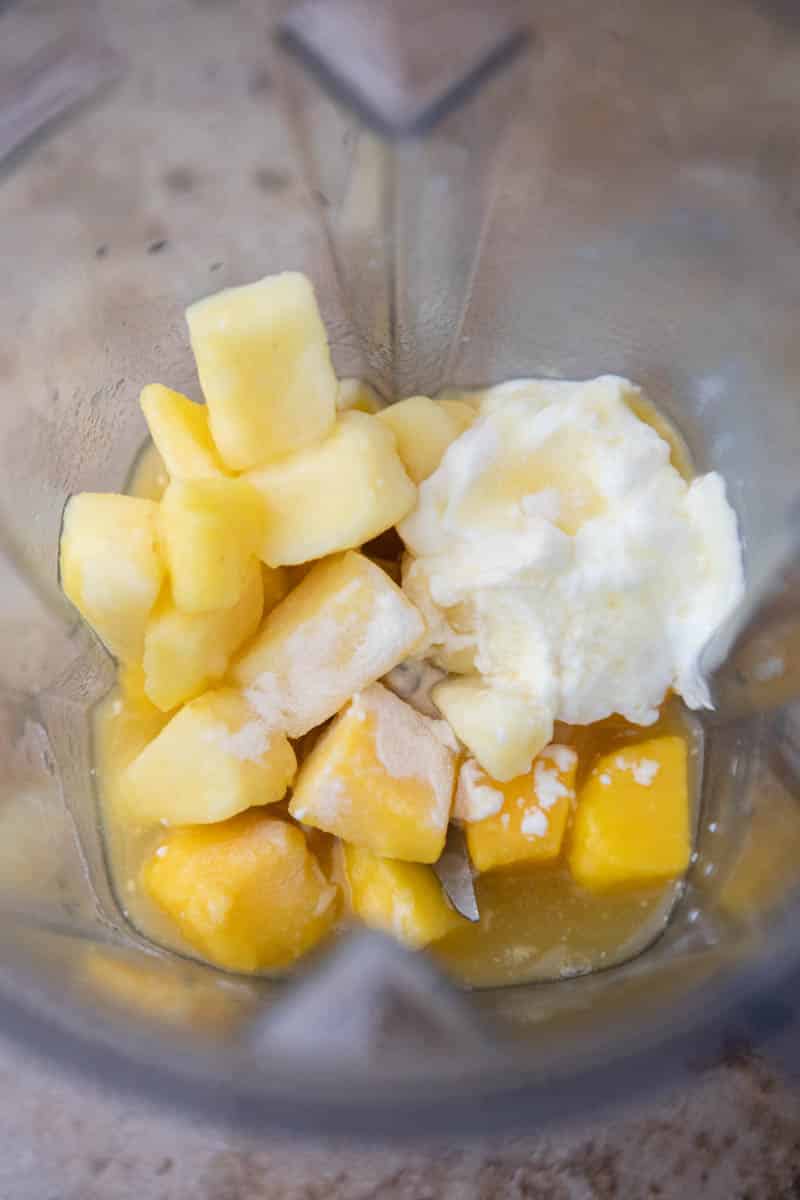 Frequently asked questions – FAQ
How to store this mango-pineapple smoothie?
If you have any leftovers, pour them into an ice cube mold and make smoothie cubes. Whenever you are ready to enjoy them again, add them to a blender with some extra mango juice or pineapple juice and blend until smooth and creamy.
Make sure to store your smoothie ice cubes in an airtight container to keep them fresh for a long time. You can keep them stored in the freezer for up to 1 month.
Are mango pineapple smoothies healthy?
Healthy will depend on your own description of the word. This recipe has a sweet combination of fruit juices added to the fresh fruit that can be seen as unhealthy but overall in moderation it is not bad for you since the fresh fruit is packed with vitamins, minerals, and antioxidants.
Can I make this drink vegan?
The only thing that makes this drink not vegan-friendly is the yogurt so all you would have to do is replace that with a dairy-free option. You can use plain yogurt made out of soy milk, coconut milk, and coconut cream. or even almond milk instead.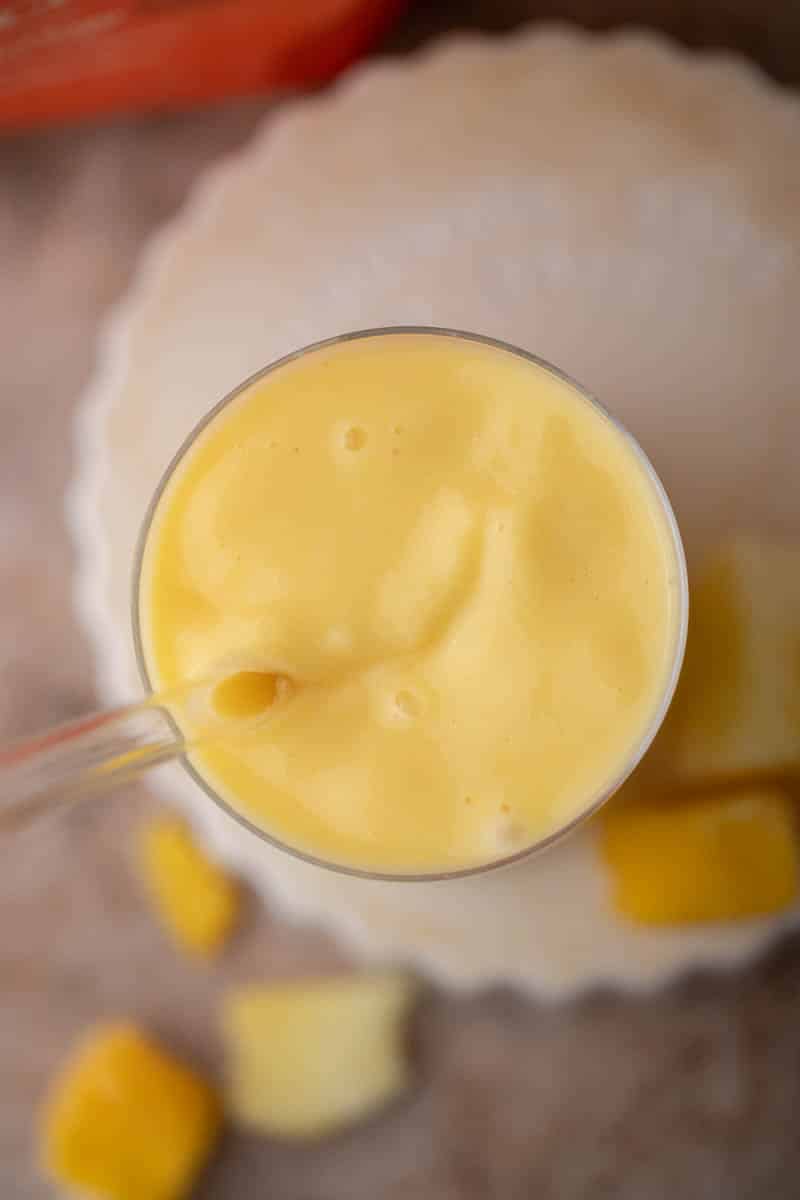 Can I use fresh fruit instead of frozen fruit?
To get that slushie texture you have to use frozen fruit in this recipe. You can always take your frensh mango and fresh pineapple, slice and freeze them to be able to use them in your smoothie later but we need the ingredients to be really cold and frozen.
Can I use different fruits in this smoothie instead of mango and pineapple?
Absolutley, it won't be a Mcdonald's copycat anymore but you can definitely use other fruits. Some of my favorites are:
Dragon fruit
Oranges
Pears
Lychee
Banana
Using a mixture of these will still yield a smoothie with tropical flavors but it won't be the mango pineapple that you are used to getting at Mcdonalds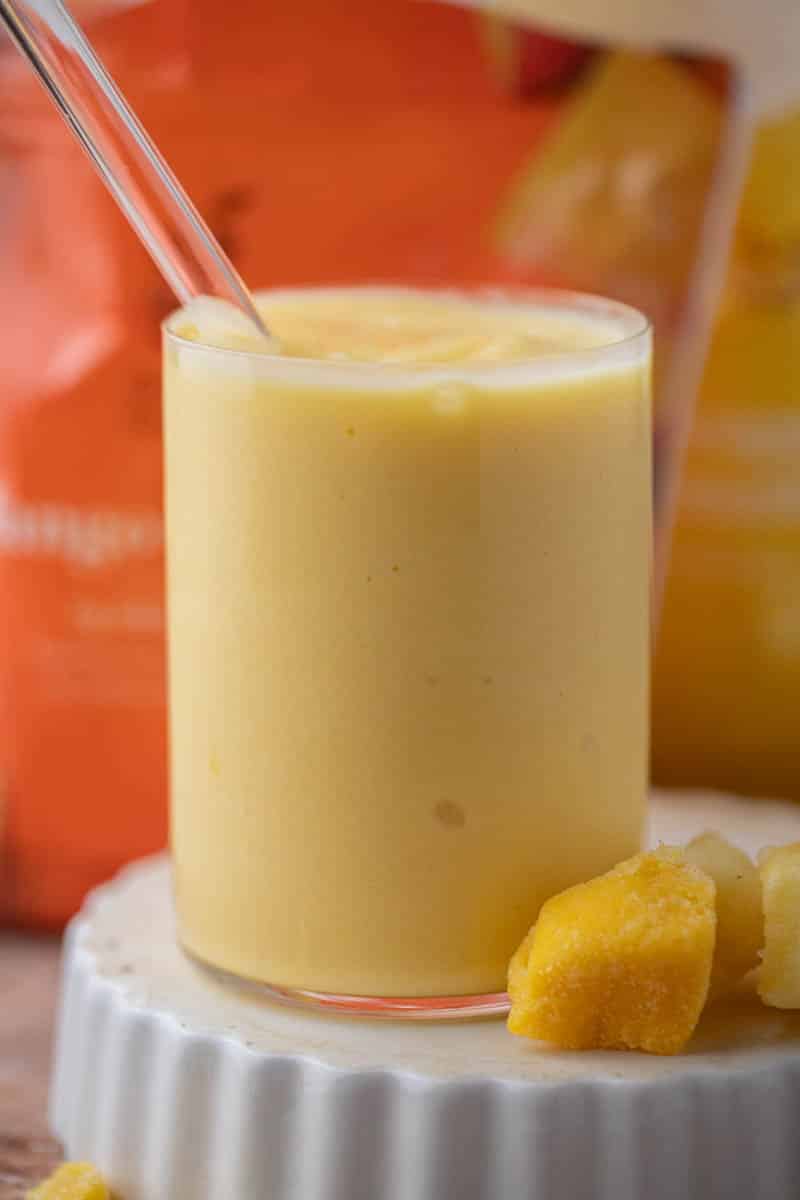 copycat mcdonald's mango pineapple smoothie recipe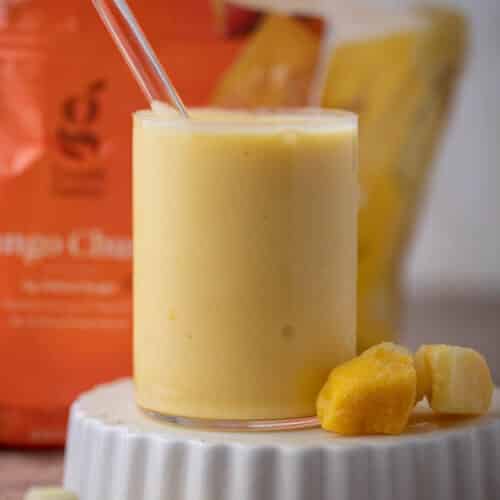 Easy Mcdonalds mango pineapple smoothie
This is the best and easiest Mcdonalds mango pineapple smoothie recipe. You can make it at home in no time and it will taste just like the real deal!
Ingredients
¾

cup

chunked mango

frozen

1

cup

chunked pineapple

frozen

⅓

cup

greek yogurt

½

cup

mango juice

¼

cup

white grape juice

¼

teaspoon

xanthan gum

to allow all the ingredients to emulsify. You can omit this but the texture might be off.
Instructions
Add all of the ingredients to a high-speed blender and blend until smooth. Make sure not to over blend. Once all the ingredients and smooth and combined stop.

Pour into a tall glass and enjoy with a straw.
Nutrition
Calories:
295
Calories
Carbohydrates:
67
g
Protein:
9
g
Fat:
1
g
Saturated Fat:
0.2
g
Polyunsaturated Fat:
0.2
g
Monounsaturated Fat:
0.2
g
Cholesterol:
3
mg
Sodium:
57
mg
Potassium:
675
mg
Fiber:
5
g
Sugar:
56
g
Vitamin A:
1444
IU
Vitamin C:
125
mg
Calcium:
126
mg
Iron:
1
mg

Shop this recipe
This post may contain affiliate links, meaning that at no cost to you I will get a small percentage of every purchase you make!
If you enjoyed this Mcdonald's mango pineapple smoothie recipe make sure to pin it for later!