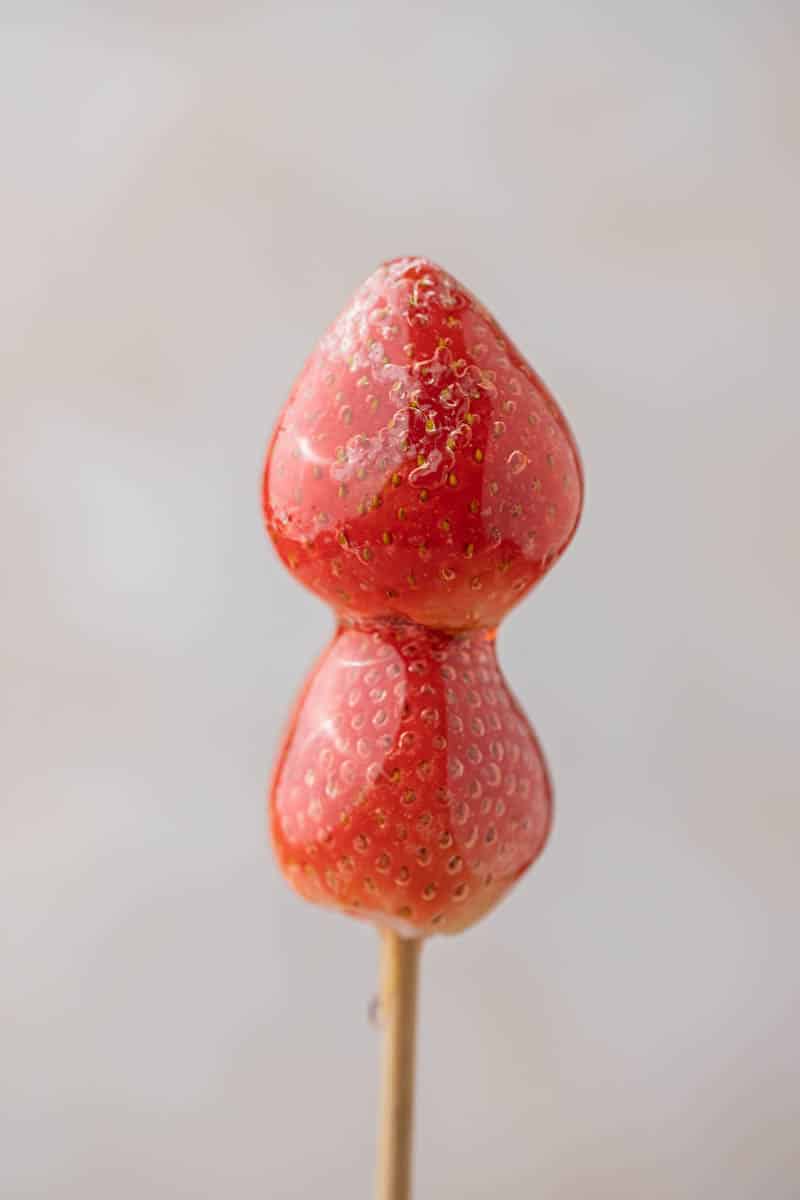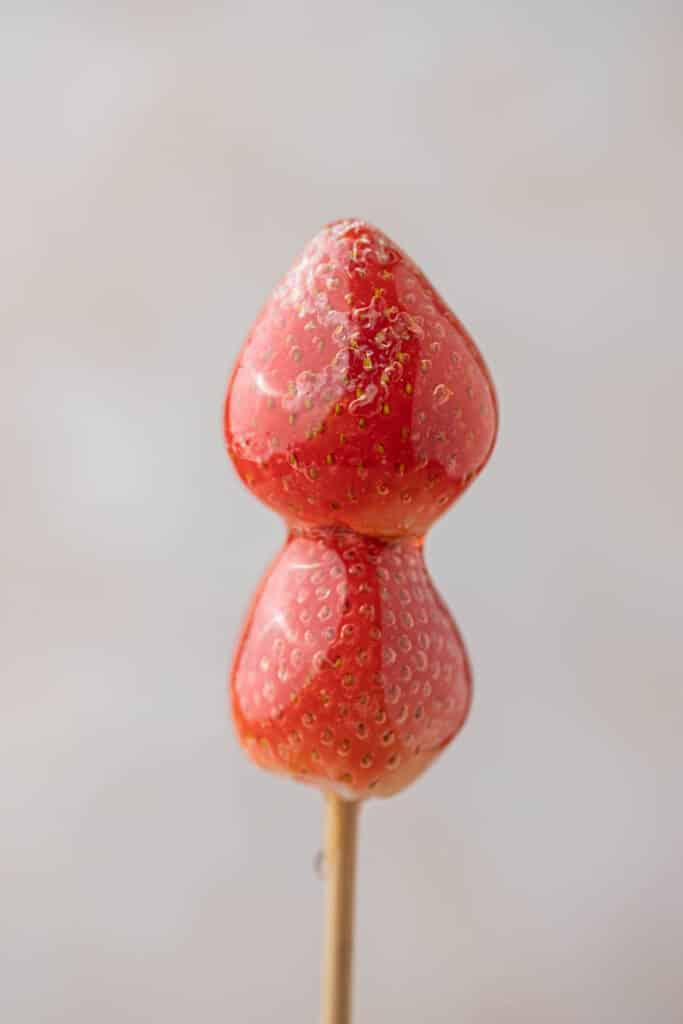 I have been seeing this sweet treat a little everywhere on social media in the united states in the past year so I knew I had to try and make it and share an easy way for you to make it at home too!
You can use whatever fruit you have on hand, but make sure to check out the what fruits work best for Tanghulu where I make sure to answer all your questions.
This is the most popular treat that you can make at home in no time.
With this recipe, you'll learn how to make popular street food from Asian countries at home in no time!
What is Tanghulu?
Tanghulu is a popular Chinese street food that you can find throughout northern china. It is made by adding fruits to bamboo skewers and dipping them in sugar syrup then in an ice bath creating a hard candy shell that pairs so perfectly with the softness of the fruit.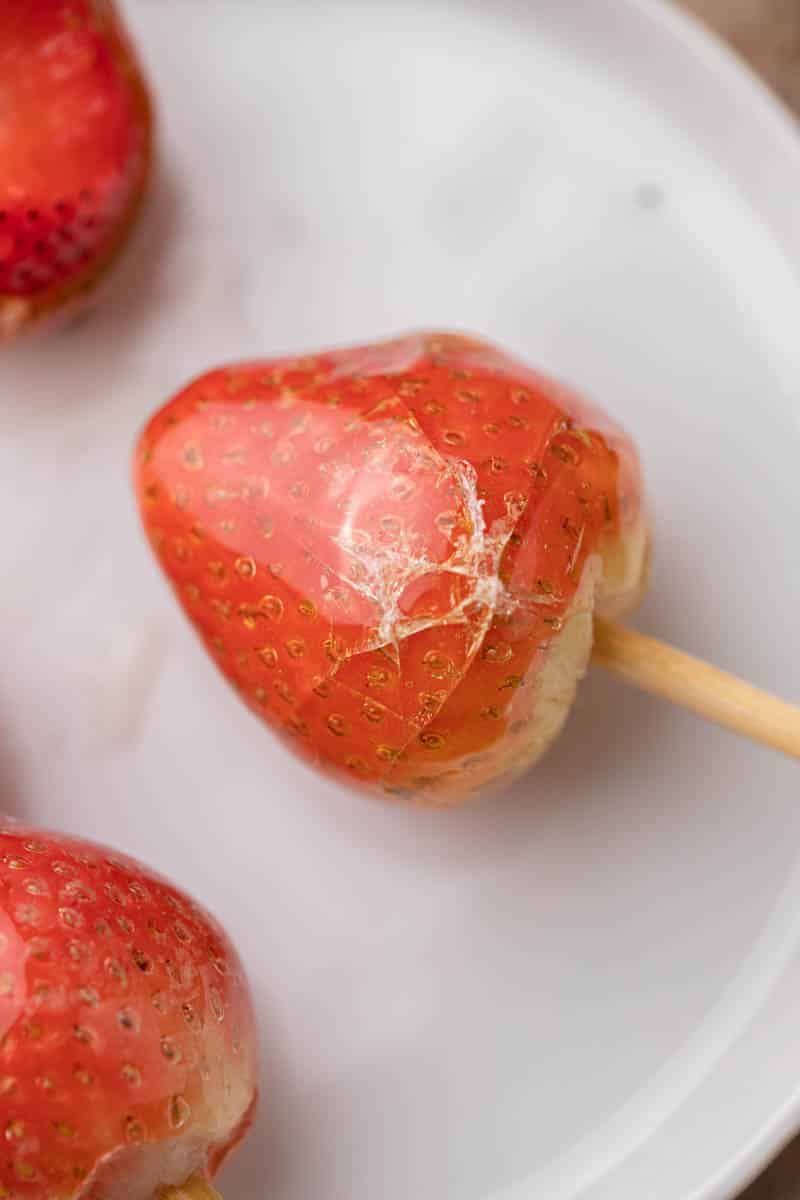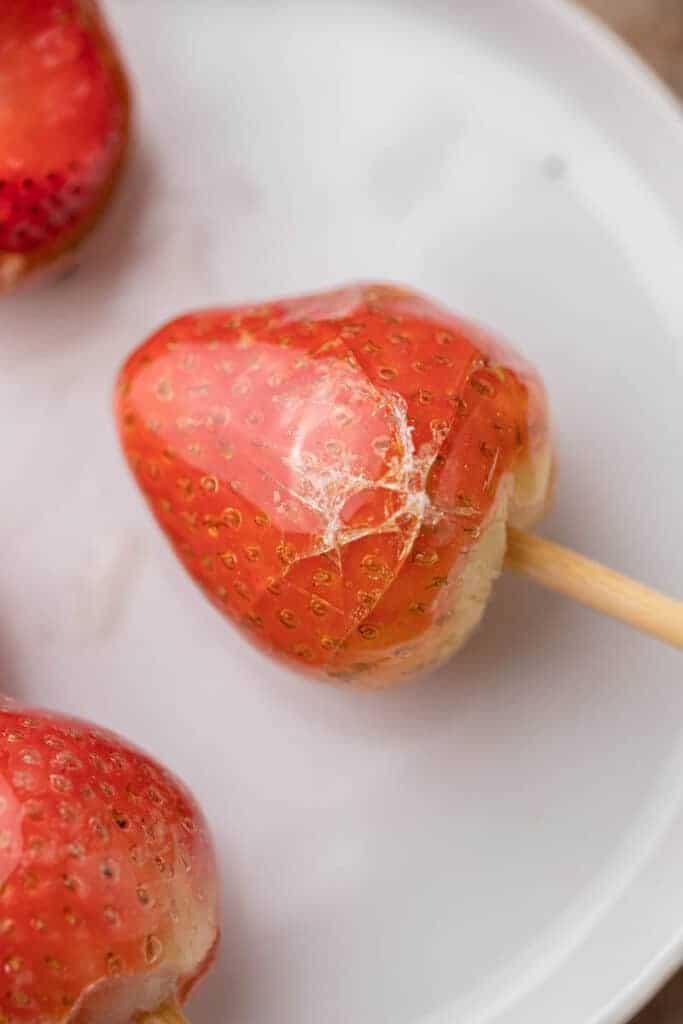 What does tanghulu taste like?
Tanghulu tastes sweet and fruity or tart depending on the fruit you use. I think the best part of it is actually the texture. It's crunchy with a burst of soft juicy fruit in the center.
Why do you need to make this recipe?
It is such an easy and simple recipe.
You can use this fun recipe as a baseline and switch up the fruits you make it with according to seasonality.
It doesn't use any corn syrup.
This recipe makes for a super fun candied fruit snack for your little ones.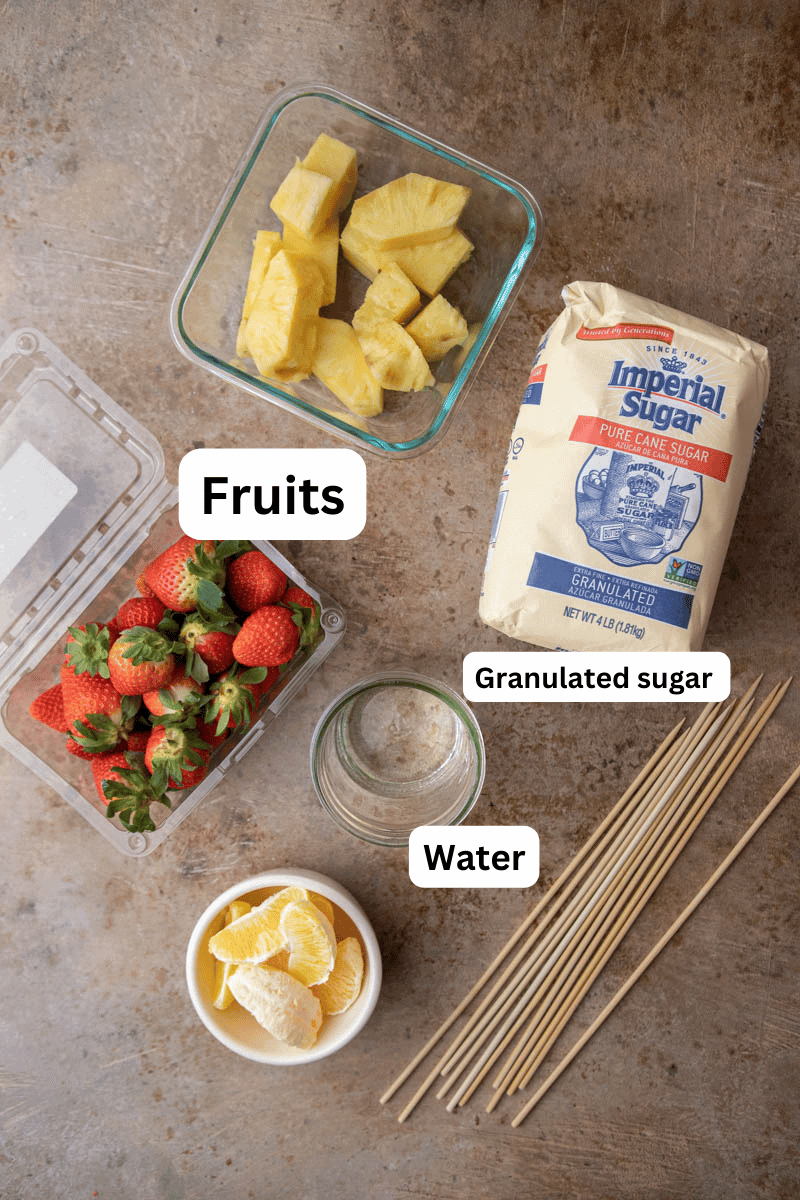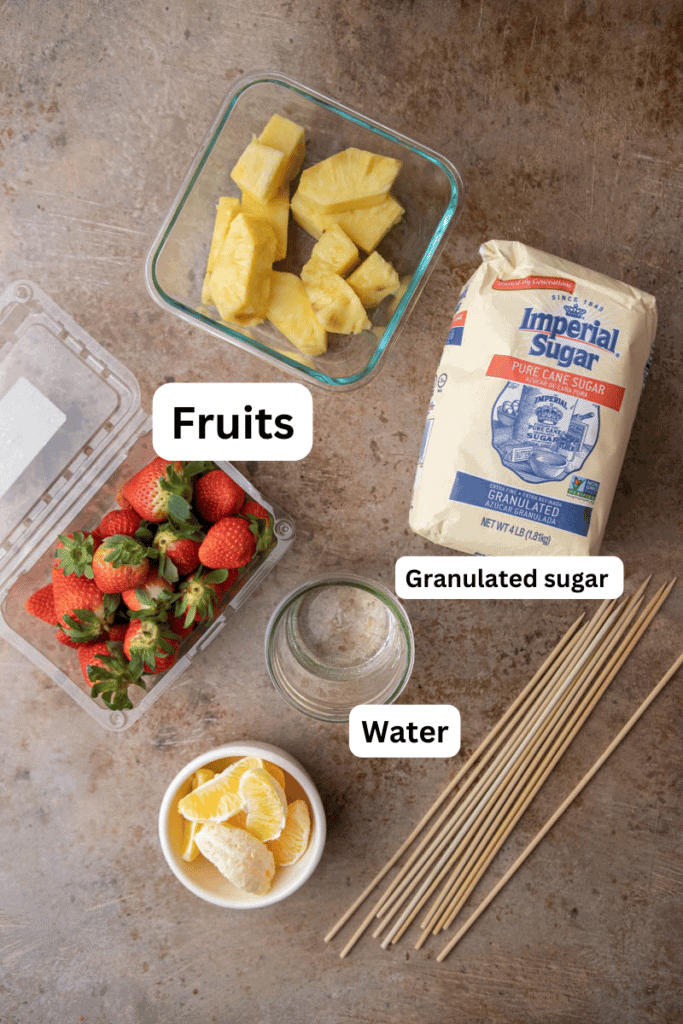 Ingredients for this tanghulu
Here are the ingredients you will need to make this tanghulu recipe. Make sure to scroll down to the recipe card for the full detailed ingredient measurements.
Imperial sugar granulated sugar
Water
Fresh strawberries or any fruits you'd like.
Make sure to grab some heady-duty wooden skewers for this too.
Why imperial sugar?
When making simple recipes like this one I like to go with the highest quality ingredients and Imperial Sugar delivers just that.
How to make Tanghulu
This is how you can make this at home. Make sure to scroll down to the recipe card for the full detailed instructions!
Wash the fruits and pat them dry.
Insert the pieces of fruit onto the wooden skewers and set them aside.
In a medium-sized pot, add the sugar and water together and bring to a boil over medium heat. We want the mixture to get to 300F. This will take anywhere between 5-10 minutes. If you don't have a thermometer test the sugar mixture with a spoon. Dip the spoon in the mixture then back into the ice-cold water, if it hardens it's ready.
Dip the fruit in the sugar candy coating then shake off any excess sugar.
Dip the fruit skewers into the hot sugar syrup and tap the skewer onto the top to get rid of any excess syrup.
Quickly dip the fruit into a bowl of ice water to allow the hot syrup to harden.
Place the on a parchment paper lined baking sheet or plate to let them cool down even more then take a bite and enjoy that sweet crunchy shell!
Frequently asked questions – FAQ
How to store Tanghuly fruits?
This is one of those treats that is best served immediately after making (well a few minutes after so you allow it to set). If you need to store it for later, place it in an airtight container in the fridge to keep the candy shell intact. It will store for about 1 day.
What are the best fruits for Tanghulu?
Traditional candied fruit in China uses hawthorn fruit. After doing a ton of research it seems like we have something similar in Algeria. They usually are ready around early or late fall. They look like small cherry tomatoes with a darker color, aren't too sweet, and have the texture of an apple. I am super addicted to them so now that I know that I might be able to find them in a Chinese store I will be on the lookout.
As far as what is the best fruit to use in this recipe, I would recommend anything that can stick to a wooden skewer easily and isn't insanely mushy. I love making strawberry tanghulu, but grapes, blueberries, pineapple chunks, kiwi slices, and even orange wedges work well for this.
How long does tanghulu take to harden?
Once the mixture reaches the right temperature (300F) it should harden immediately after being dipped in the cold water.
Can I make tanghulu without a thermometer?
Yes! I think this is one of the reasons why most people don't try making this sweet treat. Often sugar can be a bit complicated to work with, especially when making caramel or trying to make a hard candy shell. All you need to do is combine the sugar and water together over medium-high heat. Allow the mixture to boil for 7-10 minutes then dip a spoon in there and transfer it to a bowl or ice cold water. If it hardens, th mixture is ready.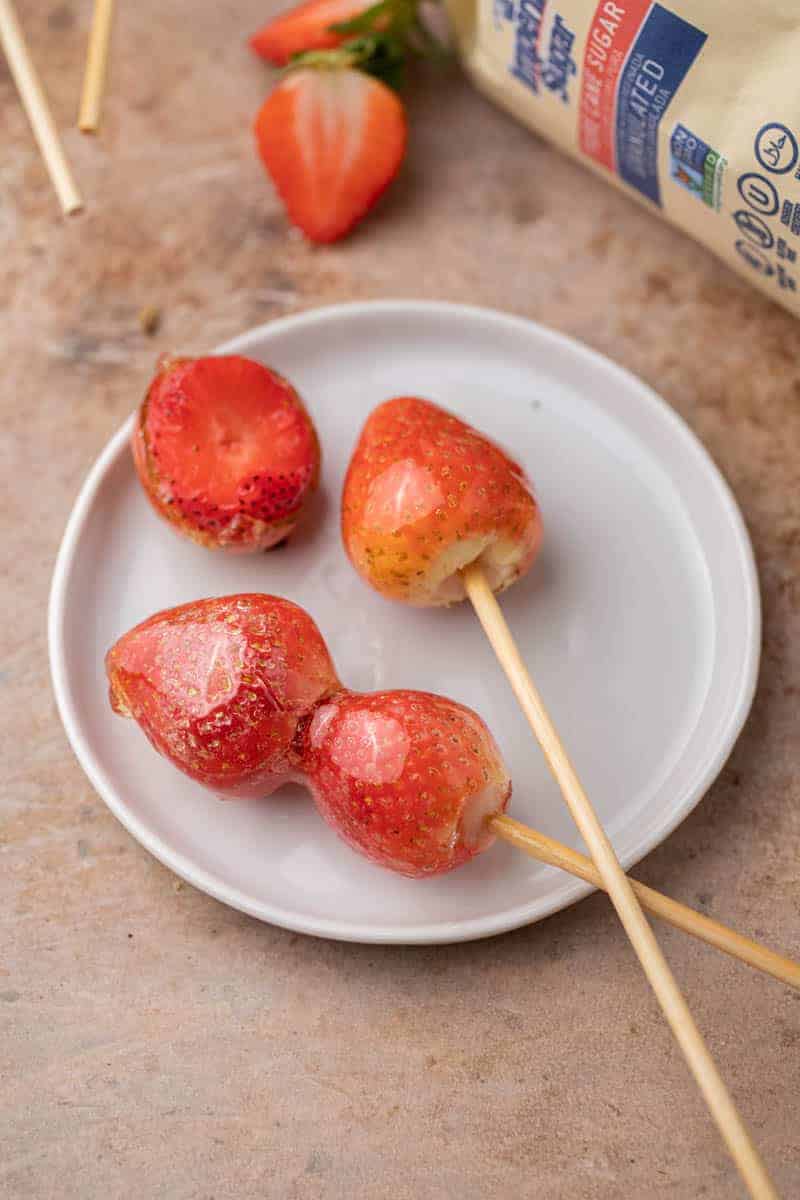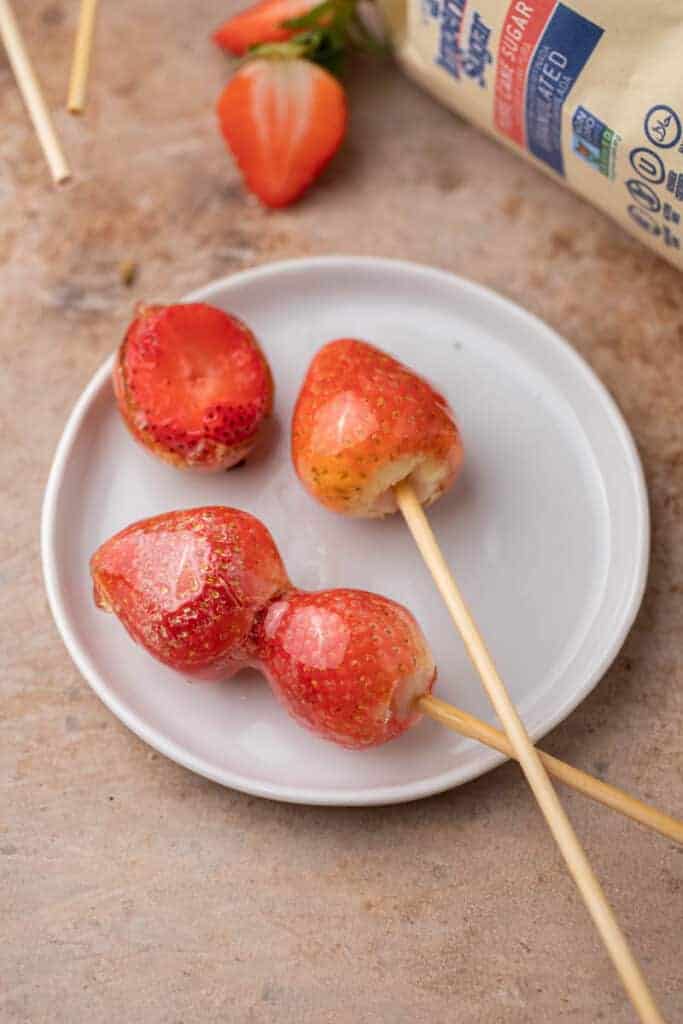 Easy homemade tanghulu recipe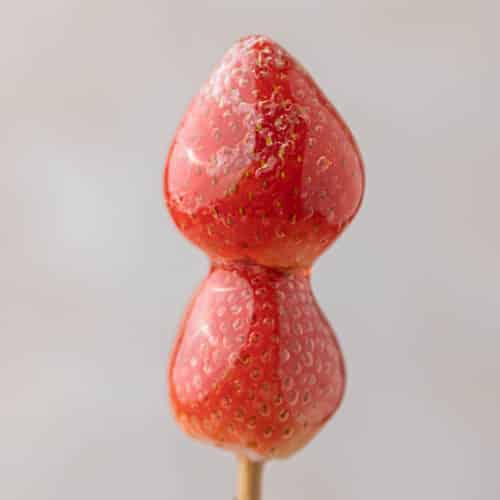 Easy tanghulu recipe at home
This easy tanghulu recipe allows you to make the most delicious candied fruits at home in no time.
Ingredients
½

cup

water

½

lbs

fruits of choice

Strawberries, pineapple, kiwis, oranges

Ice water
Instructions
Wash and dry your fruit fully before starting.

Add the fruits to a wooden skewer, I go for 1-3 fruits per skewer to make sure that I can dip them in the sugar mixture.

In a medium pot add the sugar and water and heat up over medium heat until the mixture is boiling and reaches 275-3290F. if you don't have a thermometer you can check if it is ready by dipping a spoon or wooden skewer and immediately dipping it in ice water. If it hardens it is ready.

When the sugar syrup is ready, turn the temperature down all the way then work quickly and carefully dipping the fruits in the sugar syrup, and rotate the skewer around to coat.

Allow the sugar to drip off the fruit before dipping in the ice water for 2-4seconds to allow the sugar mixture to harden. Serve immediately
Notes
If the sugar mixture crystallizes, add a little water then bring it back up to the right temperature and dip your fruits in it again. Be careful not to heat it up too much or you'll end up with caramel and that is not what we are going for here. 
Nutrition
Calories:
84
Calories
Carbohydrates:
22
g
Protein:
0.2
g
Fat:
0.1
g
Saturated Fat:
0.003
g
Polyunsaturated Fat:
0.03
g
Monounsaturated Fat:
0.01
g
Sodium:
1
mg
Potassium:
35
mg
Fiber:
0.5
g
Sugar:
21
g
Vitamin A:
3
IU
Vitamin C:
13
mg
Calcium:
4
mg
Iron:
0.1
mg

Shop this recipe
This post may contain affiliate links, meaning that at no cost to you I will get a small percentage of every purchase you make!
If you enjoyed this Tanghulu recipe make sure to pin it for later!