This 5-minute tuna sandwich recipe is our family's favorite! Using tuna in water, onion, jalapeno, celery, and creamy mayonnaise to make the perfect tuna salad mixture. Then generously add the tuna mixture to your whole wheat bread for an out of this world experience.
SIGN UP TO OUR MAILING LIST GET A FREE WEEKLY MEAL PLANNER AND RECIPE CARD!
I hate fish.
That's a pretty bold statement to make at the beginning of a "how to make tuna salad sandwich article." But hey I am just speaking the truth… Ever since I was a child, my parents had to force me to eat fish.
I remember seeing the dining table through blurry watery eyes because I hated fish that much. I don't know if it was something about the texture or the smell or the flavor but all those things just made it so unappealing to me.
But… Canned tuna on the other hand was my ABSOLUTE FAVORITE! Weird, I know!!! I loved tuna in oil, tuna in water, we even had tuna in tomato sauce. The tomato sauce one was my go to, always! I could eat it right out of the can, but since we are being a little fancy while still making an easy lunch recipe here, let's add some things to it!
What's so special about this tuna sandwich?
This recipe is my all time favorite quick weekly lunch, here are some of the reasons why you need to make it ASAP:
This tuna salad sandwich recipe comes together in less than 5 minutes.
It is a fairly healthy lunch option.
It's packed with veggies as well as protein to keep you fuller for longer.
You can have this tuna salad in a sandwich or on its own to make it a low carb meal!
It just tastes incredible! That's all!
ingredients for a tuna sandwich
To make this simple on the go sandwich recipe you will need:
Tuna– I use tuna that's stored in water to reduce the fat of the whole recipe. It tastes great and I just feel so much better not consuming all that oil.
Celery– Celery stalks cut into smaller pieces to add a little crunch to the tuna salad sandwich.
Jalapeno– I used jalapenos cut into little cubed to add crunch as well as a little spice but if you don't want spice in your sandwich you can opt for green bell peppers.
Red onion– Red onions chopped into small cubes to add a kick to the tuna sandwich as well as more crunch.
Mayonnaise – Mayonnaise is probably the only not so good ingredient for you in this recipe. Just make sure to use a good quality mayo to make up for that.
Salt and pepper– Salt and pepper to taste.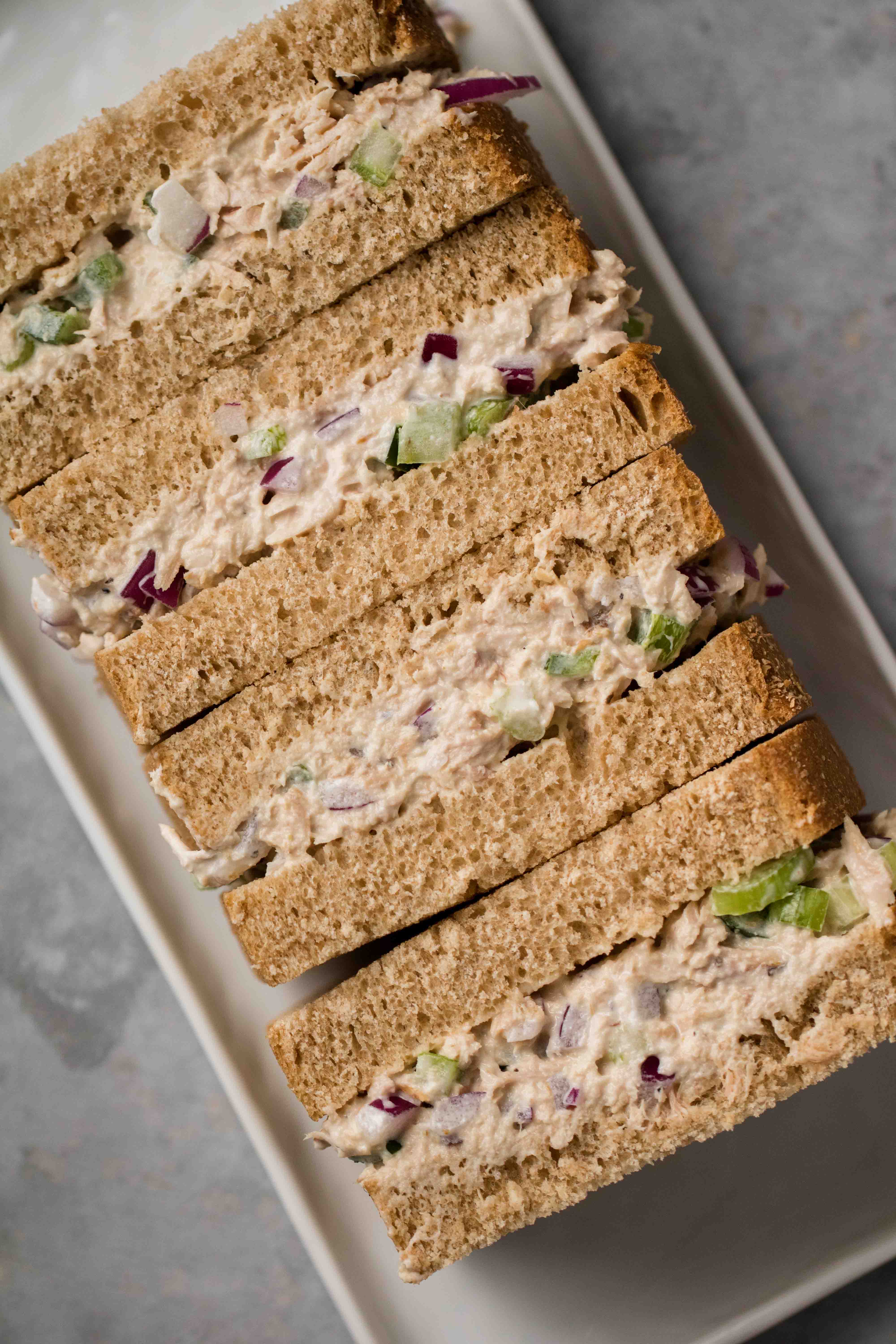 What to put in a tuna sandwich
In my case, I put red onion, jalapeno, and celery in my tuna sandwich but the possibilities are truly endless. Some other things you could put in your tuna sandwich would be:
Relish
Radishes
Roasted bell peppers
Walnuts
Any bell pepper
Kalamata olives
Banana peppers
Tomatoes
Lettuce
Cheese (make it a tuna melt!)
These are just a few choices that you can put inside your tuna sandwich. You can get a whole lot more creative than this and use whatever you have in your fridge. Let me know if you stumble upon a mix in made in heaven!
How long does tuna salad last?
This is a great question given the fact that this salad has both tuna and mayo in it. So this tuna salad will last for a few days when stored in the fridge in an airtight container, if were looking for something more exact, this tuna salad will last for up to 3-5 days in the fridge!
Can I freeze tuna salad?
If freezing is a better option for you, here is how it can be done. Store the tuna salad in an airtight container in the freezer for up to 1 month.
Know that the veggies will definitely loose some of their crunch so the best way to freeze this is without the veggies. Just tuna, mayo and seasoning then add the veggies whenever you thaw the tuna salad.
If you are looking for more easy lunch recipe check out this Vegan Gut Healing Buddha Bowl |Meal-Prep| or my famous Veggie quinoa sushi | how to
How to make tuna sandwich?
In a medium bowl add in all the ingredients.
2. Stir to combine the mixture.
3. Place a couple of spoonfuls of the tuna salad mixture onto whole wheat bread, close the sandwich and enjoy 🙂
Traditional tuna salad often has a lot of fat from the mayo but if you are looking into making it a little healthier you can always go for ½ mayo, ½ plain greek yogurt. If you want it to be extra healthy use only greek yogurt at a 1:1 ratio, just don't forget to salt and pepper and maybe even add a squeeze of lemon juice.
Calories of a tuna sandwich
Each tuna sandwich has about 282 calories or 300 calories if you round it, that's including the bread. It is packed with healthy protein and fiber to aid in digestion. You can see the full nutritional value of this tuna sandwich under the recipe box.
Tuna salad Sandwich recipe
If you enjoyed this tuna sandwich recipe make sure to give it 5 stars by clicking the 5 stars under the title and description 🙂!
5-minutes tuna salad sandwich
This 5. minute tuna salad recipe is packed with protein and crunchy veggies. It tastes good and is so so filling. Make it in less than 5 minutes and enjoy it as your main on the go meal option.
Ingredients
2

cans

tuna in water

½

cup

mayonaise

½

cup

jalapenos

diced

½

cup

red onions

diced

½

cup

celery

diced

¼

teaspoon

salt

¼

tsp

black pepper

8

sliced

whole wheat bread

If making this tuna salad mixture into sandwiches.
Instructions
In a medium bowl, add in the drained tuna, mayonnaise, diced jalapeños, diced onions, diced celery, salt and pepper and mix until incorporated.

You can now enjoy your tuna salad as is, or spoon some on bread and make a sandwich!
Notes
Store this tuna salad in an airtight container in the fridge for up to 5 days. Perfect for a weekly meal prep option. 
Nutrition
Calories:
282
Calories
Carbohydrates:
4
g
Protein:
17
g
Fat:
22
g
Saturated Fat:
3
g
Cholesterol:
42
mg
Sodium:
407
mg
Potassium:
242
mg
Fiber:
1
g
Sugar:
2
g
Vitamin A:
245
IU
Vitamin C:
15
mg
Calcium:
24
mg
Iron:
1
mg
Thank you so much for making it all the way down here. Do not forget to let us know in the comments below what you thought of this easy tuna recipe!

In the mean time dont forget to follow me on instagram 🙂
[instagram-feed]
Shop this recipe
This post may contain affiliate posts, meaning that at no cost to you I will get a small percentage of every purchase you make!
If you enjoyed this 5-minute tuna salad sandwich make sure to pin it for later!