This coffee soda recipe is pretty much an iced coffee soda or a soda water mixed with cold brew coffee or espresso shots. It is a refreshing beverage, that is both bubbly and effervescent and packed with caffeine to keep you going for the day. It is very simple, cost-effective, and a great way to take your coffee break up a notch.
Since you are here, make sure to take a look at this Starbucks vanilla sweet cream cold foam, this salted caramel cold brew, as well as this easy iced white mocha recipe!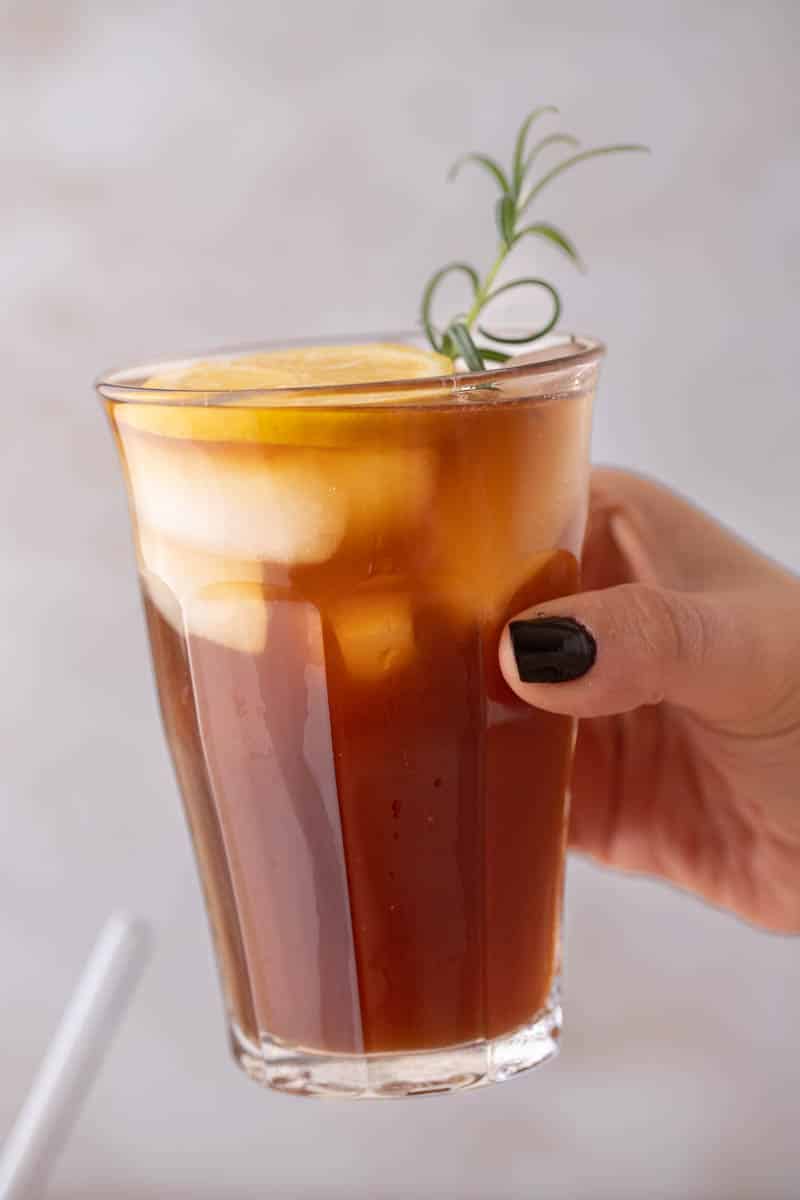 This is the best Coffee Soda Recipe ever!
Regular coffee is out, coffee soda is in this summer. I call this a really fun way to get caffeinated and I think you need to get behind it asap.
What is coffee soda?
Coffee soda is a delicious coffee drink topped with club soda. It adds a little bit of fun to an everyday drink. Flavor it the way you want to create your newest go-to drink now!
Why you need to make this recipe!
Cost-effective- Getting this beverage from your local coffee shop can be very pricy but making it at home only requires a handful of ingredients and comes together in no time.
Refreshing – Because of fizziness of the mineral water as well as the addition of the coffee, this drink is an insanely refreshing drink to have on a hot summer day. 
Convenience – No need to leave the house for your newest favorite coffee drink.
Healthier – The great thing about making this at home is that you can control what goes into it making it fit your specific needs.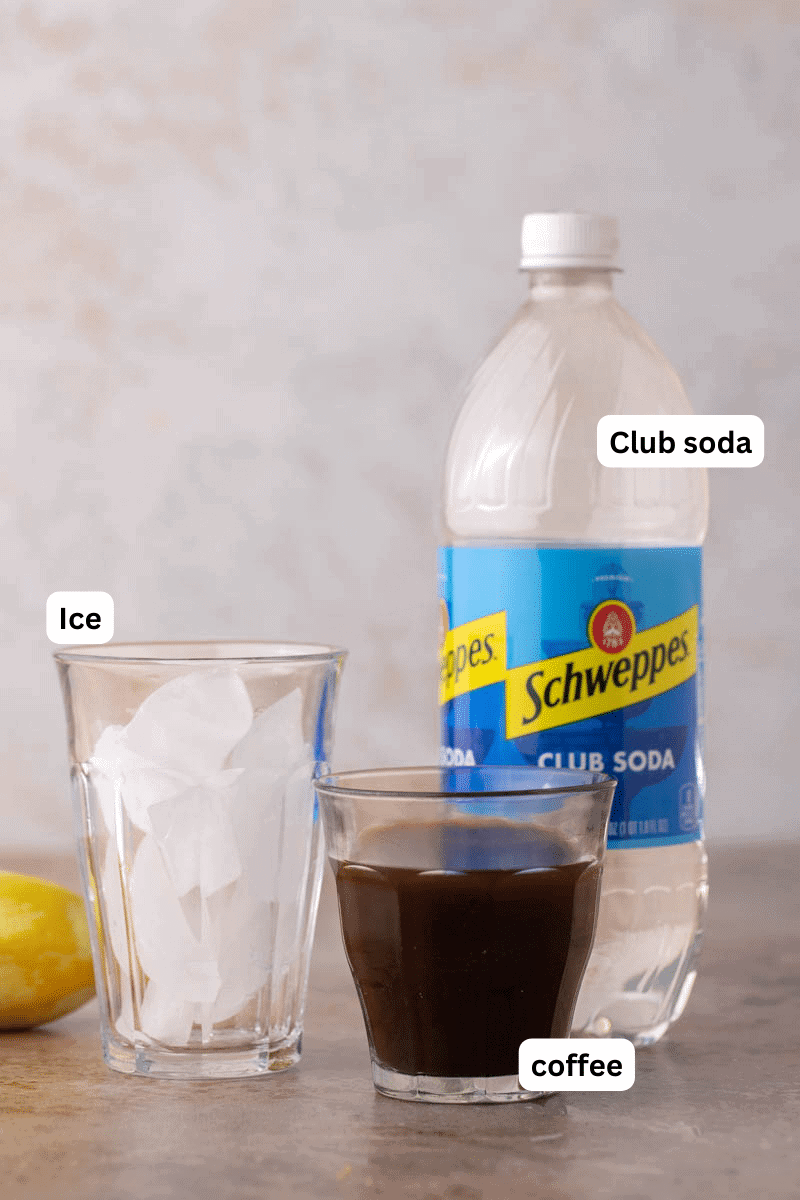 Ingredients for this coffee soda recipe
Here are the ingredients you will need to make this simple recipe. Make sure to scroll down to the recipe card for the full detailed ingredient measurements.
How to make this coffee soda recipe?
This is how you can make this iced drink. Make sure to scroll down to the recipe card for the full detailed instructions!
Fill a tall glass with ice then your strong brewed cold coffee or cold brew or one shot of espresso.
Top with the club soda, then a splash of simple syrup if using.
Feel free to add a splash of cream and enjoy!
Quick tips
Use coffee ice cubes for a stronger flavored coffee soda.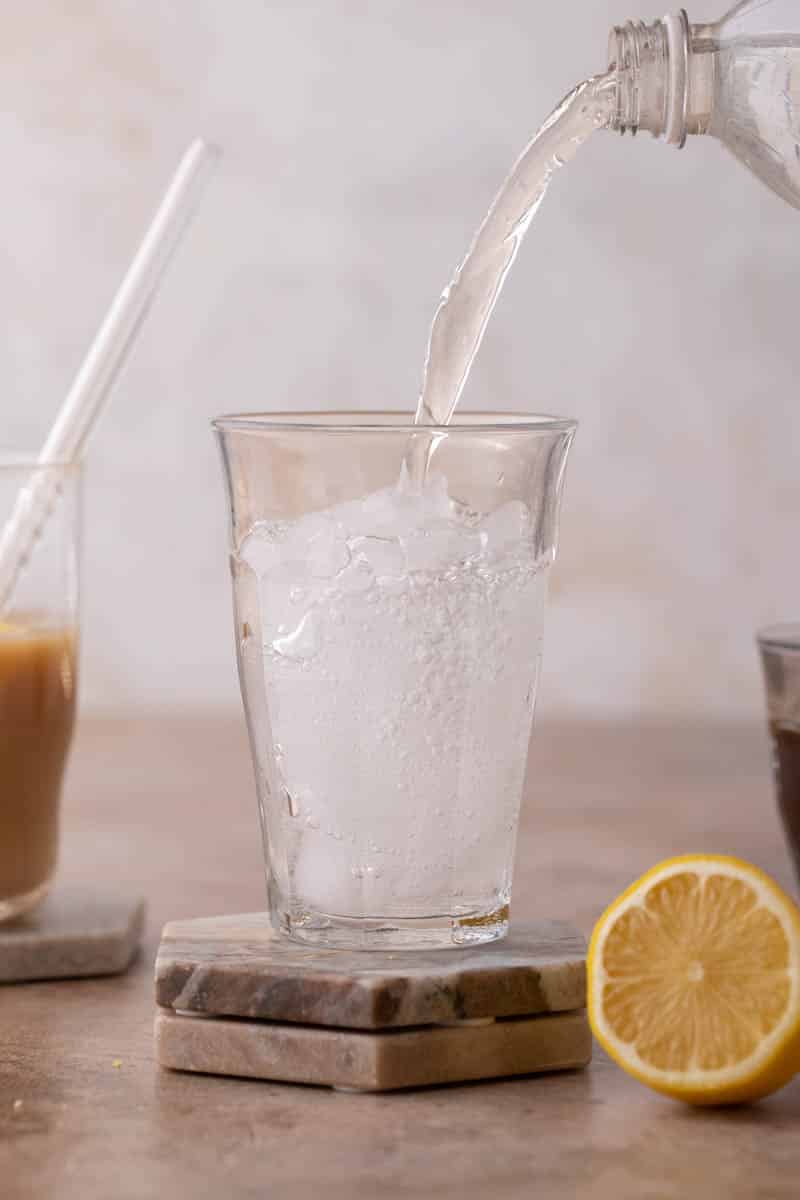 Frequently asked questions – FAQ
What is the best coffee to use for iced coffee soda recipe?
When it comes to making iced coffee soda, the type of coffee you use is a matter of personal preference. However, some types of coffee work better for iced coffee drinks than others. Here are a few options to consider:
Cold-brew coffee
Espresso – Use espresso from a Nespresso machine, an Italian espresso maker, or even a fancy advanced espresso maker.
Regular brewed coffee – Good old drip is perfect for this drink just chill it beforehand.
Flavored coffee
Ultimately, the best coffee for iced coffee soda is the one you enjoy the most. Experiment with different types of coffee to find your perfect combination of flavor and strength.
Can I use sparkling water instead of soda water?
Definitely, just double, or triple the recipe. This would be any coffee lover's dream. Just make sure to chill it well and serve it in a large pitcher next to an array or things that your guests can add to it like a creamer, a simple syrup, and maybe some citrus peel. Make it fun and get creative. 
Is it possible to make iced coffee soda using decaf coffee?
Definitely! Using decaf coffee in this recipe is a great option for those who are a little more sensitive to caffeine. Brew your decaf coffee as you would the regular and use it in your drink as a refreshing alternative. 
Can I use sparkling water instead of soda water?
Yes, you can definitely use sparkling water instead of soda water in your iced coffee soda. Sparkling water is just carbonated water, and it can give your drink a refreshing fizz without any added flavors or sweeteners.
Keep in mind that using sparkling water will result in a slightly different taste compared to soda water. Soda water has a slightly salty taste due to the added minerals, while sparkling water is usually plain and slightly sweet. However, this difference is usually subtle and won't affect the overall flavor of your iced coffee soda too much.
Easy coffee soda recipe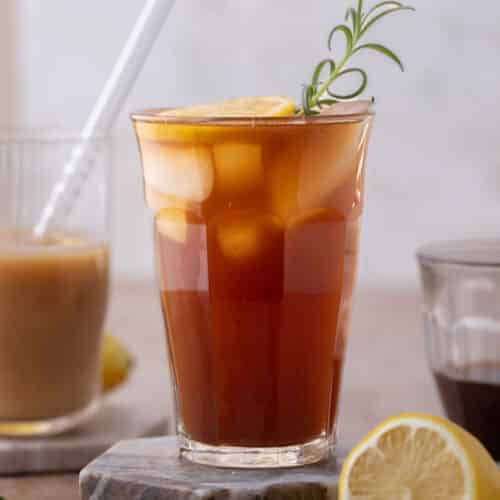 Coffee soda recipe
This easy and refreshing coffee soda recipe is made with simple ingredients to yield a delicious coffee lover's drink.
Ingredients
½

cup

club soda

⅓

cup

cold brew coffee

2

tablespoon

simple syrup

optional, to taste

ice
Instructions
Fill a tall glass with ice then top with the club soda, coffee, and simple syrup. Stir with a straw and enjoy.

½ cup club soda,

⅓ cup cold brew coffee,

2 tablespoon simple syrup,

ice

You can also garnish the drink with a slice of lemon and some rosemary or mint.
Nutrition
Calories:
108
Calories
Carbohydrates:
29
g
Protein:
0.1
g
Fat:
0.02
g
Monounsaturated Fat:
0.01
g
Sodium:
50
mg
Potassium:
66
mg
Sugar:
29
g
Calcium:
13
mg
Iron:
1
mg
Shop this recipe
This post may contain affiliate links, meaning that at no cost to you I will get a small percentage of every purchase you make!
If you enjoyed this coffee soda recipe make sure to pin it for later!