Get ready for the easiest one bowl chewy brownies with cocoa powder! These are extremely chocolatey, fudgey and melt in your mouth. Next time those cravings hit and you find yourself not having any chocolate make these no fail cocoa powder brownies!
Hi everyone!
After seeing how popular my bakery style chocolate brownies without cocoa powder got. I decided to do the opposite. Bring you a brownie recipe that only uses cacao and no chocolate, or chocolate chips!
I am actually used to making brownies with melted chocolate usually because that's what I learned in my pastry internship with Pierre Gatel (Ex executive pastry chef of the Wynn here in Las Vegas) So it took a few tries to find the perfect rich, chewy brownie that only uses cocoa powder.
wanna know the real story behind these brownies?
I was PMSing hard and needed something chocolate ASAP to save the day… But without chocolate to melt for my brownies I was a little stuck. I knew it was possible to make brownies without melted chocolate, but was not sure how to make the super chewy types of brownies that I like with no chocolate. I did a whole bunch of research, looked up some cocoa powder recipes.
And that's when the trial and error started… After 3 batches, I found the one! The best chocolate brownies using just cocoa powder!!
If you too need a chocolate brownie without melted chocolate, this one is for you! If you try it out make sure to let me know how it turned out in the comments below, on my FACEBOOK. page, or through INSTAGRAM.
Enjoy this and happy baking 🙂
More chocolate recipe you will love!
Why are these chewy brownies so special?!
Alright… Well first off they are special because they saved the day. Without these brownies I would've been even more sad than what I already was (hormones, ladies, am I right or am I right!!!). So that's already a start…
These homemade chewy brownies also come together in about 30 minutes or so, imagine an intense chocolate craving hits at 5PM by 5:30PM you have your brownies warm and ready for you. I guess you could say they might take an hour for you to enjoy them because I personally had to run to the store to get some ice cream!
What are warm fudgy brownies without some vanilla bean ice cream on top!? I guess they are still good but not as good or up to my standards during that time of the month!
Tools you will need to make these cocoa powder brownies
Ingredients for these easy brownies with cocoa
If you know me at all, I can be both as extra as humanly possible or as simple as could be… It just depends on the mood I am in. Since I was in a rush when I made these I used pretty simple ingredients that you should have in your pantry! Here is what you will need to make these quick homemade brownies:
Butter– Many recipes use oil in their brownies but I wanted to go with butter to make them extra rich and delicious!
Brown sugar– The brown sugar in this recipe gives these brownies their chewiness and richness. It makes these brownies absolutely irresistible if you are a dense and fudgy brownie lover!
Granulated sugar – This is used to add more sweetness to the brownies.
Salt– Always add salt to your baked goods! that's how you create an extra depth of flavor!
Eggs – The more eggs you use the more cakey your brownies will be! So in this recipe we will only need 2 eggs.
Cocoa powder- This is where we are gonna get all the chocolaty goodness from!
Flour– A small amount of flour was used to keep these brownies dense and chewy.
Pecans– The nuts here are optional. I used pecans because I had some leftovers from the holiday season. Plus adding nuts to your brownies makes them that much better!
Chocolate chips– If you really wanna go all out, this is the way to go! My favorite type of brownies are those that are oozing with chocolate. I understand that you might be in this recipe because you want to make brownies without chocolate chips since you don't have them. So don't worry about this ingredient too much!
Can we make brownies without chocolate or chocolate chips?!
Absolutely! That is what's so fun about baking! It's a science. So if you ever find yourself wanting to make something, either play aorund with your ingredients until you get something amazing or if you want to make sure to get something great right of the bat. Use one of the many recipes provided to you online.
For this specific example, I woke up PMSing had and did not have any chocolate like I said before. And obviously i was not going to let that stop me. So with a couple of trials and errors, I was able to make the world's best chewy brownies with just cocoa powder and not a drop of chocolate!
So next time you are really really craving brownies but don't have any chocolate, don't fret! Just come here to get your newest favorite brownie recipe!
Tips for making the best brownies with cocoa powder!
Here I have some tips you should always try to keep in mind when making chewy brownies with cocoa powder.
Use good quality cocoa powder- We are going to be getting most of the chocolate flavor from the cocoa powder so using a good quality cocoa powder will ensure that the final product tastes amazing!
Do not over-mix your brownie batter once you add the cocoa powder and flour- Over-mixing in this case will create too much air in the batter which will then result in a more cakey brownie, which we don't specifically want right now!
Do not over-bake the brownies- over-baking your brownies will make them dry and not as chewy as we want them to be. The goal here is to keep the moist, chewy and soft. We are looking for brownies that do not longer jiggle and are just set in the center.
Do not dig in right away! This one is a huge one since I know most people can't wait to dig in, me included! Let the brownies cool to room temperature before digging it because the heat will continue baking it and we don't want to disrupt that!
Do I have to add nuts to my brownies?
Not at all! These are your brownies and you should make them the way you like them. I had some pecans left from December and wanted to experiment with them.
Adding nuts to the brownies gave them an extra textural element which I absolutely loved. So if you like nuts and have them on hand definilte use them, if not they are not required!
Nut substitution?
If you end up deciding you do not want to use nuts in your brownies, you could always substitute them with chocolate chips. I know this brownie recipe is supposed to be without chocolate chips but in this case, go ahead and add all the chocolate chips you want as a substitution option!
It tastes as rich as the other recipe and will have everyone begging for more.
How to make this cocoa powder brownie recipe (step by step)
First start by preheating the oven to 350F and preparing an 8×8 baking sheet. Then in a medium bowl, whisk the melted butter and both sugars for 1-2 minutes. Add in the eggs and the vanilla and beat until the color of the batter becomes a bit lighter.
Sift in the flour, cocoa powder and salt and gently fold the dry ingredients into the wet ingredients just until combined. DO NO OVER MIX.
The cocoa powder brownie batter will look like this.
Add in the nuts if you decide to use those and fold lightly.
Pour the cocoa powder brownie batter in the prepared baking pan and spread evenly then place in the oven to bake for 18-20 minutes. The brownies should be set and if tested with a toothpick should have some moist crumbs attached to it.
Let the brownies cool completely before slicing into them.
How to store chewy brownies?
These delicious homemade brownies are probabaly going to be devoired on the same day you made them. But just in case you have a few leftover store them in an airtight container, they will keep at room temperature for 3 days. They will also keep in the fridge for up to 7 days!
I personally like these right out of the fridge because they are even more fudgy out of the fridge! Perfect for chocolate lovers.
Here are some tips to make brownies even chewier!
When it comes to brownies there are so many little things that go into it. Temperature, quality of ingredients and everything in between. Here are the most important tips for keeping your brownie recipe chewy:
Don't skip the brown sugar– Brown sugar is crucial for making super chewy brownies. The brown sugar increases the moistness of the brownie since it contains molasses. If you're feeling adventurous you can play around with the rations of brown and granulated sugars in this recipe and see how soft, rich, and ultra moist your brownies will turn out. Since the total amount of sugar equals 1 cup, you could use ½ cup brown sugar and ½ cup granulated sugar. Or even ¾ brown sugar and ¼ granulated sugar! Have fun experimenting.
Keep an eye on your brownies while cooking– Cooking time and temperature are incredibly important when making dense and chewy brownies. So slightly under-baking the brownies is what usually does the trick.
Less eggs- When I made these brownies, I decided to only go with 2 eggs instead of 3 to help my brownies get that fudge-like texture. Always keep in mind that the more eggs you use in your brownies the more cakey they will become.
IF YOU MADE SOMETHING FROM LIFESTYLEOFAFOODIE, I WOULD LOVE TO SEE ALL YOUR CREATIONS AND KNOW HOW EVERYTHING TURNED OUT! SO DON'T FORGET TO LEAVE A COMMENT BELOW AND FOLLOW ALONG WITH ME ON INSTAGRAM, PINTEREST, AND FACEBOOK.

Ready to make the best chewy brownies from scratch with cocoa powder!?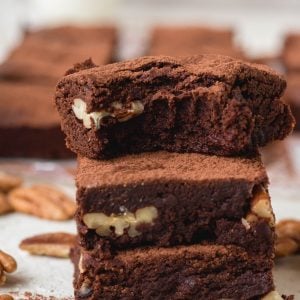 Easy Chewy Brownies With Cocoa Powder
These chewy brownies are the best one bowl brownies you will ever make when you don't have any chocolate on hand. They use cocoa powder instead for that same great chocolatey finish!
Instructions
First start by preheating the oven to 350F then lightly grease an 8X8 baking pan and line it with parchment paper. Set aside.

In a medium bowl, whisk the melted butter, the brown sugar, and the granulated sugar together for about 1 minute. Add the eggs and the vanilla and beat until the colors becomes lighter. (about another minutes or two)

Sift in the flour, cocoa powder and salt and gently fold the dry ingredients into the wet ingredients just until combined. DO NO OVER MIX. Add in the nuts if you decide to use those and fold lightly.

Pour the cocoa powder brownie batter in the prepared baking pan and spread evenly then place in the oven to bake for 18-20 minutes. The brownies should be set and if tested with a toothpick should have some moist crumbs attached to it. Let the brownies cool completely before slicing into them.

If not eating these chewy brownies on the same day wrap tightly with plastic wrap and store at room temperature for up to three days or in the fridge for up to 7 days.
SHOP THIS RECIPE
This article may contain some affiliate links, meaning, at no additional cost to you, I will earn a commission if you click through and make a purchase.
If you enjoyed reading these chewy brownies with cocoa powder recipe make sure to pin this for later
If you made it this far down, I would like to take a moment to say thank you so much for coming to my blog! I hope you enjoyed reading this recipe and all the other amazing recipe I have shared. If you could take a moment and leave a comment to let me know what you think of this recipe, if you have any suggestions, or if you have any recipe requests I would appreciate it greatly!
Until next time friends 🙂 !